We use affiliate links. If you buy something through the links on this page, we may earn a commission at no cost to you. Learn more.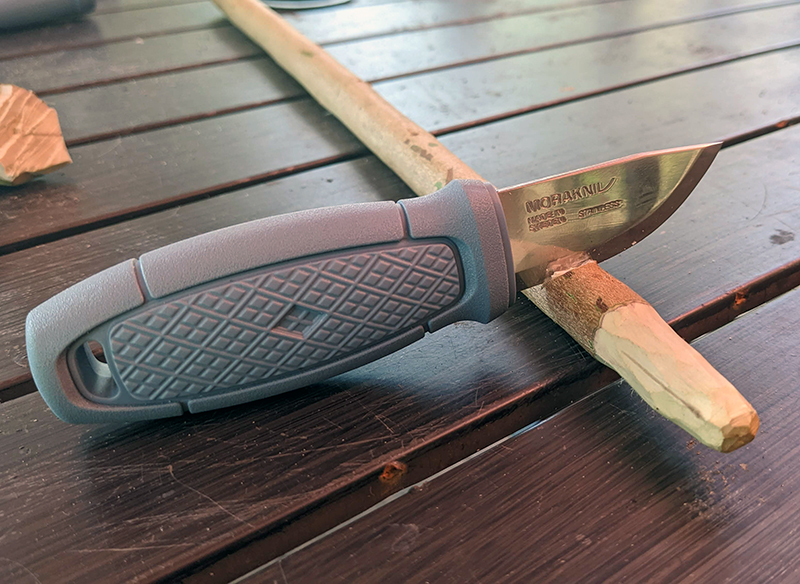 REVIEW- The Morakniv Eldris Light Duty is a fixed blade knife for all your everyday cutting needs.
What is it?
The Morakniv Eldris Light Duty is a handy little workhorse of a knife that won't empty your wallet.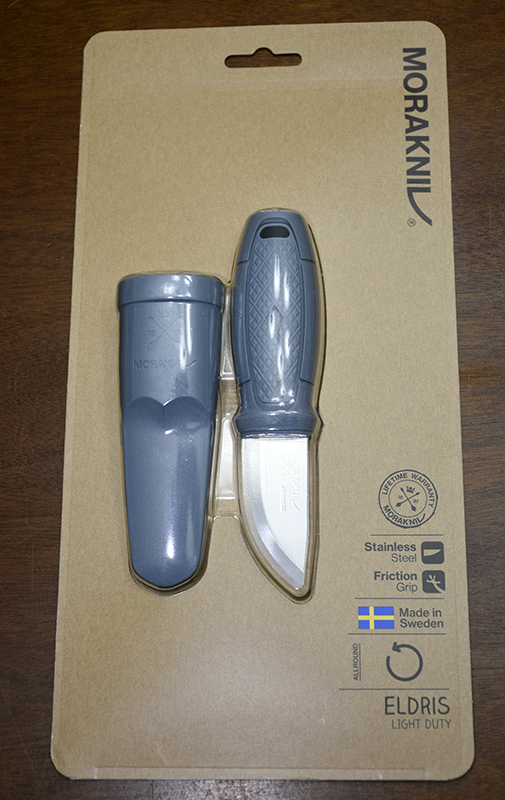 What's in the box?
Morakniv Eldris Light Duty fixed blade
Sheath
Hardware specifications
Knife length: 5.7 inches (145 mm)
Blade Length: 2.3 inches (59 mm)
Blade Thickness: .08 inches (2 mm)
Net Weight: 2.77 oz. (0.0788 kg)
Gross Weight: 4.98 oz. (0.14134 kg)
Blade Material: Stainless Steel
Grip Material: TPE
Sheath Type: Polymer Sheath
Country of Origin: Sweden
Design and features
The Morakniv Eldris Light Duty knife is packaged in a blister pack, so you'll need a knife to get a knife.  I can suggest some other models of Morakniv blades to help with that, like the Morakniv Kansbol and Morakniv Garberg knives.  On the rear of the packaging, there's a nice line drawing diagram describing the features of this handy little knife.  So really that's all you need to know. Review DONE!  I kid, I kid.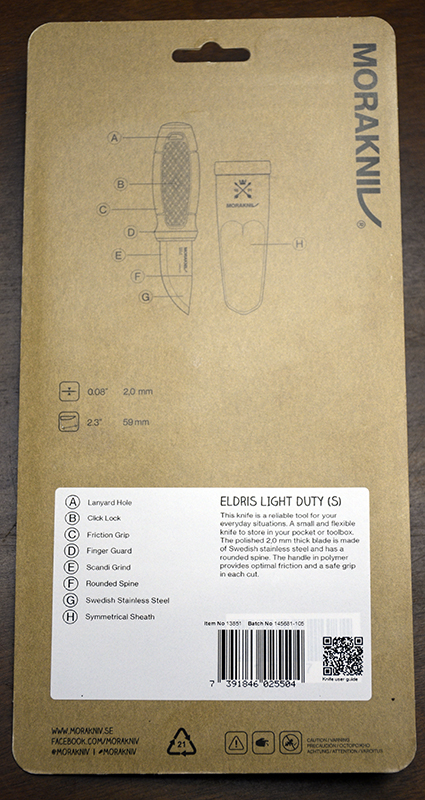 The Morakniv Eldris Light Duty knife is noted as being made of Swedish stainless steel. After doing a little digging, I found that Morakniv uses two different kinds of recycled stainless steel, 12C27 and 14C28N. I couldn't find which one is used in the Eldris line. In my mind, it doesn't matter as long as it can hold an edge and be easily sharpened.  I'm happy to say whichever one they use in the Eldris line does both.
The knife came out of the packaging razor sharp, and I do mean RAZOR sharp. I shaved a nice clean swath down my arm with a single stroke.  I don't think I've ever gotten a knife straight from the manufacturer this sharp.
I used the Morakniv Eldris Light Duty knife for all my small knife cutting needs instead of the pocketknife I usually carry.  I even carried it in my pocket. Yep, sheath and all. Due to the fact the sheath and handle are made of a polymer, I couldn't find exactly what kind, the set is extremely light.  Being a dad, I also wear a lot of cargo shorts that have deep pockets, unlike the wearer of said shorts. It was easy to forget it was there. Industrial Revolution, the provider of the sample, also offers the Morakniv belt loop if you want to carry the Eldris Light Duty on your belt.
The knife handle is very comfortable and long when compared to the length of the blade. It's a three-finger grip for me. The perimeter of the polymer handle is wrapped in TPE rubber and, along with the diamond-shaped texturing on the handle, is easily used with wet or sweaty hands.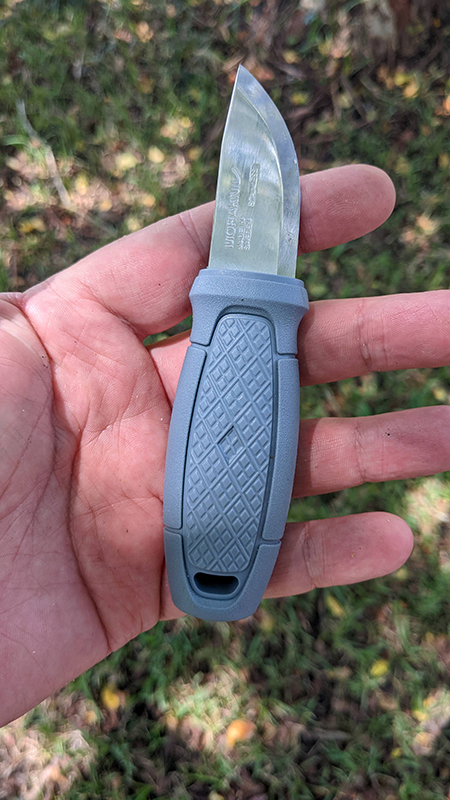 I used the Morakniv Eldris Light Duty knife in the kitchen to peel and slice some vegetables and it did both with ease. Think of it as a paring knife on steroids. I also used it to open packages like boxes and padded envelopes. Absolutely no problems there.
To abuse the knife, I grabbed a dried stick of Crepe Myrtle from a pile of trimmings. Just to be sure, I did a quick Google search and found that Crepe Myrtle is considered a hardwood. Sure, it's not oak or hickory but still a hardwood. The stick was about ¾" thick.  I got to whittling away and was pleased with how well it cut through the wood.  I probably whittled about a foot off the stick, a few inches at a time. Then I put it to my highly scientific shaving test. I ran it down my arm again and it still shaved. Of course, it wasn't as clean a shave but I was impressed.  After just a few strokes on my fine stone and then my strop, it was right back to as sharp as it ever was.
I got the Morakniv Eldris Light Duty knife with a couple of other models and must admit, when viewing it online, was thinking it was going to be my least favorite of the group. I've changed my mind. I find myself going to it even if I'm carrying another knife in my pocket. It's not made of exotic steel, nor does it have Timascus scales and hardware. It's not a safe queen and the price reflects that. It's $27 bucks. In my opinion, it's worth that and more. The Eldris Light Duty is perfect to carry, throw in a toolbox or tackle box, or keep in the kitchen and use daily. It's easy to use, clean, and sharpen. You could do a lot worse for more money.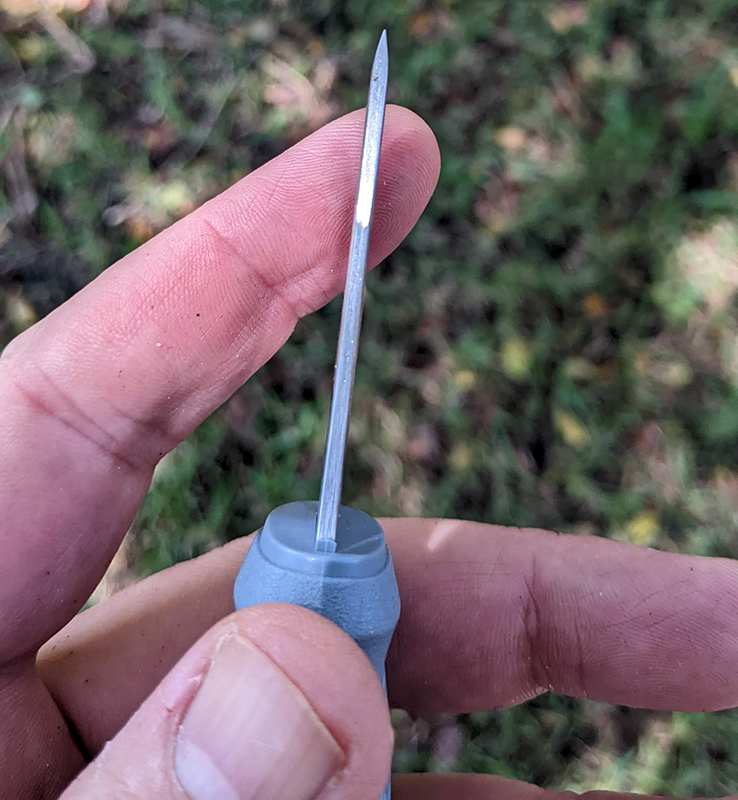 What I like
Blade shape
Stainless Steel
Holds an edge
Easily sharpened
Lightweight
Lifetime Warranty
What I'd change
Final Thoughts
In case you couldn't tell, I like the Morakniv Eldris Light Duty knife. The Eldris Light Duty is perfect for my daily, around-the-house needs. It's light, comfortable, holds an incredible edge, easily sharpened, and very affordable. Initially, I told my wife she could have it when I was done with this review, but it may have to come up "missing" so I can keep it for myself. Look at this knife at the link below. If you're looking for a small bladed knife that can take abuse and keep going, buy it.  I don't think you'll regret it.
Price: $26.99
Where to buy: Industrial Revolution and Amazon
Source: The review sample was provided by Industrial Revolution