We use affiliate links. If you buy something through the links on this page, we may earn a commission at no cost to you. Learn more.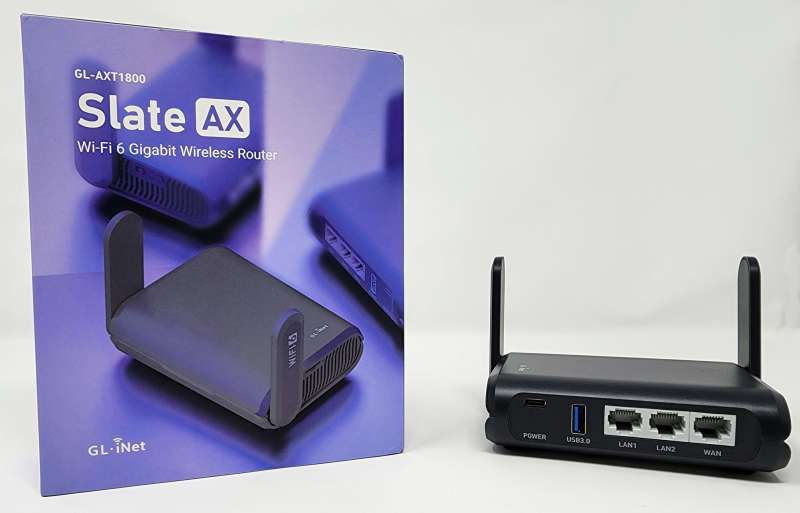 REVIEW – I'd ask if this had ever happened to you, but odds are very good it has.  You arrive at that great vacation destination – you know, the one with the $50 per day resort fee which includes "free" wifi – only to learn that you are limited to 2 devices connected at a time.  Being the Gadgeteer that you are, you have a phone, tablet, laptop, and a few other connected devices (not to mention all the other devices your traveling companions have).  Two just isn't going to cut it, and cell service inside the hotel rhymes with "plucks".  A travel router can help with this and so much more, but specifically, is the GL-iNet Slate AX WiFi 6 gigabit wireless travel router up to the task?  Read on to find out…
What is it?
The officially named GL-iNet GL-AXT1800 (aka the Slate AX) is a dual-band router/bridge that's small enough to travel with.  Similar in size and design to previous generations of GL-iNet travel routers, the Slate is the first to sport 802.11ax protocol (hence the AX in the name).  The Slate is in fact slate-colored, and on the 2.4G band can achieve 600 Mbps throughput while the 5G (not cellular) band can get up to 1200 Mbps.  All of this comes in a box that's 5 inches wide, 3.25 deep and 1.5 high, and weighs about 8.5 ounces.
What's in the box?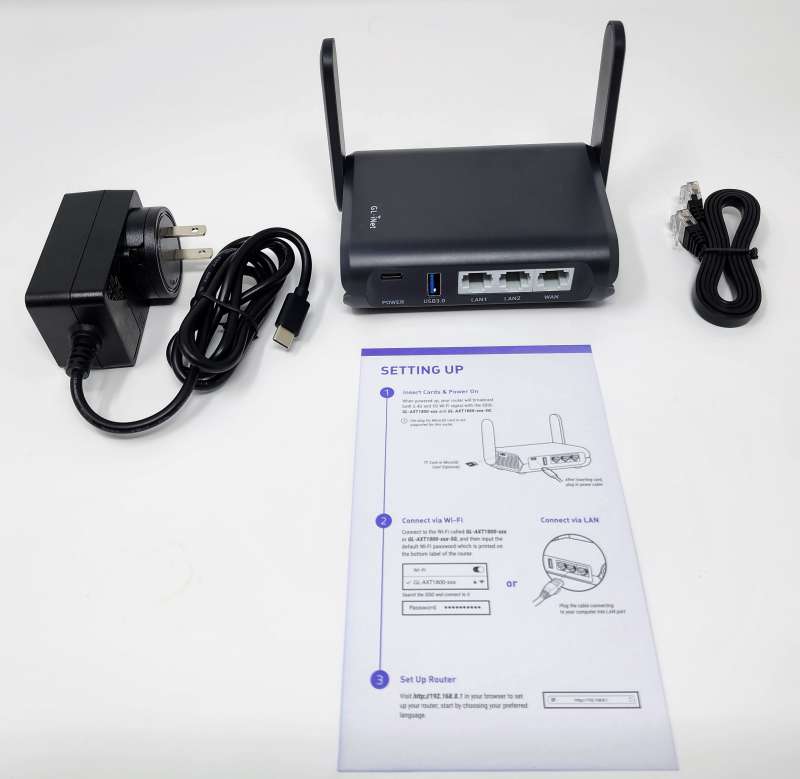 GL-iNet Slate AX WiFi 6 gigabit wireless travel router
A USB-C power adapter with a US plug
An ethernet cable for wired connections
Two page setup guide
Design and Function
If you've ever seen a travel router then you already know how the GL-iNet Slate AX WiFi 6 gigabit wireless travel router looks.  The front panel has a WAN port (for connections to wired networks), two LAN ports to plug your own wired devices in, a USB-3 type A port (to connect a storage device or your phone for tethering – more on that shortly), and the USB-C power port.  Note there is no battery in the Slate, so you have to provide a 5v/4a power source.

Both the left and right sides have fold-down antennas – fold flat against the router to transport, bring to the full, upright position to get the best signal.  Under these antennas are more goodies, but for now this is what the router looks like when you are getting ready to use it.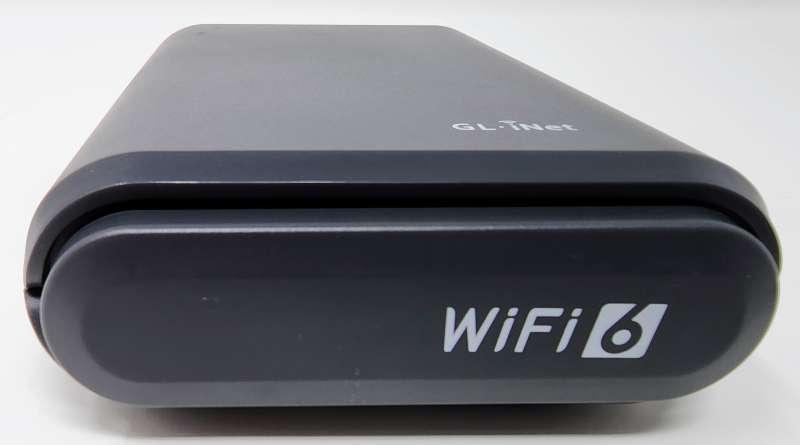 About those "goodies"…on the right side under the antenna is both a reset switch and a toggle button.  When you plug the GL-iNet Slate AX WiFi 6 gigabit wireless travel router in, it automatically powers up.  If for some reason, though, you can't connect, press and hold the reset switch for 3 seconds to restart the router.  Press and hold for 10 seconds to perform a complete factory reset.
The GL-iNet Slate AX WiFi 6 gigabit wireless travel router runs OpenWrt (short for Open Wireless router), an open-source version of Linux designed for devices that route network traffic.  The architecture of the OpenWrt software allows device manufacturers to add in web-based router configuration either via LuCI, Gargoyle or for that matter, anything the vendor can run on Linux.  OpenWrt also allows plugins to perform special functions, and that's where the toggle button comes in.  The Slate comes with a few of these pre-installed: AdGuard Home (as the name implies, this blocks ads globally from the router), OpenVPN client (to connect to any virtual private network that supports the OpenVPN protocol, making this router capable of becoming a secure extension of a corporate network) and WireGuard client (something that could allow you to connect to secure sources through a VPN tunnel).  The toggle button can be assigned to toggle any of these apps on or off or, by default, to none of them.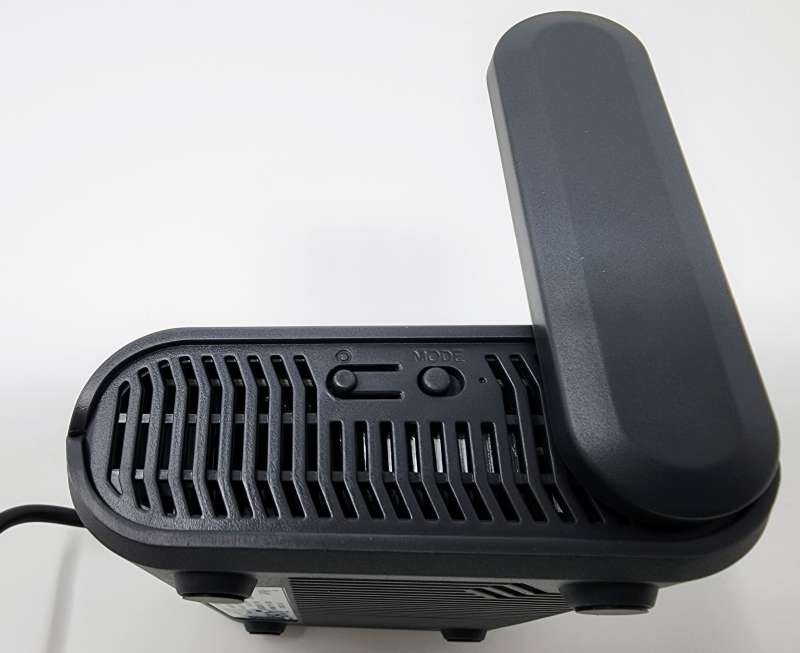 On the left side of the GL-iNet Slate AX WiFi 6 gigabit wireless travel router, there is a card slot that can handle up to a 512GB microSD card.  This card can be used as a file share, a media streaming source (although the USB 3 port would probably be better for this sort of application), or anything else you might want to share across your network.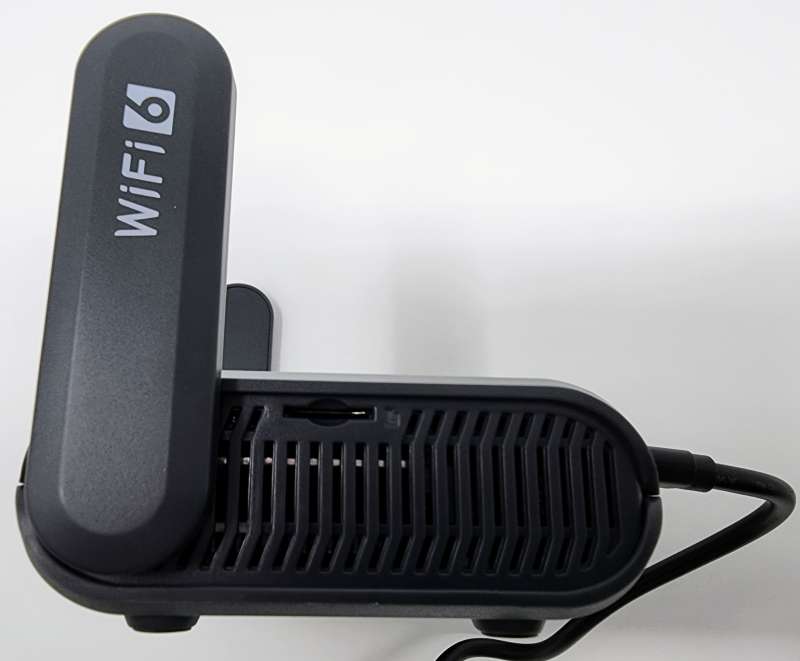 The back panel (or front, depending on how you want to place it) has an LED that glows white when the router is ready and slowly flashes blue when the router needs to be configured.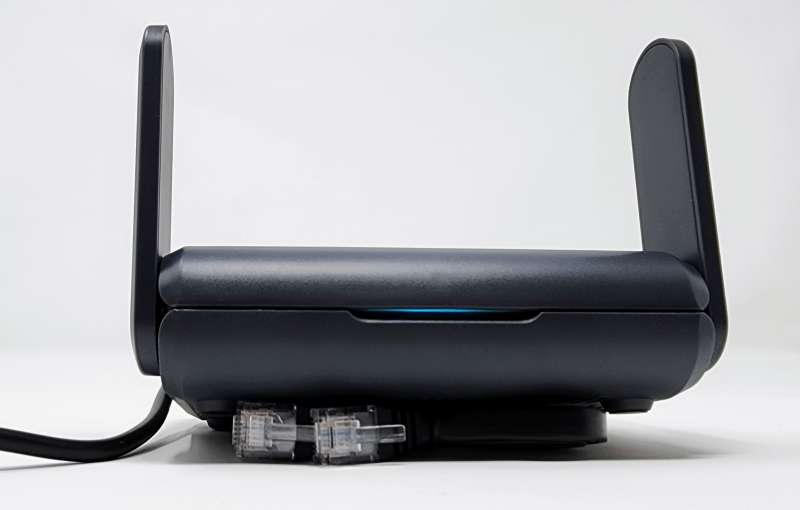 The GL-iNet Slate AX WiFi 6 gigabit wireless travel router has a wide range of connection options to help you get to the Internet.  In addition to both the wired and wireless connections, the router also allows captive portal connections.  These are the kind of connections that require you to log in, agree to terms, or some other action that "captures" your connection and blocks internet access until you take some action.  The Slate can handle this either directly or by cloning your device's MAC address so it appears as your computer to the host network.
Beyond that, you can use your phone's USB network sharing option to share your cellular connection.  Simply plug your phone into the USB port on the Slate and enable the network sharing in your device's setup app.  Granted, you can tether most phones these days, but this approach opens sharing to more than a single device at a time.
Setup and Operation
Once the GL-iNet Slate AX WiFi 6 gigabit wireless travel router is powered up, you can connect to it the same way you'd connect with any other router.  There is a label on the bottom of the router which has the network name and default key to connect.  The label also has a QR code that you can scan to connect.  Now you are connected, but you have no internet connection.
To remedy that, open a browser on your connected device and go to https://192.168.8.1 (the default LAN address, although this can be changed in configuration).  On the page that opens you will begin the configuration process that will allow you to connect through any of the available options.  First up, though, select your language: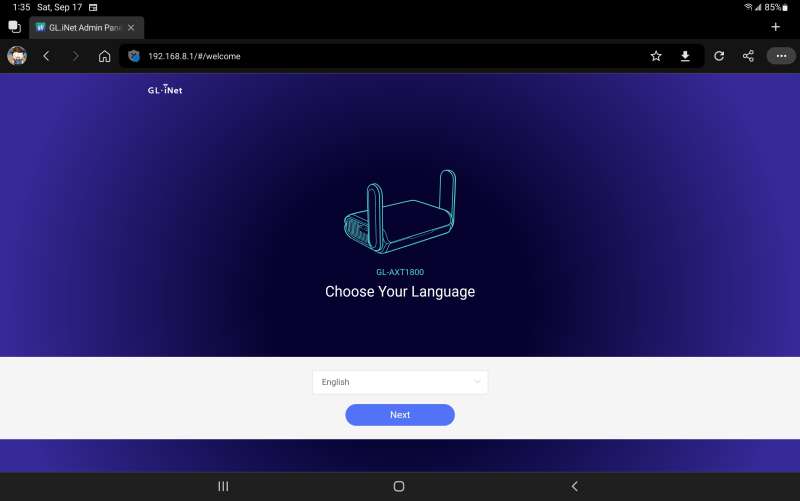 Next, you will be prompted to set up an administrative password.  Security is a good thing, and the Slate will tell you if the password you choose is weak or strong.  With the housekeeping tasks out of the way, you arrive at the router's main page where you can set up any part of the router you like.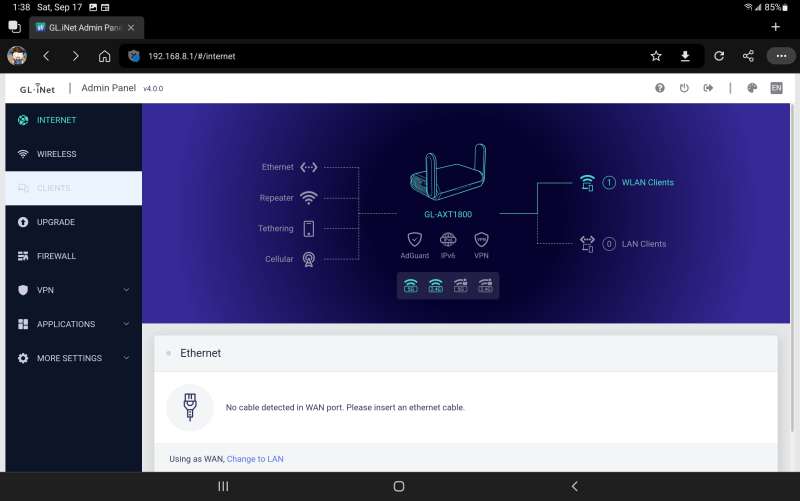 You should probably start with connecting to a host network that provides internet access.  In my case, that means connecting the GL-iNet Slate AX WiFi 6 gigabit wireless travel router to another wifi network.  Scrolling down the home page, you will see a card called Repeater.  This is the method to connect to a home or some other non-captive network.  Just click on the Connect link.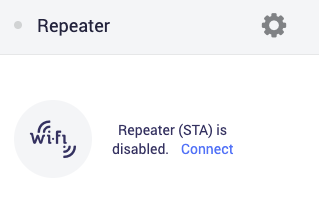 Next, you will see the list of networks that the GL-iNet Slate AX WiFi 6 gigabit wireless travel router can find.  Select the appropriate network (note: network names have been changed to protect my neighborhood).  If you don't see the network you want (or if the network does not broadcast its SSID), then select Join Other Network to manually enter the SSID.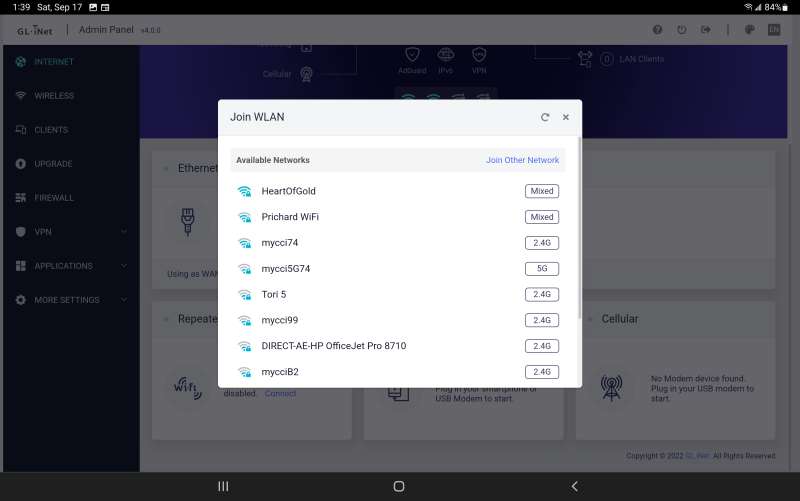 With the network selected, provide the credentials for access.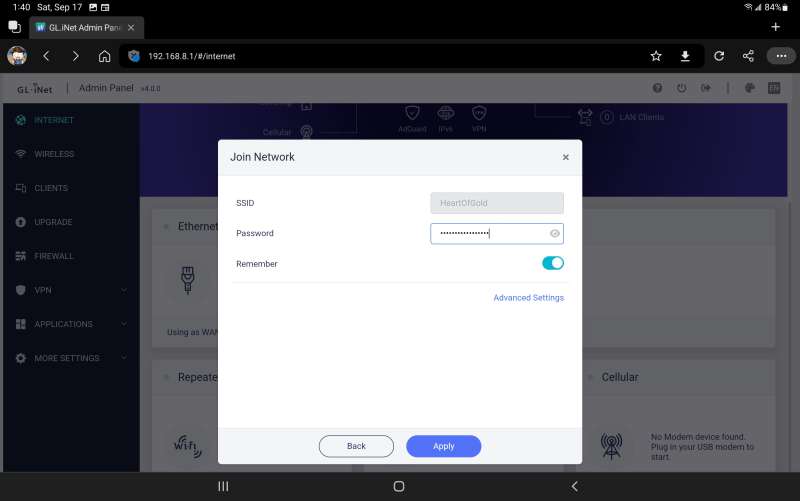 If this is a one-time connection, you can instruct the GL-iNet Slate AX WiFi 6 gigabit wireless travel router to forget the network once disconnected.  Hit apply and voila!  You're connected.
The Slate AX can handle a much larger set of devices than previous GL-iNet travel routers, making this a great extension to a home network in addition to being a capable travel router.  In my testing, I had quite a few devices connected: 2 Android phones, 2 Android tablets, 2 smartwatches, a smart TV, a wireless inkjet printer, and 3 Google assistant devices.  All of these connected seamlessly and with all devices doing their various things, no appreciable loss of speed on any device.
The real test of a travel router is…well, traveling.  I have a big trip coming in October, but as a dry run I grabbed the GL-iNet Slate AX WiFi 6 gigabit wireless travel router and headed off to a coffee house that rhymes with "bar lucks" with my laptop and tablet.  The initial connection to the network was as easy as it was at home, but agreeing to the terms and conditions was a little bit of a different story.  Up front, I have to say this was not a problem at all with the Slate, but rather the Slate's operator (namely, me).  I had the AdGuard plugin turned on, so when I opened a browser window on either my laptop or tablet I could not get to the T&C page.  That's probably because 90% (generously) of those kinds of pages are ads.  It took me a few minutes to figure this out, and once I turned AdGuard off, I was able to connect and be on my way.
After this, I cloned my computer's MAC address in the Slate.  This allowed me to not only shield my real MAC address, but to also effectively get around the one device equals one connection rule some providers put in play.  In essence, I can get the host network to think there is only one device connected to it while all my other devices connect and remained cloaked behind the Slate.
All around, the GL-iNet Slate AX WiFi 6 gigabit wireless travel router is a great network utility player.  It is the fastest travel router I have been able to find, plus even at home, it serves a purpose as a secondary guest network, protecting my home network when my cousin the virus collector comes to visit.  It has all you could ask for whether you just need a reliable (and easy to use) router or have more complex scenarios that call for massive flexibility in your equipment.  Even if all you ever want to use it for is to connect multiple devices without paying resort overhead for doing so, one single trip will more than pay for the cost of this device.
What I like
Size and weight make this the perfect traveling companion
One of the fastest travel routers available
Flexible enough for solving pretty much any connectivity challenge
What I'd change
Final thoughts
Pre-pandemic I traveled a lot for both work and fun.  Back then, I used the GL-iNet Opal and thought it was pretty good, stopping just shy of great because it was a little temperamental and not terribly fast.  Going into this review I have to admit I expected a good but not great 802.11ax implementation.  To say I was surprised is an understatement.  The GL-iNet Slate AX WiFi 6 gigabit wireless travel router rivals a lot of the standard stay-at-home AX routers in features and I'd dare say exceeds a lot of them in the depth at which you can control the network.  Plus, with the expansion capabilities of the plugin-style architecture, the size and portability of the device itself, and the flexibility to meet literally any connectivity scenario, there are literally no downsides to buying the GL-iNet Slate AX WiFi 6 gigabit wireless travel router – whether you are just looking to connect all of your devices at your favorite Vegas hotel or you are a network engineer who needs to control the transmission frequencies in your home lab, this is the router to beat.
Price: $124.90
Where to buy: Amazon or the GL-iNet store
Source: The sample for this review was provided by GL-iNet