We use affiliate links. If you buy something through the links on this page, we may earn a commission at no cost to you. Learn more.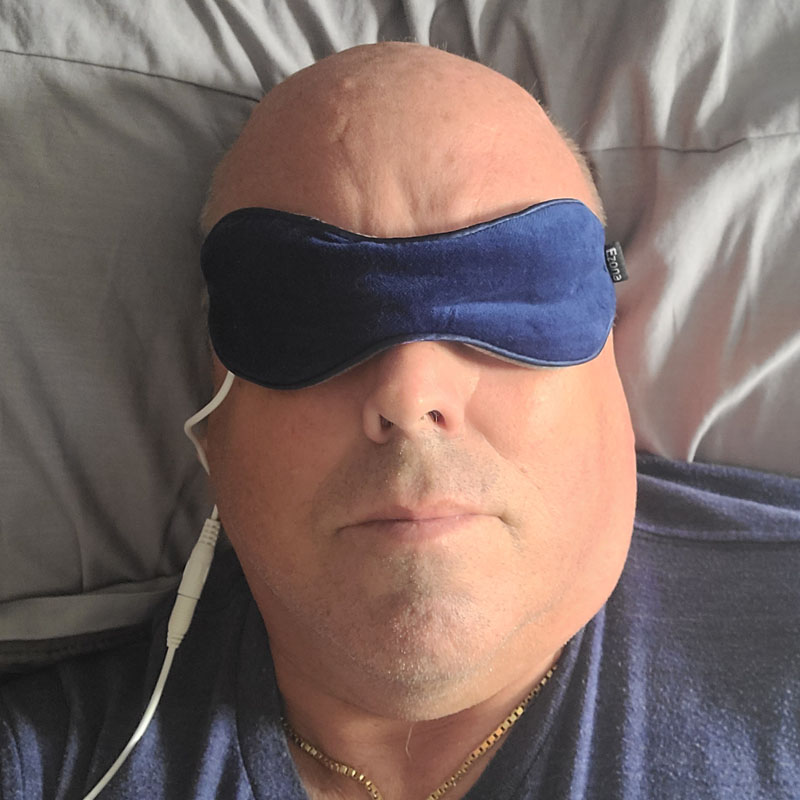 REVIEW – My wife suffers from the occasional migraine headache.  It doesn't happen often, but when it does, all she wants to do is lie on the bed with a hot compress over her eyes.  This proves to be a challenge.  I will heat a wet washcloth in the microwave and place it over her eyes.  That works for a few minutes, but the heat doesn't last.  When the opportunity to review a heated mask came up, it seemed like just the thing.  Let's take a look at the Ezona heated eye mask and see if it can bring the soothing.
What is it?
The Ezona heated mask is just what the name implies – it is a mask that goes over your eyes and heats up.  It is USB-powered so a power bank makes this a portable soothing solution.  Based on their Amazon listing, this mask is claimed to:
…promote blood circulation in the eyes, increase oil secretion, touch and heat the eyelids, directly unclog the glands, and effectively relieve dry eyes, eye fatigue, sinus migraine, dark circles, blepharitis, stye, puffiness, and Meibomian gland dysfunction (MGD), and provide ultra comfy hot therapy for your eyes…
I don't know about all that, but it does provide gentle heat directly to the eye area and that can bring relief for many things.
What's in the box?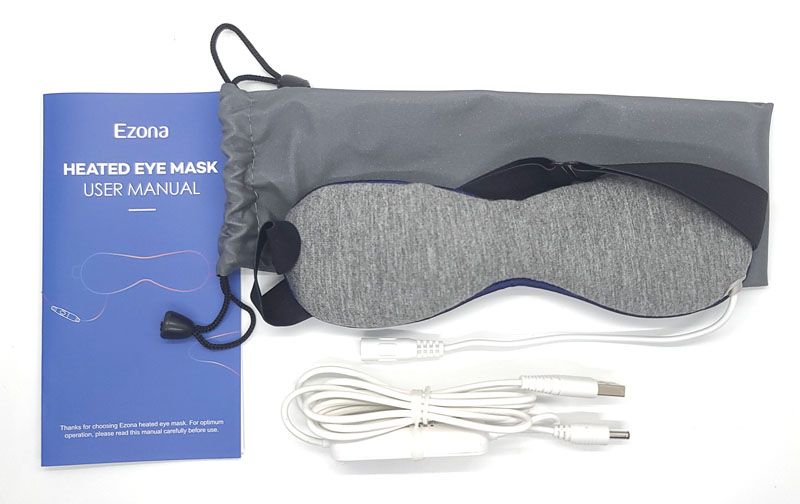 Heated eye mask with power cord attached
Power adapter cord with controller and USB-A connector
Carry pouch
User manual
Hardware specs
Mask size: 8.5″ x 2.0″
Strap adjustability: 17″ to 23″ one size fits most
Mask material: cotton
Filler: mini glass beads to distribute heat evenly
Power input: 5V/1-2A USB-A connector
Power output: 3-5V max 1A
Heat levels: 3 (95℉ to 131℉)
Timer: 15/30/45/60 minutes
Design and features
The front of the mask is covered in a soft velour cotton fabric.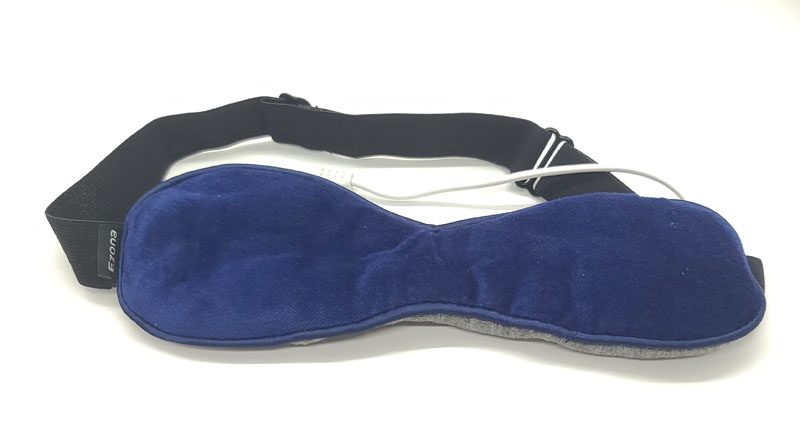 The back (eye side) is covered in soft gray cotton.  The adjustable elastic head strap is attached to each side of the eye mask. You can also see the power cord that is permanently attached to the mask.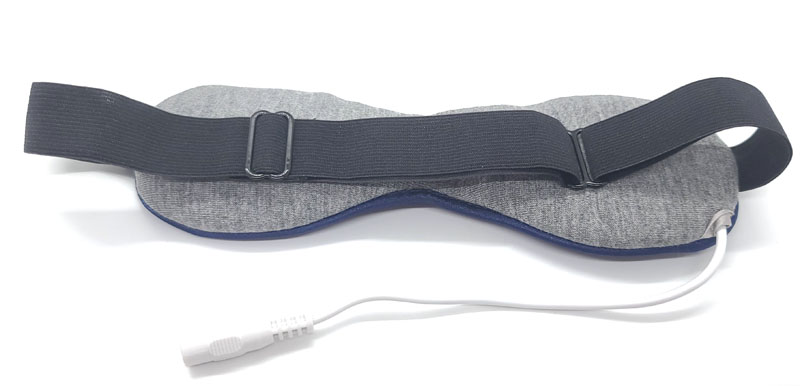 The controller's power cord connects to the power cord on the mask with a small pin-style connector.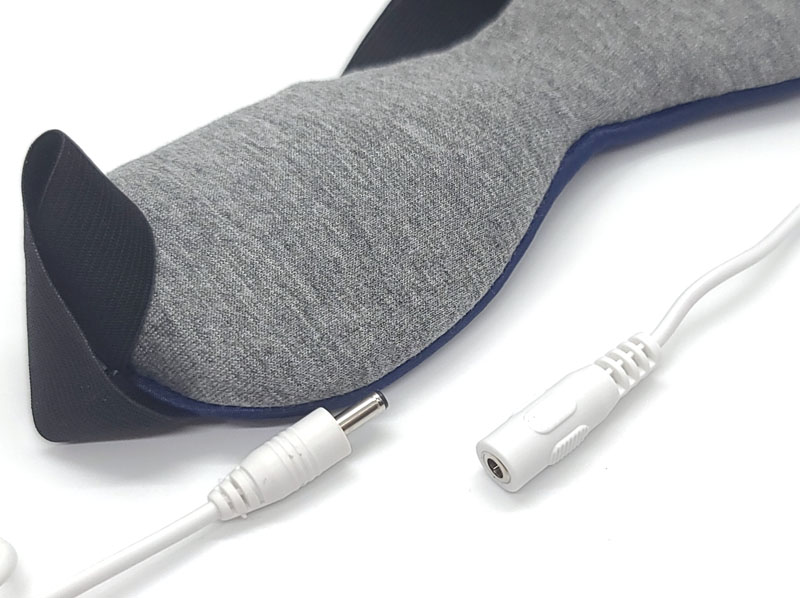 The small controller has a timer and heat level display at the top and buttons on the lower portion.  There is a large power button at the bottom, and buttons for heat level and timer above that.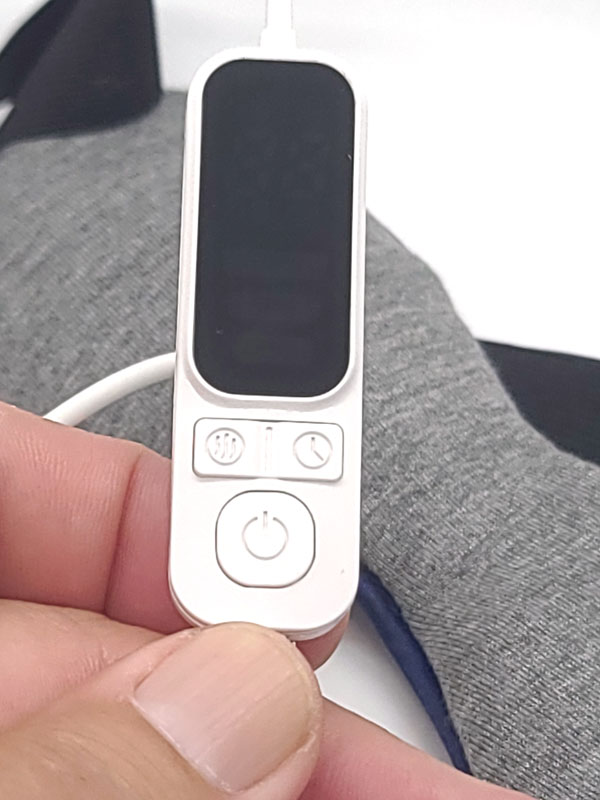 The back of the controller shows the model number and the requisite power requirements and safety symbols.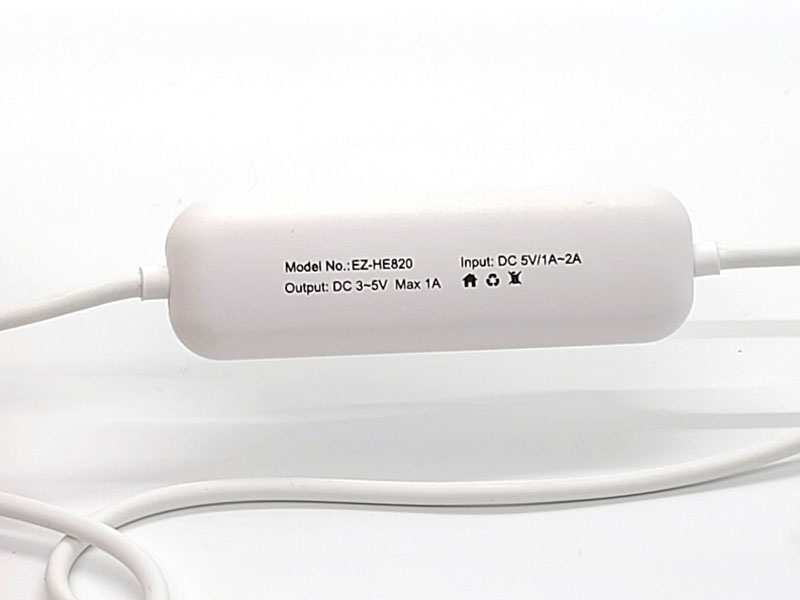 Setup
To use the Ezona heated eye mask, you connect the power cord from the mask to the controller cord and plug the USB-A connector into a powered USB port on a USB wall plug, computer, or battery pack.
Performance
Lucky for us, during my review period, my wife didn't have a migraine incident.  That means we'll be waiting for the complete test to see how it helps during those times.  We tested the eye mask by trying it out when feeling fine.
After turning on the unit, you can cycle through the three heat levels by clicking the left button. A bar moves from top to bottom to indicate high/medium/low heat levels.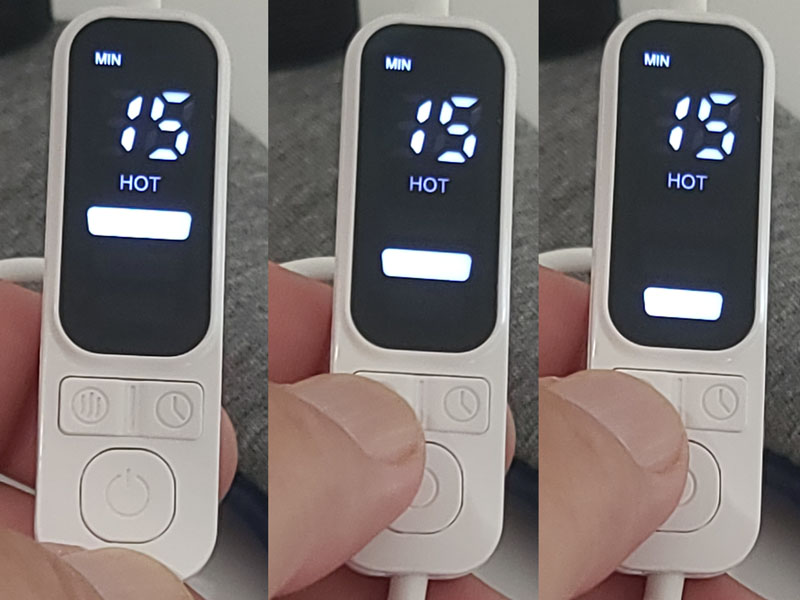 Likewise, by clicking the right button, you cycle through the 15/30/45/60 minute timer.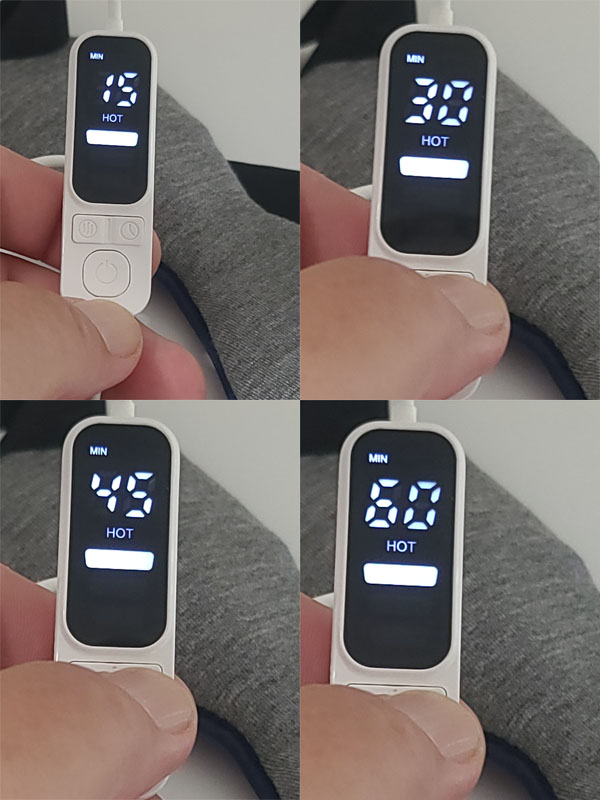 If your eyes are particularly dry, the manual recommends very lightly spraying the eye-side of the mask with a couple of drops of water.  We didn't feel the need to do that.
I plugged the Ezona heated eye mask into my Baseus 65W 20000mAh battery pack.  It showed a 78% charge. I turned the mask on high heat and set it for 60 minutes. At the end of the hour, the battery pack showed a 71% charge.  This means that a 20000mAh battery pack should be able to power the mask on high for around 14 hours.  I'll let you do the math based on other sizes of power banks.
From a comfort standpoint, I didn't care for the high heat setting.  It was just a little too warm for me.  Medium and low felt better.  My wife, however, absolutely loved the high heat setting.  She loved the soft feel of the cotton fabric and the overall comfort of the mask.  She said that this will be a game-changer for her when she gets a migraine.  And, if I pop in every 45 minutes or so, I can keep her under continuous heat until she feels better.
What I like
It's comfortable
The heating feels very good
It can be powered by a portable power bank, making it nicely portable
Even on high heat, it does not take much battery power, so even a small power bank will power this for several hour-long sessions
What I'd change
If I would change anything, I would make the carry pouch a little bit larger as it is a tight fit with the mask and the power cord
Final thoughts
My wife said that if I had not received the Ezona heated eye mask as a review item, and if she tried one, she would buy it immediately.  There isn't much higher praise. I can't say that we're looking forward to her next migraine, but I am hopeful that when one does come, the Ezona heated eye mask will make it much more bearable for her and end the episode more quickly.  Between now and then, we might just use it for a little soothing relaxation time.
The fact that it is portable with a nice travel pouch and that we always travel with a power bank (or two or three) means that we'll be equipped for relief wherever we need it.
Price: $31.99
Where to buy: Amazon
Source: The sample of this product was provided by Ezona.