We use affiliate links. If you buy something through the links on this page, we may earn a commission at no cost to you. Learn more.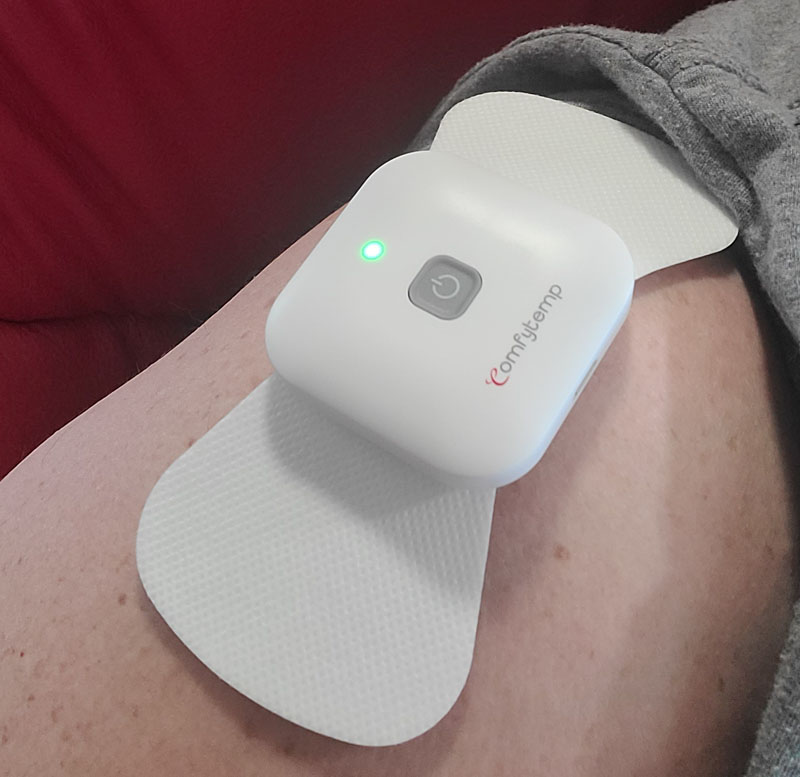 REVIEW – I'm getting older.  I'm physically active.  I hurt.  It comes with the territory.  Recently, I tried my first TENS unit to help manage muscle pain and I liked it.  It really did help me manage pain.  The biggest inconvenience with it is the fact that two wires connect the electrodes to the control unit.  It limits mobility a bit.  If only there was a way to get TENS treatment benefits without the wires.  Good news!  There is!  Let's take a look at a new wireless TENS unit from Comfytemp.
What is it?
The Comfytemp TENS unit delivers transcutaneous electrical nerve stimulation that can provide temporary pain relief from muscle and nerve pain.  This specific model is wireless so there is no physical connection between the control unit and the electrode.
What's in the box?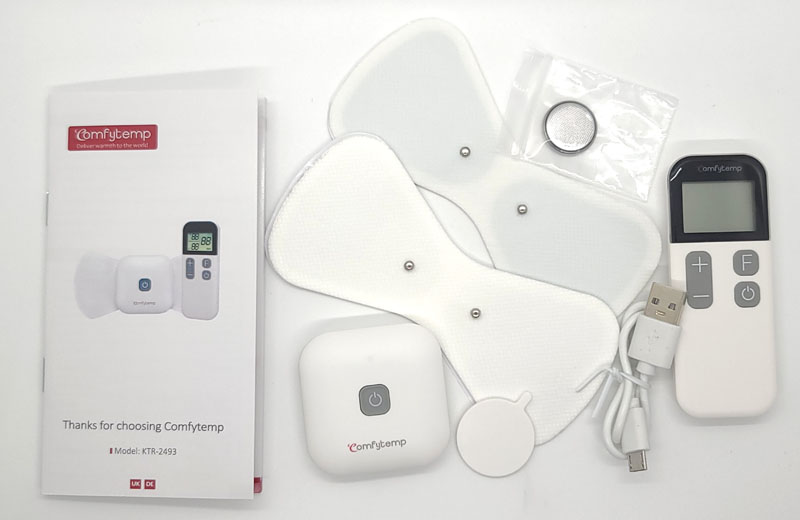 User manual
Control head (micro-USB rechargeable)
Two reusable double electrodes
Spare control unit CR2032 battery
Battery door tool
USB-A to micro-USB charging cable for control head
Control unit (with CR2032 battery installed)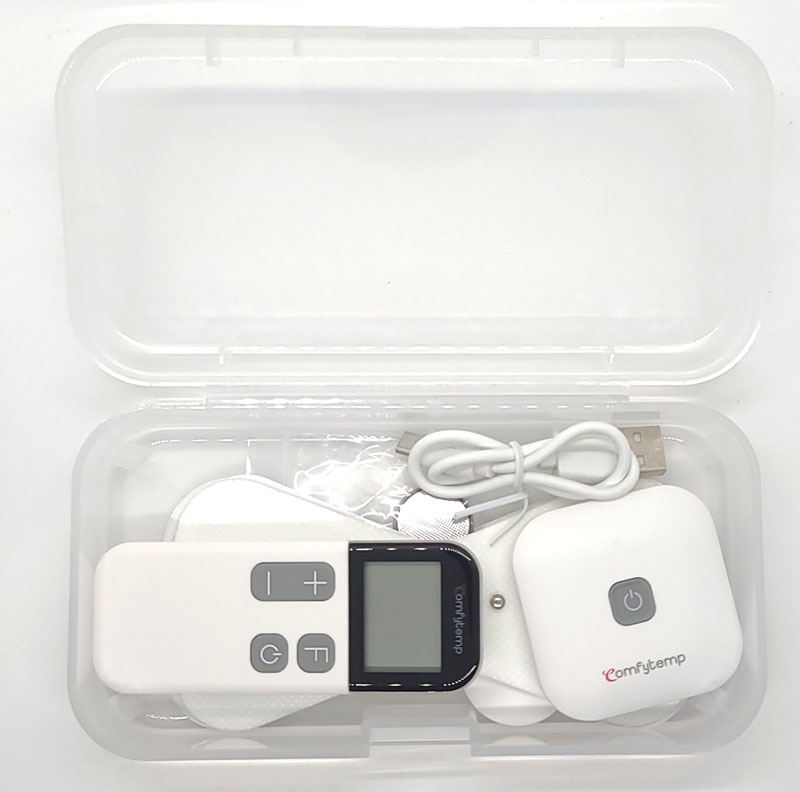 Hardware specs
Pads dimension: 2.4 x 5.1 in
Pulse rate: 20-100Hz
Control unit power: replaceable CR2032 battery
Control head power: micro-USB rechargeable
Run time: 15 minutes
Intensity levels: 16
Automatic modes: 6
Manual modes: 9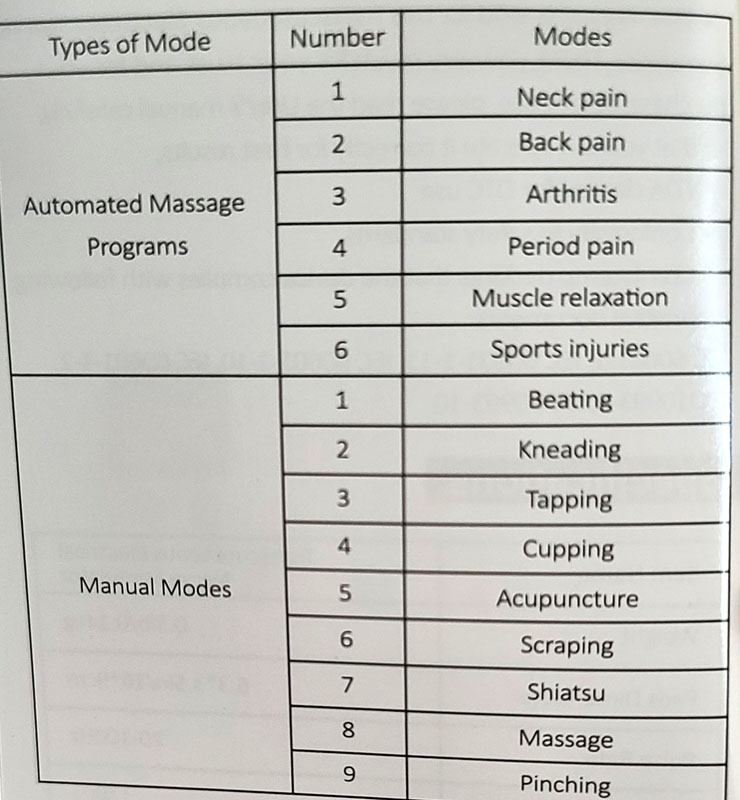 Design and features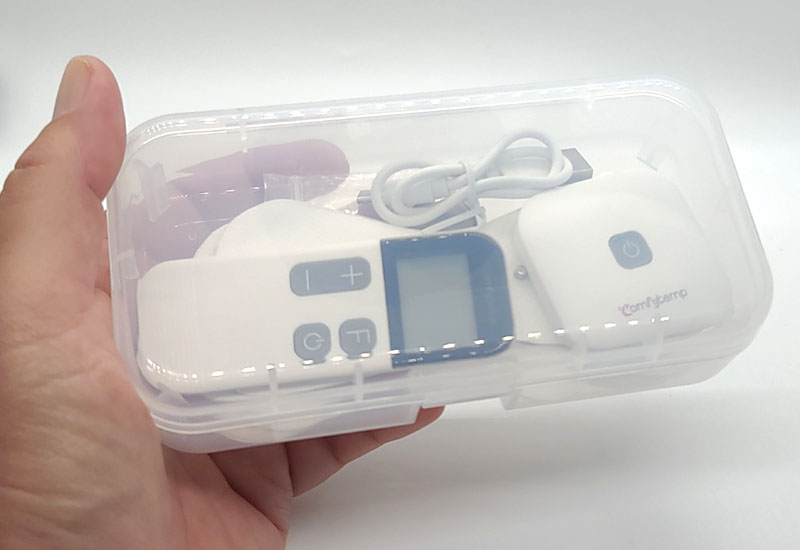 Let's take a look at the Comfytemp Wireless TENS Unit and all of its parts.  The storage case is relatively small and sturdy and it easily holds everything except the manual.  That is a bit of an oversight as there are so many modes, I expect to need that reference material.  I'll probably make a copy of that page of the manual and keep it in the box.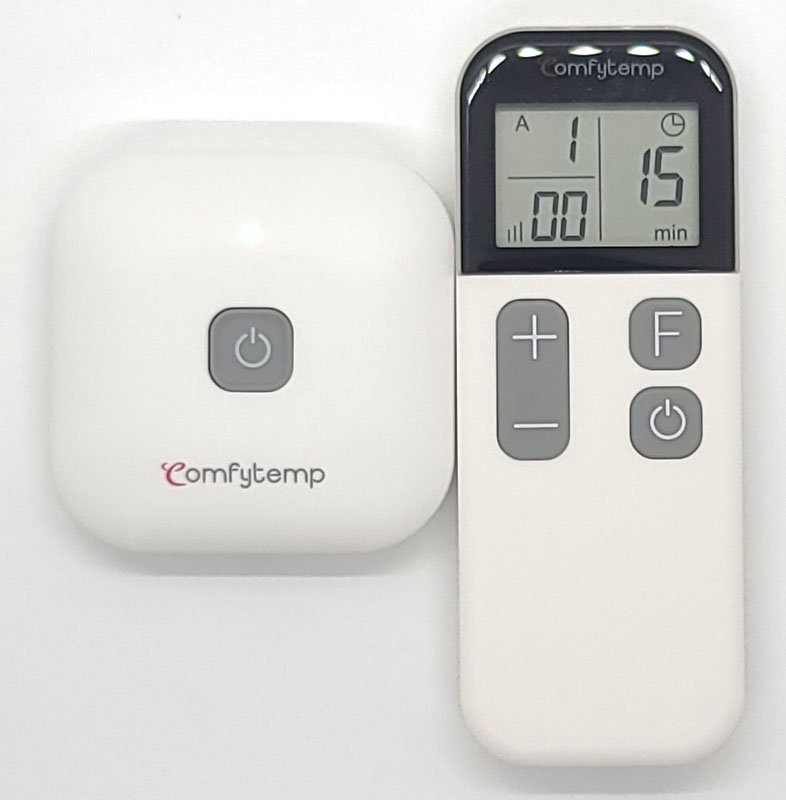 The control head and remote are very small.  The control head has a single on/off button and a single green LED above the button that glows when the unit is on and flashes when charging.  The remote (or "remoter" as it is called in the manual) has a power button, a mode button (F), and an intensity up/down button. The display shows the mode in the upper left, intensity in the lower left, and timer on the right.  The timer is set for 15 minutes with no option to change it.  To go shorter, just turn off the unit.  To go longer, start it up again.  Herein lies the first issue – there is no mode memory.  The remote always starts in automatic mode #1.  It really should remember the last-used mode as I expect many people will find a favorite effective mode.  If your favorite is an automatic mode, it's not too big a deal.  Turn it on, press the F-button to select the right mode from the six available modes, set your intensity, and go. But, if you're favorite mode is a manual mode, after you turn it on, you have to hold the F-button for three seconds to switch it into manual mode, choose from the nine modes, select your intensity, and go.  It sounds like a little thing, but if you are doing a longer treatment and have to go through that every 15 minutes, it is a pain, and you're trying to eliminate pain.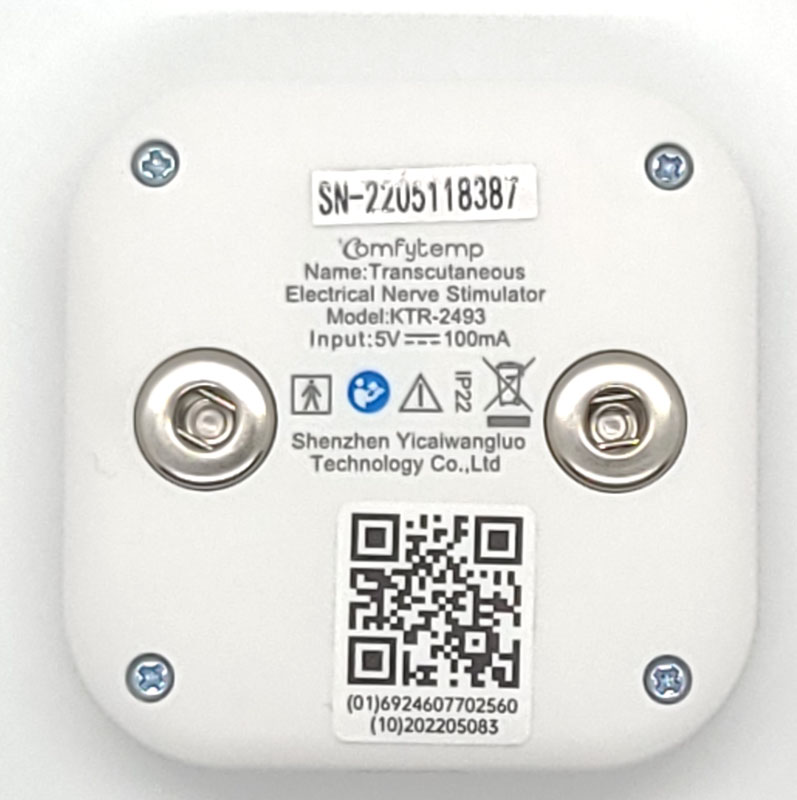 On the back of the control head, you can see the two snaps where the electrode pad snaps in.  The micro-USB charging port is along the bottom of the control head.  We've all seen plenty of charging ports so I didn't photograph it.
Here's what the control head looks like when snapped onto an electrode pad.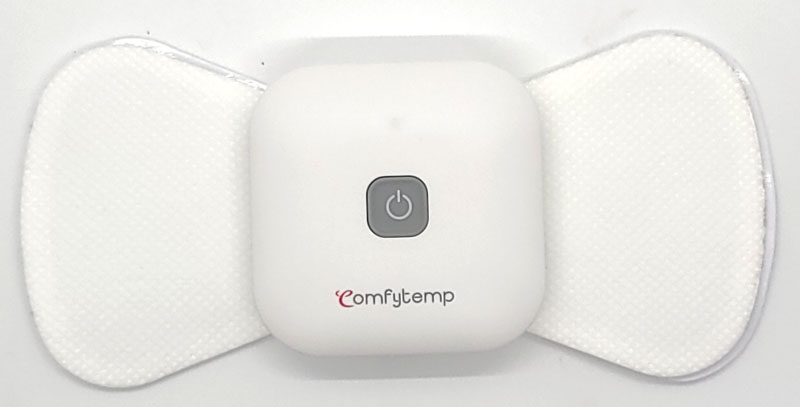 Each electrode pad comes stuck to a waxy sheet.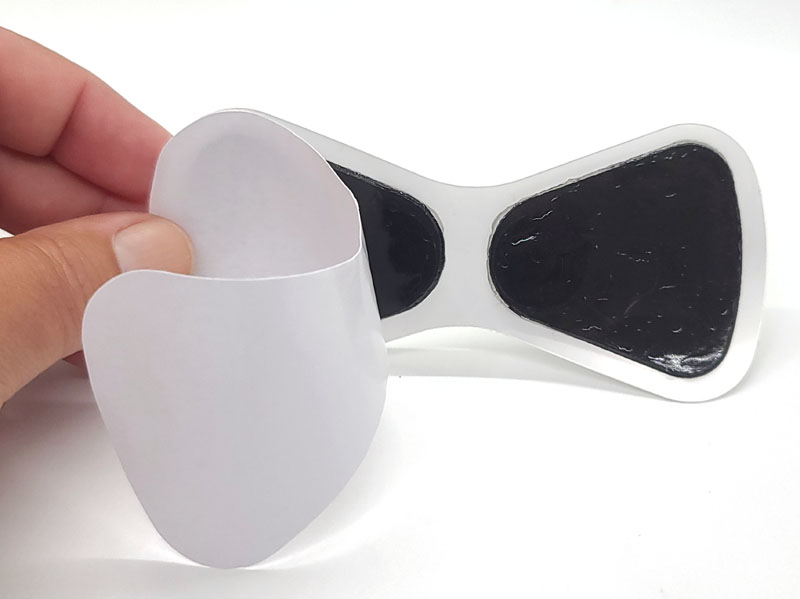 The adhesive is quite sticky.  If they lose their stickiness, you can wet the pad and wipe it clean.  I expect the pads to last a long time.  Comfytemp has just released a 4-pack of replacement electrode pads as well.
The Comfytemp Wireless TENS Unit's remote battery compartment is on the back of the unit.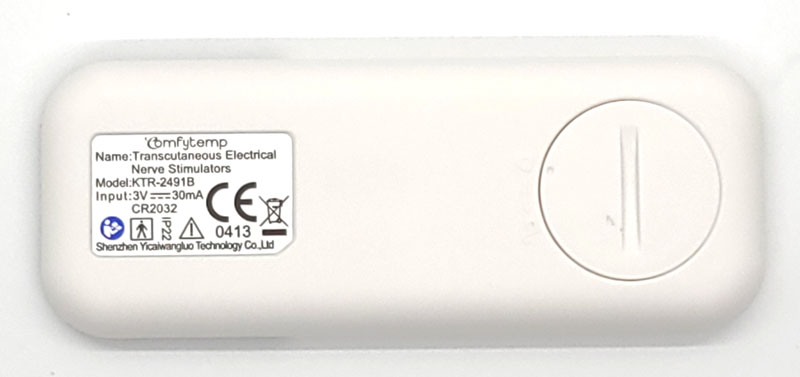 You use the included battery door tool (or a coin) to twist the door open.  It is a nice touch to include a spare battery.  Still, I wish the remote was rechargeable like the control head.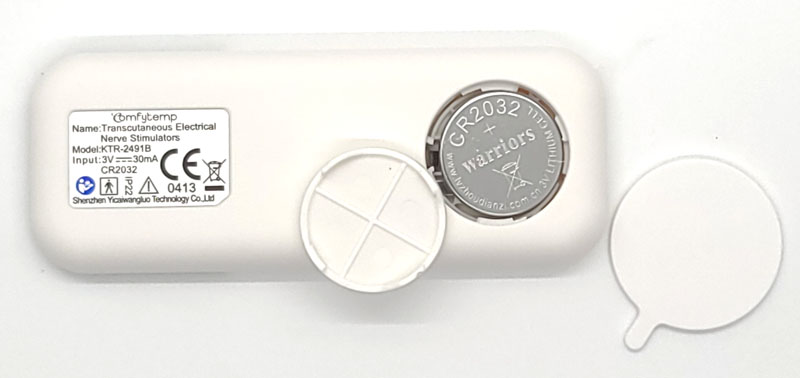 Setup
The remote comes with a battery already installed.  You have to charge the control head and then snap on an electrode to start using the device.
Performance
Before using any medical device, it is always a good idea to peruse the user manual for warnings and uses.  This is an issue.  This is a bit pet peeve for me – if you're selling in a country – any country – you should have manual writers and editors that speak and write the predominant language in that country.  Read the following and try not to cringe: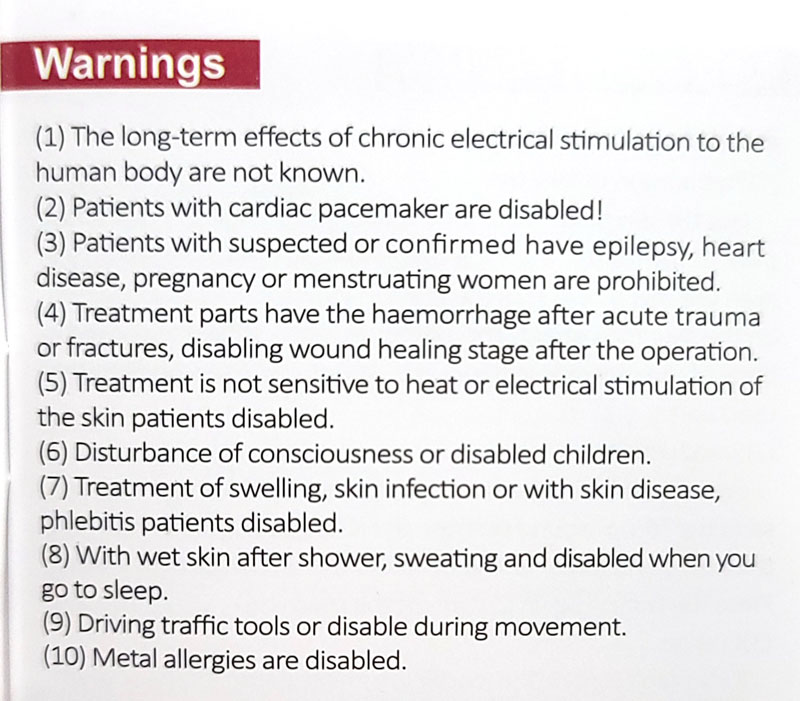 Lucky for me, the Comfytemp Wireless TENS Unit is pretty easy to use, but wow, the manual is terrible.
My shoulder has been bugging me lately, so I slapped the pad and control head on my shoulder, set for automatic mode #6 – sports injury, set the intensity to level 4, and sat back and got a nice massage.  Anything beyond level #4 wasn't comfortable to me, at least on my upper body. On my knees, I was able to tolerate level #10.  I can't imagine what level #16 would feel like!  But, everyone is different and needs different levels of stimulation, and there's where the Comfytemp unit provides terrific flexibility.
After a couple of 15-minute treatments, my shoulder felt much better with little to no pain.  Woo!
I've played around with the different modes.  I'm not sure I understand the names, and there's certainly no useful information about the modes in the manual.  I expect that they are designed to deliver similar results to the actual methods they are named for, like acupuncture, cupping, scraping, and so on.
I've completed at least 20 sessions on my shoulders and knees.  The rechargeable battery in the control head and the CR2032 controller battery are still going strong, so battery life is great.
What I like
The intensity default is zero – you never have to worry about turning it on and getting zapped
With 16 intensity modes, the delta from mode to mode is subtle so it isn't a huge jump – everyone should be able to find a comfortable and effective level
Nice set of modes
It's wireless!
Good battery life
What I'd change
Hire a user manual writer and editor that speak and write the languages where your product will be sold – this one is seriously bad, in fact, it is one of the worst I have seen
Have an option for longer treatment than 15 minutes
The remote should remember the last-used mode
It would be great if the remote was also rechargeable
Final thoughts
TENS is not a cure for pain.  It doesn't solve root issues.  What it does do is help you deal with the specific types of pain.  The Comfytemp Wireless TENS Unit works and accomplishes those goals. The fact that it does it without wires is a great thing.  Its wide range of treatment programs and intensity levels means that it should have something for just about everyone in terms of applicable treatment programs.  If the remote control unit was rechargeable, it would be the nearly perfect pain management solution.  Alas, you still need to provide CR2032 coin batteries and be able to translate an absolutely awful user manual.  Even given its shortcomings, the Confytemp TENS unit is an effective and low-cost pain management tool that is worth a look.
Price: $34.99
Where to buy: Comfytemp and Amazon
Source: The sample of this product was provided by Comfytemp.