We use affiliate links. If you buy something through the links on this page, we may earn a commission at no cost to you. Learn more.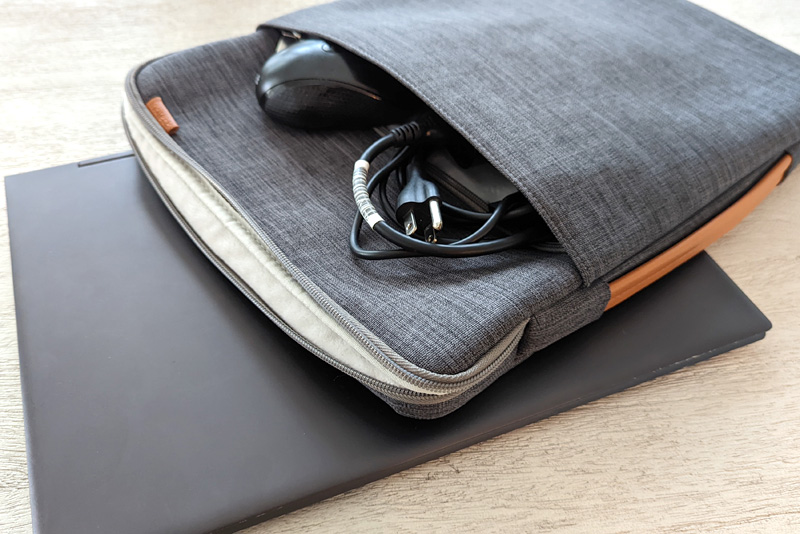 REVIEW – If you carry your laptop/tablet on a regular basis, you probably have chosen to utilize a bag/backpack/sleeve of some sort to do so.  And whatever you utilize to do that probably depends in large part on what else you have to carry with you.  I normally carry my power supply and a mouse with me.  It's also common for me to need things like folders and documents, pens, various adapters and connectors for my laptop, and a wireless presentation clicker.  So I usually opt for a laptop briefcase to carry everything with me. But I have been eyeing with envy for some time these laptop sleeves that I see everyone carrying. So simple. So sleek. And I can now see a need for a simple laptop sleeve in some instances when I don't need to carry all that stuff with me. Enter, the Inateck 360 Protection Shockproof Laptop Sleeve for $19.99.  Great price. Fancy name. Let's see what it brings to the table!
What is it?
The Inateck 360 Protection Shockproof Laptop Sleeve is a zippered, splashproof canvas laptop sleeve with an outside zippered pocket, and 360 degree padded protection for your laptop.
What's in the box?
The Inateck 360 Protection Shockproof Laptop Sleeve
Specs
Internal dimensions: 15.4 × 10.6 × 0.8 inch
External dimensions: 3 × 11.6 × 1.6 inch
Weight: .66 lbs
Splashproof: The exterior is made of splashproof 600D polyester fabric to prevent accidental splashing on your device.
360° Enhanced Protection: The interior thick protective strip can prevent the zipper from scratching the laptop. Plus the elastic shockproof cotton on the bottom and sides, the bag provides all-round protection. The soft flannel lining makes it scratch-resistant, dust-proof and shock-proof.
Elastic Handle: The PU handle allows the bag to switch between a briefcase and a laptop sleeve. With the handle hidden, it is a laptop sleeve and you can put it into a backpack. With the handle up, it turns into a laptop briefcase.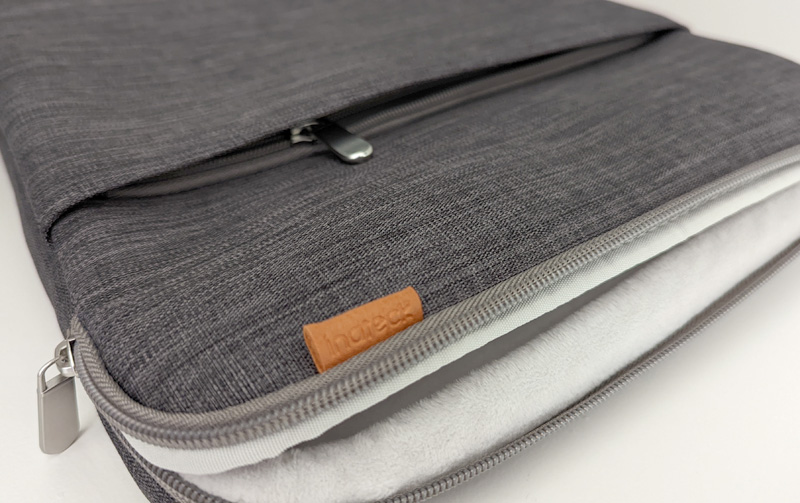 Design and Performance
The Inateck 360 Protection Shockproof Laptop Sleeve has a zippered enclose on the end (shorter side) of the sleeve, unlike most other sleeves that have the opening on the long side.  That isn't a big deal to me, but to some folks, it might be. Along the longer side of the sleeve is where you'll find the handle, which is pulled tight against the sleeve by elastic.  It is soft to the touch and can be pulled away from the sleeve slightly to enable you to carry the sleeve by the handle. It also weighs less than a pound so it is very light!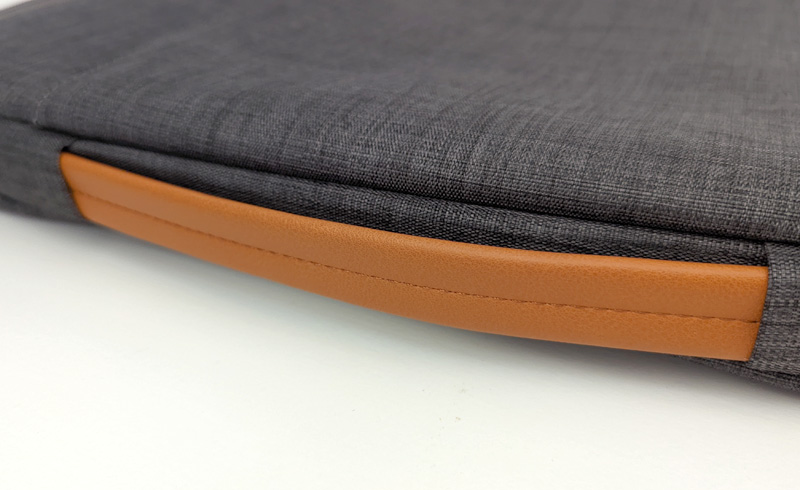 The outside is made of a polyester canvas that looks really good, with the stitched edges are rolled inside to prevent the seams from getting snagged and pulled. The manufacturer says that it is splashproof, so it should keep the laptop nice and dry as long as you don't jump in the pool.  I reviewed the 15.6 inch model and it fit my 15.6 inch laptop just great (see pictures below) with a little room to spare around the edges.  It also fits my wife's 13 inch MacBook Air, although her computer slides around in there because it is so much smaller. On Amazon you can actually buy a 13 inch version, a 14 inch, a 15.6 inch, and a 16 inch version, if you want it to fit your laptop better. It comes in black, black grey, dark grey, or red.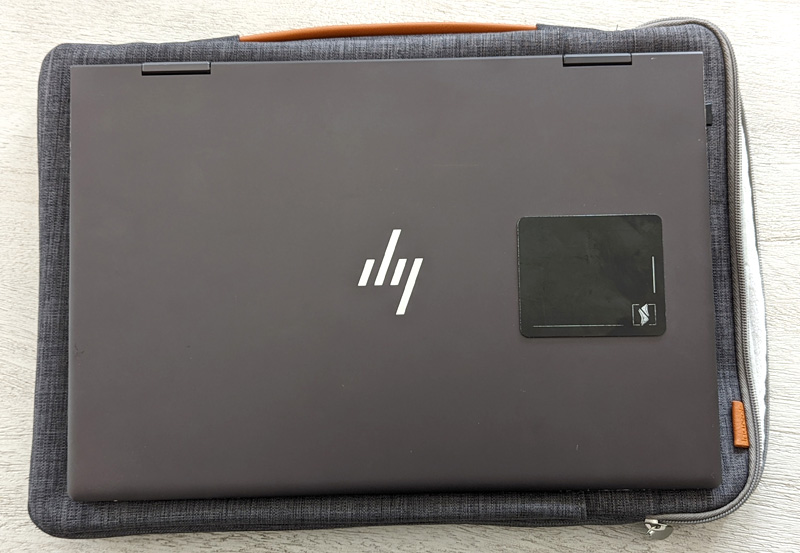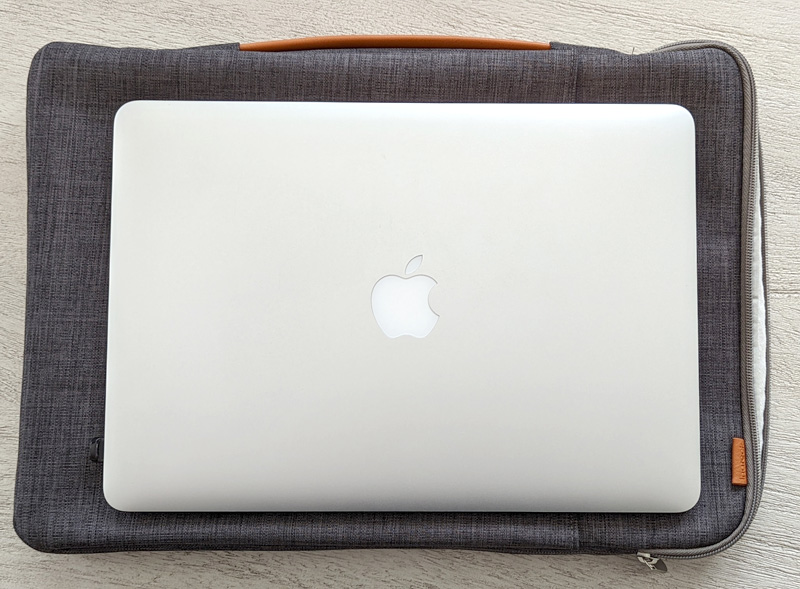 On the outside, you'll see a zippered pocket to hold anything extra that you want to carry.  It won't hold as much as a briefcase or a backpack, but it holds a lot in my opinion.  I can easily fit my wireless mouse and power adapter and cord, with room for more.  To give you an idea of the size, if I slide my wife's 13 inch MacBook Air in the outside pocket it will fit snuggly, and the computer will stick out of the pocket maybe an inch. So it's a good size. Now, of course, I won't be carrying the sleeve around with a MacBook Air sticking out of the pocket.  But I have several 10 inch tablets that easily fit in there with it zipped up.
So the Inateck 360 Protection Shockproof Laptop Sleeve's outside pocket is great.  The price is great. The handle is great. But where the Inateck sleeve really shines is what you don't see. Inateck calls it their "EdgeKeeper 360 protection".  As you can see from the picture below, there is a padded, thick edge all around the inside edge of the sleeve, which is lined with a soft material that feels like flannel. The second picture below shows the soft, raised bubble-type material that is the essence of their "EdgeKeeper protection", which protects your devices inside the sleeve from drops and bumps. It works great!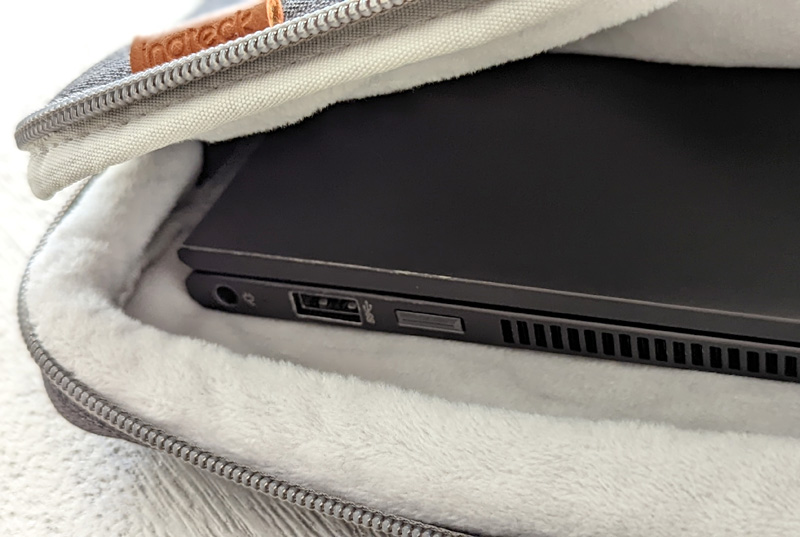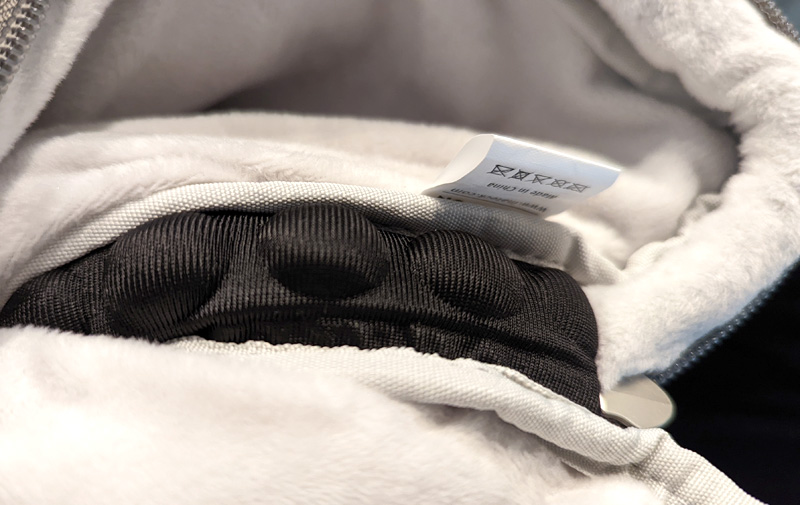 What I like
Great price
Great protection
Great outside pocket
Great quality
What I'd change
Final thoughts
The Inateck 360 Protection Shockproof Laptop Sleeve is now my go-to laptop carry bag when I don't need to carry all my paraphernalia.  In fact, there is enough room inside the sleeve that I also put my leather padfolio alongside my laptop.   The handle is padded and comfortable so even if I load the sleeve up, it's easy to carry.  There is enough room to carry multiple laptops and tablets in my opinion, and the price is great!  I highly recommend this sleeve.
Price: $19.99
Where to buy: Amazon or Inateck.
Source: The sample of this product was provided by Inateck.