We use affiliate links. If you buy something through the links on this page, we may earn a commission at no cost to you. Learn more.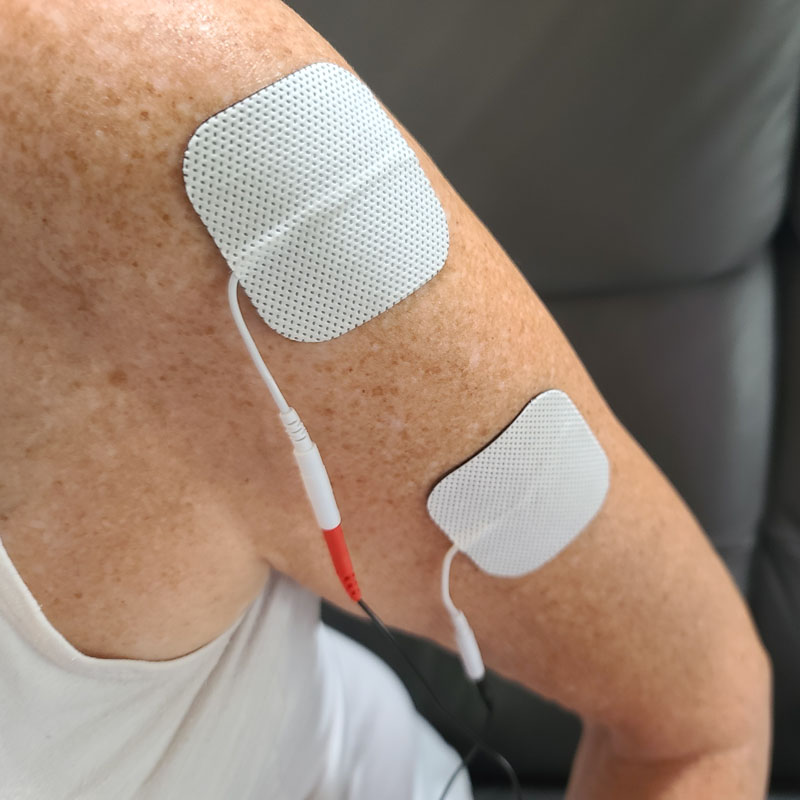 REVIEW – Good things can come with age.  Retirement – that's good.  Social Security deposits – also good. Travel without regard to schedules – really, really good.  Aches and pains – not so much.  If you suffer from chronic muscle and nerve pain, treatment with transcutaneous electrical nerve stimulation, or TENS, can bring temporary relief. Let's check out the Carex TENS 7000 system.
What is it?
The Carex TENS 7000 pain management device is a TENS (transcutaneous electrical nerve stimulation) therapy device. It uses electric pulses to stimulate muscles and nerves to help manage pain.
What's in the box?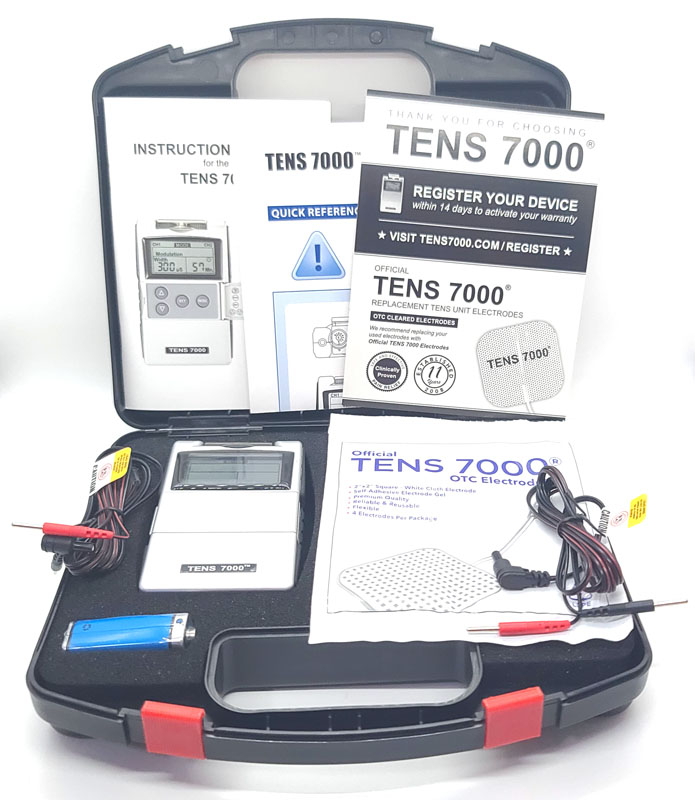 Dual-channel digital TENS therapy device with belt clip
2″ x 2″ premium electrodes x 4
Lead wires x 2
Hard case carrying case
9V battery
User manual
Quick reference guide
Registration card
Hardware specs
Case dimensions: 7.8″ x 8.8″ x 2.0″
Case weight (loaded): 1.1 lbs
TENS unit dimensions: 4.0″ x 2.4″ x 1.0″
TENS unit weight (with battery): 5.3 oz
Channels: Two (up to four electrodes)
Modes: Five – burst, normal, modulation, strength-duration 1 & 2
Pulse duration: 50-300 μs
Pulse rate: 2-50 Hz
Timer: Adjustable 2-60 minutes
Type: TENS – transcutaneous electrical nerve stimulation
Electrodes (wired/wireless): Wired
Electrode type: 2.0mm pigtail style
Belt clip: Yes
Battery type: 9V
Intensity range: 0-100 mA, 8 levels
Design and features
The Carex TENS 7000 pain management device comes in a sturdy hard-shell carrying case.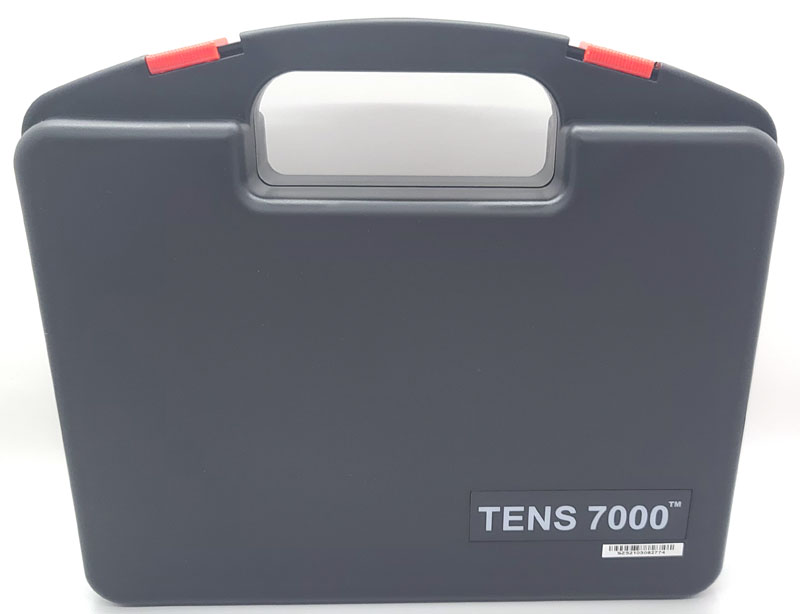 That case has plenty of room for everything you need, including a spare battery.  That makes it nice if you suffer from chronic pain and are traveling.
The unit itself is small and lightweight.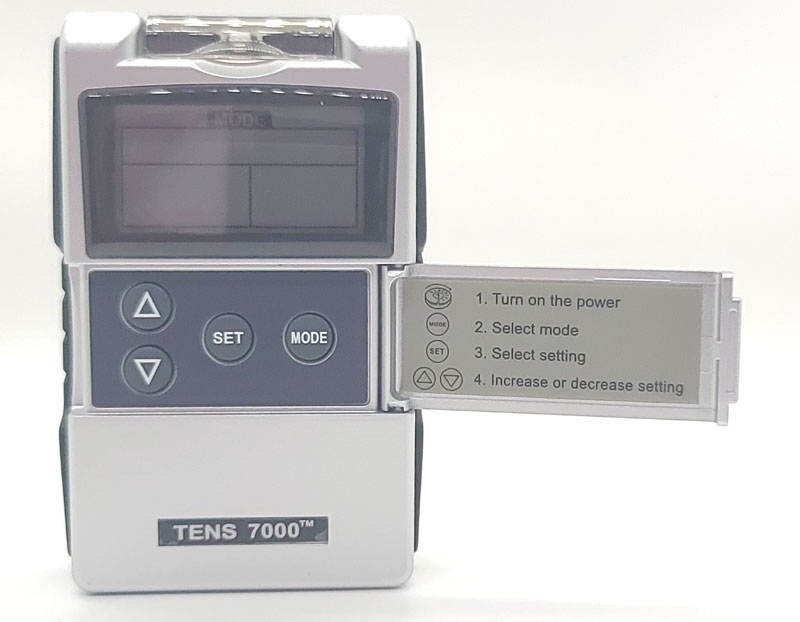 Opening the center door reveals all the control buttons.  The SET button flips through the various options and the UP and DOWN buttons allow you to cycle through the options.  The MODE button flips the unit through the five operating modes.  Those modes are described in the manual as follows: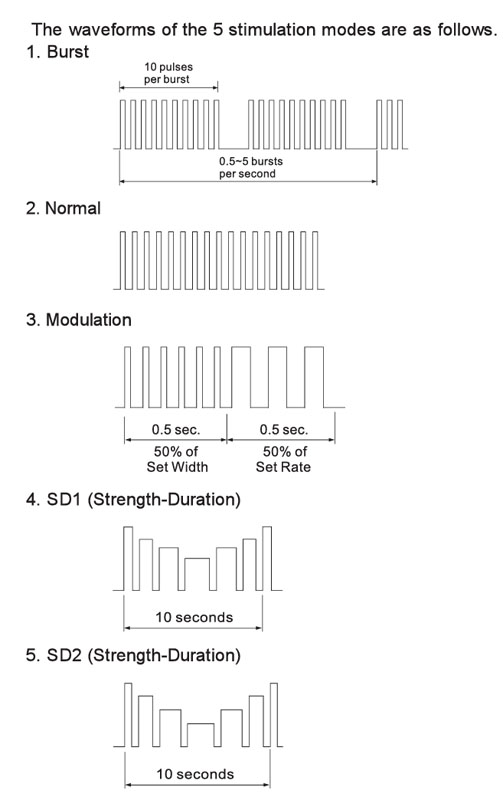 The manual further describes the modes as:
Burst

Burst rate adjustable 0.5 – 5Hz
Pulse width adjustable 50 – 300 μs
Frequency fixed 100 Hz

Normal

Continuous treatment based on setting the variable pulse with and rate

Modulation

Combination of pulse rate and width modulation, automatically varying both

SD1

Automatic modulation of intensity and pulse width in the 40% range

SD2

Automatic modulation of intensity and pulse width in the 70% range
From the user manual:
TREATMENT MODE
Normal or Conventional TENS offers the practitioners complete control over all the various treatment parameters of the instrument.
Burst Mode is analogous to the Low Rate TENS technique except the low-frequency individual pulses are replaced by individual "bursts" of 7-10 individual pulses. It is thus a combination of Conventional TENS and Low Rate TENS. In Burst Mode, the treatment frequency is fixed by the instrument and is not adjustable with the Frequency
Rate control.
Modulated Mode attempts to prevent nerve accommodation by continuously cycling the treatment intensity. When using Modulated Mode, increase the intensity only when the unit is at the maximum intensity of the modulation cycle. If the intensity is increased during a low-intensity period of the modulation cycle, the patient should increase the intensity slowly until the modulation cycle reaches the maximum to ensure a true maximum intensity output.
Strength-Duration Modulation (SD1 & SD2) consists of alternating modulated amplitude and width so that one parameter always decreases while the other is increasing and vice versa. The amplitude decreases from the amplitude control setting and returns to that setting. The width decreases from the width control setting and returns to that setting.
TIME DURATION
The onset of pain relief should occur shortly after the intensity setting has been determined. However, in some cases, pain relief may take as long as 30 minutes to achieve. TENS units are typically operated for long periods of time, with a minimum of 20-30 minutes, and in some post-operation protocols, as long as 36 hours. In general, pain relief will diminish within 30 minutes of the cessation of stimulation.
To turn the Carex TENS 7000 pain management device on, you rotate the channel dials on top of the unit.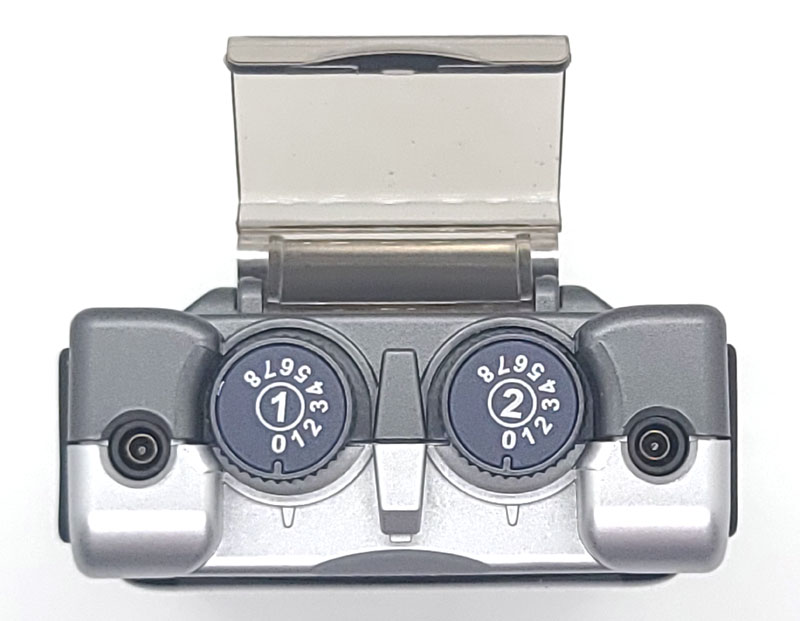 The dials are protected by a flip-up cover.  This prevents you from accidentally dialing up the power during treatment.  This thing can pack a punch, so spinning from 3 to 8 accidentally would most certainly get your immediate attention.  The manual says to turn the dials slowly.  I agree.  The first time I used this, I just turned the dial and it went to about four or five.  I almost jumped!
The display shows all the pertinent treatment information.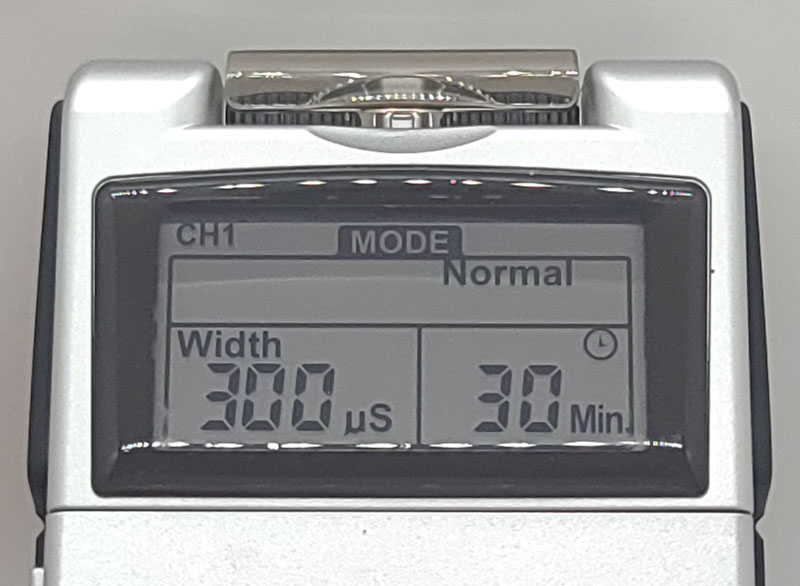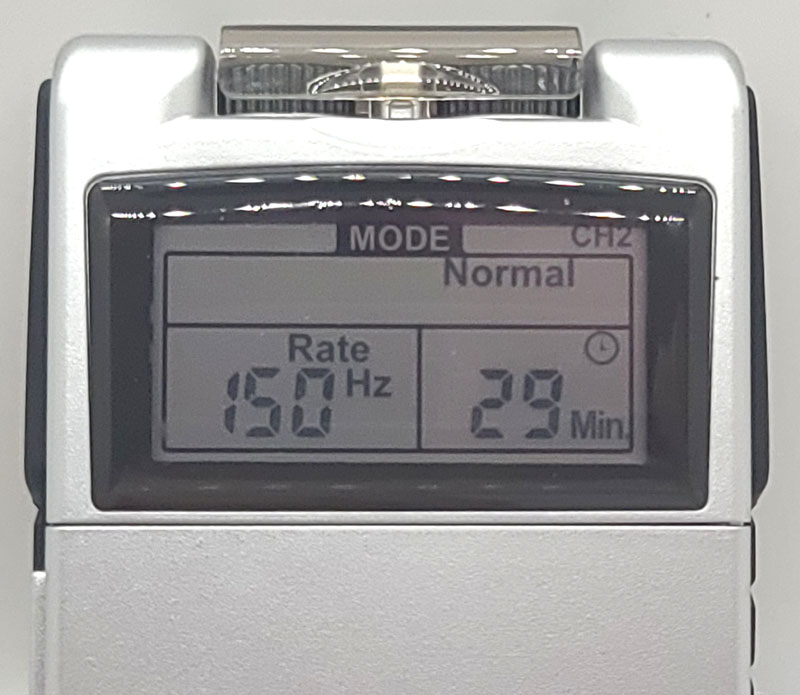 On the back of the Carex TENS 7000 pain management device, Carex places a sturdy belt clip. This makes it easy to get TENS treatment in you're on the go.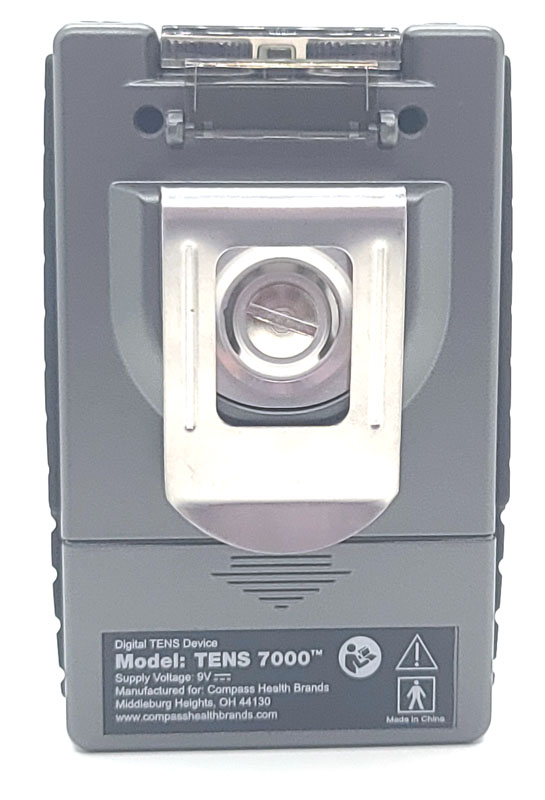 They include four reusable electrodes.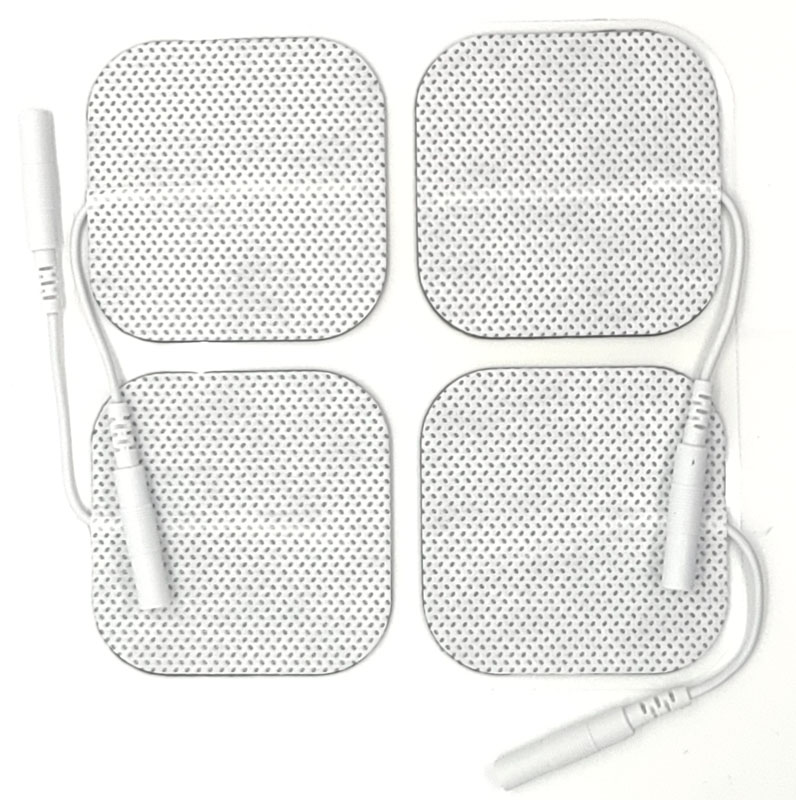 They come attached to a reusable plastic protective sheet.  You stick them on your skin around the treatment area.  Once treatment is over, you peel them off your skin and place them back on the plastic sheet.  The manual says that you should be able to use them for six or more treatments before the adhesive stops being able to provide good contact with your skin.
Setup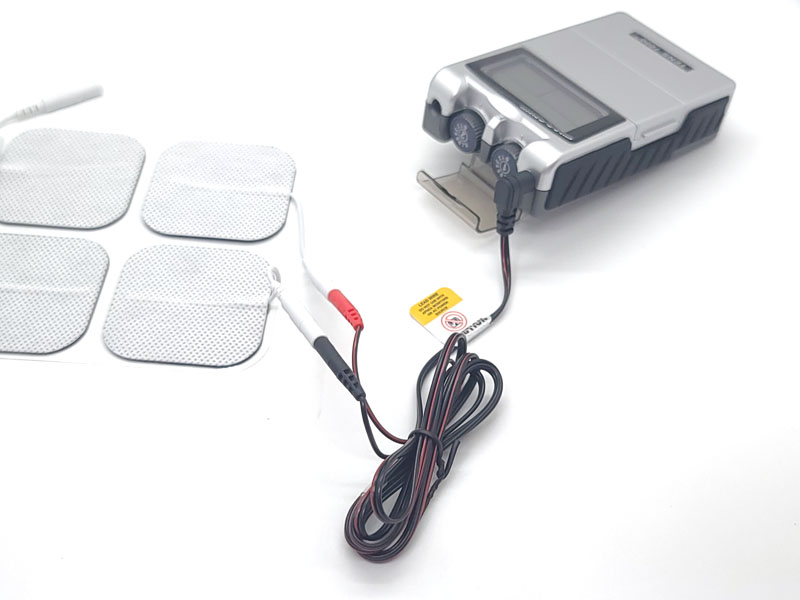 Setup is simple – install the battery, install the lead wire or wires, apply the electrodes and start treatment.
Performance
Here's another quote from the user manual:
Transcutaneous electrical nerve stimulation is a non-invasive, drug-free method of controlling pain. TENS uses tiny electrical impulses sent through the skin to the nerves to modify your pain perception. TENS does not cure any physiological problems; it only helps control the pain. TENS does not work for everyone however, in most patients it is effective in reducing or eliminating the pain, allowing for a return to normal activity.
In other words, TENS only treats pain, not the source of the pain.  What this means is that if you have chronic pain, you should seek the advice of a qualified medical professional before just treating the symptoms.  In many cases, the doctor does tell you that it is what it is – you're old and have pain.  In cases like that, TENS can help you manage that pain.  That's where we're at.
We both experience shoulder and upper arm pain, mainly after golfing, playing pickleball, and playing water volleyball.  We decided to try this TENS unit to see if it lessened the pain.
I started my testing of the Carex TENS 7000 pain management device by treating my shoulders.  I placed electrodes on the back of my shoulder and front of my collarbone so that the stimulation would go deep into the muscle.  I ran the treatment for the default 30 minutes.  I was pleasantly surprised that my shoulder felt better after the treatment.  The pain wasn't gone, but it was much less.  Unfortunately, that didn't last.  As the manual states, pain relief only lasts for the duration of the treatment and up to four times as long after.  Still, it did make my shoulder feel better, and that is a good thing.  I see this as a way to take the edge off the pain after participating in sports.
I have some ongoing wrist pain as well.  I tried treating my wrist, placing electrodes on the front and back of my wrist. Once again, I achieved some pain relief.
My wife came home from golf, complaining about tightness and dull pain in her left shoulder.  After 30 minutes of TENS treatment (that's her shoulder in the lead photo), she reported that her muscle felt less tight and the dull pain was gone.
In all three cases, the pain relief for us lasted for hours.  That is another good thing.
With the dual-channel configuration and four electrodes, the TENS 7000 is equally as good at treating large muscle areas as it is treating small ones.
One thing that is missing in the manual is a full description of the different settings and how they can be used to treat different areas of the body or different types of pain.
What I like
Easy to use
Lightweight and portable
Reasonably priced
Can treat small or large areas equally well
What I'd change
I'd like to see a more comprehensive description of how to set the unit to treat different areas/types of pain included in the user manual
Final thoughts
My wife and I have reached that point in life where pain is a given, especially as we remain physically active.  My wife has had TENS treatments in physical therapy several years ago and wondered about consumer units.  Our time with the Carex TENS 7000 pain management device has been very positive and we plan to continue using it as pain pops up.  If you suffer from chronic pain, and your medical professional suggests TENS treatment as a potential solution, the Carex TENS 7000 is worth a look.
Price: $34.99
Where to buy: Carex – additional 15% off by signing up with your email address; $31.95 at Amazon
Source: The sample of this product was provided by Carex.