We use affiliate links. If you buy something through the links on this page, we may earn a commission at no cost to you. Learn more.

REVIEW – It seems like everyone is working from home these days! If your employer is like mine, they give you a laptop, but the rest of the WFH kit is up to you. Working all day on a 15 inch laptop screen might be OK for some, but most crave a bit more screen real estate.  And a real keyboard.  And maybe a wireless mouse. And a nice microphone and camera for all those video meetings.  These will likely plug directly into most laptops (unless you have a newer Mac!) but it starts to look like a porcupine. And unplugging and plugging all that stuff back in can take some time.  
Docking stations have solved this problem!  Docking stations used to be model or brand specific, but the advent of USB-C has brought us into the age of the universal docking station.  As long as your laptop has USB-C, one wire brings power, video, audio, network, and all peripheral connections to and from your laptop. But not all docking stations are the same, as we are about to see with the Plugable USB-C Quad HDMI Docking Station. 
What is it?
The Plugable USB-C Quad HDMI docking station is a USB-C docking station allowing up to 4 1080p monitors, 4 USB inputs, audio, network, and 100W of USB-PD charging.  
What's in the box?
Plugable USB-C Quad HDMI Docking Station

3.3 foot (1 meter) USB-C to USB-C cable (for connecting your laptop to the dock

A power brick for powering the dock and the laptop connected to it

Quick start guide

Hardware specs
Model Number: 

UD-3900C4

4 USB-A 3.0 ports

4 HDMI ports (2 are displaylink only, 2 are "alt mode")

1 Gigabit ethernet port

1 USB-C port with 100W PD charging, to the host laptop

1 3.5mm headphone out

1 3.5mm audio in

1 SD card reader

1 USB-C port with 20W PD charging (great for charging your phone)

Maximum resolution (with displaylink)  1920×1080 at 60 Hz. (pay attention to this if you want to use multiple 4K or UHD monitors!)
Design and features
Aside from being a universal 1-wire dock with a nice form factor, the biggest feature of the Plugable USB-C Quad HDMI Docking Station is that it can accept 4 monitors. It does this with a few limitations, however. The dock includes the DisplayLink 3900 chipset, which essentially "tricks" your computer into allowing more monitors than it thinks it can handle.  For example, my 2021 M1 MacBook Air can really only accept one external monitor (without a dock).  I can plug as many into it as I want, but only one will be unique.  The others will just mirror the first.  This dock overcomes that limitation by allowing up to three unique monitors on my MacBook (with a Mac, the 4th monitor just mirrors the third.  Three is all you can get with a Mac). If you use a Windows laptop, you can get 4 unique monitors, plus the built-in laptop display, for a total of 5 – that's a lot of screens!

The design of the Plugable USB-C Quad HDMI Docking Station allows for the hiding of most of the cable mess, while still providing some access to handy ports on the front.  All the USB-A ports, HDMI ports, the network port, the USB-C port connecting the laptop, and the power brick port are all on the back.  This allows you to put the dock near the back edge of your desk and to jam most cables down behind.  On the front, you have the audio in jack, the audio out jack, the SD card reader, and the 20W USB-C port.  Having the audio out jack on the front is nice if you want to occasionally plug in headphones, but I use speakers which also use this port.  That means I always have a wire plugged into the front of the dock, messing up the otherwise clean look. 

Performance
The quick-start guide included with the dock is pretty brief.  Basically, you download and install the DisplayLink driver, power up the dock, plug in your laptop, and then plug in your devices (mouse, speakers, monitors, etc).  This sounds great in practice, but the reality is a bit different. I started with my work laptop; a heavily-managed Dell.  Because installing the DisplayLink driver on a windows laptop involves an executable file (like installing a program) I wasn't allowed to do it on my work laptop.  It wouldn't let me. Then I tried with my Mac.  It worked – sorta. My external monitor is a 32 inch Samsung ultra-HD display.  I was able to get the external monitor to work, but the maximum resolution I could get was 1920 x 1080. It didn't look good, and oddly, youtube videos didn't work.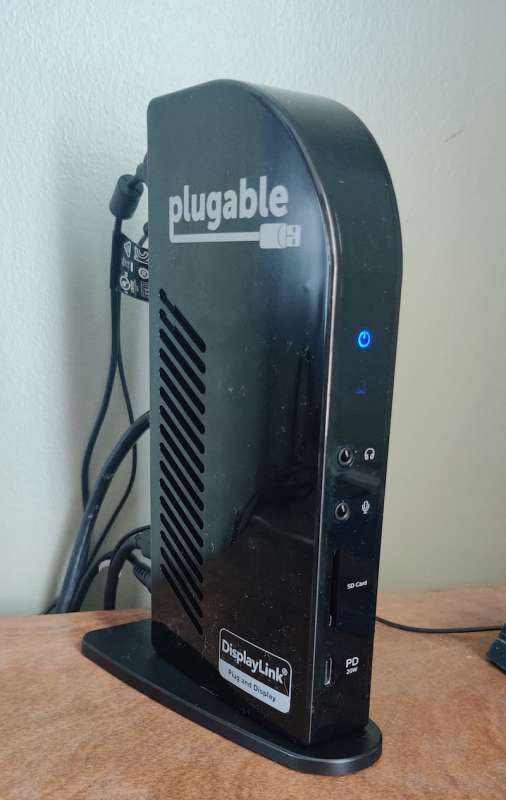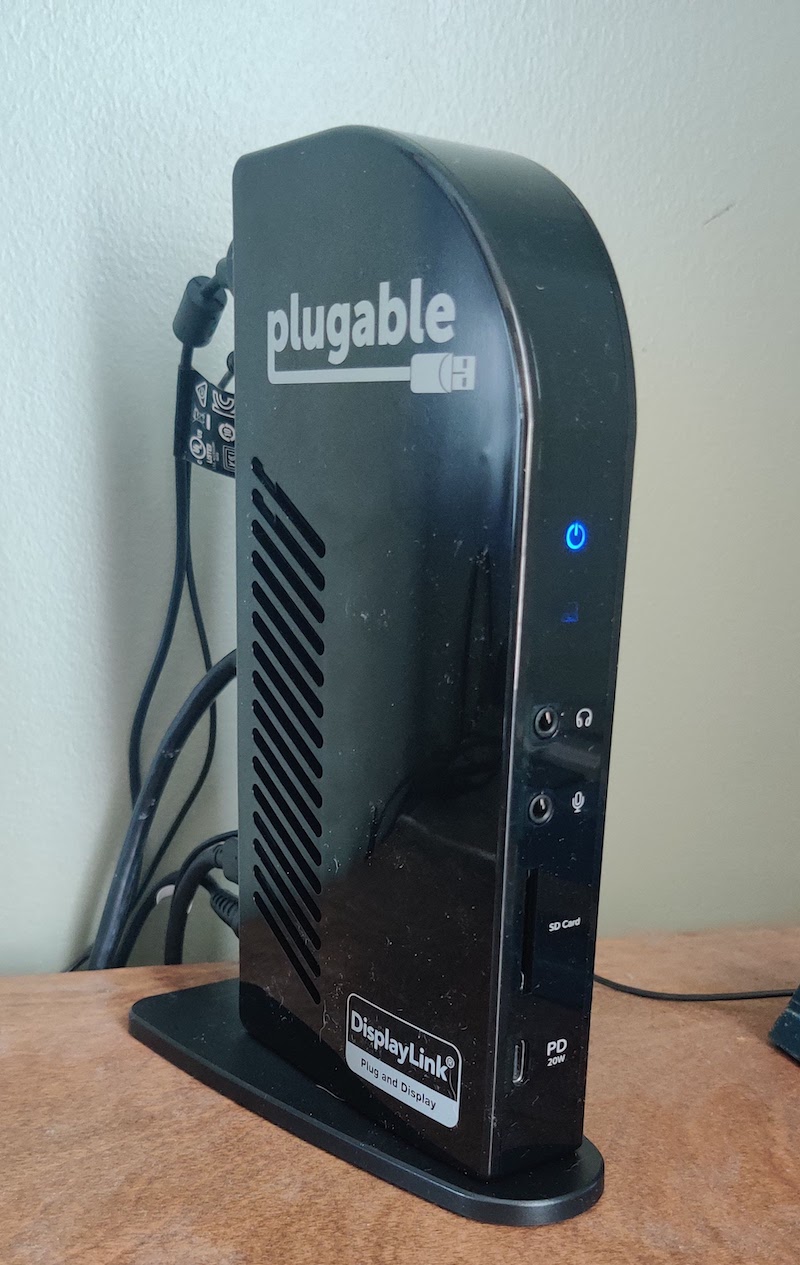 Then I started to search around a bit and really inspect the Plugable USB-C Quad HDMI Docking Station.  In some tiny print around the HDMI ports on the back is some writing that piqued my interest.  HDMI ports 1 and 2 are labeled "DisplayLink" but ports 3 and 4 are labeled "Alt Mode."  This told me that these two sets of HDMI ports were not the same.  So I tried plugging the monitor into port 3, one of the "alt mode" ports, and voilà!  After taking the DisplayLink software of the Mac, and using one of the "alt mode" ports, I was able to get full UHD resolution.  Then I thought I'd push my luck and plug my work laptop in.  And voilà again!  So it seems that in order to use multiple monitors with the dock, you do need the DisplayLink drivers installed.  But if you only want to use one (or two, for a windows laptop), the DisplayLink software is not required, and may in fact get in the way if your monitors are UHD or 4K.  Plugable makes another dock that overcomes this limitation, but it only allows 3 monitors.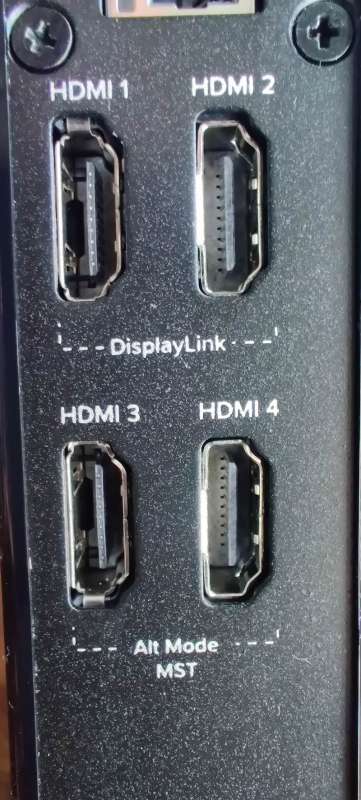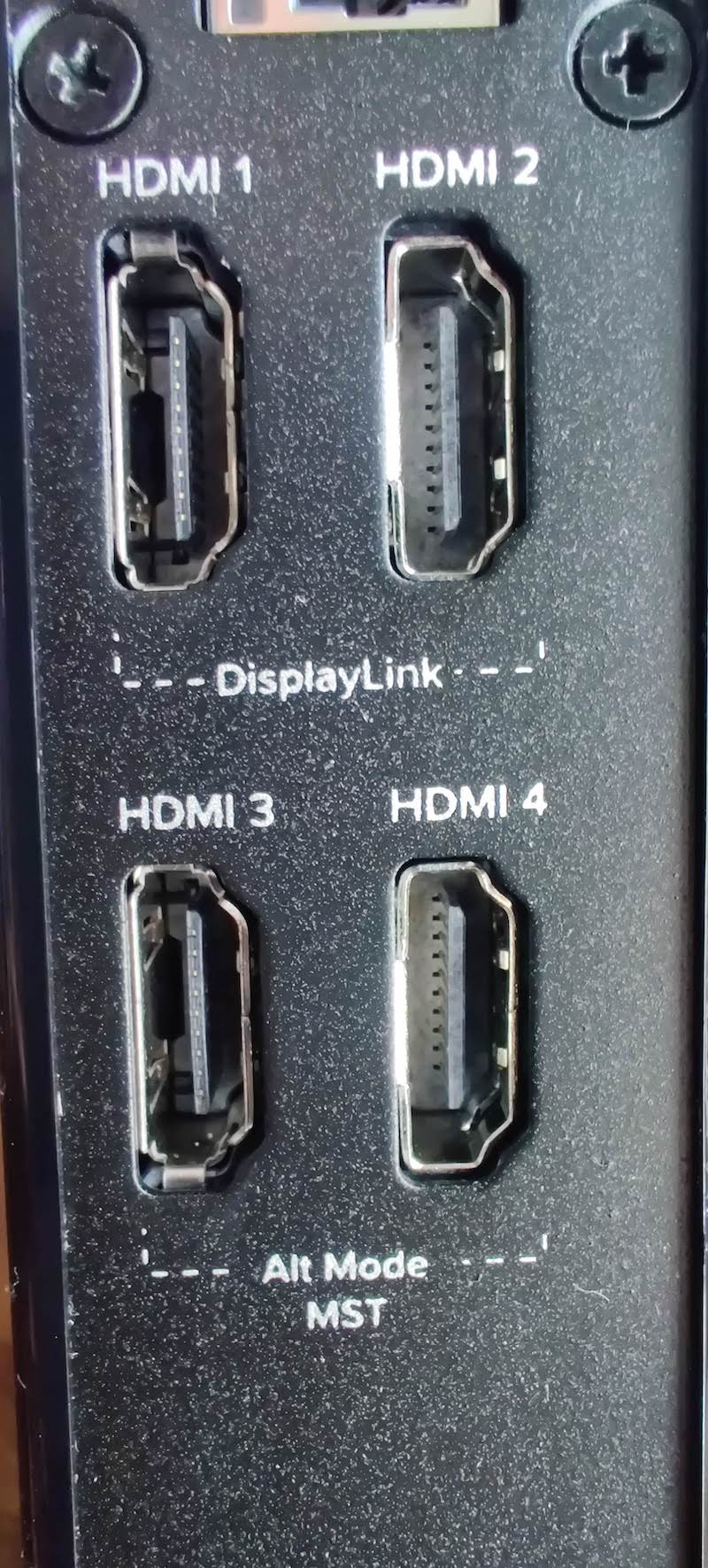 Aside from the challenges setting up the external display, the Plugable USB-C Quad HDMI Docking Station performs flawlessly. It's quick to connect, all signals seem strong, and the power delivery to charge and power the laptop is solid (well, my Dell work laptop did give me a notification that my battery was charging slowly and that I should only use the included charger, but the dock seemed to work fine). The form factor is attractive on my desk and allows me to hide most of the cable squirrel nest behind and below the desk, keeping a neat look. The speakers plug into the front of the dock instead of the back, which is unfortunately breaks up the clean look. Redundant audio-out jacks on front and back would have resolved this minor issue. 
What I like
Nice design with lots of ports

Dock is not huge, but there is plenty of room to plug everything in

Packaging is nice
What I'd change
Move the  audio out jack to the back (or make it redundant with the one on the front)

Quick-start guide was a bit too brief.  Some expanded instructions, including an explanation of the two HDMI port types would have been useful.  Maybe not in the quick start guide, but somewhere.  I had to search around and only found my answer on forums – not on any documentation from Plugable. . 

DisplayLink drivers are needed to really use all features, and that can't be installed on all computers (like managed work computers)

YouTube videos would not play under DisplayLink, even after re-starting, like the error message said to do. 
Final Thoughts
If you work from home, a dock is pretty much essential.  And if you have multiple computers (a work laptop, and a personal one, for example) a universal dock like the Plugable USB-C Quad HDMI Docking Station is great; one wire, all your stuff.  The ability to connect up to four 1920×1080 resolution monitors is nice if that's your thing.  But if you own UHD or 4K monitors, look for one of Plugable's other docks that allow you to run up to 3 of these higher resolution monitors.
A high-end dock like this designed to expand your computer's inherent capabilities is not without challenges.  If you are comfortable with your tech prowess and enjoy a bit of troubleshooting, this can be for you.  But if you exclusively use a managed laptop that prevents you from installing software, or you want a true "plug and play" solution, something simpler might be up your alley. 
Price:  $349.00
Where to buy: Plugable or Amazon
Source: The sample for this review was provided by Plugable.