We use affiliate links. If you buy something through the links on this page, we may earn a commission at no cost to you. Learn more.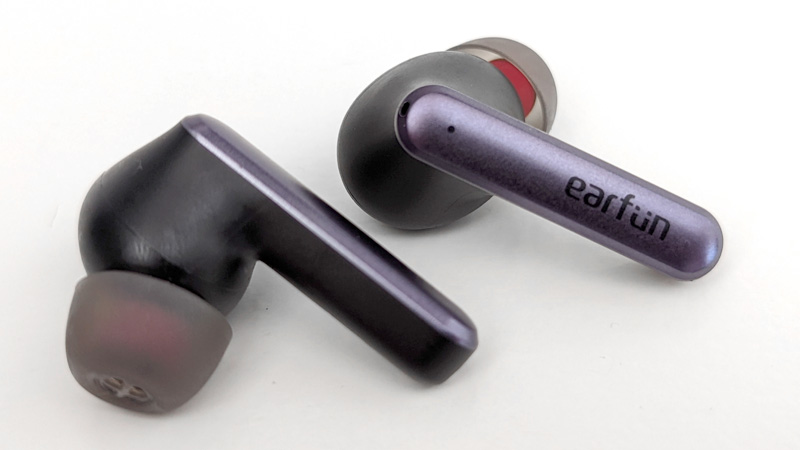 REVIEW – Like many of you, I have owned more earbuds over the years than I can count. I have tried every form factor out there… wireless, wired, over the ears, in the ears, behind the head, over the head, etc. I have enjoyed some of them, hated some of them, and put up with some of them. I have used earbuds that were meant to listen to music and had the ability to make phone calls thrown in as an extra feature. And I have used earbuds that were meant to make phone calls and had the ability to listen to music thrown in as an extra feature.  So with a name like "EarFun", I had to try them out, of course. Let's see what happened with the $69.99 EarFun Air S earbuds.
What is it?
EarFun Air S earbuds are true wireless earbuds with Bluetooth 5.2, touch controls, sweat and water resistance, a charging case (wireless charging capable), and different listening modes for gaming, noise cancellation, and ambient noise. There is also a companion smartphone app for Android and iPhone.
What's in the box?
The EarFun Air S earbuds
Charging case
4 sets of ear tips (different sizes)
User manual
USB-C cable (12 inches)
Cleaning stick (for removing ear wax!)
Hardware specs
Bluetooth 5.2 – A2DP, AVRCP, HFP, HSP
Battery: 40 mAh per earbud, 500 mAh for the charging case
Charging time: 1 hour for earbuds, 2 hrs for charging case via USB-C cable, and 3.5 hrs for charging the case via wireless charging. 10 minutes of charging = 2 hrs of playtime
Play time: Up to 6 hrs without active noise cancelling. Up to 5 hrs with active noise cancelling.
Qualcomm® TrueWireless™ Mirroring Technology
Qualcomm® QCC3040 SoC with aptX™ Audio Technology
Qualcomm® cVc™ 8.0 Echo Cancelling and Noise Suppression (ECNS)
Active Noise Cancellation (ANC) up to 30dB.
10mm Wool Composite Dynamic Drivers
<100ms Low Latency Mode for Video and Gaming
Intuitive Touch control
Wireless Charging Compatible (Qi) and USB-C Charging.
IPX5 Sweat & Water Resistant
Built-in Voice Assistant compatibility
Weight: 52 g / 2 oz.
Companion smartphone app – switch between modes (noise canceling, ambient sound, normal), access a sound equalizer, see battery levels, etc
Design and Performance
The design of the EarFun Air S earbuds is typical of many other earbuds out today. You have a silicon tip that fits snuggly in your ears, creating a seal to keep noise out and hold it in place.  I won't make the mistake again of getting earbuds that don't have something like this that ensures the earbud won't just fall out of your ear.  That silicon tip also helps with making a nice seal provides good sound to your ears.  The drivers are really good too.  I never listen to the music with the Air S earbuds with the volume turned all the way up. It's way too loud. And like other earbuds, you have a small shaft that hangs down from the ear that provides a microphone on the tip so that it can be rotated toward your mouth when you want good voice pickup during phone calls. On the outside surface of the earbud is where you engage with the touch controls (more on that later). They also have voice prompts on your ear telling you various things like when they turn off and on, when you switch listening modes, when the battery is almost dead, etc.
Like most earbuds out there today, the EarFun Air S earbuds come with a charging case for easy storage and charging.  There are small magnets that hold the earbuds in the case, which you would expect. On the back is the USB-C charging port, and the cable that comes with the earbuds is about 12 in long.  The charging case also has built-in wireless charging which is nice if you need that.  When you open the lid the earbuds come on, and when you place them back in the case and shut the lid they turn off. Leaving 1 earbud in the case with the lid open will engage the earbud and music will play in the earbud, for example. So when you are using only 1 earbud (like I do often at work) make sure to close the lid.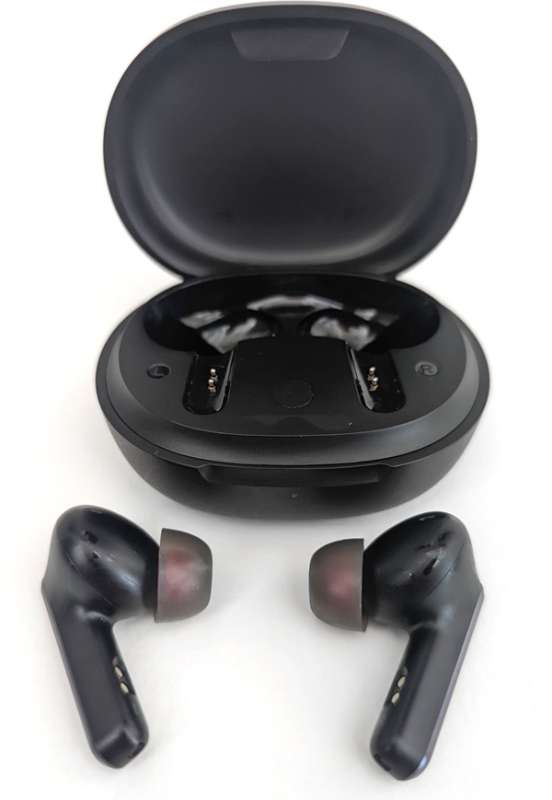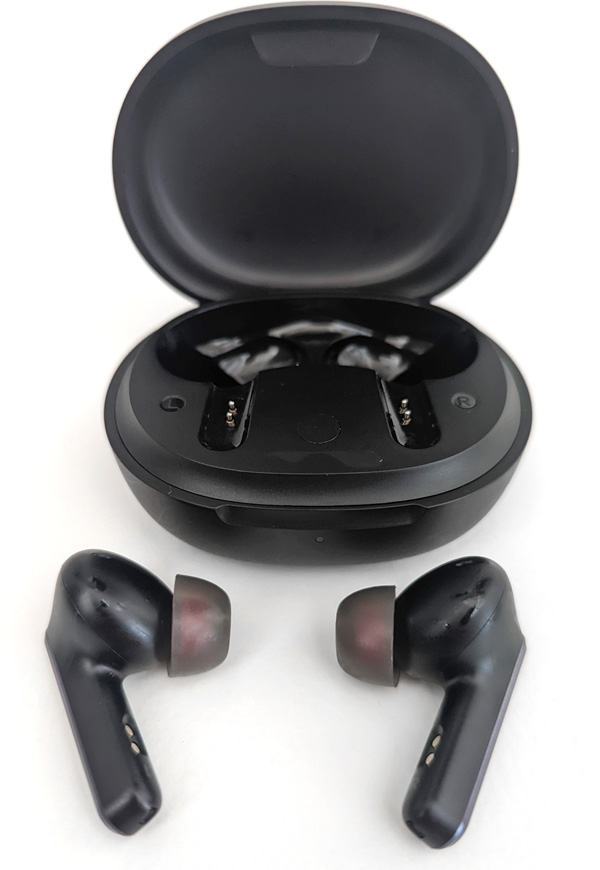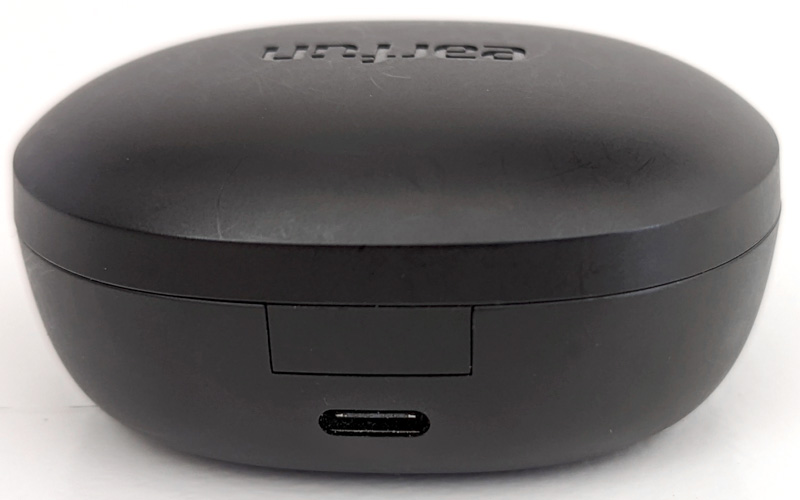 Pairing the EarFun Air S earbuds was very easy.  The first time I took them out of the case I scanned for new Bluetooth devices on my phone and found them.  If that doesn't work for you then you can put the earbuds back in the case, with the lid open.  Then you press the button inside the case that sits between the earbuds and hold that button for 3 seconds.  The blue LED indicator lights on the earbuds will flash blue and then you can find them when you are scanning for Bluetooth devices.
On the front of the charging case is a single LED indicator light, and this LED is used in an interesting way that I haven't seen on any other gadgets that I have.  Normally, a gadget will have 3 or 4 LED lights that show you approximately how much charge is left, but the Air S only has one.  This single LED indicator changes colors to indicate charge level… green means 'greater than 30% charge', orange means 'less than 30% charge', red means 'less than 10% charge', and flashing red means they are about to die. But I basically ignore that LED because the EarFun app (more on that below) shows me exactly how much charge is left for each bud. I do have a widget on my phone screen that shows me the charge level for all my Bluetooth devices when they are connected, but it doesn't show the charge level of both earbuds.  It just has 1 listing for "EarFun Air S", which is strange.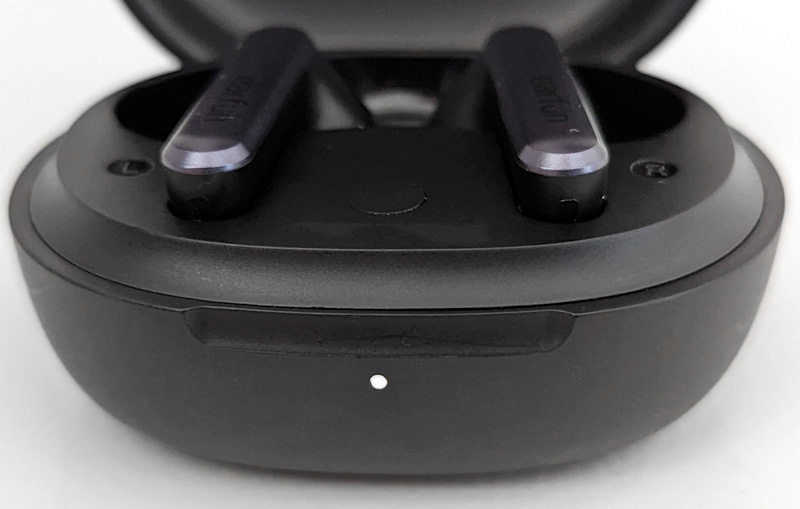 You control the functions on the EarFun Air S earbuds using touch gestures on each bud, and you do that by tapping the top part of the shaft that hangs down from your ears. Unlike some other earbuds with touch controls that I have had in the past, I rarely experience inadvertent touches on the Air S earbuds, which has always been my pet peeve on touch controls. There are various touches to control your music, make phone calls, and access your Voice Assistant. And some of the touch controls are earbud-specific. For example, if you want to lower the volume, single touch the left earbud, and if you want to raise the volume you single touch the right earbud.  But if you are only listening with 1 earbud in your ear then you lose that control on the other earbud that isn't in your ear.  It's a small thing, true. But I had to mention it. A neat feature in the app is that you can customize 2 of the touches: triple tap and long press.  So let's talk about the app now…
It seems that more and more gadgets are coming with companion smartphone apps.  But having an app for adjusting features and settings comes with a tradeoff. If you use the Air S earbuds with your laptop computer, for example, you won't be able to use the smartphone app to change some of the features. Having said that, there are some issues with some of the features provided in the app. For example, you can change the listening mode from 'normal' to 'noise cancelling' to 'ambient sound'. I ran those 3 modes through the paces and I just can't see much difference between them. The Air S earbuds do a pretty good job of noise cancellation, but I think it has more to do with the tight seal of the silicon tips in my ears than the software on the earbud. I also didn't see any noticeable performance difference with 'ambient sound'. You are supposed to be able to hear background noise at least a little so that you can be more aware of what is going on around you like when you are jogging. I am guessing that these things could be solved with a firmware update, but I am not sure.
In the app you can see the charging level for each earbud itself, which is nice, so you can tell which one is almost dead without having to rely on that LED indicator that I mentioned earlier. You also have an equalizer in the app to adjust the bass and treble of the sound.  It is pretty easy to use and intuitive. But like the other features I mentioned in the previous paragraph, I didn't see much of a difference when I messed with the base and treble. I mentioned earlier that the sound is pretty loud with the Air S earbuds, and that's true. No complaints there. But I am disappointed with the lack of a rich base sound, and changing the equalizer to boost the base to the highest setting only makes a very slight difference. Again, I am betting that these things could be changed with the software and a firmware update.
Finally, there is a 'game mode' you can turn on in the app that is supposed to provide a better latency experience when you are watching movies or playing highly intense games. I don't play intense games on my phone that would require something like that, and while watching videos on YouTube the 'game mode' didn't make a difference one way or another for me.  But if you use that mode, EarFun says that it drains the battery faster, so keep that in mind.
Here are some screenshots of the app: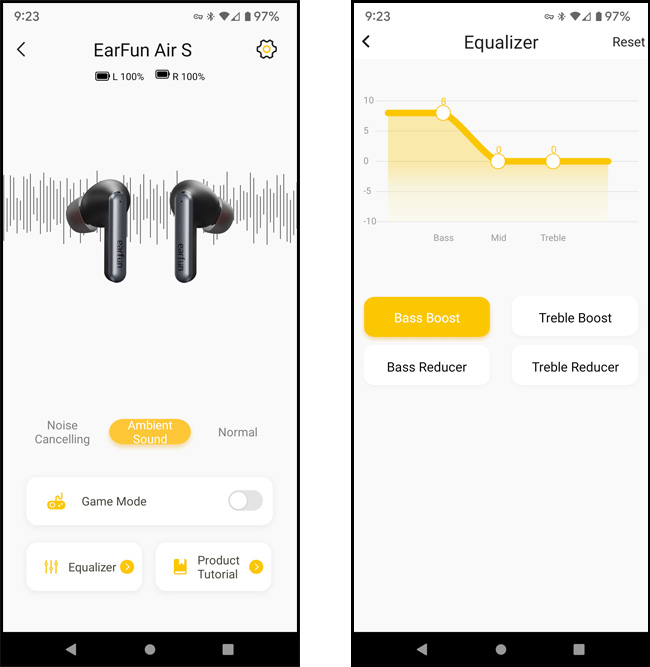 What I like
Great fit that stays in place
Touch controls work pretty well
You can customize some of the taps with the app (long press and triple tap)
What I'd change
There is very little difference, if any, between the 3 listening modes. It would be nice if there was a more noticeable difference
There isn't much base, even when manipulating the equalizer, so deep rich sound is missing.
Final thoughts
The EarFun Air S earbuds are a cheaper version of some of their pricier EarFun earbuds, so you have to know what you are getting and what you are not getting. You won't get the ear detection feature so that the music pauses when you remove an earbud. The Air S earbuds battery won't last as long as some other earbuds.  And if you want a deep, rich music experience with customized listening modes and equalizer settings using the EarFun smartphone app, you'll probably be a little disappointed. I use them to listen to music if I am only going to do that for a short time.  They connect really quickly to my phone and the sound is decent. The fit is great and they stay in place, and they come with several different sizes of tips to fit just about any size ear. The wireless charging is nice to have if that's important to you. Using the Air S earbuds for phone calls works great and I use them mostly for that, honestly. I would say that they are a decent middle-of-the-road set of earbuds that can give you decent performance for both music and calls, and the companion app is nice to have, albeit a little disappointing in some aspects.
Price: $69.99
Where to buy: Amazon
Source: The sample of this product was provided by EarFun.