We use affiliate links. If you buy something through the links on this page, we may earn a commission at no cost to you. Learn more.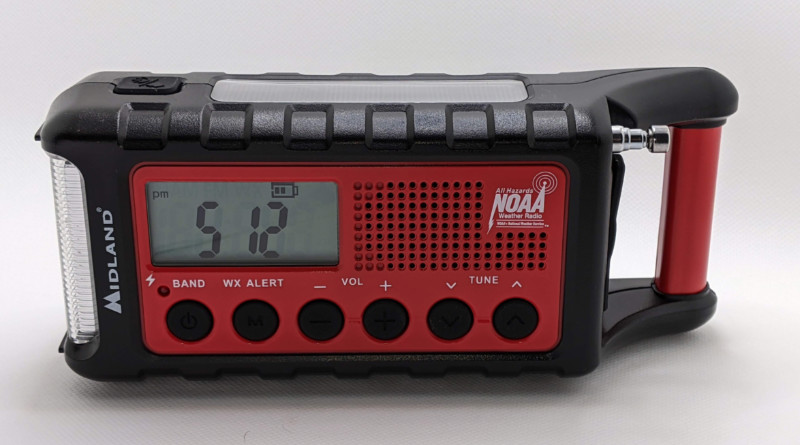 REVIEW – I don't have white tape on my glasses but I'm a bit of a weather nerd. I've taken the NOAA/NWS Advanced Skywarn Weather Spotter training, have 5 weather apps on my phone, and I use Twitter to follow my NOAA office for alerts. I have a weather radio at my bedside and one in my office. So who needs another weather radio? Well, the Midland ER310 emergency crank weather radio is portable, so there. 
The Midland ER310 is a solidly made weather alert radio that also tunes AM/FM radio channels. Midland makes a range of excellent radio equipment and they've been around for a long time. I'll introduce you to the Midland ER310. 
What is it
The Midland ER310 emergency crank weather radio is a portable, rechargeable, weather radio receiver and AM/FM radio.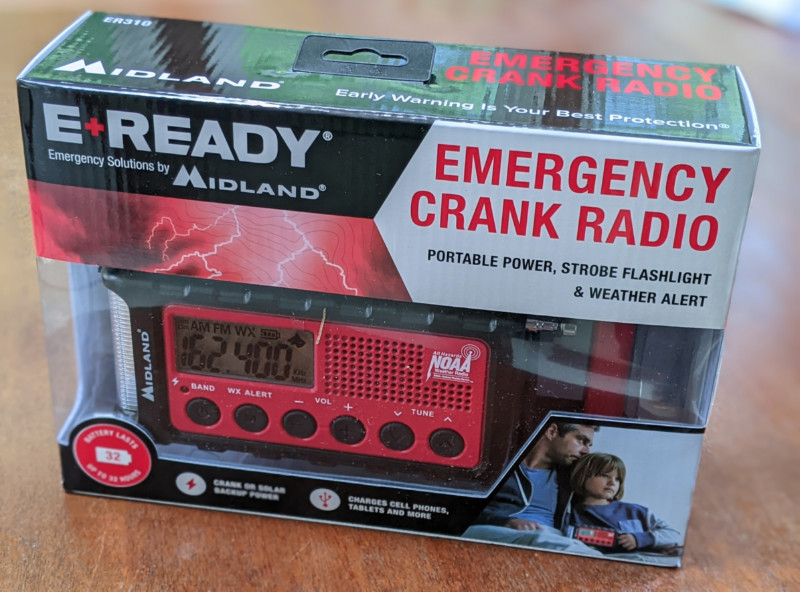 What's in the box
Midland ER310 emergency crank weather radio

Micro USB charge cable

Quick start sheet and manual booklet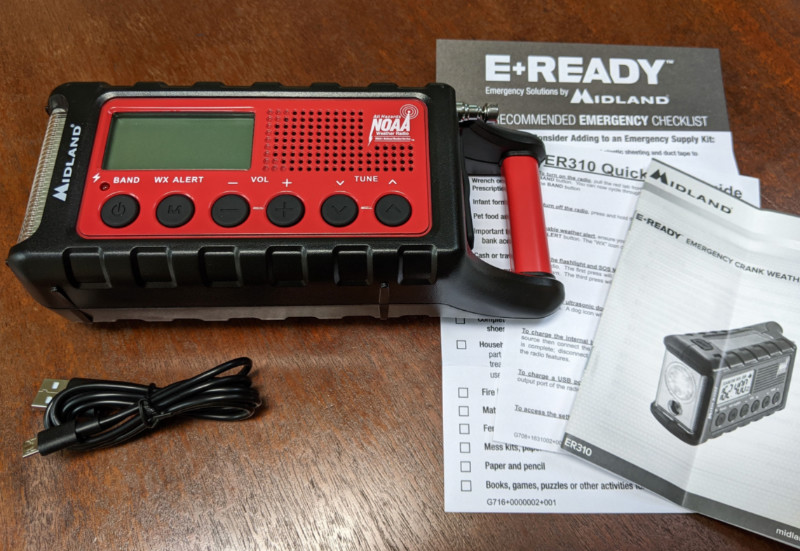 Hardware specs
2600 mAh lithium ion rechargeable battery

AM/FM receiver

NOAA/NWS weather channel receiver

Ultrasonic 'dog alert' tone

Hand crank power generator

130 lumen LED flashlight

20" telescoping antenna

1 pound, 0.3 ounces

8" width x 3.25" height x 2.25" depth

⅛" headphone jack

USB-A power output jack

Micro USB charger input jack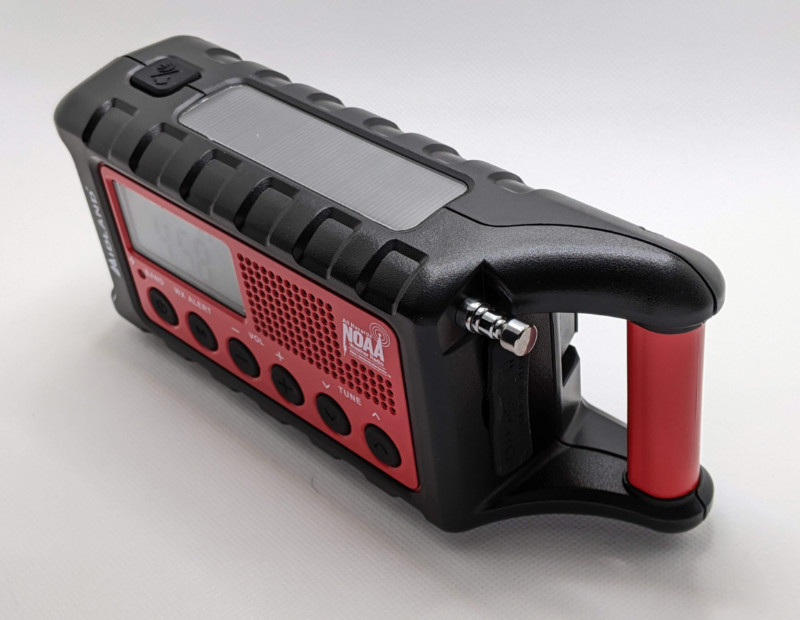 Design and features
Cranking action charges the ER310 battery or devices like a phone or flashlight via the USB-A output jack [Cannot substantiate this external charging feature.]

Fully charged battery provides 32 hours of radio listening.

Bright LED flashlight with SOS mode

Tunes AM/FM radio and all NOAA/NWS weather channels

Loud, distinctive alert tone indicates NOAA is sending a weather alert

Durable plastic construction

Easy to read illuminated LCD screen

Radio can be powered by a built-in lithium ion battery that can be recharged with AC current or cranking, a solar panel, or by the use of AA batteries. 

Radio can silently monitor the NOAA channel for alerts or interrupt with alerts during AM/FM broadcasts.
Installation and setup
After fully charging the battery of the Midland ER310 emergency crank weather radio, the setup is pretty straightforward. By a long hold on the 'WX ALERT' button, the display backlight comes on and begins flashing the LCD characters of the several features that can be set. You can scroll through items to be set by pressing the WX ALERT button, and use the up or down arrow of the 'TUNE' buttons to set the time of day, time display in 12 or 24 hour format, backlight timeout preference, and the display of either the weather channel number or frequency. After a settings choice, a press of the WX ALERT button confirms the choice and moves to the next item, until you cycle back to the time and the display is no longer flashing.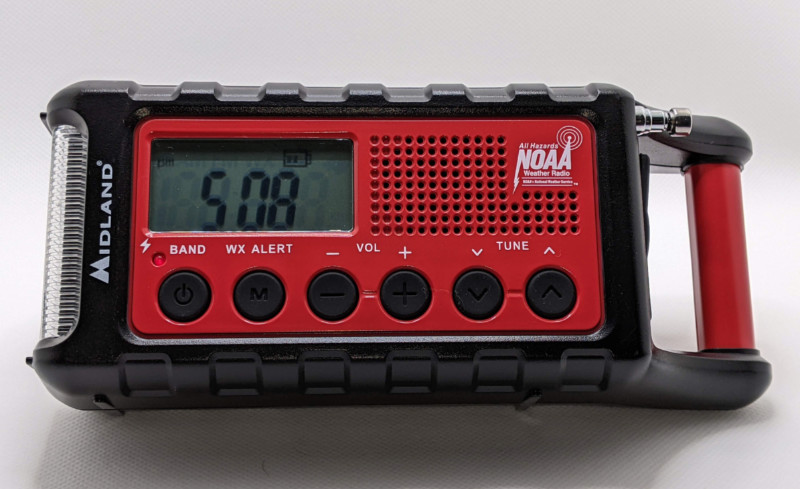 Testing and observations
The National Oceanic and Atmospheric Administration / National Weather Service (NOAA/NWS)  has great information about weather radio monitoring here: https://www.weather.gov/nwr/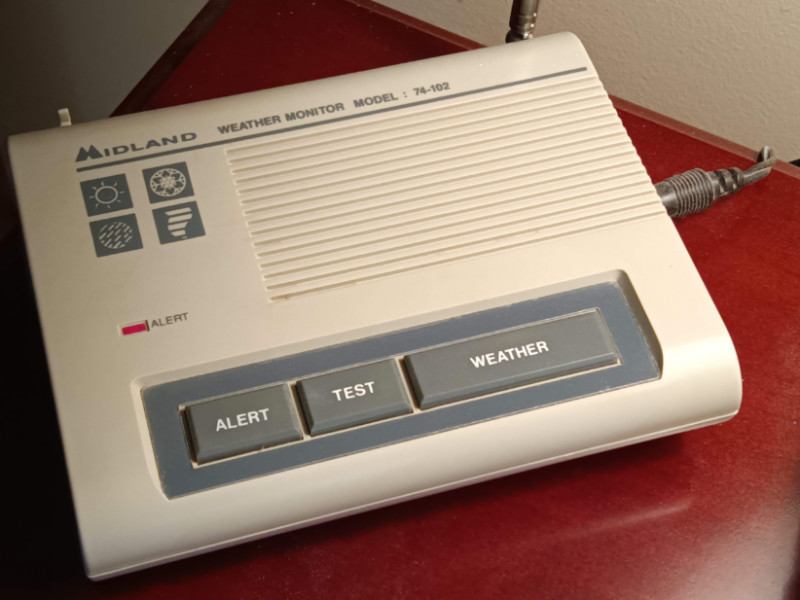 Here's the antique weather radio at my bedside, still operational with 3 channels only. By coincidence, there's the Midland name.
SOUND QUALITY
The Midland ER310 is first and foremost an emergency weather alert radio. It plays AM/FM radio just fine but this isn't a music player. The radio has a single, front facing speaker. News or talk radio will sound better than music but it'll play broadcast music stations too, through its speaker or the ⅛" mono earphone jack. Voice quality from the speaker is great. 
WEATHER ALERT TONE
There is no test function for the ER310 alert tone/siren that sounds when the U.S. Weather Service / NOAA sends an alert. The alert tone is unmissable to the point that most people would not want this radio at the bedside unless you're outdoors. I wouldn't have chosen the alert tone Midland used for the ER310 but it won't go unnoticed. You can hear the alert sound below. 
It would be nice if the radio just activated the speaker when NOAA sends an alert so that the tone sent by NOAA is played through the speaker, followed by the announcement of the warning specifics. Or it would be a useful change if the radio sounded any other less startling tone such as a repeated beep. 
During a recent tornado -warning- in my area (a 'warning' being more serious than a 'watch' because a tornado has been spotted or there's radar evidence of rotational wind) the tone from the ER310 really scared my grandkids. I turned off the ER310 in favor of calmer sounding radios I already have in place. Their tones are more 'inside the house' appropriate.
As you can tell, the alert tone is pre-set for 'loud'. It is 'bother my dog' loud. But, it's un-missable, which is probably why it is designed this way. This alert siren tone would be perfect at a picnic or when camping, backpacking, etc. If the ER310 is used at the bedside and an alert sounds, you'd better be single, or prepared to become single. 
POWER
If the 2600 mAh battery in the Midland ER310 emergency crank weather radio is empty, it charges within 5 hours using the Micro USB charging port at the handle side of the radio.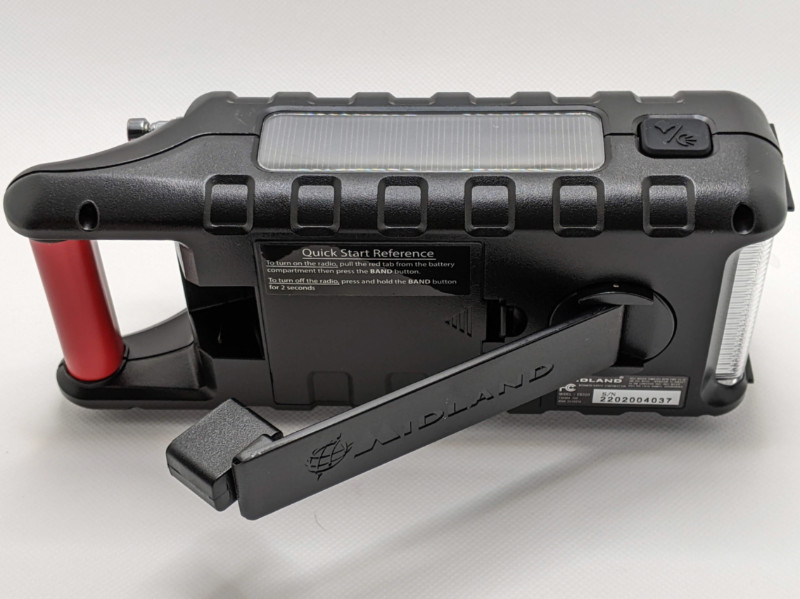 Cranking can supply power to a depleted battery and the longer and faster one cranks, the more power is generated to the battery. The manual says one minute of cranking produces 9 minutes of radio use time.
As to the crank charger's ability to charge cellphones, as described in the manual, I was unable to substantiate this product claim. I tried crank-charging two different phones by attaching their charging cables to the USB-A output jack and cranking the ER310 crank handle as fast as I could. Neither phone showed its charging symbol which would have indicated the phone was being charged.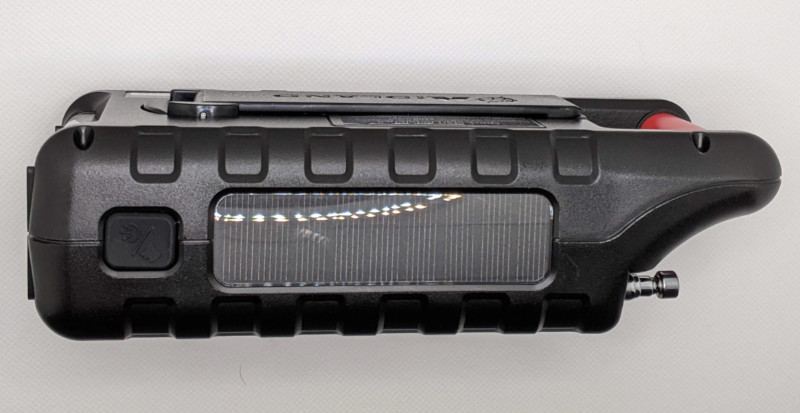 The solar panel at the top of the radio really does charge the radio. I could not get to a full three bar battery indicator after the radio spent hours in direct bright sun, but I do get a solid two battery bars charge with sunlight alone. The radio operates for hours at the two battery bar level. If the radio is charged fully, then used in direct sun, the solar panel seems to hold the battery at nearly full capacity. 
Highly available AA batteries can power the Midland ER310 emergency crank weather radio but it'll take 6 of them. I much prefer using the built in lithium ion rechargeable battery. I haven't run the radio with AA's but it's nice to have the option given their easy availability. 
There's a small switch labeled 'LI/AA' under the rubber cover on the handle side of the radio. The switch should be towards 'AA' if AA batteries are powering the radio. 
OPERATION
The NOAA/NWS transmits on their weather radio channels full time, 24-7 through their individual NOAA offices across the country. Stations can go down from time to time due to maintenance or technical trouble. 
You can cycle through all 7 of the NOAA weather radio channels and determine the clearest one for your location. If you can receive an NOAA broadcast with the antenna down that's definitely the one to save for 'antenna up' operation. 
If you set the ER310 radio to monitor the NOAA weather channel for your area it'll do so silently, full time until you turn the feature off. A single press of the 'WX ALERT' button turns on the monitoring of the NOAA channel. 
The manual does not state that the ER310 is weatherized. While it is portable, it does not have a water resistance rating. 
DURABILITY
Ah, gravity. I can confirm the ER310 is durable. Someone's grandkids may have knocked this radio off a window sill(s) when I had it solar charging. Multiple times. There was no breakage or malfunction as a result of those 3 foot drops (note, plural) onto hardwood flooring. Also the expected juvenile curiosity of button-poking, flashlight flashing, and more dropping was harmless to the ER310. I can now call it kid-proof. 
MONITORING 
If 'WX ALERT' channel monitoring is on when you're listening to an AM or FM broadcast when NOAA transmits an alert the AM/FM broadcast will stop and the weather alert tone will sound. Press any button to stop the siren and you'll hear the weather channel you've set. If you miss a weather alert a flashing Weather Memory Indicator (the red LED next to the 'BAND' button) will be present for an hour after the alert and you can press 'BAND' to hear the NOAA broadcast. Recent alert statements are usually included within the standard broadcast being aired on the NOAA channels.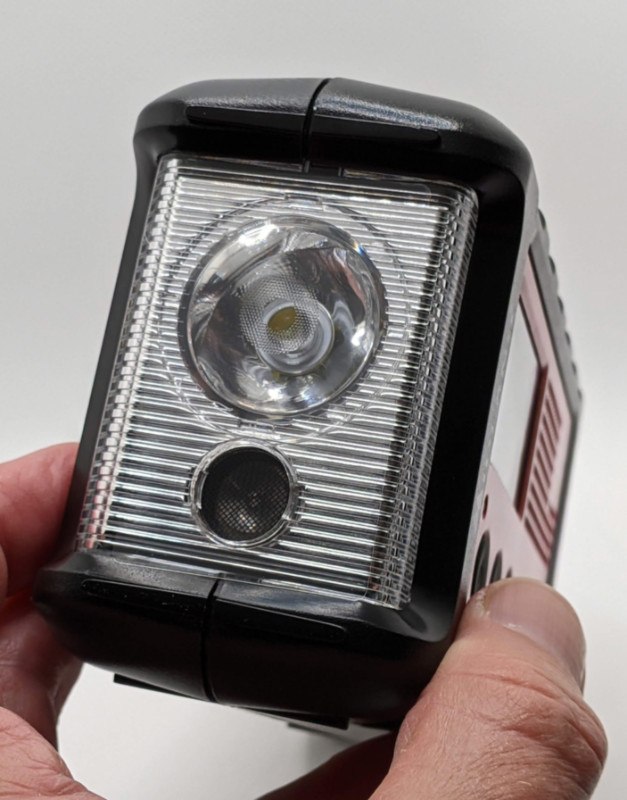 FLASHLIGHT
The LED flashlight on the Midland ER310 emergency crank weather radio provides a tight spot of 130 lumens of bright light. The light has low, bright, and SOS modes which are all activated by pushing the single, square, rubber button on top of the radio.  
DOG ALERT
No dogs were harmed in the testing of this radio. A long press of the light button activates the ultrasonic 'dog alert' tone. This feature is to allow rescue dogs to 'know you're there' if you're buried in rubble or hidden from view for whatever reason. Humans cannot hear the tone generated by this feature but my dog definitely can. This is not a fake feature. I tried the dog alert tone on two dogs and (1) they don't love it, and (2) it is real. C'mon, you tease your cat with a laser, right? Seriously, I only did it a couple of times for a second at a time. The dogs immediately looked toward me and stood up if they had been reclining. This feature works. 
AM/FM RADIO
The AM/FM function of the ER310 is limited to staying on one AM and one FM station. You'll have to tune to others with the up or down arrow buttons to listen to them. There are no station presets like you'd expect on some portable AM/FM radios.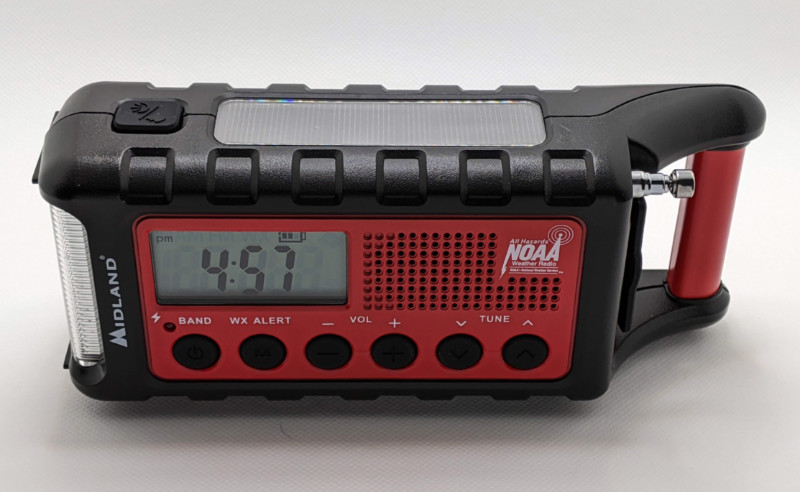 What I like
Power the ER310 by AC charging, cranking, solar, or AA batteries. A nice variety of options.

Excellent reception 

Very clear speaker sound

Solid, durable build
What I'd change
A test option for the alert sound would be very user-friendly

The alert siren tone should have adjustable volume. It's pre-set to 'loud'.

An option for 'no alert tone' alerts would be very nice. Just turn on the speaker during an alert.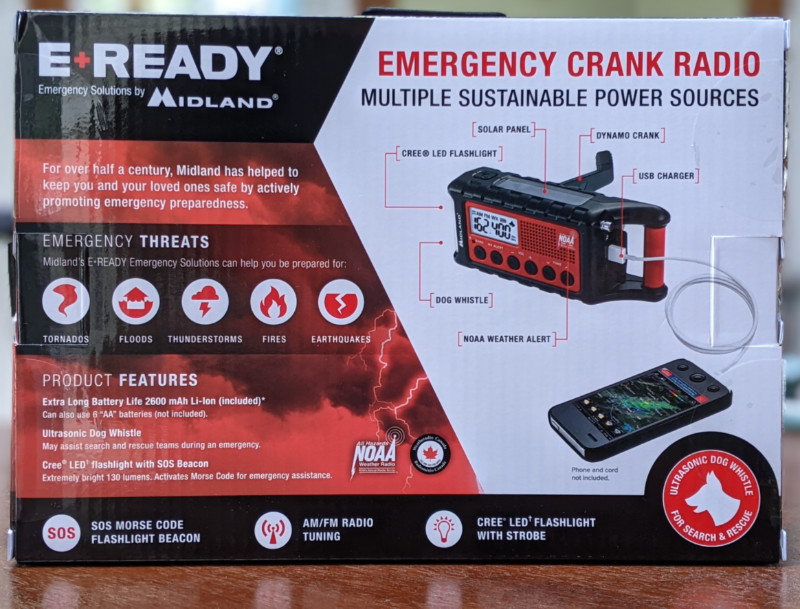 Final thoughts
The Midland ER310 emergency crank weather radio is a well-built weather monitoring AM/FM radio you can consider adding to your emergency preparedness kit or leave it set up full time so it can alert you as the need arises. 
Price: $59.99 at Amazon, $69.99 at Midland
Where to buy: Amazon or Midland
Source: The sample for this review was provided by Midland.