We use affiliate links. If you buy something through the links on this page, we may earn a commission at no cost to you. Learn more.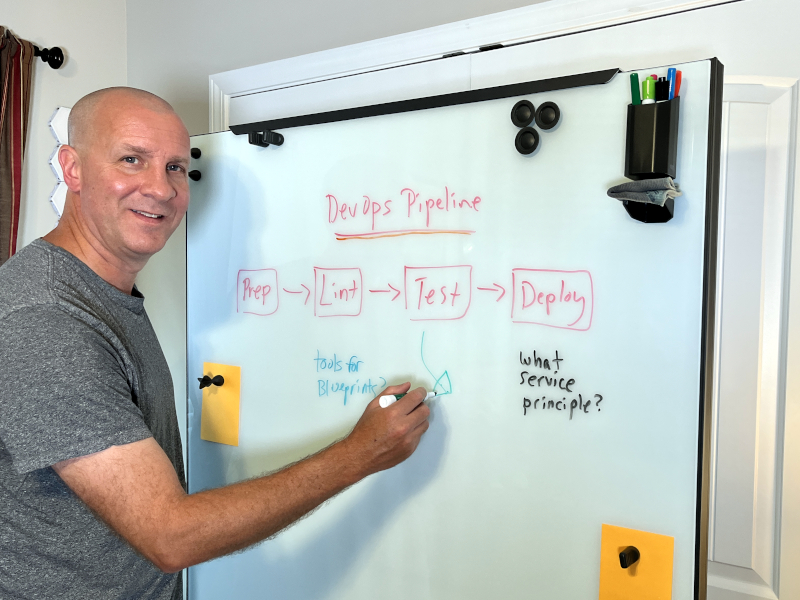 REVIEW – I've been a teleworker for ten years. I've managed to kit out my home office with about everything a software engineer could want: A nice sit/stand desk, a large monitor, a great dock for my work laptop, a cool mouse, a drive to backup my files, and so on. There's one thing that I really miss about working in an office, and that's a good whiteboard. They're the perfect place to make lists, draw out new ideas, and keep track of various details. Since I don't plan to head back into the office any time soon, I'm going to test a new type of whiteboard for my WFH setup here at home, the Mobile Glass Board by Vari.
What is it?
The Vari Mobile Glass Board is a dual-sided glass whiteboard that has wheels on the bottom and drawing surfaces made of tempered glass. It's 72 inches tall and 40 inches wide, making it both large and heavy. It has a variety of features, such as a magnetic surface, roll-and-lock casters, and the ability to link multiple boards together to form a partition of sorts. Vari is headquartered in Texas, and their mission is to create workspaces that elevate people.
What's in the box?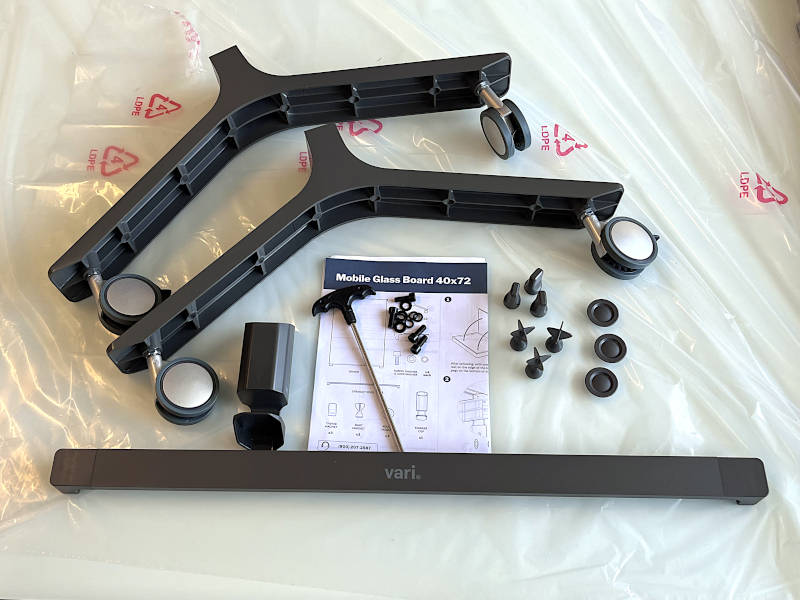 Vari Mobile Glass Board with roll-and-lock casters
Magnetic straight edge, nine magnets, and a marker holder
Instruction manual
NOTE: Whiteboard markers are not included.
Hardware specs
Size: 72 inches tall by 40 wide by 23 deep
Weight: 105 lbs
Surface: Tempered glass
Design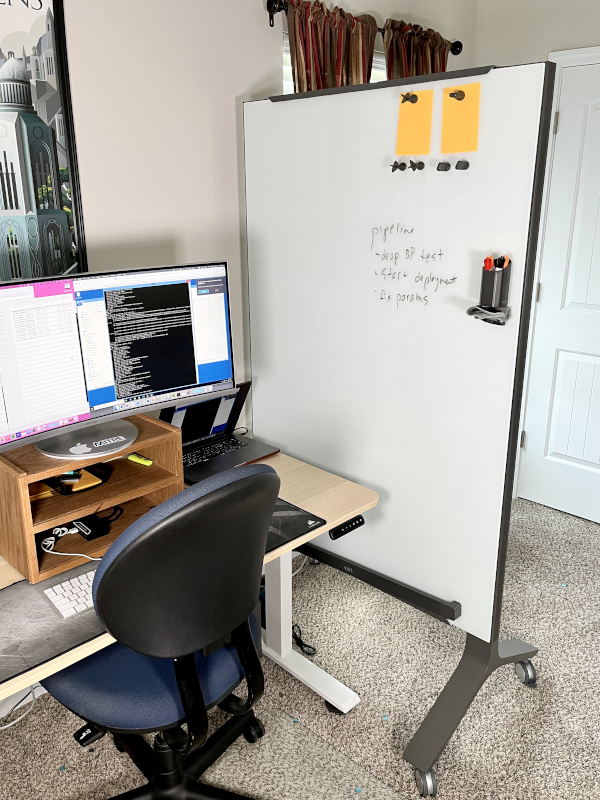 The first thing that struck me about the Vari Mobile Glass Board is that it's massive. I suppose in a normal office, particularly one with wide open spaces, a whiteboard that is hung on the wall might seem pretty small. In a home office, however, this mobile glass board feels large and in charge. It's as tall as I am (over 6 feet), wider than most bookcases, and has huge legs that stick out over a foot, both in front and in back. There's an interior steel frame that keeps everything together. Each side has its own sheet of glass backed by a white material, and the edges and legs are a grey color. The design is minimalistic industrial, which I like, and has a modern and professional look. Vari has done a nice job with the design.
Installation and setup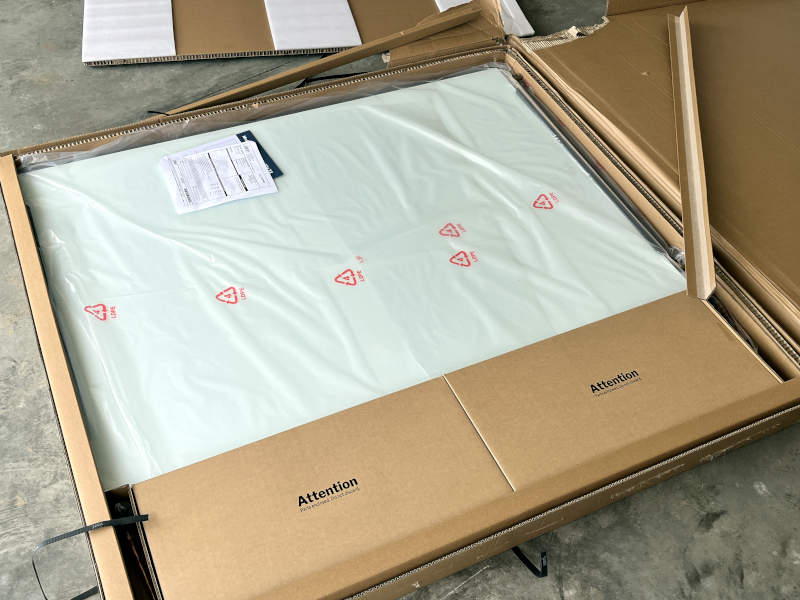 The Vari Mobile Glass Board is heavy, over 100 pounds. Vari had to contract a special delivery service—FedEx and UPS don't take packages this heavy—and after a few starts and stops, they finally delivered it to my garage. The board was very well protected with custom packaging and styrofoam inserts.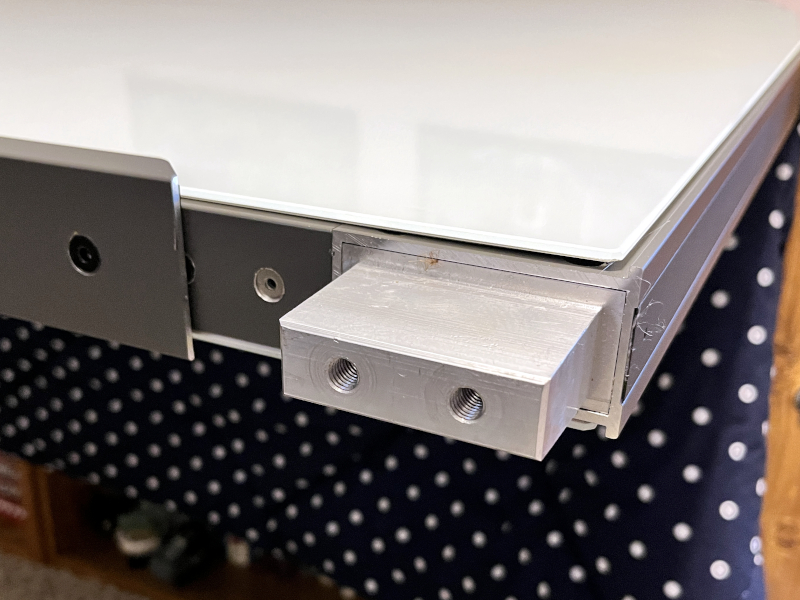 Installation is very simple, and the manual does a great job describing what needs to be done.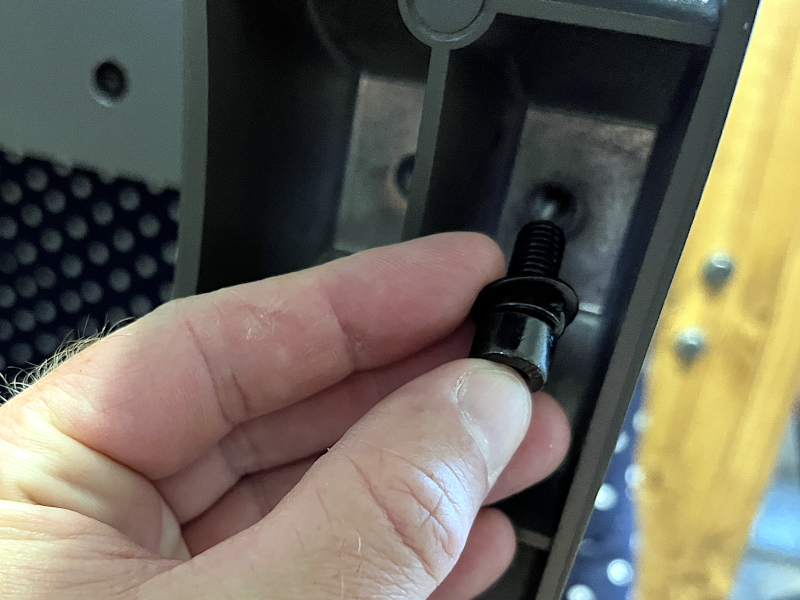 The glass board needs to be set on its side, the two legs need to be attached, and then four screws need to be screwed into place with the included t-handle. This was easy.
The hard part is dealing with the weight. It was almost too heavy for my wife and I to carry it into the house and to stand it up in place once the legs were attached. We managed, but just barely. To be safe, plan to have at least two strong people to bring it inside and assemble it.
Performance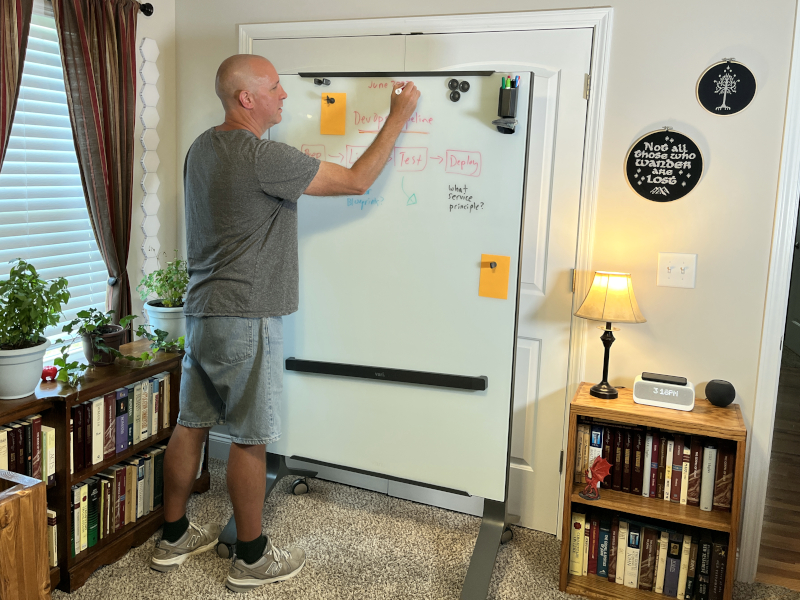 My biggest concern with the Vari Mobile Glass Board is stability. If it ever falls over, it could cause some real damage and/or seriously hurt someone. I'm pleased to let you know that Vari's mobile glass board seems to be very sturdy. Grabbing the top and rocking it back and forth does produce some movement, but it doesn't at all feel like it could come crashing down. If our kids were still at home, I would feel pretty safe having this in the house; however, if those kids were hyperactive, rambunctious, and known for excessive horseplay, I might not be willing to risk it then. In a corporate office, it will be just fine.
I created this 1080 video showing how I used the whiteboard in my home office:
The writing surface is glass, which is similar to a normal whiteboard but perhaps a bit slicker. My wife had some EXPO whiteboard markers laying around, so I used them for testing. They wrote just fine, exactly like I would suspect, and remained in place without any smudging. The fatter style markers are definitely easier to see than the skinnier ones. One difference that I did notice is fingerprints! The glass attracts fingerprints, much like a glass table or an iPad tablet does. Thankfully, these are easy to wipe off.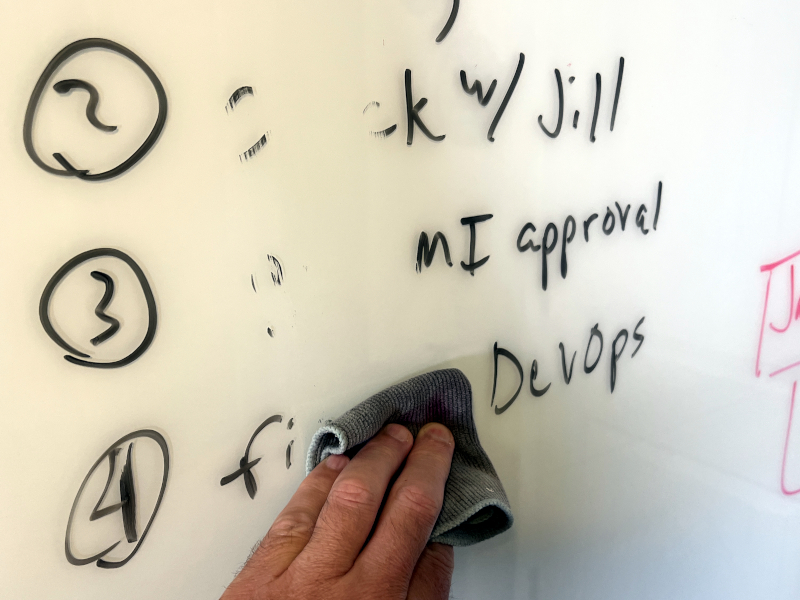 We don't have a real whiteboard eraser, so I just borrowed one of my wife's Norwex microfiber cloths instead. The markers come off the glass super easy, easier than a whiteboard. As you probably know, whiteboards tend to get "stained" over time, meaning that the markers don't completely come off and the material deteriorates. That's not going to be a problem with this glass; it's easy to clean and will never stain. Additionally, the glass surface is far more durable than a traditional surface.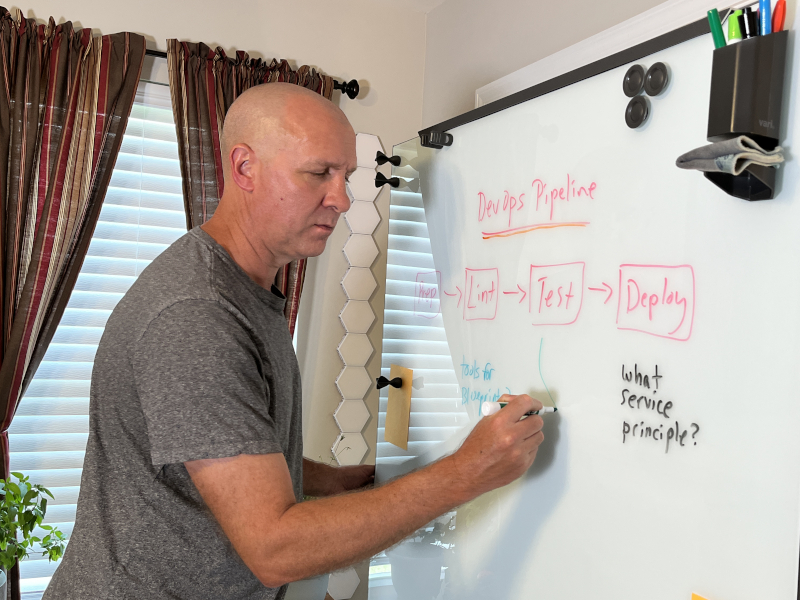 To be fair, the glass surface will have more glare than a whiteboard—notice the lines along the left side of the picture above—so it might not work well in a room with lots of natural lighting. As I typically keep my official fairly dark while programming, that won't be a problem for me.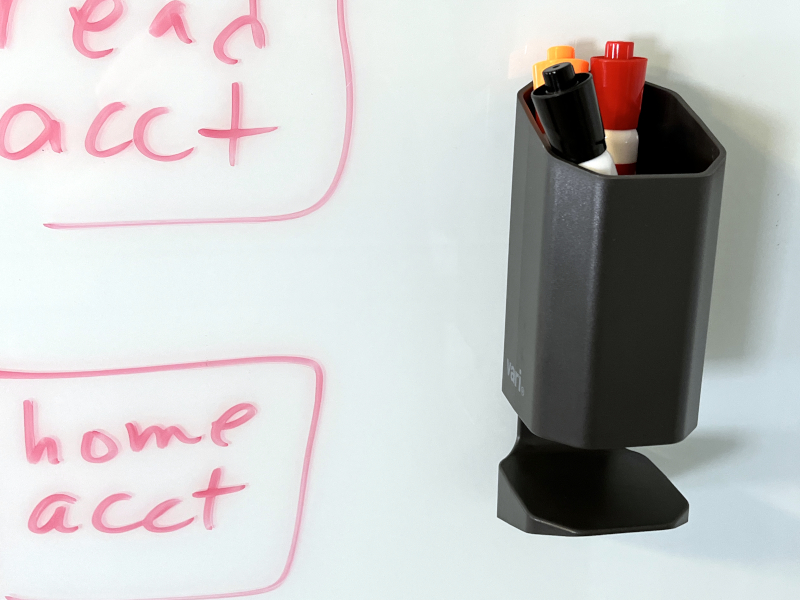 Vari's Mobile Glass Board comes with a magnetic marker holder, which I used to keep the markers together. It has a place for an eraser, so I folded up the microfiber and put it in there.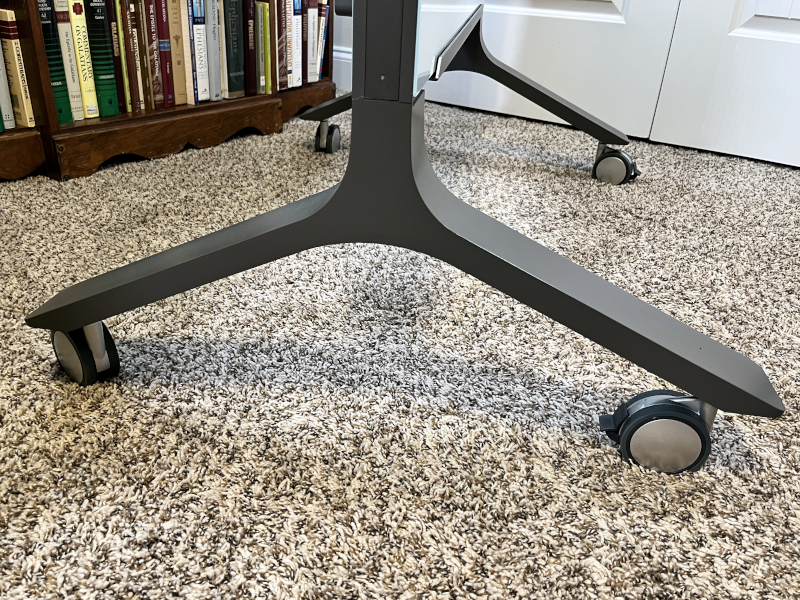 Most of our house has hardwood floors, but my office has regular carpet. The wheels work best on solid floors or on commercial, fiber carpet, but it still works pretty well in my office. Due to its weight, the glass board does take a bit of strength to push around, but at least it's moveable.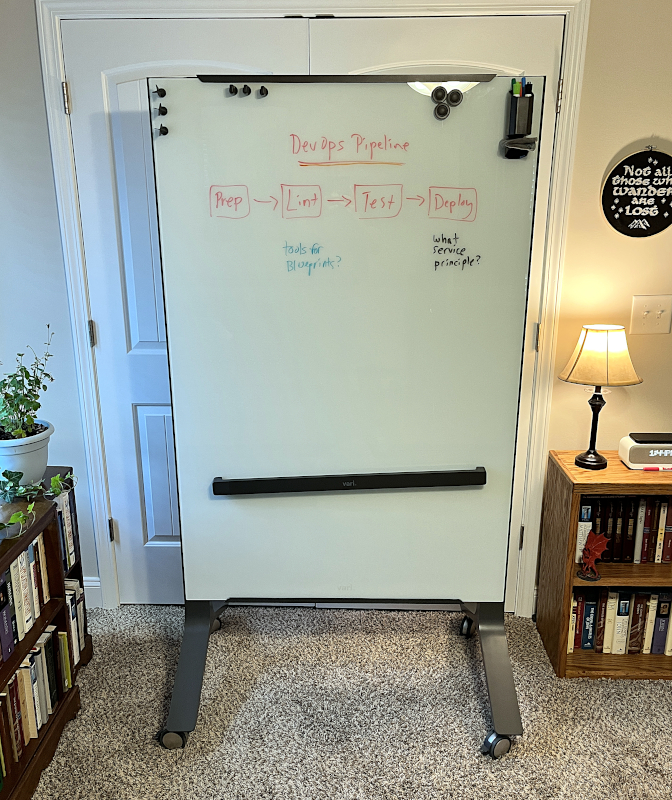 Mobile glass boards probably make more sense in a traditional office, where they have more space to be moved around and can be stored away. In my home office, however, I don't have easy access to a good wall to mount a normal glass board, which is why I like the idea of a mobile one. I can push it out of the way by my closet or over by the guest bed. I could even push it out into the living room for a game of Pictionary or Googly Eyes.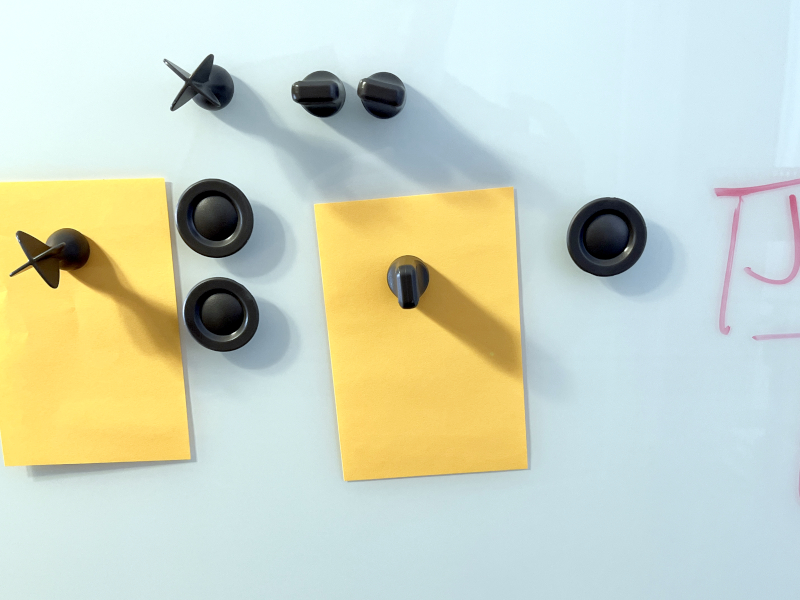 Vari has included a variety of magnets with this glass board, three thumb magnets, three dart magnets, and three round magnets. They've also included a straight edge for drawing long, straight lines.
Extra Features
Vari has a 30-day "hassle free returns policy," which could be wonderful if you're uncertain if you'll like the Mobile Glass Board in your home office.
What I like
Durable and mobile
Glass surface
Magnetic (with magnets!)
What I'd change
Final thoughts
Vari's Mobile Glass Board is a glass board with tempered glass on both sides, a magnetic surface, and casters for moving around. At 6 feet tall, this board is large; there's lots of space for writing and drawing, and it's also going to take up a lot of space. More than anything, the size of the legs needs to be considered, especially if you're planning to use it in a home office like mine. I really like the feel of writing and erasing on the glass surface as well as being to attach notes using the magnets. This board is very heavy and takes a couple of strong people to safely set it up, but the result is a glass board that will last for many years to come. I like this glass board a lot, so if you're looking for a mobile whiteboard, whether at home or in an office, I recommend it to you.
Price: $850
Where to buy: Vari's online store
Source: The sample for this review was provided by Vari.