We use affiliate links. If you buy something through the links on this page, we may earn a commission at no cost to you. Learn more.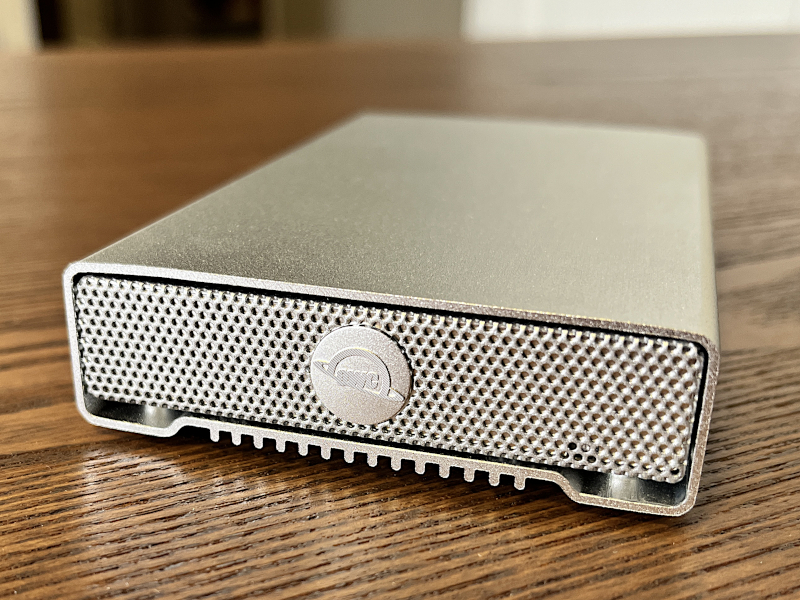 REVIEW – In a digital world, one of the most important assets that we have are the files on our computers.  They can be photos of family, spreadsheets with our budgets, papers for school, or a thousand other things.  Whatever they are, we don't want to lose them.  Part of protecting our data is backing up our files.  These days, you can backup files both to the cloud and to local drives, and they each have their pros and cons.  I've been looking for another local drive to back up some of my data, and so I've been testing the OWC Mercury Elite Pro Mini to see how well it performs.
What is it?
The OWC Mercury Elite Pro Mini is a bus-powered external hard drive for storing files.  It can be purchased with an SSD, an HDD, or no drive at all.  Drive options vary from 500 GB to 4 TB in size.  What makes this gadget unique is that it includes an enclosure that allows you to swap out one SATA drive for another.  OWC is an American company that believes "in making a better world where technology inspires imagination and everything is possible."
What's in the box?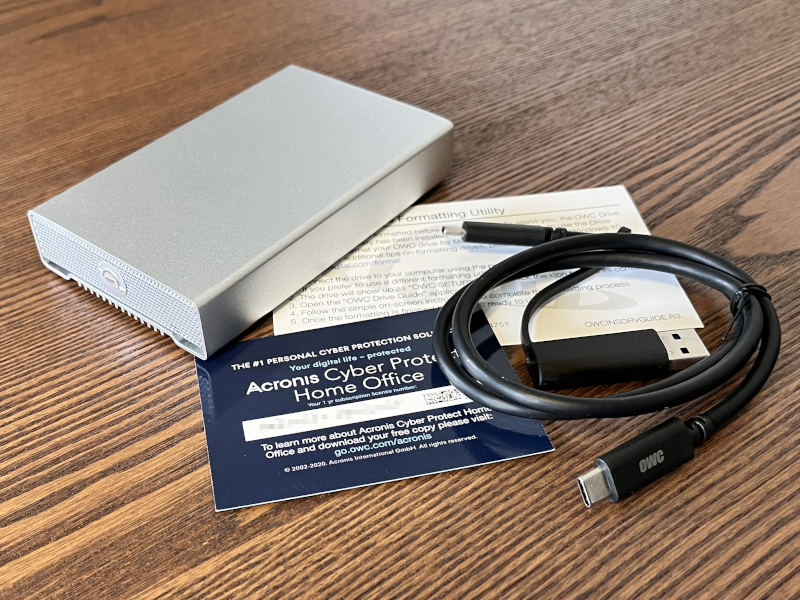 Enclosure with drive
USB-C to USB-C cable (with attached USB-A dongle)
Formatting guide
Subscription to Acronis Cyber Protect
Hardware specs
HDD: 5400 or 7200 RPM, 1 to 2 TB
SSD: 480 GB to 4 TB
Read/write: 542 MB/s
Power: Bus
Drive Interface: SATA
Supported Drives: 5-inch SATA up to 12.5 mm in height
OS: Window, macOS, iPadOS, Android, or Chrome
Material: Aluminum
Cooling: Fanless
Ports: USB-C (on the Mini) to USB-C or USB-A (on the computer)
External Interface Support: Thunderbolt 3 and USB 3.2
Dimensions: 5 x 3 x 1 inches
Design and features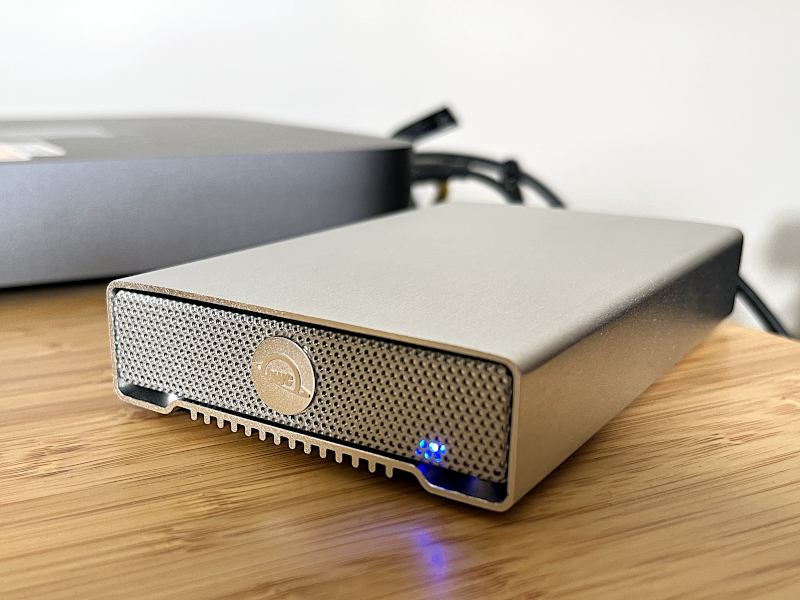 First things first:  OWC actually makes two different but similar products that have exactly the same name.  The older version has an external eSATA port, a USB-C port, an on/off switch, and a DC power port.  The newer version has slimmed all that down to a single USB-C port.  The newer version is thus less flexible, but it's also easier to use, as it's bus-powered instead of requiring a DC adaptor.  It also supports a slightly newer version of the USB-C spec.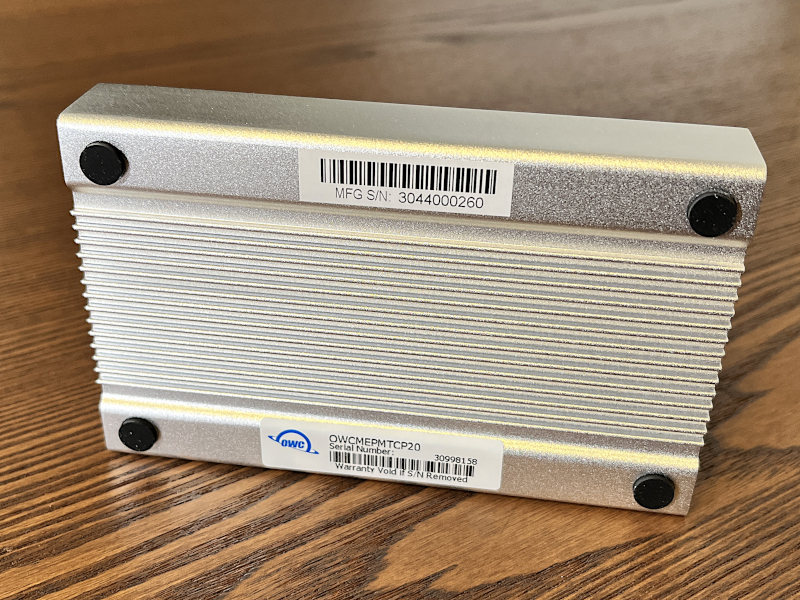 The OWC Mercury Elite Pro Mini has a silver enclosure made entirely of aluminum.  The front and back are full of hard edges, probably because it's an enclosure that can be opened up.  There's a single, blue LED on the front, next to OWC's logo, and the USB-C cable protrudes from the back.  There are no vents for cooling, nor are there any fans.  The bottom has long heatsink-looking grooves cut into it along with four little rubber feet to keep it from sliding around on my desk.  While not exactly big, this drive is bigger than I expected., which is probably due to the SATA interface.  Overall, it's a pleasant if sparse and utilitarian design.
Installation and setup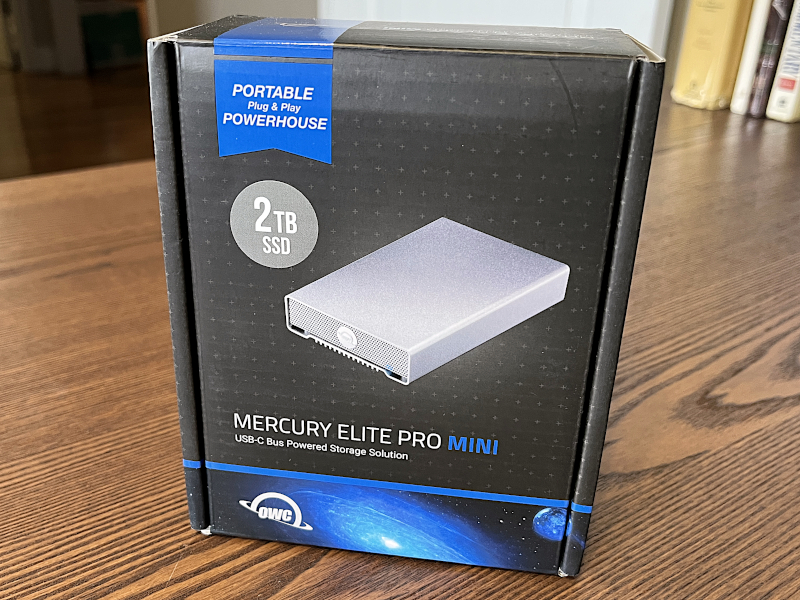 The Mini arrived in a small box and was well-protected with custom cardboard inserts.  There's no user manual; instead, there's just a small piece of paper that informed me that the Mini must be formatted before it can be used.  It gives the steps to do so and how to contact OWC technical support, should I need any help.  I plugged one end of the included cable into the USB-C slot on the back of the Mini and the other end into the back of my Mac mini.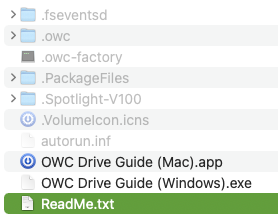 Using Finder, I found and opened the drive.  Inside was a readme file and two programs for formatting the drive.  The readme said, "If you are using a Macintosh computer running OS X 10.11 "El Capitan" or later, launch the "OWC Drive Guide" application by double-clicking on its icon. If you have any questions, please contact our tech support: https://www.owcdigital.com/support/contact."  I ran the setup app, which quickly formatted the new drive and allowed me to rename it to Mercury.  There are a couple of options in the installer worth mentioning.  One, it can install a user guide PDF file, which I did, and the data protection plan with Acronis, which I did not (more on that later).  At this point, my drive is formatted and ready to go.  OWC graciously sent me a 2 TB SSD drive, and Finder informed me that that 1.92 TB was now available.
I copied the manual to my hard drive and read through it.  For most people, this manual is not necessary, simply because the drive is so simple to use.  I format it, then I copy files to it.  Perhaps the most helpful thing I read is that when the LED on the front is a solid blue, it means the drive has power and is talking to my computer.  When it's flashing, data is being read or written.
If I had only bought the enclosure and were adding my own drive, or if I wanted to swap out drives, then the manual is more helpful, as it has a section on how to install drives.  The same info is available in this detailed YouTube video by OWC.
Performance

I put the OWC Mercury Elite Pro Mini through its paces by running a series of tests.  The first test was for the Mini to be a backup drive for Apple's Time Machine.  I found Time Machine in the System Preferences.  It could see the drive, and so I added it as a backup drive.  It promptly erased the drive, which is why I previously copied the manual to my Mac's drive, and started copying files to it.  There's no easier way to do local backups of your drive than Time Machine, and the Mini works perfectly with it.  I let this run for about a week, and Time Machine never had a problem writing files to it.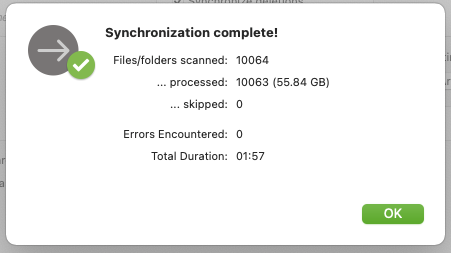 The second test was to be a backup drive for Econ's ChronoSync.  ChronoSync is a backup and sync application that offers more customization than Apple's Time Machine.  I configured it to sync the documents folder on my Mac mini with a corresponding documents folder on the external drive.  I chose to have it sync once a day at 8am, be unidirectional (from my Mac to the drive), keep no more than two archived copies of any file, terminate any archived copy after 180 days, and send me an email if an error occurs.  That's a lot of customization that just isn't available in Time Machine.  Even better, Econ has a no user left behind policy.  I first purchased a license for ChronoSync 11 years ago, and it's still good today!  That's amazing!  My first sync copy processed 10,063 files totaling 55.8 GB and copied them to the Mini in less than two minutes.  Nice!  I decided to let ChronoSync keep using this drive—it's still doing this as I write—and it runs flawlessly every day.  This is a great use of OWC's drive.

My third test was to manually copy a set of my photos from my Mac mini's hard drive to the Mini.  I copied 338 images totaling 6.8 GB in less than 15 seconds.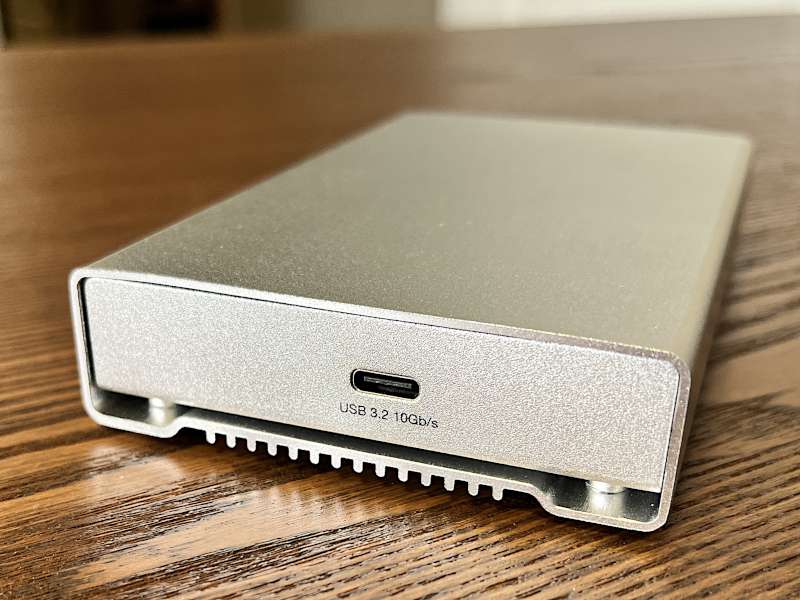 On the back of the OWC Mercury Elite Pro Mini it says that it supports a throughput of 10 GB/s, yet on the box and on the MacSales website it says the actual read/write speed is only 542 MB/s.  Which is it?  If this port truly supports USB 3.2, then it should support 20 GB/sec, not 10, and Thunderbolt 3 supports 40 GB/sec.  In real world testing, drives rarely achieve these maximums.  The various interfaces and controllers as well as the limitations of the host computer all impact performance.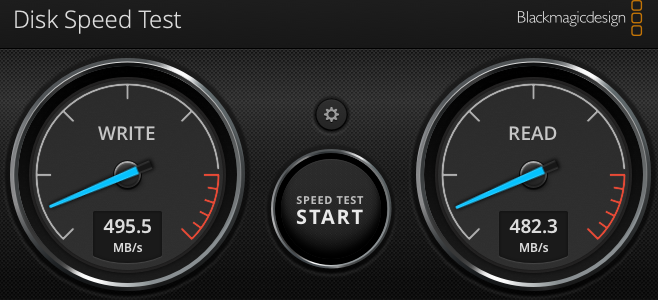 I tested the Mini using Black Magic Design's Disk Speed Test and found it to be just under 500 MB/sec, which is pretty close to OWC's stated max.  These are respectable speeds, but certainly not blazing fast.  When using a data backup app like Time Machine or ChronoSync, the Mini will be fast enough; if you plan to copy a lot of large files manually—maybe you're moving video files shot on your iPhone from your home computer to your office computer—you might want something faster, something that uses a newer interface.  For example, Plugable's NVMe enclosure, which I tested two and half years ago, reached a write speed 1865 MB/s and a read speed of 2782 MB/s.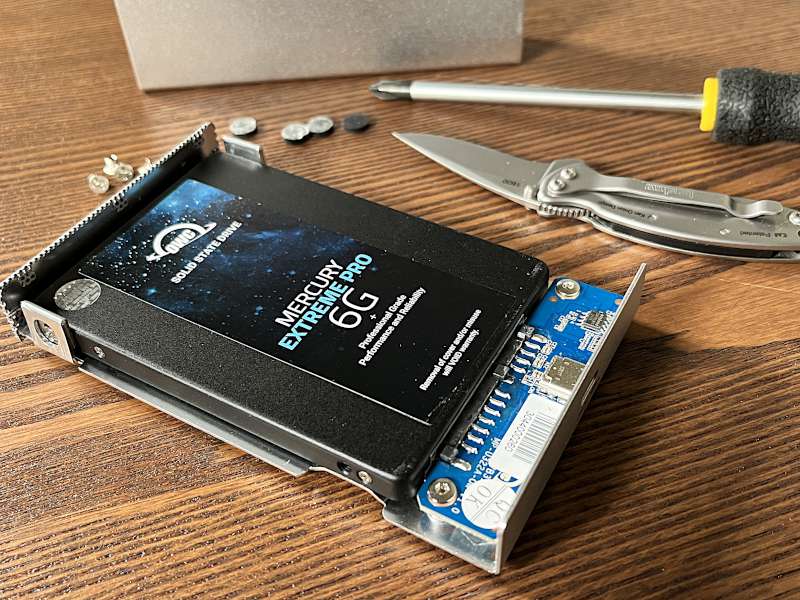 The primary feature that distinguishes the OWC Mercury Elite Pro Mini from the competition is that it's an enclosure that allows me to swap out the drive inside.  Unfortunately, OWC puts the little rubber feet over the screws, which makes it inconvenient at best to do any swapping.  Even so, I pried off the feet with a knife, unscrewed the screws, and slid out the enclosure.  I found everything inside to be exactly as OWC's video (see above) described, so I'm confident that I could replace this drive if I ever needed to.  This extra flexibility could be really handy in some situations.
While the Mini has worked great in all of my tests, and I really like it, I would be remiss if I didn't mention that there are many other external drives that are geared for those who don't really need to swap out drives and who don't use SATA.  If you want something faster, this Samsung drive on Newegg has five times the read/write speeds, though it's only 1 TB.  If you want something less expensive, this SanDisk on Amazon is $175 cheaper and still twice as fast.  As always, do your homework before buying any external drive.
Extra Features
OWC includes a one-year subscription to Acronis Cyber Protect Home Office, a $50 value.  This is a software package that protects users from ransomware and malware and helps them to backup and restore data.  As I already have a couple of good choices for data backup, I decided not to take advantage of this offer.
What I like
Simple and sturdy design
Bus-powered
Super easy to use for data backup
Reasonably fast speeds
Flexibility to choose and swap various drives
What I'd change
Don't glue the rubber feet over the screws
Final thoughts
The OWC Mercury Elite Pro Mini is an external drive for storing files.  It's a sturdy, aluminum enclosure that can house an HDD or SSD with a SATA interface; this is a key feature that allows users to swap SATA drives in a couple of minutes.  In my tests, the Mini worked perfectly when backing up files using Time Machine, ChronoSync, and Finder, and I plan to keep on using it for backup with ChronoSync.  If you're looking for an external SATA drive in an enclosure, then the Mini should be on your short list.
Price: $419 for the 2 TB SSD.  Other options range from $94 to $899.
Where to buy:  MacSales
Source: The sample for this review was provided by OWC.