We use affiliate links. If you buy something through the links on this page, we may earn a commission at no cost to you. Learn more.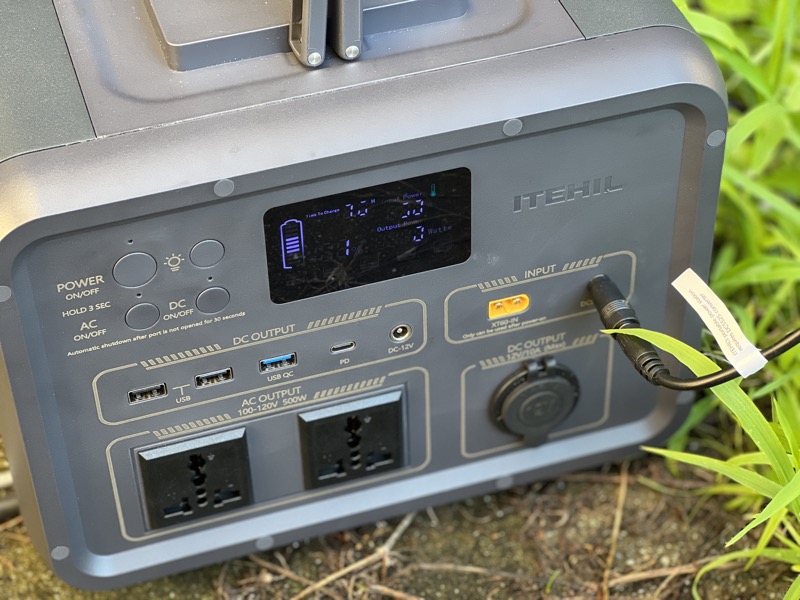 REVIEW – I've seen portable power stations with lead acid batteries. They're all pretty heavy! LiFePO4 batteries are more commonplace, and a quick Amazon search will turn up many. Today I'm trying out a 500 watt-hour power station from ITEHIL with a matching solar panel.
What is it?
The ITEHIL 500Wh Portable Power Station can supply power via USB, USB-C, 12V ports, and AC outlets (100-120V), powered by a LiFePO4 battery.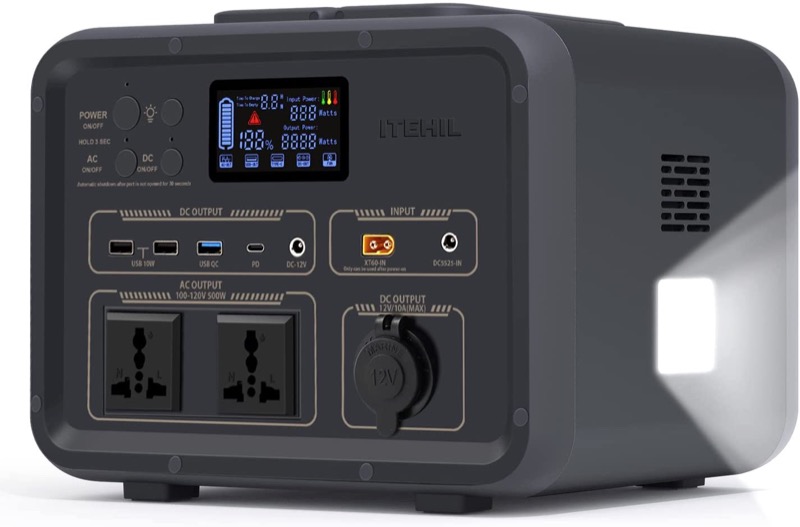 What's in the box?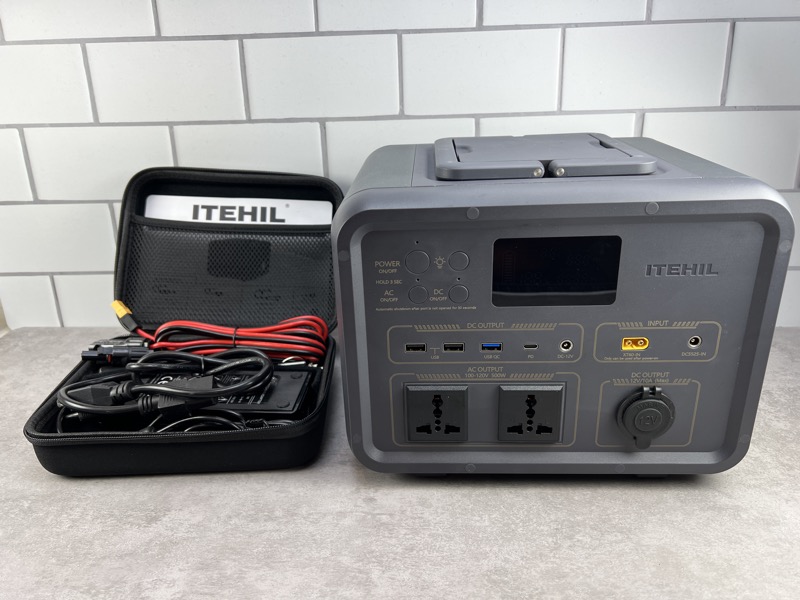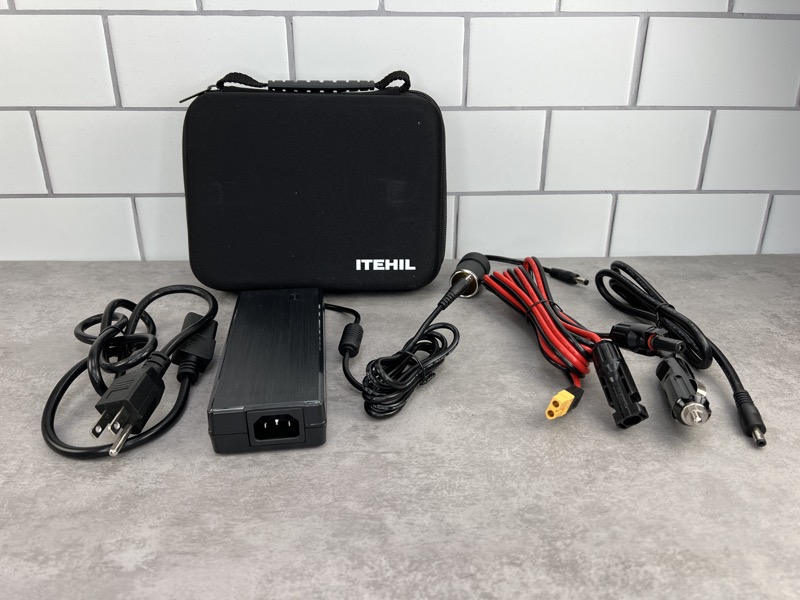 Home charger
12V cigarette lighter charger
12V output adapter (female cigarette lighter outlet)
XT60 secondary battery cable
Accessory carry case
I was also sent a matching solar panel, sold separately.
D-rings for hanging panel
Various tips for charging
USB 2.0 and 3.0 output (built into back of panel)
Hardware specs
For the power station:
Rated Power: 500W
Capacity: 500Wh
Operating Temperature: 14~122℉
Size: 10.8x 9.1x 8.3in
Weight: 19.2 lbs (measured on a bathroom scale)
Car Power Output: 12V/10A 120W(Max)
AC Output: 100V- 240V 50/60HZ
DC 5521 Output: 12V/10A 120W(Max)
Type-C Output: PD 20V/3A 60W(Max)
For the solar panels: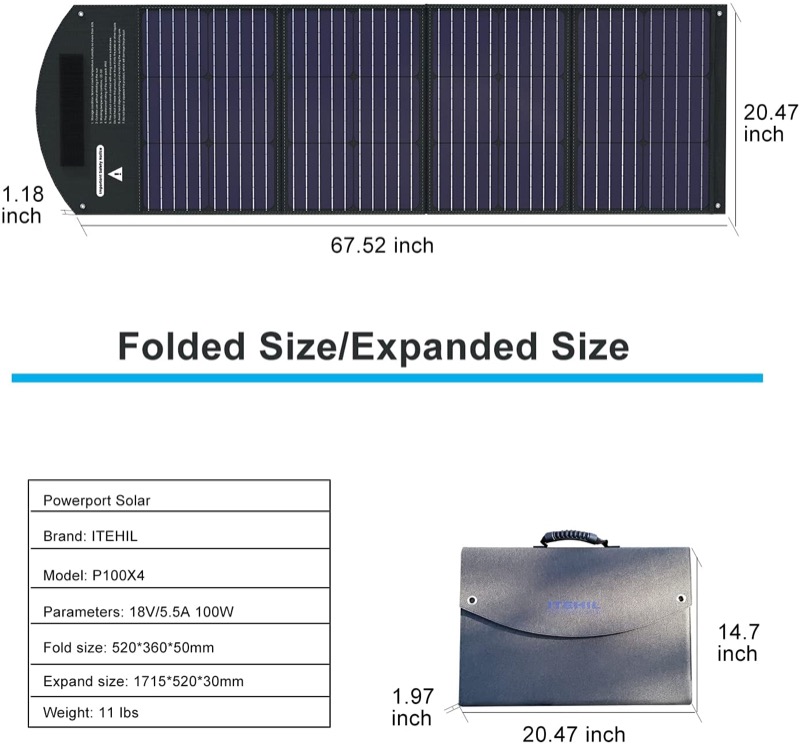 Never miss one of our posts again. Sent MON, WED, and FRI with the latest gadget reviews and news!
Maximum Power Output: 100W
Maximum Power Voltage: 18 V
Maximum Power Current: 5.5A
Operating Temperature:-4℉ to +140℉
Fold Size:20.47*14.17*1.97 inch
Expand Size:20.47*67.52*1.18 inch
Weight: 11 lbs
1*USB 3.0 output(5V/3A, 9V/2A, 12V/1.5A 15W)
1*USB 2.0 output(5V/2A 10W)
1*18V DC port
Design and features
The front of the power station seems pretty well thought out. I like how the separate outputs are grouped (DC output, Input, etc.)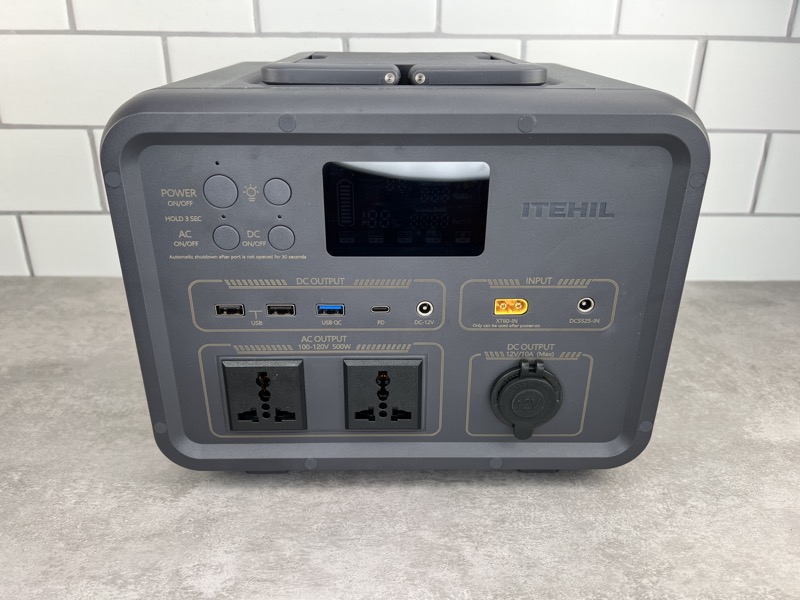 There's a small set of vents on each end, and a single white LED square on the right side which will probably come in handy in case of an emergency.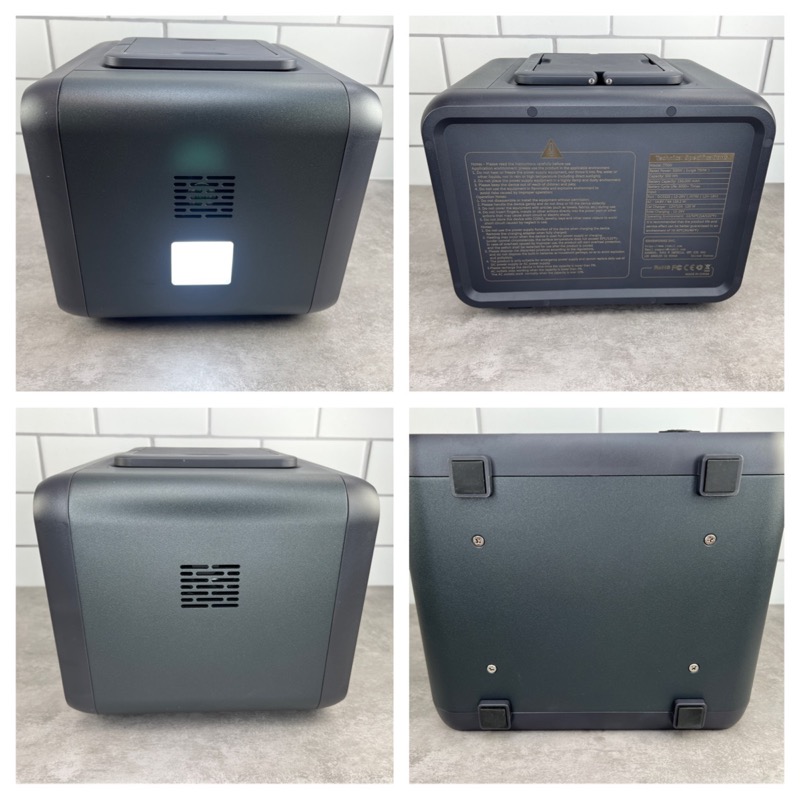 Double handles unfold from the top. You'll need them, since this weighs nearly 20 lbs.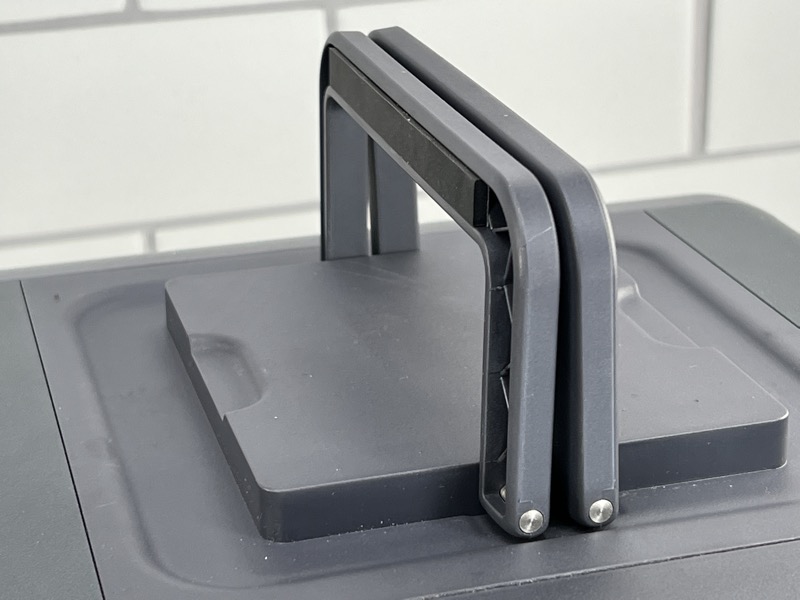 Setup
I scanned the only instructions I could find. It's pretty self explanatory. The description of the lamp "gears" is probably not the best choice. Remove this heading and section if it doesn't apply to your review.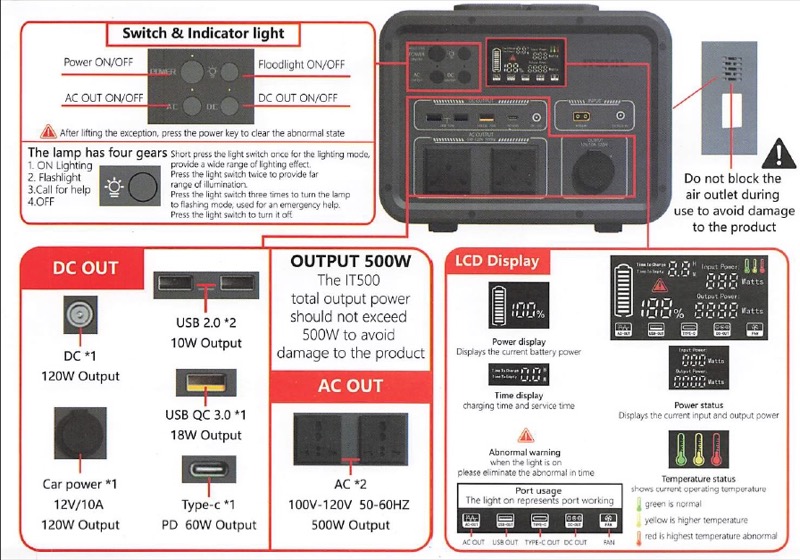 Apparently, there is an option to connect a secondary battery pack, doubling battery life.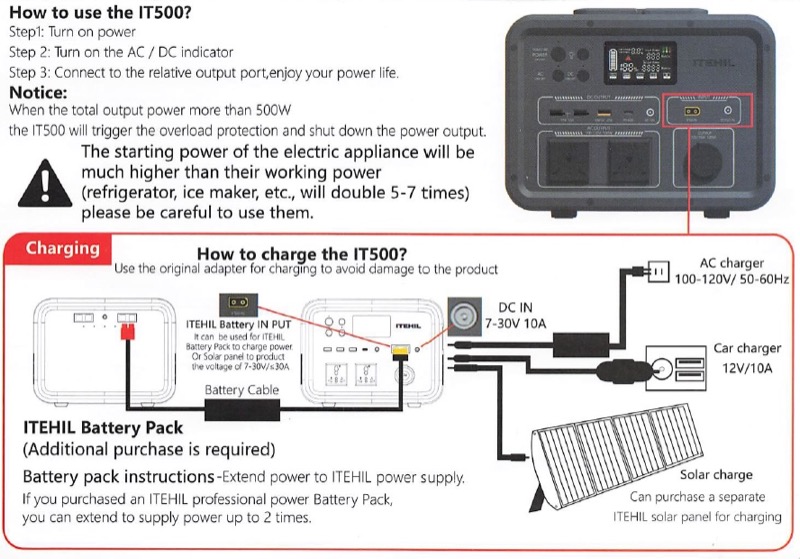 For the initial charge, I used the home charger. The front display gives a wealth of information, including estimated time to completion as well as useful icons on the bottom row. Below, the display says the cooling fan is activated.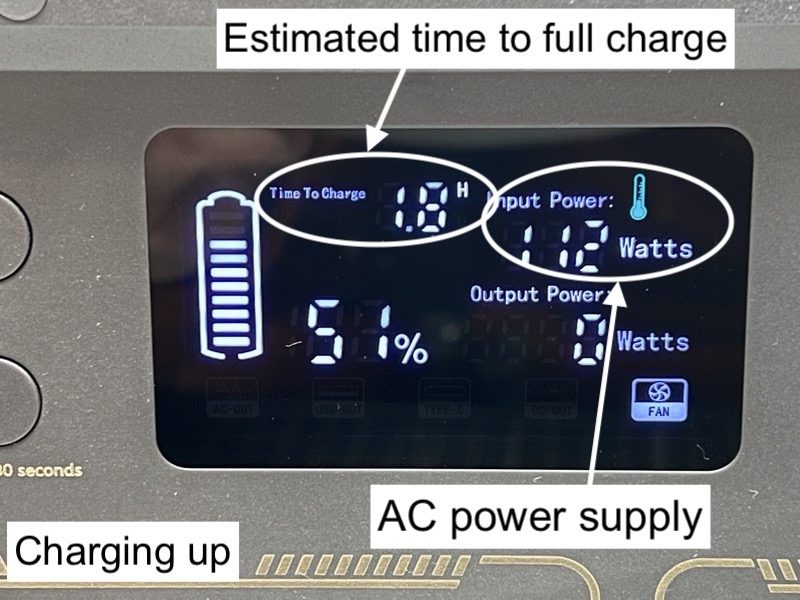 Performance
Some cheaper power inverters will try to approximate an AC waveform, which may not be ideal for some electronics. I put the power station on my oscilloscope to view the AC output. It looks like a fairly sinusoidal waveform.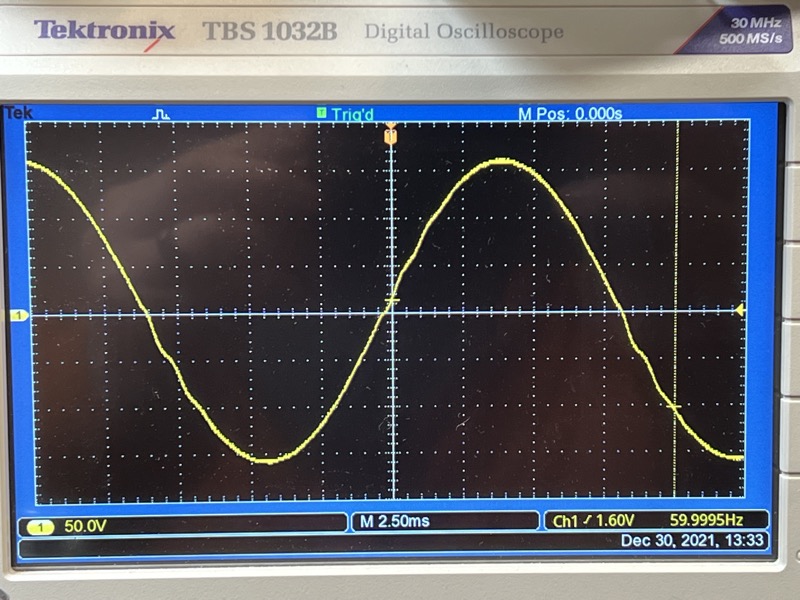 I could have tried to recharge my iPhone, but the battery is so large, I'd have to charge many, many phones to put a dent in this monster. I plugged in two shop lights: Each consumes about 20-22 watts.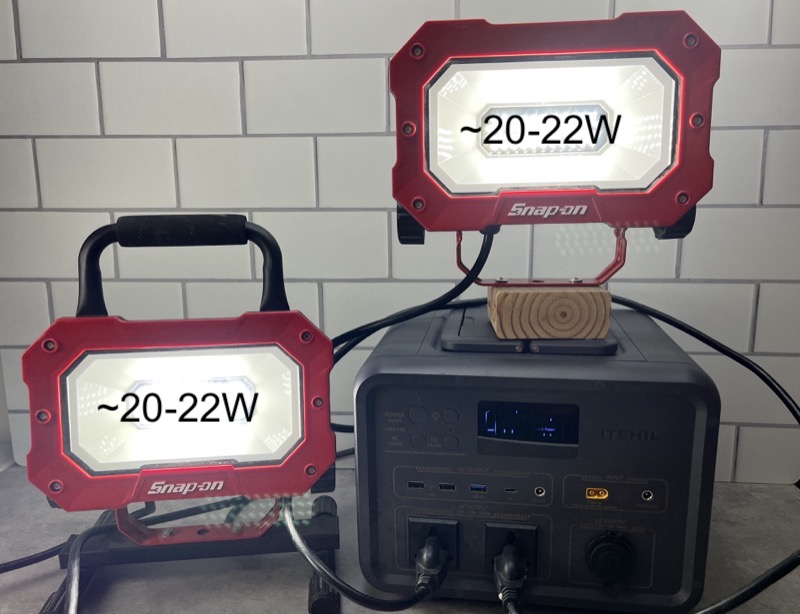 With both lights on, the front panel estimates 44 Watts of power in use, with roughly 8.2 hours to go.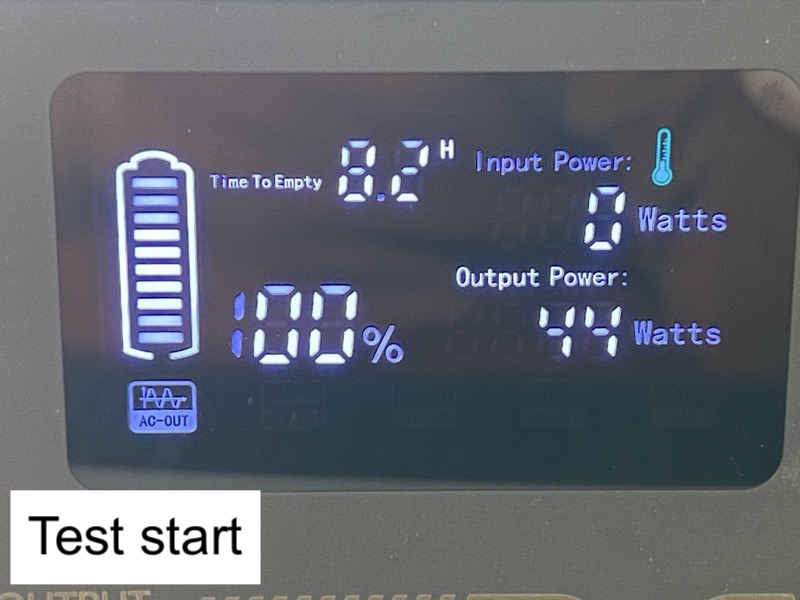 Elapsed time: 7 hours. The display shows 24% of battery remaining. I noticed the power output would fluctuate, as low as 38 Watts.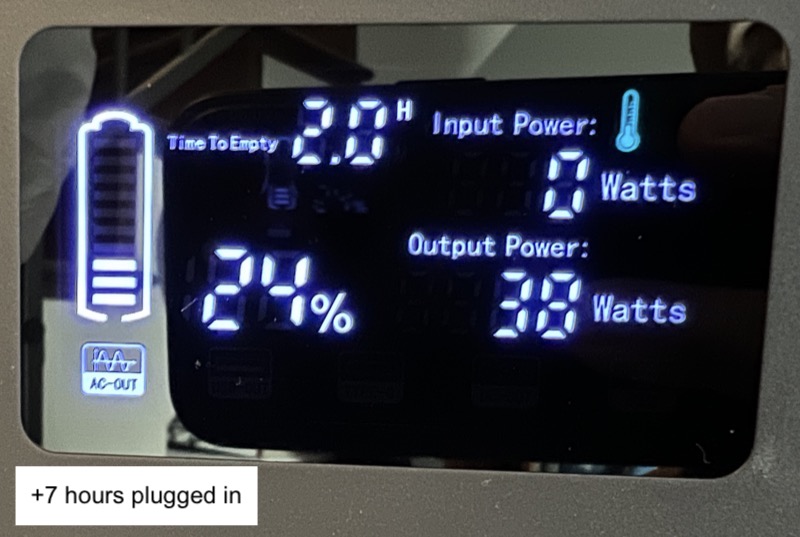 Elapsed time: 8 hours. The display shows 13% of battery remaining. Time to empty has switched to show minutes. I didn't realize it would switch from hours to minutes.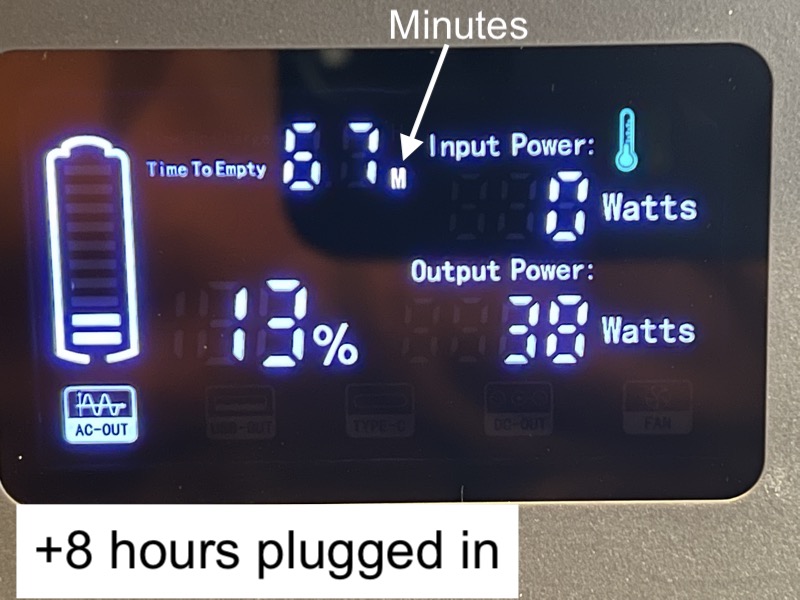 First shutdown: between 8-9 hours. The battery turned off with roughly half an hour to go. The display shows 7% of battery remaining. Why did it shut down at this point? I started the battery back up and let it drain further.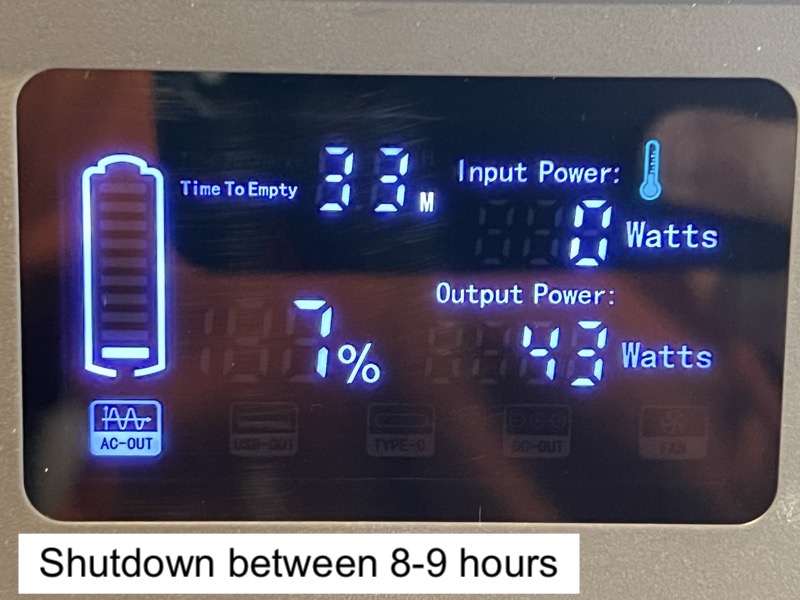 Final shutdown: 30 minutes later. At 1% battery remaining, it would not restart. The Time to Empty display defaulted to "99 H".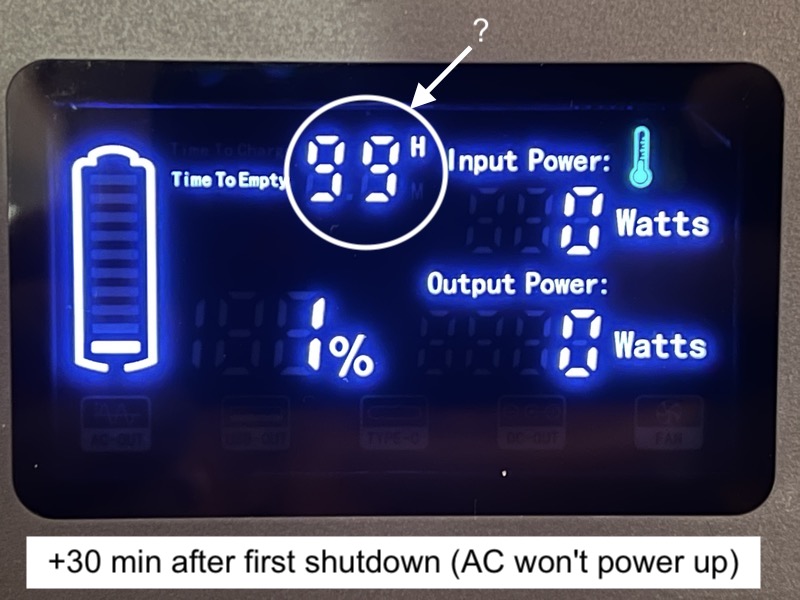 This is an imperfect test, and your results will definitely vary on conditions (it was 45-50F) and load (resistive vs. motor, etc). If you go by the most basic electrical formulas, 44W x 9 hours = 396 Watt-hours, nevermind the variances in what the front display says. Just shy of 400 Wh is a bit off from the listed 500 Wh. Keep in mind this is just one test.
Solar charging
I was also sent a solar panel (sold separately) so I took the now-empty power bank and checked to see if could harness the power of the sun. Let's take a look at the solar panel kit.
On the back of the panel is a zippered pouch with helpful diagrams. The pouch contains all the accessories, including a USB 2.0 and 3.0 set of ports you can charge gadgets with.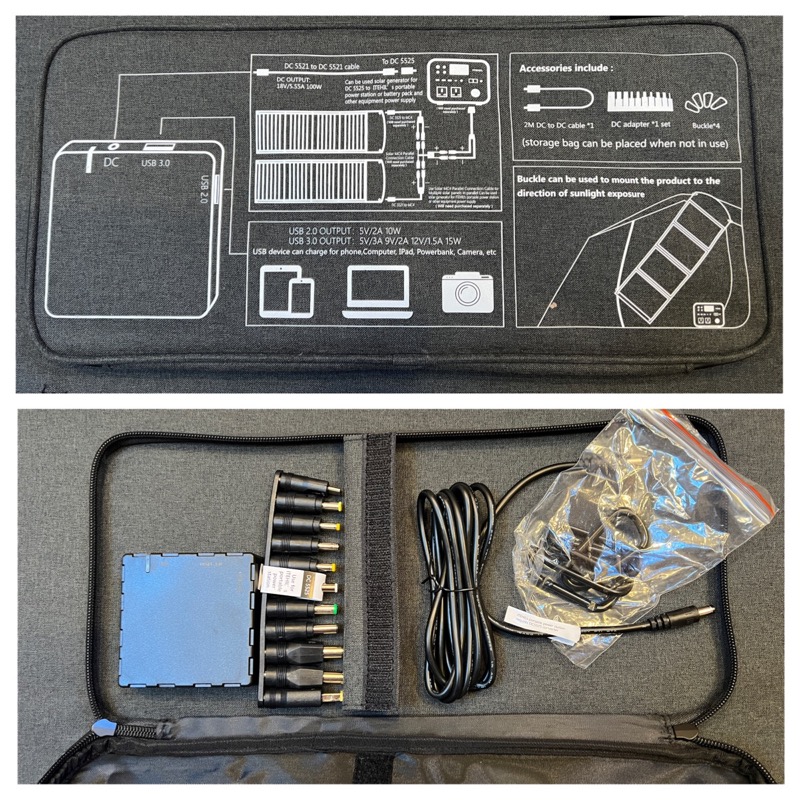 Here's a closer look at the power junction box. The "DC" port feeds the power station with what's known as a DC 5521 cable.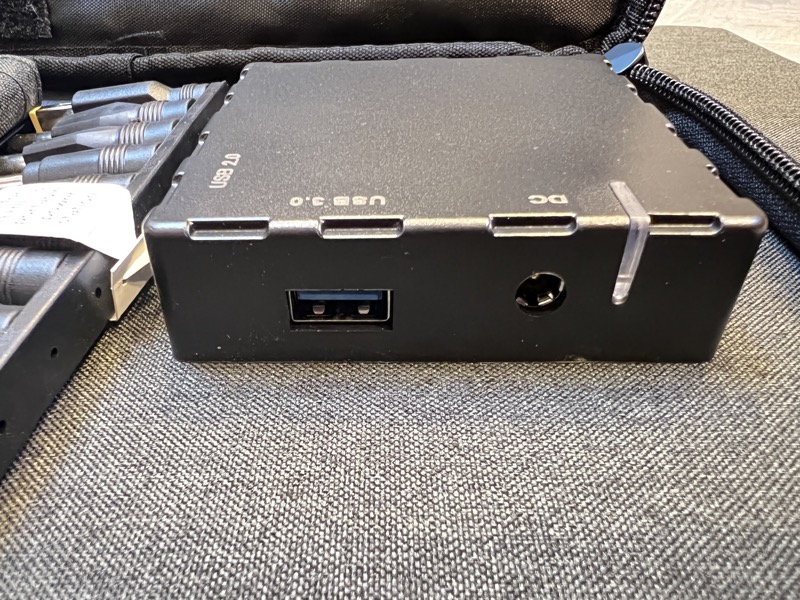 There's a set of "legs" that extend from the panel to give the rig a tilt. It doesn't work very well on smooth kitchen floors.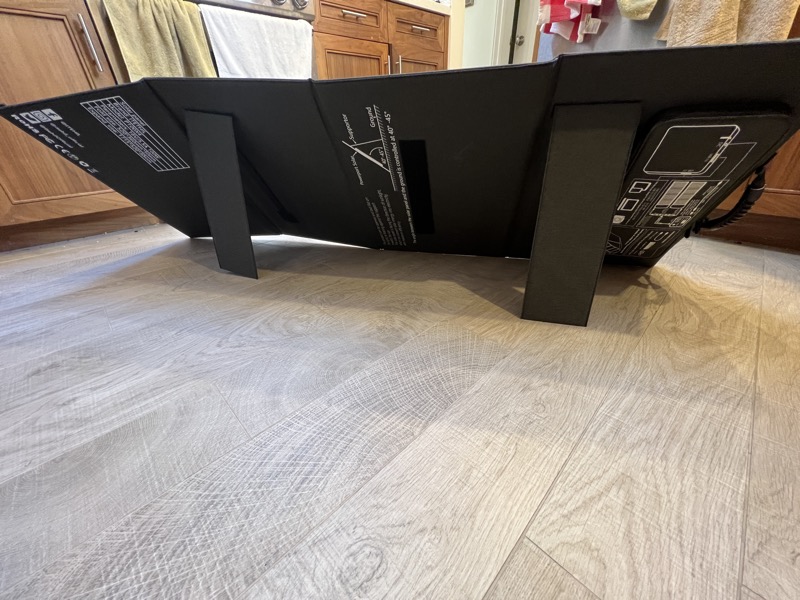 It's late December, so the sun hangs low in the winter sky. In the morning, I mounted the panel on a fence, facing south, to capture as much sun as I could.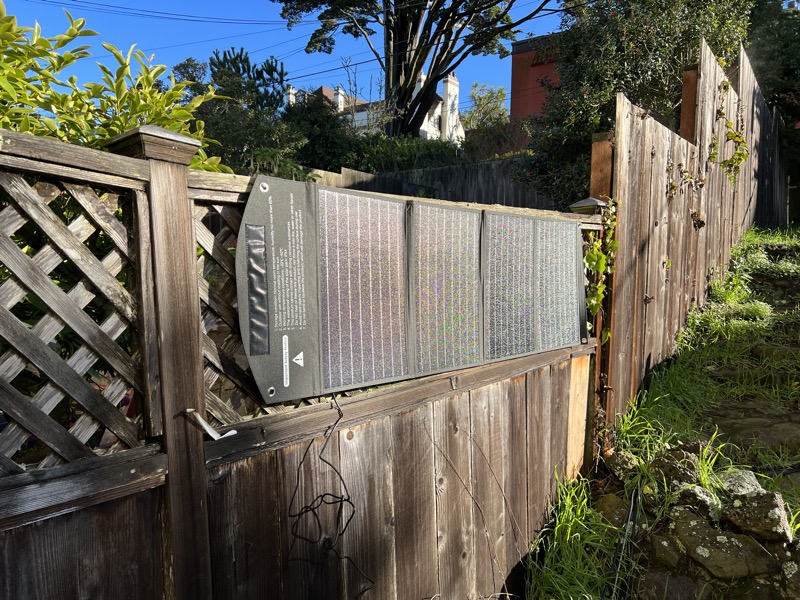 The kit comes with a special white-tipped connector that makes this solar to power station feeding possible. It's attached to the INPUT side of the power station.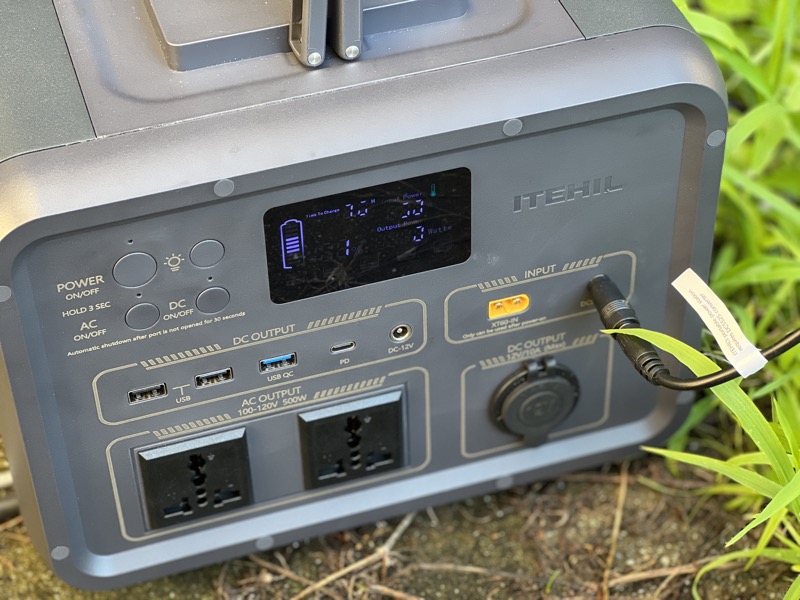 Solar charge begin: At the beginning of the solar charge on a 40F winter morning, the power station received 45 Watts of energy.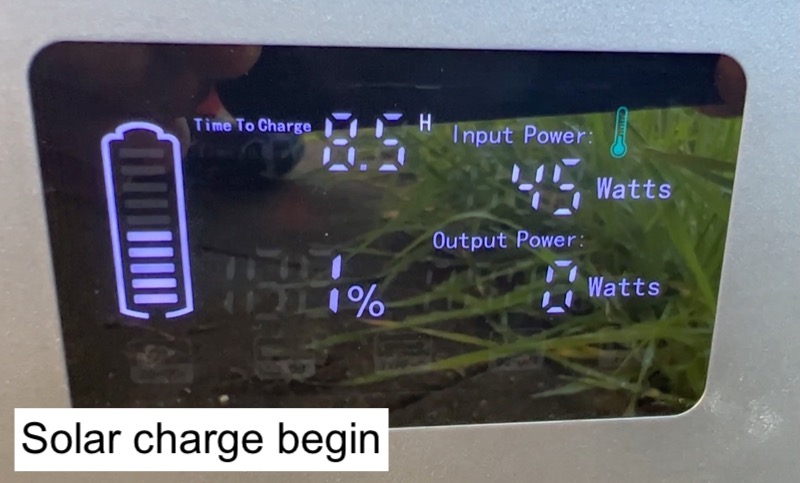 Solar charge 1 hour: The sun had shifted and power output increased to 75 Watts. The power station was now at 15% capacity.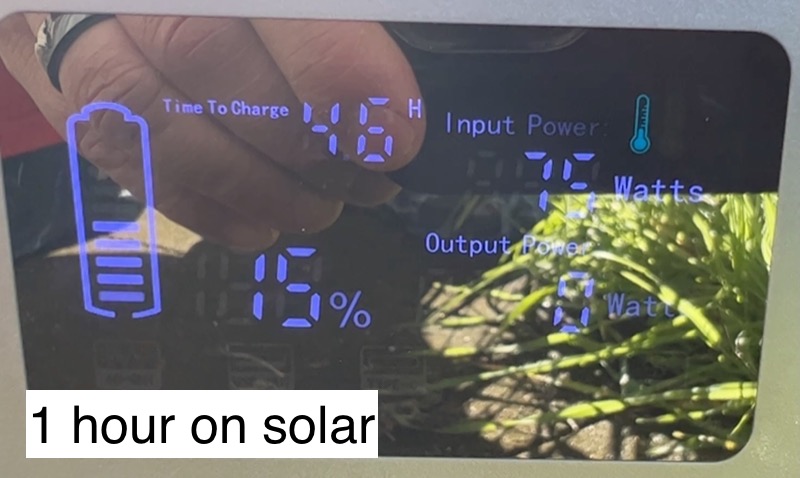 Solar charge 2 hour: Power increased slightly to 79 Watts, and doubled the capacity from 15% to 30%.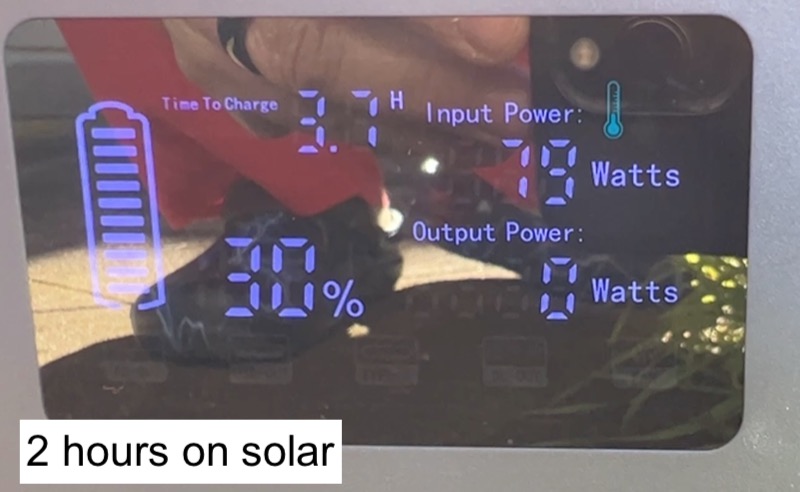 Solar charge 3 hour: Of course, the sun shifted and part of the panel was now in shadows. Power output was now down to 42 Watts, but in three hours, the power station was nearly half full at 47%. Note the Time to charge increased to 5.3 hours with the lower solar power.
What I like
Power station comes with a good selection of ports
Built in LED light
LiFePO4 batteries instead of older lead acid
Optional solar panel packs a punch
What I'd change
The solar panel tilt feature is a little wobbly on smooth surfaces
Not quite 500 Wh in my testing
Final thoughts
Not only is the ITEHIL 500 Wh Power Station my new go-to backup power source, I know I can give it a quick charge via solar as well. Both the power station and panel are heavy, but lighter than older lead acid options of the past.
Price: $499.99 (power station), $229.99 (100W solar panel)
Where to buy: Amazon (power station), Amazon (solar panel)
Source: The sample of this product was provided by ITEHIL.