We use affiliate links. If you buy something through the links on this page, we may earn a commission at no cost to you. Learn more.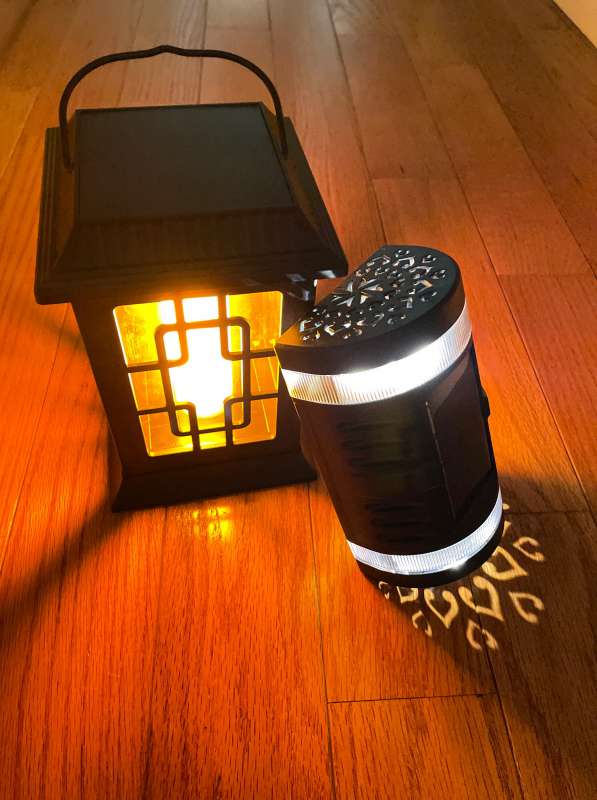 REVIEW – The summer sun is here! Haoyishu's lanterns and wall lamps soak up the sun during the day and bestow some glow at night. My wife and I love to add grandeur to the garden so adding some spiffy solar splendor is simple!
What is it?
Haoyishu's LED solar lights convert sunlight to electricity, storing it in an internal battery. Under low light conditions, the battery supplies power to light-emitting diodes to provide several hours of illumination for home accent lighting.
Hardware specs
Lantern Specs

The package includes two lanterns
Dimensions: 7.08 x 4.72 x 4.72 inches
1200mAh Battery
Eight to ten-hour battery life
28 LEDs, 1300 Kelvin color temperature, 50,000-hour lifespan
Five lumens
Realistic flickering flame mode, Constant on mode
Automatically turns on under low light conditions
Monocrystalline solar panel, 5.5 volts, 1 Watt
Charge time: five to six hours under direct sunlight
ABS construction
IP65 water resistance

Solar Deck Lights

Dimensions: 5.94 x 3.54 x 2.36 inches
Five to eight hour charge time under direct sunlight
Ten to 12-hour run time
IP65 water resistance
Polysilicon solar panel, 2 volts
600mAh battery
Automatically turns on under low light conditions
80 Lumens
IP55 waterproof
ABS construction
2000-2500 Kelvin color temperature
What's in the box?
Haoyishu Outdoor Solar Lights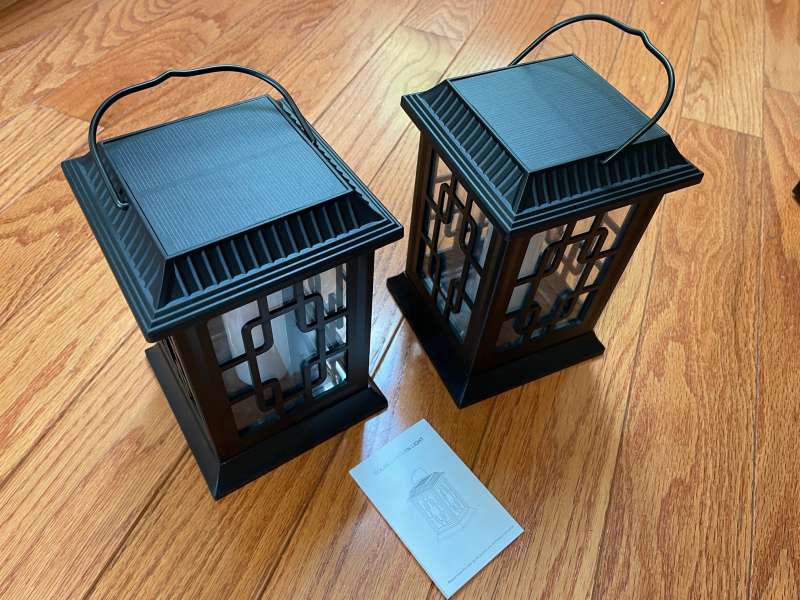 Solar wall lights

Four Deck Lights
Four adhesive mounting strips
Four sets of mounting screws
User manual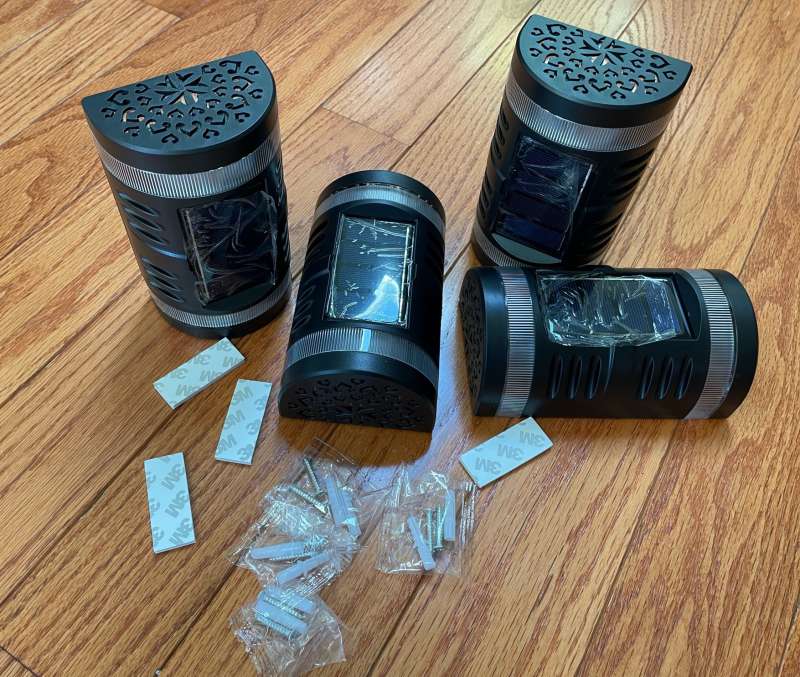 Design and features
With advances in circuitry, batteries, and bright, low-current LEDs, solar accent lighting has matured over the past few years. About half a decade ago, I bought my mother a case of LED lights for her gardens. They were inexpensive but had a battery life of only a few hours, were subject to internal corrosion due to water intrusion and were relatively dim. Over time, we have repaired and replaced them and she still likes them very much, but the newest designs and features make earlier models pale in comparison.
The Haoyishu Outdoor Solar lanterns and deck lights arrived with minimal packaging.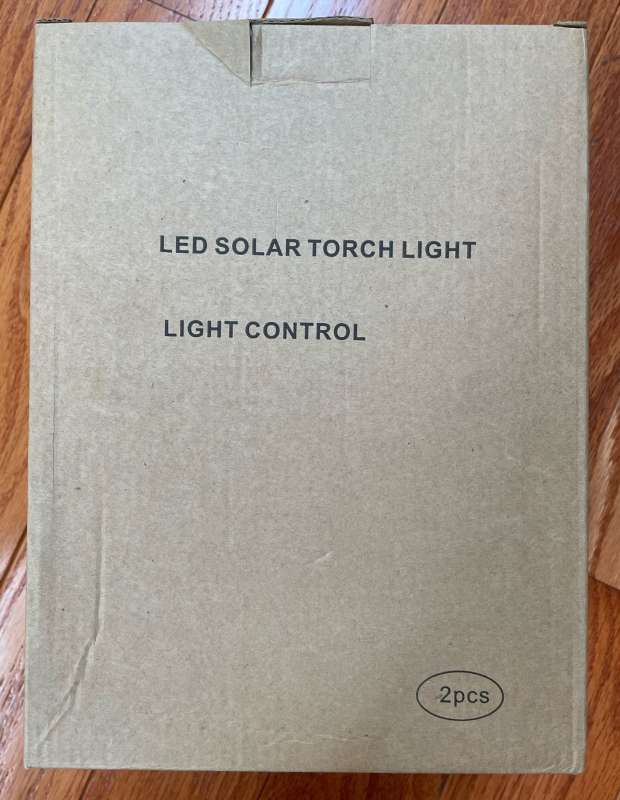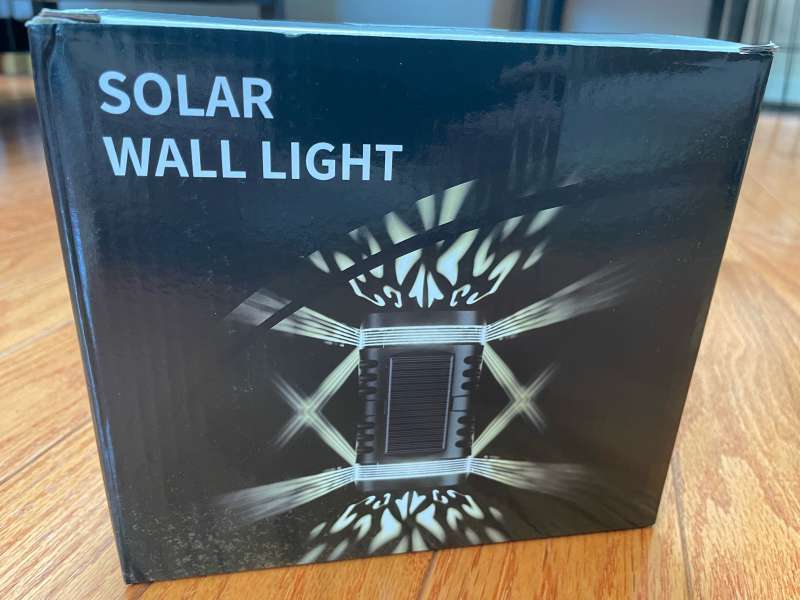 The Haoyishu lanterns and deck lights sip the sun during the day and dispense light at night. The top of the lanterns and front of the wall lights are almost entirely covered with a solar panel.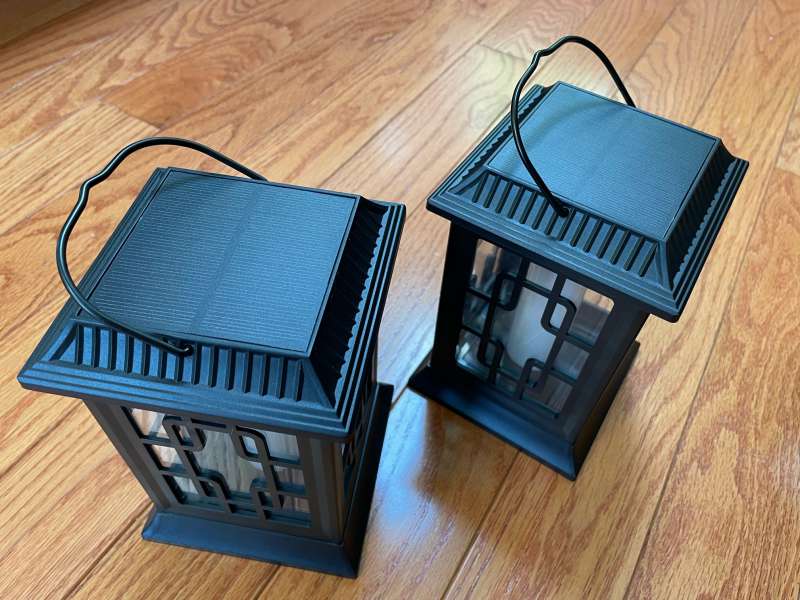 A twist of the lantern's top opens for access to the switch and LEDs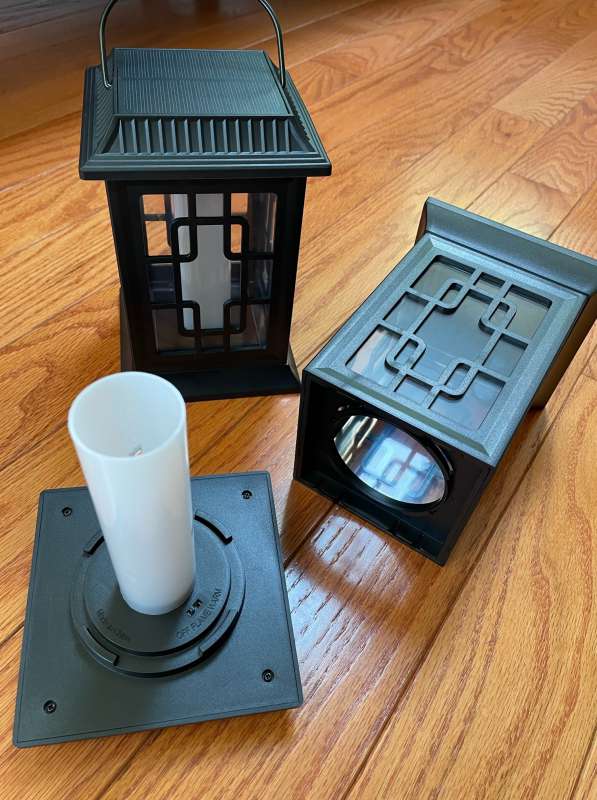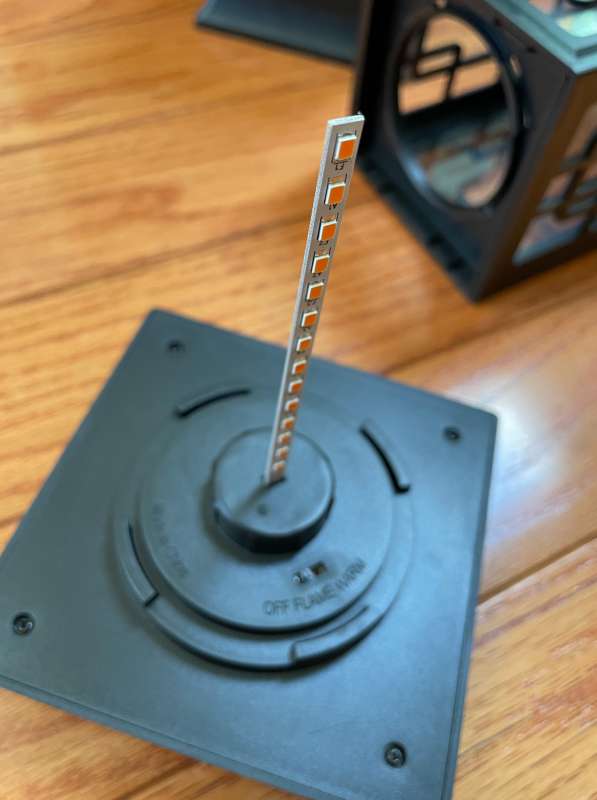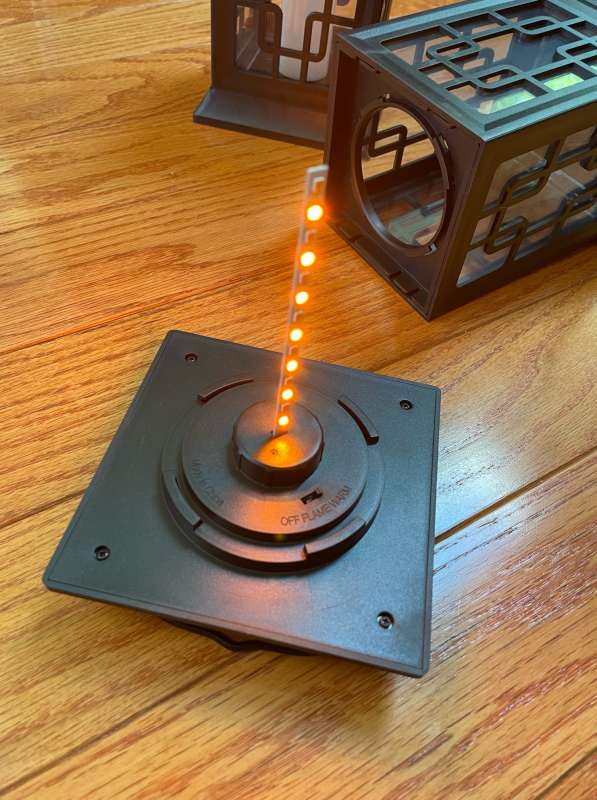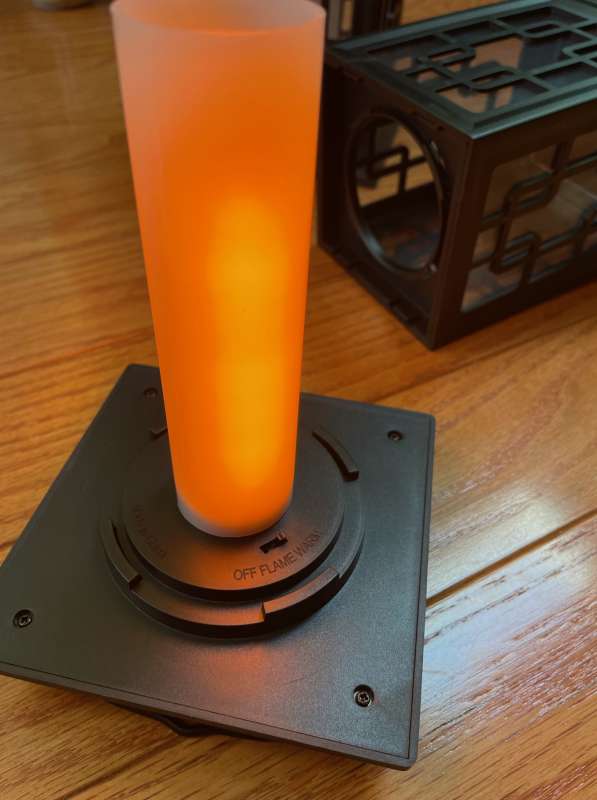 I popped the cover off one of the lanterns and was very pleased to see what looks to be a 18650 which should provide a huge jump in run time over other models.  My experience has found many other solar lamps use AA, AAA, or button cells, often NiCd (Nickel-Cadmium) or NiMh (Nickel-metal hydride). The inclusion of a Lithium battery is impressive.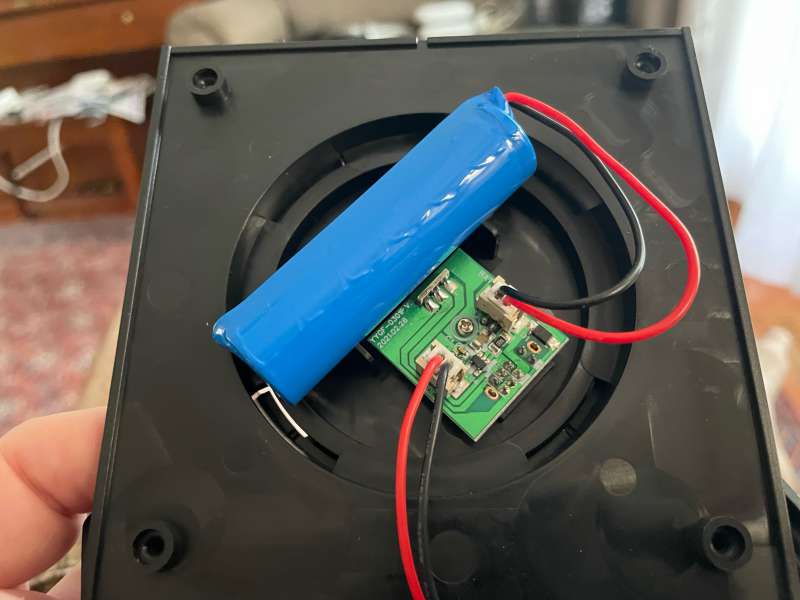 Conversely, the wall lamps use AA-size NiMH batteries. I had hoped that the same larger batteries would be in both the lanterns and wall lamps. Maybe a future version will have the update.  Still, the currently used technology is enough for almost a full night's warm glow on a full charge.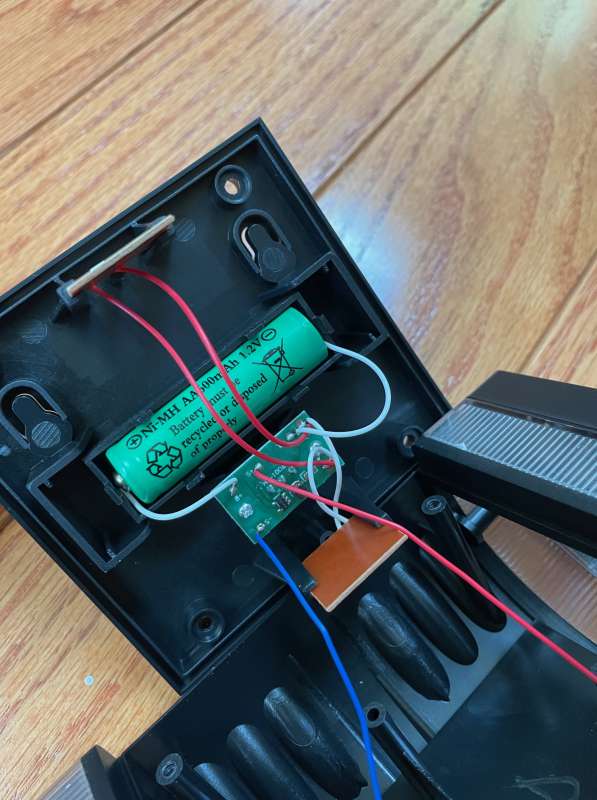 I placed the Haoyishu Outdoor Solar Lights in the bright sun for the panels to feast on photons.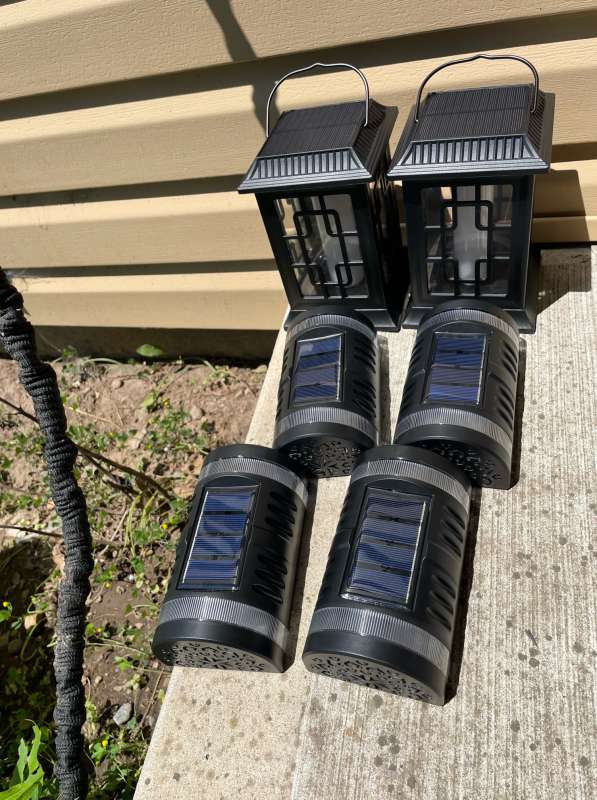 The lantern's power switch is under the cover. Opening the lamp is done with a twist. The switch is two-position – one for the flickering mode that looks like a candle and one for constant on.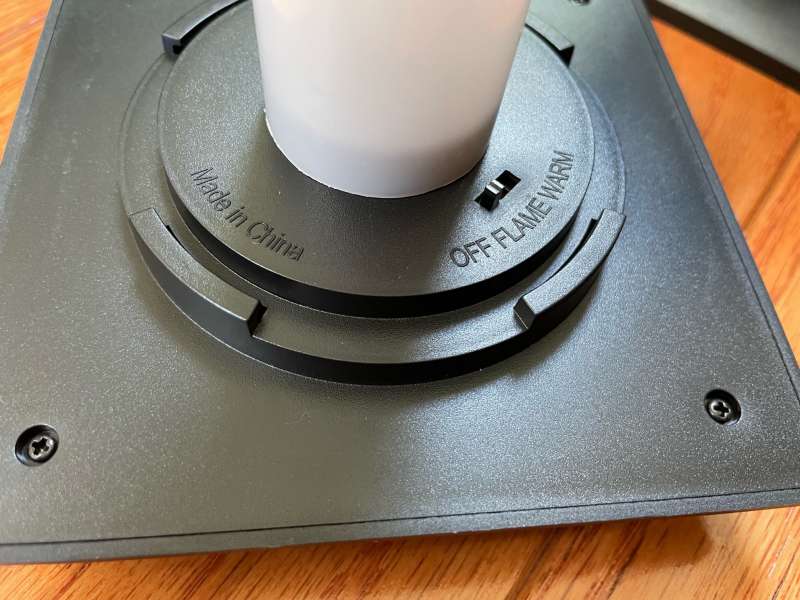 The wall lamps have a weather-protected switch on the back.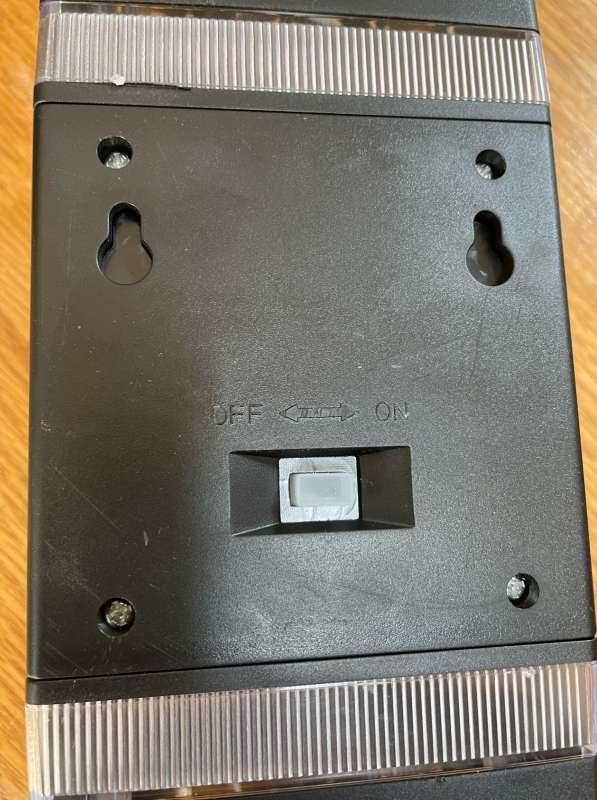 Naturally, I picked the day of the year with the longest amount of daylight to perform my tests – June 21st, the first day of Summer with 15 hours and 29 minutes of sunlight at my latitude. Now we wait… and wait… and wait… for dark. At least I'm sure the batteries will get a full charge.
I decided to put the Haoyishu Outdoor Solar Lights on either side of my home's porch.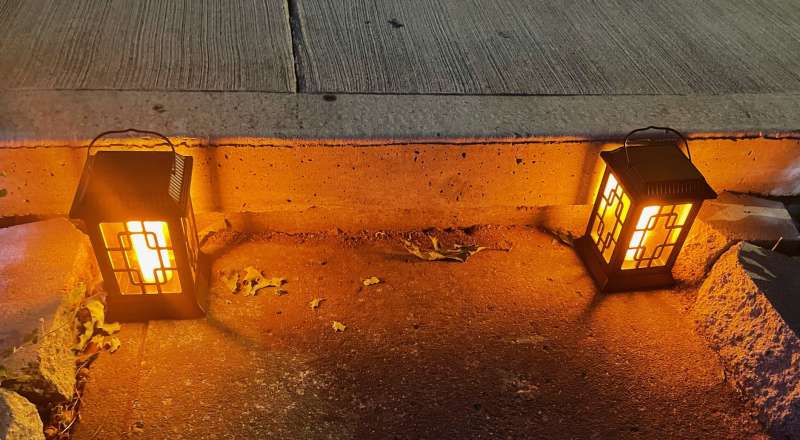 .
With the switch in "constant on" mode, the lights emitted a lovely amber glow.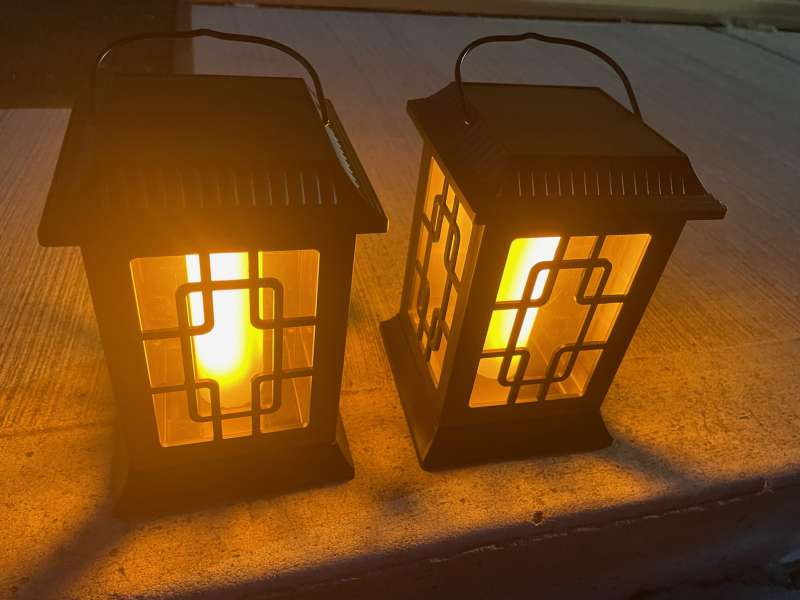 Even more fun, the lantern's "flicker mode" glimmers similar to a lit candle. It's very pretty, eye-catching, and will be the default until I pack them away for the winter.
At the time of this writing, my wife and I have not decided where we want to locate the Haoyishu wall lamps but was want to take advantage of the enchanting light patterns produced by the light projecting through the top and bottom. For now, they call the front porch home.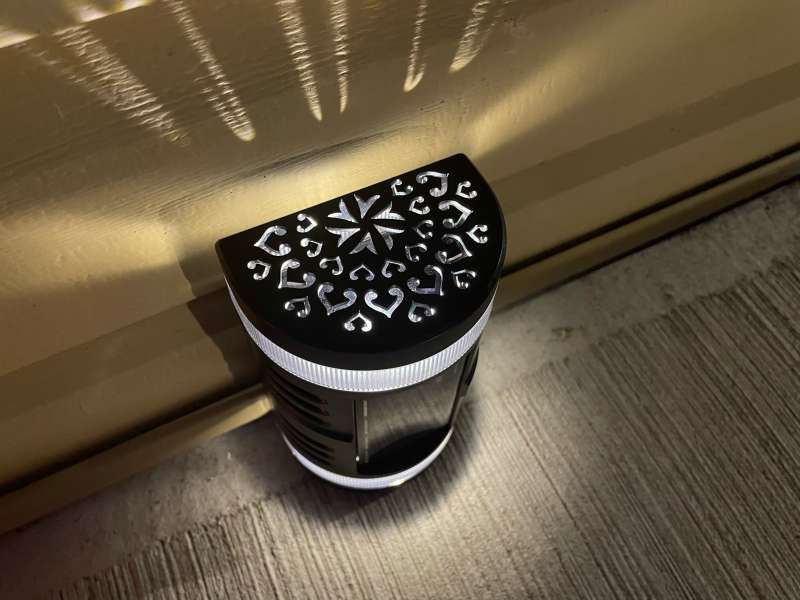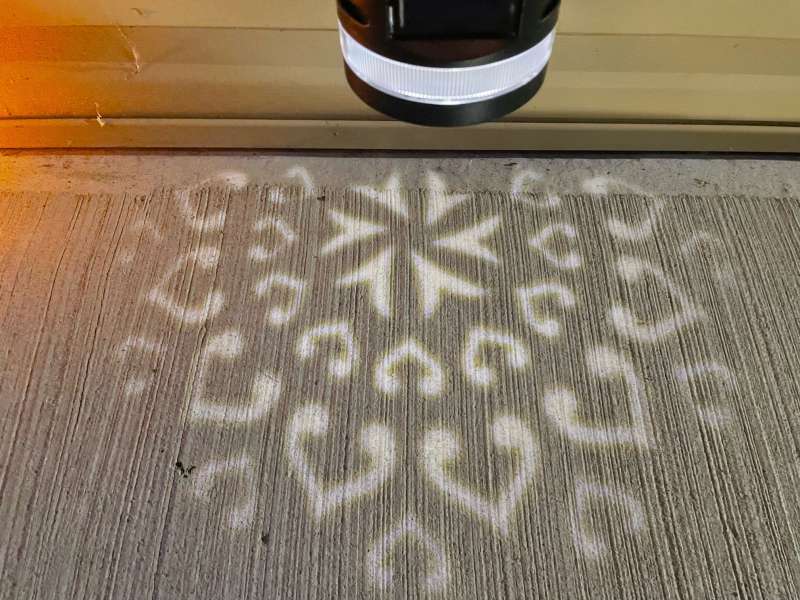 Light from the wall lamps and lanterns is warm and delightful.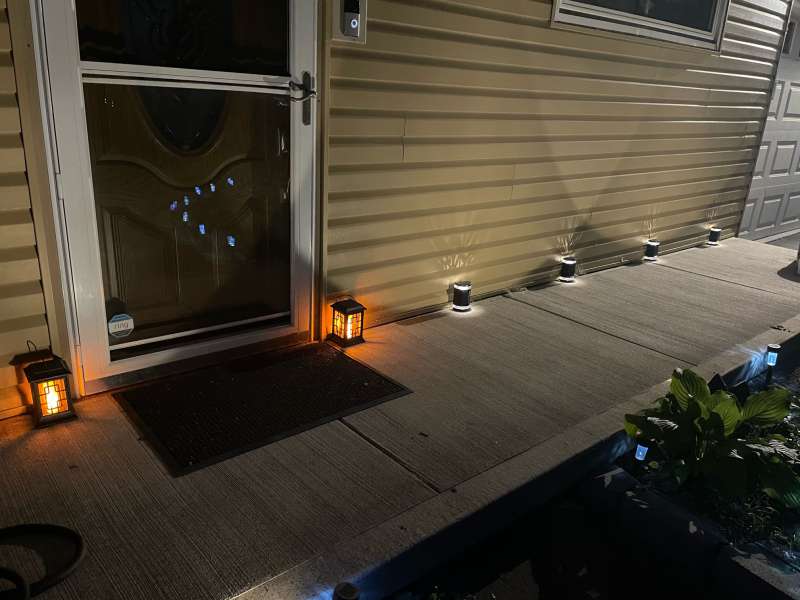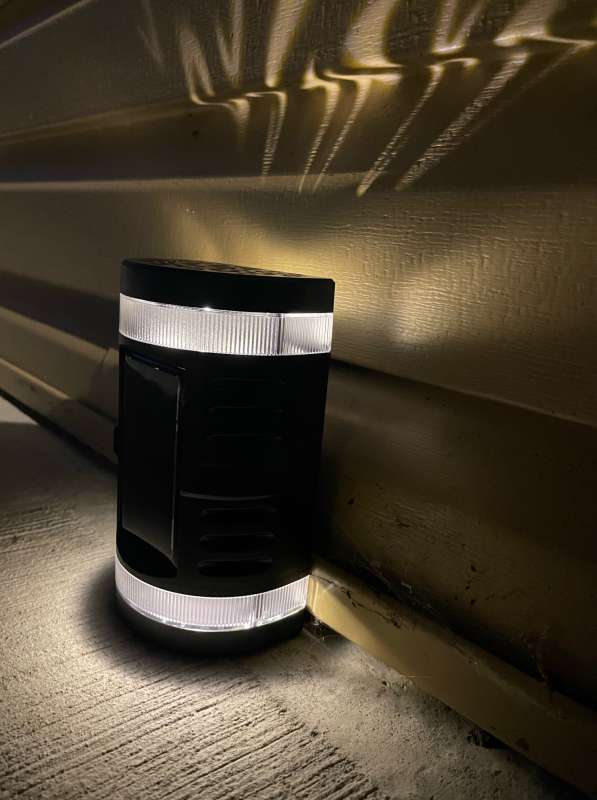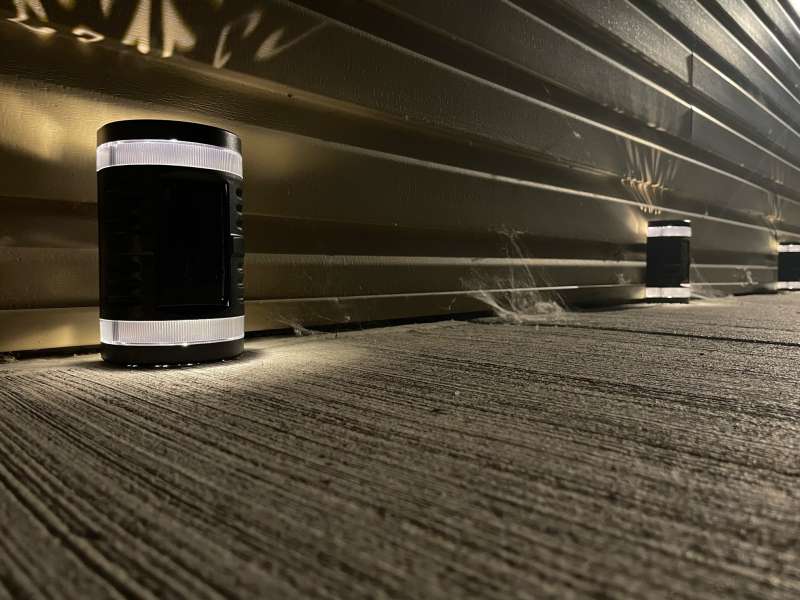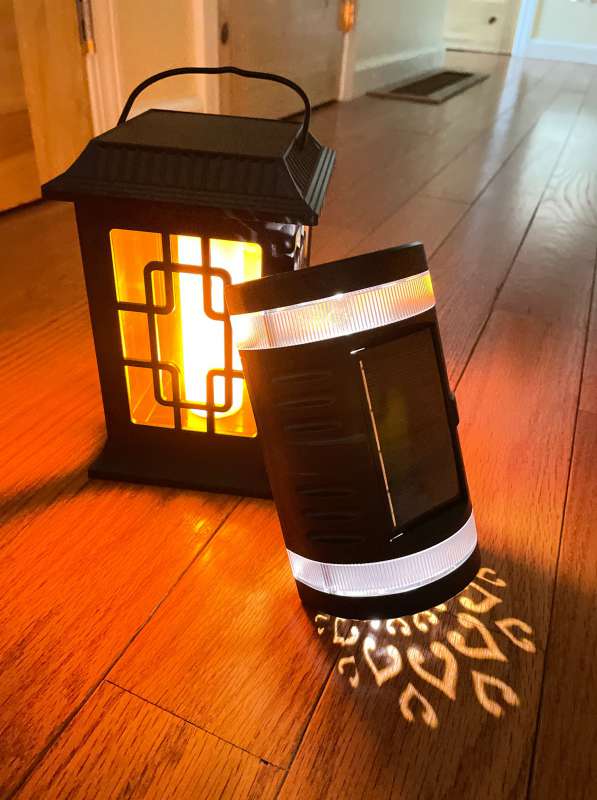 What I like
Solar charging
Ample batteries
Cool light patterns from the wall lights
Remove them from the box, turn them on, and leave them in the sun – super easy setup!
What I would change
Lithium batteries in the wall lamps would be advantageous
Final thoughts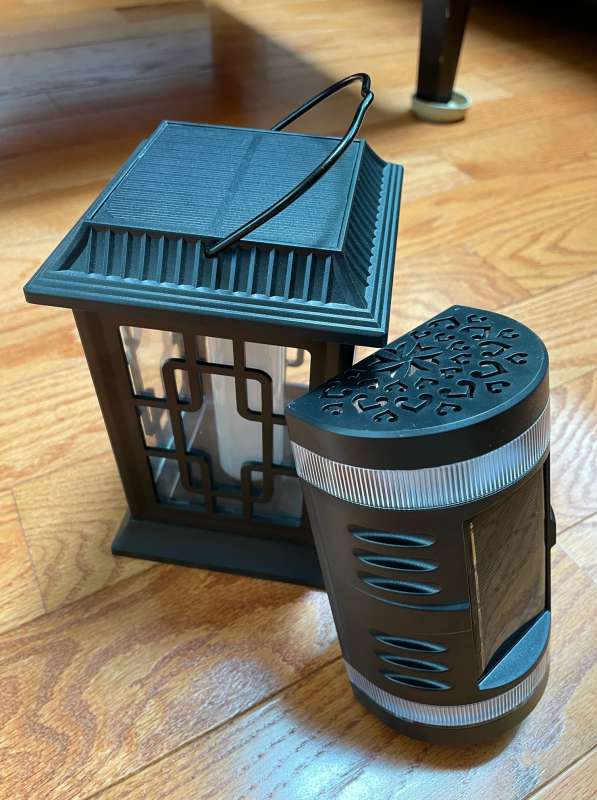 As I drive around my neighborhood at night, it's clear that solar accent lighting is very trendy. My wife has taken a liking to these fun and alluring beacons of suburbia and, like my Mom, our gardens are blooming with illuminated brilliance while our local star sleeps.  As the centerpieces to our luminary garden greenery, I've found the Haoyishu LED Solar lights to be long-lasting, robust, and a heck of a lot of fun and I can't think of a better way to declare my "Gadgeteerness!"
Price:  Lanterns – $36.98 for a two-pack, Deck Lights – $21.98 for a four-pack
Where to buy: Lanterns on Amazon,  Deck Lights on Amazon
Source: The samples for this review were supplied by Haoyishu.