We use affiliate links. If you buy something through the links on this page, we may earn a commission at no cost to you. Learn more.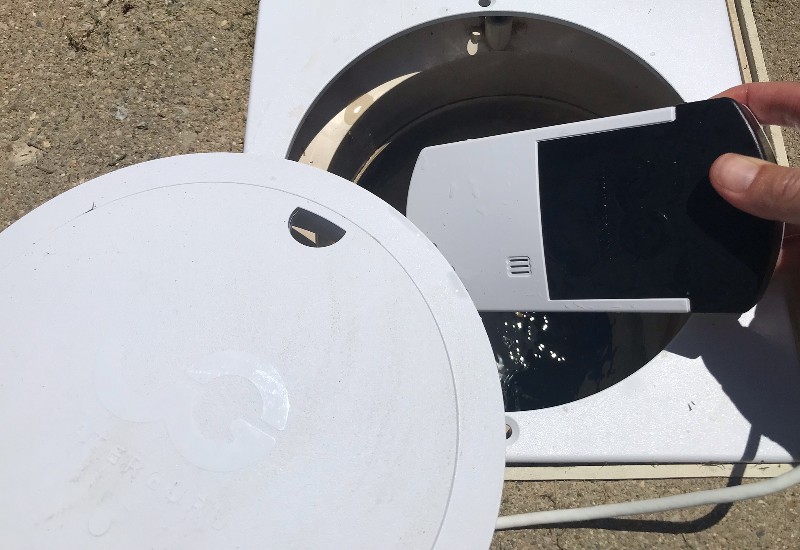 REVIEW – We've had a pool for five years since we moved into our current house. It's been a real learning experience! And no matter what testing kits or chemicals we use, we always hit a rough patch over the hottest spell of the summer when the water gets cloudy or even worse, yellow or greenish. Our pool tends to go from clear and beautiful to swampy at a moment's notice. With last year's pool chemical shortage, it was especially tricky. So I was curious about WaterGuru SENSE pool monitor, which is a device that constantly monitors your pool's water quality. I'm hoping it helps us stay ahead of the dreaded green pool water this year.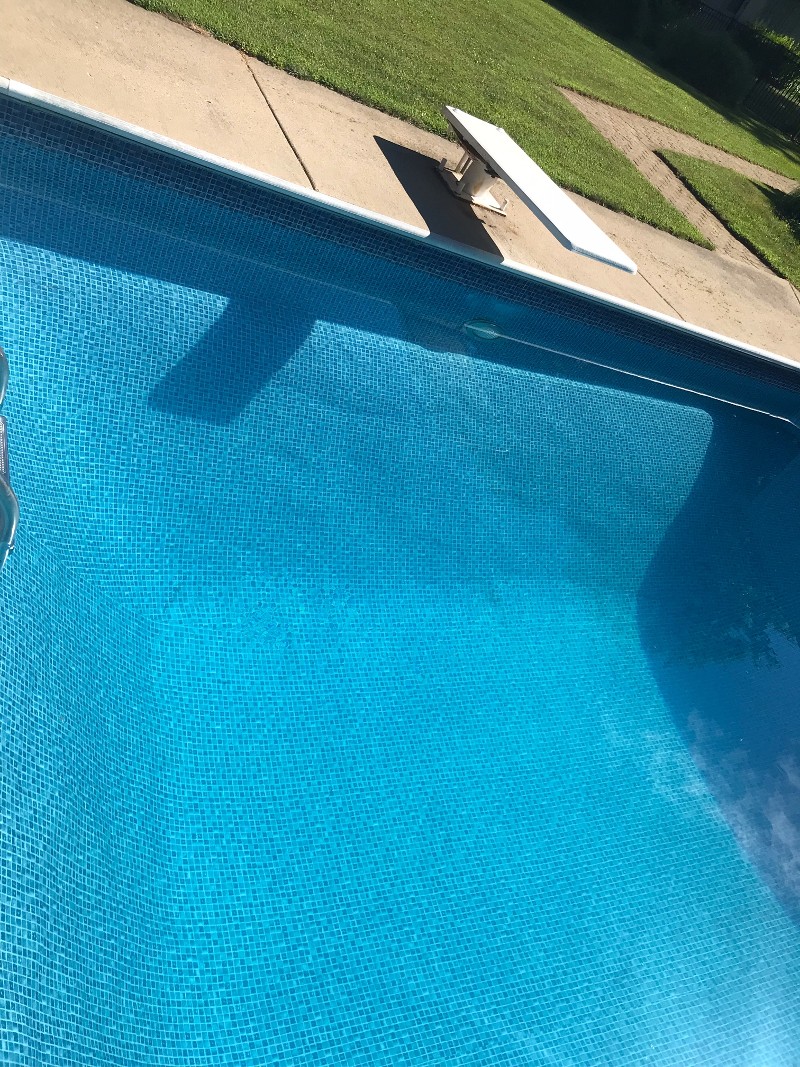 What is it?
A device that replaces your skimmer cover and is attached with a cord to a monitor that sends your latest water readings to an app. It includes advice and periodic lab readings that you mail in.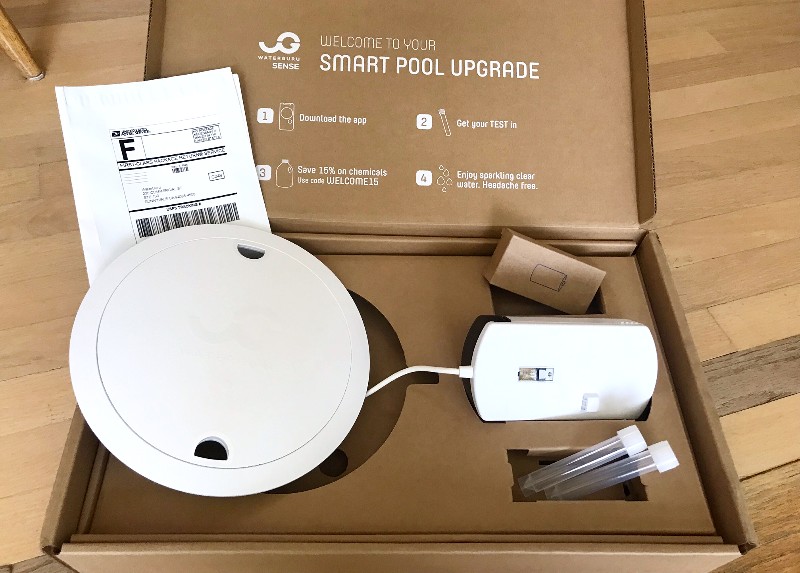 What's in the box?
Skimmer cover, cord and WaterGuru SENSE pool monitor

Water test tubes (2)

Pre-paid envelopes (2)

C batteries (4)

Quick-start guide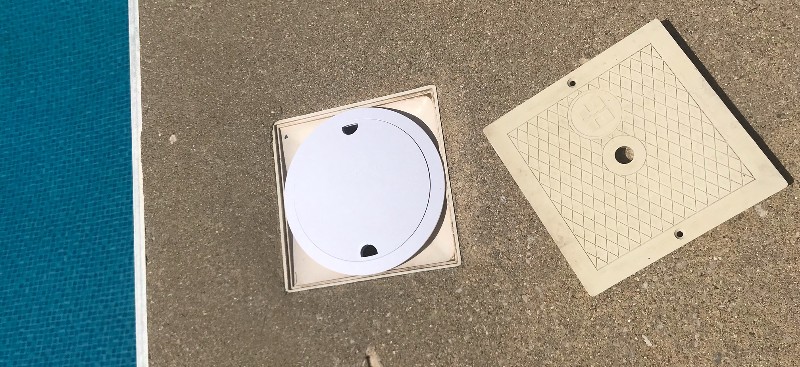 Hardware specs
Dimensions: 9" diameter plus lab unit
Connectivity: Bluetooth Smart aka Bluetooth Low Energy (BLE) 802.11 b/g/n (2.4 GHz) wifi
Color & materials: white plastic
Power: 4 "C" cell alkaline batteries (Energizer or Duracell recommended; replace every 6 months)
Security: 128-bit AES with unique-per-device PSK
Product dimensions: 20.5 x 12.25 x 3.63 inches
Item weight 6.19 pounds
Manufacturer: WaterGuru
ASIN B096YCV85F
Country of origin: China
Item model number: WG-SENSE
Design and features
Setup
The only setup required for the WaterGuru SENSE pool monitor is to install the batteries and remove the lid to your skimmer to replace it with this one. And you need to download the WaterGuru app and register with your pool info. 
However, there are a few important requirements to note:
Your skimmer should be 8-9 inches and round.

Your device needs iOS 12.0 later, or Android 9 or later.

You should have 802.11 b/g/n (2.4 GHz) wifi with RSSI -75 or better at the skimmer location (-65 or better preferred).

WaterGuru requires WPA/WPA2 Wi-Fi security; the older standards (WEP and 802.1X) are not supported.
We recently reconfigured our wifi so our entire backyard has a strong signal. However, if we hadn't done this, we would have needed to use a wifi extender to have a strong enough signal where our skimmer is located to use WaterGuru.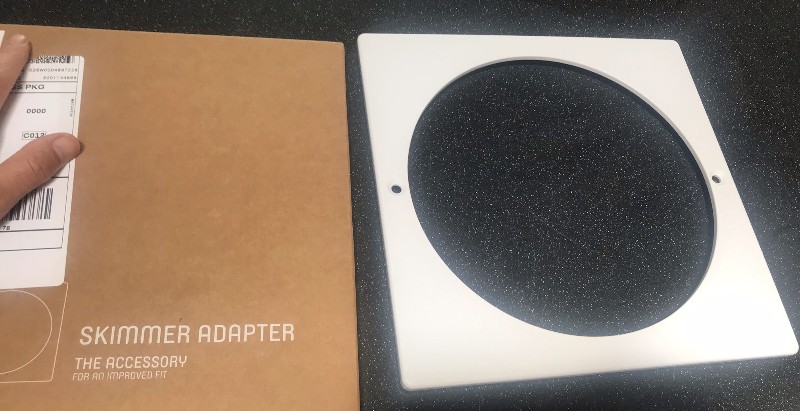 We also didn't like the look of the new, white skimmer lid with our old, weathered skimmer plate, so we purchased the square skimmer adapter for $25 on the WaterGuru website.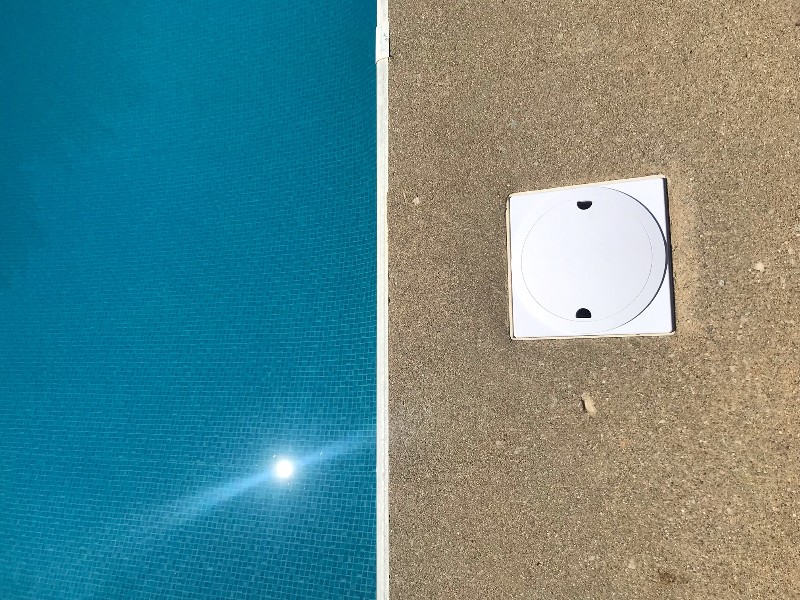 Performance
To gauge the performance of the WaterGuru SENSE pool monitor, I compared it with our previous methods of testing our pool water.
Periodically, we'd fill up a bottle and bring the water sample to our local in-person gurus. At our pool store, the employee used their water monitor and from his read-out, the pH and alkalinity of our pool were in the normal range but the chlorine was low (0.75). He suggested three pounds of powder shock or five gallons of the liquid chlorinator.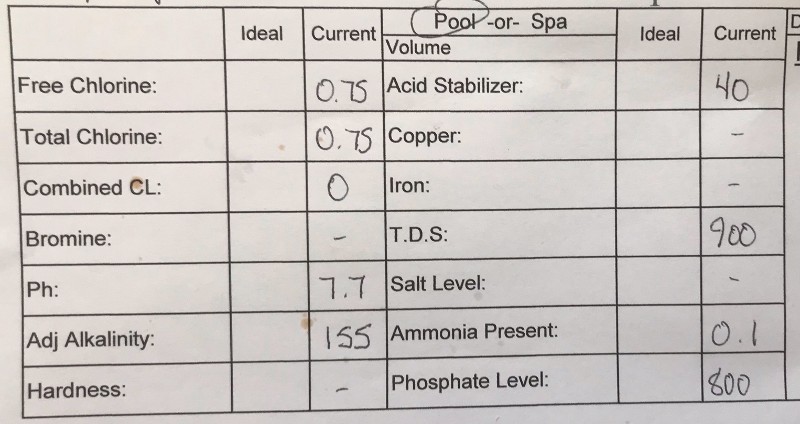 Our at-home test kit confirmed very low chlorine levels.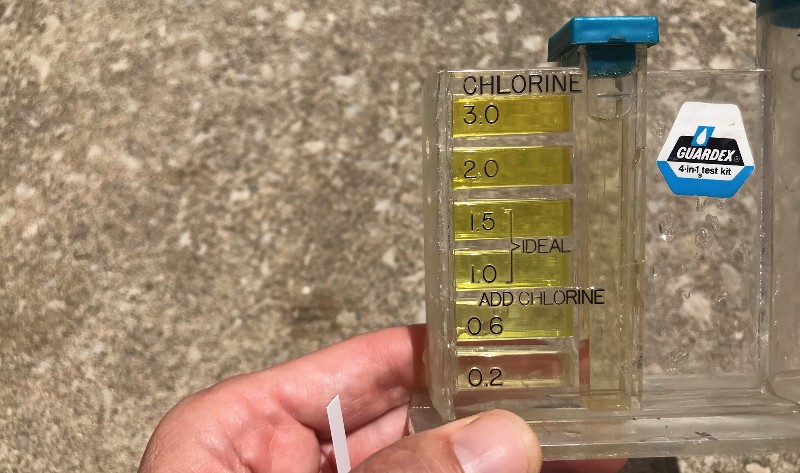 And our at-home test strips agreed that the chlorine was very low. The strips registered about the same pH as the WaterGuru app (around 7.0) but for the test strips that fell into the low end of the OK range, whereas the app flags that as very low.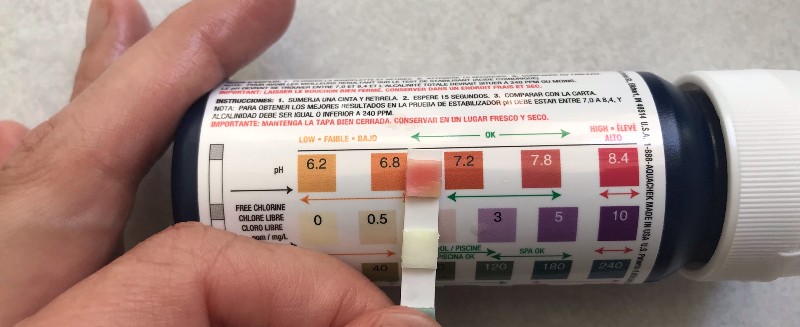 At the same time, the app told me our chlorine was at 0.0 and pH was 7.0. It advised me to add 12 cups of liquid chlorinator, but also 11 cups of pH Up (sodium carbonate) to raise the pH and alkalinity.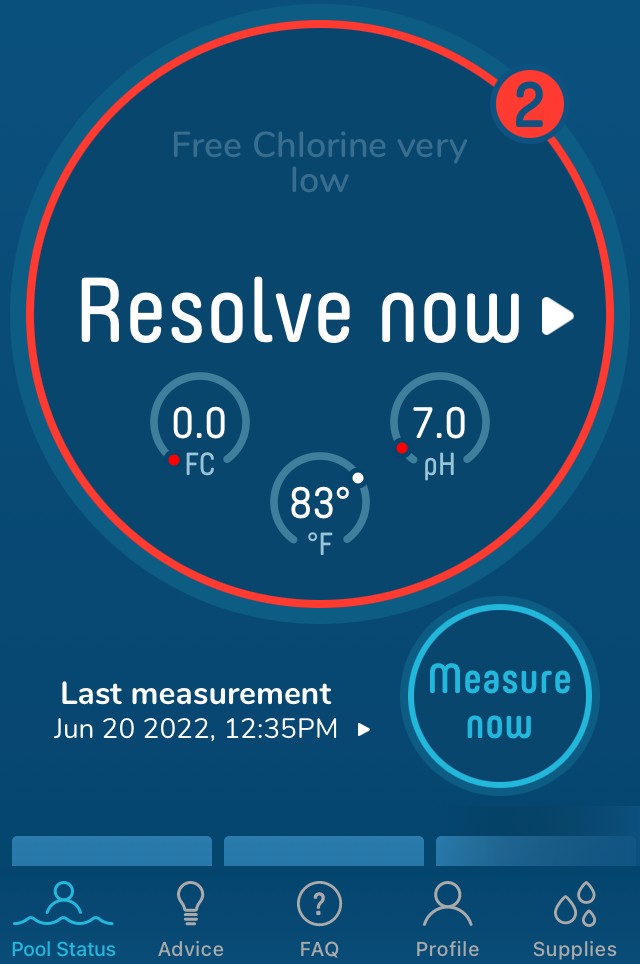 So the readings and advice were a little different, but not too far off.
I like that the WaterGuru app is so easy to use. And instead of just a one-time snapshot, it gives you a constant reading of your pool, highlighting the chlorine levels, pH, and temperature. It clearly tells you when it took its last measurement, and lets you click the circle that says Measure now for a readout anytime (it takes 8-10 minutes). While that 8-10 minutes isn't as immediate as our other home testing kits, it is more convenient than testing by hand, and much more convenient than driving a water sample over to the pool store.
The advice is also really handy. And it lets you adjust the advice to what types of equipment and chemicals you have on hand (such as liquid chlorine or tablets in a floating dispenser or an inline chlorinator).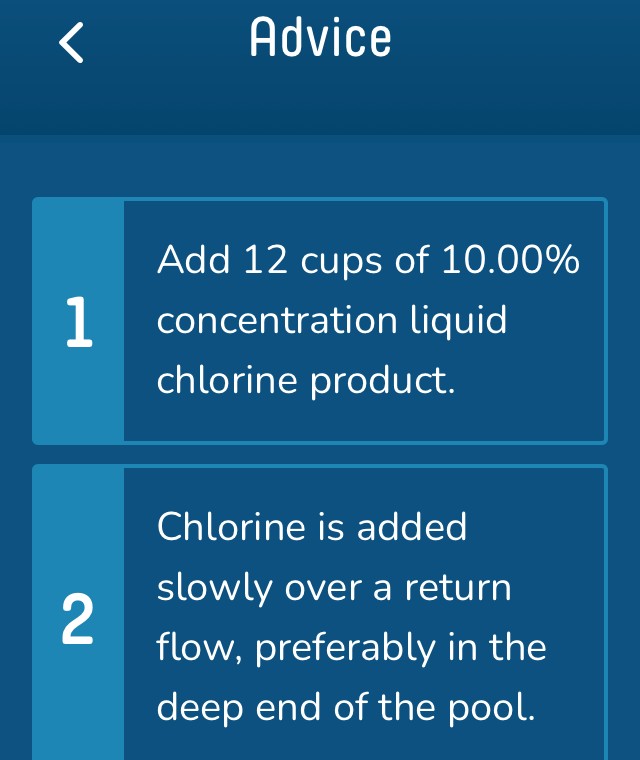 The WaterGuru SENSE pool monitor also includes a lab sample once a quarter that you mail in. In order to do this, you click Advice, WaterGuru TEST, and then you scan the envelope you're going to use to send in the water sample.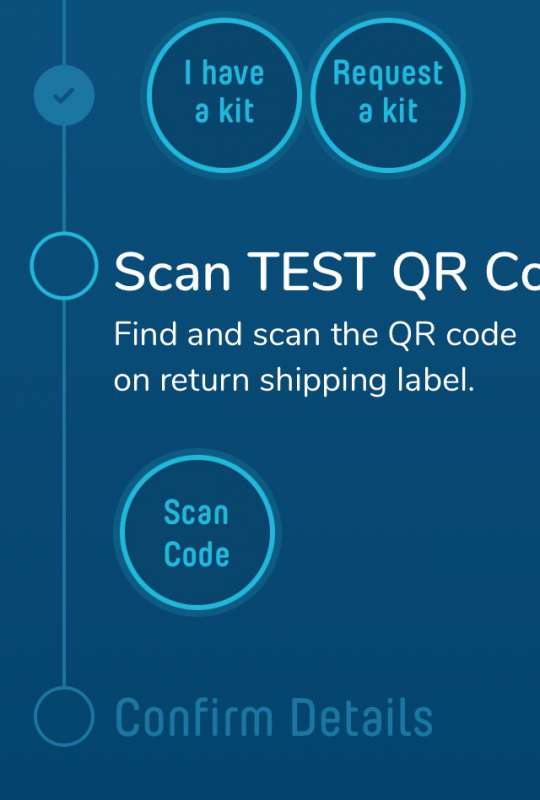 Then you just collect the sample and pop it in the mail. If you want more frequent tests, you can purchase them on their website.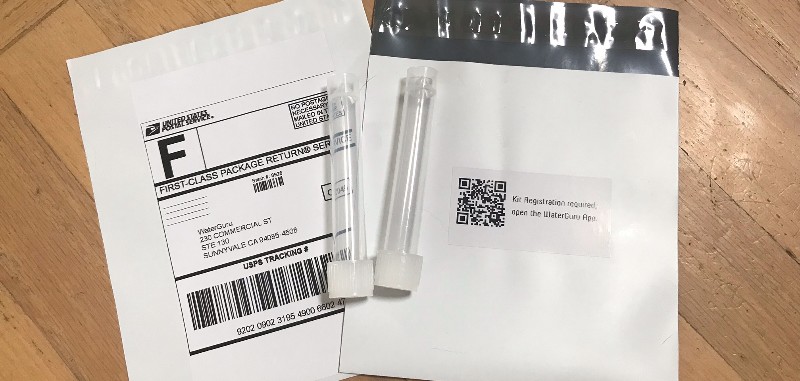 Mail-in tests are included once a quarter with the purchase of your WaterGuru. You put a water sample in a tube and send it in a pre-paid envelope. You'll get an email alerting you the results are in, and you can find the full read-out on the app.
I purposely took the water test the same day I brought a sample to our pool store so that I could compare the readings. And they were very different! For example, the acid/stabilizer reading at the pool store was 40 and our mail-in sample was only 5. The phosphate level reading at the pool store was 800 but a whopping 2984 with the WaterGuru.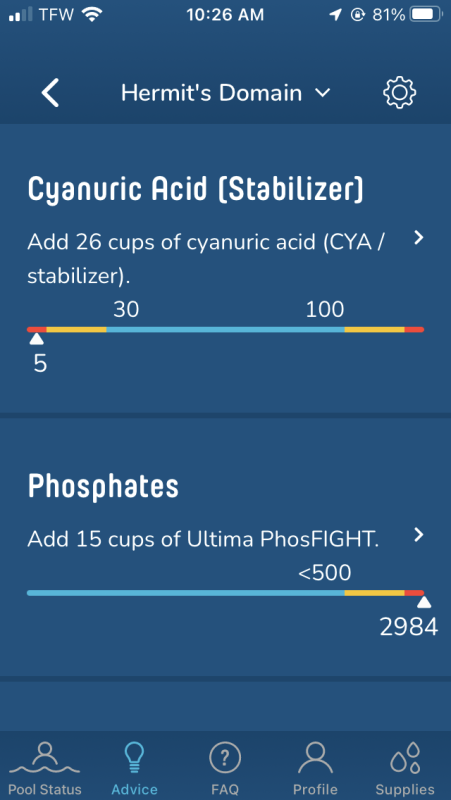 Honestly, I didn't find the mail-in reading very helpful to use mid-season. Not just because the numbers were so very different, but because of the amount of time between sending in the sample (June 16) and receiving the readout (July 2).  I suspect our pool chemical levels are very different now.
The one helpful piece was that it suggested chemicals we could use to balance our pool. I'm not saying I will pour them all in right now, but I will check their suggestions compared to what I've been using, and make sure to stock them if we don't have them.
I probably won't send in another water sample this season, because I don't need to: the WaterGuru is constantly monitoring my pool and letting me know how to keep it sparkling clean. However, a full readout could be helpful when we first open our pool next year, while it's still warming up and we're getting it in shape for the season.
What I like
Ongoing monitoring

Easy-to-use app

Helpful advice
What I'd change
Faster read-outs when you request "Measure now"

Cheaper or included square plates
Final thoughts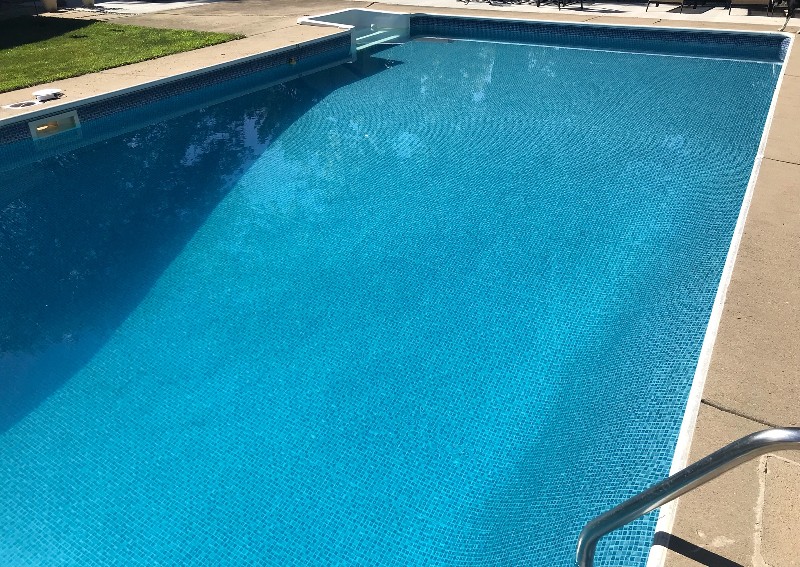 Our pool looks amazing this year. It's withstood multiple heat waves, thanks to the WaterGuru SENSE pool monitor. Highly recommend.
Price: $295
Where to buy: WaterGuru website or Amazon
Source: The sample of this product was provided by WaterGuru.