We use affiliate links. If you buy something through the links on this page, we may earn a commission at no cost to you. Learn more.

NEWS – Hiking and camping are wonderful ways to get outside and enjoy nature. I like hiking in my own woods but where I live the terrain is not flat. There are a lot of gullies and ravines. I usually grab a long stick at the beginning of the hike to use as a walking stick to help me safely traverse steep areas. A stick works great, but when I saw the Unbreakxble walking stick, I couldn't help but want one.
The Unbreakxble is an aluminum multi-tool walking stick/trekking pole that features a cool modular design that allows you to use the walking stick for various other tasks. Included with the Unbreakxable are 9 tools (made of carbon stainless steel):
1. Harpoon/Sickle
2. Knife/Scaler
3. Saw/Grabber
4. Flat cover/Flint fire starter
5. Tungsten steel tip (Breaker)
Watch the animation below to see how the Unbreakxable is assembled.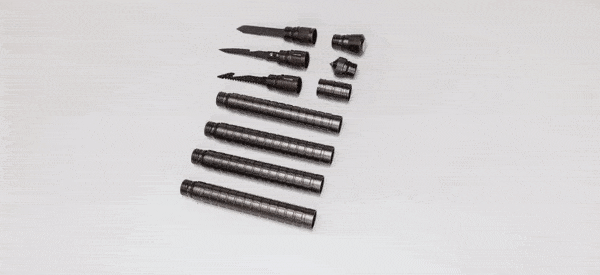 But wait, that's not all… There are even more tools that you can buy to use with the Unbreakxable trekking pole. There's a flashlight/battery pack, a collapsable fishing pole, a shovel, and extra extension tubes if you're super tall. The Unbreakxble is available in 3 lengths and is priced from $137 – $211 (depending on the length). It has a 100-day money-back guarantee and ships from the US. Place your order at theunbreakxble.com and if that's more than you want to spend, Amazon has a modular walking stick that you might like that is only $69.