We use affiliate links. If you buy something through the links on this page, we may earn a commission at no cost to you. Learn more.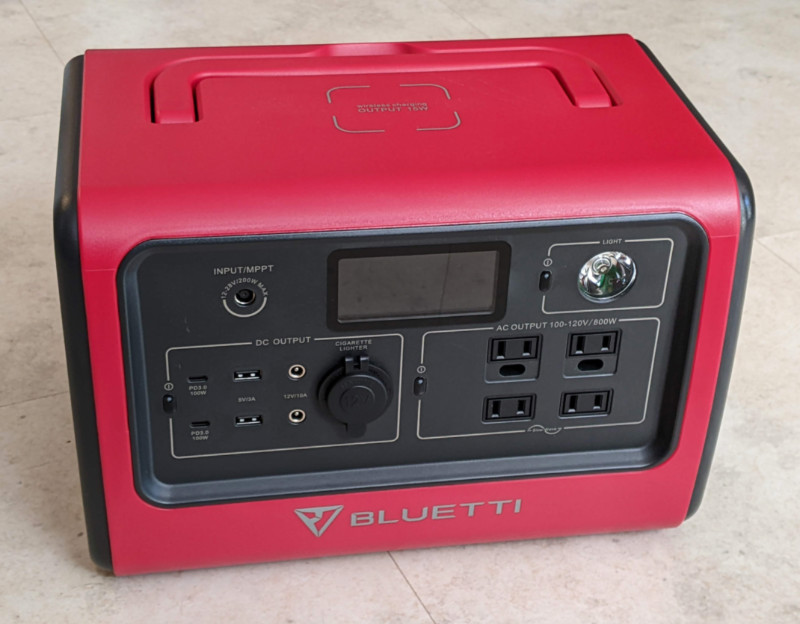 REVIEW – We've never reviewed any portable power stations here at The Gadgeteer before, so I jumped at the chance to review the BLUETTI EB70S. -You know I jest.- We've actually reviewed a bunch of these large, portable, power-boxes, but this is MY first. BLUETTI is a brand I knew, and I was eager to see how this power station performed. These things boast of a lot of power in their weighty selves. Could the BLUETTI be different from the dozens we've reviewed before? Does it need to be?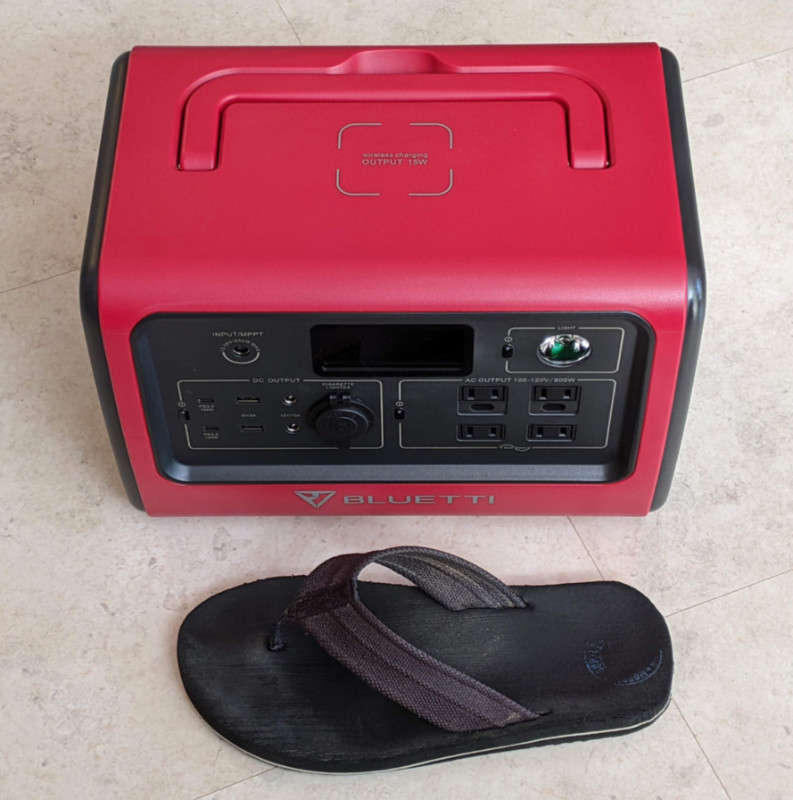 What is it
The BLUETTI EB70S is a high capacity, 800 watt power supply with multiple DC and AC ports available for device powering or charging.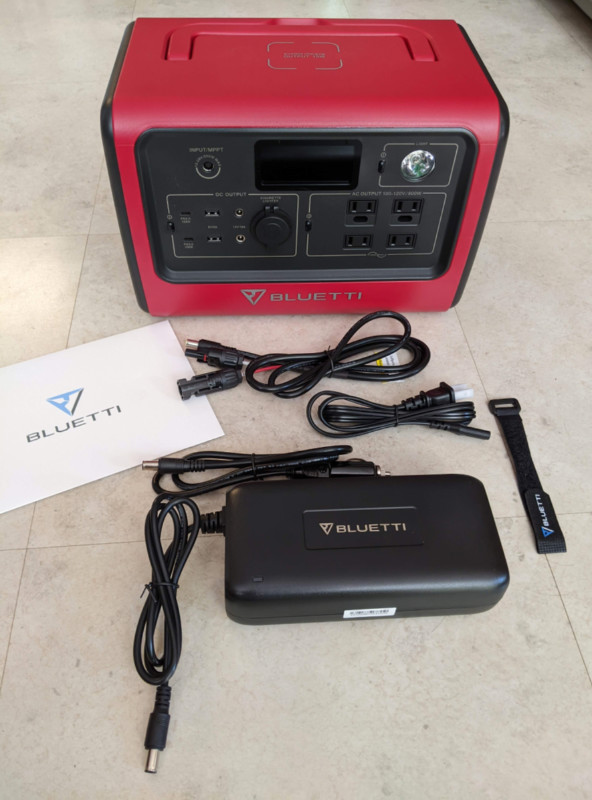 What's in the box
BLUETTI EB70S 716Wh Portable Power Station

AC adapter & charging cable

Car charging cable (Charge EB70S via the cigarette lighter / accessory plug)

Solar panel charging cable (DC7909 to MC4)

User Manual.
Hardware specs
716Wh capacity battery. 800 rated wattage

Outputs: Four 120V/20A AC outlets, Two 100W USB-C PD ports, Two 5V/3A USB-A ports, Two regulated 12V/10A DC outputs, One 12V/10A car accessory port, One 15W wireless charging pad

Ultra-stable LiFePO4 (lithium ion phosphate) battery chemistry. 2500+ life cycles

Surge power 1400W

Weight: 21.4 lbs

Dimensions: 12.6" x 8.5" x 8.7"

Operating temperature: -4 to 104

℉

Storage temperature: 14-113℉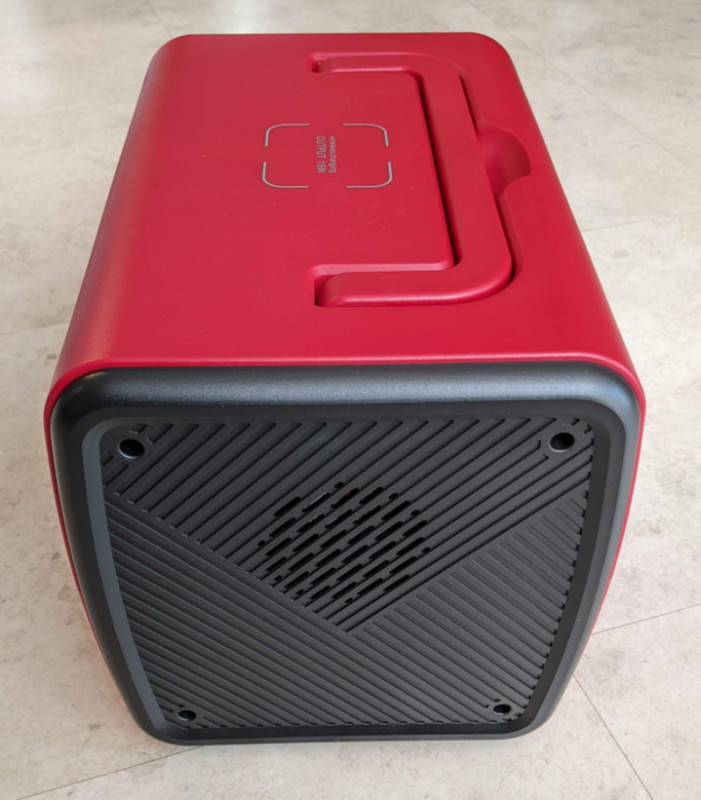 Design and features
Fully charges from an AC wall outlet in 3-4 hrs or a 12V car port in 7-8 hrs

Fully recharges in 3-4 hrs with solar panels ($299 or $499 separate purchase) with max input of 200W (OCV 12-28V, 200W) 

Available in dark gray, medium red, mint green and sapphire blue

Can provide power output while being charged

Over-charge, over-draw and over-heating protection circuitry

Warranty: 24 months

Powers off automatically in 4 hours if AC output is 10W or less, or DC draw is 1W or less.

Installation and setup
The BLUETTI EB70S power station came 60% charged. I charged it up to 100% in about 90 minutes and it was ready to use.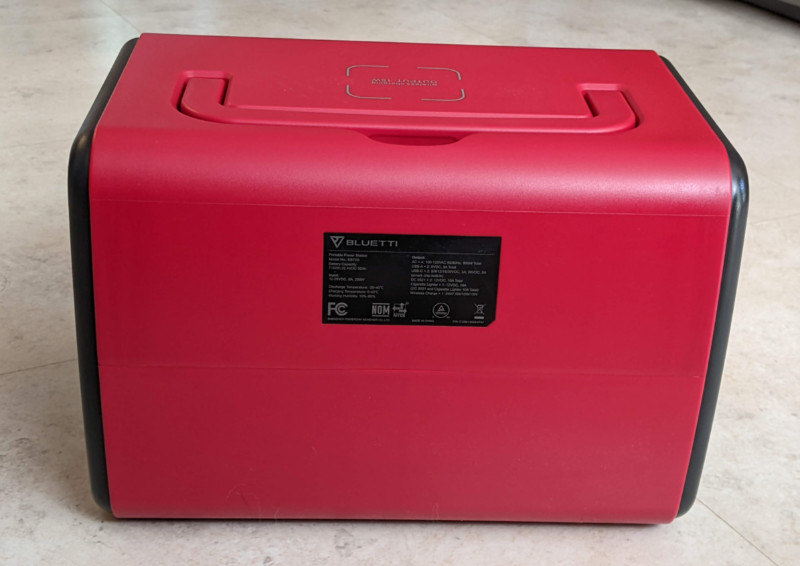 Testing and observation
When charging the BLUETTI EB70S power station via AC power, the charger unit illuminates a red LED. You can also observe the battery capacity level on the LCD screen by tapping either the DC or AC power buttons or by turning the accessory light on. The LCD screen cycles off until a button is pushed again. When the power station batteries are full, the charger unit LED turns green.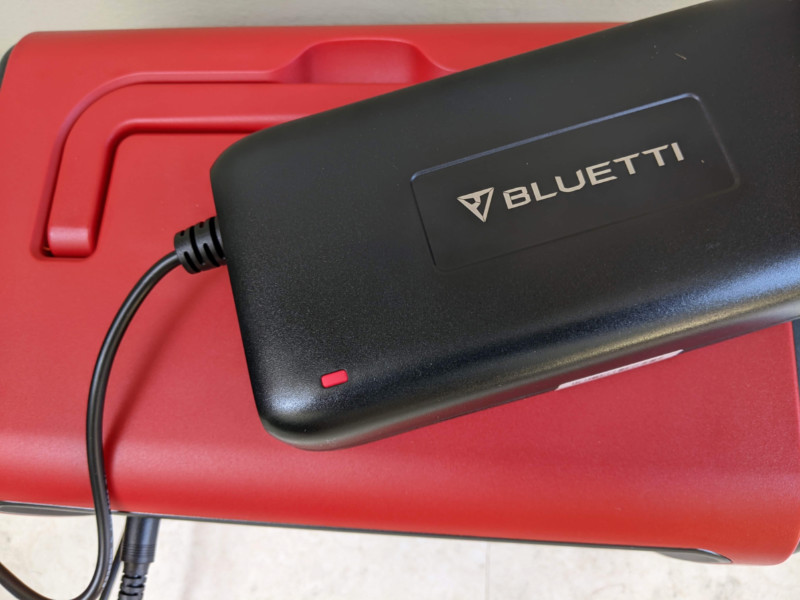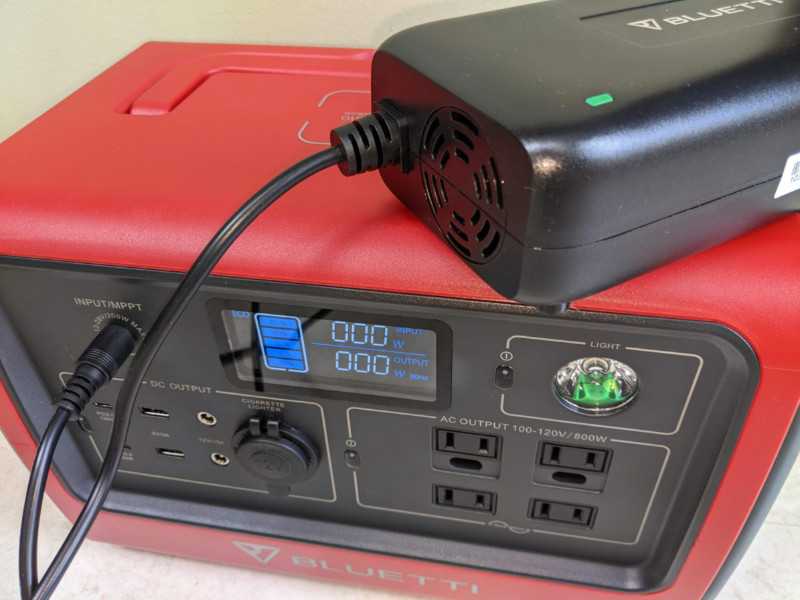 The EB70S is super-easy to use. Once it is charged up, one button on the control panel turns on the DC power jacks and another button powers on the AC power jacks. A three second hold on either button shuts off the power station.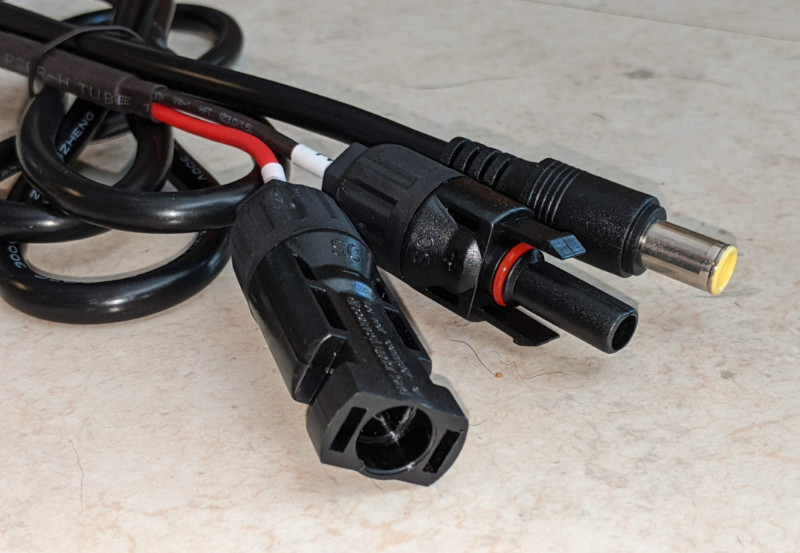 There was one accessory cord with connectors I'd never seen before. It turned out to be the cable for connection to the BLUETTI solar panels. Everything else included with the power station made sense on sight.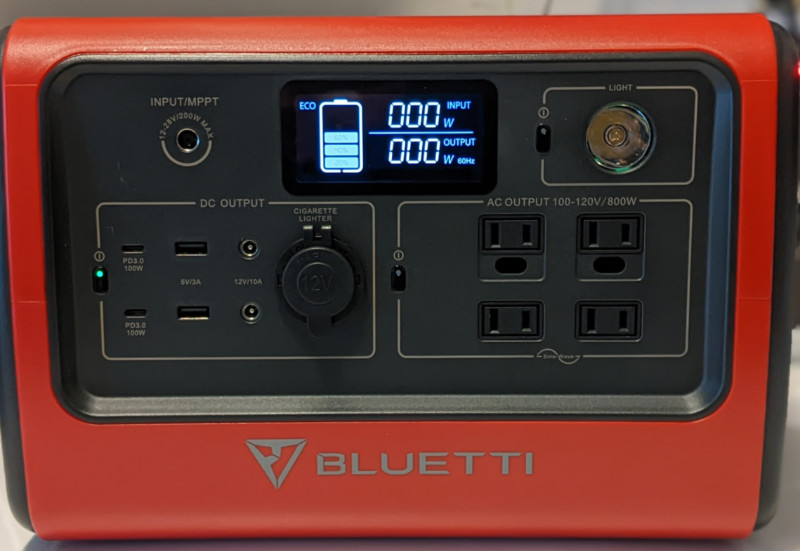 The BLUETTI EB70S power station's LCD display was easy to read, including outdoors. It has readouts for battery capacity, input wattage, which reads 200W when charging with the included AC wall charger, and output wattage. 
When I charged my phone with a USB A to USB C cord plugged into the EB70S USB A port, the output reading on the power station was 9W. Not super-fast but it won't take all day either. With this method, the BLUETTI EB70S power station gave about 2% charge to my phone every 4-5 minutes. If I cared about charging speed I plugged my phone's 18W charger into an AC jack on the EB70S and the phone charged as it would with normal 'house current'.
As long as you stay within the total 800 watt maximum, it is conceivable to run or charge 12 devices simultaneously.
During the trial period, I had one shot at a power outage. During a thunderstorm, the power went out – for about a minute. Darn! We could have run our coffee maker from the BLUETTI. 
Some assume these portable power sources can run full size refrigerators. Our fridge is rated at 816 watts. Not only is that too much for the EB70S but when electric motors cycle on, they often pull higher currents for a while and this BLUETTI is rated at 800 watts. Plus, the directions warn against trying to run full-size refrigerators. A dorm or hotel style fridge, maybe, but it all depends on the wattage. The EB70S can handle brief higher draws that some devices pull when they start up or cycle on, but, it's best to play it safe. The EB70S has circuitry to protect it from damage if you try to run something above its limits.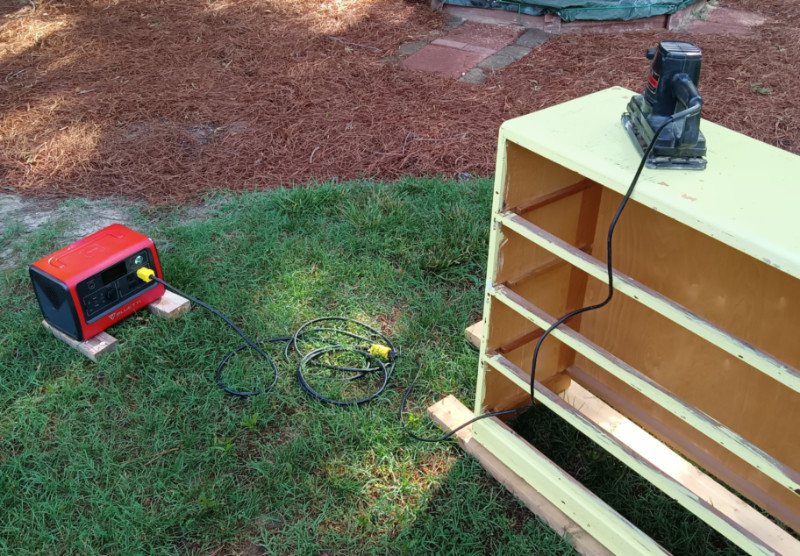 I needed to sand an old children's chest of drawers in preparation for a coat of fresh paint. Since I have garage deprivation, and I didn't want to sand on my deck due to the cleanup required, I chose to work in my yard. Instead of running a long extension cord to the back of my property, I used the BLUETTI EB70S power station and a short cord. The sanding went great and when I was done, carrying the EB70S indoors and stowing the 10 foot cord instead of my 100 footer was a breeze. 
While doing a separate review of a battery powered paint sprayer, I wanted to keep the battery charger nearby while painting so I could cycle the batteries quickly.  The EB70S made for handy charging within just a few steps instead of having to go indoors to switch out batteries.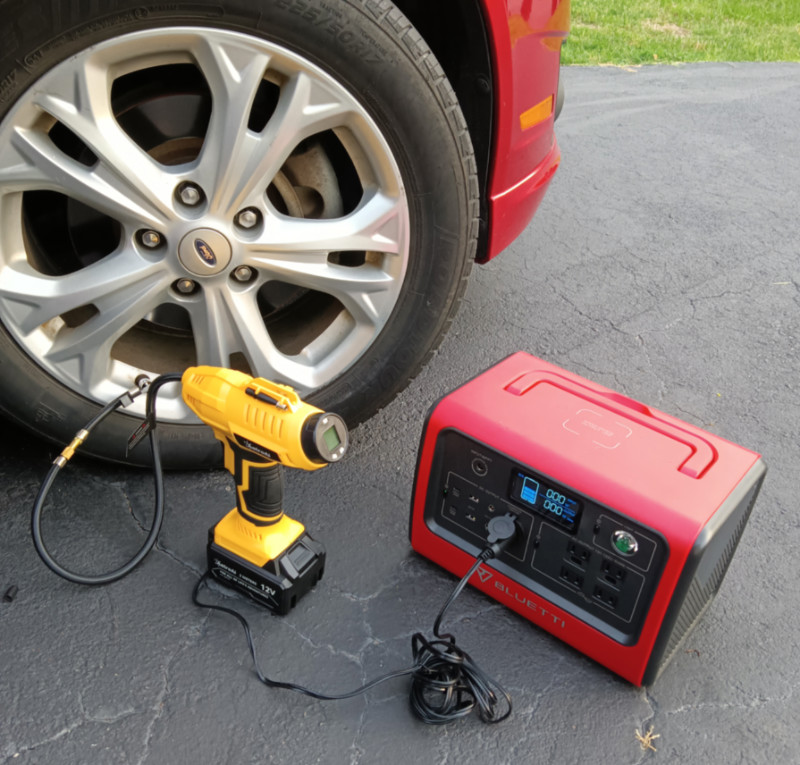 I top off our car tires with a portable tire pump that is powered from the car accessory (cigarette lighter) jack. Running the pump's cord to the BLUETTI's cigarette lighter plug was much more convenient than through the car door, then finagling it through the car interior and out the opposite door to get to the other side of the car. I can just pick up the EB70S and the tire pump, and move to the other side of the car. 
I have no devices that use the 12V/10A DC 5.5mm x 2.1mm (DC5521) outlets. Some laptops do, but note, it'll be 12V output. If you need them, there are two of them.
The BLUETTI EB70S power station would certainly be handy in a disaster but was more useful to me as a convenient routine electric source for home and yard chores instead of running extension cords over long distances.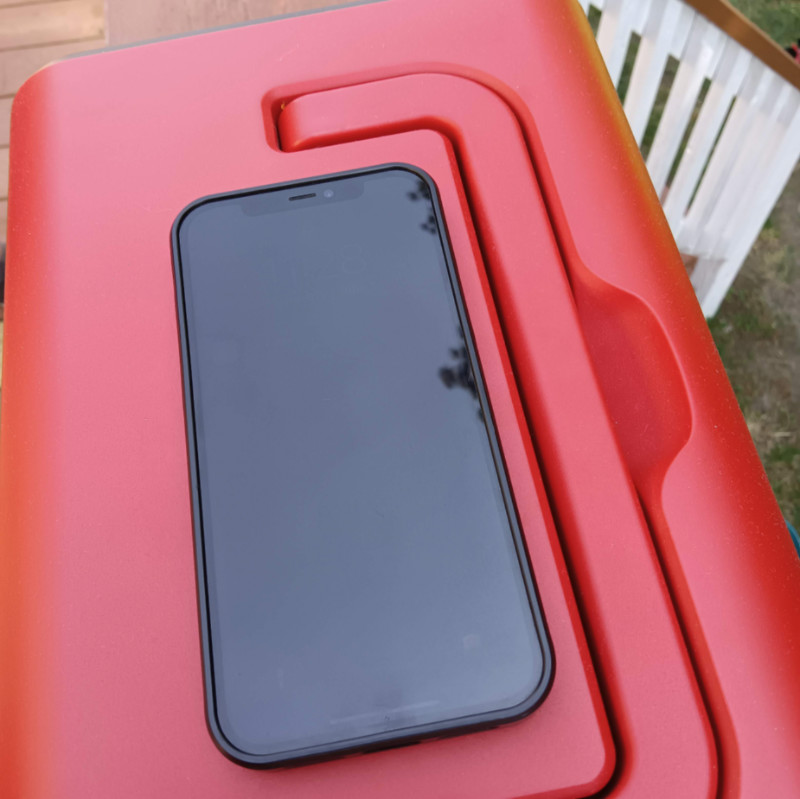 Here's a cellphone charging on the inductive charging area built into the top of the BLUETTI EB70S power station.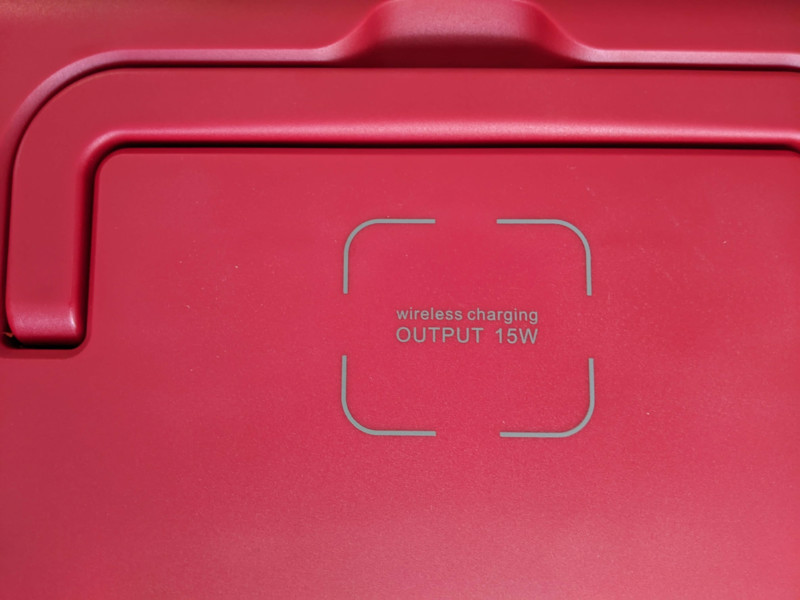 What I like
Solid, quality construction

Excellent, clear instructions

Easy to use control interface

Good number of power output ports and outlets

Power station charging by AC or car power

Over 2500 charge/discharge cycles

Color choices
What I'd change
No complaints and no recommendations.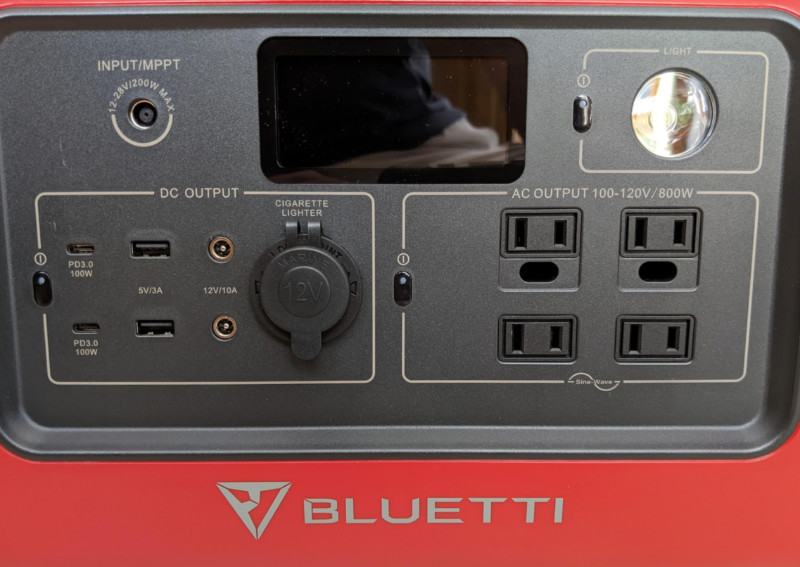 Final thoughts
Does the BLUETTI EB70S power station even need to be different from its competitors? With a two year warranty and all the features it has, I'd call it among the front runners in the crowded pack. 
It is easy to recommend the BLUETTI EB70S. It operated flawlessly with zero negative surprises. Whether for emergencies, camping, convenience, or operating corded tools, if you need an 800 watt portable power source from an established manufacturer, this may be your handy power-box solution. 
Price: $529 at BLUETTI (red model), $599 at Amazon
Where to buy: Bluetti, Amazon
Source: The sample for this review was provided by BLUETTI.