We use affiliate links. If you buy something through the links on this page, we may earn a commission at no cost to you. Learn more.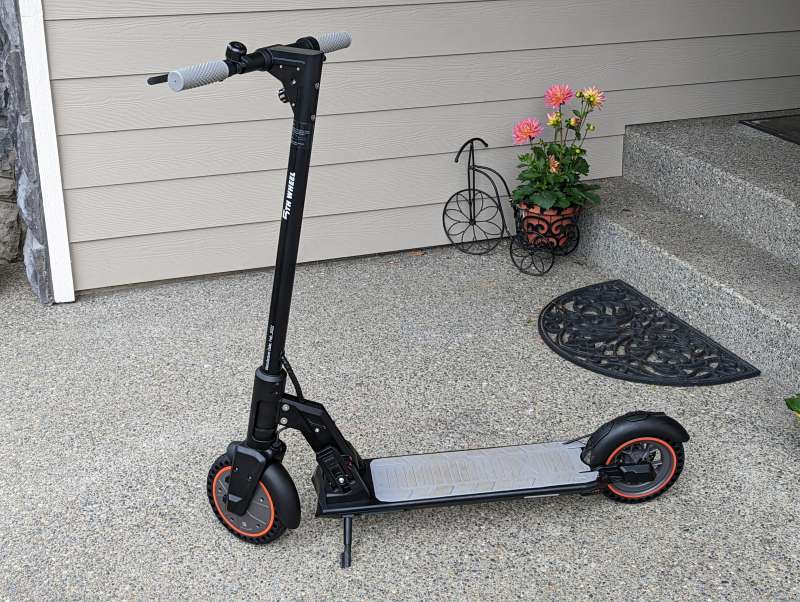 REVIEW – My 7 year old son and all his friends have scooters that are way cooler than what I grew up with. Back in my day, a scooter was just a skateboard with a handlebar bolted to it so I jumped at the chance to review the 5th Wheel M2 electric scooter to see what 30 years of tech advancements have done to the humble scooter and hopefully the 5th Wheel M2 can make me the neighborhood scooter king.
What is it?
The 5th Wheel M2 electric scooter is a folding battery powered scooter capable of 15.5 mph with a 19 mile range on a single charge.
What's in the box?
5th Wheel M2 electric scooter

Instruction manual

Battery charger

Allen wrench
Specifications:
Max distance: 19 miles

Max speed: 15.5 mph

Motor: 350w motor

Battery: 36V 7.5Ah battery

Charging time: 5 hours

220lbs max load

8.5" honeycomb (no air) tires

Triple dampening system (front spring, rear spring, honeycomb tires)

Triple brake system (disc brake, motor brake, foot brake)

Climbing capacity: Approximately  14 °

Waterproofness: IP54

Weight: 33 lbs

Lights: LED front headlight and rear taillights

LED Display: Shows speed, battery level, and speed mode

Assisted start: Scooter must be rolled to 3 km/h before thumb throttle will activate

Dimension Upright: 43.3 inches tall x 43.3 inches long x 20 inches wide

Dimension Folded: 16 inches tall x 43.3 inches long x 28 inches wide
Design and Features: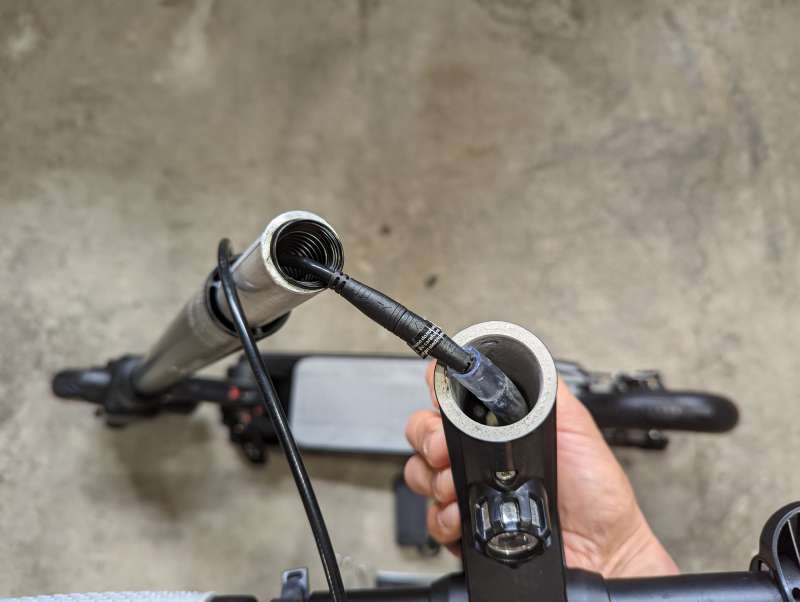 The 5th Wheel M2 electric scooter came really well packaged in a box within a box with ample styrofoam to cushion it. Assembly was super easy, unfold the scooter and flip the locking latch, put the kickstand down, pull the spring out of the stem to retrieve the inner cable, and attach the handlebar plug to it then place the handlebar on the stem and secure it with two bolts.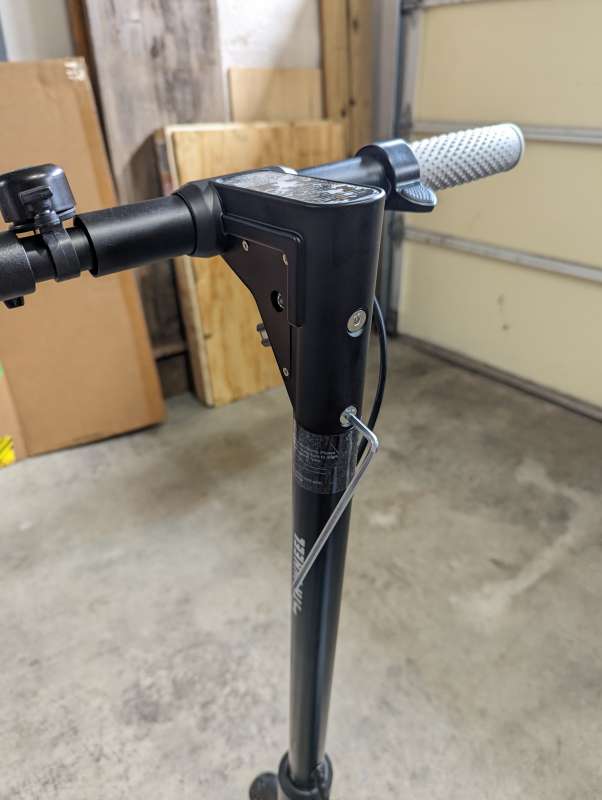 Once charged up you press the right side button to turn it on, one tap to turn on the lights, two taps to cycle through the three-speed settings, long press to turn off. Hop on and get it rolling to 3km/h and then the thumb throttle will kick in. This is a nice feature as I noticed the neighborhood kids liked to ring the bell and touch everything while it's sitting in the garage so this prevents any accidental starts.
The 5th Wheel M2 electric scooter's brake is a little spongy as it is a mechanical (cable activated) rather than hydraulic activated so just grab harder than you think and it will slow you down fine. The ride is pretty stiff despite the three dampening systems so don't expect a plush ride. The tires are airless which prevents blowouts but does contribute to the stiff ride. I am six feet tall and 195 lbs and the 5th Wheel M2 electric scooter feels very comfortable standing on the rubberized deck which was wide enough and long enough for my size 11.5 feet to fit on staggered.  The handle bar is at a nice height as well which is good because it is not adjustable.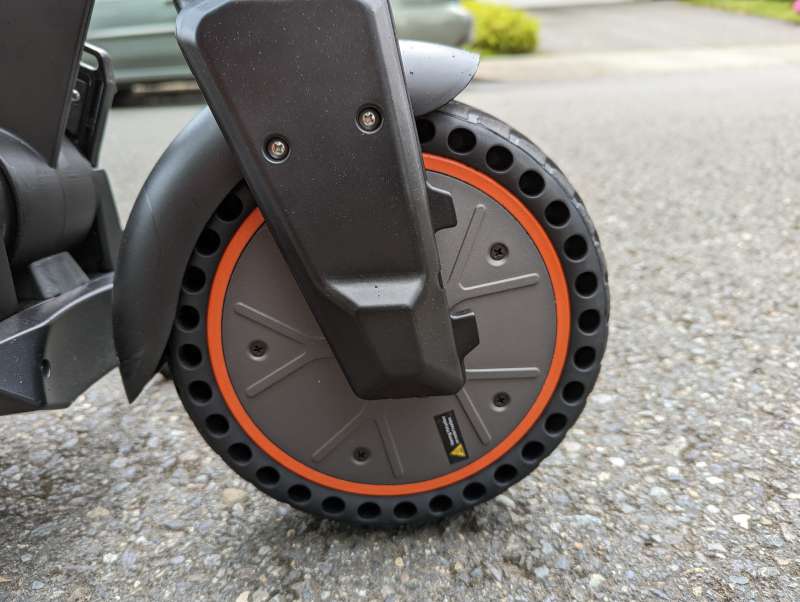 You have three speed settings with first 'gear' limited to about 4 mph, second is good for 10 mph and third gear allows the maximum 15.5 mph. I pretty much left it in third while I was riding it but it was nice to put it in first when my son of course begged to get on it. 
Battery life with the 5th Wheel M2 electric scooter was excellent and lasted pretty close to the advertised 19 mile range. I have a few hills and curbs which caused me to slow down and then speed up quite a bit so if you plan to use it in a relatively flat area you might get better range. If you live in a hilly area you may be pushing a bit as I found it started to struggle on 10° slopes and unless I get up to 20 mph when I hit my 30 foot long 12° driveway I can't make it all the way up into my garage.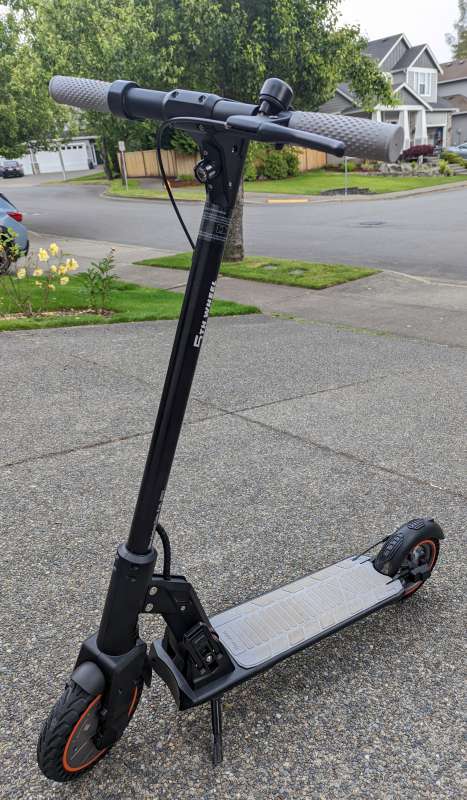 I really wish I had the 5th Wheel M2 electric scooter in college as I had classes back to back that were a mile apart and only 10 minutes to get there so I would have to run and would always walk in panting and sweating. Now I will be taking it to work for when I need to go to a few stores during lunch that are about a mile away and not have to rush and get sweaty. With gas prices going up and with a 19 mile range the 5th Wheel M2 could help save gas on those shorter trips.
I was unable to sync to the app. The instructions were not very clear and after emailing customer service a few times I learned you have to connect to the scooter via Bluetooth first. I could see the scooter when trying to connect to a new device and when I clicked it would only connect for about two seconds and then disconnect. customer service said I may have a bad Bluetooth module so I will have to run more tests and see. If you can connect to it the app allows you to basically lock the scooter electronics but someone can still ride off on it manually so you'll need to take it into class or the office with you or get a cable lock that will fit through the rear wheel to secure it. The app also gives you more details on trip data but I was unable to test those features and even if I could, I don't think I would use the app much anyway. 
What I like:
Quick and easy assembly

Great range and speed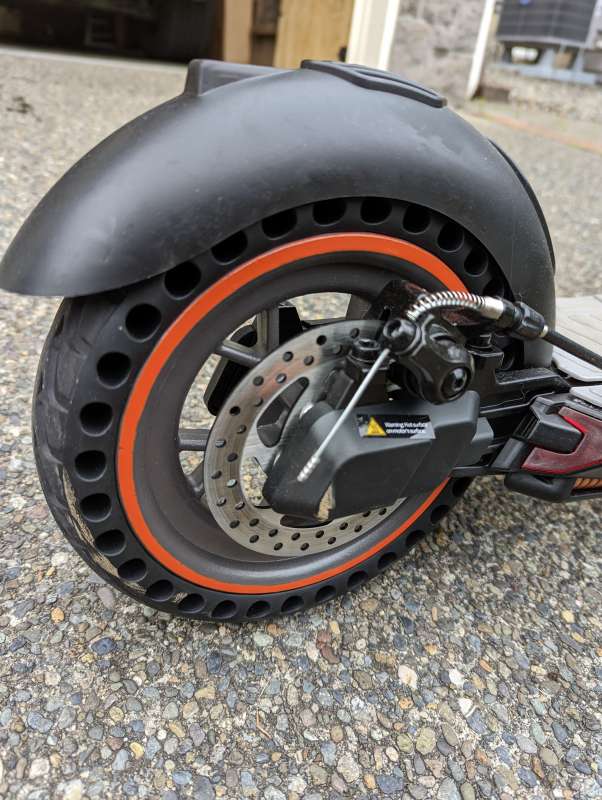 What I'd change:
Integrated locking point for bike lock

Add the app trip functions to the built in LCD

Unable to change to mph so stuck in kmh
Final Thoughts:
If you are looking for an easy mode of travel over a relatively short range such as dropping the kids off at school or a business/school campus this is a great option, especially with gas prices rising. If you just want a rad ride to cruise around the neighborhood with your kids the 5th Wheel M2 electric scooter can make you the neighborhood scooter king as well. 
Price: $399.99
Where to buy:  Amazon
Source: The sample for this review was provided by 5th Wheel.