We use affiliate links. If you buy something through the links on this page, we may earn a commission at no cost to you. Learn more.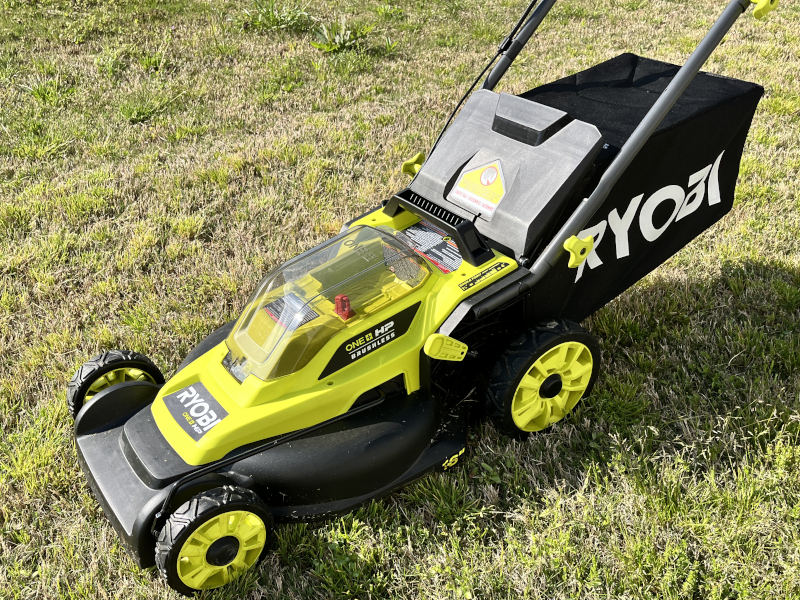 REVIEW – Battery-powered lawn mowers have several benefits over their gas-powered cousins:  No more trips to the gas station, no need for oil, no worries about burning off all the gas before storing it away for the winter, less noise for your neighbors, and so on.  Last year was the first time that I used a battery-powered lawn mower, and unfortunately that one was too small and quite underpowered.  I'm back this year with another mower, this one from the well-known power tool maker, Ryobi.  Will it have the power to mow my yard, which is a combination of weeds and Zoysia?  Read on to find out more about Ryobi's 18V ONE+ mower.
What is it?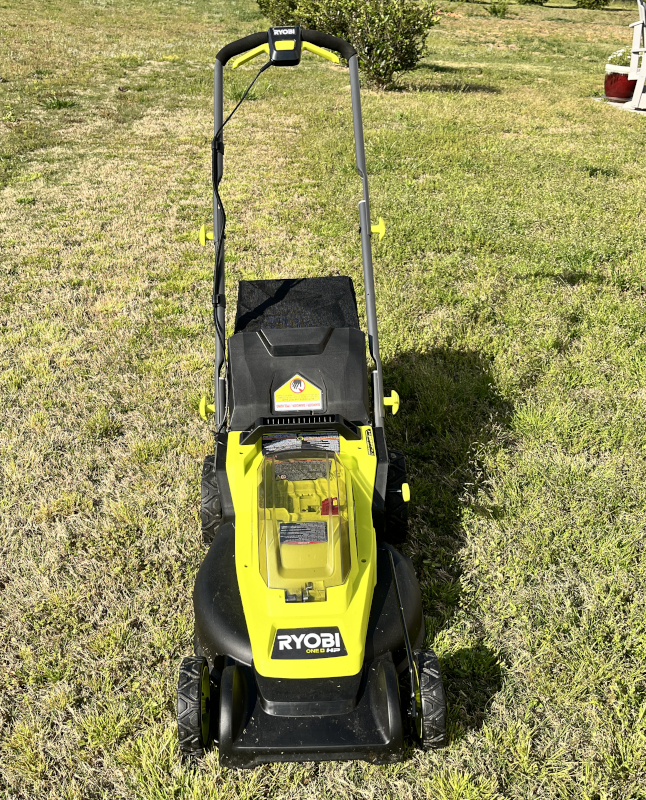 The Ryobi 18V ONE+ Lawn Mower is the latest in a long line of power tools and yard equipment that are powered by Ryobi's ONE+ system, which uses lithium-ion battery technology intended to maximize power.  This is a brushless push mower with a 16-inch blade that is intended for smaller yards.  The mower comes with attachments for mulching or bagging as well as a pair of 4.0 Ah batteries and a charger.  Ryobi is a Japanese manufacturer that "specializes in making pro-featured power tools and outdoor products truly affordable."
What's in the box?
Mower
Bagger
Mulching plug
Two batteries and a charger
Three operator's manuals (one for mower, one for charger, one for batteries)
Hardware specs
Mower
Motor: Brushless, made by Ryobi
Cutting Width: 16 inches
Mowing Height: 7 settings from 1.5 to 4 inches
Weight: 34 pounds
Size: 55 x 37 x 14 inches
Wheel Size: 6 inches (front), 8 inches (rear)
Batteries
Voltage: 18 volts
Capacity: 4 amp-hours
Estimated run time: 40 minutes
Size of Yard: ¼ acre or less
Type: Lithium-ion
Design and features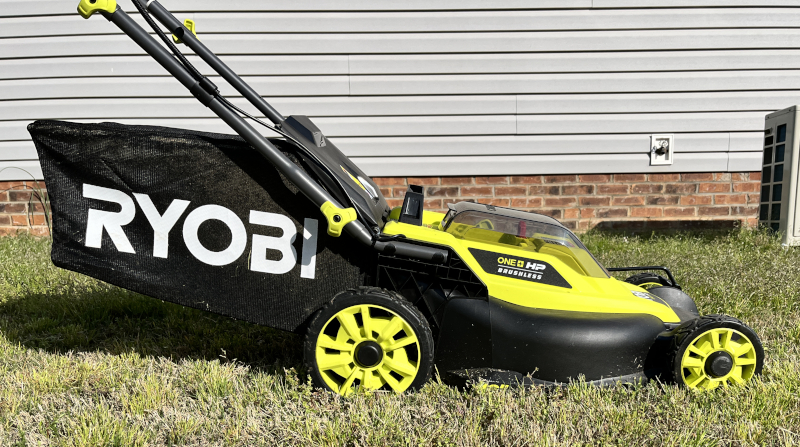 The Ryobi 18V ONE+ Lawn Mower looks like every other battery-powered lawn mower.  Nearly every visible part of the mower is plastic, except for the handle bars, the metal bars for the bagger, and the metal bars used to change the height of the mower.  Its coloring is a mix of black and Ryobi's signature bright yellow along with liberal doses of Ryobi and ONE+ branding.  On top of the mower is a compartment for the safety key and the battery.  The grass-catcher bag hangs off the back of the mower, and it can be replaced by a plug when mulching.  Overall, there's nothing new or interesting about this design, but as the old adage says, "If it ain't broke, don't fix it."
Installation and setup
When the box arrived, I was a bit fearful for its contents.  The box was quite thin, and it had clearly taken a beating during transport.  In addition, the single strip of lightweight tape that held the box closed had mostly popped apart, leaving a good bit of the box top open.  Ryobi has a lot to learn about protecting large pieces of lawn equipment while they are in transport.  Thankfully, as far as I could tell, nothing was broken or missing; there was, however, one random screw in the bottom of the box, and I still have no idea where it came from.
Ryobi included three different manuals, one for the mower, one for the charger, and one for the batteries.  The mower arrived partially assembled, so I started with the mower manual to see how to finish the assembly.  I don't like this manual at all.  It's got a 1980's vibe to it, and the style is not very helpful.  The pictures are small, the steps to take are unclear, multiple languages are mixed in the text and make it hard to read, and so on.  I figured out how to assemble this mower, but it's safe to say that I did so despite this manual, not because of it.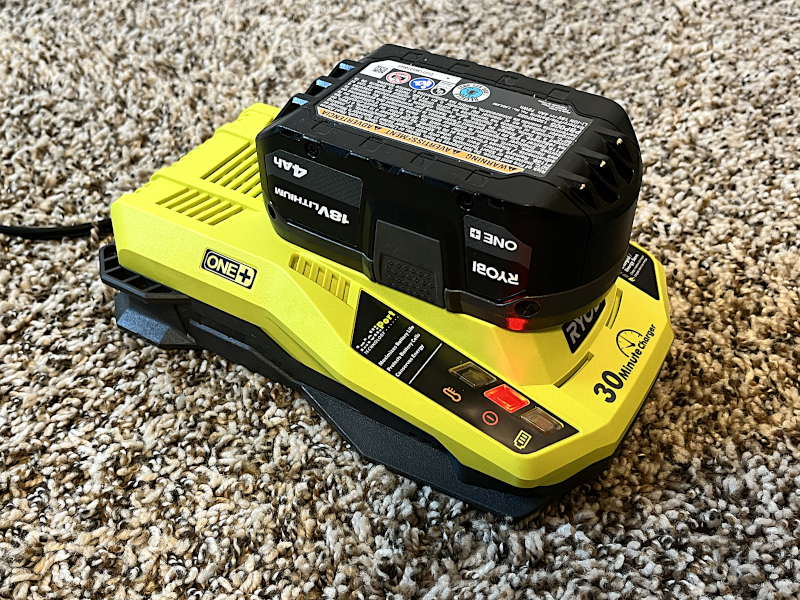 Using the charger is super simple, just plug it in and then insert the battery.  It can only charge one at a time.  The charger has no less than three LEDs:
Orange – indicates the battery is too hot or cold to charge
Red – indicates the battery is charging
Green – indicates the battery is charged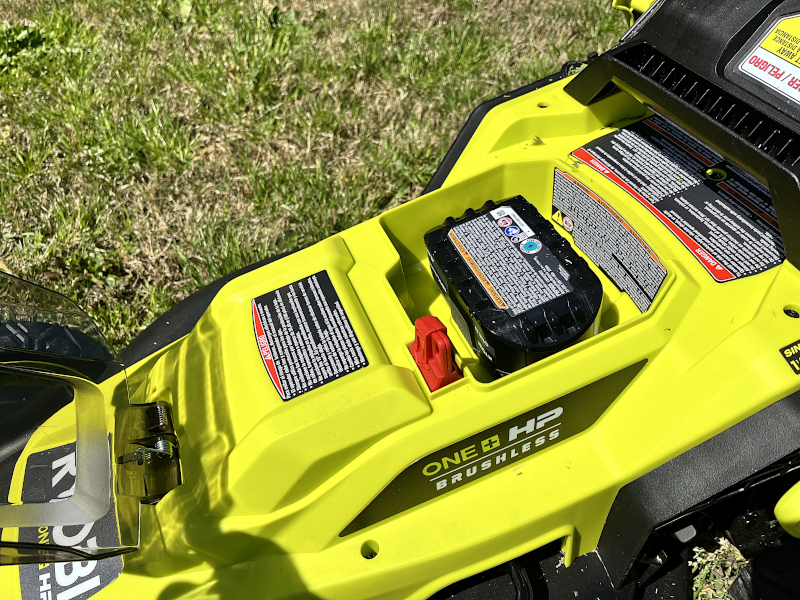 Once the batteries were charged—this takes about 90 minutes per battery—I inserted the safety key and a battery, and I was ready to go!
Performance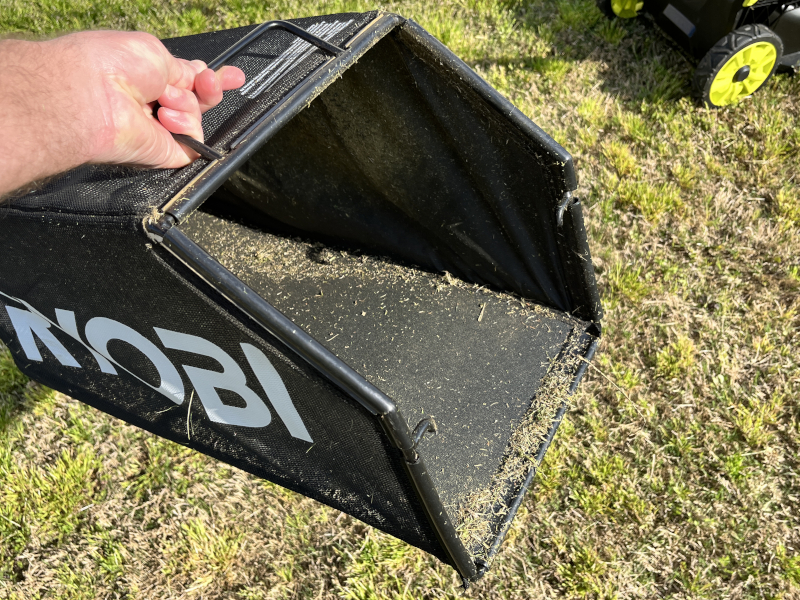 The Ryobi 18V ONE+ Lawn Mower can either mulch or bag.  If you want to mulch, there's a plastic plug that can be inserted into the hole in the back of the mower.  As I want to add the grass clippings around my blackberry bushes, most of the time I choose to use the bagger instead.  The bag is a typical nylon bag that allows air to flow through while blocking the grass.  It's attached to the mower using a pair of metal clips, which is a standard approach.  The bag itself isn't really that big.  I found that on average it only took just over two minutes to fill up; that means I'm going to be doing a lot of stopping and emptying.  At least it's easy to detach the bag, empty it, and reattach.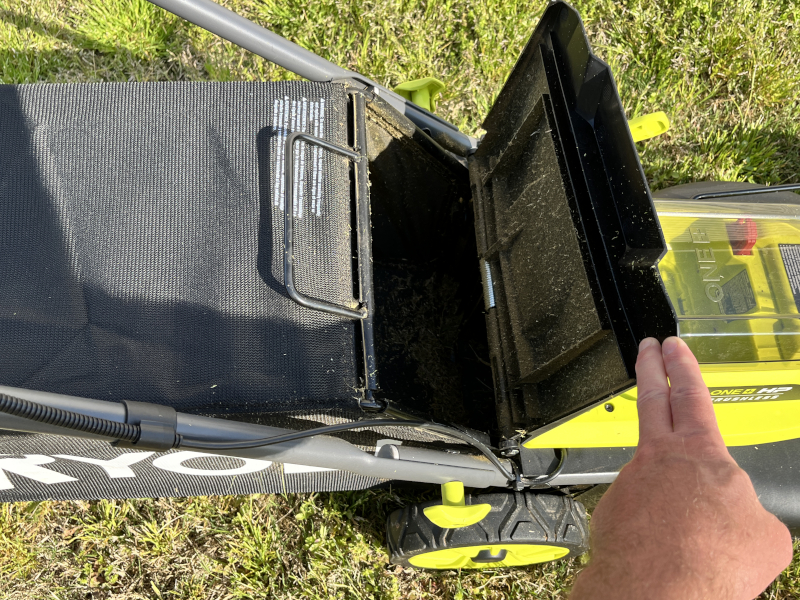 The airflow out of the back of the mower isn't very strong.  When I mowed grass that was damp, the bagger didn't work very well, as all the grass jammed at the back of the mower.  As long as the grass was dry, however, it worked just fine.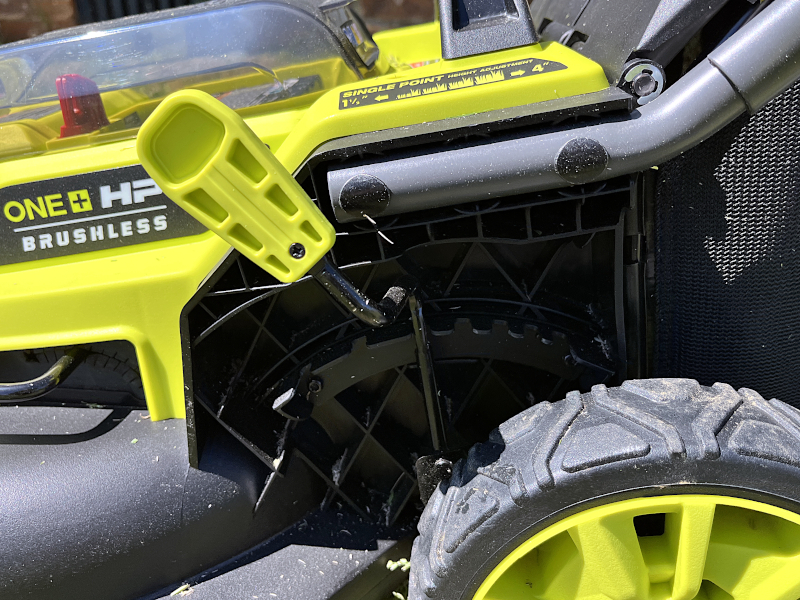 Perhaps the coolest feature on this mower is its height adjusting mechanism.  On my gas-powered mower, I literally have to use a wrench to remove the tires to change the height; it's horrible.  On this Ryobi mower, however, all I have to do is use a lever located on the side of the mower; it simultaneously lowers or raises all four wheels.  I think this is really slick.  It has seven different mowing heights, anywhere from 1.5 to 4 inches in height.  I typically kept the mower on the third lowest setting, and that worked pretty well for my yard.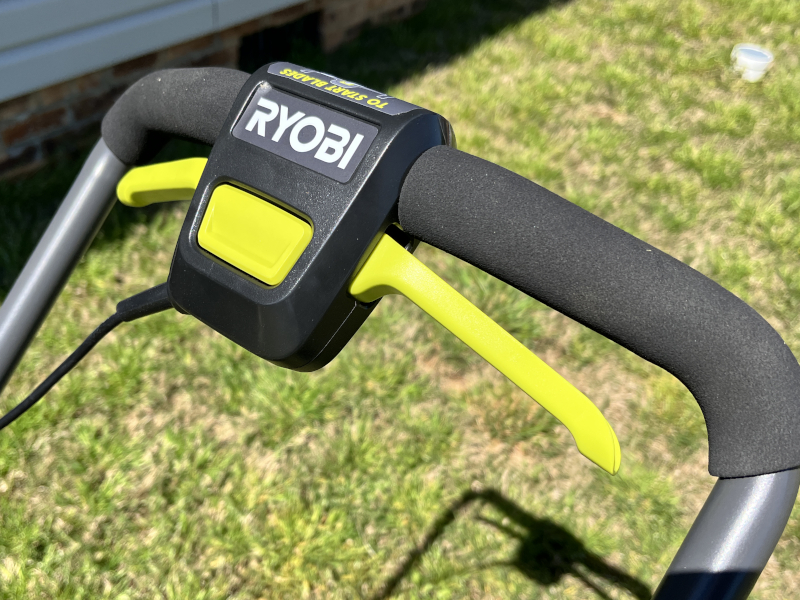 Starting the Ryobi 18V ONE+ Lawn Mower is easy.  I hold down one of the handles and then press the button.  I found that this mower starts up with one press every time.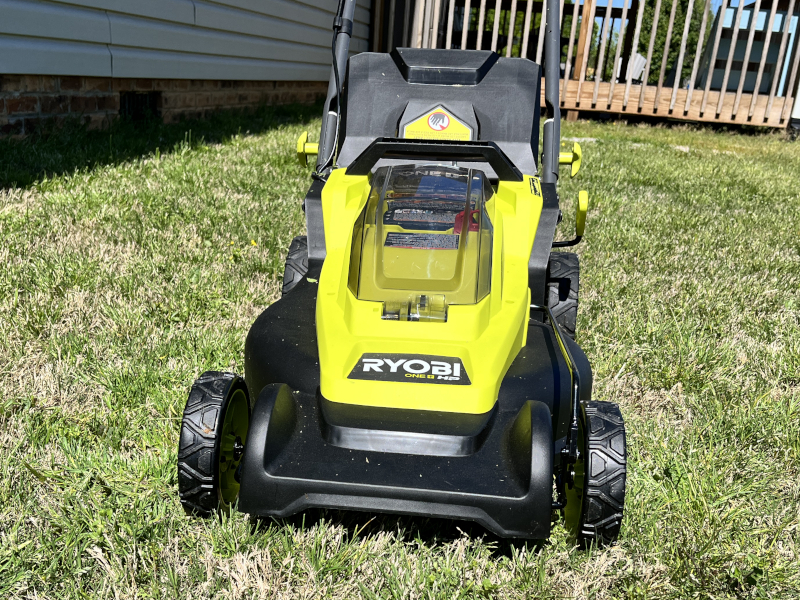 Here's most important question about the Ryobi 18V ONE+ Lawn Mower:  How powerful is it?  Can it mow my lawn without stalling and stopping all the time?  Although this mower still doesn't have as much power as my gas mower, it has enough to mow all but the thickest clumps of grass in my yard.  Those still caused the mower to stall, but rarely did they cause it to stop.  Whenever I hit thicker grass, the battery gave more power to the engine to power through.  This push mower is very usable.  I am super happy with the power Ryobi managed to get out this ONE+ system.
I created a short video to show some of the features of the mower and to show how it worked in my yard:
How big of a yard is this mower good for?  As I've mentioned, the grass catcher is pretty small.  The blade length is 16 inches, which is quite a bit smaller than most entry-level, gas-powered, push mowers that are usually 20 or 21 inches.  Ryobi estimates that each battery will last 40 minutes, but what I found was that they averaged far, far less than that.  I never got more than 20 minutes of runtime from a fully charged battery.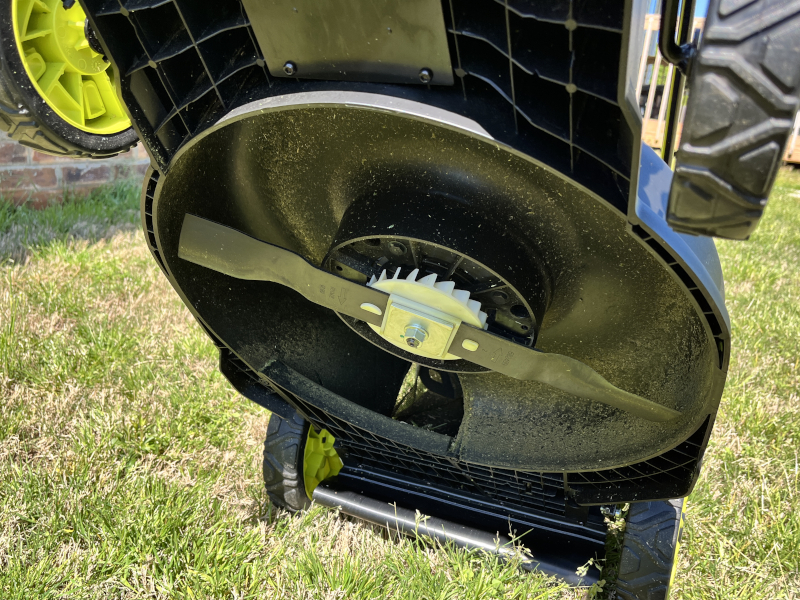 Ryobi says that the 18V ONE+ Lawn Mower is designed for yards that are a quarter acre or less.  Given the size of the blade and bag catcher, that estimate seems about right, but with these batteries, I think a quarter acre is quite rather optimistic.  Either I'll need to buy two or (more likely) four additional batteries, or I'll have to mow the lawn over three days instead of all at once.  Ryobi does sell extra batteries at Home Depot.
They also sell mowers in this line with larger blades, but you'll have to pay for the larger mowers.  This 16-inch mower is only $280, and the 21-inch mowers start at $500.  They also a have a battery-powered riding mower, which looks amazing (but costs $5600!).
Extra Features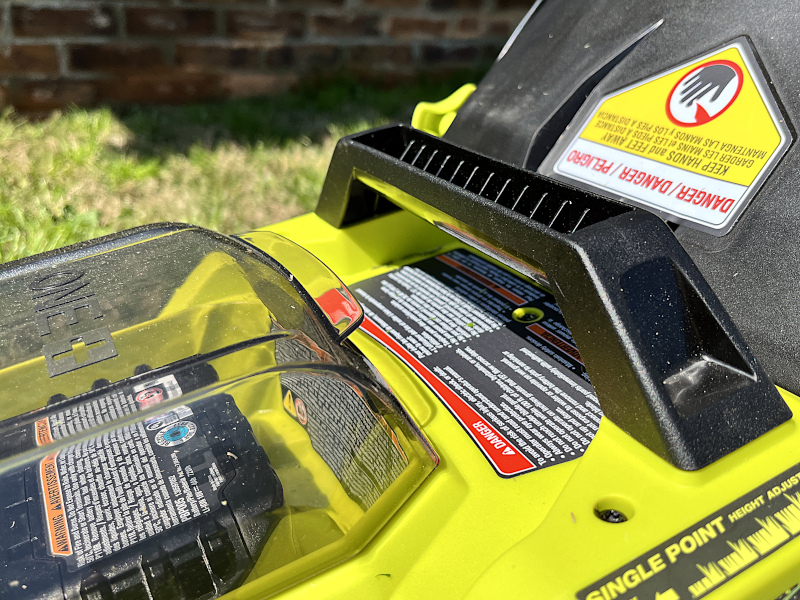 There's a sturdy handle on top for picking up the entire mower, and as the mower is made out of plastic, I can pick it up with one hand.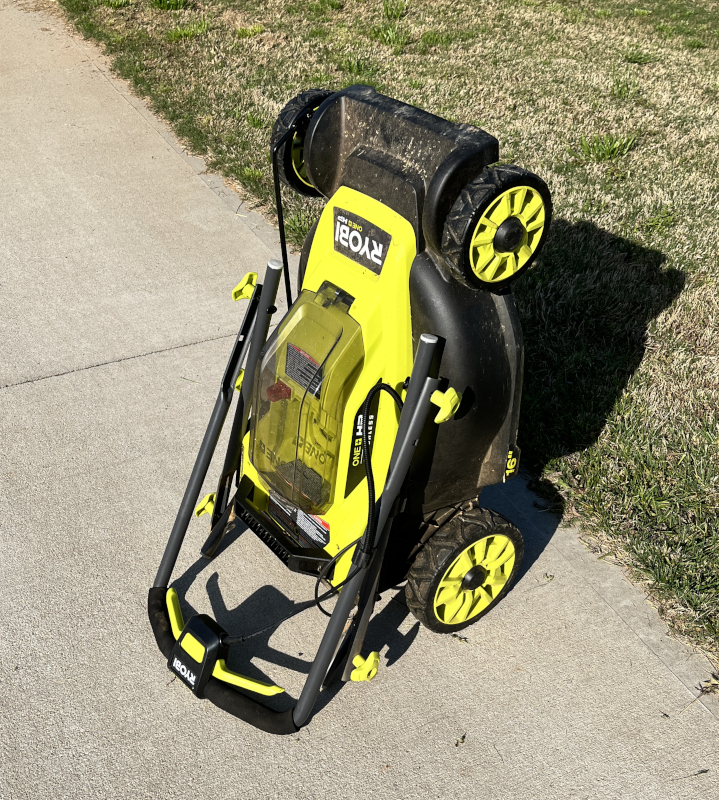 For those who have a smaller garage or shed, the Ryobi 18V ONE+ Lawn Mower can be stored in an upright position.  To do this, I remove the bagger, loosen the four knobs, fold the handlebars out of the way, and then prop up the mower.  It does save a bit of space.
What I like
Enough power to mow my lawn
Clever height adjustment system
Two batteries and a charger
Light weight
Decent price
What I'd change
Improve packaging for boxes in transit.
Write cleaner, clearer manuals.
Ship batteries with more than 20 minutes of run time.
Final thoughts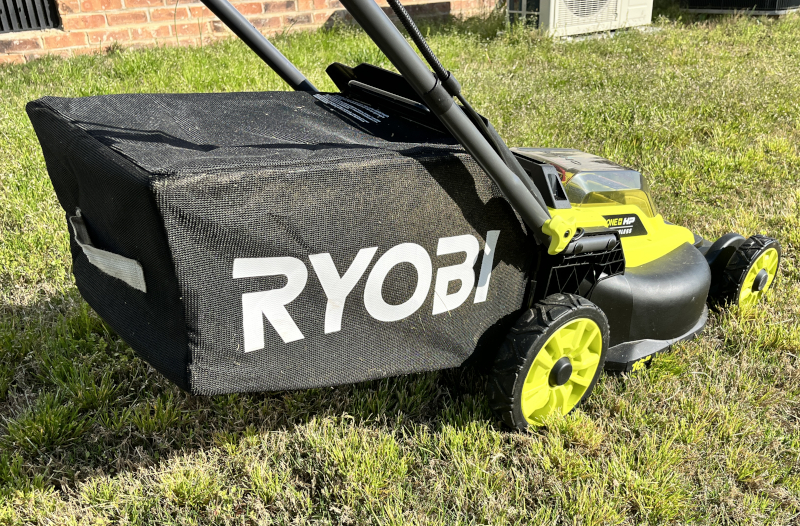 The Ryobi 18V ONE+ Lawn Mower is part of Ryobi's ONE+ line of power tools and lawn equipment.  At only 16 inches, the blade is intended for smaller lawns, but it makes up for that with a smaller price tag.  In my testing, I found this mower to be powerful enough to handle all the but the thickest patches of grass in my yard.  I'm particularly fond of the height adjustment mechanism and its ability to fold up when stored.  I'm very disappointed, however, with the total run time of the batteries; Ryobi says they will last for 40 minutes, but the ones I have actually last for less than 20.  I like a lot of things about this lawn mower; if the batteries lived up to Ryobi's estimated numbers, then I would recommend it without any hesitation.  Given their very short run time, however, I can't really recommend it to you, unless you're happy buying more batteries or are willing to take three days to mow your lawn.
Check out our other lawn mower reviews.
Price: $299
Where to buy:  The Home Depot
Source: The sample for this review was provided by Ryobi.