We use affiliate links. If you buy something through the links on this page, we may earn a commission at no cost to you. Learn more.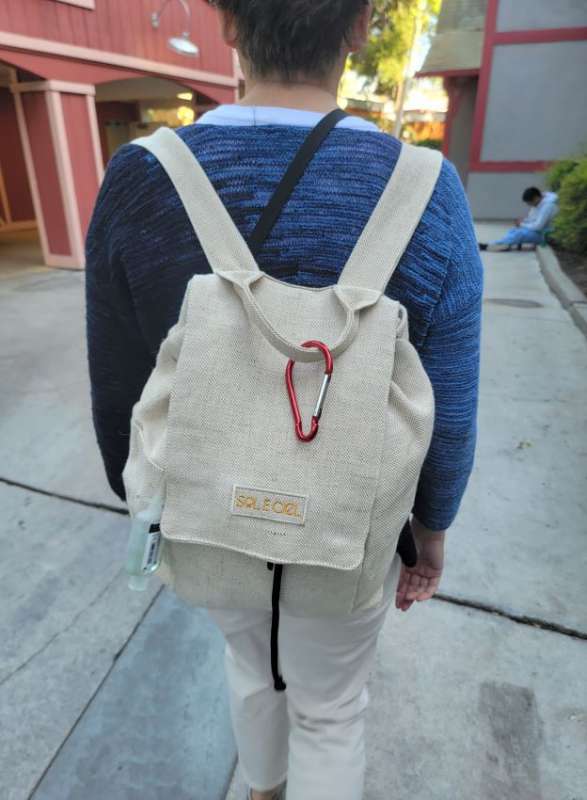 REVIEW – Summer is almost here and I don't know about you, but I've got a ton of trips planned.  As a gadgeteer, I am always looking for the perfect accessory to make travel easier, and for me it all starts with the backpack.  When Julie's offer to review the Sol E Ciel Tulum backpack popped up in my inbox, I thought it would be the perfect backpack to take me from the office to vacation.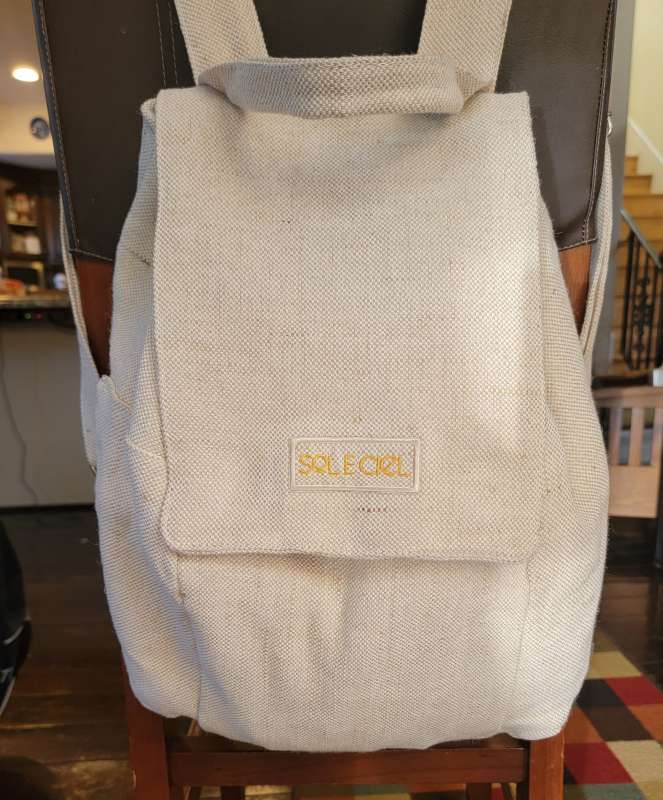 What is it?
The Sol E Ciel Tulum Backpack is a top-loading soft backpack made of hemp and cotton with a few interesting features that make it stand out from the rest.  It comes with a matching cross-body pouch for when you want to travel light or have quick access to small things.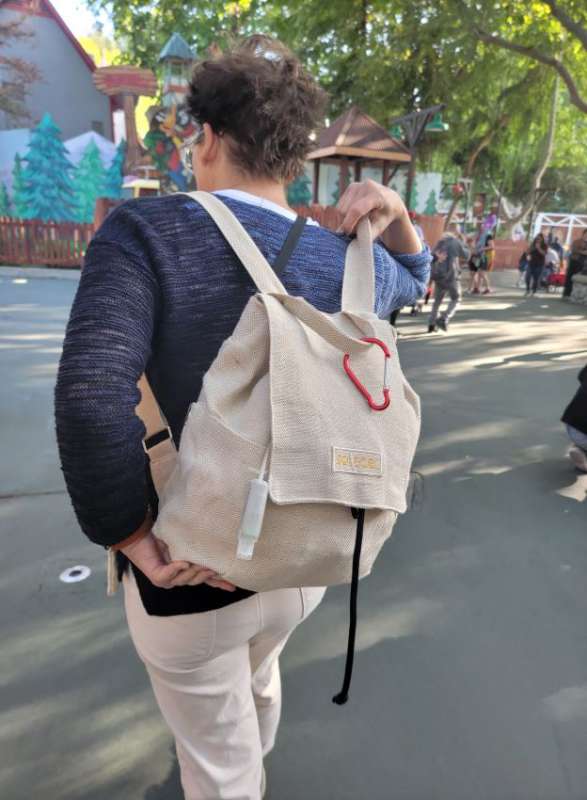 What's in the box?
Sol E Ciel Tulum Backpack
Specifications
7″ (40 cm) tall x 12″ (30 cm) wide x 4.3″ (11 cm) deep
Minimal length of straps: 27″ (70 cm)
Maximal length of straps: 37″ (95 cm)
Width of straps: 2 inches (5 cm)
Capacity: 10.5 litres
Weight: 1.9 pounds (880 g)

Features
So right away I can tell you that the Sol E Ciel Tulum Backpack is not like my usual trip gear.  My usual trip stuff is anti-theft, with slash-proof pockets and securable zippers.  Basically, it is a bit like wearing a safe on your back (which can be quite hot, and not in a sexy way) and it can't be laundered easily or packed flat in a suitcase.  This backpack looks like the opposite of that.  It's made of a blend of cotton and hemp and it will pack flat in your luggage if you don't want to carry it as a personal item on the airplane.  It's machine washable and is soft and breathable, which is ideal for summer.  And while it looks like you could just slash and grab the goodies being carried in it, it's not really that simple…this bag has secrets.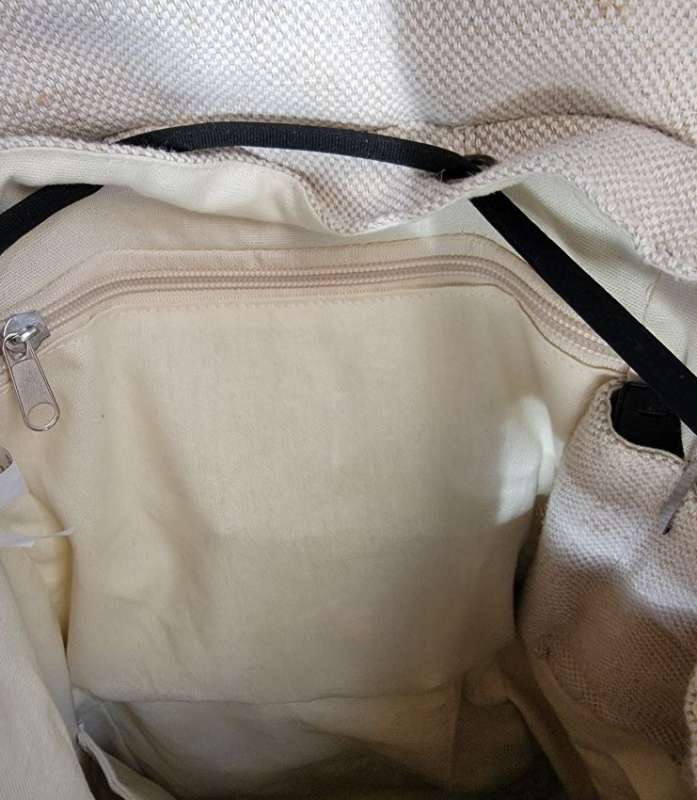 There are a lot of pockets, for starters.  Personally, I can't handle too many pockets. Too many and I forget where I put stuff.  The good news about this bag is that a couple of the pockets inside are mesh, so I can see where things are.  Also, if you get the light color as I did, you can see inside really easily.  I know manufacturers think dark is the way to go for linings, but it basically turns a top-loading backpack like this one into a black hole.  I would add a small flashlight to your EDC if you get the black one!
Before the Sol E Ciel Tulum Backpack arrived, I was doing a little research on the website and they had a somewhat confusing video showing how all those pockets are used.  I guess they wanted to show them being loaded, but it certainly looks like they turned the lining inside out to load them.  I want to assure you that you don't have to do that, although I did turn it inside out in some of my pics because it's hard to make out the pockets in photos any other way.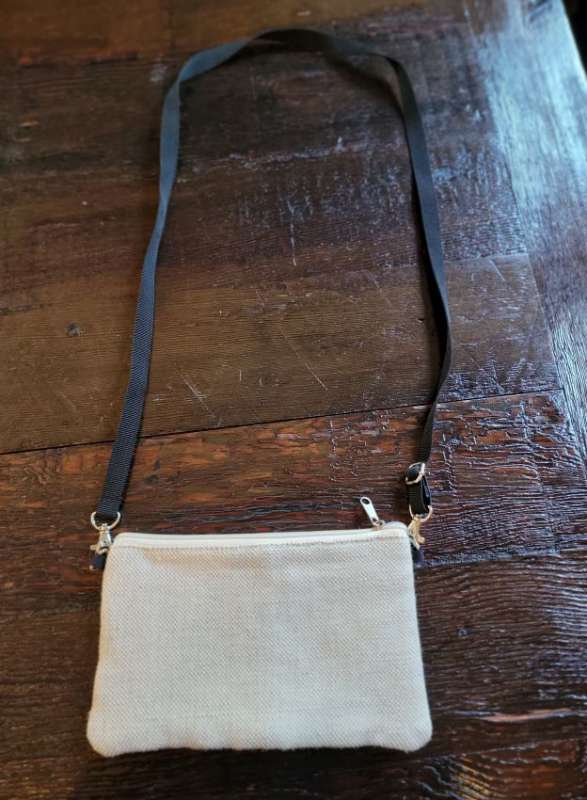 Since I'm not on vacation yet I packed this bag full of stuff while I was on spring break and I took it for a spin to our local amusement park.  It easily held my spare jacket and battery backup, cables, my wallet, and my keys and was very comfortable to carry.   I used the cross-body to hold my cash and park pass.  I'm underwhelmed a bit by the cross-body…it seems well made enough, but it looks very basic – pretty much like a pouch with a strap attached (which is what it is).  I wouldn't ever carry it on its own as a purse – it just looks a bit chintzy.  It's functional, though, and if you don't want to carry it as a crossbody you can attach it to the clip in the main compartment and it can hold small bits and bobs.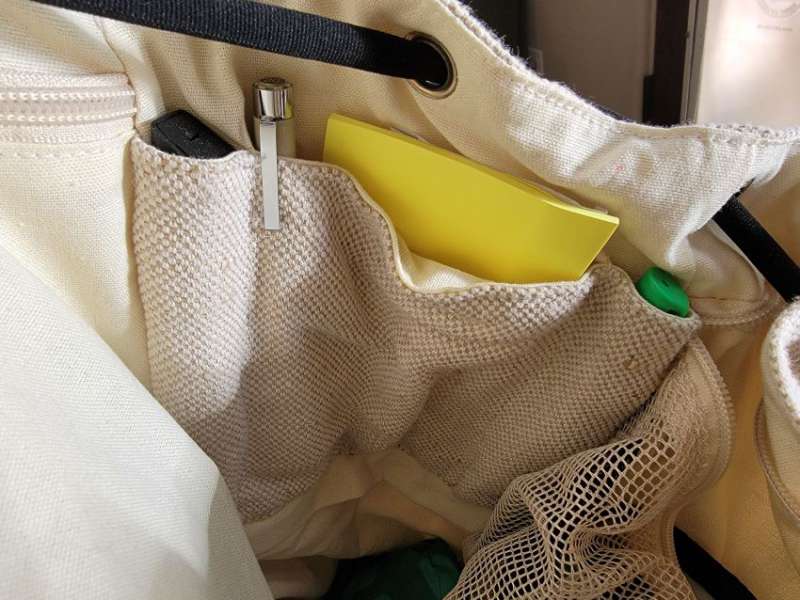 Inside the Sol E Ciel Tulum Backpack, there is a small zippered compartment at the top as well as some spots for pens, tissues, post-its, or whatever small things you might want to have handy.  Inside the main compartment is a double mesh zippered pocket…it's like a pocket within a pocket.  The beige mesh is as wide and long as the bag and within that is a black mesh that will hold things in the upper half of the bag.  Basically, it lets you sort of divide your load so it all doesn't just sink to the bottom.  I put cables in and my battery back up in the lower half and some personal items in the upper part.  Inside the main compartment on the bottom is a pocket that can hold a water bottle.  While I prefer an external water bottle holder, this one did hold my 24 oz. Takeya bottle.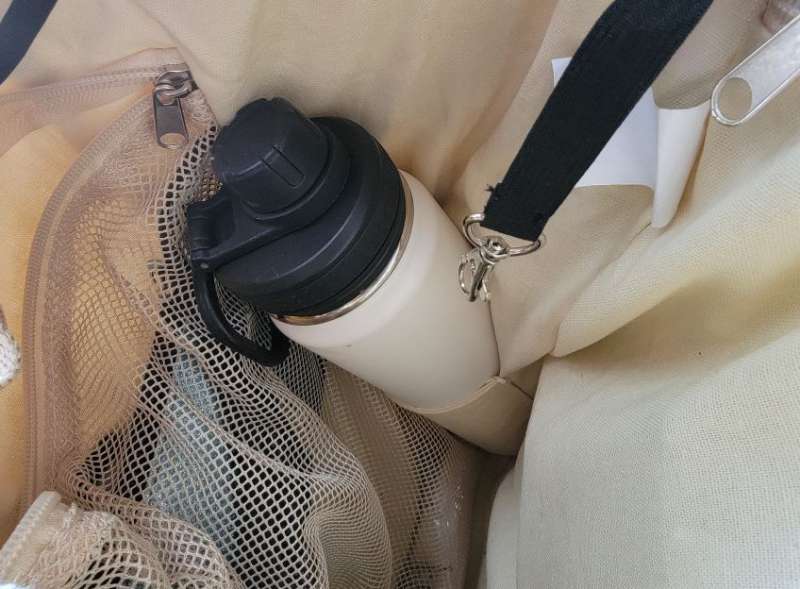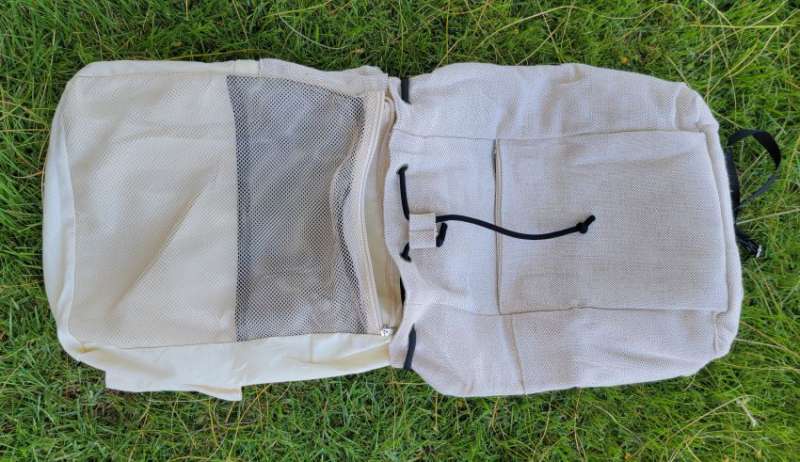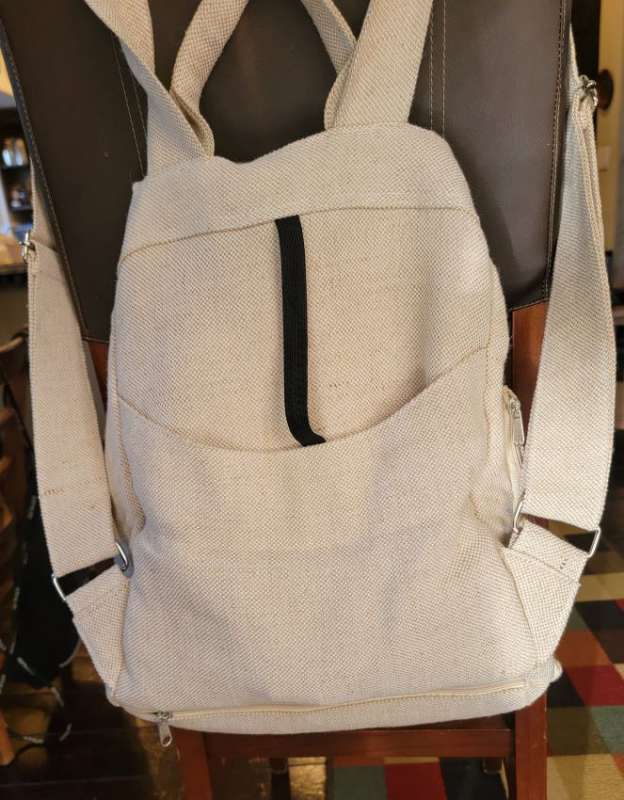 On the outside of the back panel is a long piece of elastic sewn to the top and is made to hold keys, but it could also be attached to a wallet or anything else you wanted to access frequently but didn't want to float around loose.  It has several clips on it and the keys tuck into an open pocket that rests against your back.  If you were wearing the pack, I think it would be difficult for someone to access that area of the bag, and even if they did there are the clips to fuss with if they were after whatever you had attached.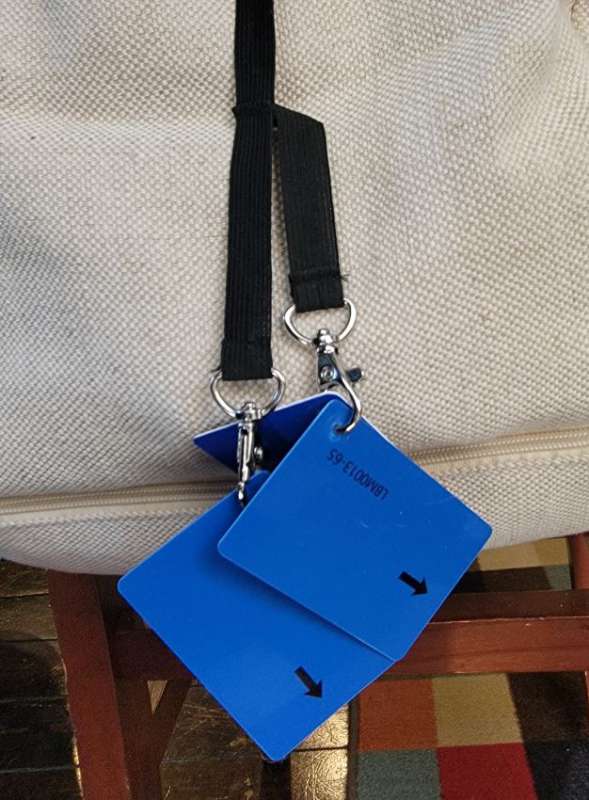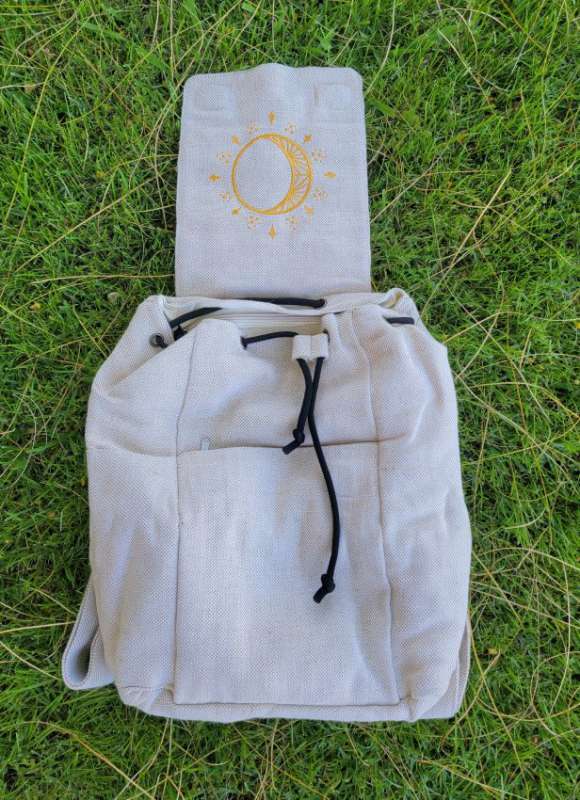 On the bottom of the Sol E Ciel Tulum Backpack is an attached rain cover, so if a thief tried to slash the bottom and take what falls out, he'd only get the rain cover (insert sad trombone noise here). On the front, there is another zippered pocket where I keep my tissues and lipstick and other stuff that I might need but is of little value.  A side zippered pocket holds my sunglasses.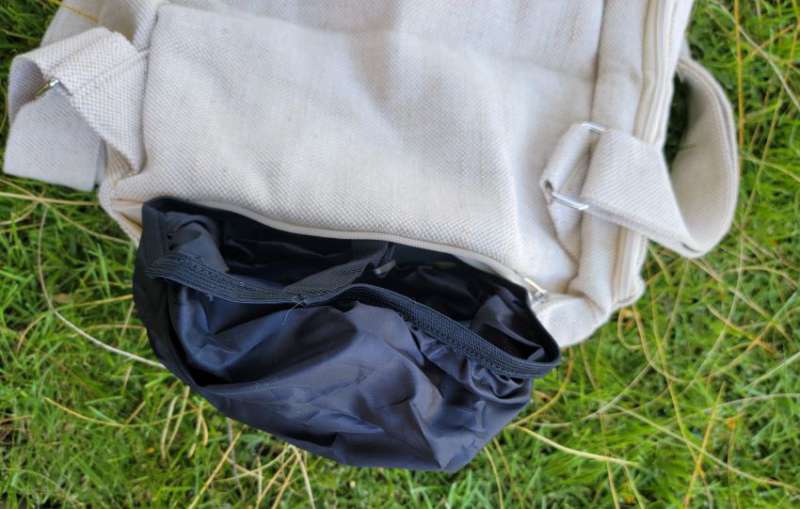 The flap over the top of the pack attaches with sewn-in magnets on the front and in the flap itself and they work great!  They did tend to collect paperclips when I had it in the office, but I kind of liked having them handy when I went to my classroom since there are not any supplies there.  The flap also has a very pretty embroidered design on the inside which is kind of a neat surprise when you open it.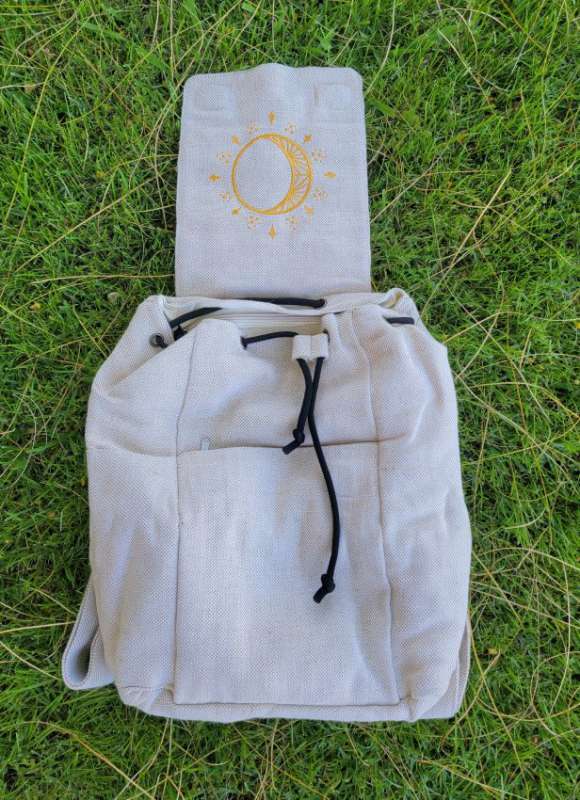 After spring break I loaded the Sol E Ciel Tulum Backpack with my work stuff and it held my laptop, my zippered portfolio, and assorted stacks of paper that I always seem to have.  It was rare that I had so much that I couldn't get the magnets to catch.  One thing that I didn't like too much was the black cord that cinches the bag shut.  I just didn't like the color.  There's nothing else black on the bag and to me, it just stands out on an otherwise beautifully designed bag.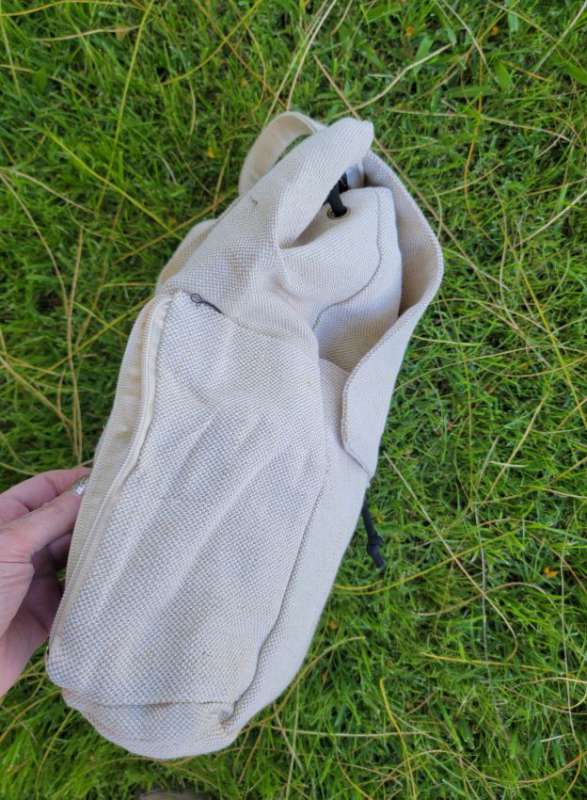 I found the fabric really quite luxe and beautiful.  When I read that the bag was made of cotton and hemp,  my first thought was that it was going to look a bit like a hippie poncho.  In fact, though, it's more like heavy linen.  It's soft and although it has natural imperfections it's a super nice quality fabric.   The tradeoff is that it weighs kind of a lot.  Empty this bag weighs almost two pounds, and although the wide straps were comfortable to wear, normally I avoid bags that are already heavy before I put anything in them.
I had planned to test the washability of the Sol E Ciel Tulum Backpack but I found that it stayed very clean as well.   Our classrooms tend to be dusty and I did put it on the ground a few times when I was outside waiting around and didn't want to keep it on my shoulders, but it still looks fairly pristine.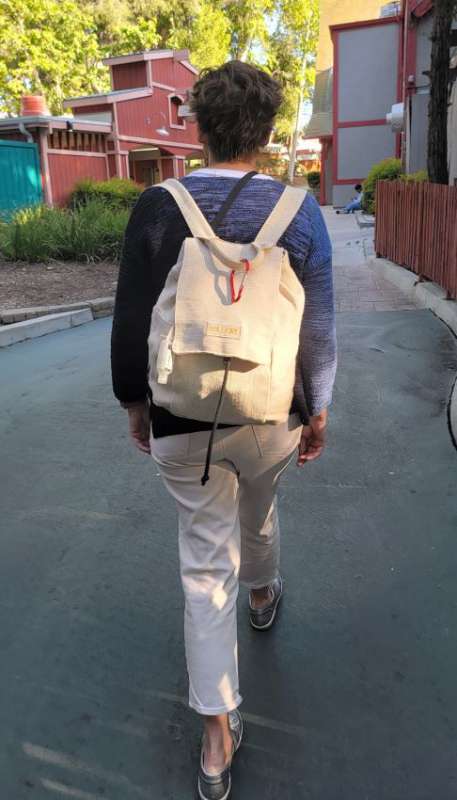 What I like
The fabric is luxurious looking
The functionality
What I'd change
It's a bit heavy
The black cord stands out too much
The crossbody could be nicer
Final thoughts
I really like the looks and features of the Sol E Ciel Tulum Backpack and I think it will be great to take on trips this summer.
Price: $99.99
Where to buy: Sol E Ciel (save 15% when you use the coupon: THEGADGETEER )
Source:  The sample for this review was provided by Sol E Ciel