We use affiliate links. If you buy something through the links on this page, we may earn a commission at no cost to you. Learn more.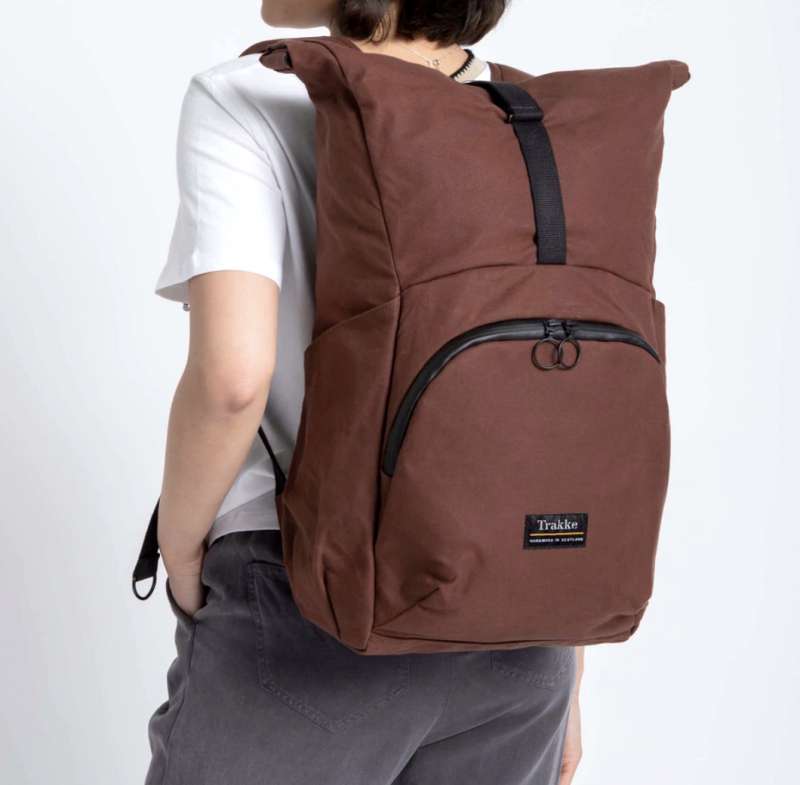 NEWS – Here's treat coming at you from across the pond! Trakke is a Scotland-based shop that makes hand crafted bags from British-sourced materials. Waterproof waxed canvas is their weapon of choice for backpacks, messengers and accessories. Their latest design is called the Wester, and it's a rolltop-style pack designed to keep your gear dry as you get into whatever Mother Nature throws at you.
The Wester looks to continue Trakke's reputation for elegant, functional designs and gorgeous color palettes across their product lineup. The rolltop-style form gives you plenty of weatherproof space for your gear, but this design also includes a few extras that add to the functionality. And external admin panel with waterproof zips give you access to quick grab stuff in addition to separate external access to your laptop. You'll also get two large side pockets for hydration bottles and whatnot. The whole package comes in at 21 liters of volume and a weight of 2.3 pounds unloaded. It's also backed by a lifetime guarantee (check out their web site for details).
I have not personally handled any of Trakke's stuff yet, but their reviews are consistently excellent. I particularly love the fact that this bag addresses some issues I see with other rolltop designs by adding that extra access to your frequently used goodies. They also offer a lot of info on how to keep that waxed canvas looking sharp and working to it's full potential.
The Wester Roll-Top Backpack retails for $245 and comes in 4 colorways: black, olive, whisky (a tan/brown shade), and port (sort of burnt red color, shown in the pic above). They also ship to the US. Check it out here!