We use affiliate links. If you buy something through the links on this page, we may earn a commission at no cost to you. Learn more.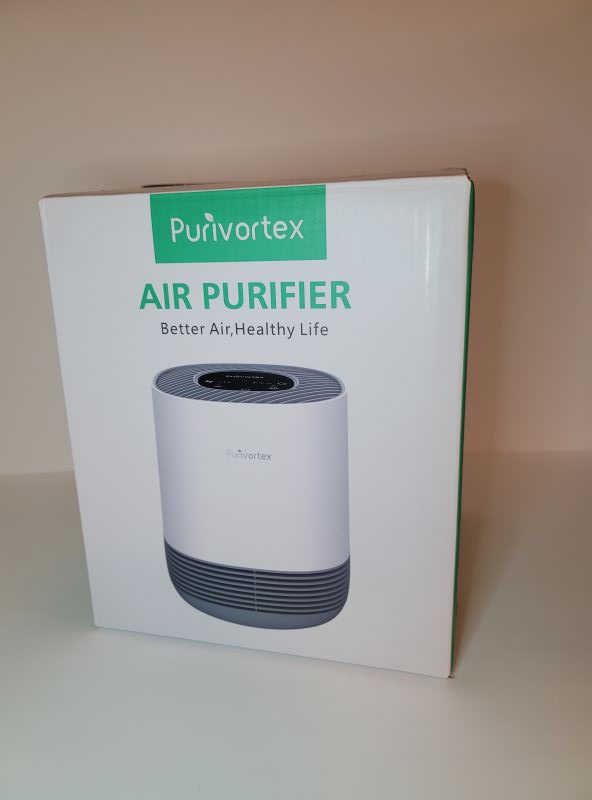 REVIEW – "A breath of fresh air", might just be the complement of this decade. In these years of lockdowns, face masks, and Mother Nature's grand vengeance of pollen, I think my air purifier has become my best friend. My current air purifying unit is HUGE; because of how it processes air for big spaces, it would be too loud for, say, a bedroom (I don't know about you, but sleeping next to a jet engine is not my idea of restful). We use it for the entire first floor of my home and it is a workhorse. So, what happens when you're looking for something to handle just one room?  Something that will keep the air quality up, the noise level down, and doesn't require constant supervision? The Purivortex V1 air purifier is your answer.
What is it?
The Purivortex V1 is an air purifier unit designed for a more personal space. Ideal for cubicles or the recently popularized dining room or spare bedroom-turned home office, this unit uses a Hepa filter to remove potentially harmful particles from circulating, just waiting for their chance to interrupt your next Zoom meeting.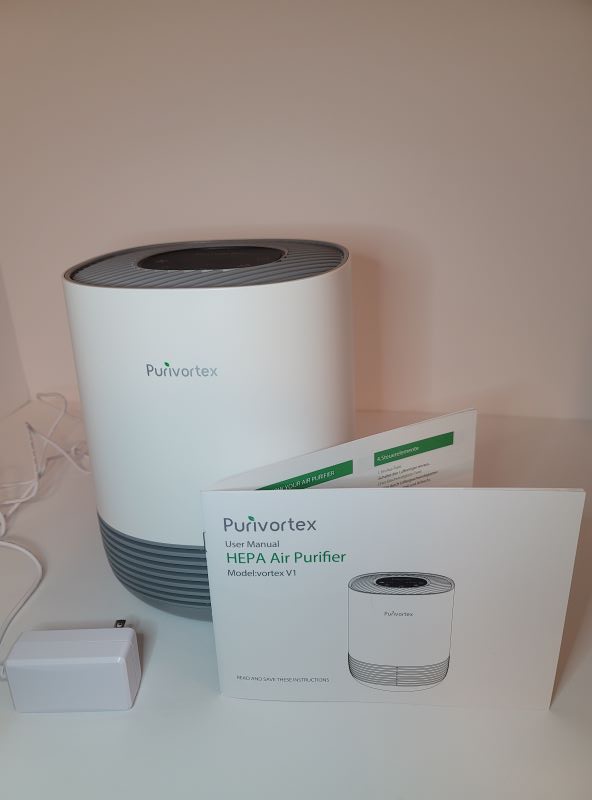 What's in the box?
Purivortex V1 air purifier
H13 Hepa Filter
Power Cord
User Manual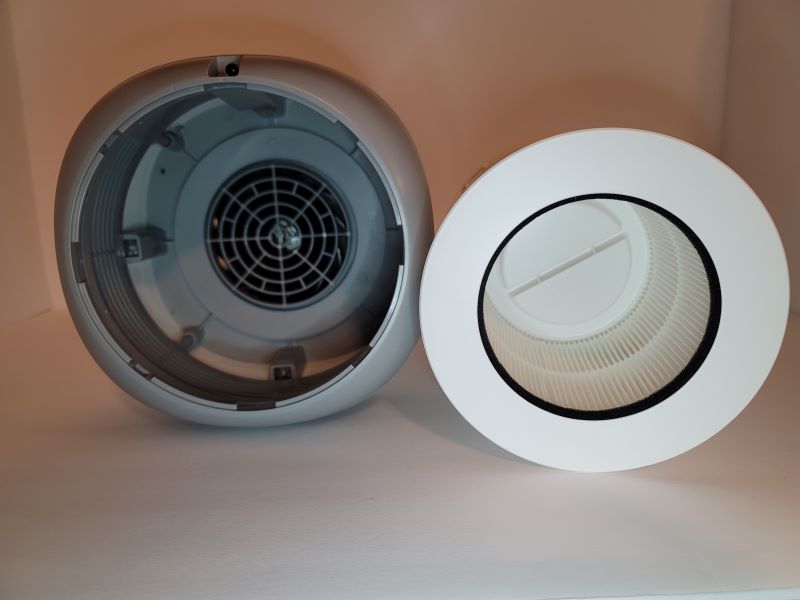 Hardware specs
Power Supply              12 W
Rated Power                12 V 1.0 A
Effective Range          Up to 270 ft2/25 m2
Noise Level                 24-50 dB
Dimensions                20 X 20 X 23 cm/7.5 X 7.5 X 9 in
Net Weight                 0.83 kg/1.6 lbs.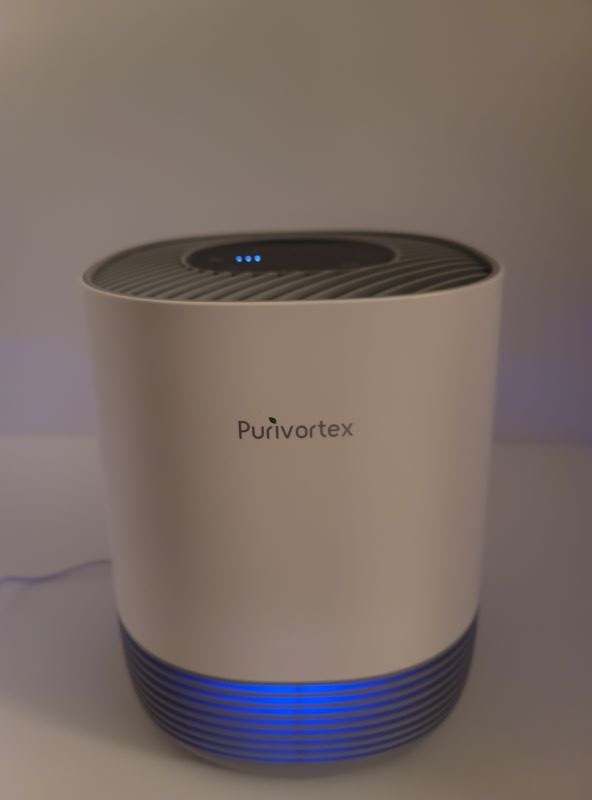 Design and features
The Purivortex V1 air purifier is a compact rounded square unit that I would compare to the size of your average gallon of milk.  This unit is controlled entirely by a touch interface located on the very top.  Inside, this air purifier boasts a DC3 brushless motor that pulls air in from around the whole unit, offering faster purification and cleaned air output. But my favorite feature so far is the sleep mode; not only does it set the unit to a quieter mode, but it also has a calming blue nightlight which is not just pretty but useful for those middle-of-the-night snacking trips. Of course, Purivortex V1 also offers the ability to set timers and chosen fan speed all from the control panel. This unit does not include a remote control; not a deal-breaker, but would have been a better user experience choice.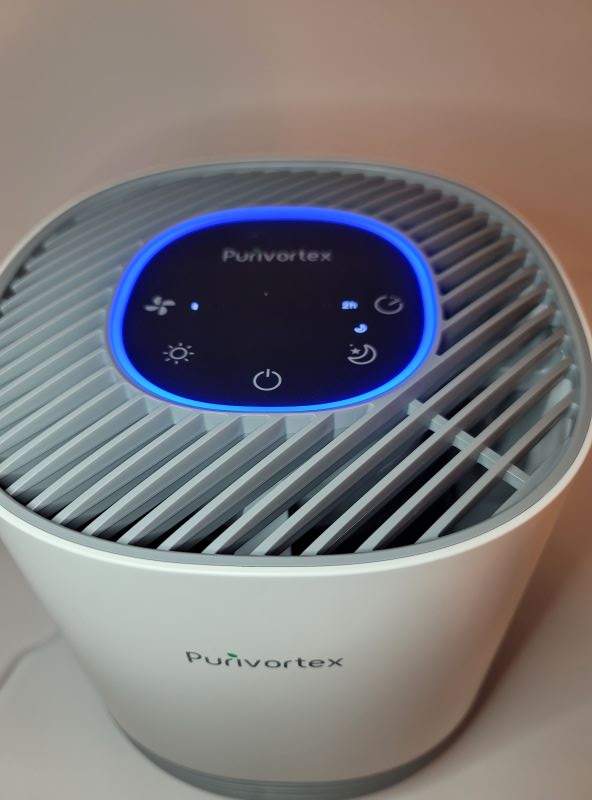 Setup and use
Set up of this unit could not be easier, it really is plug-and-play. Locate your power source and -BAM- you're ready to invite fresh air to the party to the tune of about 270 square feet.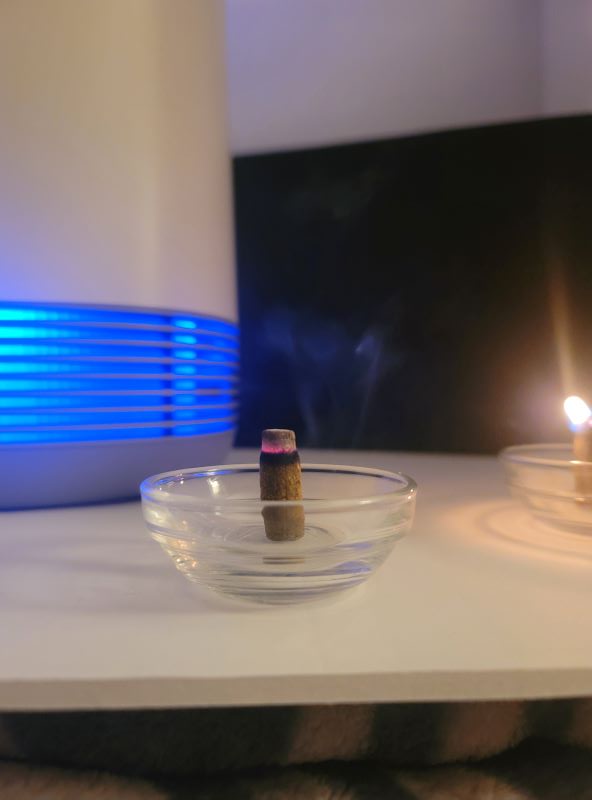 What I like
This unit can be moved from room to room or even brought into a reviewer's office
The highest fan mode will be louder than your sleep mode, but the fact that you can have it quieter and still produce results is fantastic
I know this is old hat on a lot of electronics nowadays, but allowing myself to set it and forget it helps alleviate some small amount of guilt for all the electronics I've left running
Night light. It's not a blazing neon sign that you can see from space, just a beautiful blue that is SUPER helpful especially when there may be added stops in the middle of the night
The Purivortex V1 can also be recycled at the end of its life. Obviously, I haven't gotten to try this out, but I really like the option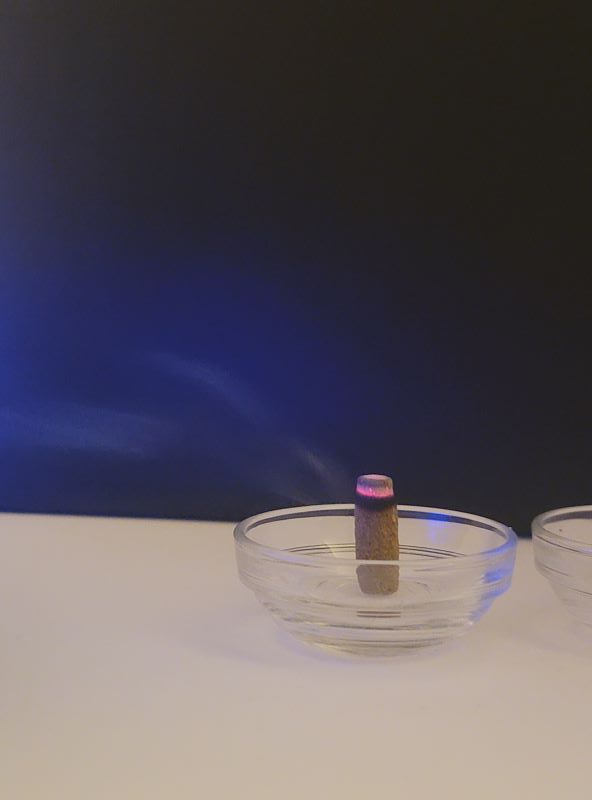 What I'd change
Even with just a small one, I could use a command strip to attach the unit to my nightstand. I think it would improve those nights where I set a timer but my brain did not turn off and now I want the unit to keep running while also not leaving my bed
Reuseable filter. I understand these filters do last a long time but a reusable, washable filter would cut down on upkeep costs and minimize environmental impact
A remote control would be a nice feature; if you aren't able to find space in a convenient location, a remote would allow the freedom of control from anywhere in the room
Final Thoughts
Overall, I really like the Purivortex V1 air purifier. Its portable and compact shape allows for more independent use.  It offers the most comfort and peace of mind when it comes to air quality. For such a small footprint, it packs a punch.
Price: $89.99
Where to buy: Purivortex
Source: A sample was obtained by Purivortex