We use affiliate links. If you buy something through the links on this page, we may earn a commission at no cost to you. Learn more.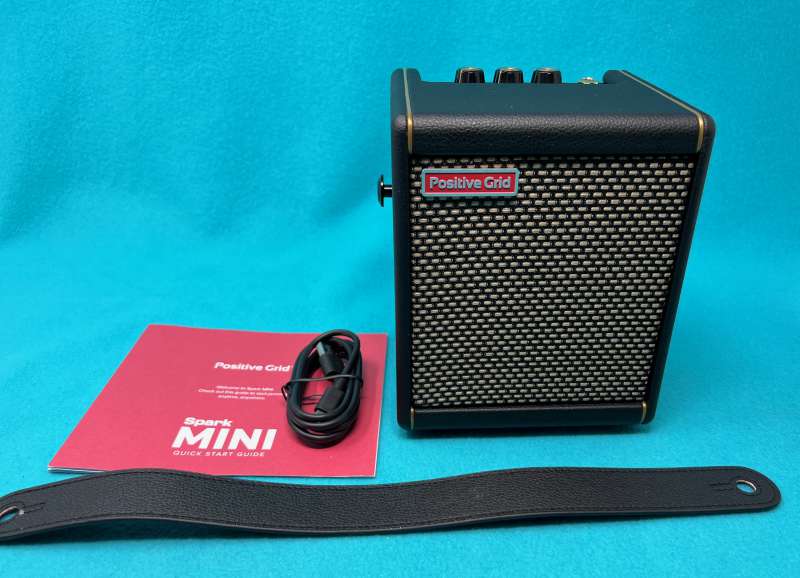 REVIEW – Guitarists of all types want an amp at some point. Acoustic players want to be heard above the other instruments or voices they may be playing with. Electric players want to just hear the actual sounds, but also usually want to add some effects to the bare sound, which, until the age of software, has required outboard pedals and wires. Even keyboard players want better sound than the dinky speakers usually included with portable keyboards. I was recently sent a very small, very loud, very capable amp from Positive Grid, and asked several of my guitar-playing friends to give it a test drive. I also used it myself, and, as usual, have thoughts.
What is it?
The Positive Grid Spark mini is a small, self-contained battery-operated amplifier with standard 1/4″ instrument input, several output options, and a software suite for controlling sound effects from your smartphone.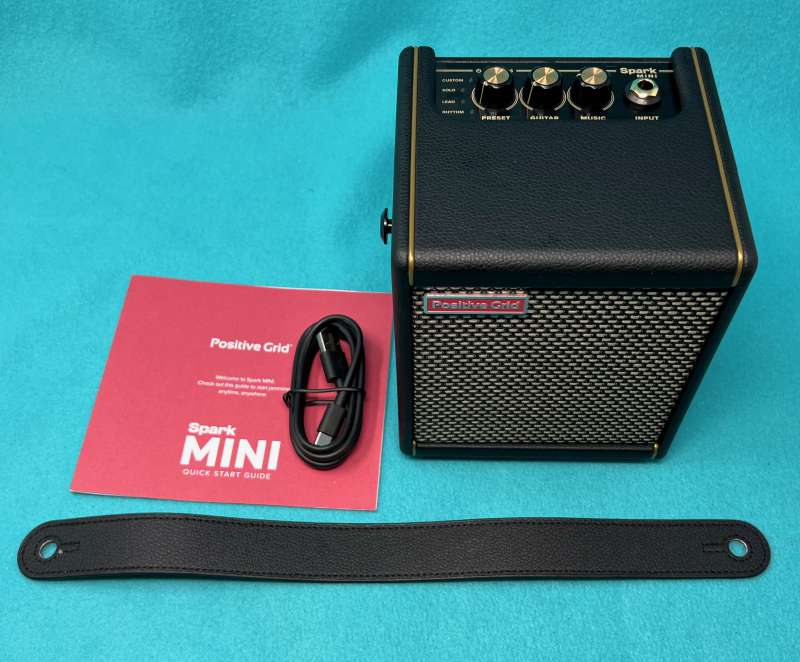 What's in the box?
Positive Grid Spark mini amplifier
Reversible Leather strap
USB-A<=>USB-C cable
paperwork
Hardware specs
The Specs page on the website for this unit is huge.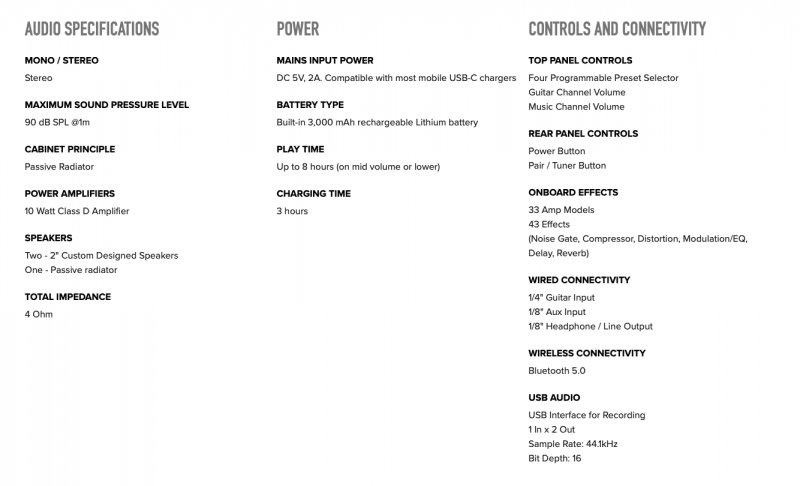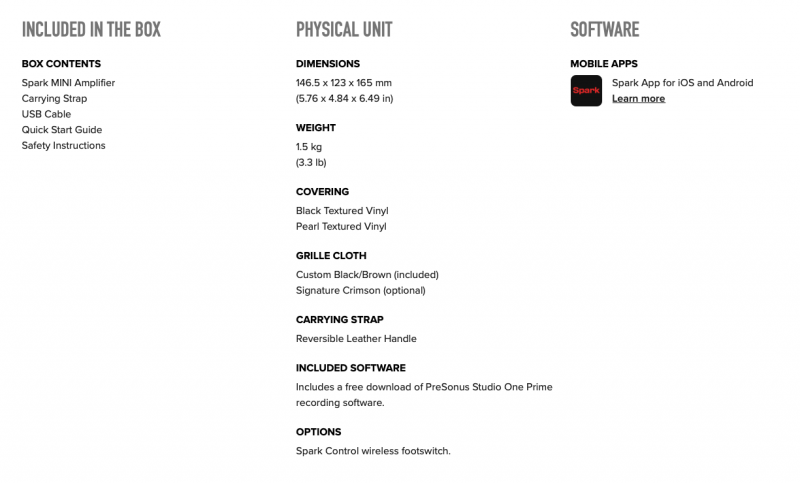 Design and features
The outside of the Positive Grid Spark mini battery powered amplifier doesn't give any hints at what sound is going to come out of it. The outside of the sides and top are finished in a black (pearl is also available) leatherette fabric with copper-toned metal accents at the seams. The front (removable) grill is a tweed-ish texture and pattern in black and white. With some packages, there is a crimson and black extra grille offered. The leather handle attaches to the sides via black guitar-strap buttons. The bottom is raised by four rubber feet on the corners, which is the only solid area of the bottom not part of the huge downward-facing speaker vent, which is protected by a metal honeycomb-shaped grille and covered with a thin, dust cloth-like material.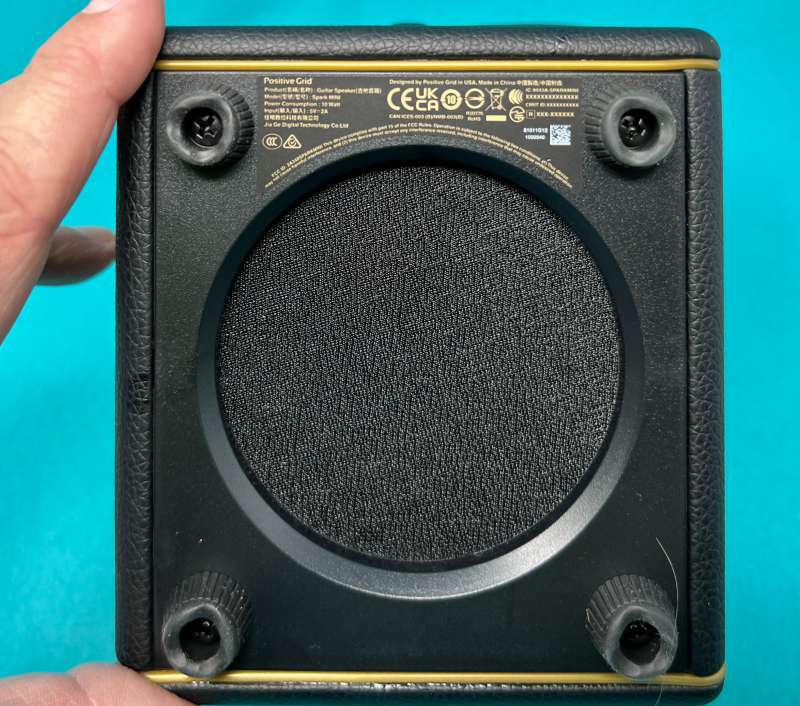 On the top rear, there is a single 1/4″ instrument input, a volume knob ("Guitar") for that input, a volume knob for "Music" (the AUX input on the rear panel), and a 4-position selector for the main input: Rhythm, Lead, Solo, and Custom. These inputs can be customized almost limitlessly via the free accompanying app (iOS and Android). Rhythm, of course, strips out almost all of the effects. Lead and solo add in more effects, and custom is totally wild-card, you-do-you programming. At one point, one of my friends, indicating the pickup selector switch on his guitar, smiled and said "So, this doesn't really matter anymore, does it?" No, Adam, software is eating the world.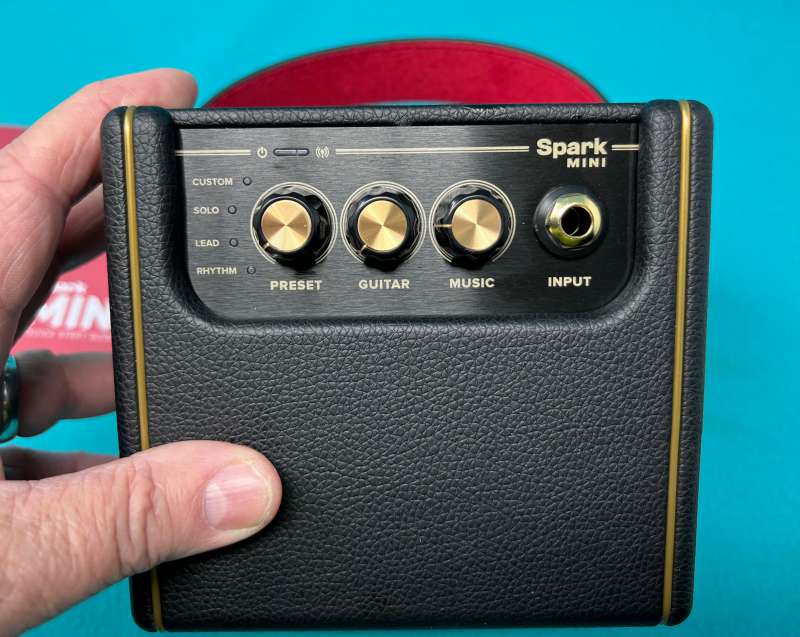 Setup
Like anything battery operated, you have to charge it. Then, once you download the app, you turn on the amp and launch the app on your phone, and they see each other. Easy-peasy.
On the app, you can download shared settings, both from the company and from other users, that emulate various sounds of bands in different styles. It's simple to play around with your own settings, but having a place to start feels good. There are also extensive lessons and practice sessions included for free.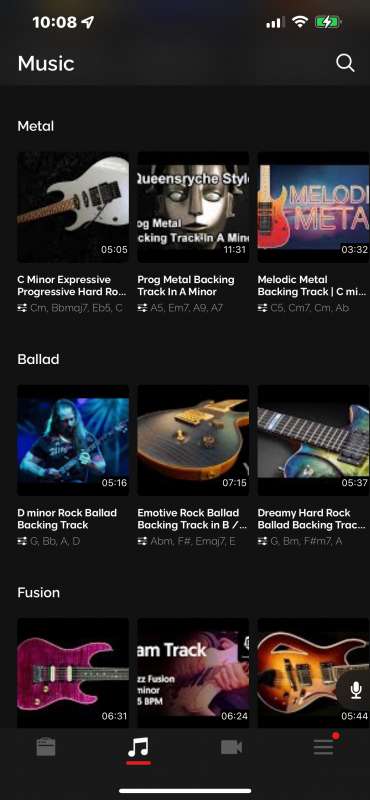 If you have a song you're working on, it's easy to play it back through the amp and play along, adjusting the "Music" volume alongside your instrument. There are various "music minus one" tracks available – both through the app and via other sources – so that you can show off your learned solos with a full backup band. Or you can record your own band and have them make you a rhythm track to practice to. The rear panel lets you output to headphones (great if you're mixing this unit with the house sound), AUX in (which is controlled by the Music volume knob mentioned above), USB-C charging, and a button for pairing and master power.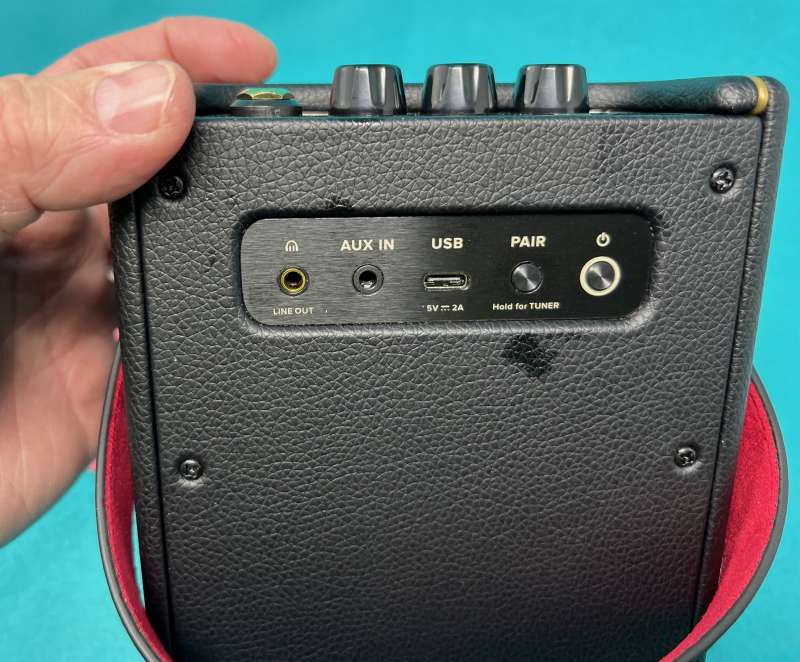 Performance
Everyone that I showed the Positive Grid Spark mini amplifier to was stunned by the performance from such a small box. I work with a lot of creative folks (some of whom are still performing, and some of whom are just enthusiasts), so I brought it into work, and my friends brought in their guitars. The break room resonated for a few days with different folks testing out the new toy. Here are a few riffs from a friend that I recorded at my house:
What I like
Very clean (or dirty, if you want) sound from a small box
Many, many shared presets
"Empty orchestra" type input available
What I'd change
Can't really think of anything
Final thoughts
The sound quality and volume from this form factor are, to me, amazing. I rarely use an amp, but when I do, I usually share it with another guitar. The Positive Grid Spark mini, with battery power and the option of adding outboard effects via software, is just perfect for someone who doesn't want to haul around a big amp with a power cord and huge speakers. Since this can give me stage monitoring and also hook into house sound, I expect to use this on my next open mic performance. Stay tuned.
Price: $229 retail – as low as $195
Where to buy: Positivegrid.com and they have a full-sized version on Amazon
Source: The sample of this product was provided by Positive Grid.