We use affiliate links. If you buy something through the links on this page, we may earn a commission at no cost to you. Learn more.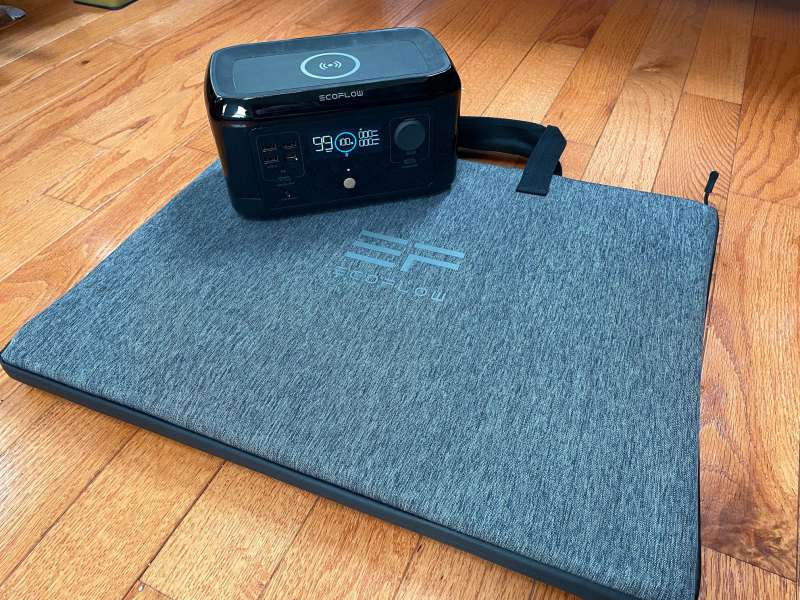 REVIEW – I previously reviewed EcoFlow products like the EcoFlow River Mini Portable Power Station and EcoFlow Delta Pro portable power station and found their products well-engineered, solidly made, and innovative. Adding to their already impressive specs, EcoFlow's 110-Watt solar panel makes powering their equipment even in the most remote locations portable, efficient and powerful. Is it perfect portable power? Let's have a look!
What is it?
The EcoFlow 110-watt solar panel is a foldable device that converts sunlight to electrical energy to recharge a portable power station.
Hardware Specs
Rated Power 110 Watts (±5W)
Efficiency: 21-22%
Connector type: MC4
Short Circuit Current: 6.3A (Imp6.0A)
Cell Type: Monocrystalline Silicon
Operating Temperature: -4 to 185°F (-15 to 85°C)
Unfolded Dimensions: 62.5 x 20.2 x 1.0in (158 x 51.4 x 2.4cm)
Folded Dimensions: 16.5 x 20.2 x 1.0in (42 x 51.4 x 2.4cm)
Weight: 13.2lb total (6kg), Solar Panel: 8.8lb (4kg)
Warranty: 12 months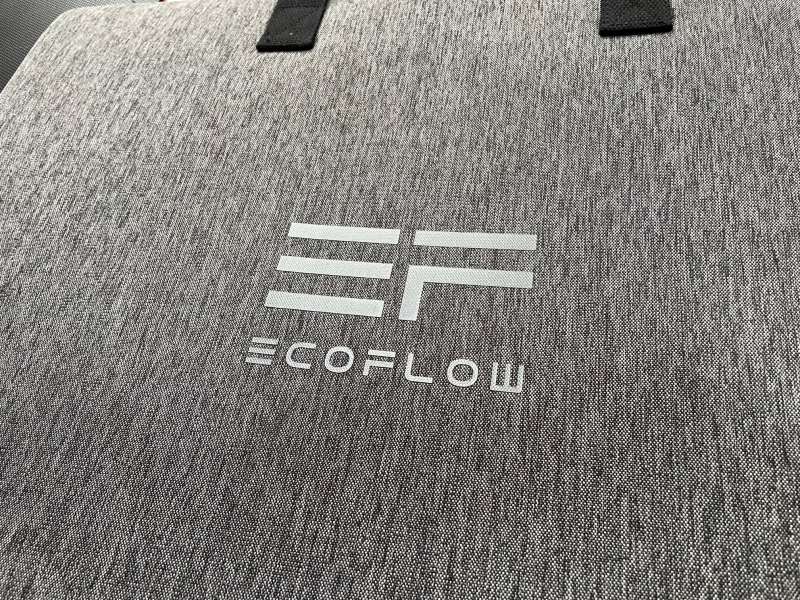 What's in the Box?
EcoFlow 110-watt solar panel
Solar Panel Bag
Solar Panel User Manual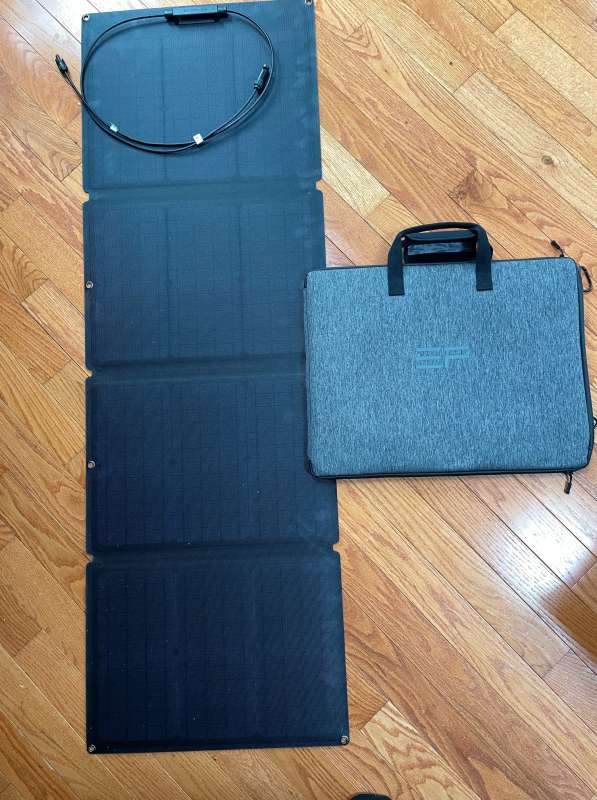 Design and Features
EcoFlow's 110-Watt solar panel arrived solidly packed.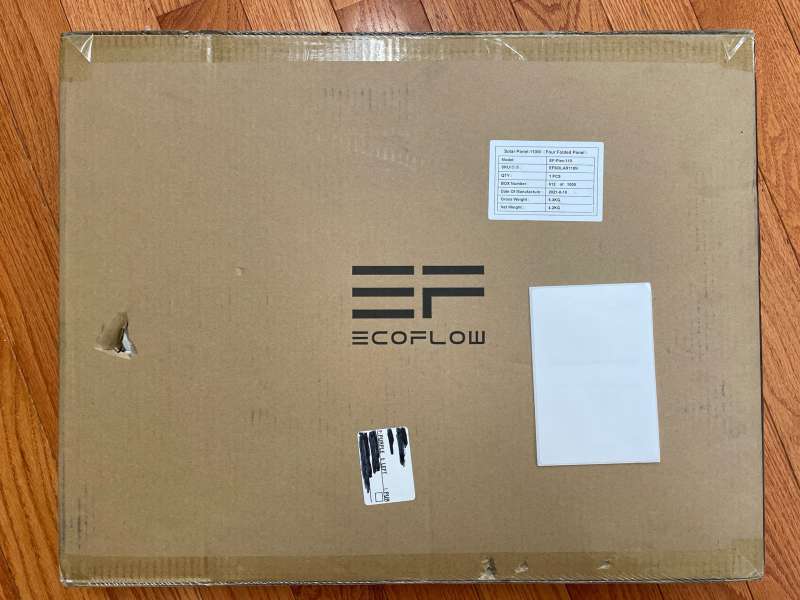 There was a hole in the box, but the packaging did its job and protected the panel well. There was no damage..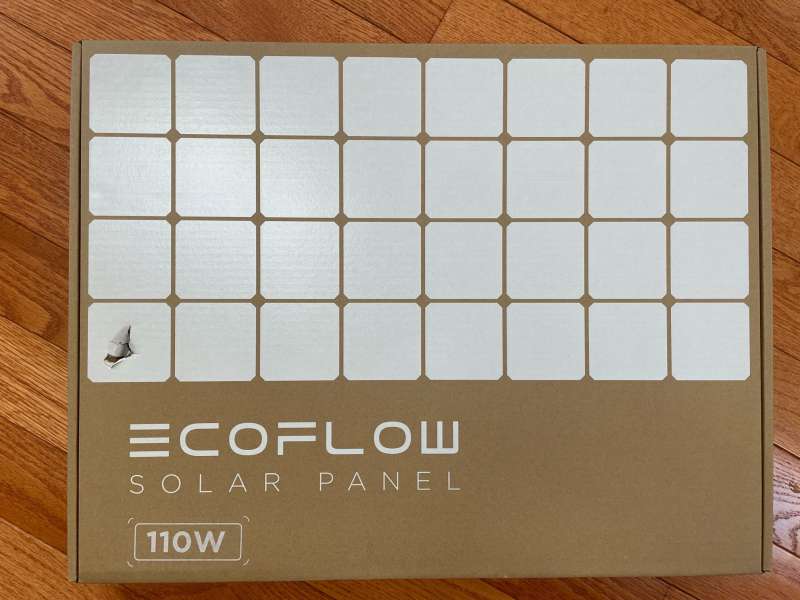 There isn't much inside – the foldable panel inside the storage case and the instruction manual.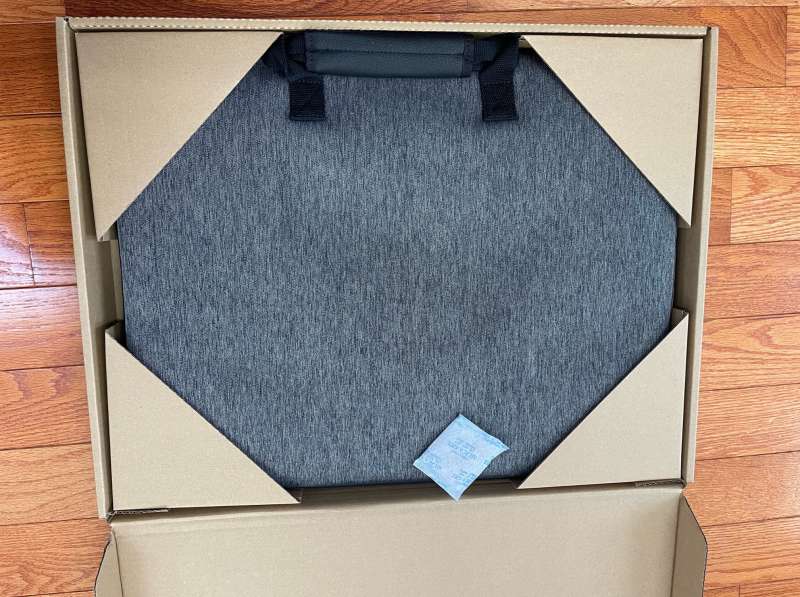 Here are the specs: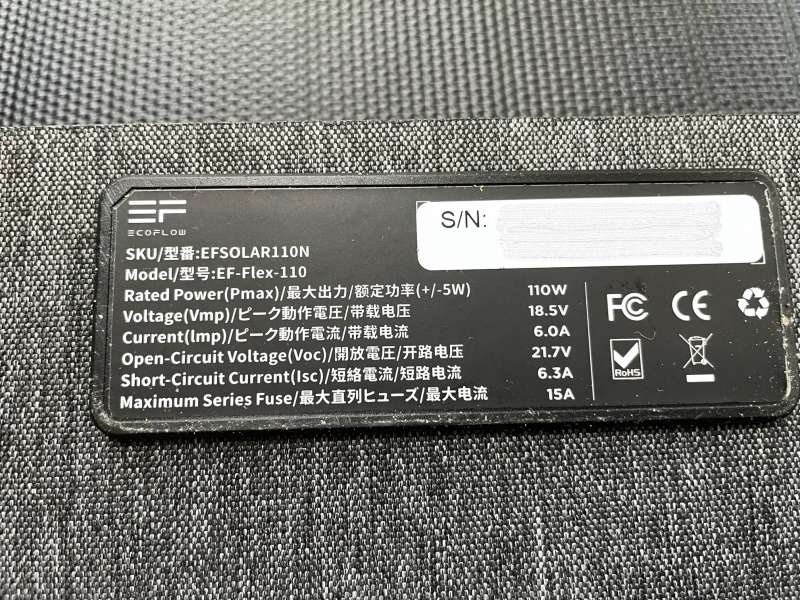 The panel is shipped inside a sturdy ballistic nylon sturdy carrying case. There is a rigid plate enclosed on the logo side of the case to help prevent damage to the panel during transport. The case feels exceptionally solid.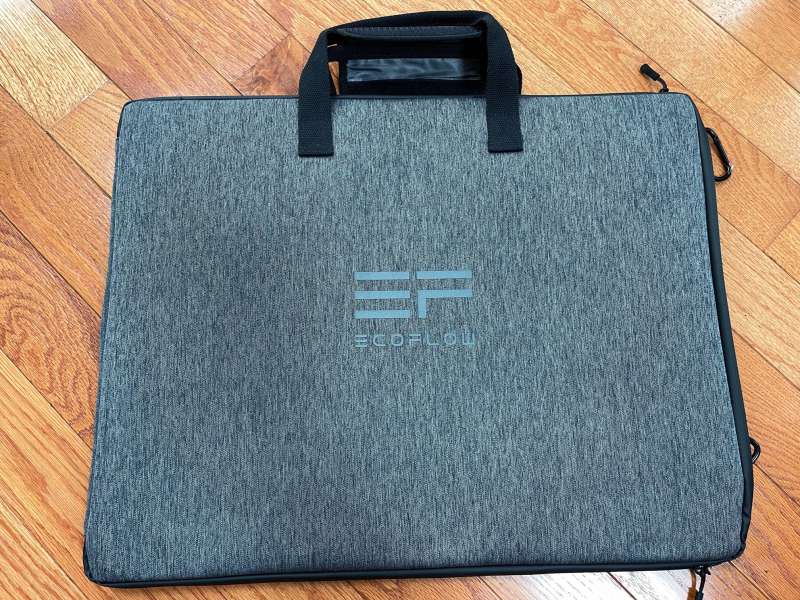 Zippers are very strong.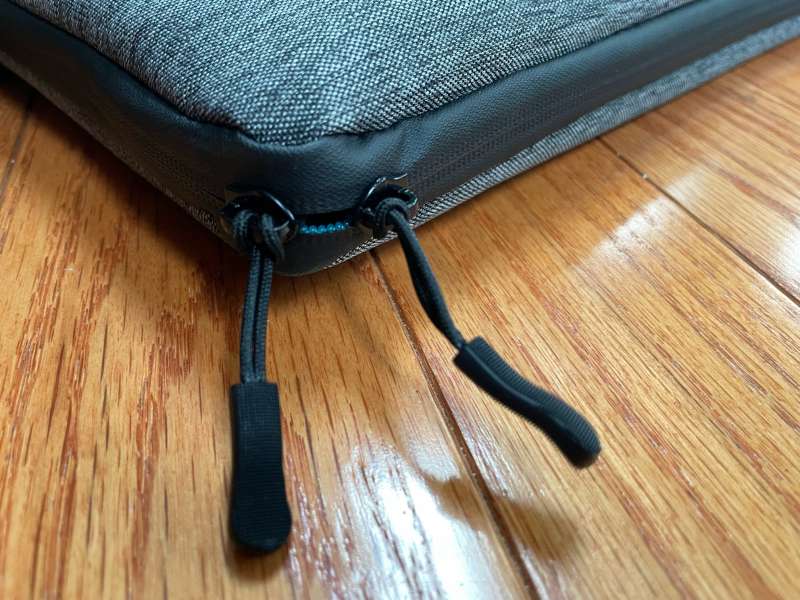 The panel folds neatly to fit into the case.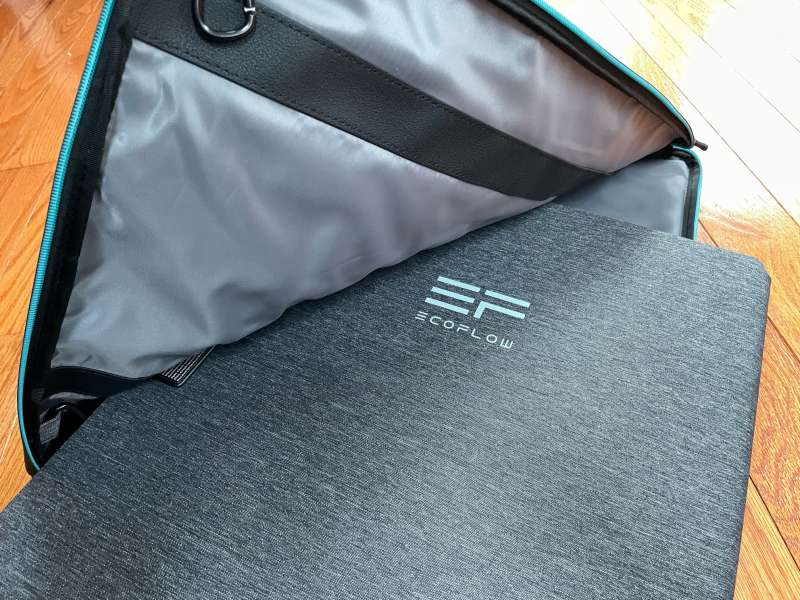 All tucked in.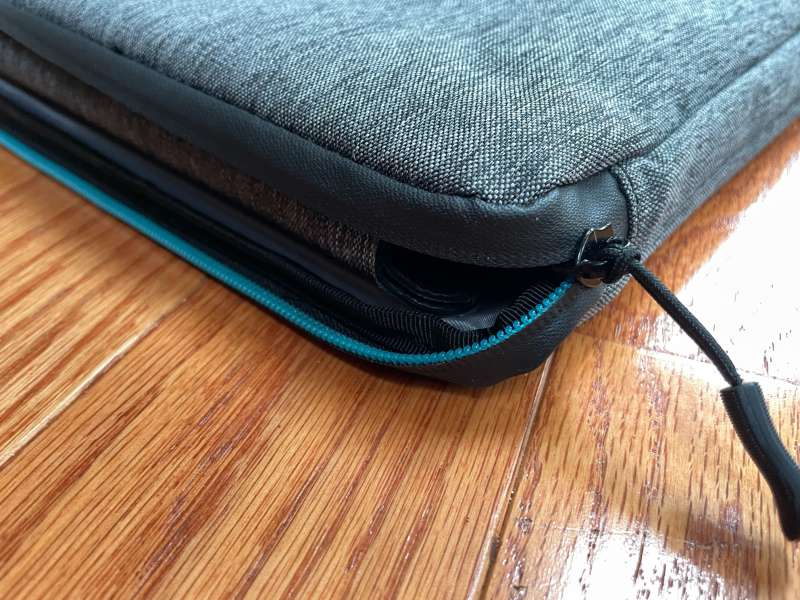 The carrying straps are made of nylon and are equally robust. A padded handle is attached to the rear cover. Velcro in the handle can be opened to join the front and rear cover straps together. The handle is very comfortable and supports the weight of the panel well.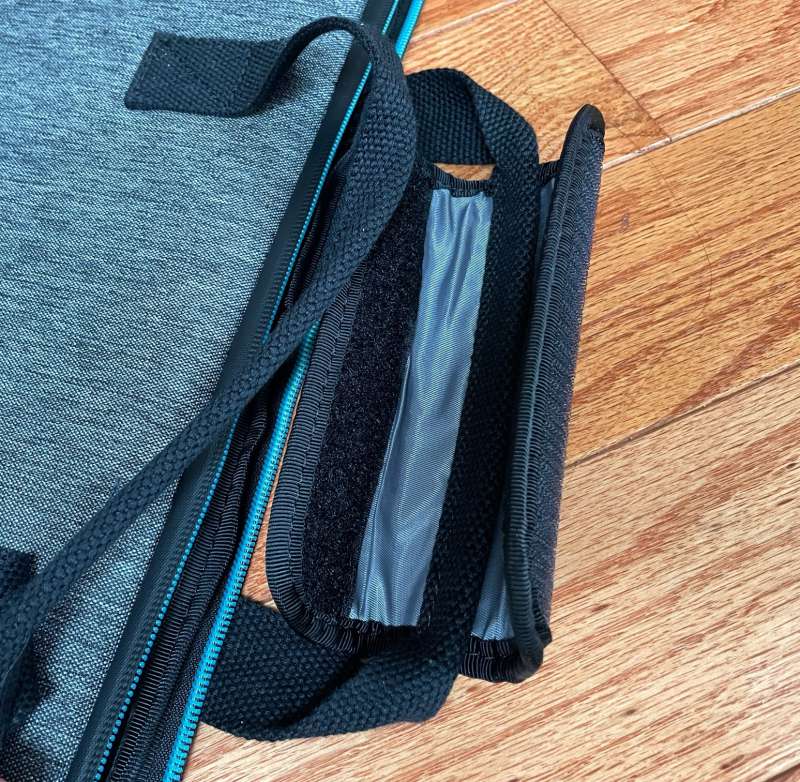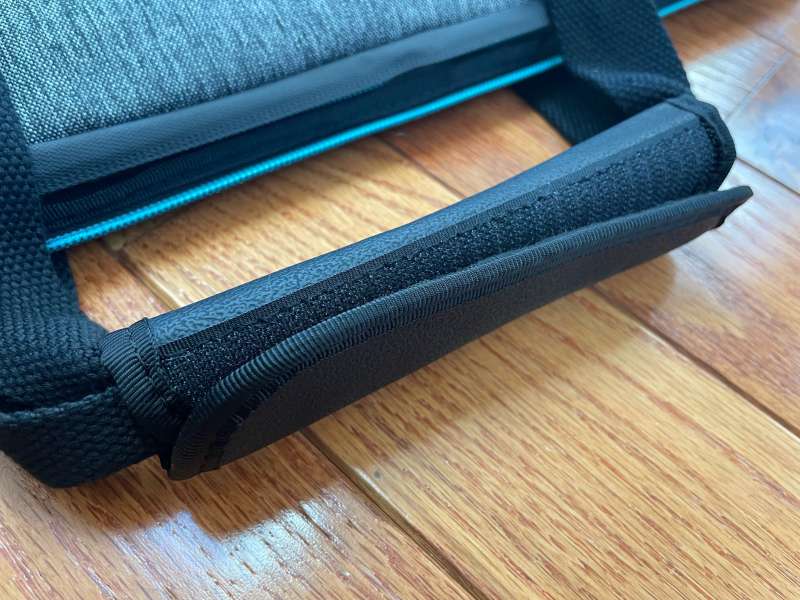 When the panel is deployed, four carabiners, two on each side, mate with grommets around the perimeter of the solar panel creating an a-frame intended to keep the panel as perpendicular as possible to the sun for optimum charging.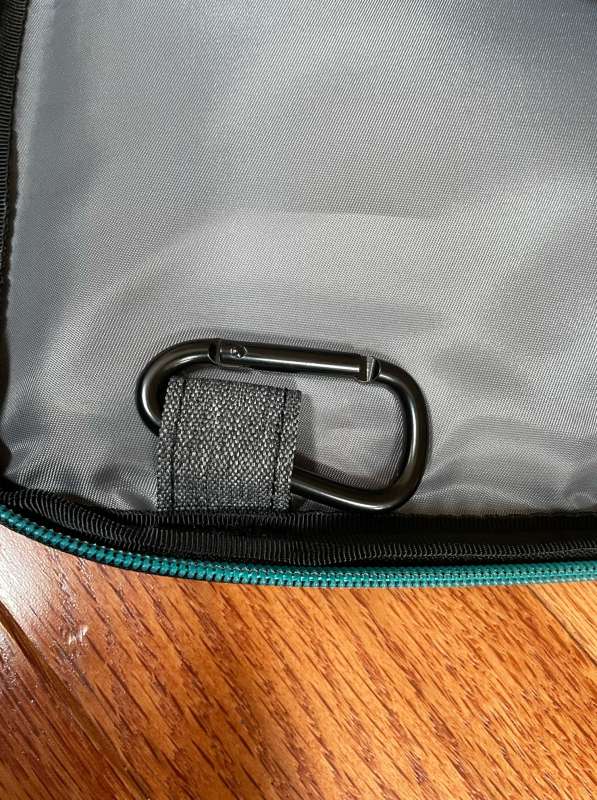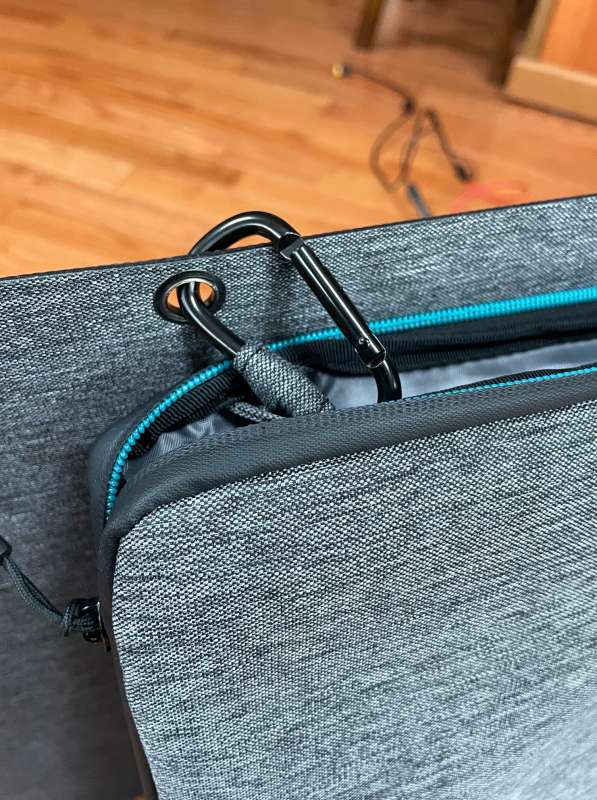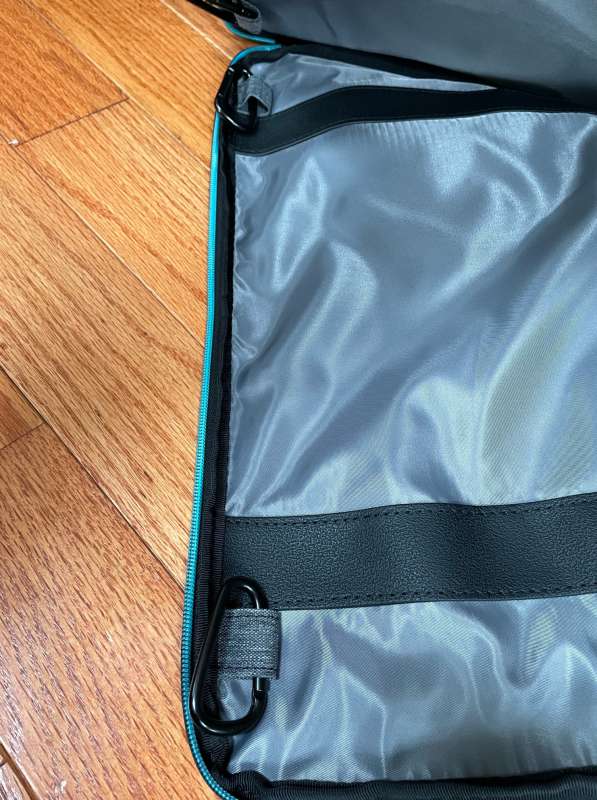 Illustrations in the manual indicate that another version of the case is provided with a zipper that extends along three sides permitting the case to be fully opened clamshell-style with all four carabiners securing the panel in place. On the case provided to me, the zipper extends to only two edges so the case can't be completely opened, so only two carabiners will attach to the grommets on the top of the panel,  however, I found had no problems using the case for support as EcoFlow intended.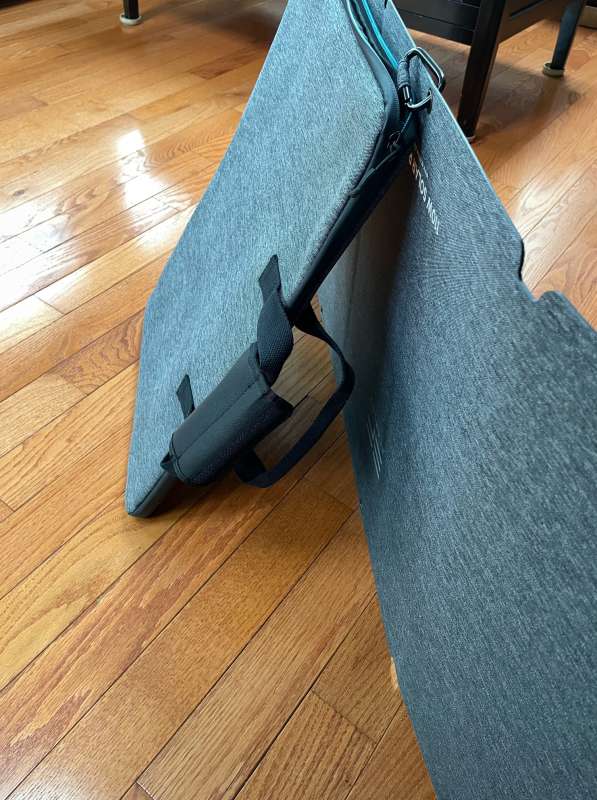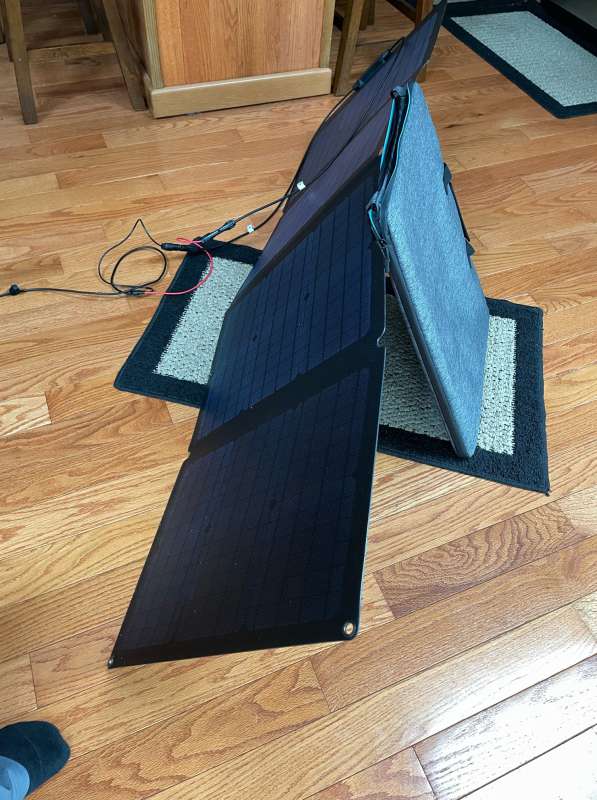 To use the EcoFlow 110-watt solar panel, I used the solar panel charging cable that was included with the EcoFlow River Mini.
The charging cable connects to the solar panel wires using MC4 connectors. These connectors are widely used for solar installations. The connections are waterproof to IP67 specifications and are rated for 30 Amps, 1000 volts, although the solar panel will be considerably less than that.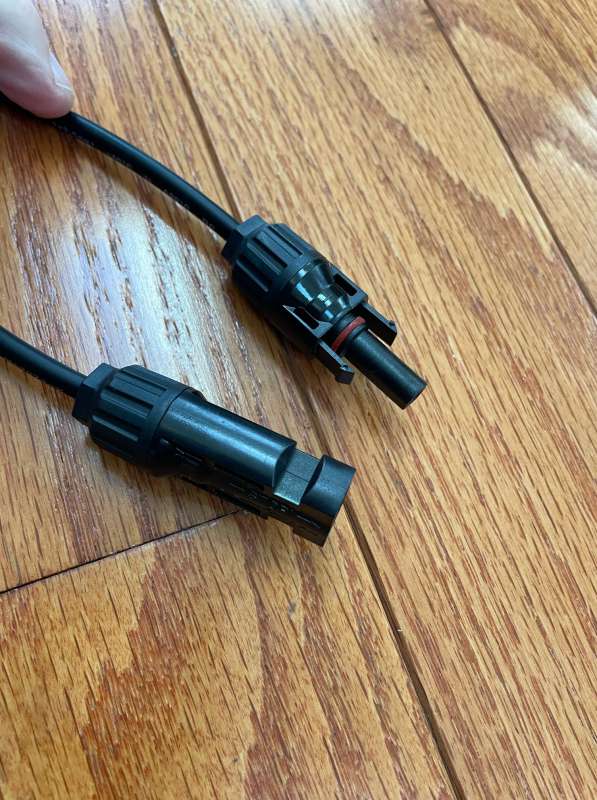 The MC4 cables are permanently connected to the solar panel. The connection point is very strong and no amount of wiggling budged it loose.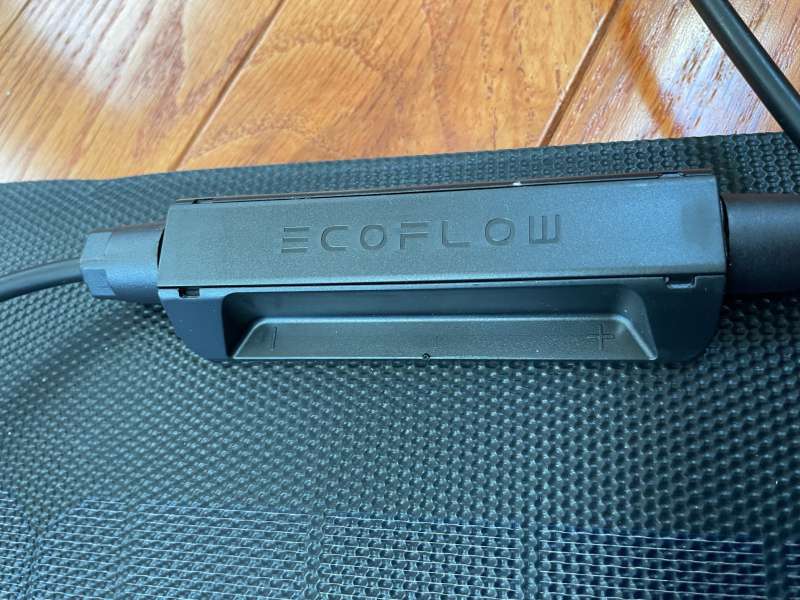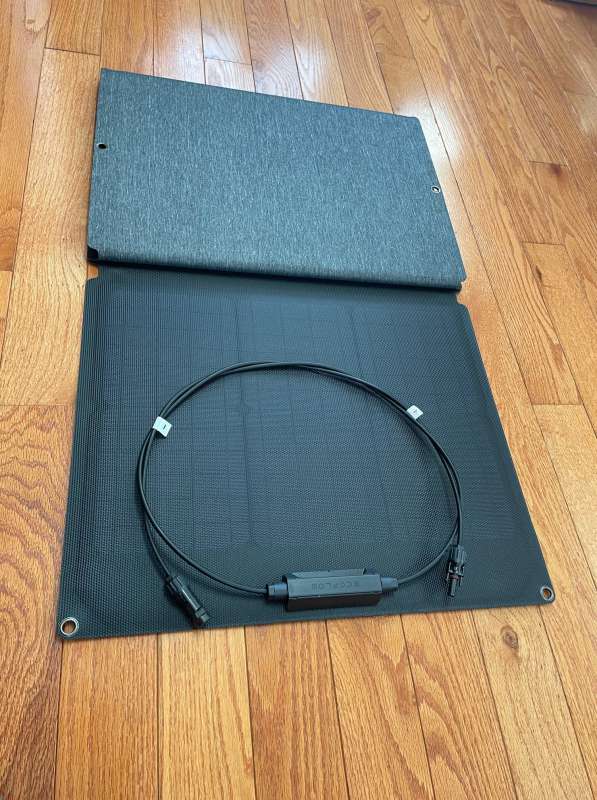 The MC4 cables couple together with a satisfying snap and, if necessary, can be disconnected without tools with a little fiddling. I will keep them connected to prevent the River Mini's charging cable from getting lost.
The solar charging cable plugs into the dedicated receptacle on the EcoFlow power station's input panel. It's keyed so there are no worries about connecting it backward.
The EcoFlow 110-watt solar panel are monocrystalline silicon and are brittle. Care should be taken not to fold, spindle, mutilate or otherwise stomp on the panel. When packing the panel for travel, it would probably be best to not throw your cooler on top of it.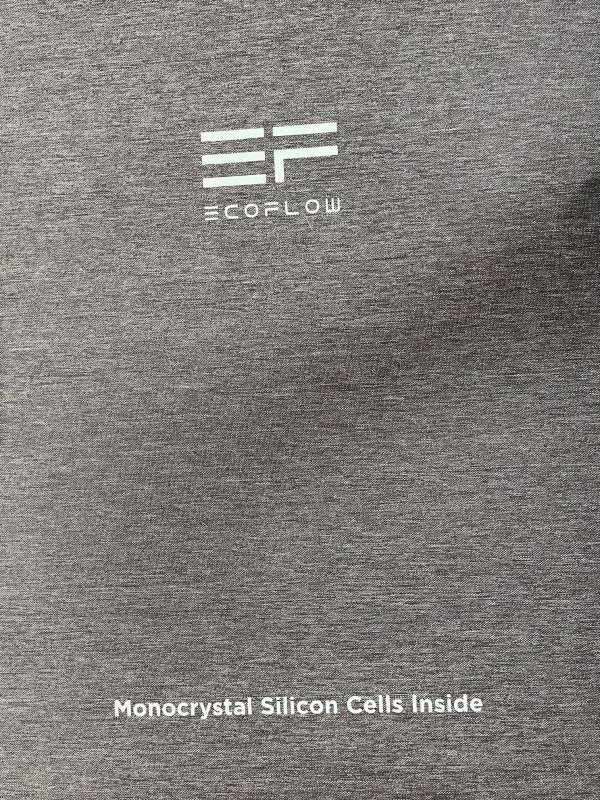 After unfolding the panel, connecting the case as a stand, and making the connections, point it at the sun and, if there is enough light, charging will begin immediately. But… In my part of the country, at this time of year full sunlight can be in short supply.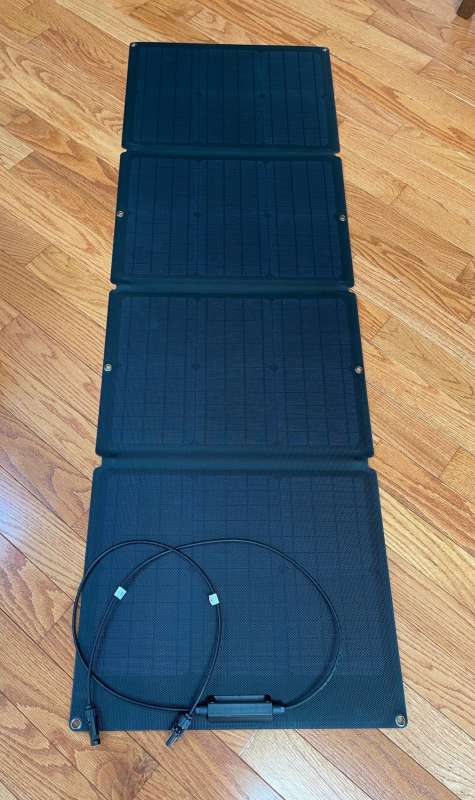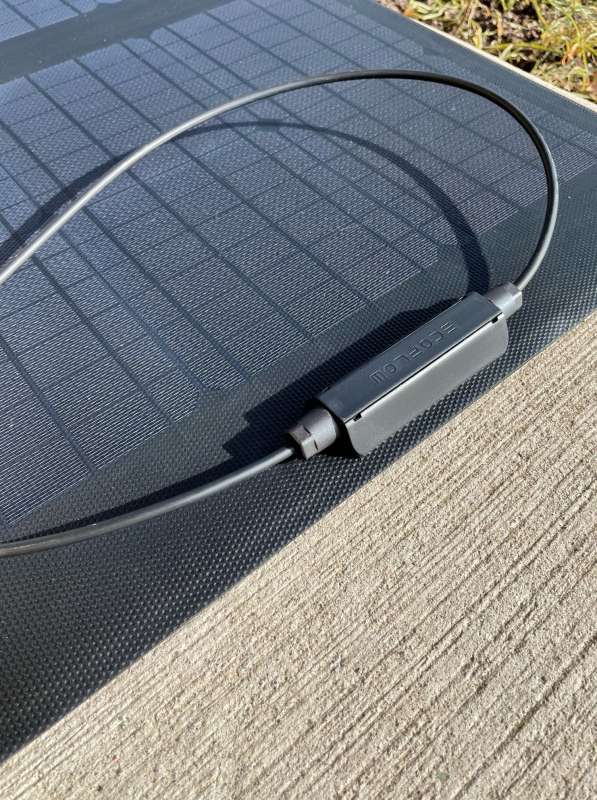 I started my first test with a fully depleted River Mini battery. My first day of testing was mostly cloudy with only a few breaks of sun. Still, the solar panel was able to charge the power station to 24%. I would call that impressive. My only negative observation is when light levels are low, the River Mini clicks every few seconds while the solar panel is producing usable, but lower supply power. In full sun, occasionally, the fan would turn on, but this sound was not as annoying as the intermittent clicking.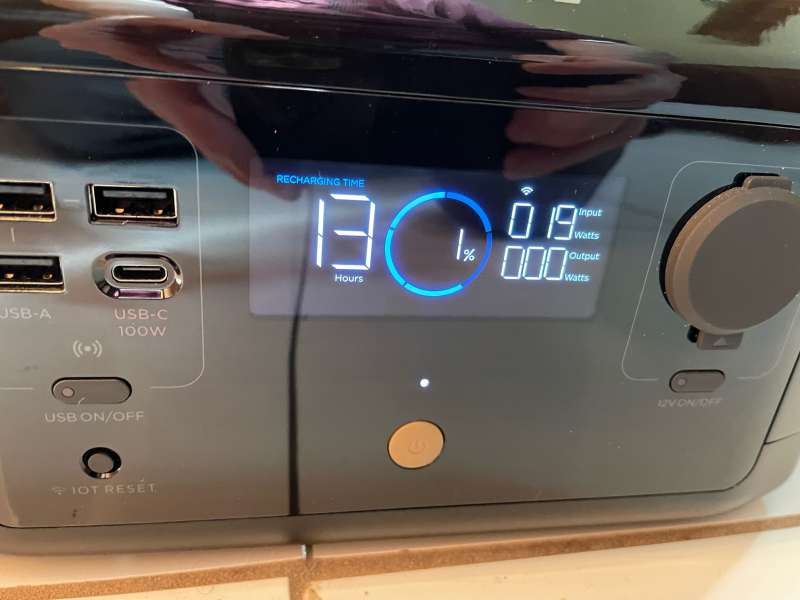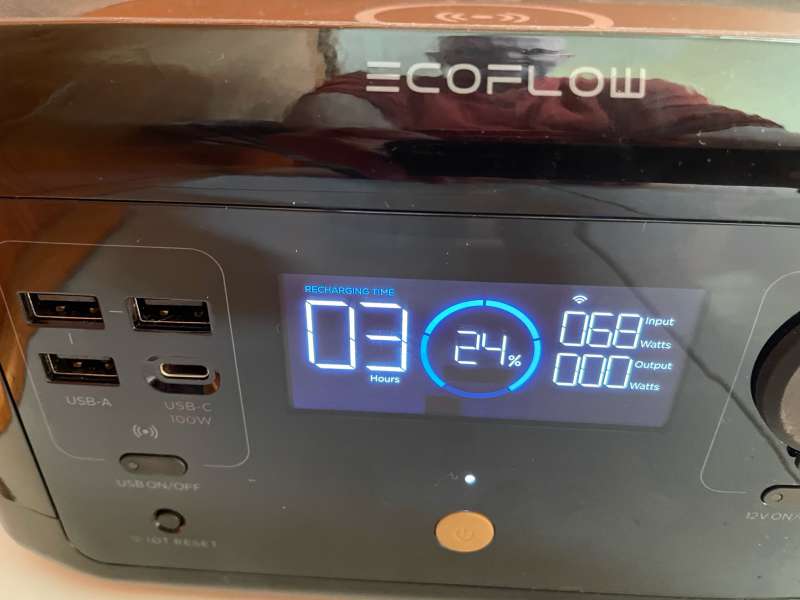 Day two was similarly cloudy, but Mr. Blue Sky decided to show his face for a few hours. I was pleasantly surprised to see the charge levels jump to 78% over eight hours.
Day three was completely overcast, but the River Mini reached 100% charge. Total charge time from zero to 100% in grey skies – just shy of 18 hours. Now, you may be thinking, that's not so great, but even at 24%, the River Mini's 210WH could charge my iPhone 12 Pro's battery fully five times! Outstanding! That's enough power for your four-person campsite to all charge your phones, plus an LED lamp for the entire evening and, in my book, that's the worst-case scenario.
My second test started again with a fully discharged battery, but this time, I waited… and waited… and waited… for a sunny day. Well, at least a partially sunny day… or a few of them…
Finally! We had a day with about 3 –hours of non-stop sun with about another four the next day. During my tests, I measured currents up to 4.5 Amps under load.
In seven hours of sun, the 110-watt panel fully charged a 100% depleted River Mini. Yep, zero to 100 in seven hours – impressive! I just wish we could count on a bit more sun!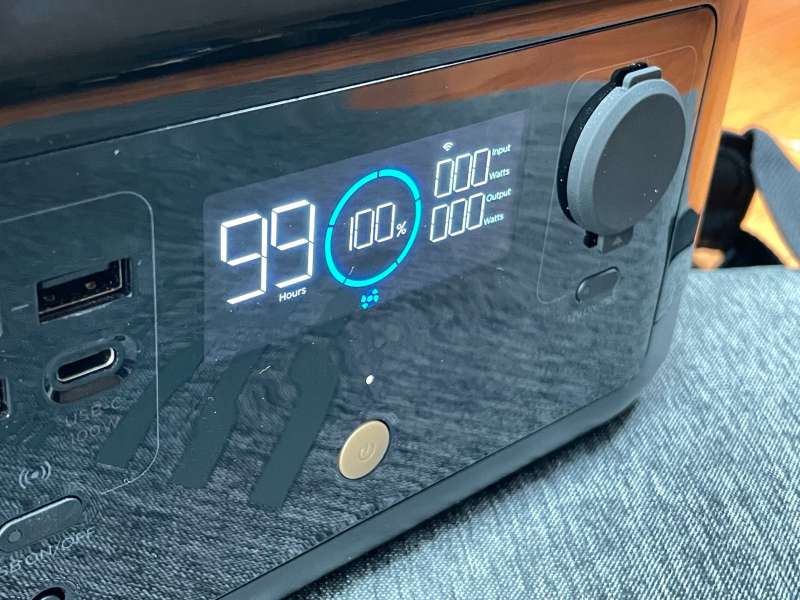 What I Like
Rugged
Folds for storage and travel
Great carrying case
Good power, especially in full sun
Very fast charging in full sunlight
Good performance even under cloudy conditions
What I Would Change
Final Thoughts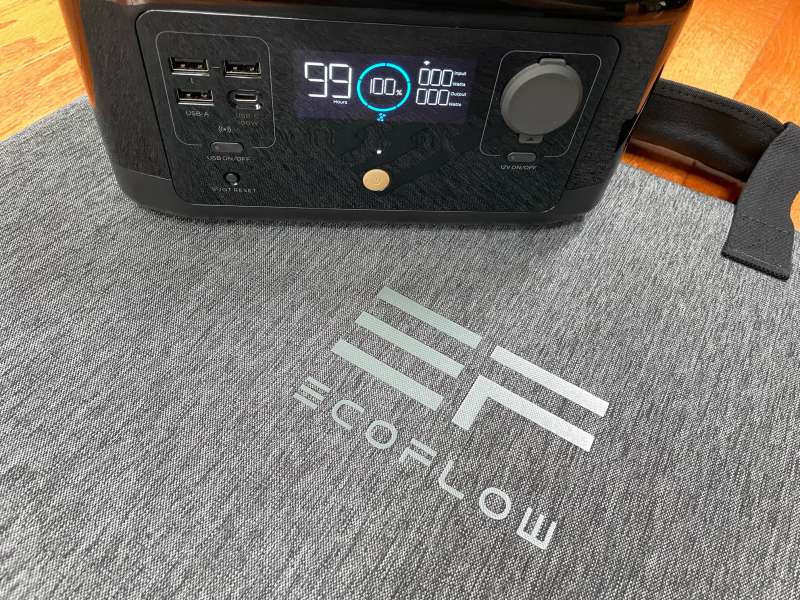 The EcoFlow 110-Watt Solar Panel is built exceptionally well, supplies usable power even in low-light conditions, and has spectacular performance in full sun.  I don't anticipate needing emergency power for a zombie apocalypse, but having the EcoFlow power station and solar panel ready for emergencies, camping, and tailgating is terrific! Is it perfect? I'd say it's very close!
Price: EcoFlow – $299.00,  and Amazon- $319.00
Where to buy:  EcoFlow, Amazon
Source: The sample for this review was provided by EcoFlow.