We use affiliate links. If you buy something through the links on this page, we may earn a commission at no cost to you. Learn more.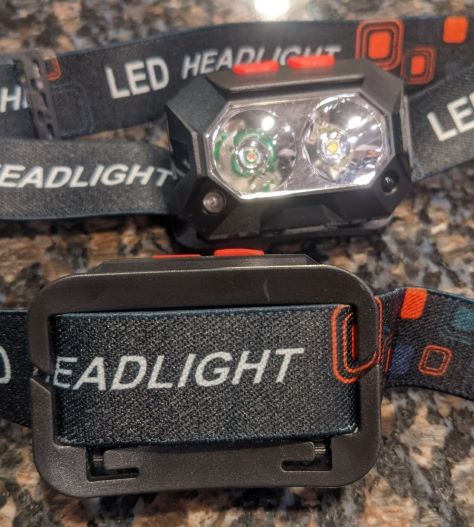 REVIEW – If you're like me you probably haven't thought about your headlamp much since you bought it.  I have a few that are pushing 10 years old now but which I have regularly used for working in those dark spots around the house, for biking, running, fishing, working on cars, and just in general when I needed some light but the use of both hands at the same time.  I didn't give it a second thought until a recent trail run on a dark Pacific Northwest morning with a group of friends made me realize I needed an upgrade.  With fresh AAA batteries in my brightest headlamp I show up to the trailhead ready to go.  Only when everyone else started turning their lights on did I notice mine was the weakest beam that did little to penetrate the murky darkness.  A few questions later I realize almost everyone is using rechargeable headlamps now prompting my search for a new one.  A quick Amazon search brought up the Craftersmark P70 Rechargeable Headlamp as a 2 pack for $13.69. Hard to beat that price so I gave it a try and I was very surprised at what I got for so little money.
What is it?
The Craftersmark P70 is a rechargeable headlamp with white and red LED lights with motion sensor activation.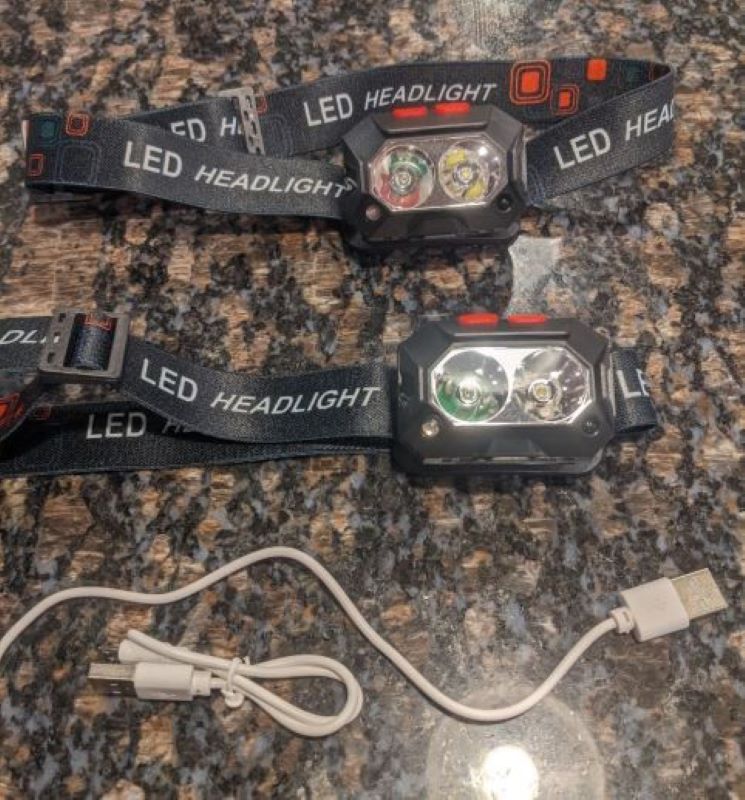 What's in the box?
Two Craftersmark P70 Rechargeable Headlamps were neatly packed inside the small box
Two 10 inch USB-micro cables were included
User manual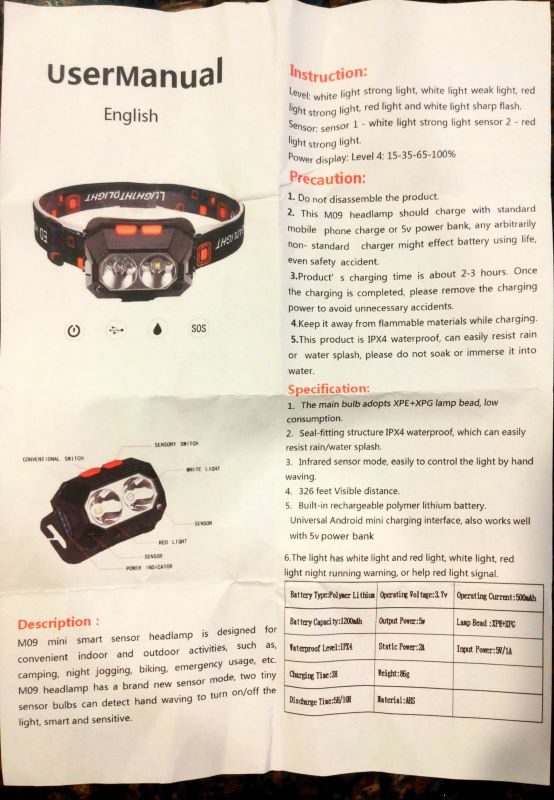 Specifications
Waterproof Rating: IPX4
70 degree tilting head
Weight 1.87 ounces
Battery: included 1200mAh Li-ion
Charge time: 3 hours from fully drained
Dimensions: L2.4in H1.25in W1.5in
Power: High white light: 1100 lumens with five hour run time (advertised)
Low white light: 800 lumens with 10 hour run time (advertised)
Red light: 1100 lumens with five hour run time (advertised)
Design and Features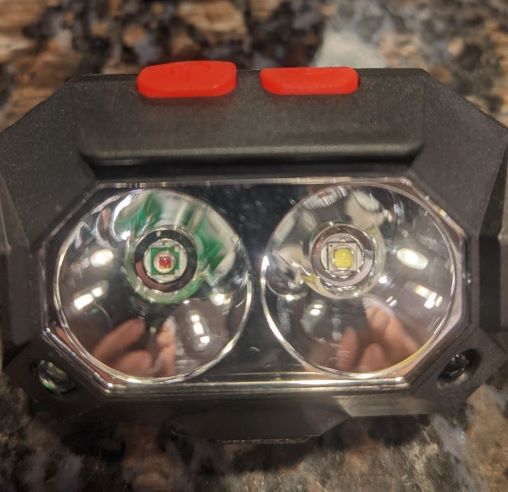 I am the type of person that always reads the user manual before I start using something however the Craftersmark P70 Rechargeable Headlamp manual was a little confusing and hard to follow but with a little trial and error I got up to speed on its operation.
For a headlamp, this one has pretty standard features but this one has a neat little feature that I haven't encountered before, a motion sensor.  The buttons were easy to find by feel and the tactile response when pushed felt solid.  The right button (when worn) on top allows you to cycle through the standard functions of high white beam, low white beam, red beam, red and white SOS strobe, then off.
Using the left button cycles through only the high white beam then the red beam then off however this button also activates motion sensors which allow you to wave your hand in front of the lamp to turn off and on the light without pushing the button.  I found this feature extremely useful when I was replacing my car's power steering pump and drive belt.
I needed the headlamp while looking at the dark engine bay in high white mode then I could just wave my hand in front of the lamp to turn the light off quickly while referencing the pumps installation manual and the installation video on my laptop.  I only blinded myself once on my laptop's screen before it became second nature to do a little hand wave when I looked away from the engine.
Once done looking at my laptop another quick hand wave turned the light back on without the need to push the button.  This was extremely handy especially when I got power steering fluid on my hands and didn't want to touch the headlamp.  If you are looking for a headlamp for stargazing or astrophotography where maintaining night vision is extremely important the Craftersmark P70 Rechargeable Headlamp is probably too bright.
For everything else, I found the white light provided an excellent center beam with enough peripheral light to not feel like I had tunnel vision.  I also found that on my next trail run the red light alone was powerful enough to see the trail while maintaining enough night vision to see surrounding features.
After an hour on the high white beam, I lost one bar of the four on the battery indicator on the side.  At the 1 hour 45 minute mark I lost another bar and then lost the third at 2 hours 15 minutes.  The fourth bar started blinking at 2 hours 25 mins and the light finally started going dim at the 4 hour mark.
The head strap worked great and didn't come loose even while running but I am concerned about the little plastic tabs that the strap is routed through on the back.  I have a feeling they may break since they look a little flimsy but time will tell.  If you have ever lost an expensive pair of sunglasses there's a similar pain of losing or breaking an expensive headlamp.  At $7 apiece I won't shed any tears if that happens to these.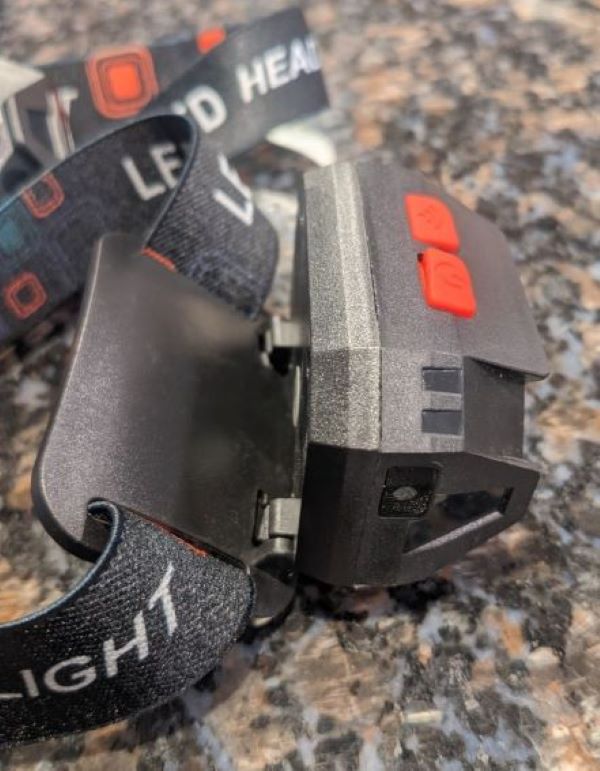 In use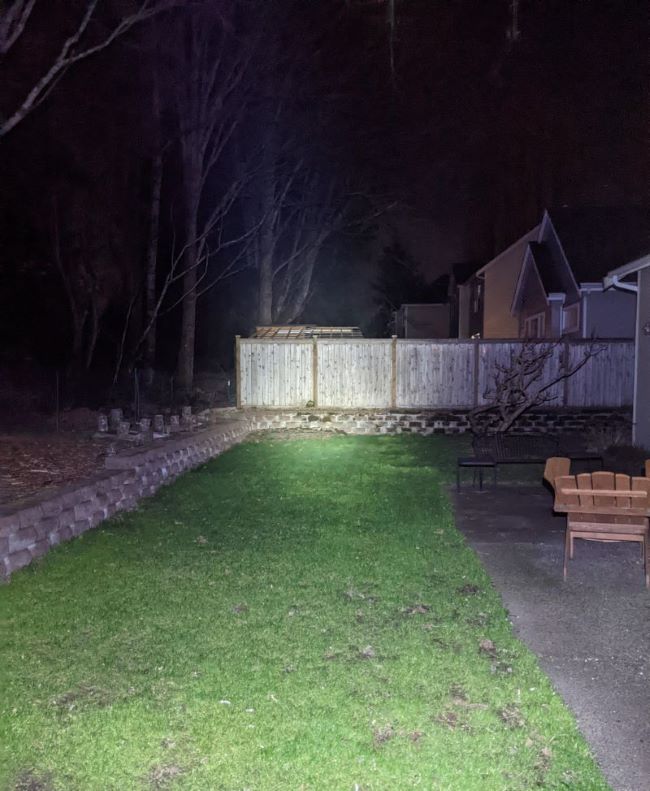 High white beam easily reached 50 feet to my fence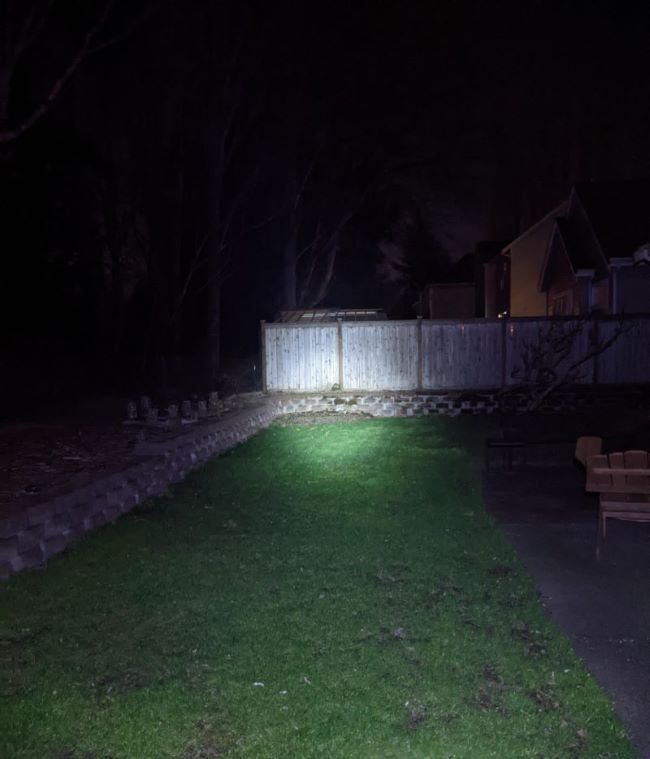 Low white beam still provided good spread of light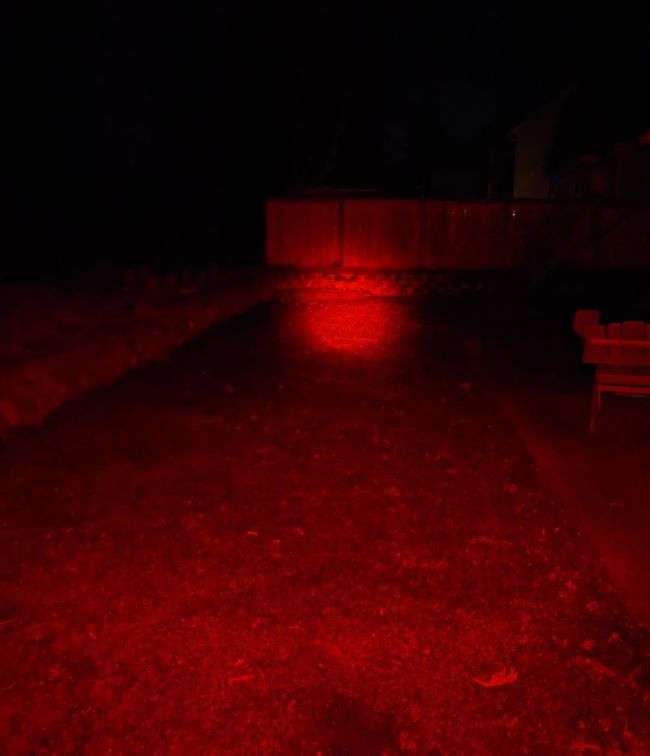 Red beam had a great dispersion pattern and was plenty bright for trail runs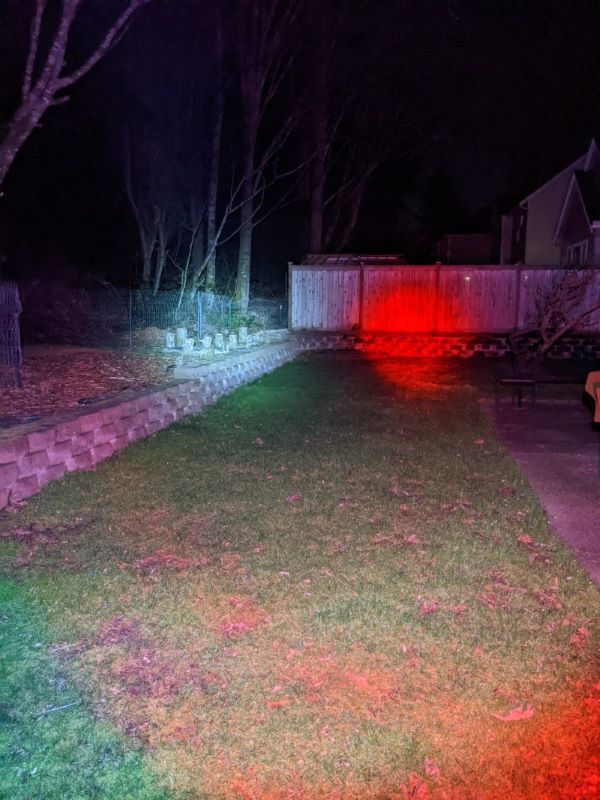 High white beam and red beam for comparison. I used both headlamps for this picture with one selected for high white beam and the other for red beam. Unfortunately, you cannot have both on using one headlamp.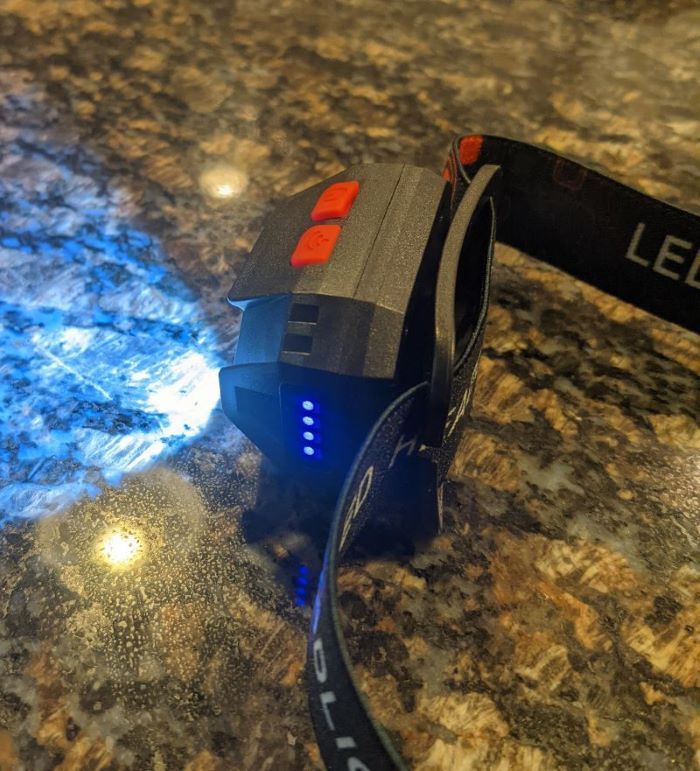 What I like
At first, I thought the motion sensors were a gimmick but now I find myself using them a lot
Rechargeable with long battery life
Lightweight
Very bright LEDs with nice distance and spread
Battery indicator lights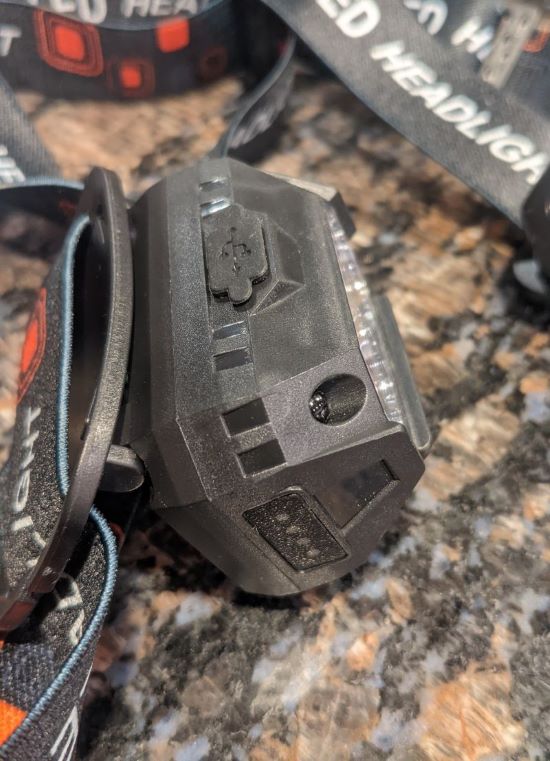 What I'd change
I would prefer separate buttons for white light and one for red so if you are trying to maintain your night vision or not wake up your tent mates with a blinding light to the face separate buttons make that possible. I did find I can cover the light with my left hand, close my eyes, then cycle to red pretty quickly so not a big deal but something to consider
USB-C instead of USB-micro connector would have been my preference but not a deal breaker
Final thoughts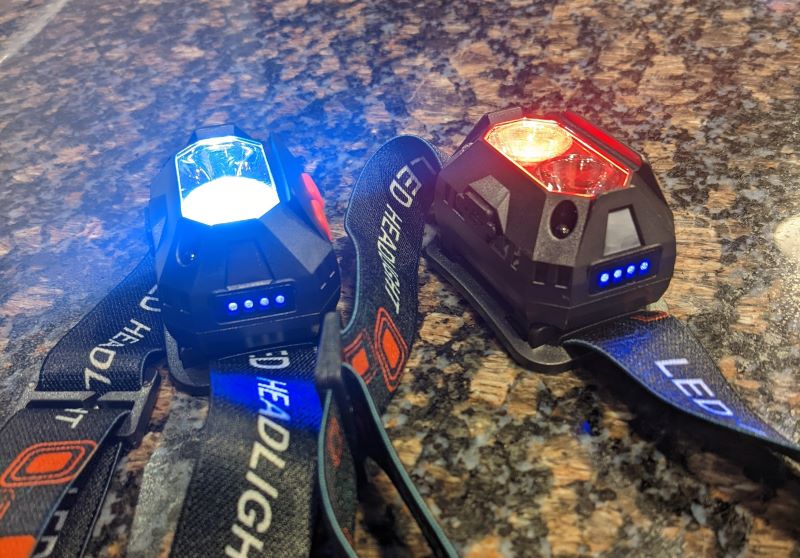 For the price, the Craftersmark P70 Rechargeable Headlamp can't be beaten. Super bright with great battery life at less than the cost of a large blended coffee these days.  I will definitely be getting more for myself, friends, and family.
Price: $13.69 for a 2 pack
Where to buy: Amazon
Source: The sample for this review was purchased directly by the reviewer.