We use affiliate links. If you buy something through the links on this page, we may earn a commission at no cost to you. Learn more.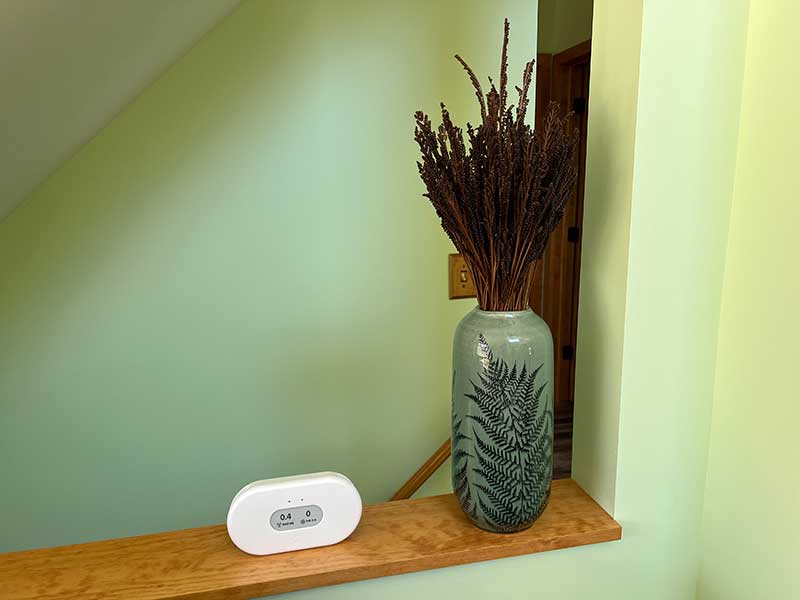 REVIEW – A few years ago, I reviewed the Airthings Wave Smart Radon Detector just to see what I could learn about radon gas levels in my home. I was very surprised to learn that I had high readings in my basement where I spend most of my time. Airthings could have very well saved my life because radon gas can cause lung cancer over time. Since reviewing the Wave, I have reviewed the Airthings Wave Plus, the Airthings Wave Mini. Now I have an Airthings View Plus to review, so let's check it out.
What is it?
The Airthings View Plus is a device that has sensors that detect radon, particulate matter (PM), carbon dioxide (CO2), humidity, temp, airborne chemicals (VOCs), and air pressure. The View Plus also doubles as a hub to connect other Airthings sensors so that you can check levels when you are away from home.
What's in the box?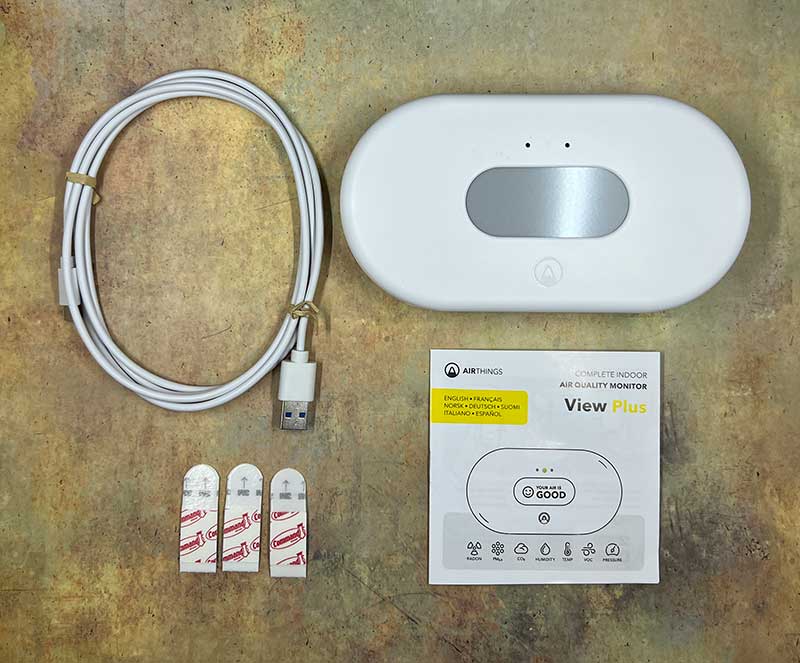 Airthings View Plus air quality monitor
3M Command mounting strips
6 rechargeable batteries
USB-C cable
Manual
Design and features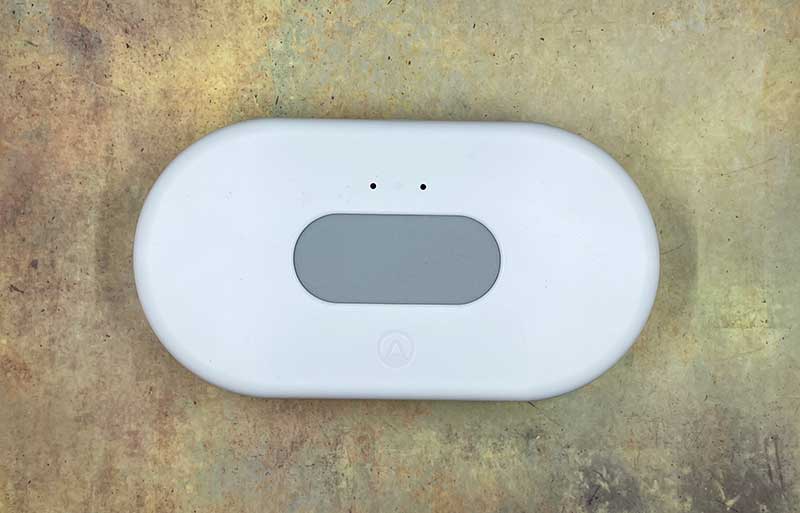 The Airthings View Plus device is 17 cm (length) x 9 cm (height) x 3.3 cm (width) and features a white plastic case with an LCD on the front. You mount the Airthings View Plus on a wall or place it on a table.
Above the display is a motion sensor that will detect when you wave your hand in front of the unit and will then toggle to show more info. I'll explain more about that below.
The back of the Airthings View Plus has a magnetic cover that lifts off to provide access to the battery compartment.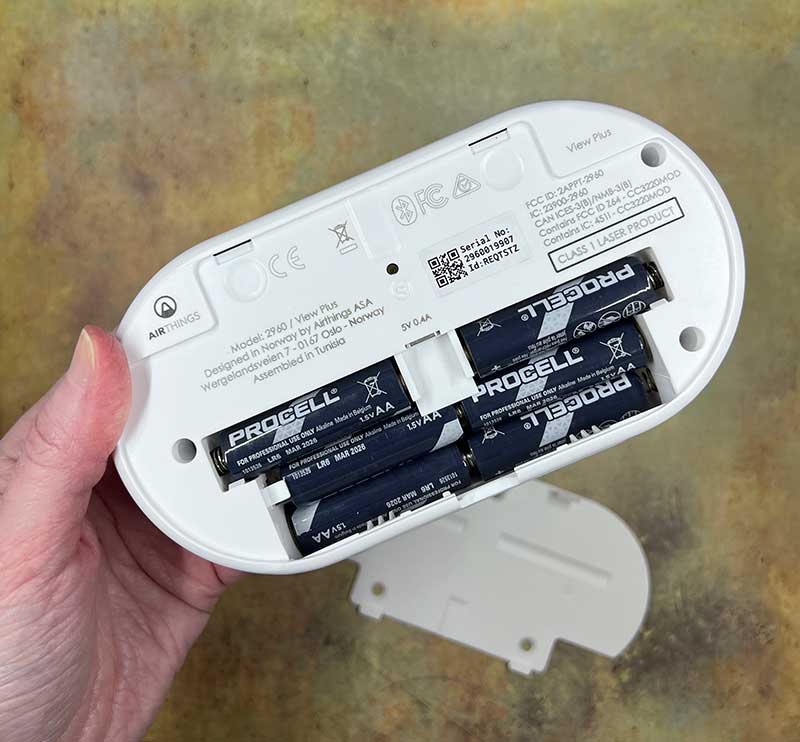 The device comes with pre-installed batteries that are supposed to last for up to 2 years. You can also power it using a USB-C cable. The USB-C port is located between the top row of batteries.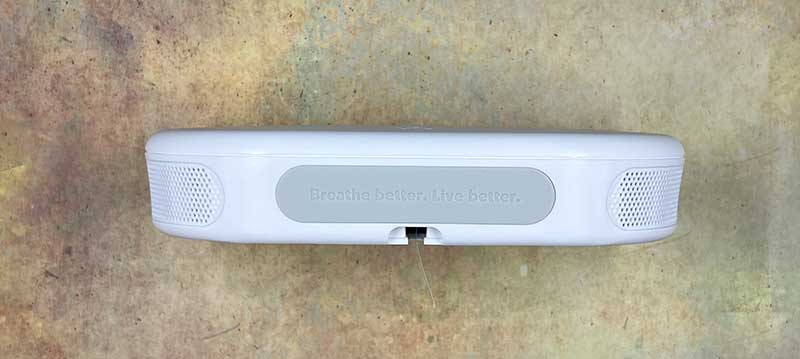 The bottom of the Airthings View Plus has a rubber or silicone base that allows it to sit upright on a shelf or table if you decide not to mount it on a wall.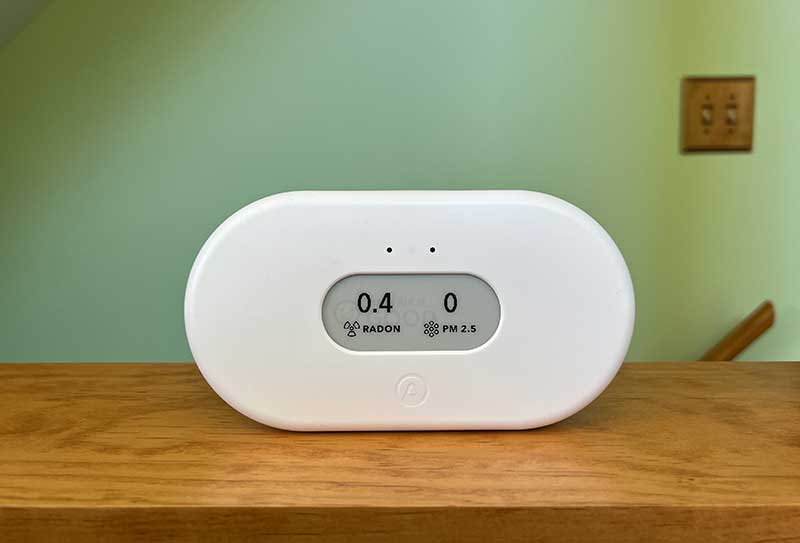 Using the View Plus is as easy as placing it on a shelf or mounting it on the wall and waiting for it to show the levels of radon, etc. For the first 7 days, it will calibrate the sensors so it will show wildly inaccurate info, but once the calibration phase is over, you will be able to see the radon gas level and PM level at any time by just looking at the display.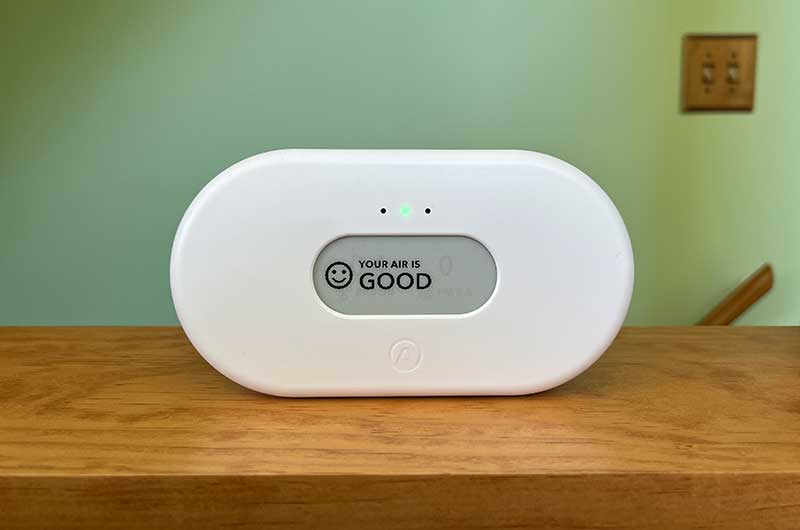 When you wave your hand in front of the View Plus, it will show other important levels which change depending on the situation. Most of the time, I'll just see the YOUR AIR IS GOOD screen and a green LED letting me know that the air in my home is in good shape.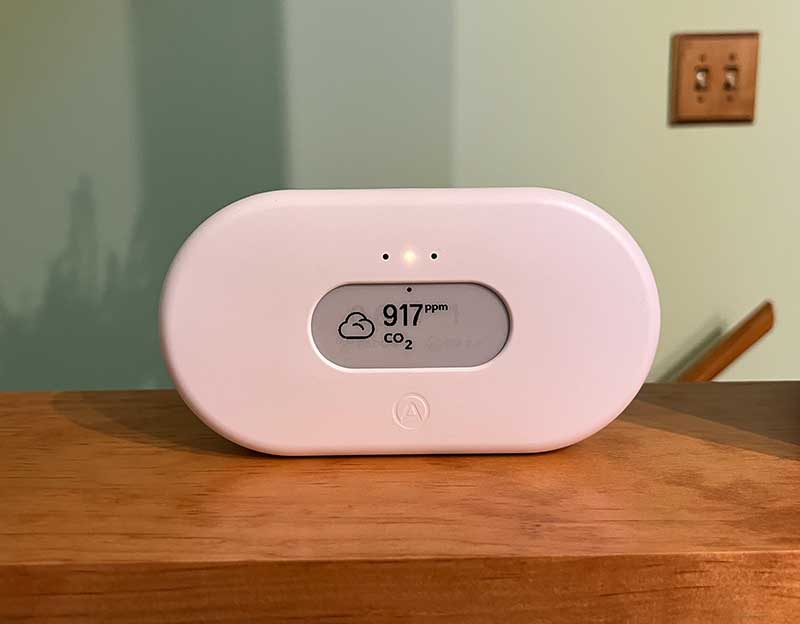 But sometimes I will see warning screens where the LED is yellow or even red. Seeing the warning screens isn't a big deal here and there, but if it continues for over 24 hours or longer, it's a good idea to figure out a solution that might include using an air purifier.
The Airthings app
The Airthings mobile app provides significantly more information than the built-in display on the View Plus. As you can see in the first screenshot, the application shows all your Airthings devices. You can then drill down into each individual device's details. There's an overview screen and then separate screens for each data type which includes radon, PM, CO2, Humidity, Temperature, VOC, and Pressure.
The app gives you the ability to see trends by viewing graphs of the last 48 hours of data or by the week, month, and even the year. You can also use your finger to tap on the graph to see the reading for that spot on the graph.
The Airthings app also has a feature that will let you toggle notifications when thresholds of the data types are out of the norm.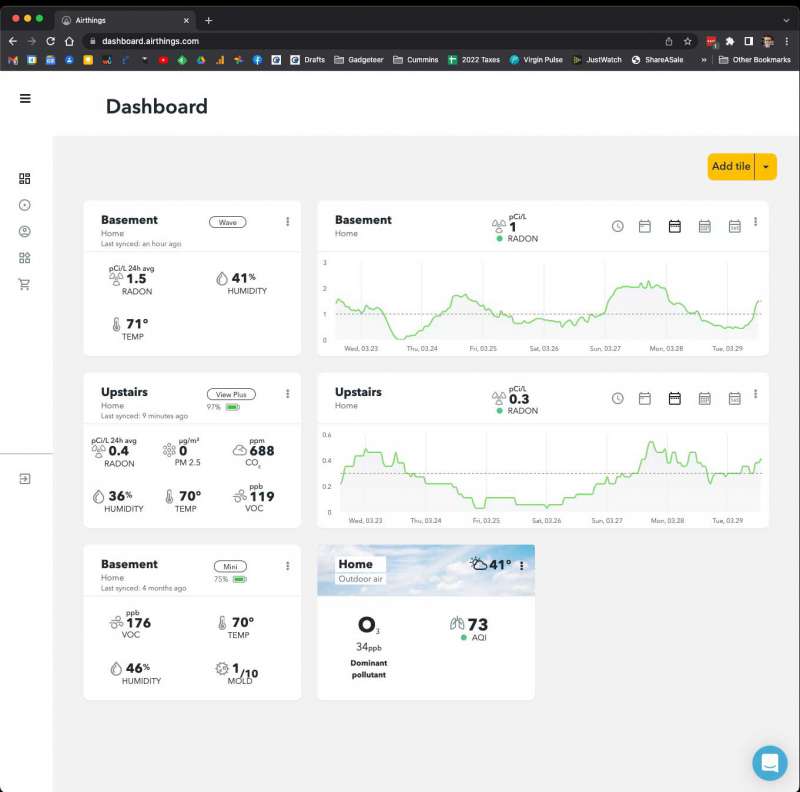 You can get even more data by logging into the Airthings dashboard on the web where you can see an overview of all of your Airthings devices.
You can also click on each data type to see a daily, weekly, monthly, and yearly graph where you can even click on the graph to see exact date and time info.
As I mentioned at the start of this review, my review of the Airthings Wave radon detector could have saved my life. I'm not exaggerating because prolonged and high levels of radon gas can cause cancer. Having survived breast cancer back in 2011, I'm all about trying to prevent any type of occurrence. When I found out how high the radon gas levels in my basement had become, I ended up having a radon gas remediation device installed in my basement to clear the gas and lower the levels.
What I like
I like data and the Airthings devices provide that to me
Ability to see radon gas levels
Easy to use app and web dashboard
No monthly subscriptions
What needs to be improved
Nothing that I can think of
Final thoughts
I went into this review of the Airthings View Plus mainly interested in the radon levels in the upper main level of my home, but I've learned about how certain other appliances in the main level of my home can affect air quality. For example, I've noticed that when I cook using my gas stove which is on the main level of my home and very near where the Airthings View Plus is located, the View Plus will sometimes report higher levels of CO2, PM (particulate matter), and VOCs. And no, I'm not burning my food! I'm a good cook 🙂 (usually). The point is that many things can affect the air quality in your home and the Airthings View Plus gives you the information that you need to make changes (if needed) to improve the air that you're breathing. I'm a big fan of their products if you can't tell.
Price: $299.00
Where to buy: Airthings and Amazon
Source: This sample was provided by Airthings.