We use affiliate links. If you buy something through the links on this page, we may earn a commission at no cost to you. Learn more.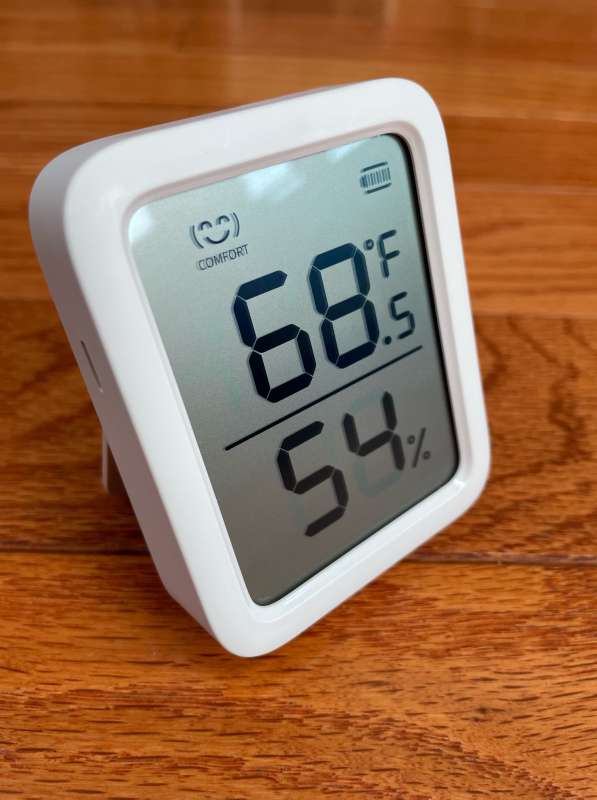 REVIEW – I've reviewed several SwitchBot products and have grown to appreciate them for their simplicity, utility, and budget-friendliness.  With a larger display, the new SwitchBot Temperature and Hygrometer Plus makes monitoring and adding automation triggers based on your home's environment simple, cost-effective, and fun.
What is it?
The SwitchBot Thermometer and Hygrometer Plus is a battery-powered device that displays and is capable of using environmental conditions to trigger alerts and home automation events.
Hardware Specs:
Model W2301500
79 x 65 x 22mm (3.1 x 2.5 x 0.9in)
Weight: 64g (2.3oz)
ABS housing
Connectivity: Bluetooth low energy 4.2 or above
Range: approximately 120m (394ft)
Compatible with iOS and Android
Operates on two AAA batteries
Battery life: approximately one year
Resolution: 0.1°C or 0.1°F, 1% relative humidity
Range: -20 to 80°C (-4 to 176°F), 0 to 99% relative humidity
Temperature Accuracy:

-20 to 0°C (-4 to 32°F)  ±0.4°C (0.7°F)
0° to 65°C (32 to 149°F) ±0.3°C (0.5°F)

Humidity Accuracy:

10 to 90% relative humidity ±2%
0 to 10% relative humidity ±4%

One year limited warranty
What's in the Box?
SwitchBot Thermometer and Hygrometer Plus
Two AAA batteries
Add-on 3M metal plate with adhesive backing
User manual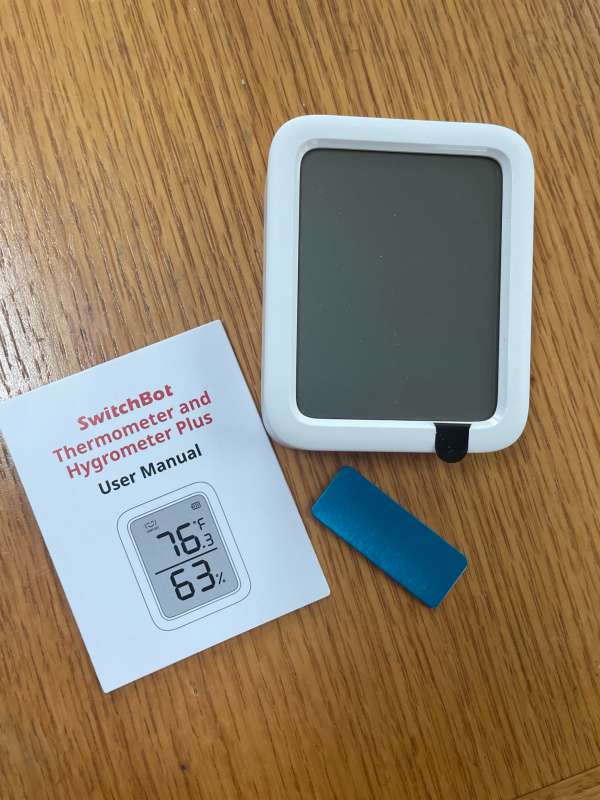 Design and Features:
SwitchBot included the earlier version of their Thermometer and hygrometer I reviewed here.
Typical of SwitchBot products, the Plus version of the Thermometer and Hygrometer arrived in a colorful box with good packaging. No bumps or bruises to report.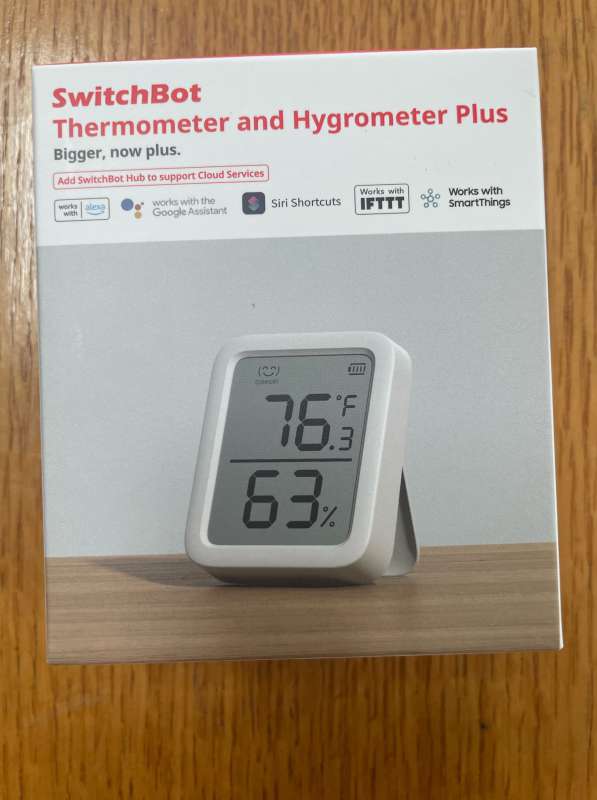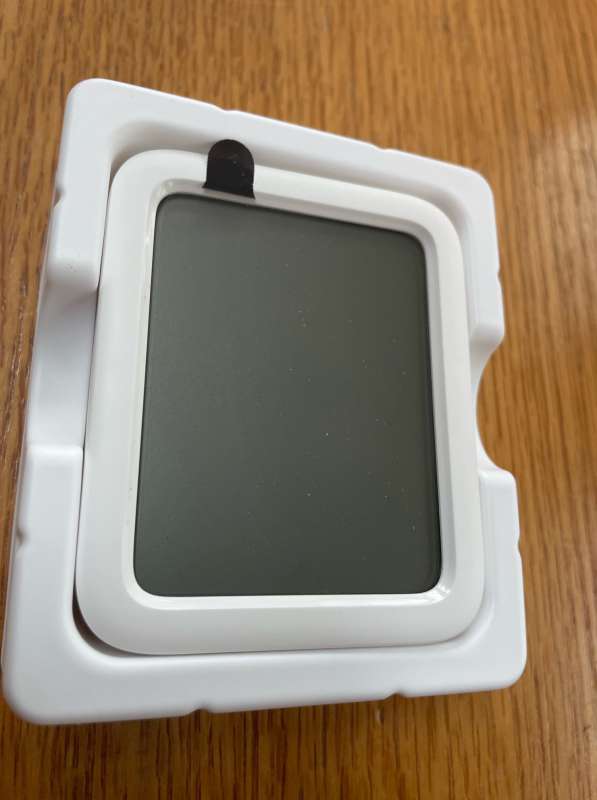 Yay! Batteries included! The battery cover pops off easily without tools.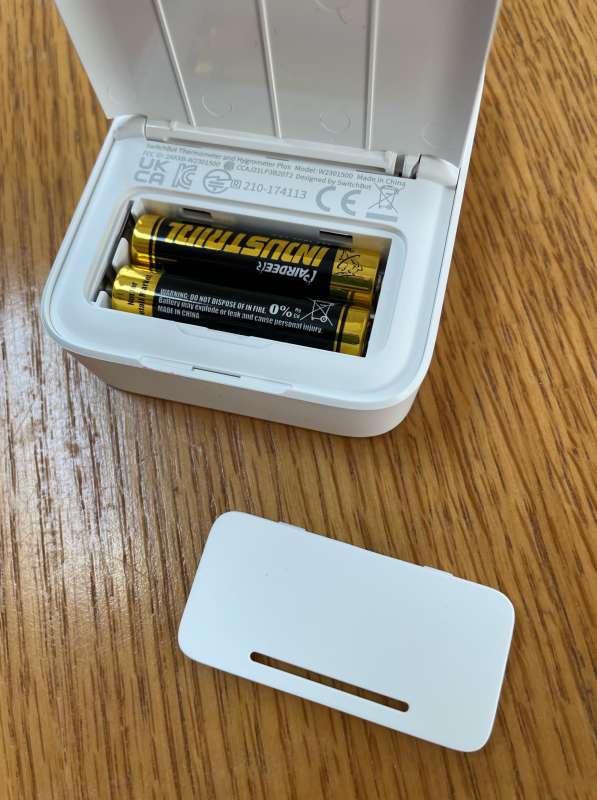 The newer version is larger and easier to read than the earlier version.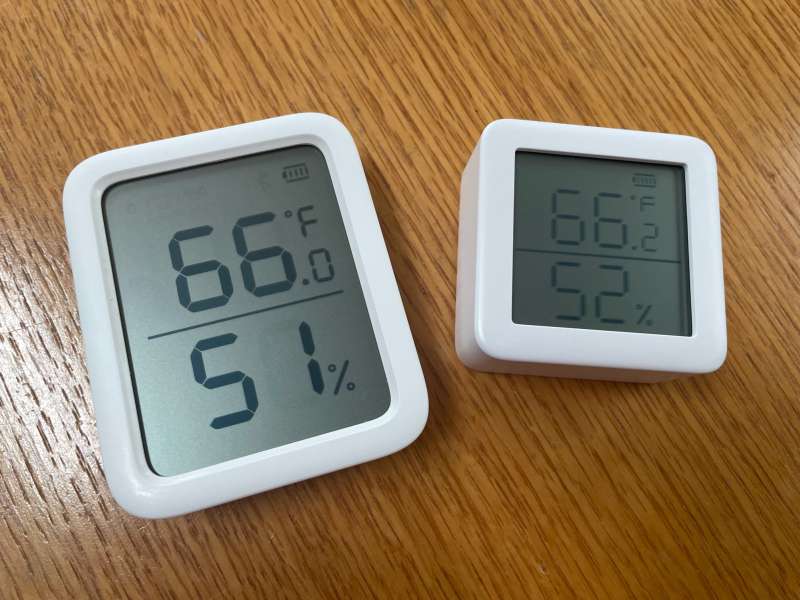 I especially liked the fold-out stand for tabletop use.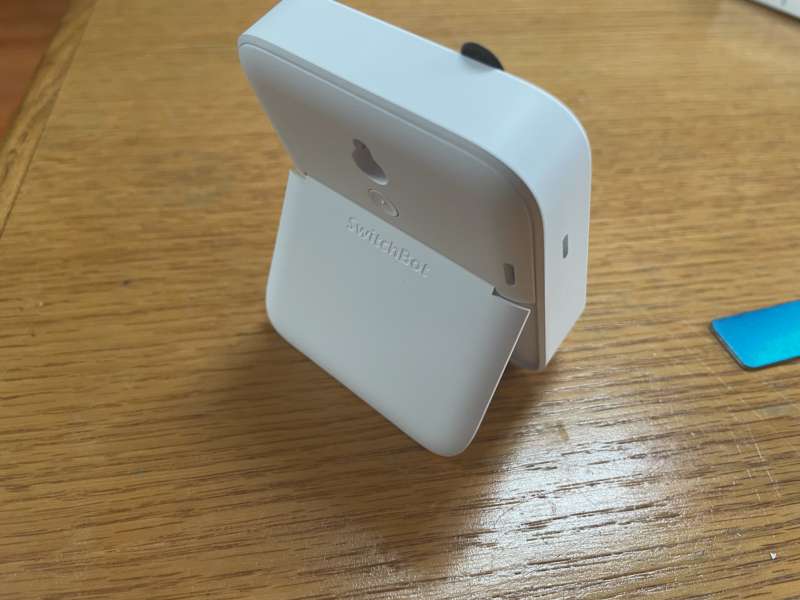 Alternatively, the device can be placed on a ferrous metal surface with a built-in magnet. Nothing metal nearby? Not a problem! – SwitchBot includes a metal plate with adhesive to allow mounting almost anywhere.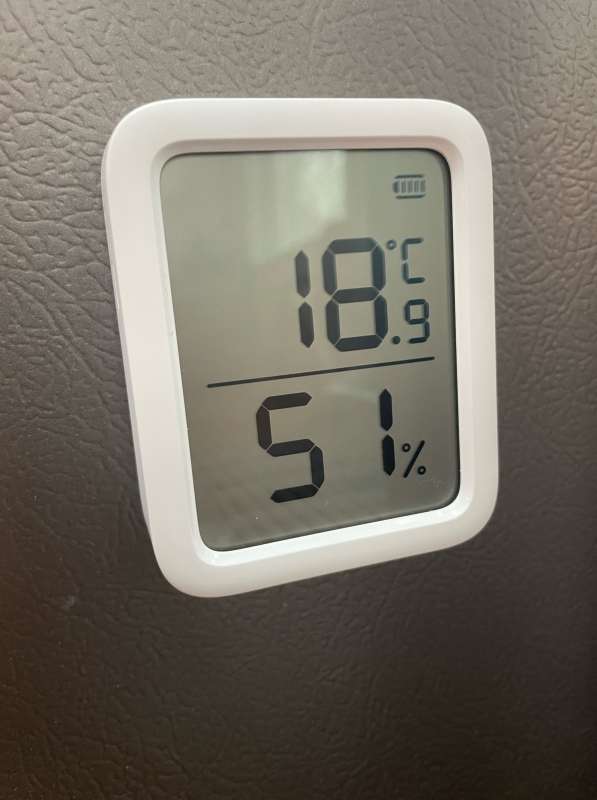 Like its predecessor, there is a single button on the back that toggles between Celsius and Fahrenheit as well as Bluetooth pairing.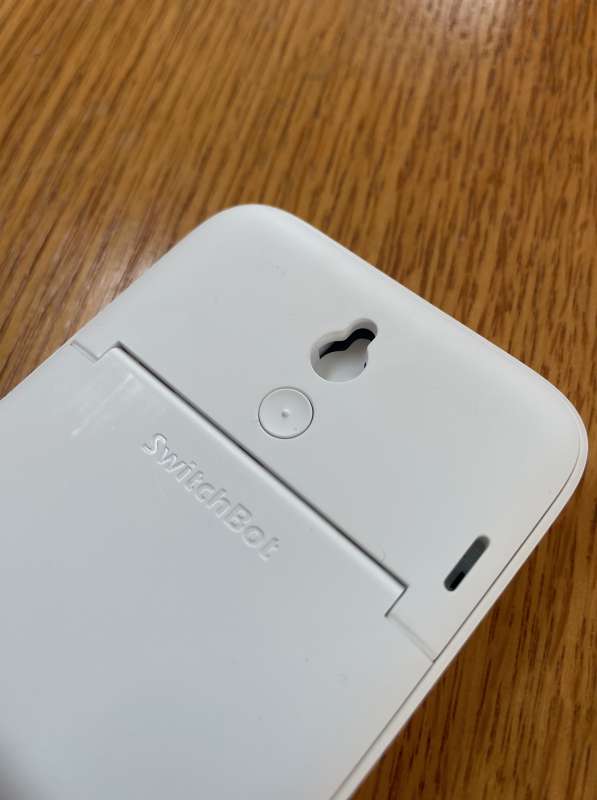 Paring was completed in a jiffy. It took only seconds to connect. The only difference in pairing between the Plus meter and the previous version is ensuring that "Meter Plus" is selected from the devices list.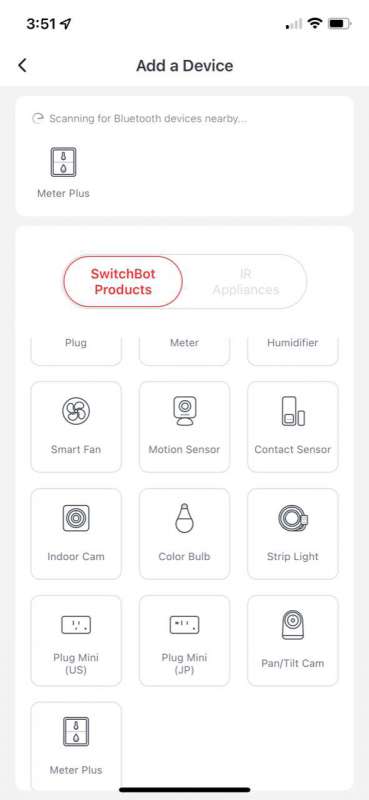 The app allows the naming of the Thermometer/Hygrometer and assignment to a specific room if desired.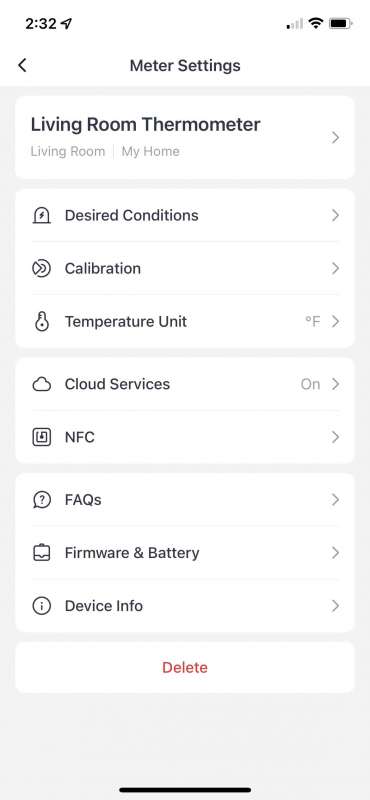 On the app's home page, the current temperature and humidity are shown.
Opening the device, temperature, and humidity graphing by the hour, day, week, month, and year are available. Very nice!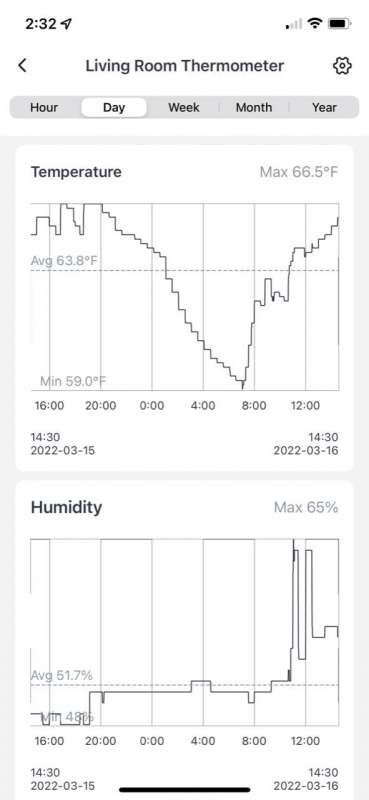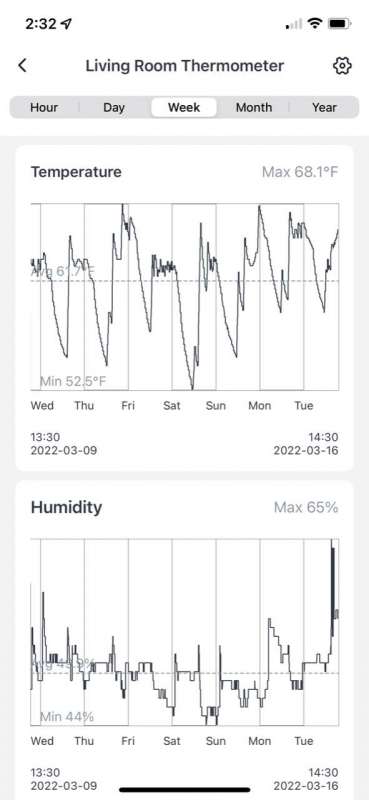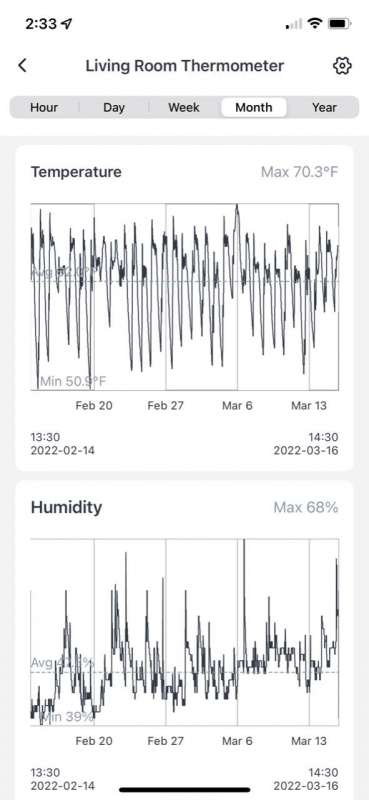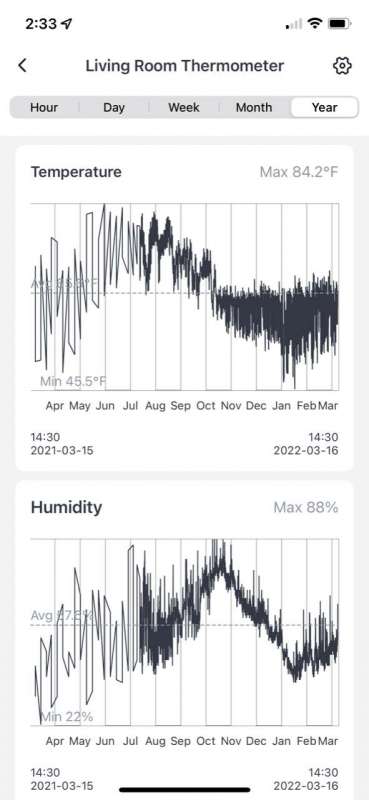 The app can be configured to alert you if the temperature or humidity falls outside (or inside) a specific range.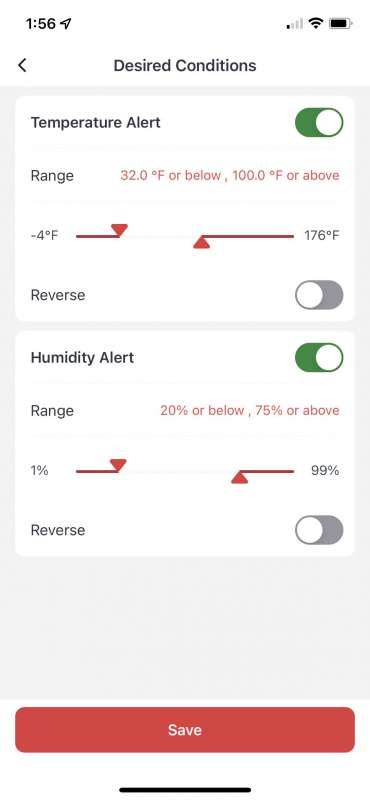 If you need to calibrate the thermometer or humidity, you can do that too. SwitchBot includes an informative tutorial for each. Smooth!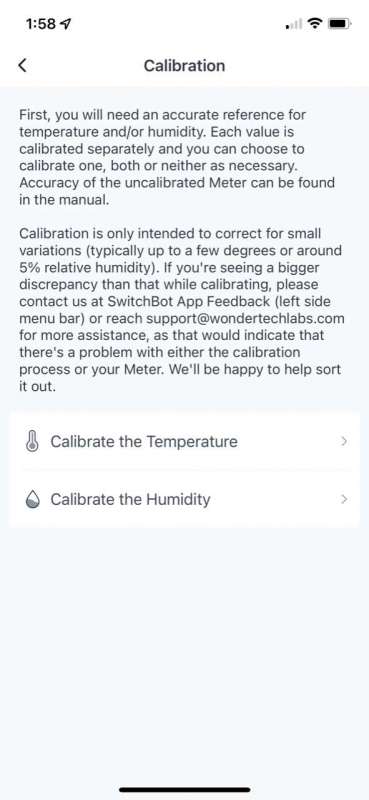 You can check the battery level and firmware version in the app too.
When connected with a separately sold SwitchBot hub, temperature and humidity readings can be settings can be accessed through Google Assistant, Amazon Alexa and, if you are in Japan, Clova). Integration with IFTTT makes the SwitchBot Thermometer/Hygrometer even more powerful. To save energy, I use the living room conditions to open and close my drapes if it gets hot or cold using SwitchBot Curtain Robots reviewed here. Very cool!
I use Amazon's Alexa for voice commands. In the app and using verbal commands,  Alexa will definitively provide the temperature, but not the humidity. I hope this feature is added soon. IFTTT "sees" both temperature and humidity information so it's not a big deal.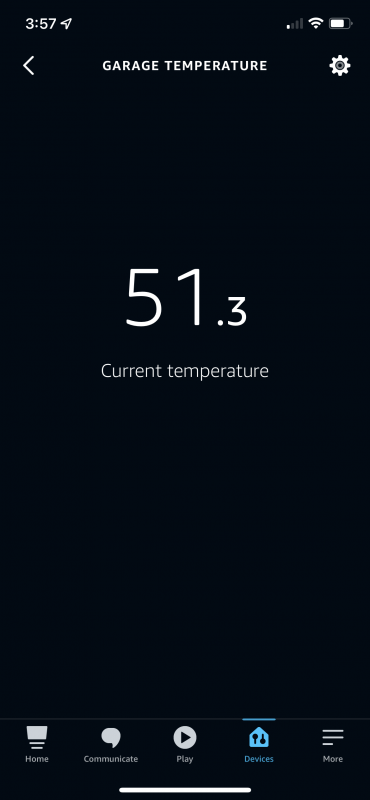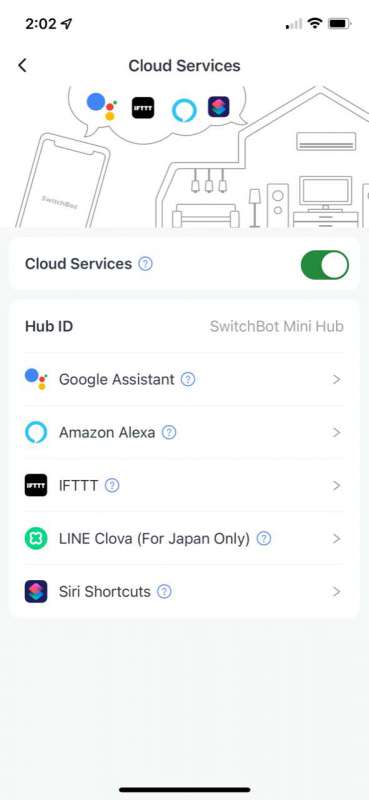 To date, I've had no problems or failures, consistent operation, and smooth integration from all of SwitchBot's products. The SwitchBot Thermometer and Hygrometer Plus is no exception. At under $15, adding functionality to my home automation system is easy on the budget and frustration-free. I've added more of these to my garage, home theater, and 3D printer filament dryer. They're great!
What I Like
Good battery life
Excellent history and graphing of temperature and humidity from the app
Remote connection available through a Switchbox hub (sold separately)
Alexa, Google, and IFTTT connected
Inexpensive
What I Would Change
Add humidity integration to Alexa
Final Thoughts
With their line of inexpensive yet capable gadgetry, SwitchBot has become one of my favorite suppliers of home automation. The SwitchBot Thermometer and Hygrometer Plus has all of the punch of the previous version, and the larger screen is easier to read for only a few dollars more. With only a few minutes of configuration, SwitchBot products work and hold up well, and are a great "bang for the buck."
Price:  SwitchBot $13.49 and Amazon $14.99
Where to buy:  SwitchBot, Amazon
Source: The sample for this review was provided by SwitchBot