We use affiliate links. If you buy something through the links on this page, we may earn a commission at no cost to you. Learn more.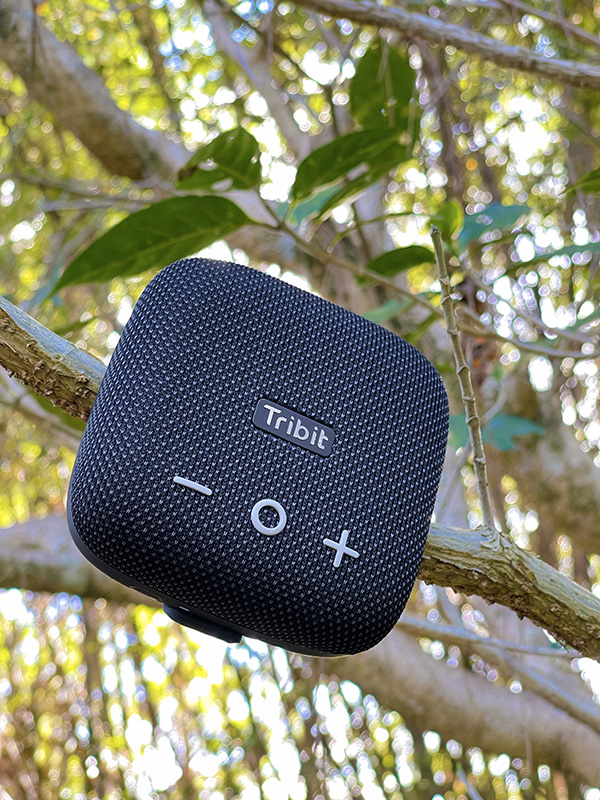 REVIEW – A year and a half ago, I reviewed the Tribit StormBox Micro, calling it the audio bargain of the year. I use that little speaker every day, either in the bathroom while showering or in the kitchen while doing dishes. It has become part of my daily life. Since that review, Tribit has released a much better sounding—and much more expensive—speaker, the StormBox Pro. As good as that speaker is, I don't use it every day. It's bigger, heavier, and not quite as convenient as the Micro.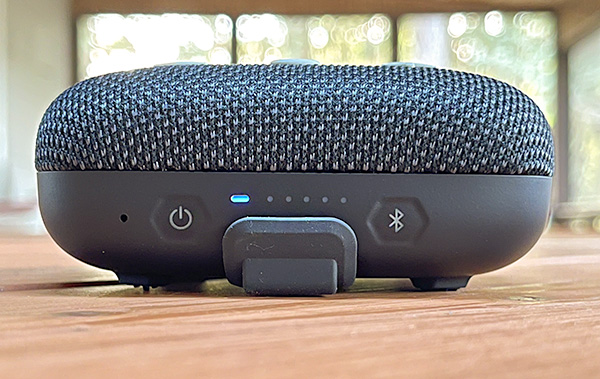 No other speaker I've used has proven itself like the StormBox Micro. I continued to claim that it was still the audio bargain of the year—until now. Tribit has just released the successor to the StormBox Micro—the StormBox Micro 2. Is the second iteration of the Micro the new champ?  

What is it?
The StormBox Micro 2 is Tribit's replacement for the original StormBox Micro. The new Bluetooth speaker is the same size and weight as before, with a couple of slight—but welcome—cosmetic changes. Internally, it's a different story. Almost everything has been upgraded with a couple of features added. 
You can read the original StormBox Micro review to get a sense of what this speaker can do and how it sounds.

Specs
Weight: .7 lbs.
Size: 4 in. x 4 in. x 1.7 in.
Bluetooth 5.3
Wireless range: 120 ft.
IP67 waterproof
12 Hour battery life
10 watts power
Mounting strap

Design and features
As I said, the StormBox Micro 2 looks the same as the first Micro—except that Tribit has enlarged the control buttons and also made them white. Now, they are much easier to see in low-light conditions. Again the button's functions are indicated by their shape. Volume down (—), Pause (O), and Volume up (+). It doesn't get any easier.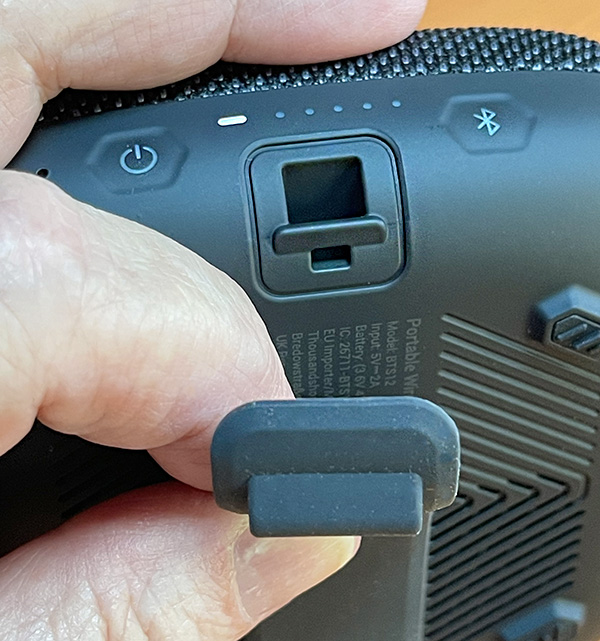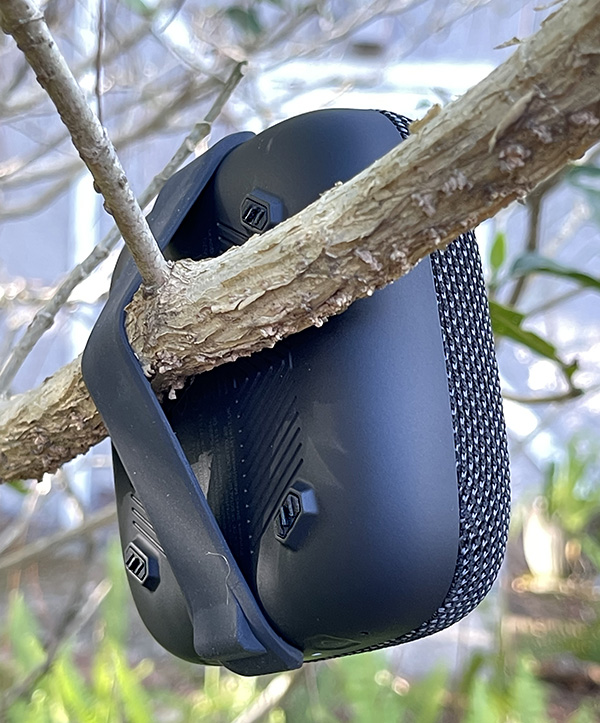 The build quality is as good as the original. There's the same tough cloth covering with a hard rubberized base, along with a strap attached to the base for attaching the speaker to handlebars of a bike, tree branch, pole, or whatever you can find. Over the year that I've had the original Micro, I've realized how useful the strap is. Plus, it's incredibly strong and holds on tight.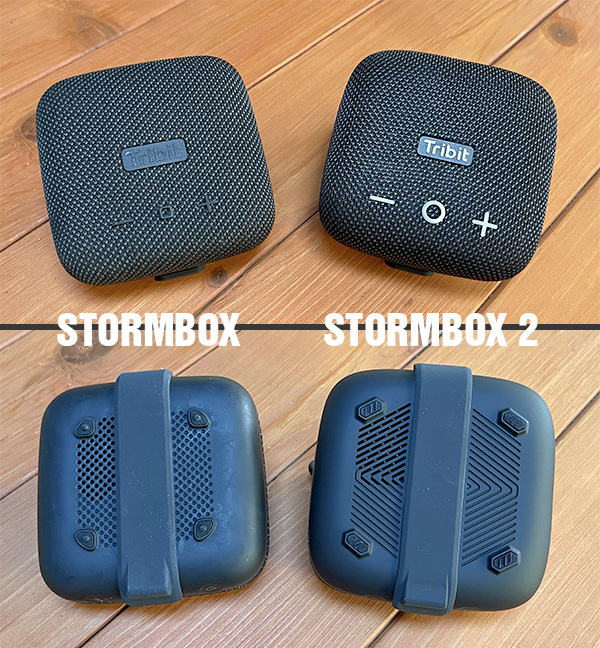 The base has been slightly redesigned with feet that have a bit more grip and an angled bass port design replacing the holes on the original. It's subtle but looks cool.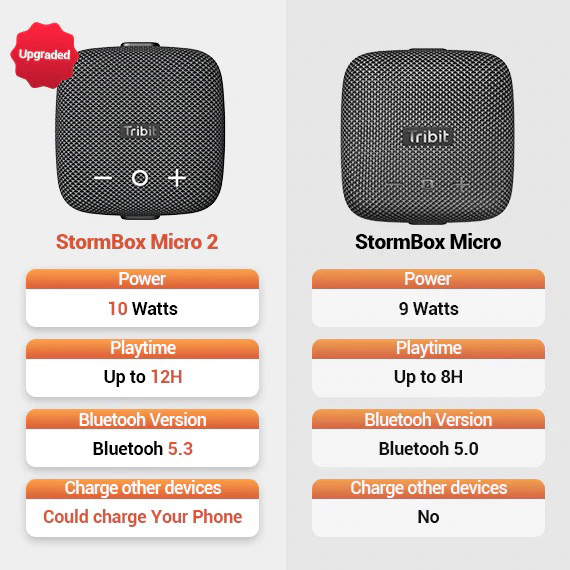 Both the original Micro and new Micro 2 are waterproof and dust-rated IP67. This means that they can be underwater for 30 minutes at 3 ft and are dust-resistant. Plus, they float.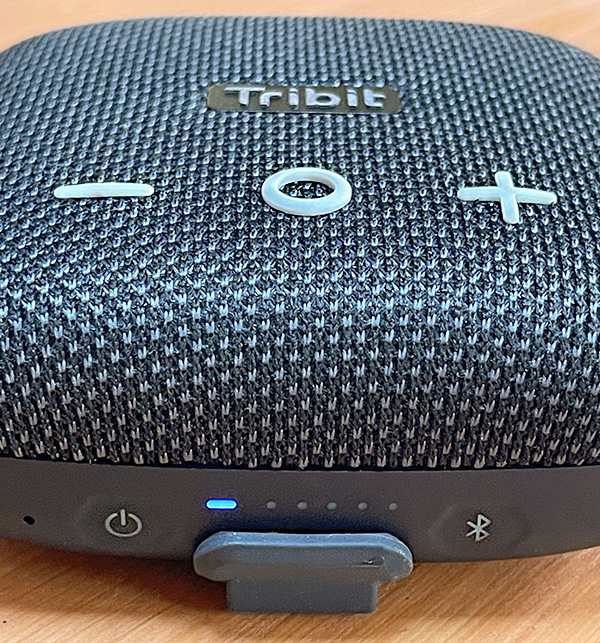 The on/off and Bluetooth buttons are in the same spot and act the same. The StormBox speakers can be powered on and off by quickly pushing the buttons, as opposed to a long press many other speakers require. Bluetooth has been upgraded from 5.0 to the newest 5.3. 5.0 Bluetooth would have still been more than adequate, but Tribit is committed to making the StormBox speaker as updated as it can possibly be.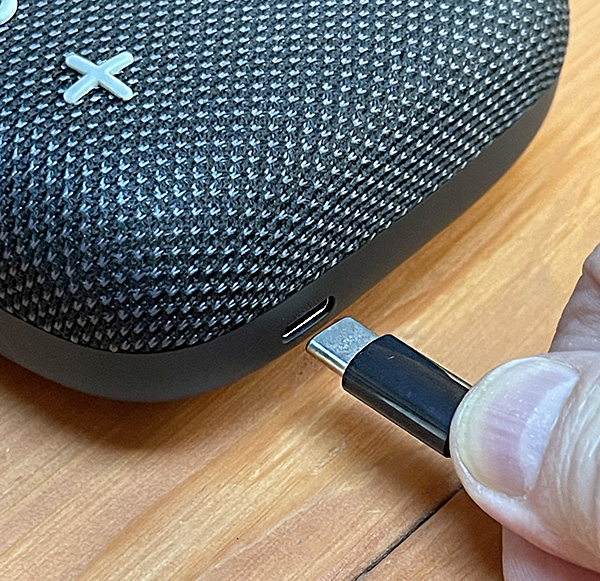 The StormBox Micro 2's battery has been almost doubled in capacity—from 2600mAh to 4700mAh—increasing its playtime from 8 to 12 hours (depending on volume). The battery increase allowed the Micro 2 to externally charge a smartphone or other USB-enabled device—something the original StormBox Micro could not do.
The StormBox Micro 2 can act as a smartphone hands-free speaker, but I don't recommend it. The majority of Bluetooth speakers I've used that double as external speakers for smartphones do not do a good job and the StormBox Micro 2 is no exception.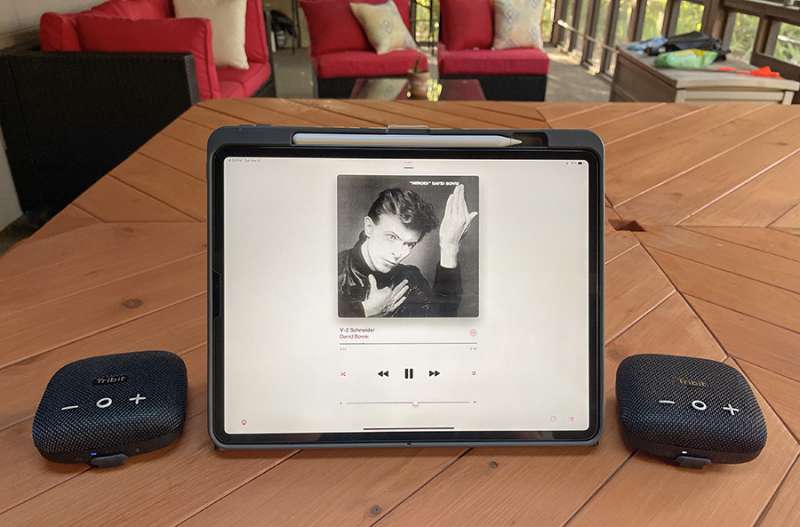 Like the original, the StormBox Micro 2 can pair with a second StormBox Micro 2 for true Left and Right wireless stereo or what is called Party Mode—two speakers playing music together but in mono mode. The setup for stereo mode is simple to do. The speakers paired with each other and assigned themselves as a left or right speaker with no issues.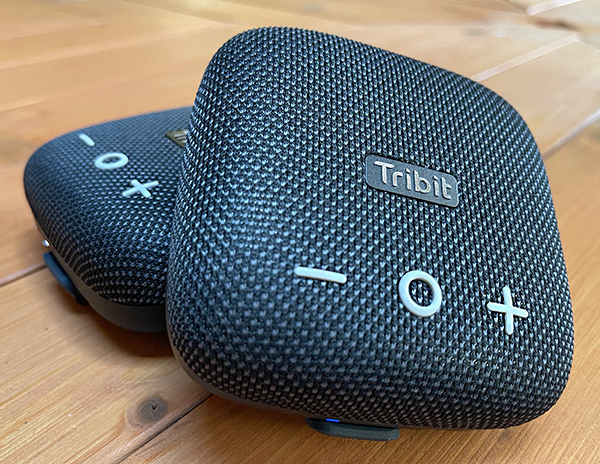 The one drawback to Stereo or Party modes is that the StormBox Micro 2 will not pair with the original StormBox Micro. That requires two new StormBox Micro 2 speakers. But hey, at their price, it's not much of a financial stretch to have two speakers playing genuine stereo. Plus, two paired speakers sound so much better than a single mono speaker.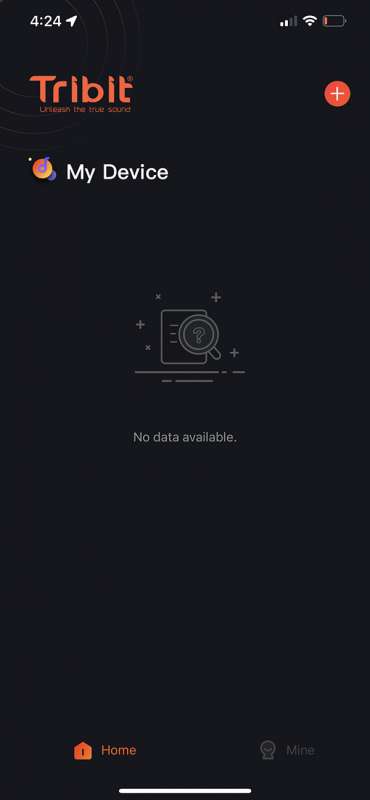 The Tribit StormBox Micro 2 now comes with a Tribit app. Other than some tips and firmware updates, the app is fairly useless. It's not needed.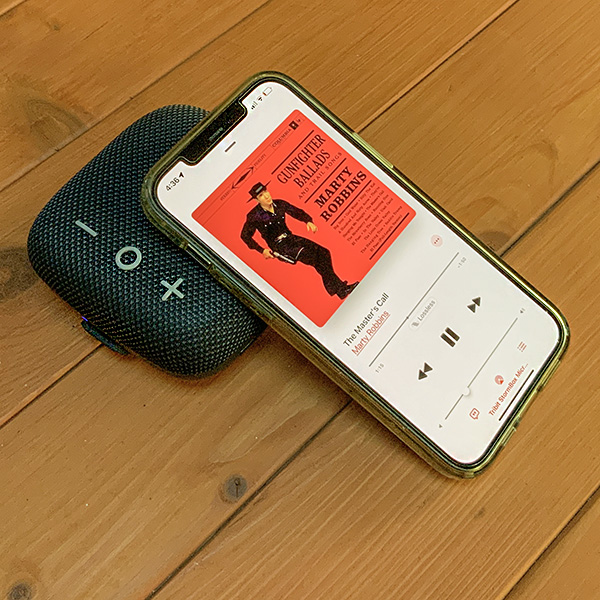 As good as the original 9-watt StormBox Micro sounded, the new 10 watt StormBox Micro 2 sounds even better—and louder. It's amazing what a difference one watt can make. When placed side-by-side, the StormBox Micro 2 sounds noticeably richer and fuller. Bass sounds tighter without becoming muddy. I always liked how music sounded on the original, but to be honest, I use the speaker more for audiobooks and youtube audio from my iPhone than serious music listening. However, because of its audio improvements, I might give the StormBox Micro 2 a go at music that's more than just for background listening.

What I like
It's just like the original, only better
Battery capacity has almost doubled
It can now charge a smartphone
What I'd change
It will not pair with the original StormBox Micro for Stereo Mode
App is unnecessary

Final Thoughts
How does Tribit do it? Not only did they come out with the StormBox Micro that rivaled other speakers costing twice as much, but they improved on it in significant ways—and they kept the price the same as the original when it was new. The Tribit StormBox Micro 2 speaker is amazing! 
Price: $59.99
Where to buy: Amazon
Source: The sample of this product was provided by Tribit.