We use affiliate links. If you buy something through the links on this page, we may earn a commission at no cost to you. Learn more.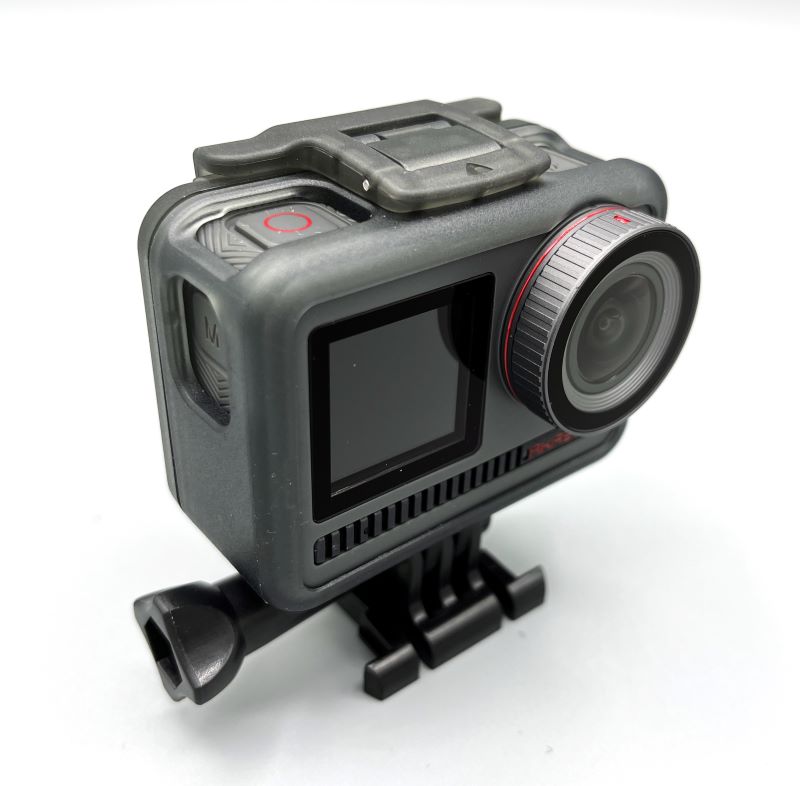 REVIEW – While top-notch phone cameras are replacing traditional film or digital cameras for more people every year, there's still a market that they can't replace: action cameras. Despite marketing suggesting it, I think most rational people wouldn't take their brand new iPhone or Samsung flagship phone snorkeling or strap it to their helmet or bike to record trail footage. There are great options on the market like GoPro and DJI action cameras, but many of these are quite pricey. AKASO has historically made action cameras with similar specs to the latest established brands, but at lower prices. For example, I previously reviewed the AKASO Brave 6 plus action camera, and my colleague James reviewed the AKASO Brave 7 action camera. With the Brave 8 action camera, AKASO has a spec sheet that looks pretty similar to the big boys, at around half the market price of the current competing models. However, my experience over the last few weeks has been that this comes with some tradeoffs.
What is it?
The AKASO Brave 8 action camera is a weather-resistant action camera, designed to capture your outdoor adventures while strapped to a vehicle, body part, or helmet, or used on a gimbal or even mounted to a drone. It includes hardware for mounting the camera, a physical remote control, a small front-facing selfie screen, and a healthy spec sheet including 8k timelapse and 4k video capture.
What's in the box?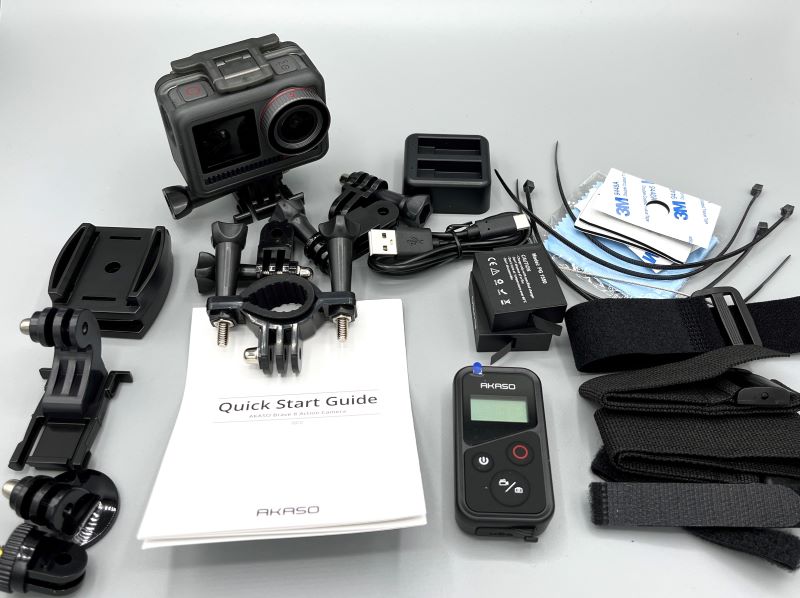 Akaso Brave 8 action camera
Camera frame
Remote control + strap
2 x removable batteries
2 bay battery charger
Handlebar/pole mount
7 x various mounts
2 x helmet mounts
4 x "bandages" (straps)
USB-A to C cable
5 x tethers
2 x double-sided tape
Lens cleaning cloth
Quick Start Guide
Hardware specs
Weight with battery: 114.8 g (4 ounces)
Dimensions: 63 x 36.5 x 44mm (2.48 x 1.44 x 1.73 inches)
Camera Sensor: 1/2″ CMOS
Camera Effective Pixels: 48 Megapixels
Lens: 16mm f / 2.5 equivalent
Video formats: H.264 / H.265
Battery: 1550 mAh each (2 included)
Slow Motion speeds (2x – 16x)
Memory Card support: Micro SD, recommended U3 class, up to 512 GB max
Waterproof: up to 33 ft (10m)
Video modes supported: NTSC/PAL, 16:9 / 4:3 (native), 4k, 2.7k, 1440p, 1080p
Digital crop modes: Super Wide Angle (native), Wide angle, Portrait Perspective, Narrow Angle
Metering modes: AI Face Metering, Center Average, Full, Spot
Framerates for Video Recording: 30 FPS at 4K to 200 FPS at 1080P
Data connection: USB-C (for charging, data transfer, and PC Camera Mode)
Design and features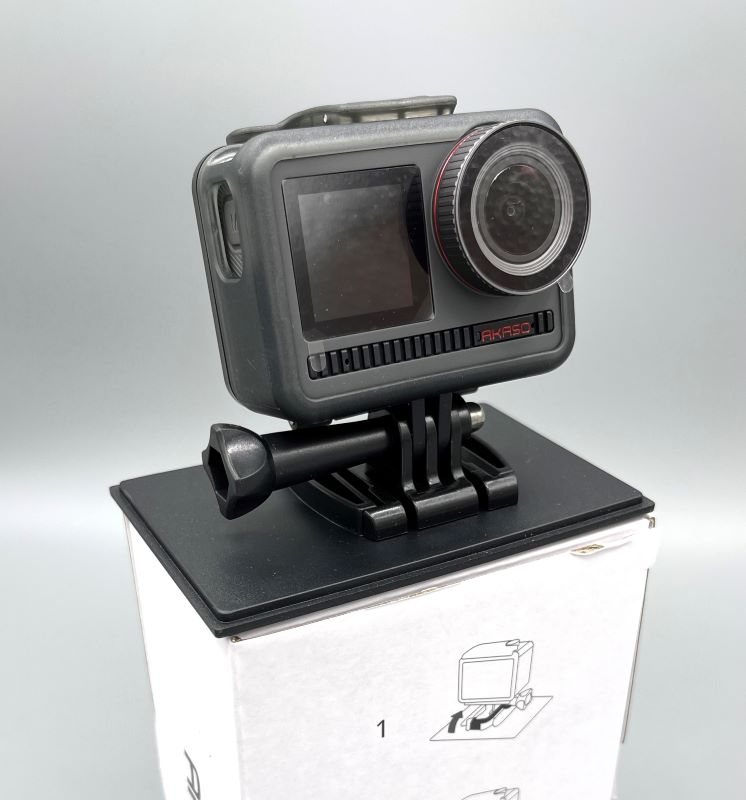 The AKASO Brave 8 action camera is fairly similar to their previous models, as well as the competitor's offerings. It looks like a newer more premium device though, especially compared to the previous model I reviewed: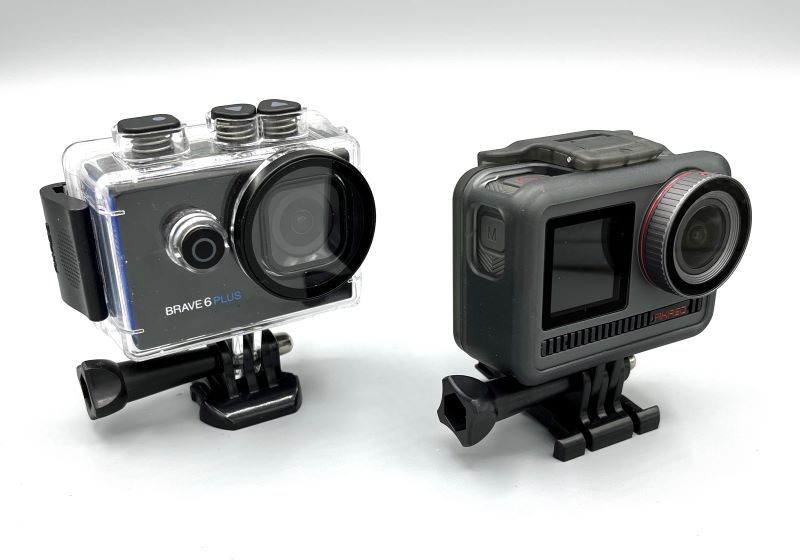 I like the matte grey and black with red trim aesthetic. The switch to a fully waterproof body without needing the extra enclosure is also much appreciated (the included frame aids in mounting while still giving access to the buttons and touchscreen).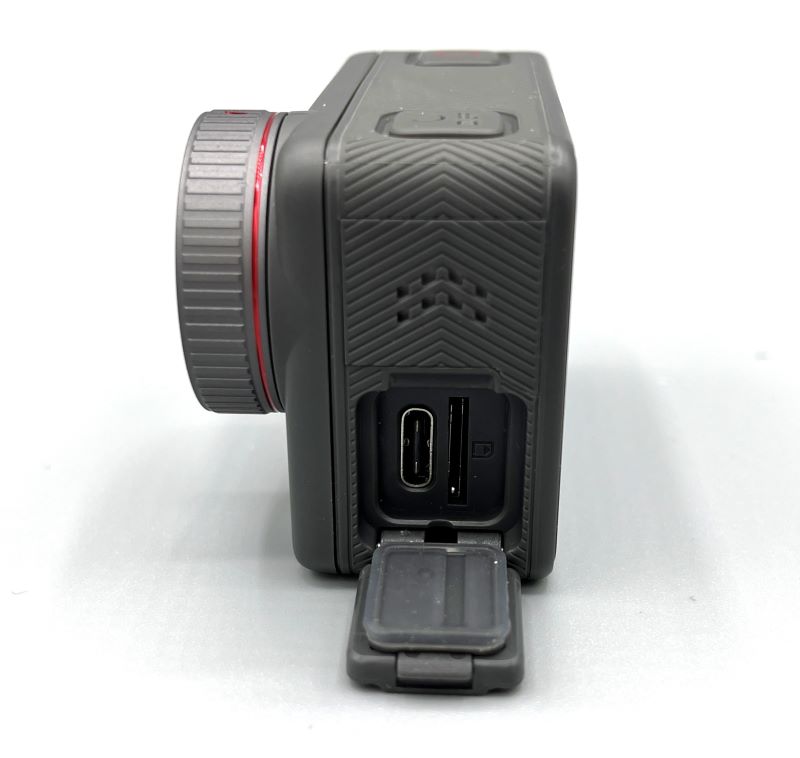 This USB and micro-SD slot compartment is on one side, and is difficult to open and use (more on that in a bit)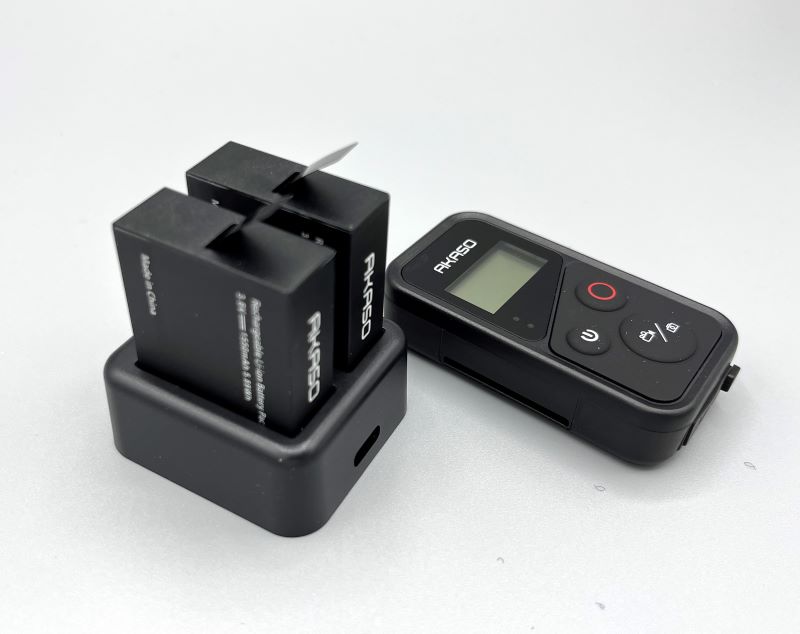 The battery charger, batteries, and remote. I liked the remote, in certain situations it can be very useful not to have to mash the buttons on the camera itself, but instead to be able to initiate/stop recording and even see information on the screen. The battery charger can charge both included batteries at once, with a USB-C connection (cable included, but wall plug not included). This can be plugged into pretty much any computer or AC adaptor to charge.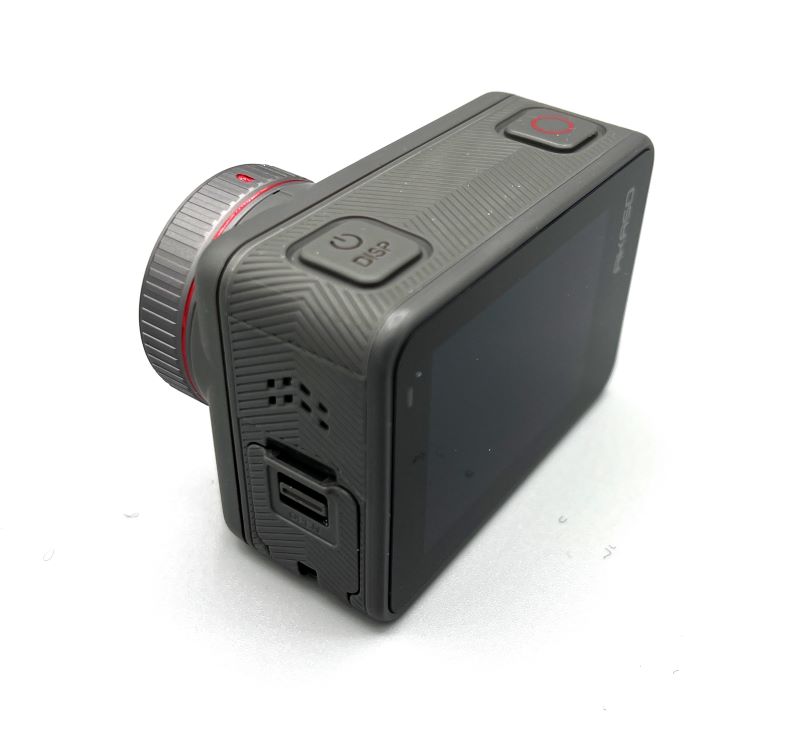 On the back side is the large (for its size) touchscreen, a multifunction power/display button, and the start/stop recording button.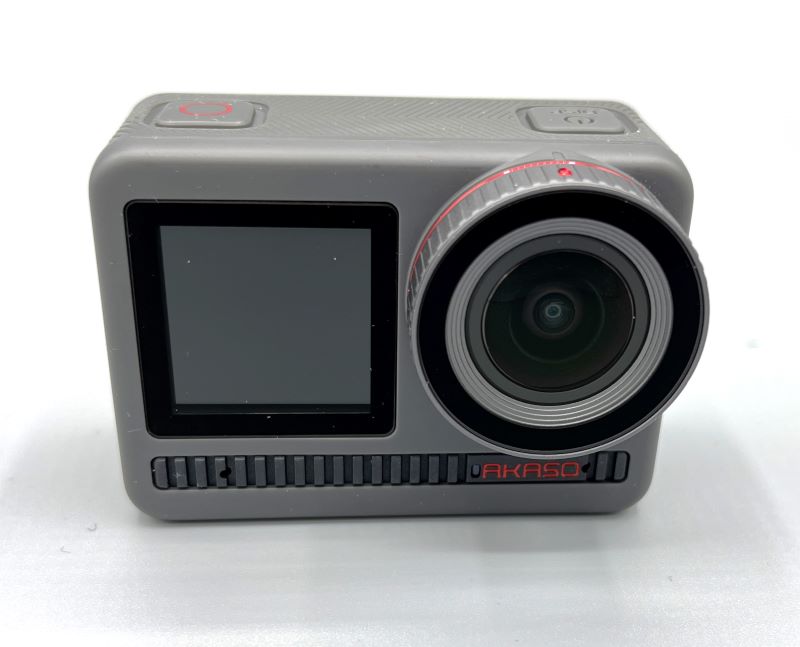 Around the front is the camera lens (the lens cover is removable and replaceable which I really like, pesky scratches won't permanently ruin future videos). The selfie screen is also handy, you can use it for framing selfie videos (but it's not a touch screen, you'll have to switch the display back to the back to change any settings).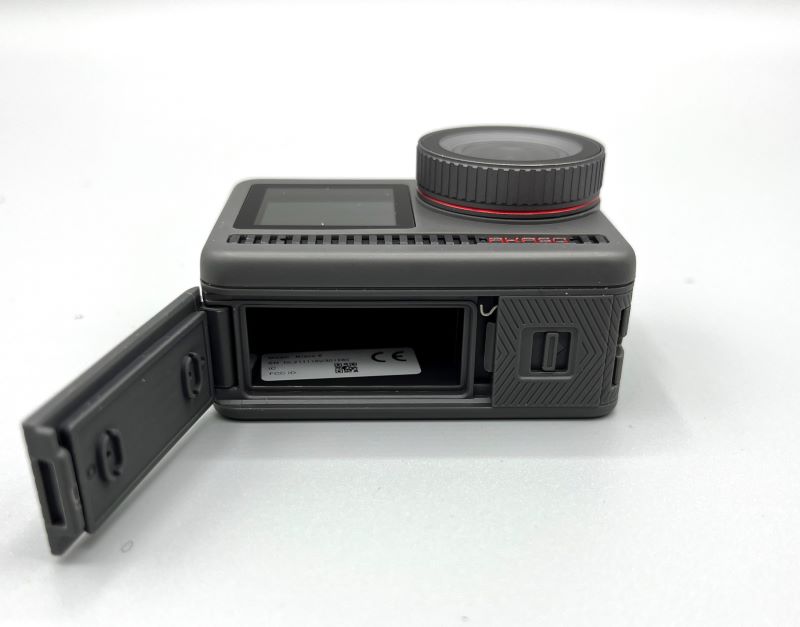 No complaints here, the battery compartment works as expected.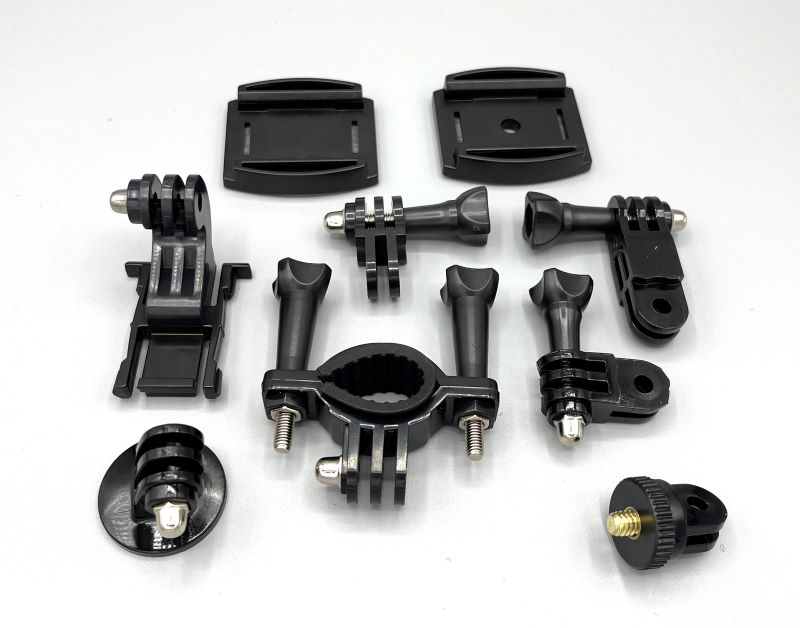 AKASO includes a nice set of accessories with the AKASO Brave 8, including a handlebar/pole mount, 2 helmet mounts, and a variety of other options. They have accessory kits for sale as well if you need other options for your adventures.
Installation and setup
After charging the battery, I began setup. I inserted a Samsung U3 class Micro SD card that I had, ran into my first issues. The camera frame/shell has a cutout designed to let you get into the SD/USB compartment, but it wouldn't open at all. The frame covers the edge of the compartment by about half a millimeter, I would need to sand off a decent amount of plastic to let it actually open. This means that I had to either scrape away part of the frame or remove the frame each time I wanted to plug into USB or get at the SD card (either of which is required to get video and photos off the device).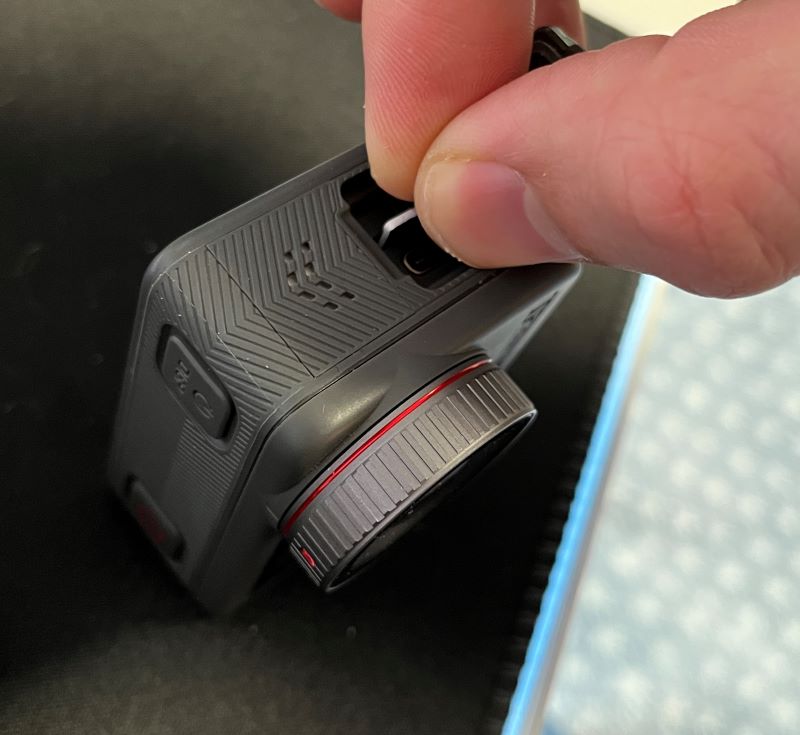 Once I had an SD card in, there were a couple of setup screens and I was right to shooting: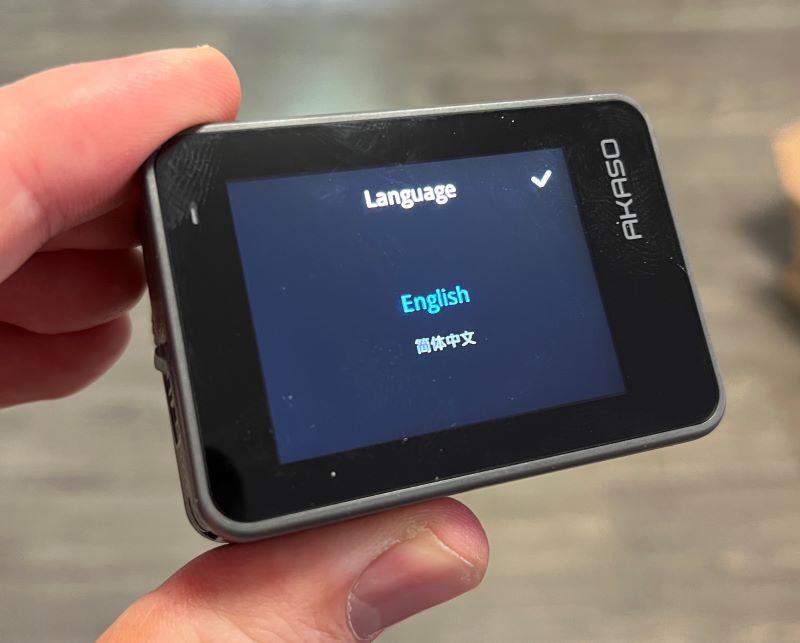 The only language options were English and Chinese.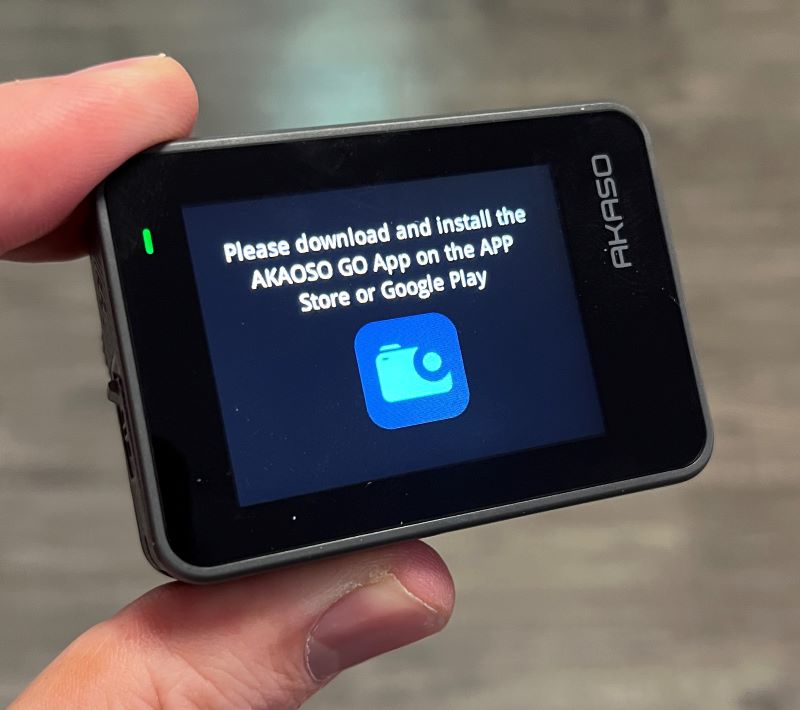 When the camera is plugged into a computer via USB, it gives you the option to function as USB Storage, PC Camera, or Charging mode. I like that you can charge it this way rather than always removing the battery, and this is how I transferred files as well, since getting the SD card out is impossible without tweezers due to tight clearance around the SD slot.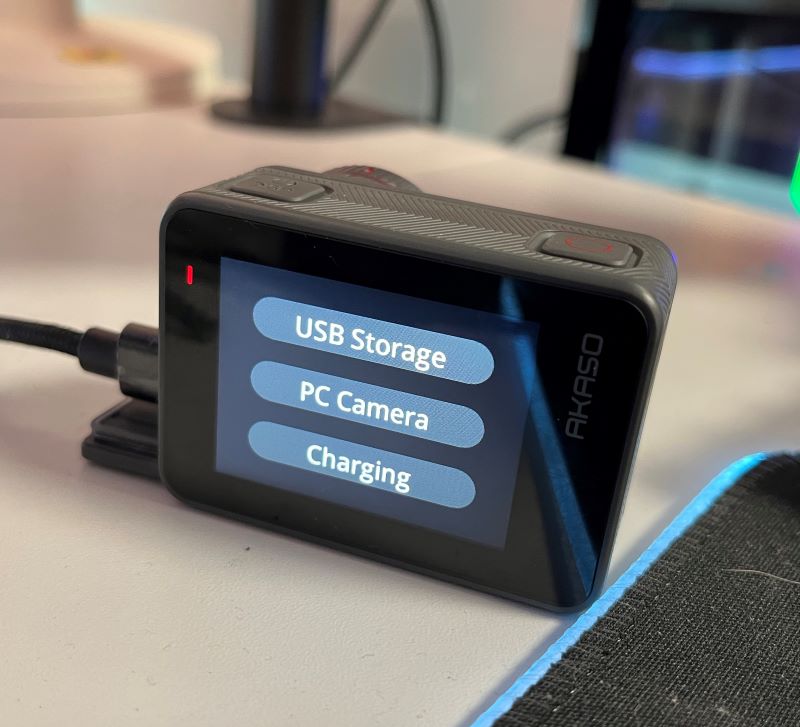 Next up, I attempted to use the AKASO app. I followed their QR code on the quick start guide to get the app on both a Samsung Android phone as well as an iPhone 13. Both were buggy and the connection to the camera was quite poor. Ratings/reviews in both app stores reflect this issue, this seems like an area where AKASO needs to improve.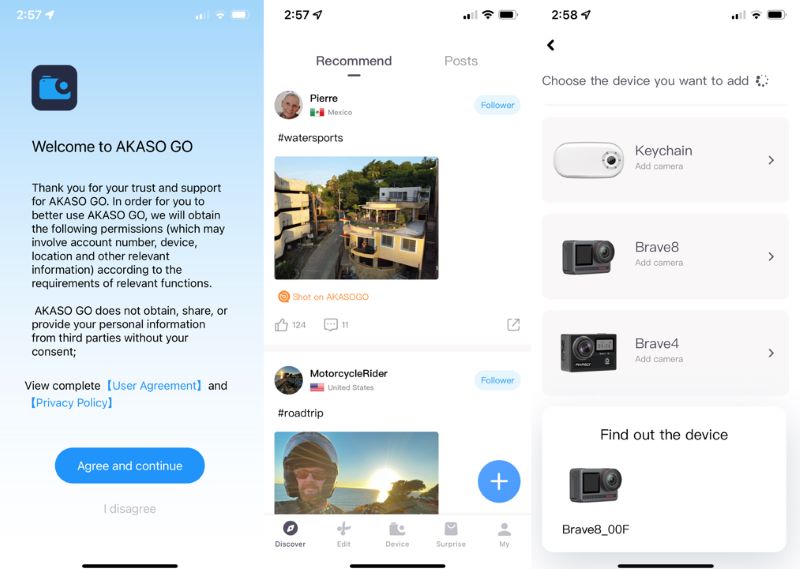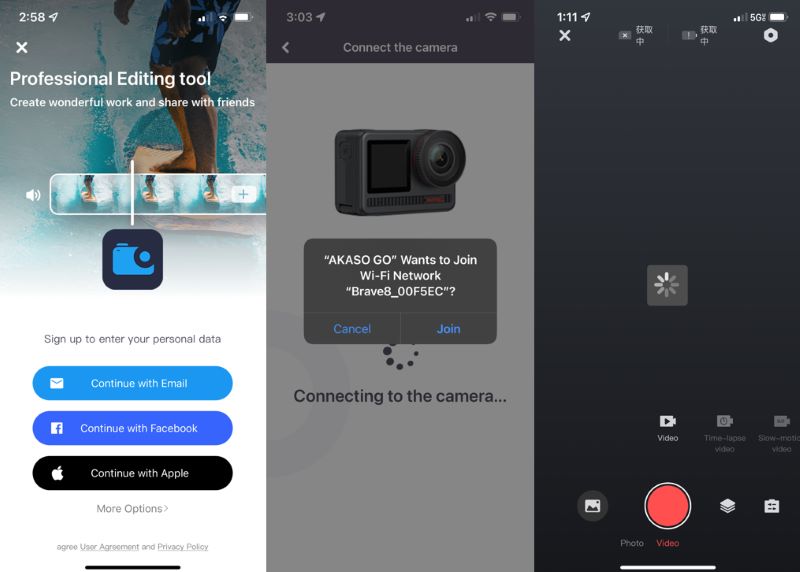 On the last screen, you can see what I saw on all devices every time: a spinning wheel where there should have been a preview as well as some untranslated Chinese elements. Every menu function either timed out or loaded an empty menu list, and the connection to the camera constantly dropped. I submitted bug reports and support tickets, and while AKASO support was fairly responsive (they fixed a complete lockout of the camera with a simple test file that magically restored function), it never resolved the app issues. I'll update my review in the future if I make progress on this, it would be nice to be able to transfer media directly from the camera to the phone, as well as preview and control settings from the app.
Performance
The first thing I tried out with the AKASO Brave 8 was a battery rundown test, and at 4k it almost made the quoted 90 minutes from a full charge: 82 minutes to dead.  Next, I strapped it to my helmet with zip ties (I didn't trust the included double-sided tape. The tape seems sticky and strong, but for long-term use I wouldn't trust even the strongest tape over a zip tie). Below is a video with and without image stabilization, as well as the motion timelapse function:
I was happy with the resulting footage. The image stabilization could have been better, I couldn't tell much of a difference with it turned on or off. The wind-reduction on the microphones was good, I was traveling at 20+ MPH and except for a few bits of windy audio, it sounded good to me. The motion timelapse function worked better than expected, when I tested time-lapses on the Brave 6 plus, the result was not nearly as smooth. It seems AKASO has improved the software it uses to process the timelapse, which is good to see.
I was hoping to use the device as a second webcam for my Twitch Beat Saber streaming, but it doesn't have great image quality even though my office is fairly bright. It also seems like it can't simultaneously charge and perform as a webcam, the battery drained while testing it. The pics below show the webcam mode compared to my usual webcam: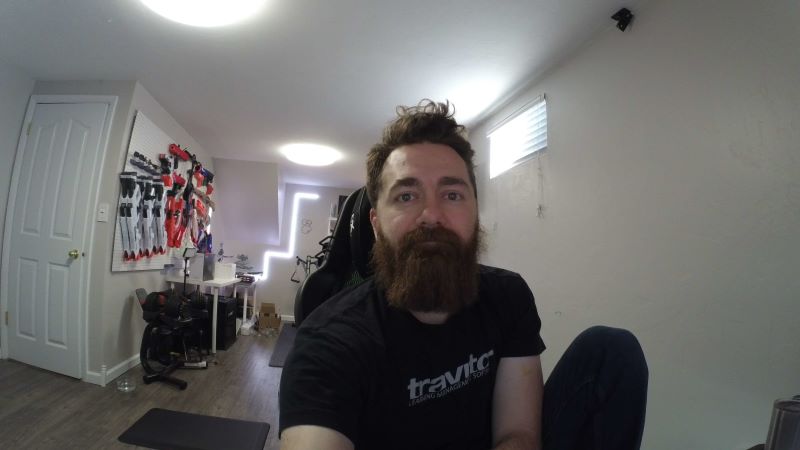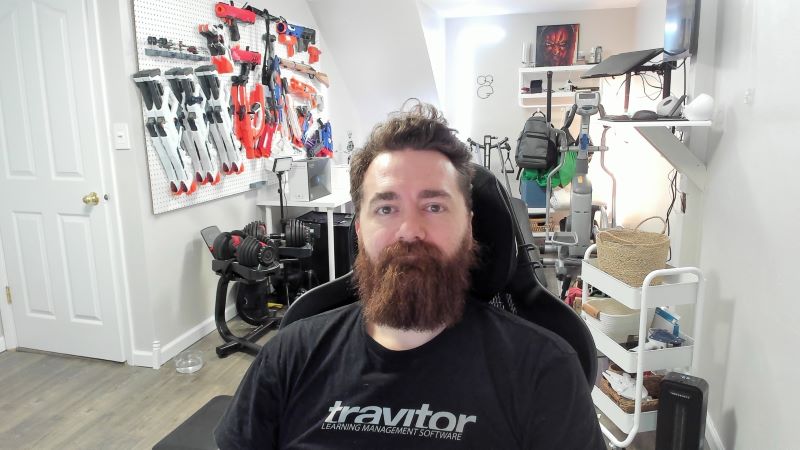 Still images were nothing special (the screenshots above are a good representation of still image performance), on bright days they were fine but you're going to get better images on any phone built in the last few years. The LCD screen on the device itself was clear and bright enough for sunny days. The touch screen was also responsive, I didn't have any issues with missed taps or swipes.
What I like
Decent performance for the price
Good accessories included like the various mounts and additional battery
What I'd change
App is terrible, needs work to be useful
SD card slot is still hard to access, and doesn't open at all when in the frame case
Final thoughts
Although the price seems high for an action camera, when I did some market research it seems pretty competitive against the latest models from other companies. I look forward to capturing more outdoor adventures with the AKASO Brave 8 action camera, though I hope they fix the issues I had with the companion apps in the future.
Price: $279.99
Where to buy: AKASO and check Amazon for other AKASO cameras.
Source: The sample for this review was provided by AKASO