We use affiliate links. If you buy something through the links on this page, we may earn a commission at no cost to you. Learn more.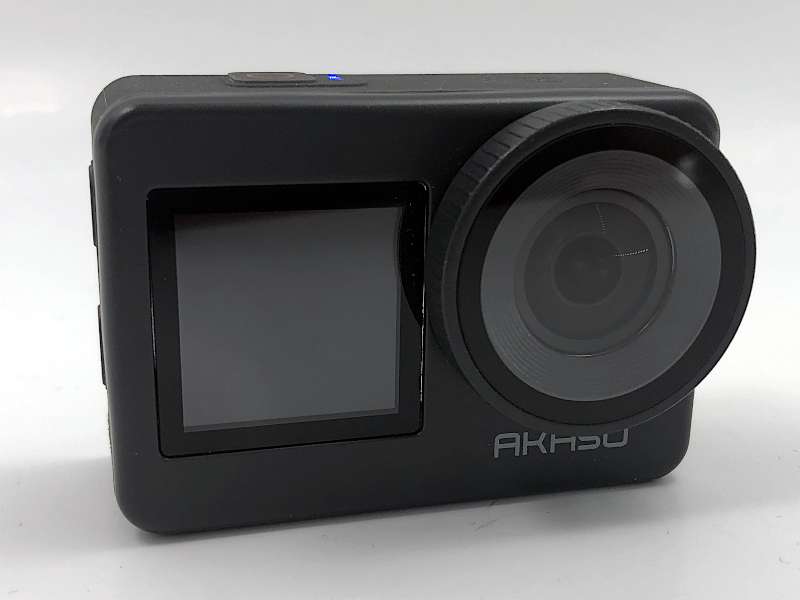 REVIEW – So you're looking to buy an action camera, something both tough and portable to help you get those shots in places where you'd rather not risk your iPhone or your traditional video camera.  If money is no object, then you'll probably want a GoPro; they're the industry leader and still make the very best action cameras.  Most of us, however, are not Mark Cuban, and price is a major consideration.  That's where AKASO comes in; they make action cameras that are way more affordable than GoPros and are good enough for most people, doubly so for those who are just getting started with action videos.  In this review, I'll be taking a look at the soon-to-be-released AKASO Brave 7.
What is it?
The Brave 7 is an action camera from AKASO that features dual color screens, an IPX8 waterproof rating (no case required!), image stabilization, and up to a 170-degree viewing angle.  It comes with a variety of mounting accessories, a pair of batteries and a charger, and a remote.  AKASO is a brand of Tablet Express, and their goal is to build high quality, extremely affordable action cameras.
What's in the box?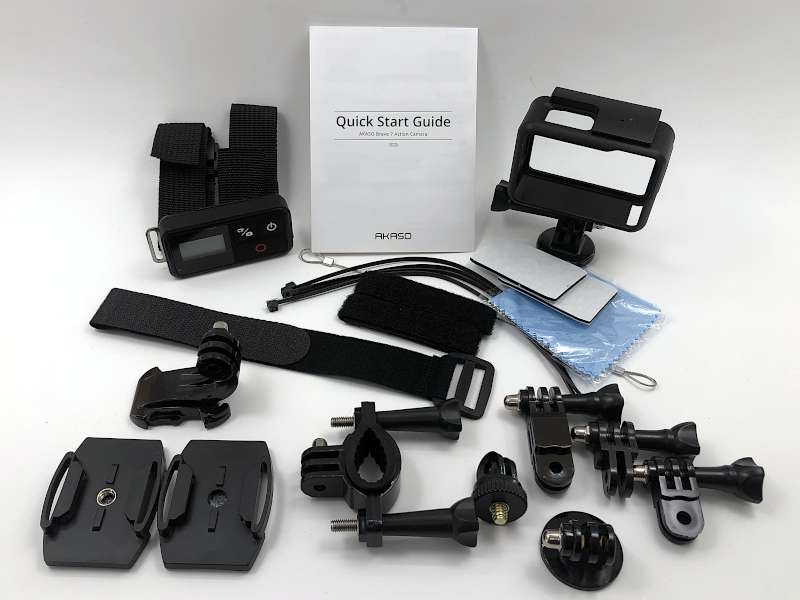 Brave 7
Camera frame
Remote and wrist strap
Battery charger with a pair of 1350 mAh batteries
8 mounts
USB-C cable, Velcro strips, and tethers
Lens cloth
Quick Start Guide
Note that the Brave 7 requires a micro SD card, but none are included in the box.  AKASO recommends getting at least a class 10 or UHS-I rated card up to 512 GB from a brand name company and formatting it as FAT32.  The card can be formatted in the camera.
Hardware specs
2.5 x 1.75 x 1 inch
Dual color screens
IPX8 waterproof rating
70, 110, 140, and 170-degree viewing angles
Voice control
1350 mAh batteries last about 110 minutes when recording 4K video
Video specs
4k @ 30 fps to 720p @ 120 fps resolution
Slow motion, time lapse, loop recording, driving, and still photo modes
Image stabilization (EIS 2.0), distortion correction, and wind noise reduction features
H.264 and H.265 video encoding formats
Photo specs
20 MP to 5 MP photo
Time lapse, burst photo, long-exposure, and self-timer features
JPEG and DNG photo formats
Design and features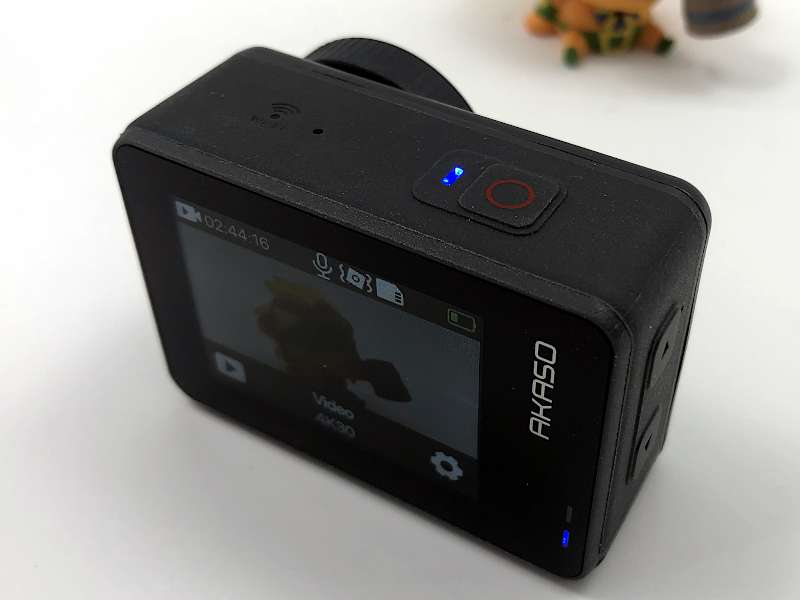 The Brave 7 has a very standard appearance for an action camera.  It's a squat-looking gadget with a matte black color.  The back is dominated by the large touch screen and the front has a smaller screen and a round protruding lens.  There's a button on the top, two on the left side, a sliding door for the battery on the bottom, and another one for the SD card on the right side.  Overall, it's a very practical design that's hasn't changed too much from when the GoPro went digital in 2006.
Installation and setup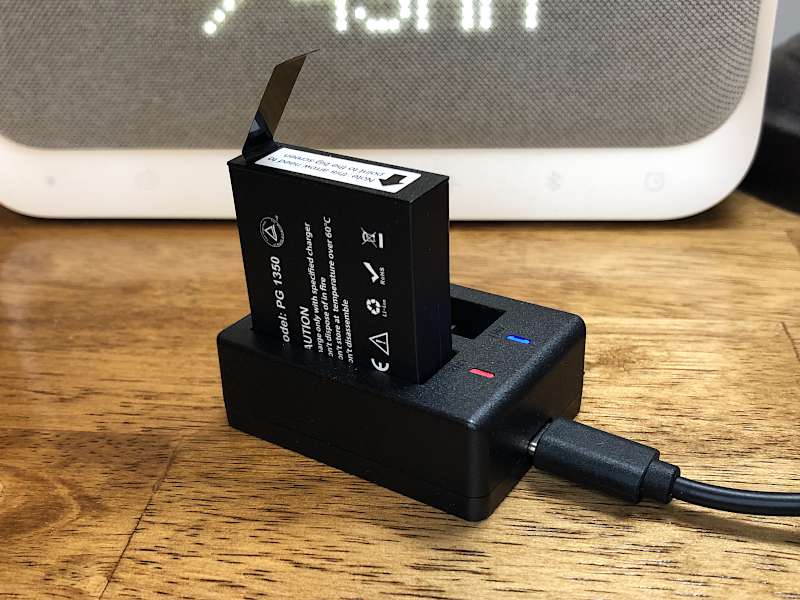 I removed everything from the box and then looked at the Quick Start Guide.  I put the batteries into the charger and plugged the USB-A cable into my Soundcore Wakey.  AKASO doesn't indicate how long it should take to charge them, but the light on the charger goes from red to blue when it's done.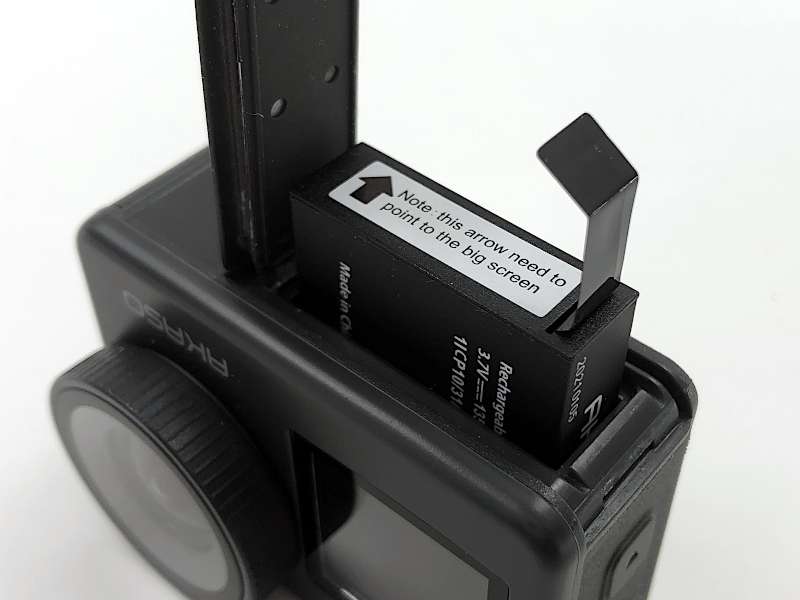 The batteries are easy to put in and take out of the camera.  I love that AKASO has included two batteries, so I can be charging one while using the other.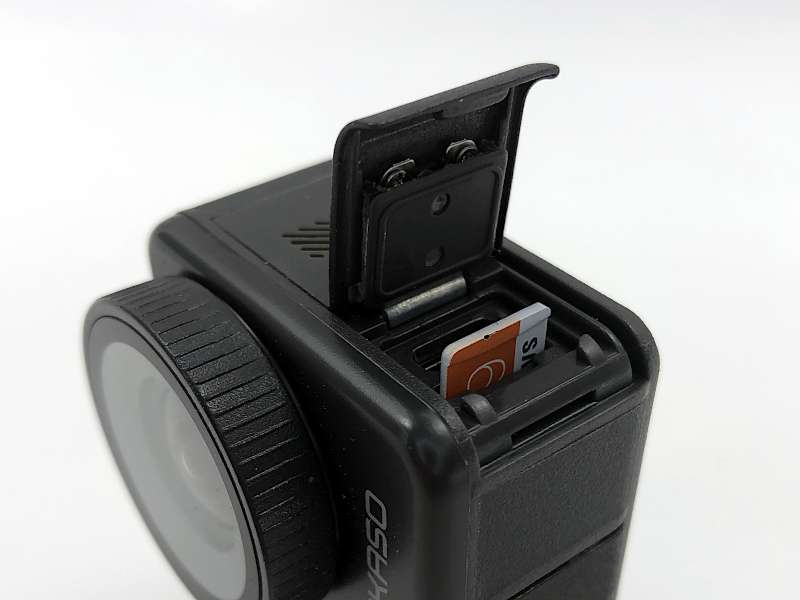 I had previously purchased a Samsung 64 GB EVO microSD, a class 10 card, so I went to put it into the Brave 7.  This is where I discovered the most annoying thing about this camera:  The little door on the right side only opens 90 degrees, which leaves it partially blocking access to the SD slot.  It's an absolute pain to pop the card in or out.  Using a small, flathead screwdriver makes it easier to set or unset it, and a pair of tweezers makes it easier to extract.  I think this design is an unnecessary aggravation, doubly so if I ever need to switch cards out in the field, and I hope that AKASO does something different for their next version.
The Quick Start Guide gives the phone, email, and URL for getting support, and I appreciate that they make this information easily accessible.  It also mentions that there's an app that can be downloaded for the camera from the Apple or Google apps stores, and it supplies a QR code for the manual, which can be found online here.
At this point in my testing, I was eager to start testing, so eager that I made a mistake:  I didn't bother to actually read the online manual; instead, I just took the camera out and began shooting.  There are a handful of settings that I didn't know that I needed to turn on, like image stabilization, and thus my initial footage was not as good as it should have been.  If you buy this camera, I recommend that you stop and read through the manual first.  Although it's 25 pages long and fairly thorough, it's easy to understand.
Performance
My wife and I enjoy hiking, so we took the Brave 7 to the site of the Battlefield of Blackstock, a skirmish that happened during the Revolutionary War.  The parts that I filmed while walking really suffered from not using image stabilization or a gimbal.
We also took a mini vacation down to Charleston, SC and visited sites that were outdoors and away from people.  When the sun is shining and the camera is fairly still, the footage is quite clear.
The Brave 7 has four different viewing angles, which allow me to include more of the entire scene (170 degrees) or focus on my subject (70), or be somewhere in between (140 or 110).  It also has a time lapse feature, which allows me to compress a very long event into a set of quick snapshots.  I've created several time lapse videos in the past, and I've had to create them manually from a set of pictures, so it's nice that the camera does this for me.   It has an interval anywhere from 0.2 seconds to 1 minute, which is a nice wide range.  It can also automatically stop the time lapse after 5 to 60 minutes, or it can keep going until I manually stop it.  The Brave 7 also has an image stabilization feature that attempts to compensate for motion during capture and thus create smoother video.  I created a video that tests all of these features:
I think there's a noticeable difference between using or not using the stabilization, so I'll probably just leave that feature on.  Additionally, the Brave 7 is waterproof even when it's not in a case!  I can attest to this fact, as I sank the camera numerous times while floating it on the frisbee.  (In hindsight, I should have found a better boat for testing the camera.)
I'm a big fan of YouTubers like How Ridiculous and the Slow Mo Guys, so I was really excited to test out the Brave 7's slow motion feature.  It takes four times more frames per second than the normal mode, which means that it has to change to a lower resolution.  The best it can shoot is 1080P90.  I created a video that demonstrates the slow-motion feature, and I also combined it with some features from iMovie that further slow and even stop the motion.
While the AKASO doesn't have the frame rate of a real slow-motion camera, like the Phantom that the Slow Mo Guys use – Phantoms can cost over $150,000 – they are great for getting started in the world of slow-motion capture.  I found it really cool to watch the water balloon explosions, especially when I was able to stop the motion in iMovie.
The Brave 7 has several other features related to shooting video:
With loop recording, it can automatically overwrite old files when the SD card is full.
Recording audio can be turned on or off. The mic on this action camera isn't very good, and it's especially muted when it's the camera frame.
Wind reduction reduces the noise from a windy day or when the camera is moving fast.
Distortion correction can remove some of the fisheye effect that comes from shooting at wide angles.
There are standard camera settings like white balance, meter, and exposure.
While shooting video, I learned several lessons, none of which are really new or surprising:
Shoot outdoors on a bright, sunny day. This camera isn't made for indoor filming, and it's noticeably better on a sunny day than on a cloudy day.
If possible, mount the camera on a tripod and shoot from a stationary position. If you've watched any of How Ridiculous' videos, they always have an action camera on a mini tripod right in the center of the action, and it captures some great shots.
Use the image stabilization feature if the camera will be moving. While AKASO cameras still trail GoPros in this area, they definitely shoot better video when this is on.  Additionally, use a gimbal designed for action cameras.
While taking stills isn't the primary reason that I would buy an action camera, it's nice to have this capability in case I need to grab a few shoots while out filming.  The camera has a 20 MP resolution and a host of other features that I would expect from a digital camera, such as:
A timer that lets me get in my own shot.
A time lapse feature, if I don't want to use the one that's part of the video mode.
Burst photos, to make sure I get the right shot in the midst of the action.
Exposure, white balance, metering, filtering, etc.
Overall, I found that the Brave 7 can take some decent shots.  This is a massive crepe myrtle at Boone Hall: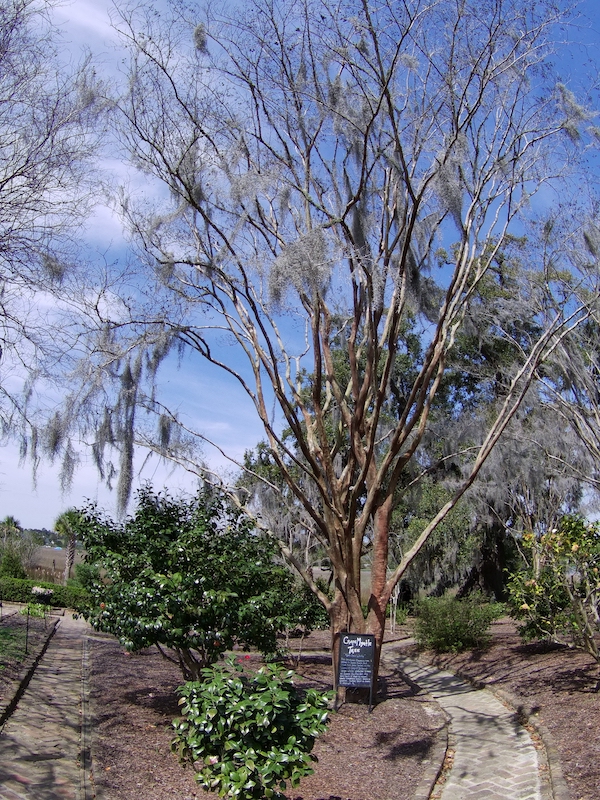 These are some oyster shells on Folly Beach: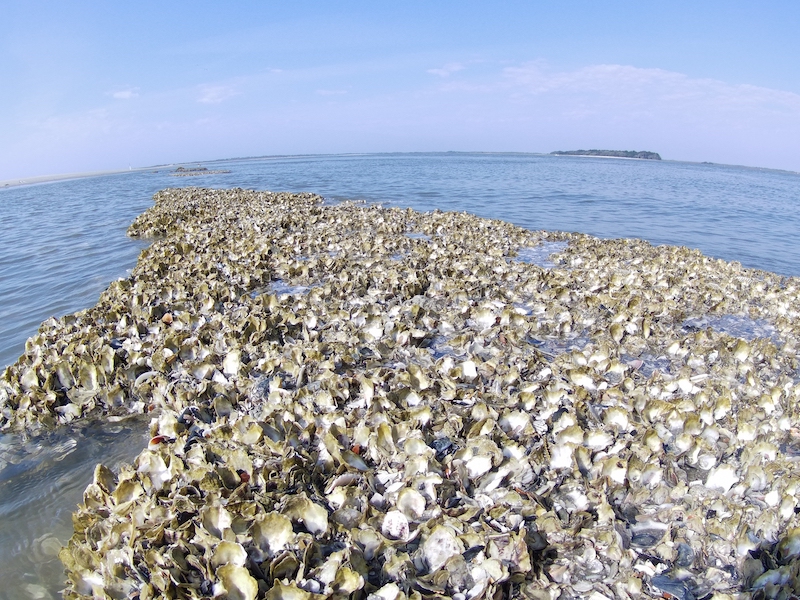 This is a building at Middleton Place: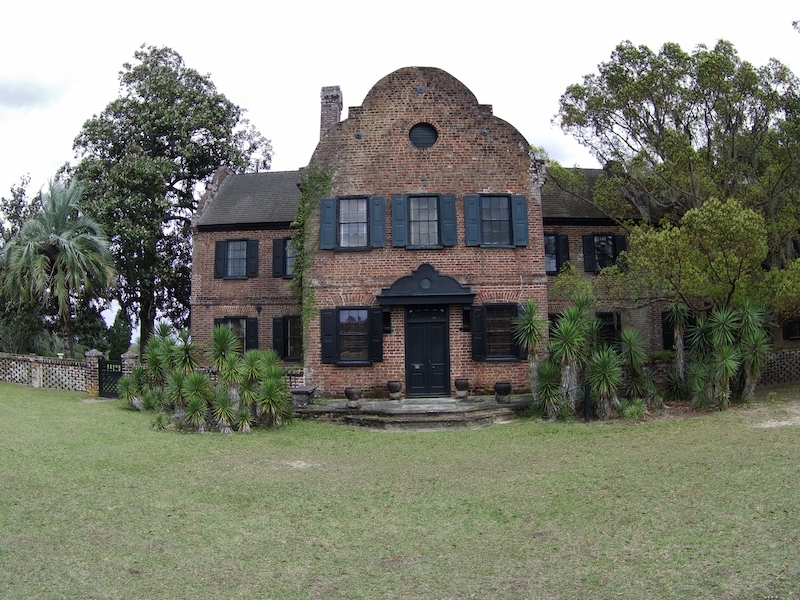 One of the challenges of shooting video of myself when the camera is on a tripod is staying in frame.  AKASO solved this problem by putting a second, smaller screen on the front.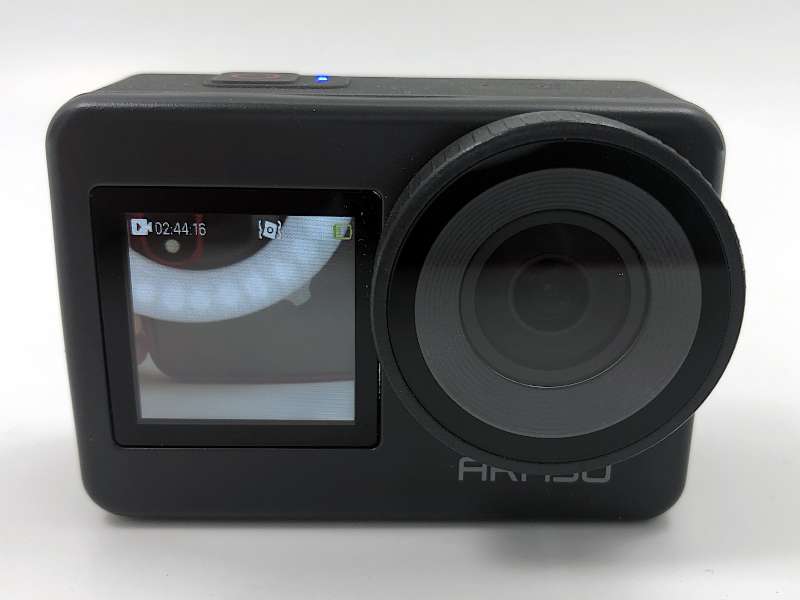 If I press and hold the down button on the side, the Brave 7 activates the front screen and turns off the back screen.  While the front screen is not a touch screen and can't be used to change settings, it's perfect for showing where I am in the shot.
The back of the Brave 7 is a touch screen, which is where all the various settings can be selected.  I found AKASO's organization of menus to be intuitive.  There are three main ways to select settings.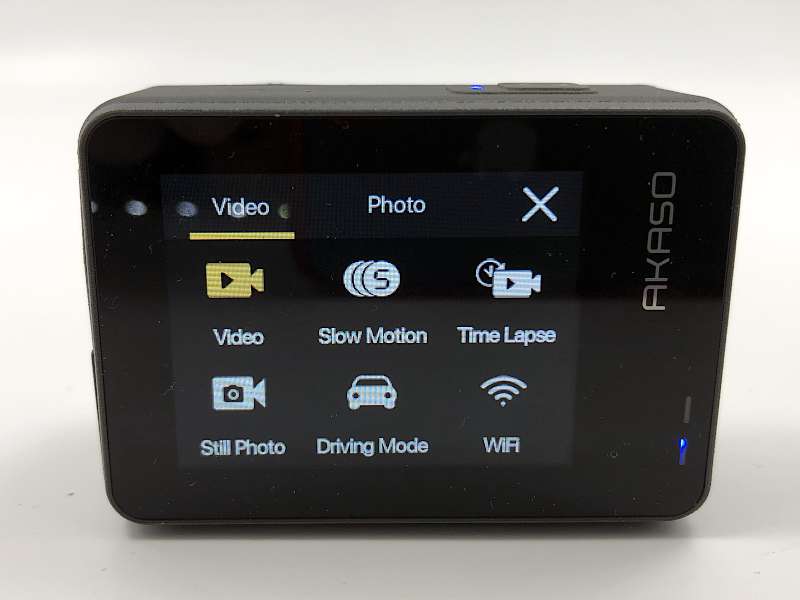 One, there's a quick menu that can be accessed by selecting either Photo or Video.  This allows me to make big changes, such as switching from normal mode to slow motion or time lapse.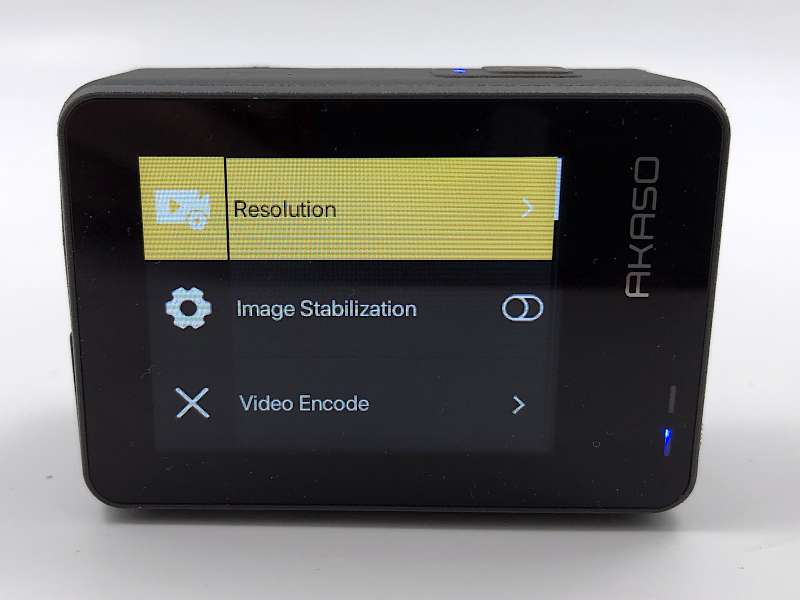 Two, there's the detailed pair of menus that can be accessed by selecting the settings icon.  One has all the settings for video (or photo, depending upon what I'm shooting), and the other has settings that are common to both (like the distortion correction).  Three, the Brave 7 also supports a handful of gestures; swiping from right to left, for example, will switch from video mode to photo mode and back.
I previously had an AKASO V50 Pro, and the thing that was most irritating about that camera was the lag while adjusting the various settings in the touch screen menus.  It was very noticeable and not a lot of fun.  The Brave 7 is quite a bit faster and has a lot less lag; this is a welcome improvement.
I'm uncertain how durable this camera is.  On the one hand, when I dropped my V50 Pro from a one-foot height onto a hard surface, it straight up died and left me with a brick.  I assume the Brave 7 will be similarly fragile.  On the other hand, I did whack it twice with the frisbee (see the video above), and it kept shooting fine, so maybe it's sturdier than the V50.  It's probably best if I take care of the camera as much as reasonably possible.  The good news is that if I manage to break it, it's a lot cheaper than a GoPro to replace!
Extra Features
There are three alternative ways to control the Brave 7, each of which should make it easier to capture good videos and pictures.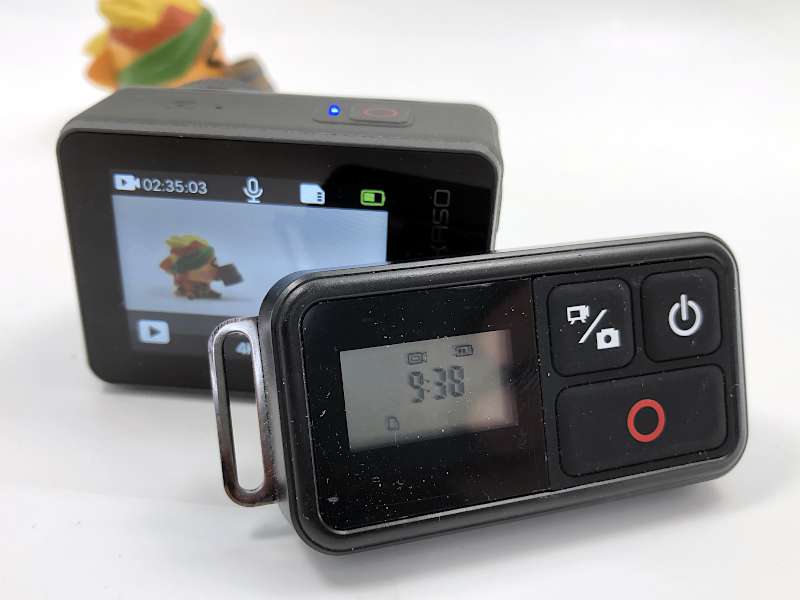 First, the Brave 7 comes with a small remote control with three buttons.  One turns it on, one selects the mode (photo or video), and the other takes the shot (or starts filming).  I found this remote to be both reliable and responsive.  It was especially helpful when taking photos, as it eliminates any extra blurriness that comes from pressing the button on the camera.  It was also nice for the selfies that my wife and I took on the beach.  AKASO says that the remote is splash proof.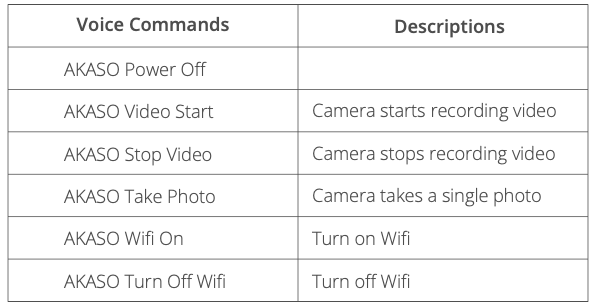 Second, the Brave 7 can also be controlled by voice, but I found this feature to be unreliable in two ways.  One, I think my camera is a bit hard of hearing because I had to shout at it before it would respond to my voice commands.  Perhaps there's still water in its "ears" from the time I dunked it in the creek.  Two, some commands worked, but others did not.  For example, it took a picture every time, but I could never get it to stop shooting video or to power off.  I don't think this is a feature that I will use.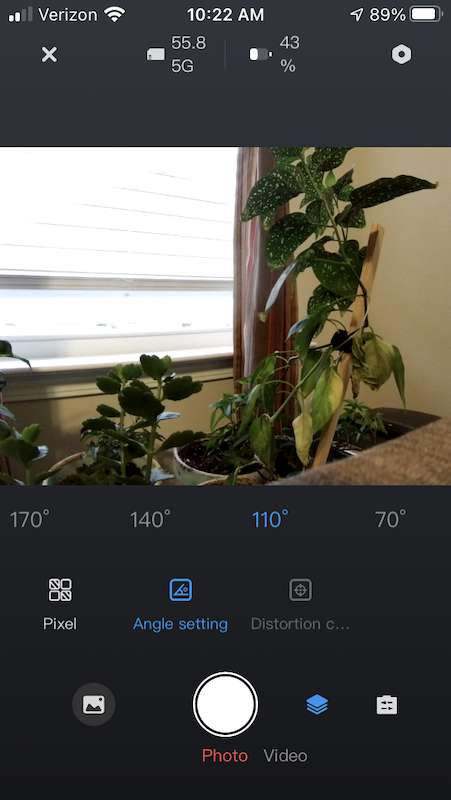 Third, the Brave 7 can be controlled by the AKASO GO app, which can be downloaded for free from the Apple and Google app stores.  The one on the Apple app store is full of complaints, most of which I personally experienced.  The app connects to the camera using Wi-Fi, which can easily be enabled on the camera by pressing and holding the up button on the side.  I can then use the Settings on my iPhone to join this network.  Unfortunately, the password is a very unsecure 1234567890, and even iOS told me that this was "weak security."  Don't use the Brave 7's Wi-Fi if you have any footage that you can't risk someone else downloading.  Although I was able to connect easily, I found the Wi-Fi connection to be unreliable, as the app frequently disconnected from the camera.
When I started the GO app, it displayed a selection of videos that others had uploaded and immediately started playing them.  That's so very annoying!  Please, AKASO, don't be annoying!  Once I switched to the Device tab and found my camera, I was able to control it.  When the app is controlling the camera, the display on the camera is disabled; it only shows the Wi-Fi info.  I can either use the app to control it or the camera itself, but not both at the same time.  Whatever the camera is pointing at is displayed on my iPhone—that's definitely cool—and I can select various settings and take videos and photos.  Unfortunately, I experienced several problems.  One, there's a massive lag between the camera and the app.  When I repositioned the camera, it was several seconds before the change appeared on my phone.  Two, as I mentioned above, the app often disconnected from the camera, forcing me to go through the connection process again.  Three, several times the app froze and required a force quit.
The feature that I most wanted to use was downloading.  I should be able to use the app to download videos and photos to my phone, where it's easy to wirelessly download it to my Mac using AirDrop.  Sadly, I couldn't get it to download a single photo; it disconnected every time.
AKASO's GO app has a lot of potential; there are some really cool things that I want to be able to do with it.  In its current state, however, I found this app to be useless.  The problems and annoyances are simply too great.  I deleted the app, and I can't recommend it to you.  The app has some other features as well, like an editor and the ability to upload directly to the web, that might also be nice, but I didn't bother to test them, given all the other issues.
What I like
Good video quality
Lots of video and photo settings
Intuitive menus
Responsive touch screen
Wide variety of included hardware, including two batteries and a remote control
What I'd change
Make serious improvements to the app
Re-design the door to the SD card
Final thoughts
AKASO's Brave 7 is an action camera loaded with features that comes with a rich set of hardware.  It's a great camera for getting started in the world of action photography and supports slow motion, image stabilization, and distortion correction.  I enjoyed learning to use this camera, found the menus and settings to be very approachable, and the shots I took (particularly in full sun) to be of good quality.  Best of all, the price is very reasonable, much less than the competition.  Not everything is perfect; features like voice control and the AKASO GO app are not reliable.  Thankfully, these are not required to use the Brave 7 or to get exciting shots.  If you're in the market for an affordable action camera, I think the Brave 7 should definitely be on your list of choices.
Price: $159.99
Where to buy:  AKASO's online store (15% off Discount code: CAMVIP code expires 12/31/21) and Amazon
Source: The sample for this review was provided by AKASO.