We use affiliate links. If you buy something through the links on this page, we may earn a commission at no cost to you. Learn more.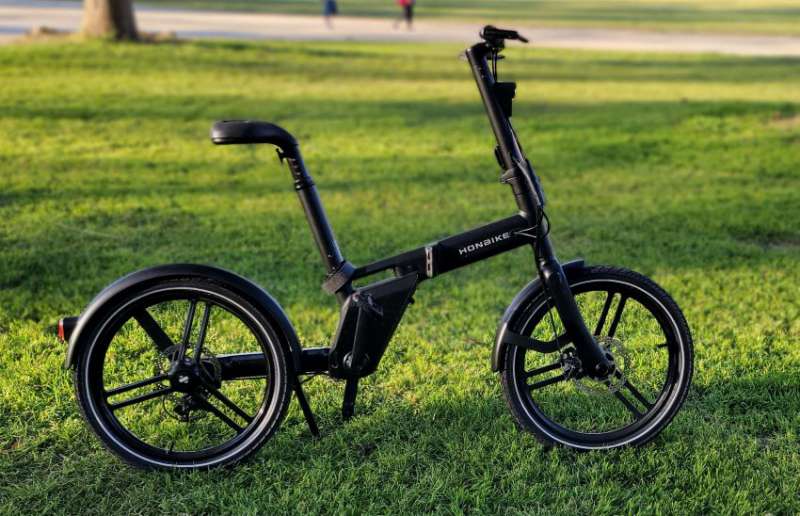 REVIEW – I'm a huge fan of e-bikes.  I've ridden them on many occasions (usually in other cities) and I find them to be a really great way of getting around instead of a car.  You get a little exercise and yet you won't be drenched in sweat when you get to your destination.  With the US poised to offer tax credits for e-bikes, this might be the perfect time to buy one.  I owned a Sondors e-bike for a while, and that experience taught me to be wary of crowdfunded bikes for reasons I'll get into in the review.  When a folding Honbike came up for review that would soon be crowdfunded on Indiegogo, I jumped on it.  This bike just has so many things going for it!
What is it?
The Honbike ChainFree One is a folding e-bike that is perfect for commuting!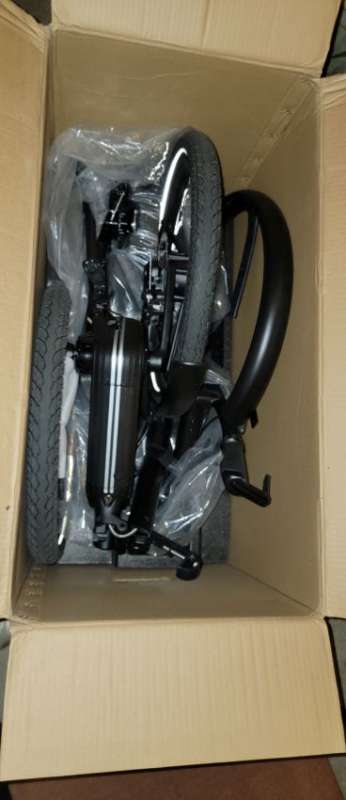 What's in the box?
The Honbike ChainFree One e-bike and bike parts (It comes partially assembled).

Charging cord
Tools
Set of keys (nifty folding ones)
Instruction cards

Specs:
IPX4/P65 rating
5 levels of assistive pedaling
Range:  about 25 miles
Dimensions folded:  39" x 26"
Weight:  46 lbs
20" spokeless tires
Battery:  removeable, 36V, 6AH.  Recharges in 3-4 hours.

Setup and Features
The Honbike ChainFree One comes packed really well and is partially assembled.  They say it should only take 15 minutes to put together (all you need to do is attach the rear wheel, fender, seat, and pedals).  I'd say that's fairly accurate, but I'm not the greatest at assembling stuff so it took me about 30 minutes.  Believe me, if I can assemble the bike, anyone can assemble the bike.  They included two Allen wrenches and those are all the tools you need.   I had one screw that wouldn't go in all the way, which is par for the course for me. If I'd had my son put it together everything would look perfect, but I thought for the sake of the review that I'd do it and now I have that one screw that will bother me forever.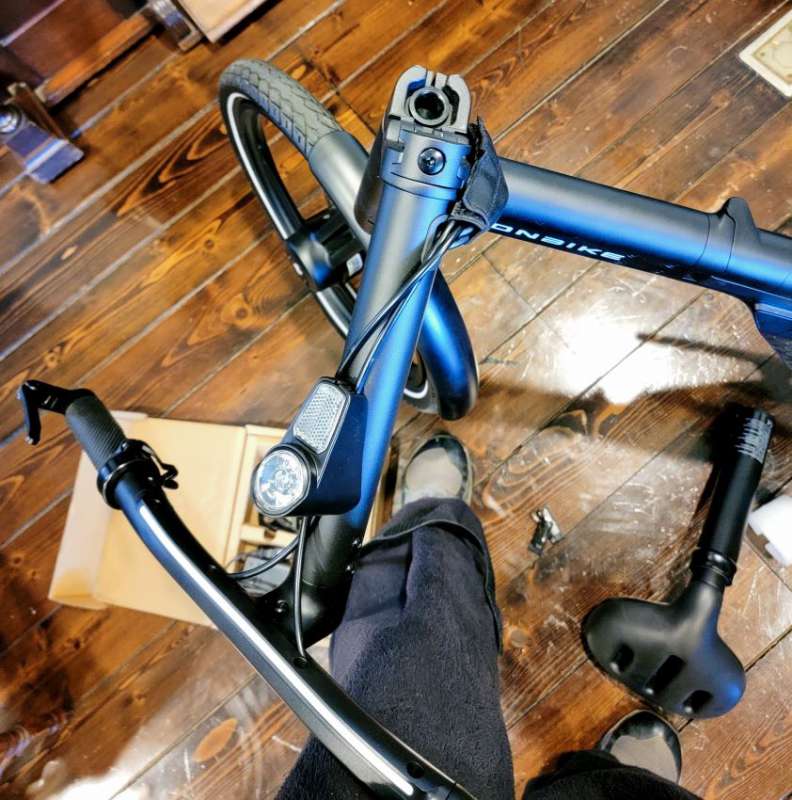 Unfolding the bike is super easy.  You unstrap the Velcro strap, tip up the handlebars and a switch maneuvers what kind of looks like a kneecap over the joint that locks it in place.  Then you unfold the rear half of the frame and it clicks into place.  I don't know if you've ever tried to fold any other folding bikes but some of them practically require a class to learn how to do it, and I think that makes you less apt to fold and unfold.  This bike is the opposite of that.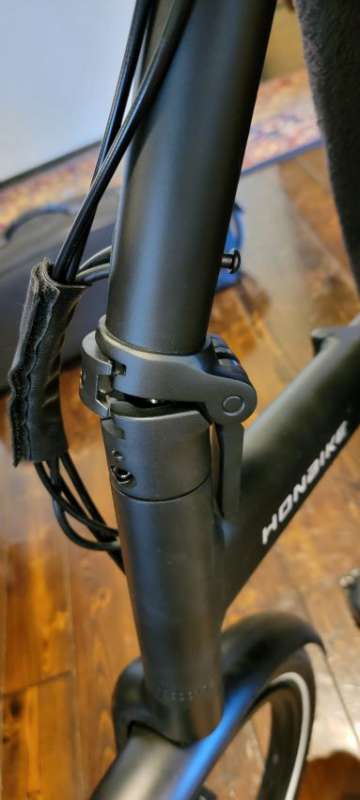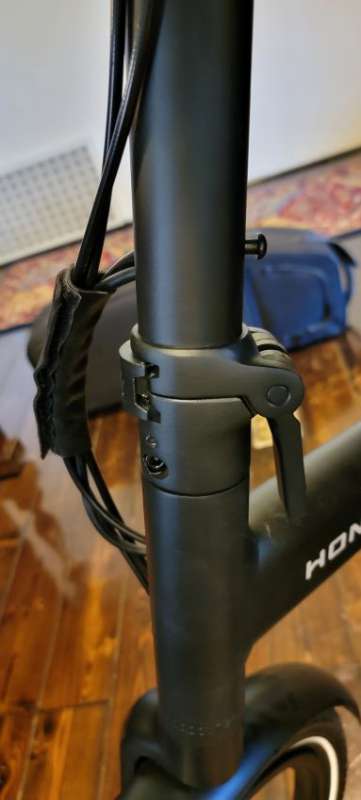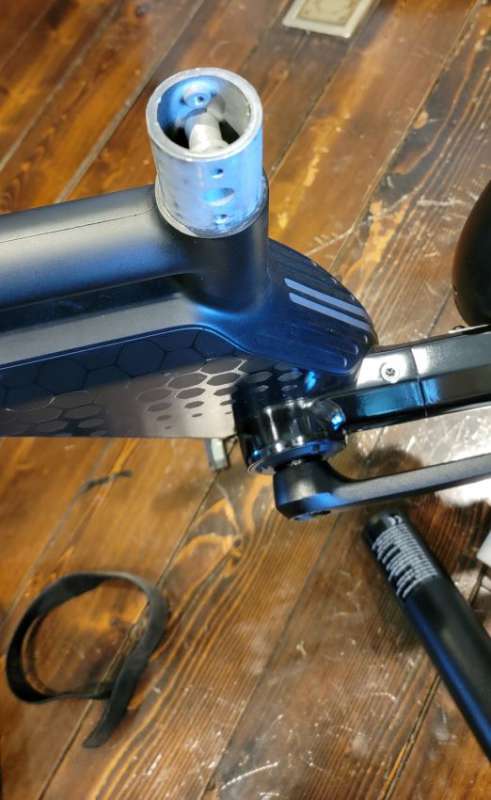 This bike also has an uncomplicated structure and mechanism in other ways as well.  It only consists of 57 parts and you might notice that there is has no chain to eat your pantleg or skirt.  That makes it a virtually no-maintenance bike.  The shaft drive system automatically adapts to hills to keep your pedaling steady and a gyroscope senses if the bike tips too much and turns off the motor for safety.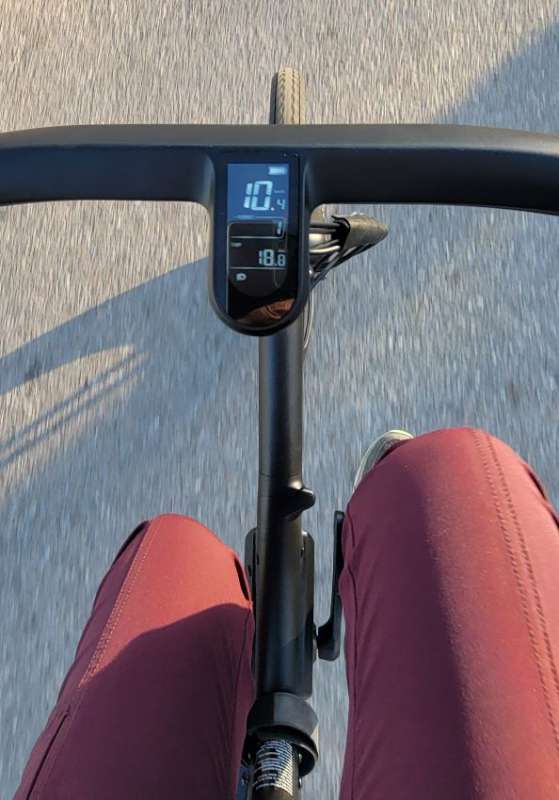 There is a nice bright OLED screen that displays speed and distance and other information like what level of power assist is being used.   The maximum speed is 15.5 mph.
I am always wary of crowdfunded bikes, despite having owned one.  First of all, crowdfunding is risky.  As Indiegogo is quick to point out, it's not a store. However, this isn't Honbike's first effort.  They successfully delivered 5,600 of the first iteration of this bike in Japan as part of a crowdfunding campaign and they reached over $5 million in preliminary sales.   They have been enthusiastically embraced in Japan, and that's great for US buyers because you know you're getting a solid, tested product and most importantly, in the unlikely event that a part does need replacing, the company will be around to help.  This is the biggest reason to carefully choose which company you buy your e-bike from.  They are expensive and should last a while – you want to make sure you can get customer support from the company that made it, and that's not something every crowdfunded bike can boast.
I took the Honbike ChainFree One out for a ride and was very surprised at how easy it was to pedal even without the motor on.  In fact, it pedals about the same as my Schwinn Perla which weighs about the same but isn't electric.  When you enable the pedal assist, look out!  You're flying along the street.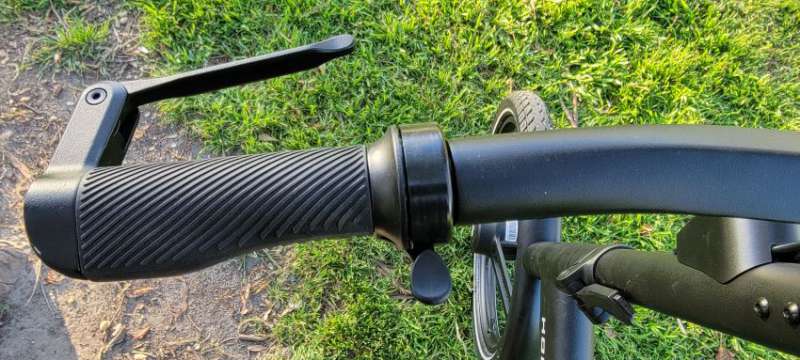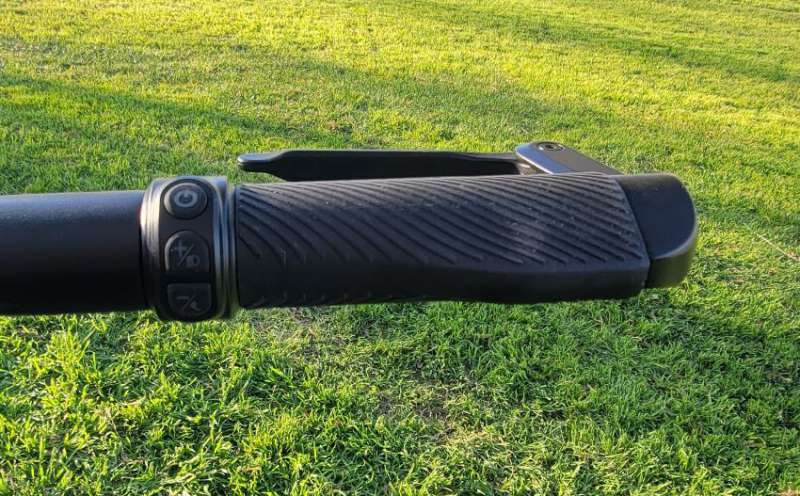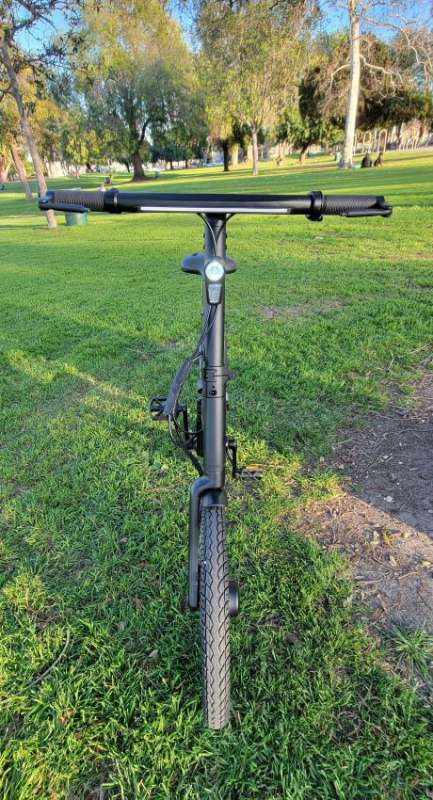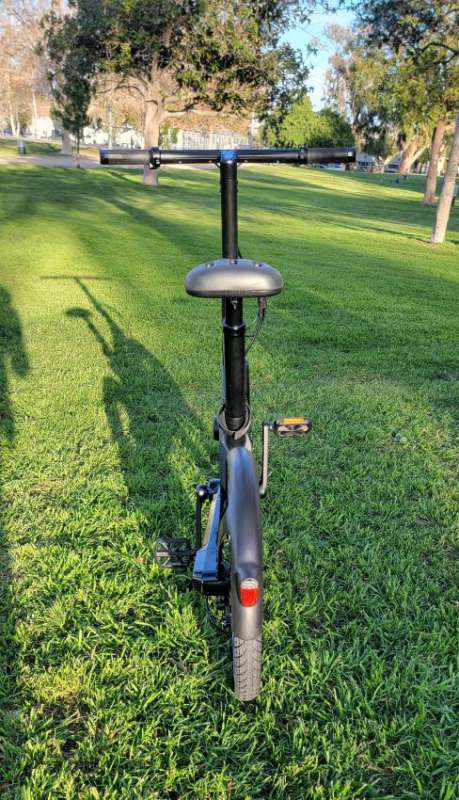 I also appreciate the fact that this bike comes tricked out with the things every bike should have but you usually have to add.  It has a bell, a bright headlight, and taillight, a nice reflective stripe across the handlebars and around the wheels, and it has fenders.  All commuter bikes need fenders — you never know what the city will have you riding through and no one wants to wear it on their back at work.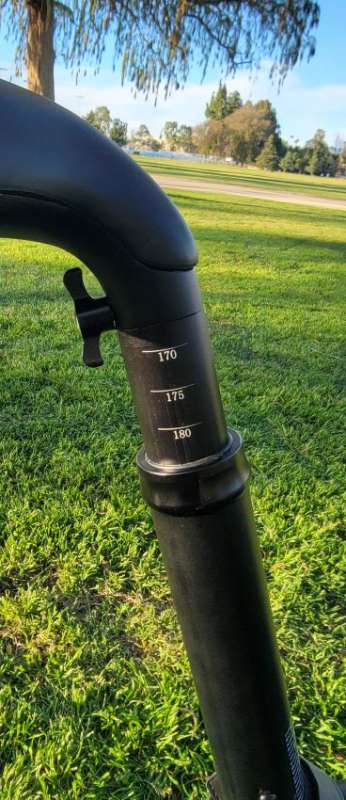 Let's talk about the seat:  I thought I would hate the seat on this bike.  It looks pretty small, although when you're sitting on it it's fine… seems to target the important bones involved in sitting so you don't really notice the lack of size.  It also looks hard, but it's sort of like a malleable foam or gel that looks rigid but has a lot of give.  It's not mushy, but it's also not hard.  Is it the best seat I've ever ridden on?  No.  Is it the worst?  Also no.  I was actually quite impressed with the function of it – since it's a folding bike, I didn't expect the seat to be as comfortable as it was.  It is also very easily adjustable.  There is a little wing nut thing under the seat and you just release it and it slides up and down, then engages it to lock it in place.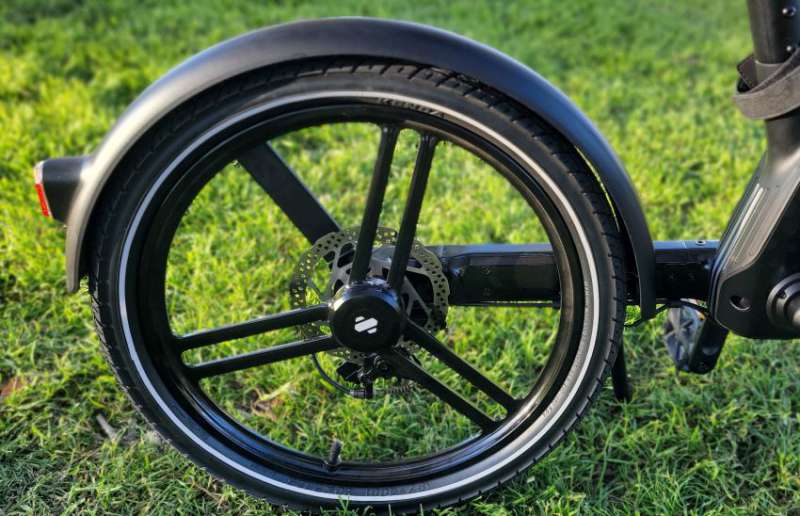 The braking system worked well.  One of them probably needs a bit of adjusting because the left one didn't engage as much as the right, but I'm not sure how to adjust them.  I'm guessing if you join one of the user groups someone will have some insight on that.  I bet the Honbike website would as well, but because I'm getting the pre-crowdfunding sneak peek of this bike, I didn't see anything about this model of the bike.
Later in the week, I was able to use the bike again because my car was being serviced and I decided to throw the bike in the car and just ride home (the car dealer isn't giving complimentary rides home anymore because of the pandemic, and my last UBER from the dealer cost $13 and was less than a mile). Already this bike is saving me money!  That's when I ran into a bit of a problem:  I couldn't get the bike to fold up.  I studied the instruction card, I watched a support video for the Japanese version and it just wouldn't fold.  When my son came home, I made him try.  He's very mechanically inclined (he ENJOYS putting together IKEA products), and even he couldn't do it.  There's a switch on the frame of the bike that you should slide over to release the frame to fold up.  I think maybe our switch wouldn't slide all the way over, either that, or it's something we aren't doing right.  I'm reaching out to the company to see if they have any ideas that might help, but for this errand, I just folded down the handle bars and put the bike in the car as it was.  It fit, and that was fine.
If I can figure out where I'm going wrong, someday I would like it to fold all the way and take it on vacation.  In theory, if you were going to a bike-friendly destination, you could pop the battery out of the frame and put it in your carry on and check the bike in a suitcase.  I could have really used it when I went to a convention in Miami, for example (Mojitos are so good and Ubers are so expensive!) or when I was working in Kyoto.  Both are great places for biking!  I would totally expect a TSA inspection if I did that, though!
Final thoughts:
The design of the Honbike ChainFree One e-bike is certainly eye-catching and it's a great commuter bike.  The Japanese version won a Red Dot Award as well as other design awards and I think it shows in its minimalist style.  While not everything went as planned for me, I wouldn't hesitate to reserve one of these bikes during their Indiegogo campaign on Feb 25.  The discount is worth it and this is a company that has a great track record.
What I like:
Easy to use
Minimalist style
Comes with accessories
What I'd change:
My bike didn't fold all the way and I'm not sure why
Price: $1,999.00
Where to buy:  Honbike
Source:  The sample for this review was provided by Honbike.