We use affiliate links. If you buy something through the links on this page, we may earn a commission at no cost to you. Learn more.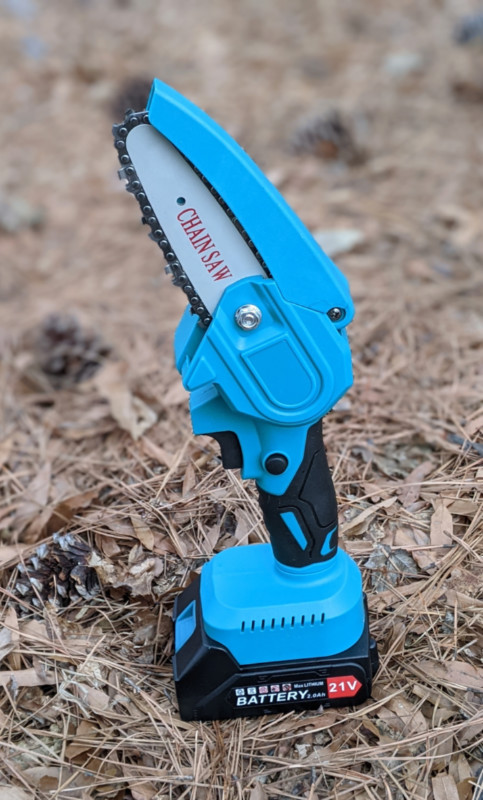 REVIEW – The Denqir Mini Chainsaw is made for limb pruning and small tree cutting when loppers aren't powerful enough for the task. But it can cut wood up to about 3"-5" diameter, depending on which blade is attached. With two rechargeable batteries included in the kit you could cut a lot of wood before having to recharge a battery. I have another small electric chainsaw that I've used to drop 12" diameter trees, but that tool is overkill for 1"-3" scrub trees, small dead limbs and overgrowth. The Denqir Mini turned out to be extremely handy for an important yard task I've now checked as 'done'.
What is it
The Denqir Mini Chainsaw is a handheld, lightweight, battery operated chainsaw that comes with 4" and 6" chains, adjustment tools and a couple of accessories.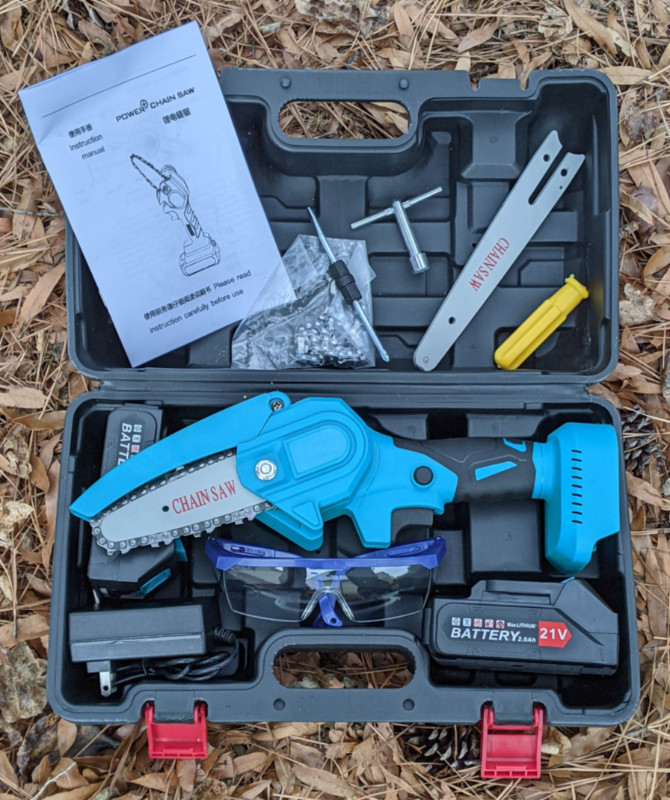 What's in the box
Saw – one piece handle & body

4" chain guide plate (installed)

4" chain (installed)

6" chain guide plate

6" chain

Hard plastic carry case for saw, accessories and parts

Two 21 volt lithium ion batteries

1 battery charger

Screwdriver

Wrench

Safety goggles

Knit gloves

Manual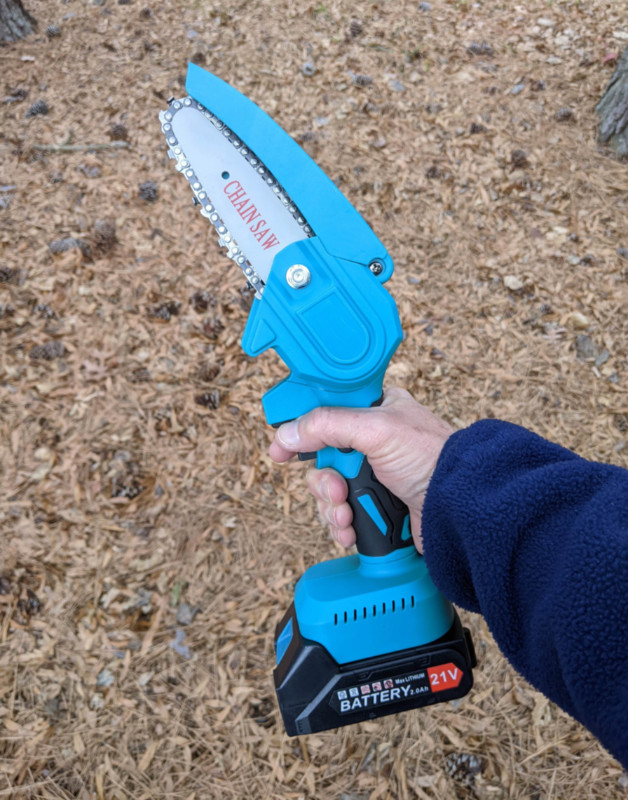 Hardware specs
Length: 14"

Weight with 4" chain installed and battery attached: 2 lb 10 oz

2000 mAh 21 V lithium-ion rechargeable batteries

550 watts output

Warranty: 3 years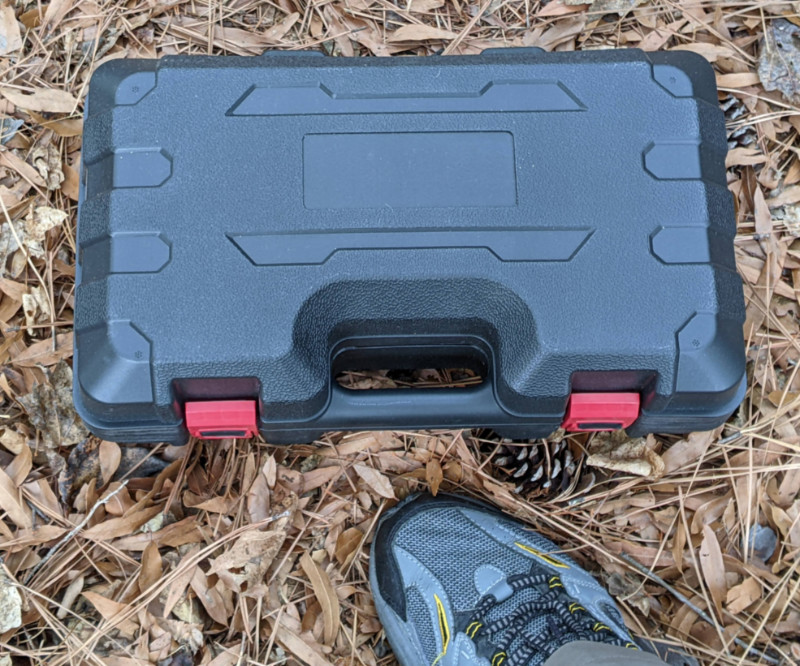 Design and features
A safety button must be depressed with the thumb for the trigger to activate chain rotation. The button can be released during cutting.

A plastic chain guard protects the user in case of 'kick-back' while cutting. 

The chain guard is hinged to allow the chain to proceed through the wood being cut. The guard swings more than 90 degrees so complete cuts can be made without resistance from the guard.

The saw is comfortable to use with one hand.

The handle is rubberized to give a comfortable and secure grip.

There is a small LED light intended to give some light during night time cutting.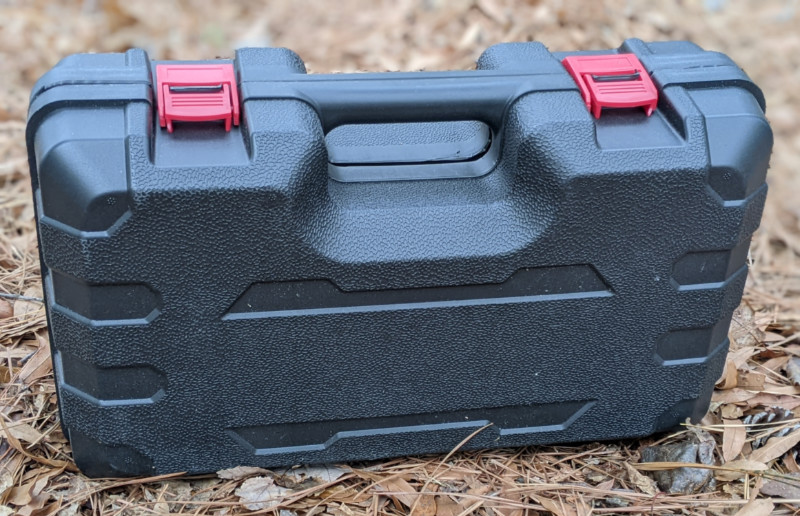 Installation and Setup
Since the 4" chain comes installed, I only needed to charge both batteries, give the manual a read, and I was ready to cut wood.
Testing and observations
BATTERIES
The batteries are lighter than those for some of my other 20 V tools but I checked the battery voltage after fully charging each one. They were at or a bit over their claimed 21 volts. I made about 25 cuts over 90 minutes on one battery that did not fully deplete. 
CHAIN SHARPNESS
The largest cut I made was of a 4" diameter trunk of a holly knock-off type bush I had cut down before. These bushes have lethal, needle pointed leaves and they refuse to die. They are used by builders in my area probably because they are cheap and permanent. If you glance at this bush, it'll stab your legs. The time it took to reduce this trunk to ground level was equivalent to my larger chainsaw's performance on similar sized bush trunks. It was hard not to utter an evil laugh when I got this plant's trunk level to the ground. It will come back but now I have a quick and handy Denqir Mini.
CONSTRUCTION
The parts and pieces are tight and operated well. The light blue plastic gives a bit of a 'toy' impression. Maybe it's the color, but the plastic does not have a super durable feel to it, as if it may not withstand significant impact. Makita uses a similar color but their blue is not as bright. I think it would survive a drop from ladder altitude into mulch or a yard, but I'd rather not drop the Denqir Mini on the pavement. 
The included tools are not high-end quality but they are adequate for chain and guide changing and tightening. The goggles have extendable earpieces but were still too short to fit over my normal ears upon my normal head. The kids might enjoy playing with these goggles. Get yourself real eye protection. 
The gloves in the kit are synthetic knit gloves and would not keep the hands safe if the blade came in contact with the hand. I discarded the knit gloves and used good quality leather work gloves when I operated the saw.
The white LED light may be a better indicator of battery strength than an aid during night limb cutting. For cutting in the dark, I recommend a bright headlamp like the ThruNite TH30 headlamp that I recently reviewed.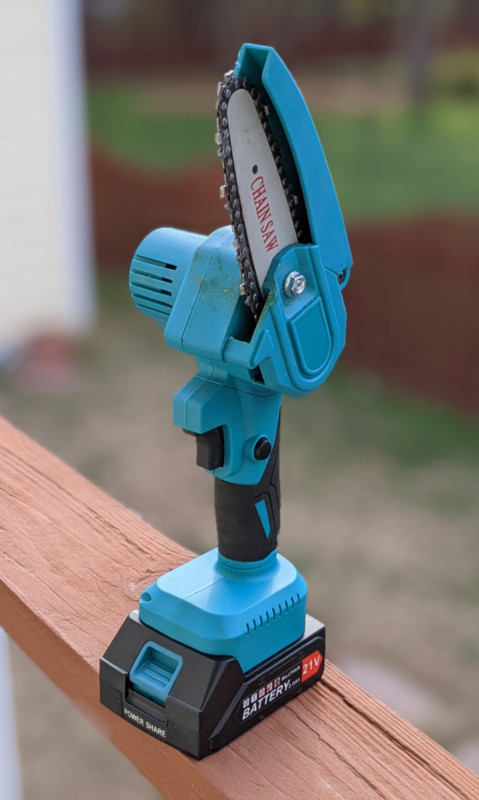 What I like
Great portability and easy handling

Makita battery compatibility

The saw made nice clean cuts 

The tools included in the kit enable all necessary adjustments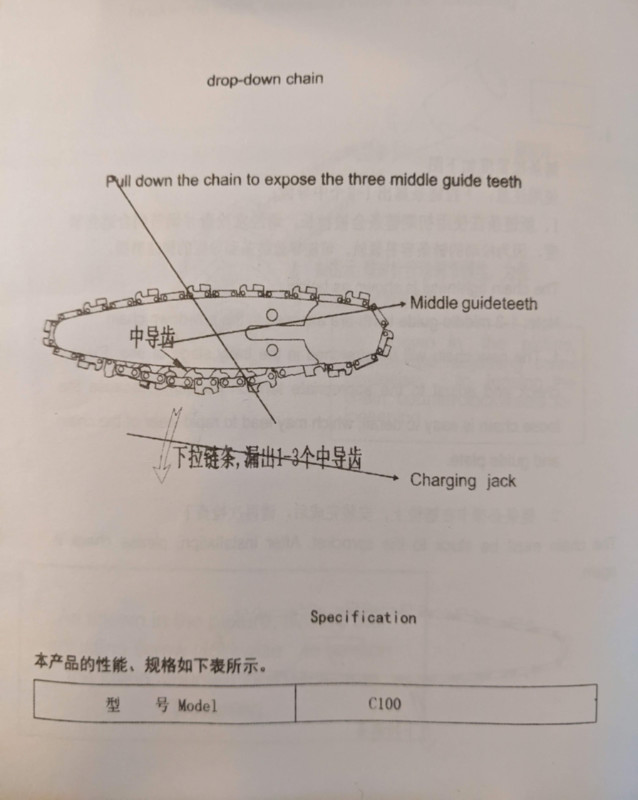 I'm not sure how to interpret many of the directions.
What I'd change
The included gloves are not safety gloves, and could/should be omitted from the kit.

The plastic does not have a high quality, durable 'feel'.

Goggles should be adult-sized. 

The manual needs editing for proper English, a larger font size and clearer graphics and markings.
Final thoughts
The Denqir Mini Chainsaw is less expensive than cordless chainsaws at my local, national chain hardware stores. It performed perfectly for my yard cleanup chores that called for a tool bigger than our manual pruning loppers.
Price: $80.99
Where to buy: Amazon
Source: The sample for this review was provided by Denqir.