We use affiliate links. If you buy something through the links on this page, we may earn a commission at no cost to you. Learn more.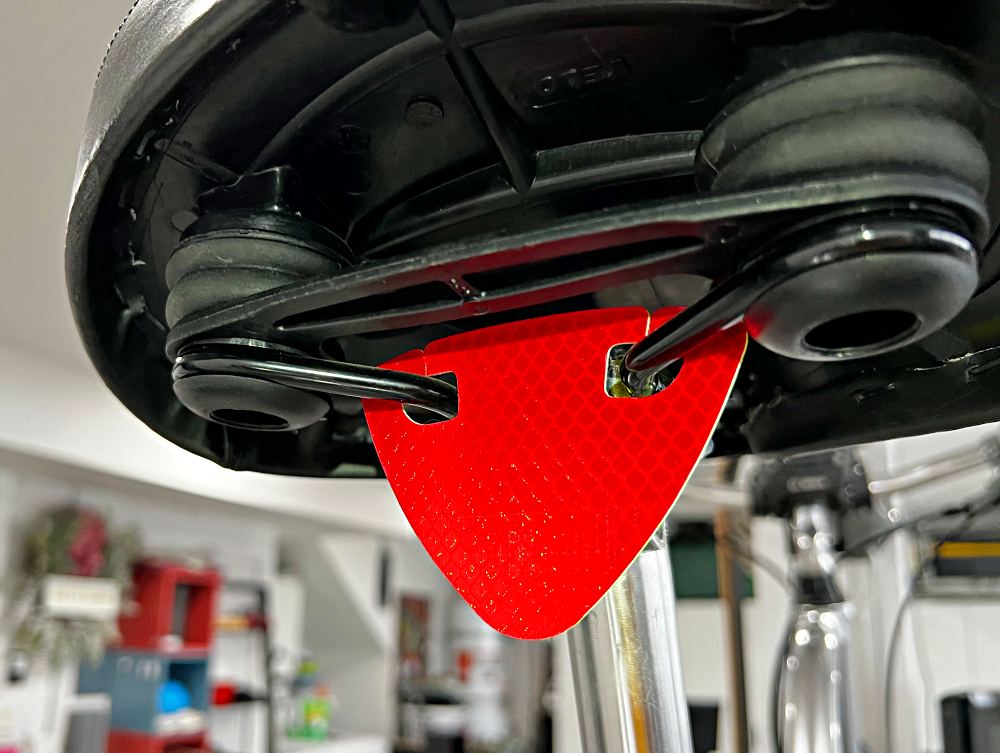 REVIEW – Blincc is based in Singapore and focuses on cycling safety. They originally launched on Kickstarter and currently have two products in their line; the Blincclip and the Blincc Hex. Both are hyper functional reflectors, but have different applications.
What is it?
Both of Blincc's products are reflectors for bicycles. Blincclip is designed to attach to the rails of your seat or tied to your helmet, belt loop or bag with the included cord. Blincc Hex is a collection of 4 long and 12 short reflective stickers that can be placed anywhere on your bike, but are possibly most effective on your wheel's rim where the rotations makes them very visible when in the path of a car's headlight.
What's in the envelope?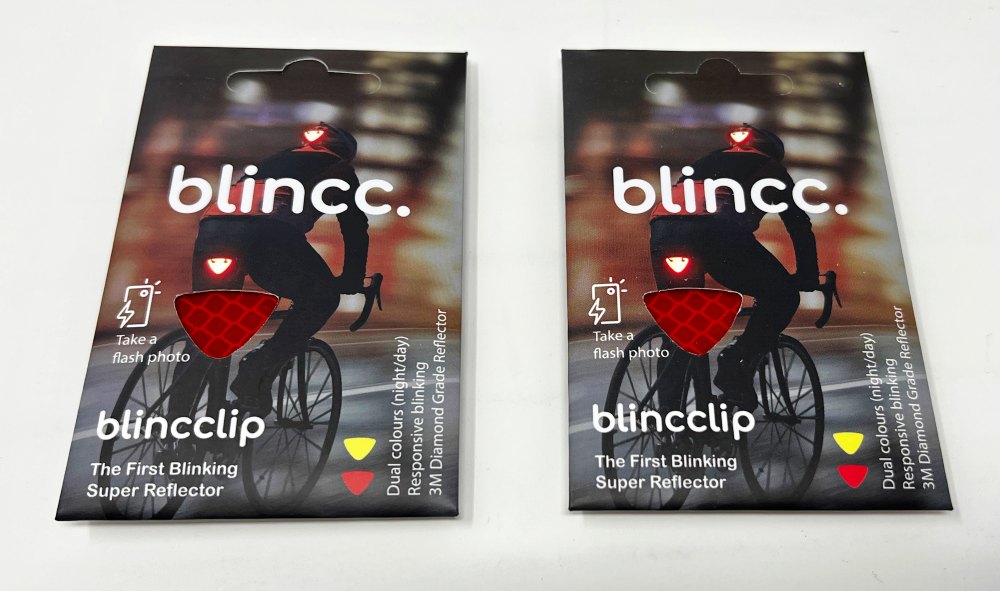 For review, I was sent two sets of the Blincclip which also had the Blincc Hex product added inside. I am assuming that would ship in similar packaging.
Blincclip includes: 1 Blincclip, an elastic cord, and 2 small, round, clear stickers (all pictured on the right half of the photo)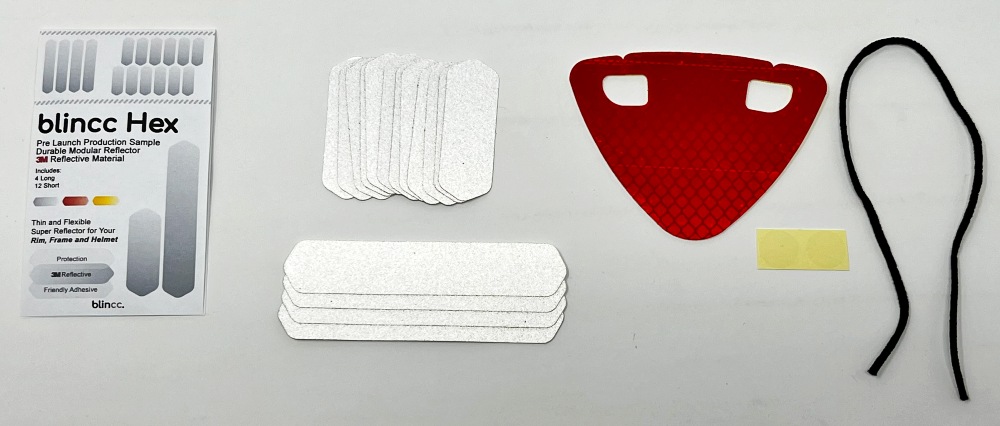 Blincc Hex includes: 4 long and 12 short adhesive reflectors and an info sheet
Specs
Blincclip: 3M Diamond Grade micro prismatic reflector | 88 x 66mm | Red sight for night, Yellow side for daytime
Blincc Hex: 3M reflective stickers | Long = 94 x 18mm, Short = 51 x 18mm
Design and features
Blincclip easily attaches to the seat rails of almost any bicycle, positioning it higher up than static reflectors mounted to seatpost collars.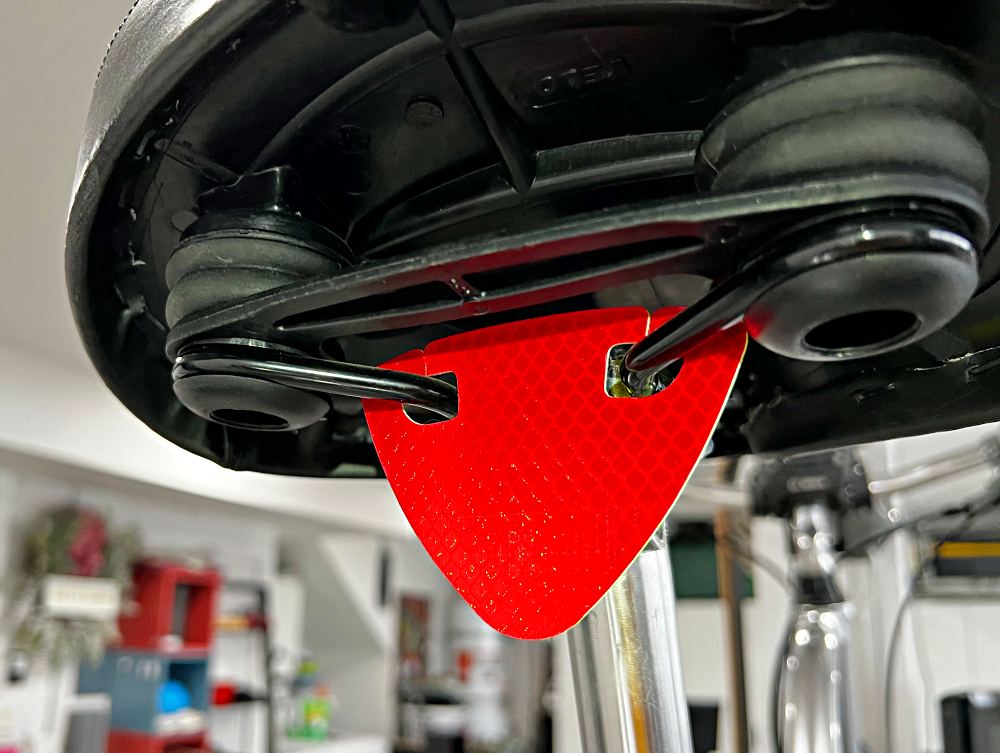 Unlike those static reflectors, Blincclip's design allows it to wave or swing with the cyclist's motion and airflow which results in it appearing to actively blink when light strikes it.
Blincc Hex stickers can be applied on almost any surface you want to reflect light. Placing them on the rim of bike wheels creates a larger impression when in motion than if placed on the bike's frame.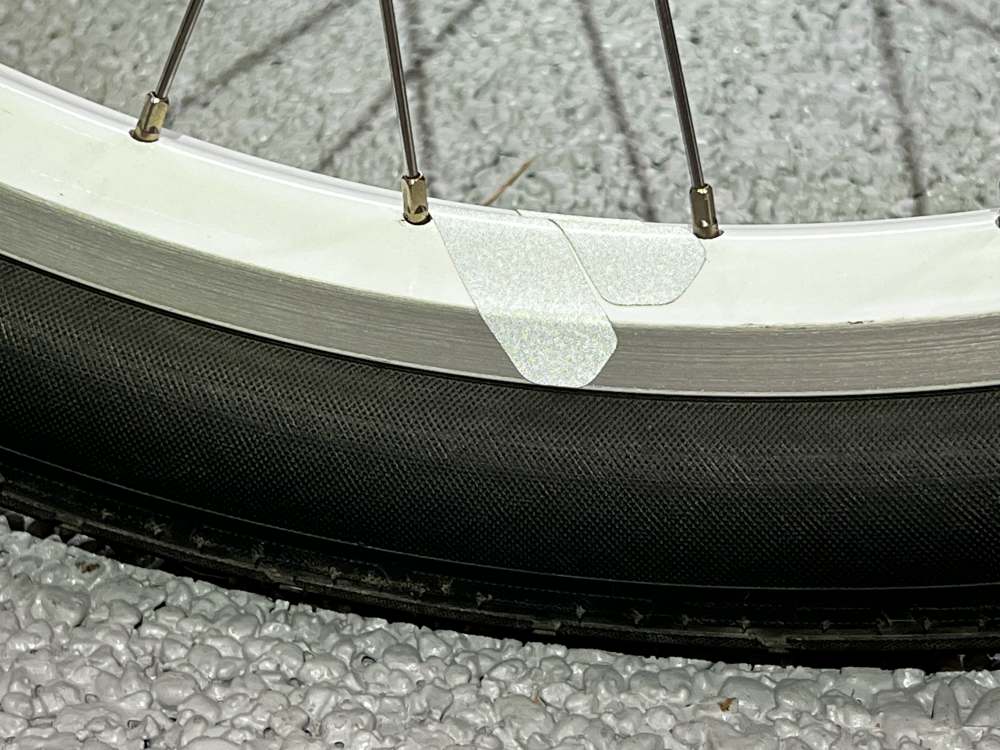 Due to the flexible nature of the durable stickers, the can wrap around more shapes creating different reflecting angles. Both Blincclip and Blinc Hex use 3M reflective material which does a really good job of bouncing light back at the source.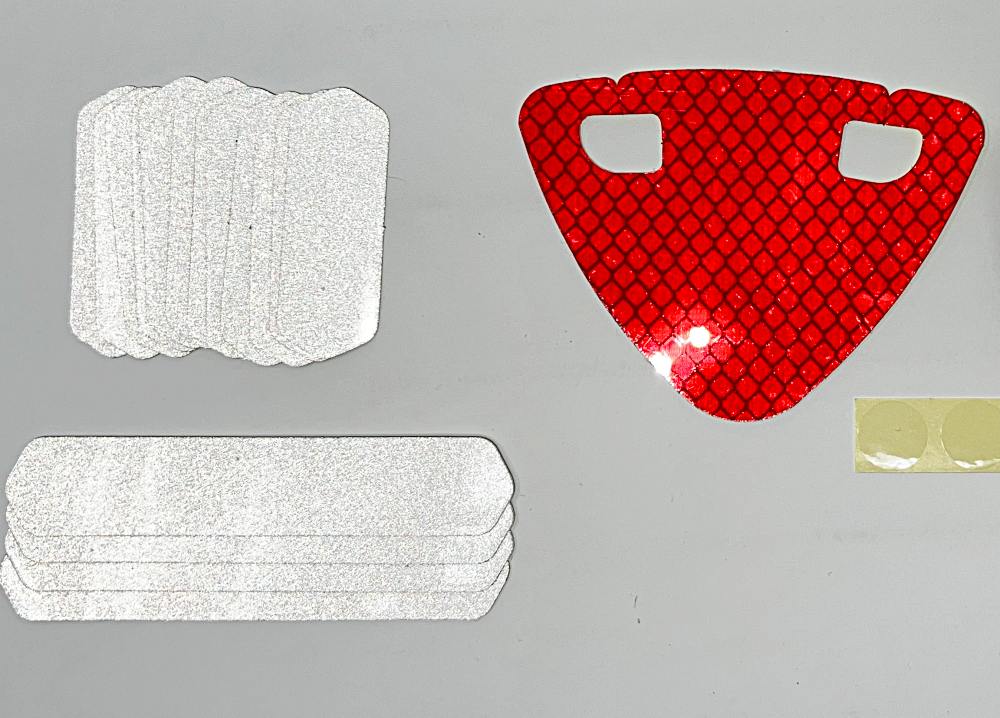 Setup
For Blincclip, it's easiest to clip it on the seat rails. just push it into place. On this bike I needed to slide the seat backwards slightly to allow the reflector a little more room to swing. Alternatively you could use the included elastic cord or double stick tape to attach it directly to a helmet or whatever helps increase visibility. Here's some of Blincc's illustrations as to where you might place it.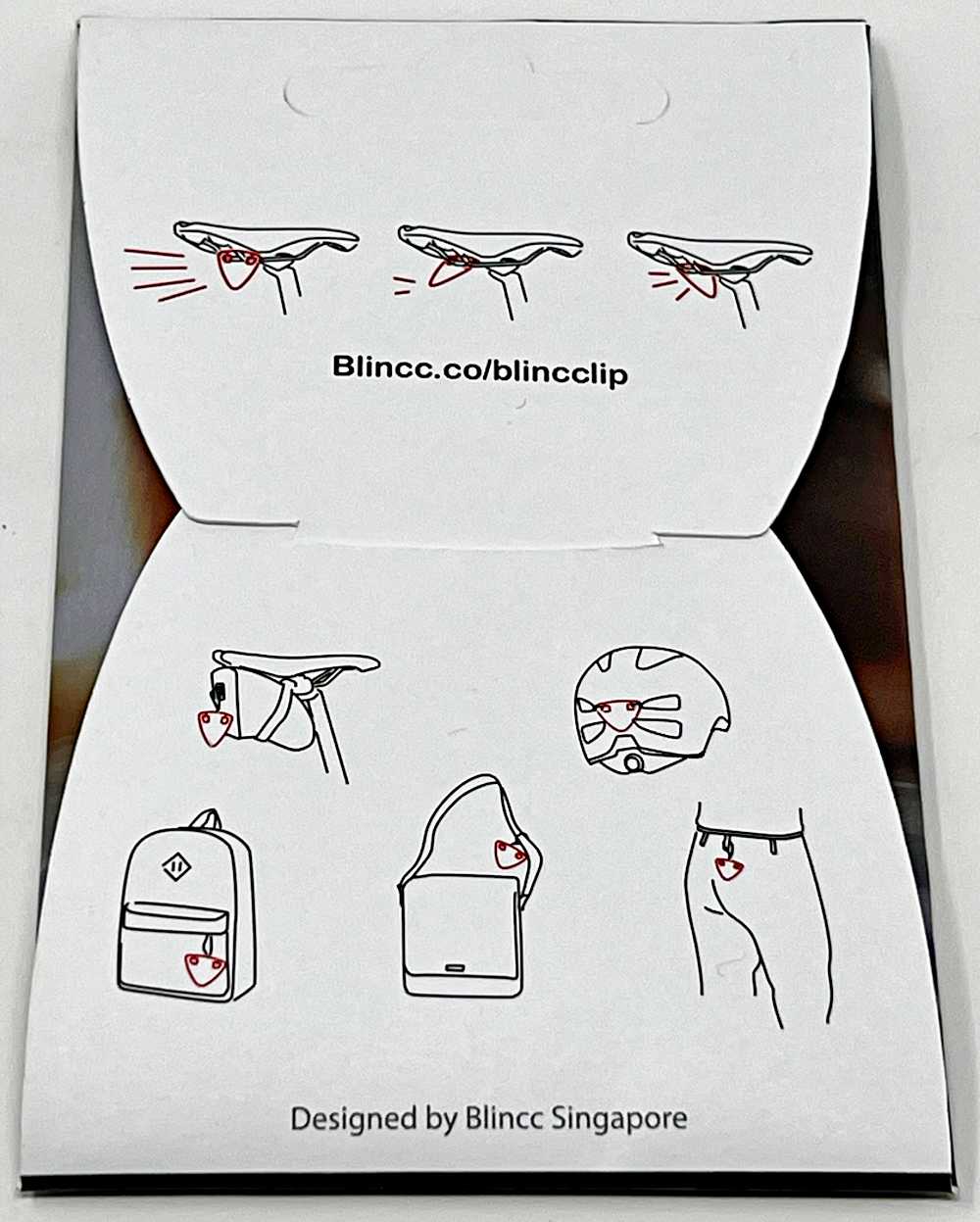 For Blincc Hex, I placed the short stickers on the rims of my daughter's bike. After cleaning the rims I applied 4 on each each wheel with offset pairs on opposite sides of the wheel from each other.
This bike has roller brakes which are similar to drum or disc brakes in that all braking mechanisms and surfaces are at the center of the wheel. Note that if your bike has rim brakes (where a brake pad makes contact with the rim near the tire) you'll want to place the stickers where they do not interfere with your brakes. Rim brakes will look like some variation of this below photo where this aero rim certainly has plenty of room for reflective stickers below the braking surface.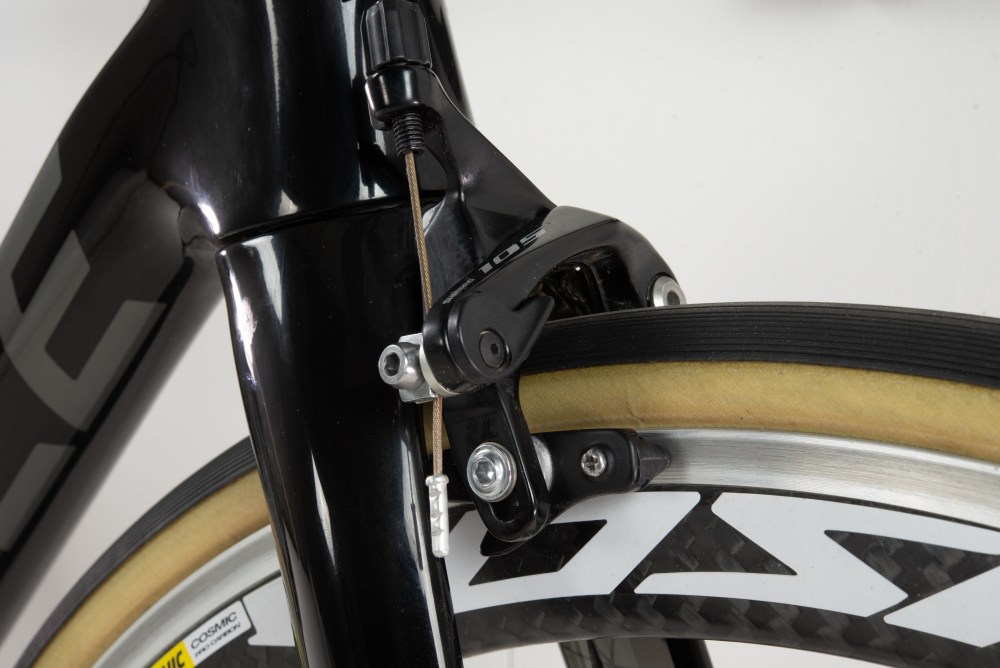 [Insert all relevant images]
Performance
If you routinely ride a bicycle on roads with other traffic, making you and your bicycle more visible is one of the best things you can do to increase safety. Active lights, whether battery or dynamo powered are fantastic options but they aren't cheap, either need to be charged or maintained and add weight. Passive solutions like the ones that were included with your bike for legal reasons, work but are cheap, have broken or rattle.
This is where the solutions from Blincc come in. Both are very inexpensive, easy to install and provide more visibility that other solutions. In this video from their successful Kickstarter campaign you can see Blincclip at work hanging from the seat rails with the yellow side facing out.
The hardest thing about installing Blincc Hex stickers on bike wheels is cleaning the rim well first. The fun part was deciding location on and angles. The shape of the bicycle rim allows the sticker to reflect light at all the different angles it curved to match. This gif from their Kickstarter page shows how well the stickers can wrap and just how visible they are under a headlight.
What I like
Super easy to install
Low cost but high safety factor
Lightweight with no rattle
Nothing to charge or to forget to charge
What I'd change
Final thoughts
Blincc's products are no brainers for commuters or anyone spending time on a bike out in traffic. The wheel stickers look cool and add little enough weight that even serious bikers that weigh every part of their bike would have a hard time finding lighter reflectors. The seat rail reflector's blinking while in motion is unique and is up closer to driver's eye level and should help visibility.
Price: Blincclip $12 (on sale for $9.50) | Blincc Hex $15 (on sale for $11)
Where to buy: Blincc.co
Source: The sample of this product was provided by Blincc