We use affiliate links. If you buy something through the links on this page, we may earn a commission at no cost to you. Learn more.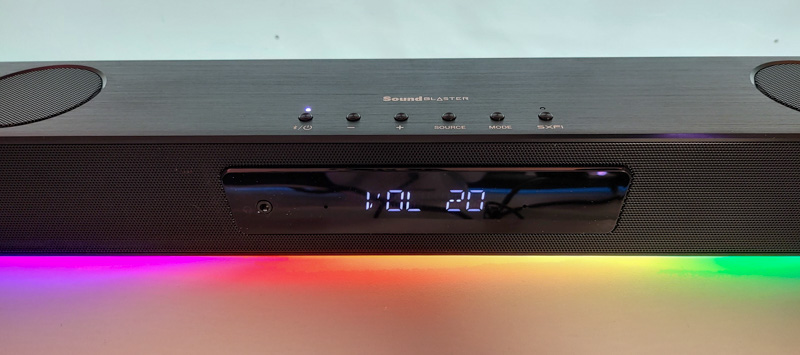 REVIEW – Are you looking for powerful sound combined with snazzy looks, from a company with decades of multimedia experience? I've been running some relatively boring black computer speakers on my work/gaming desk in my office for years now. I previously had a Creative 5.1 surround system on my gaming/workstation but the wires and logistics of placing 2 surround speakers behind me was enough of a hassle that I retired them in favor of a decent stereo+subwoofer setup. The Creative Sound Blaster Katana V2 Gaming soundbar bills itself as a high-performance soundbar with excellent audio and RGB flashy lights. I tried it out for a few weeks, and it's exceeded my expectations in many ways.
What is it?
The Creative Sound Blaster Katana V2 Gaming soundbar is a soundbar that can take a variety of inputs, including USB, optical, Bluetooth, and HDMI-ARC. Using unique speaker placement, it is designed to deliver good virtual surround without requiring additional rear speakers. It also has a relatively high power rating for such a small soundbar, and a good subwoofer for thumping bass and game/movie explosions. It also has some RGB gamer lighting in the form of a lightbar under the front.
What's in the box?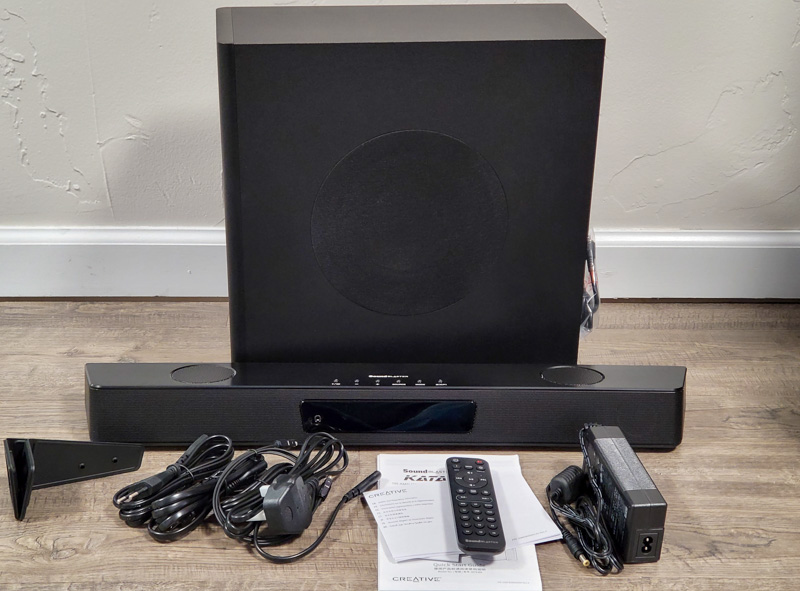 Creative Sound Blaster Katana V2 Gaming Soundbar
Remote Control
AC Power Adapter
Optical Cable
USB-C to USB-A Cable
Wall Mount Brackets (2)
Hardware specs
Soundbar size: 23.6 x 3.74 x 2.44 inches (600 x 95 x 62 mm)
Subwoofer size: 5.9 x 14.4 x 14.4 inches (150 x 367 x 367 mm)
Power output: Up to 126W recommended (252 W peak)
Connections: Bluetooth 5.0, HDMI ARC, Optical-in, Aux-in, USB-C, SXFI-out (headphones)
Drivers: 2 x 2.5″ (63mm) mid-range, 2 x ¾" (19mm) tweeters, 1 x 6.5″ (165mm) subwoofer
Frequency response: 50 – 20,000 Hz
Built in Microphone
Design and features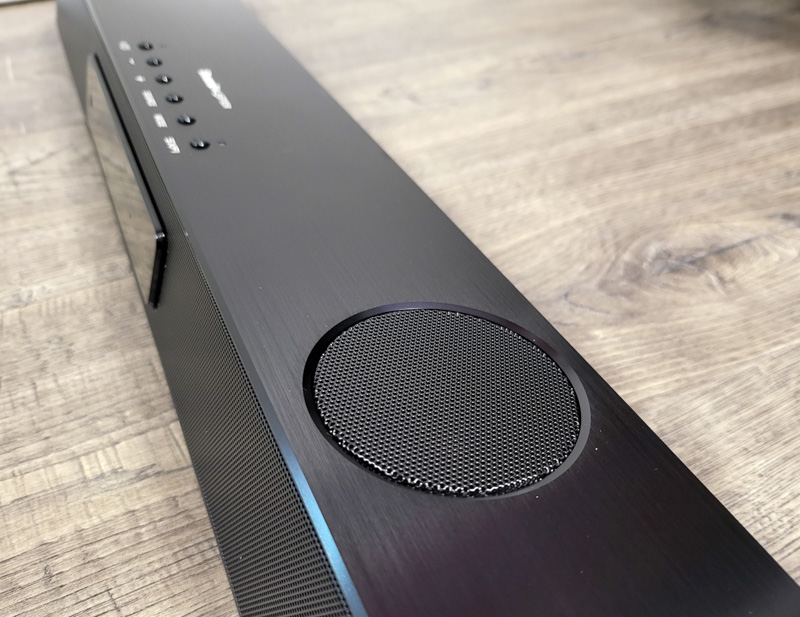 The Creative Sound Blaster Katana V2 Gaming soundbar is a solid black affair, with buttons on the top, an LCD screen on the front, and metal grills covering the various mid-range and tweeter speakers.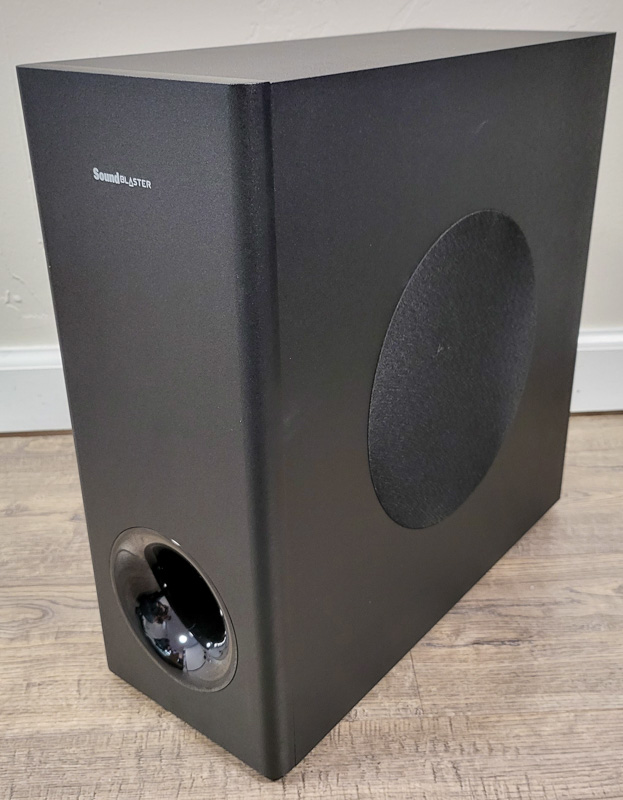 The subwoofer can get surprisingly loud despite being nearly half the size of my old one.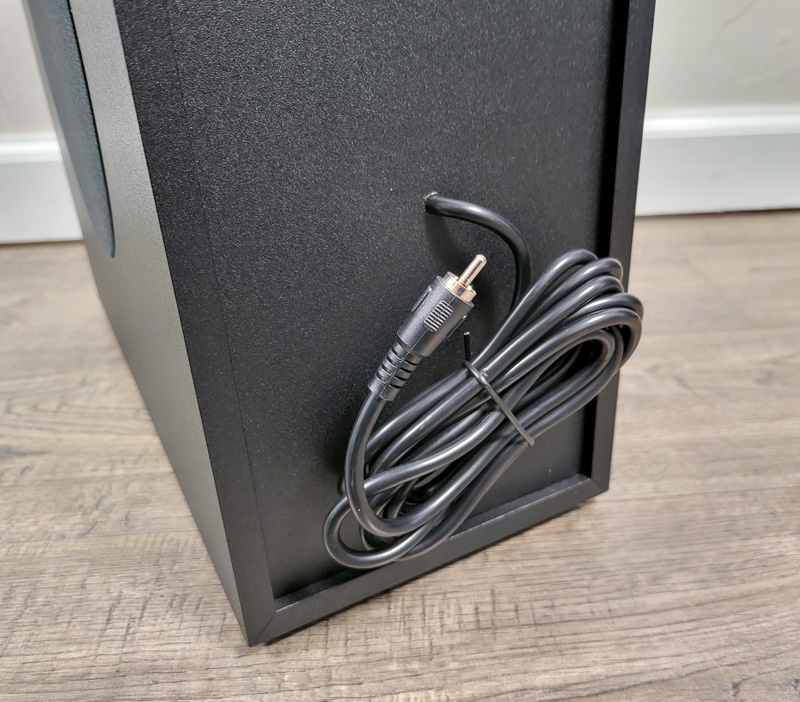 Never miss one of our posts again. Sent MON, WED, and FRI with the latest gadget reviews and news!
The subwoofer has a single permanent cable to connect to the soundbar. Because low range bass sounds the same to our ears regardless of direction, this can be placed behind or to the side of the desk or TV stand, or even hidden entirely.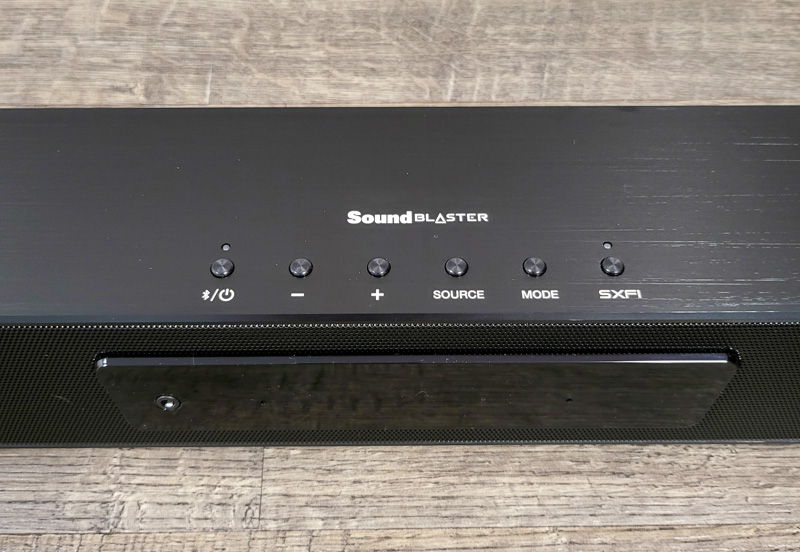 There are a few buttons on the top of the unit including power/Bluetooth, volume up/down, source selection, equalizer mode, and SXFI toggle.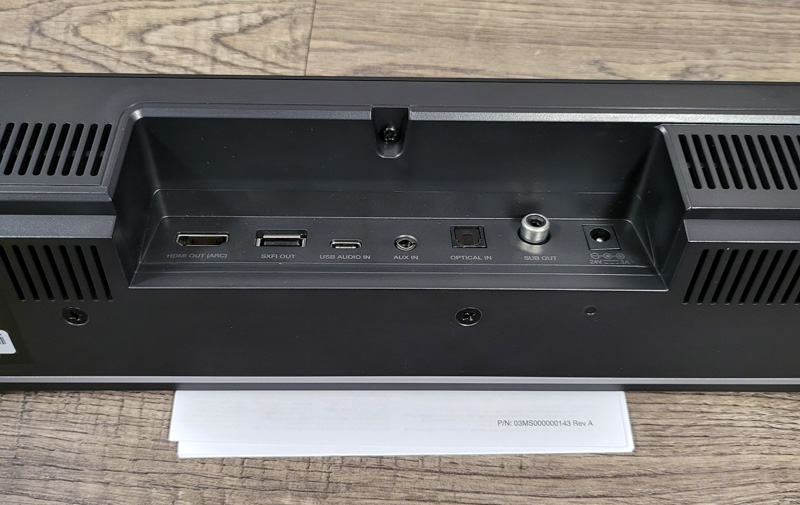 On the back are a series of ports: HDMI-ARC, USB-out (for supported Creative SCFI USB devices), USB-C audio in, Aux audio in, Optical in, Subwoofer out, and the power connection.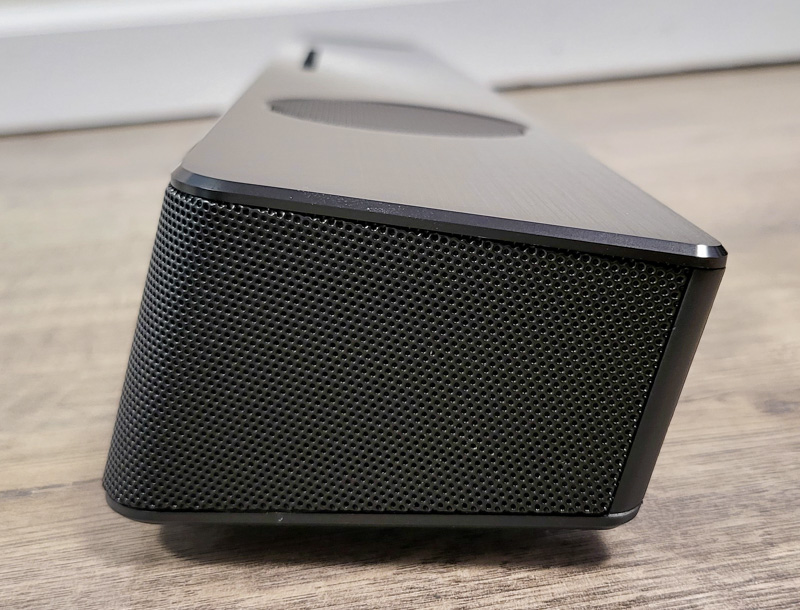 In the above show, you can see the unique angle of the Creative Sound Blaster Katana V2 Gaming soundbar, which is designed to evoke the angles of a Japanese katana blade. I like how the device is angled to face someone sitting right in front of it, this makes the screen easy to read and the audio from the forward facing speakers is shooting right at your ears.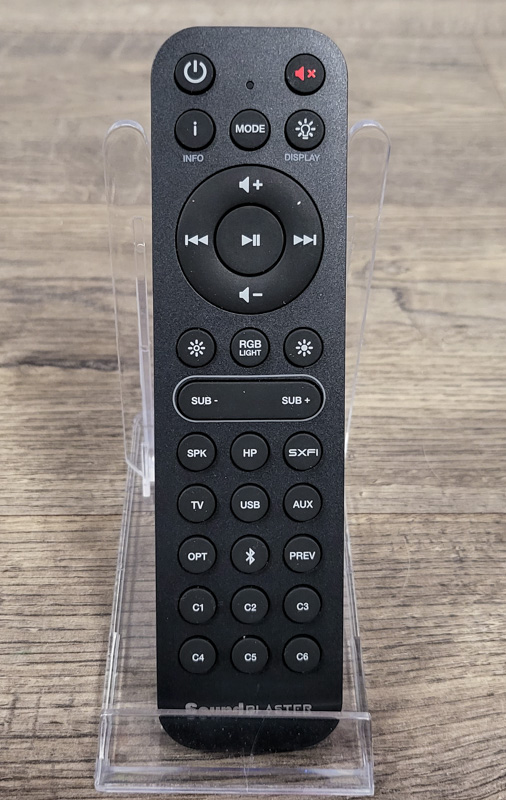 There's a remote as well, which I didn't use much beyond basic feature testing. Most of my testing was while working or playing on my computer, and software on the PC can control the device, but this remote would be handy if you were using this with a game console or on a TV. All the buttons worked as you'd expect them to, and I like that they included 6 customizable buttons at the bottom that you can program to whatever you'd like.
Installation and setup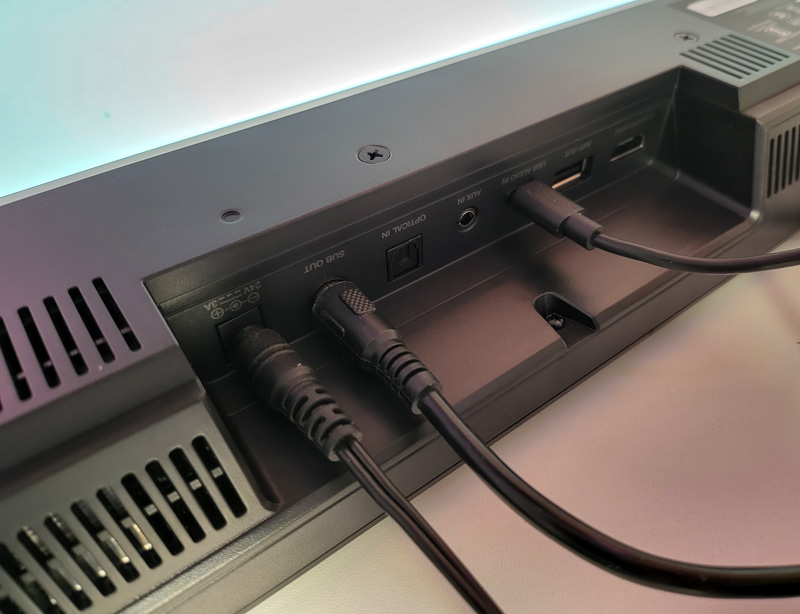 Installation involved connecting all the cables (I did most of my testing with the USB-C connection). I placed the subwoofer behind my computer desk, and the Creative Sound Blaster Katana V2 Gaming soundbar itself at the back center of my desk. Immediately I appreciated how much less space it occupied versus the old speakers.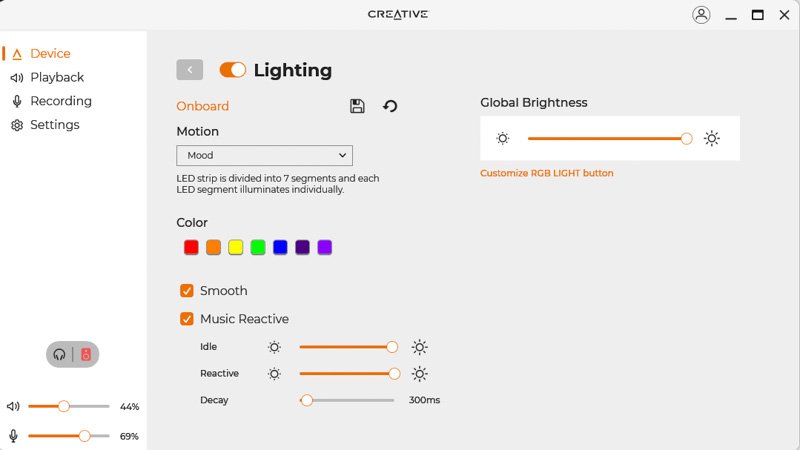 The Creative Sound Blaster Katana V2 Gaming soundbar is plug-and-play on Windows or with HDMI/optical/Aux-in. The additional Creative software allows for further control of the device, but isn't required for use. Installation on Windows 11 was straightforward and unlocks a host of lighting, audio, and other settings.
Lighting can be controlled to both static or preset animated lighting with customizable colors, speeds, and music-reactive settings. Color is 8-bit with RGB, Hex-value, or color-wheel picker, so more than enough for most people.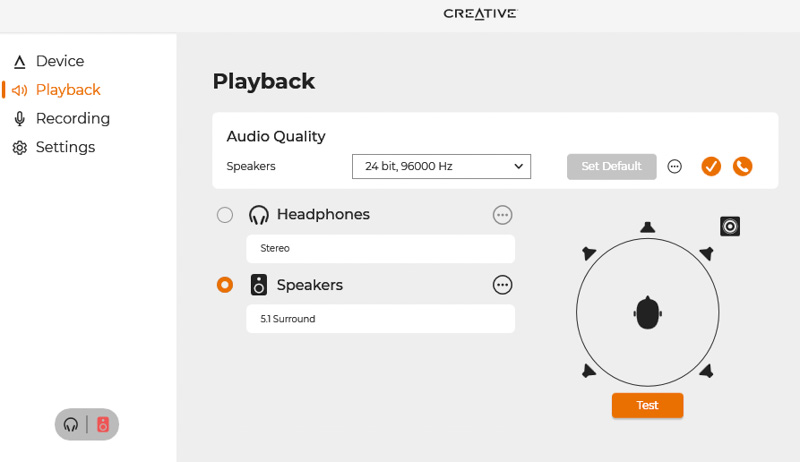 With nearly every other "virtual surround" device I've tried out, the resulting audio sounds more widely separated in the left and right channels, but introduces a hollowness to the sound. With the Creative Sound Blaster Katana V2 Gaming soundbar, I changed the speakers setting to 5.1 surround and performed the sound test, and was astonished at the channel separation, especially the rear channels. They sounded like they were right behind my left and right ears. I'm not sure what trickery Creative has used to accomplish this, but it resulted in the best surround sound that I've heard since I retired my 5.1 system years ago.
With the surround mode turned on, other stereo audio still sounded totally normal, without the issues I've had with past "virtual surround" systems. For me, this is the best of both worlds: hyper-discrete channels that are perfect for gaming and movies, without ruining stereo music playback.
There are a few equalizer modes built-in (like Music, Movies, and Gaming), I preferred the flat no-effects version. There's also a fully custom EQ built into the software which is nice.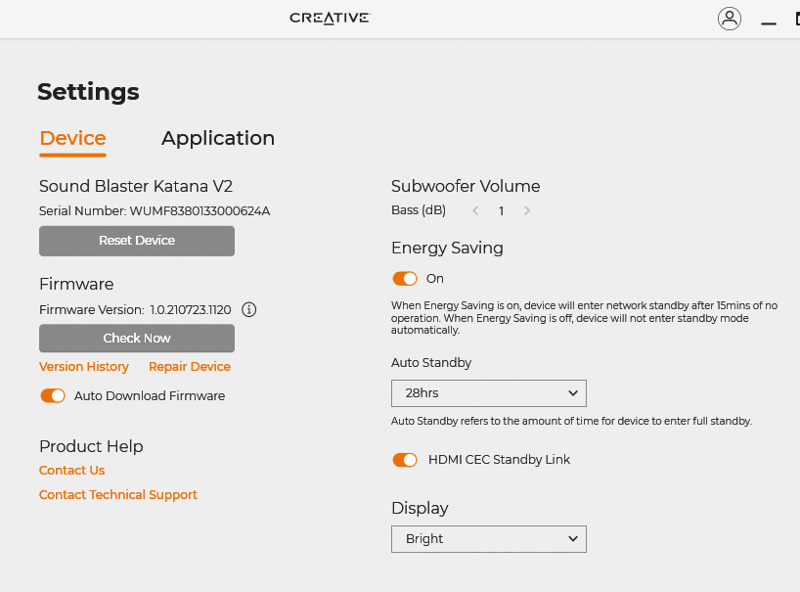 Further controls include the ability to update firmware, adjust subwoofer volume, turn on/off energy saving (auto-off), and set the LCD front display to bright/dim/off.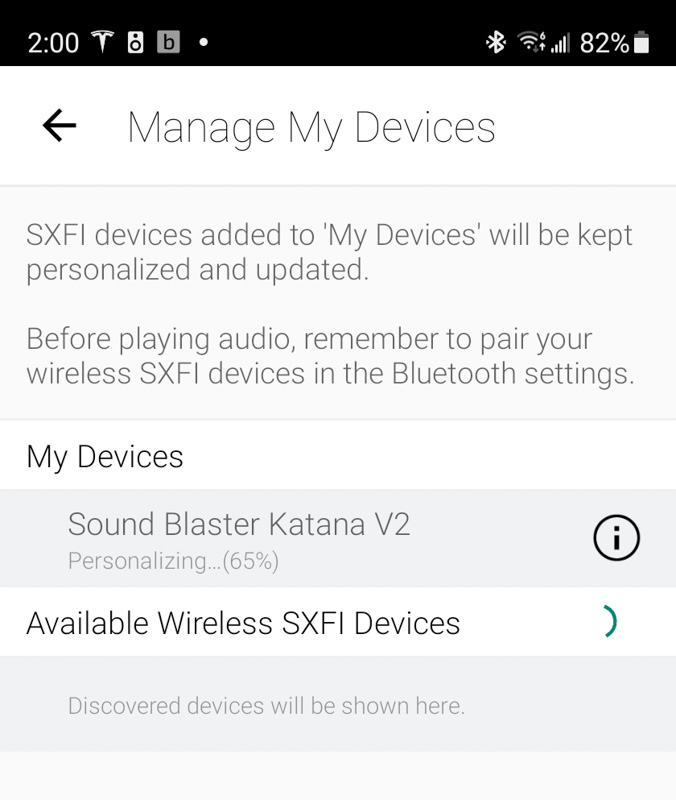 Scanning a QR code in the PC app from my phone prompted me to sync my previously created SXFI profile (from my Creative SXFI Air Gamer review). This SXFI technology can only be used with headphone playback, but it did seem to slightly improve wired headphone sound.
Performance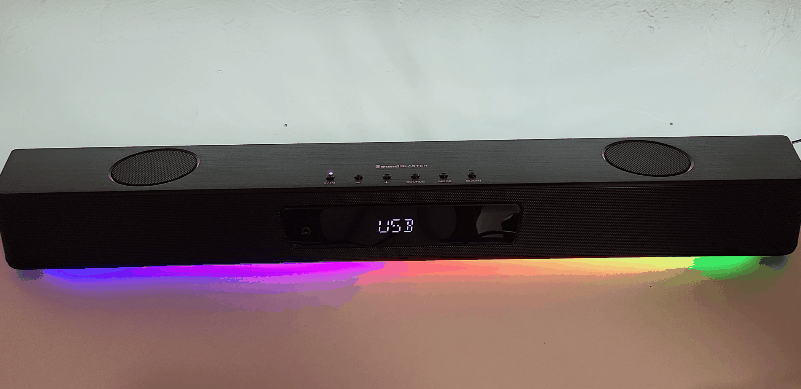 The Creative Sound Blaster Katana V2 Gaming soundbar is an impressive little soundbar. I couldn't push it past the point of hurting my ears (at about 60% volume on a loud song), so it should be easily capable of filling pretty much any small to mid-size room. As with any audio device, it's surprising how fast a large room can swallow up the sound so it may struggle in a big living room, but for me, it's perfect for my office (about 15 feet by 25 feet, desk in a corner).
I prefer simple white backlighting (which is what I have it set to in the last photo below), but the extensive RGB lighting customization should meet anyone's needs for exact colors or rave-style music-syncing party lights.
The best test of music audio quality for me is the "goosebumps test", in any given session of music listening I regularly get goosebumps from good songs on good audio equipment, and the Creative Sound Blaster Katana V2 Gaming soundbar passed the test. Crystal clear mid and high range audio and a nice full bass range gives out a great sound for my tastes.
What I like
Great sound quality
Small desktop footprint
Unique design
What I'd change
Final thoughts

The Creative Sound Blaster Katana V2 Gaming soundbar has earned its permanent place on my desk. It takes up less space than the previous speakers, sounds better, and looks nicer. I love that I can connect to it via Bluetooth from my phone and blast some tunes while I workout, and it just sounds phenomenal in gaming. I had multiple moments the week of writing this review where I could hear footsteps approaching my tank in Battlefield 2042, and was able to turn around and frag them. Other people playing with me were surprised every time and said that they heard nothing at all before I reacted.
Price: $329.99
Where to buy: Creative
Source: The sample for this review was provided by Creative