We use affiliate links. If you buy something through the links on this page, we may earn a commission at no cost to you. Learn more.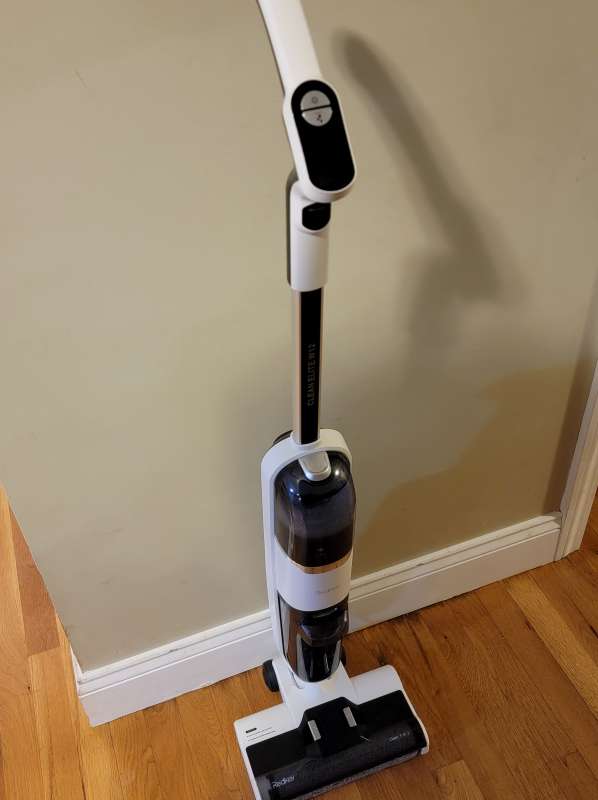 REVIEW – I don't know about you, but the idea of mopping makes me feel like " … crawling under the covers and eating a box of Velveeta"- Rose Nylund (RIP Betty White). In all seriousness, if I could vote one chore off my to-do list forever it would be mopping. It's back-breaking, you have to get things wet in a certain way to avoid footprints, constant water changes, then wait for the floor you just made wet, to dry, and even when you finish, you have to wash the mop that you were mopping with and worse than that, within 2 days of regular foot traffic from partners and pets, the bottoms of your white socks are now a depressing gray (with bonus fur from the four-legged friends). So what do you do when you have floors too grungy to sweep, but you refuse to bust out the mop and Fabuloso for the 3rd time this week? Enter the Redkey 3-in-1 Clean Elite W12 vacuum to the cleaning arena, and see what it can do!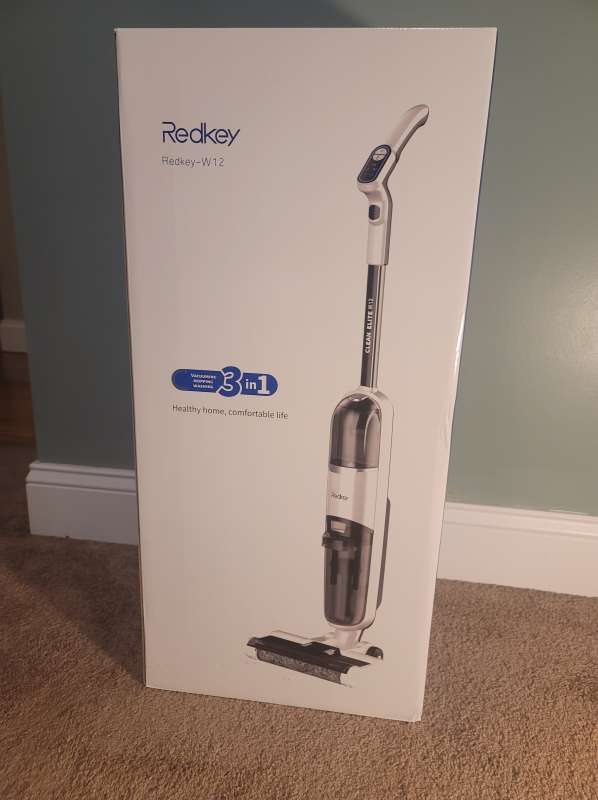 What is it?
The Redkey 3-in-1 Clean Elite W12 is the fork in the road between an upright canister vacuum and a wet mop.  Tipping the scales at a little more than 8 pounds, this cordless machine gives you the ease of "grab and go" cleaning without having to haul out the vacuum, mop, bucket, and spoiler alert comes with a "Self-Clean" function.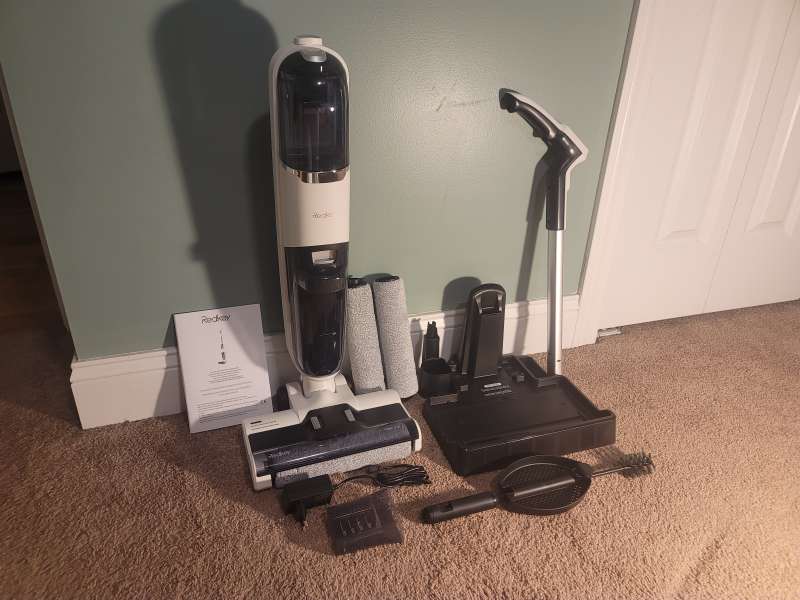 What's in the box?
1 Redkey Clean Elite W12 unit
1 water fill cup with measured fill lines
1 clean water tank
1 wastewater tank with filter
3 rollers
1 docking/charging station
1 cleaning brush/straining tool
1 charging plug, 110 volts
1 user manual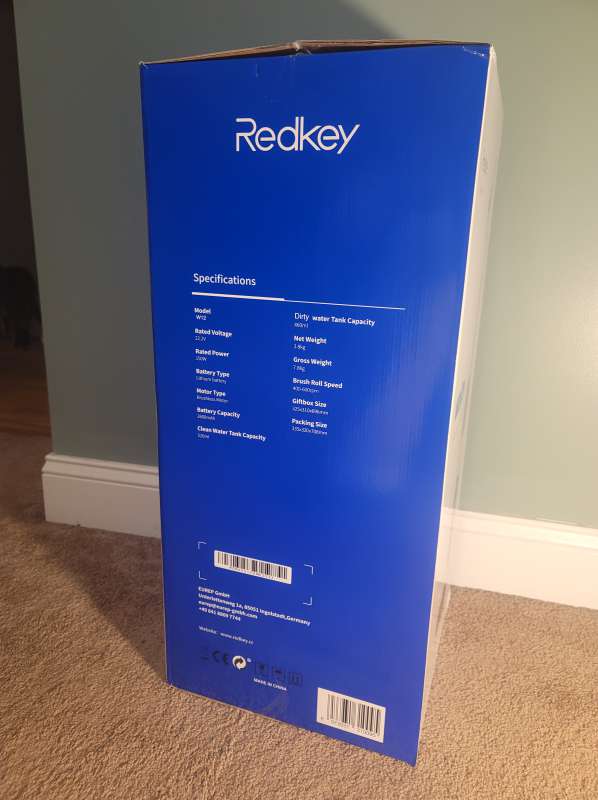 Unboxing and setup were a breeze. The design is fairly intuitive; large clearly marked power and spray power buttons are easily accessible with your thumb. The self-cleaning button is tucked away on the front of the unit so as to avoid accidental pushes during use.
There was a bit of struggle at the beginning as the unit I was sent did have a power cord made for a UK plug. Then when using my travel adapter, my unit would only run for 15 minutes. Fast forward a few days and a new power cord later- absolutely 0 problems charging and a shocking 45-minute run time.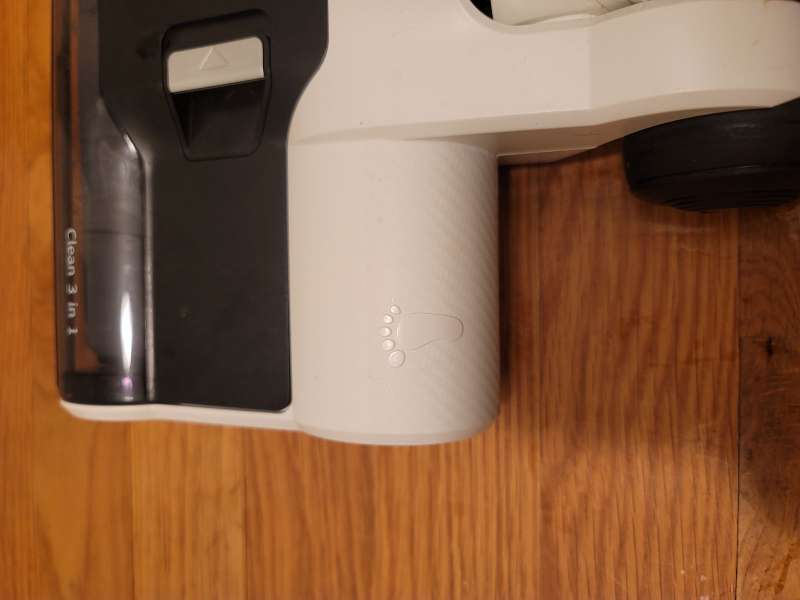 There was also a bit of a learning curve as the instructions left out the need to push the unit's head down in order to activate the power button for use. However, as seen above, they did include a cute little foot icon on the unit, so it isn't an impossible code to crack.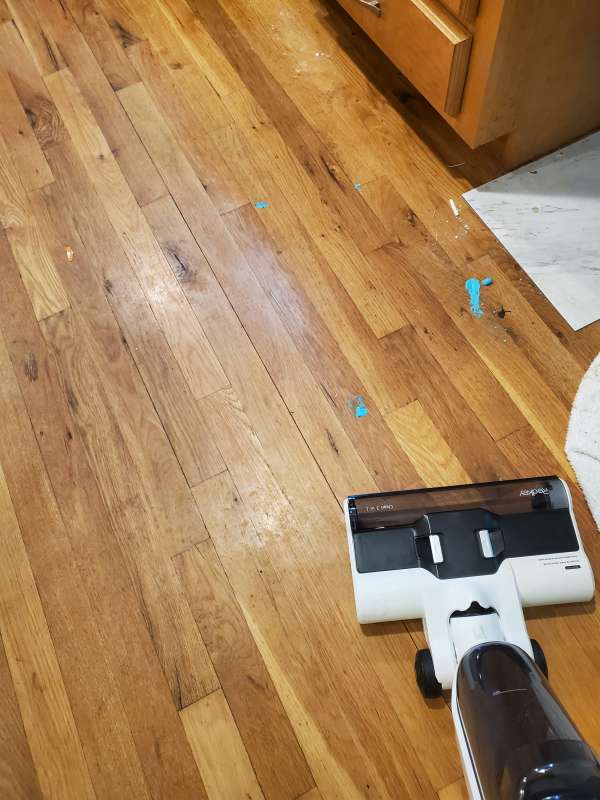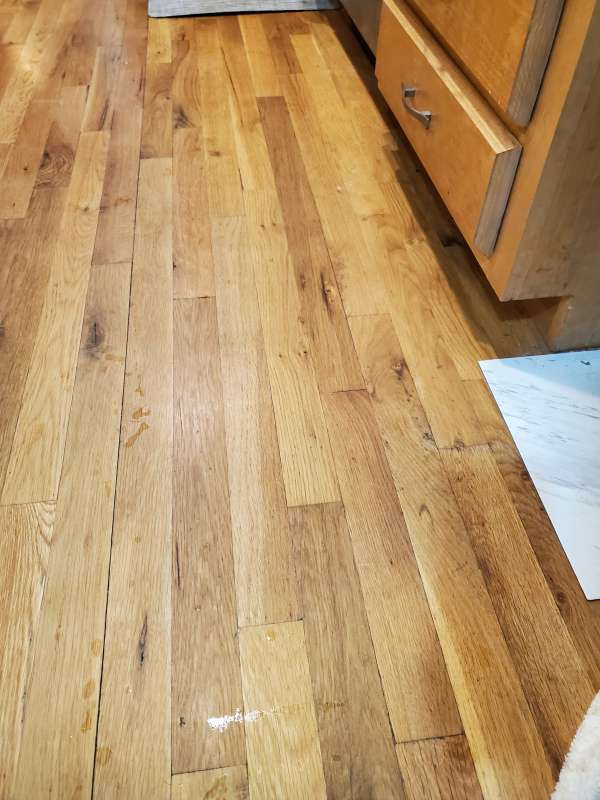 As you can see, I started small. Wet dog food and a bit of frosting. My cockers eat a mix of wet food and veggies and most of it ends up on their ears than on the floor. The Clean Elite W12 was a rockstar at this, and I have to say I much preferred a quick zip over the mess with this unit rather than spraying the area, wiping with paper towels, and then seeing all the streaks where I wiped to add insult to injury.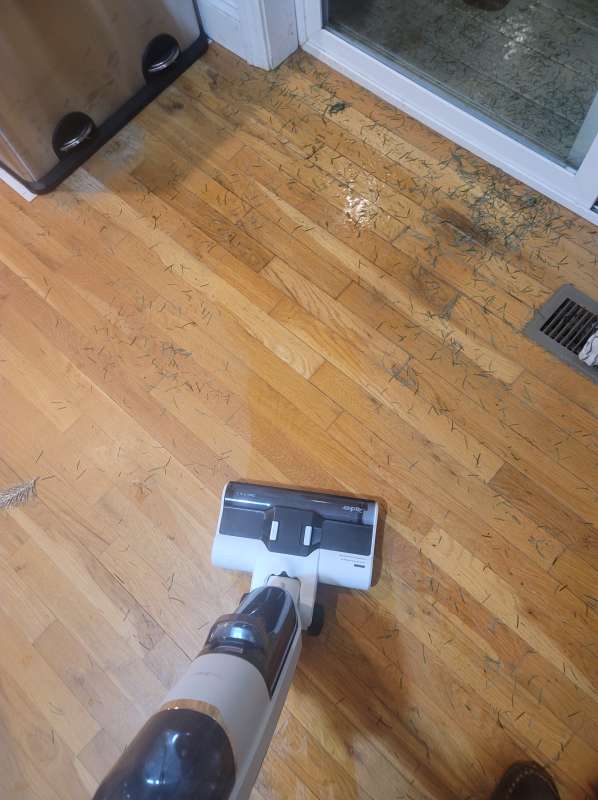 Next, comes the bigger test – Christmas tree takedown. Oh yes, my friends, pine needles that multiply upon hitting the floor and Christmas tree water that will inevitably spill when moving the tree out, not to mention the fact once one of those needles gets wet they will stick to everything like it's made of superglue. Here is where I was really impressed. Because of the vacuum action coupled with the roller brush, cleaning up this mess was so easy. I was speechless. I've had real Christmas trees for my entire life, and I had resigned myself to cleaning up the found pine needles straight into June. Not this year! Clean Elite W12 ate them up.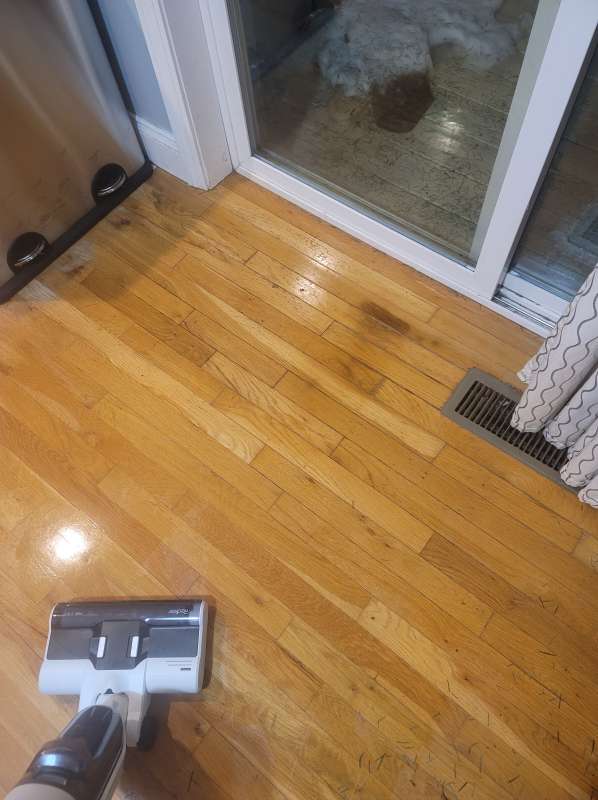 Ok, on to the juicy stuff. It's easy to marvel at a pristine unit but how does it hold up to all that testing and real-life use?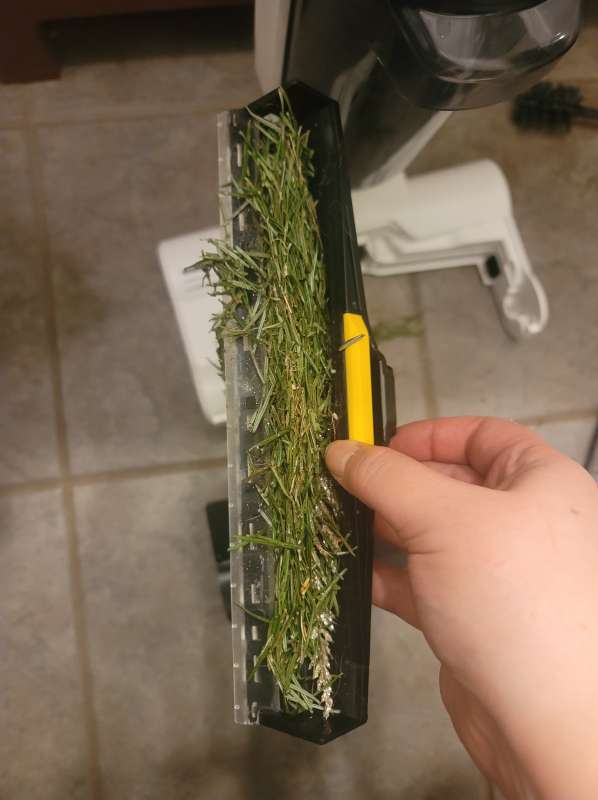 Below are a few images that show how the pieces look before the self-clean. A word of caution: these are gross. You have been warned. The Clean Elite W12 picked up so much with the vacuum and suctioned most of the water up leaving all this in the waste canister and not on my floor.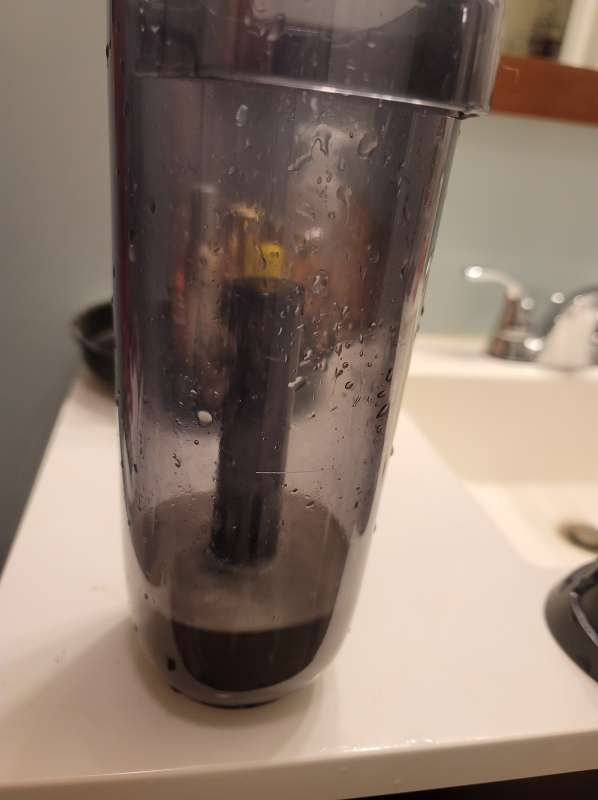 After the self-clean cycle is complete, you can see it doesn't even use half the amount of water that can fit in the wastewater tank.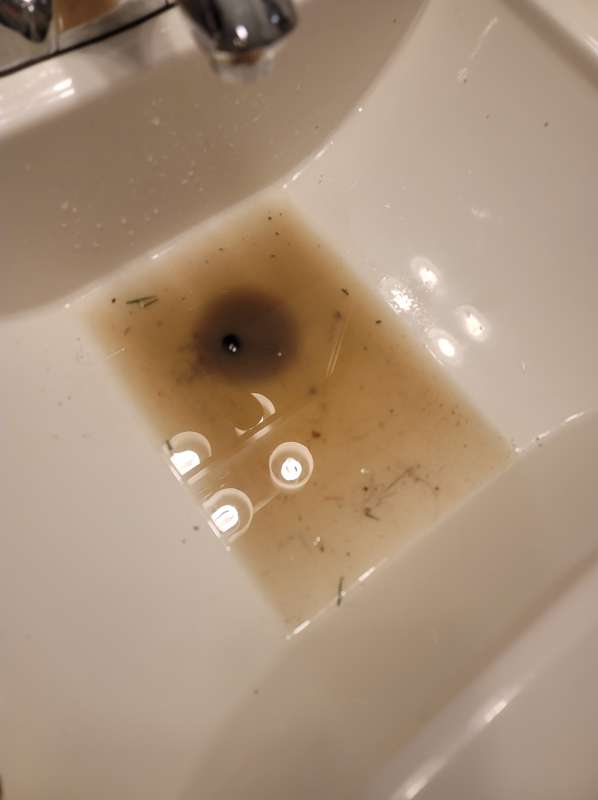 Now I don't recommend emptying the unit in your sink, but I wanted to show the self-clean function is really doing something. The gross water was all pulled from the roller on the W12 unit's first self-clean.  The best part is I could run this function as many times as I wanted to without downtime because it happens right on the same docking station that's connected to the power source charging it.
As with anything, communication is key and the Redkey Clean Elite W12 really shows you what's going on with the unit.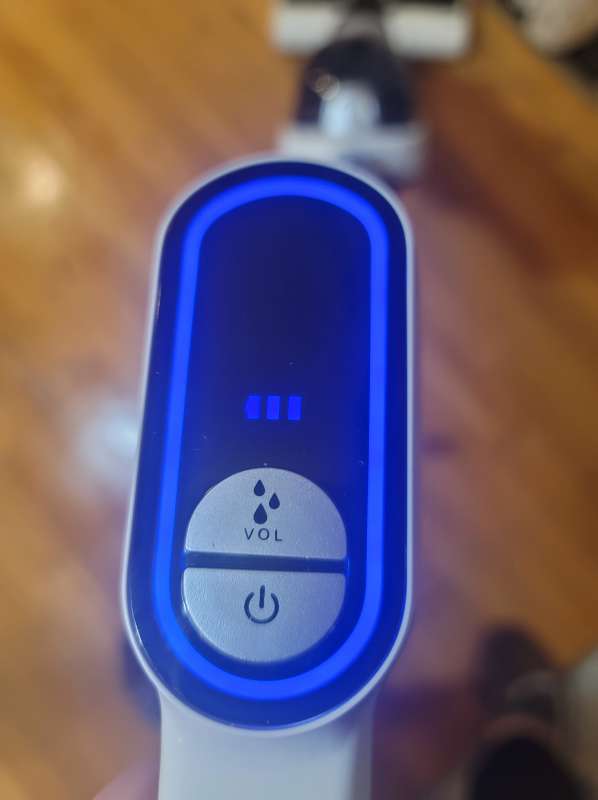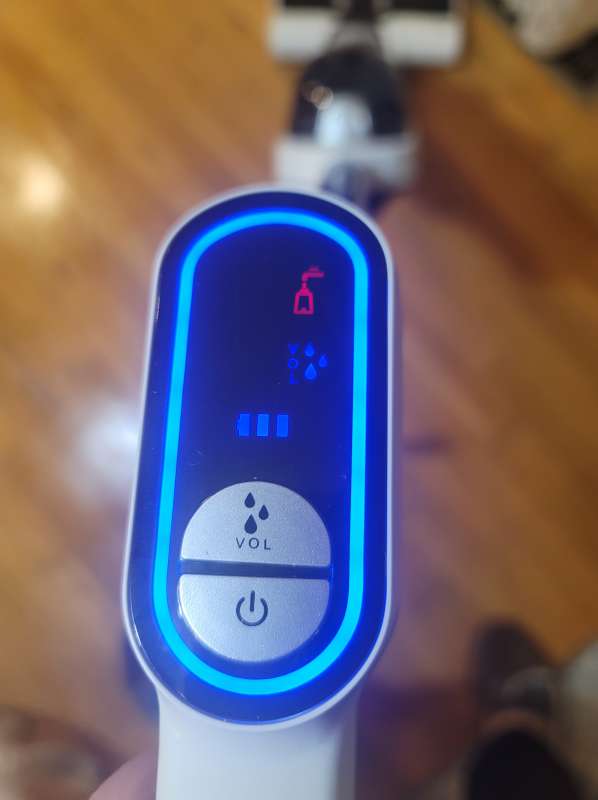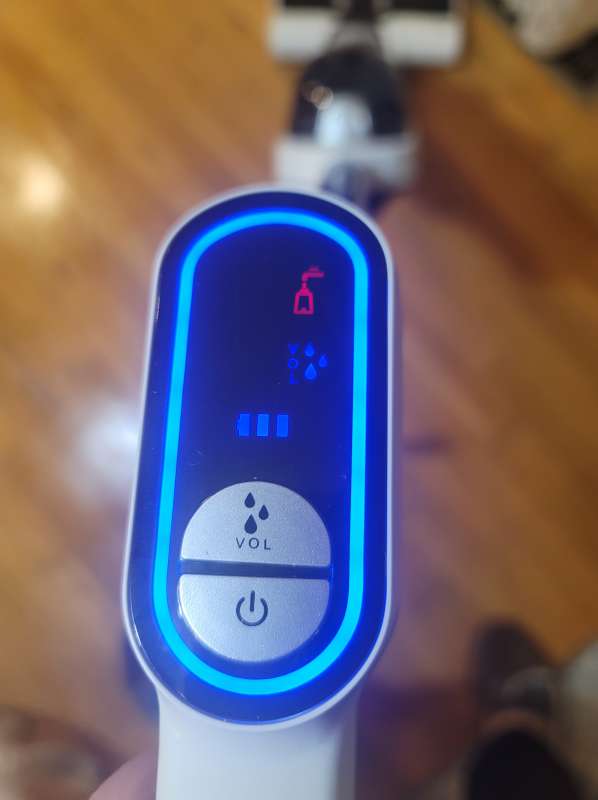 What I like
Lightweight: The unit itself is very light, weighing in at a little more than 8 pounds. When doing large areas of the floor, Redkey Clean Elite W12 won't tire you out. In fact, the roller gives a kind of self-propelled force. Not enough to run away from you but makes it easier to push.
Battery life: Once the plug issue was corrected, I have been able to clean all the hardwood surfaces in my house on a single charge, barely getting the battery indicator down a single notch.
Water use: Having used other similar products, even on the strong spray setting, the Clean Elite W12 won't deluge too much water at a time. This circumvents having to refill the reservoir a bazillion times but also avoids soaking my wood floors.
Footprint: While docked on the charging station, Redkey Clean Elite W12 takes up a surprisingly little amount of room and also holds all of the accessories within the dock.
Roller brushes: Now, the roller brushes are pretty good; they get the job done. A plush material and very absorbent. But what I particularly like is that the unit comes with THREE. One, ok sure, it has to come with at least one. Two, also ok, in that case, you can just rotate them in and out. But three? Three is the magic number; while one is drying, you've got two on deck, ready to go.
Self-cleaning function: It's amazing to not have to wash and soak and basically baby the rollers. Had a particularly gross mess? Run it again. The unit doesn't have a required reset time for this feature and it's helpful. Just follow the prompts. This function is pretty effective at cleaning out the rollers, and because we have three of them to cycle through, they can be swapped out if a hand wash of the roller is preferred.
Clear warning icons right on the handle- everything to an empty tank, a full waste tank, roller stuck, etc. The Clean Elite W12 really lets you know what it needs.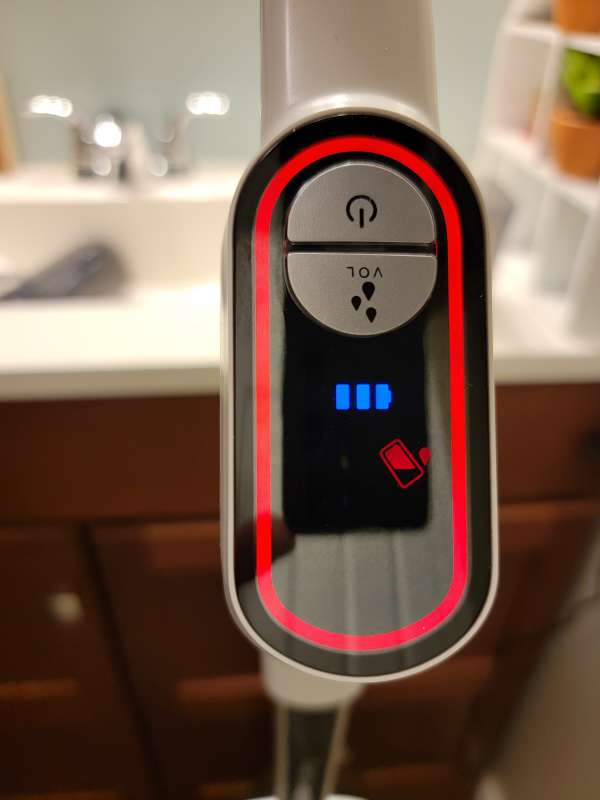 What I would change
If this product is going to be sold in the U.S., then it needs an American wall plug.
While the unit is powered on, it can be difficult to understand when it tells you things; not because the unit is loud but because the statements are strange to the ear. "Strong Water Flow" " Low Water Flow", and the labeled "VOL" button is in regards to the volume of water flow. It was a bit confusing.
Some ability to apply more pressure or a manual spray button to really saturate the messiest of messes. At times, I have found myself standing in the same spot for several minutes running the unit back and forth over the same spot, and only a little, teeny, tiny bit of whatever was on the floor would be cleaned after each pass, but the unit didn't seem to be in much of a rush.
The company states to not use any cleaning formulas unless specified but does not include any with the unit. The website also does not have a list of approved cleaners. All my cleaning was done with either plain water in the clean water tank or a spritz of vinegar on the actual mess.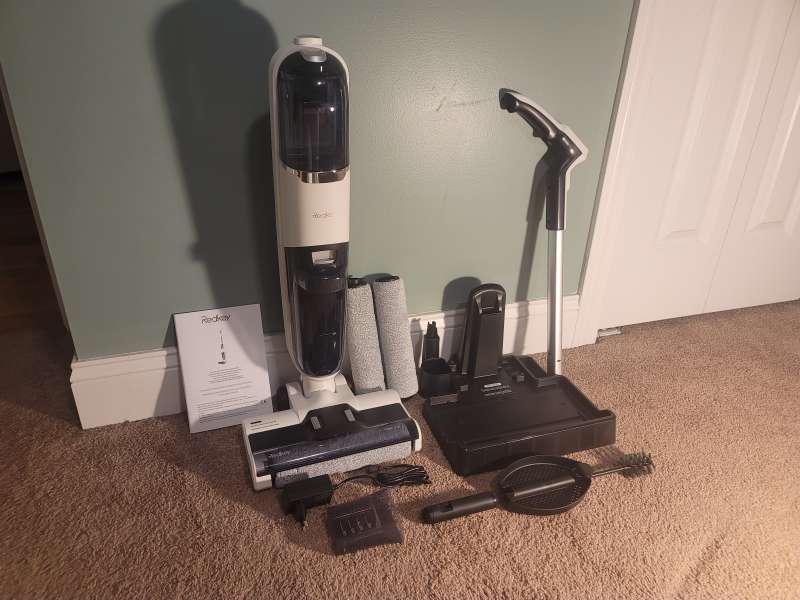 Final thoughts
Since receiving the Redkey Clean Elite W12, I've noticed myself reaching for it multiple times a day. For small dog food messes, to spilled sugar, or my all-time favorite: when we had an extra 4 inches of snow on top of the 6 inches that were forecasted and ultimately half of it was dragged into the house after shoveling; sucking up all forms of the snow was a breeze. Honestly, I could almost just buy it for that last one. It reminds me of a very polished wet/dry shop vac that's much quieter, far smaller, and cordless. Additionally, the included accessories, a brush that doubles as a strainer (to help not clog drains with large debris) are a nice touch. I don't want to be pawing through gross water to fish out an escaped bread tag or lost earring that got sucked up and this was really thoughtful addition to the cleaning station. If you are in the market for an electric wet vacuum for everyday maintenance of your floors, the Redkey Clean Elite W12 is worth having.
Price: $299.99
Where to buy: Redkey
Source: The sample for this review was provided by Redkey. For more info visit their site.