We use affiliate links. If you buy something through the links on this page, we may earn a commission at no cost to you. Learn more.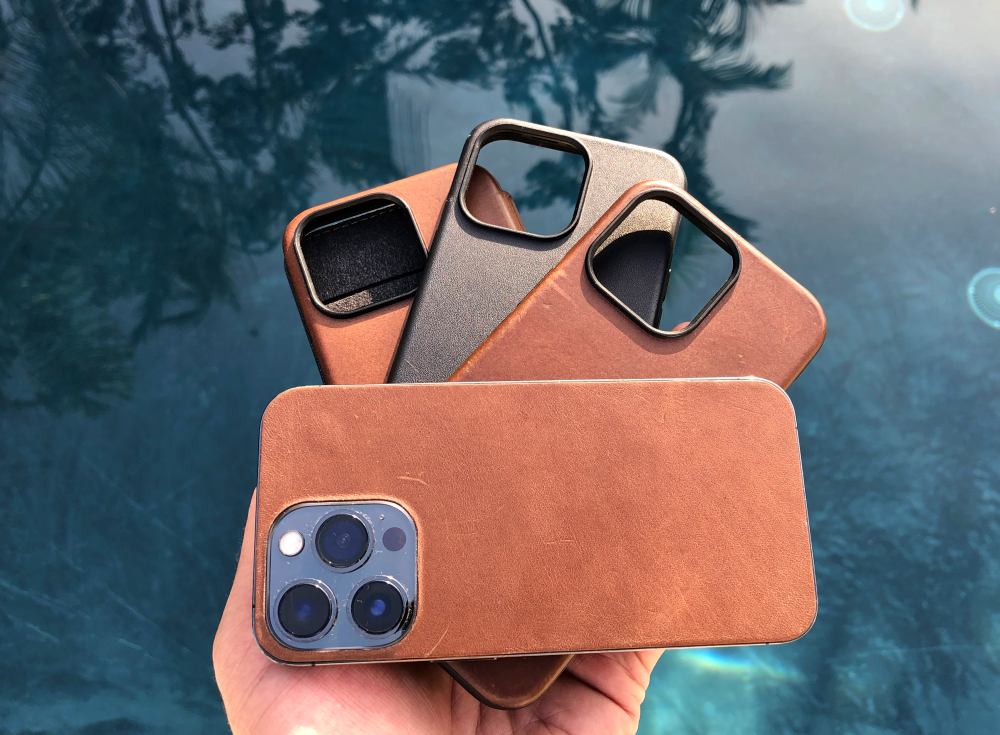 REVIEW – In case it wasn't obvious from the photo above, Nomad makes a bunch of cool solutions for iPhone 13 Pro. Pretty much every recent iPhone in fact, but we're going to focus on those for iPhone 13 Pro for this review. We'll be taking a closer look at the Modern Leather Case, the Modern Leather Folio, the Leather Skin, the Sport Case and their Screen Protector. Let's jump right in to see if these are as compelling as they seem to be.
What are they?
Modern Leather Case and Folio – Horween leather-wrapped, Works with MagSafe protective cases with RFID business card
Sport Case – A glossy, slim protective case with RFID business card
Leather Skin – A thin Horween leather layer for the back of your phone
Screen Protector – An Oleophobic glass layer to protect your phone's screen
What's in the boxes?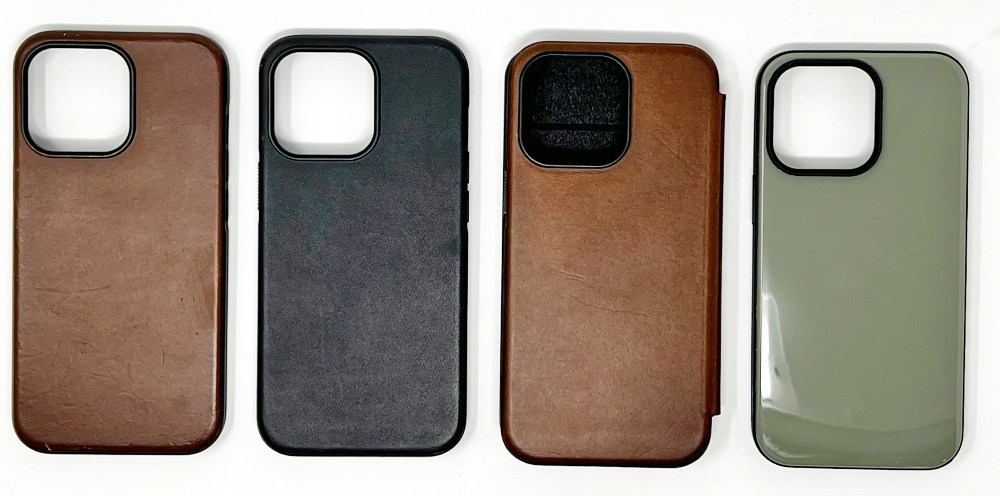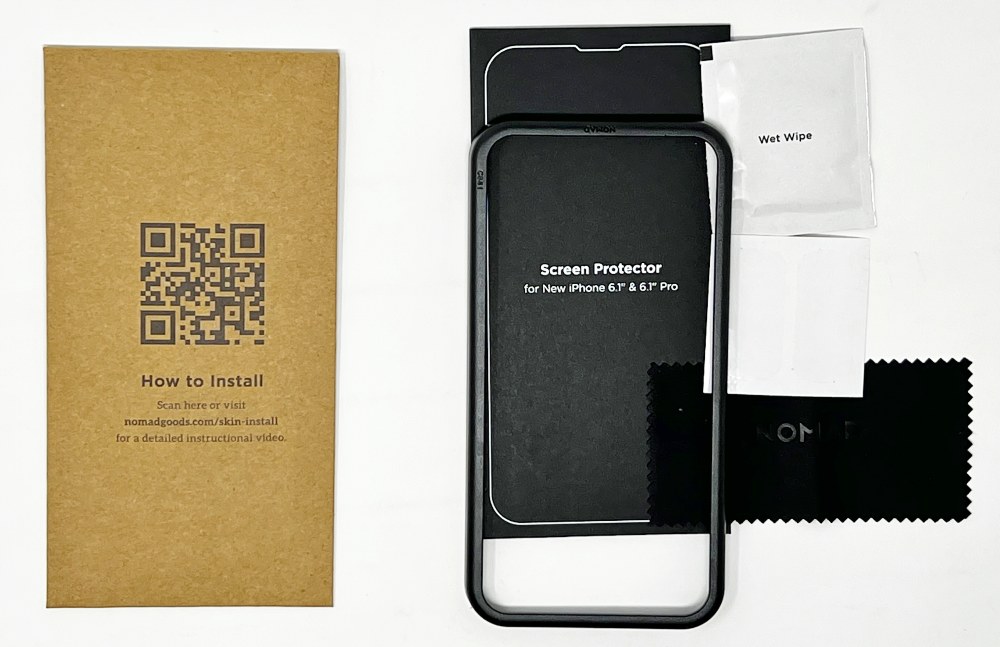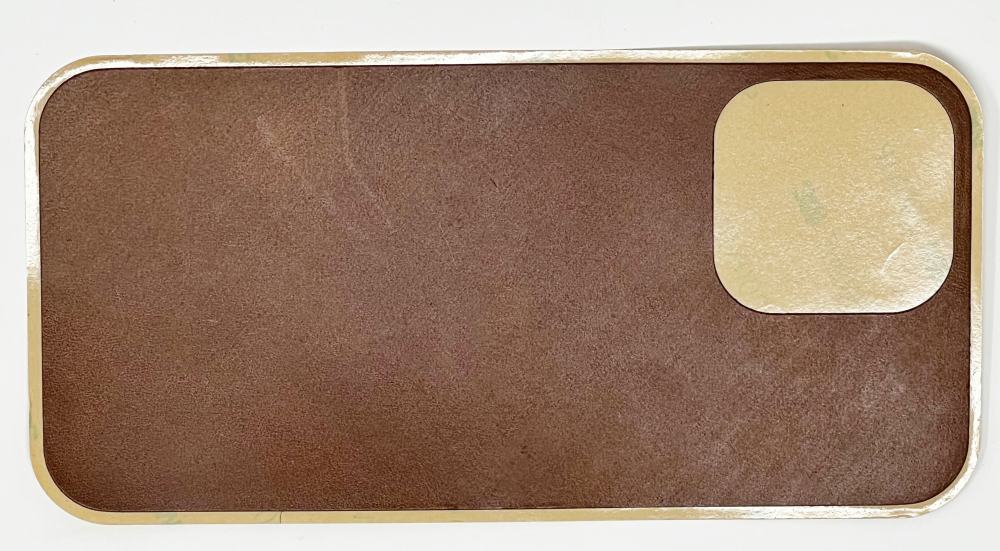 Modern Leather Case
Modern Leather Folio
Leather Skin
Sport Case
Screen Protector
Hardware specs
Leather Cases: Horween leather, TPE frame, microfiber interior, Works with MagSafe
Leather Skin: Horween leather, 3M residue-free adhesive, Compatible with MagSafe
Sport Case: High Gloss backplate, TPE frame, microfiber interior, Works with MagSafe
Screen Protector: Japanese tempered glass, Oleophobic coating, Installation tools
Design and features
It's obvious that Nomad takes a lot care and time in creating solutions for iPhone, and they've expanded their styles with the iPhone 13 series. In addition to the Horween Leather options, they've added a glossy protective case, an adhesive skin and screen protectors.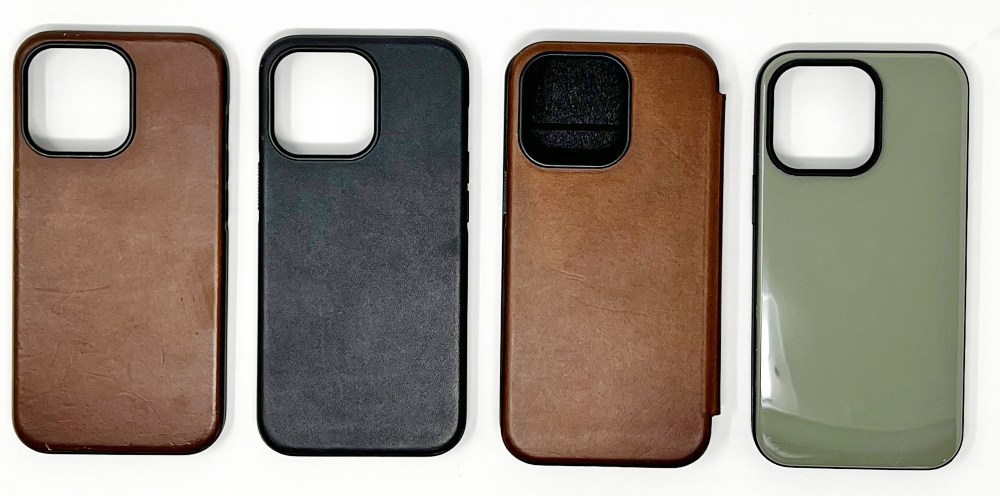 All of their cases offer drop protection; up to 6ft for the Sport Case and up to 10ft for the Modern Leather Case and Folio.
If you're more of a minimalist, the Leather Skin adds a thin layer of Horween leather to the back of your phone while maintaining MagSafe compatibility and keeping the overall profile of your iPhone as thin as possible.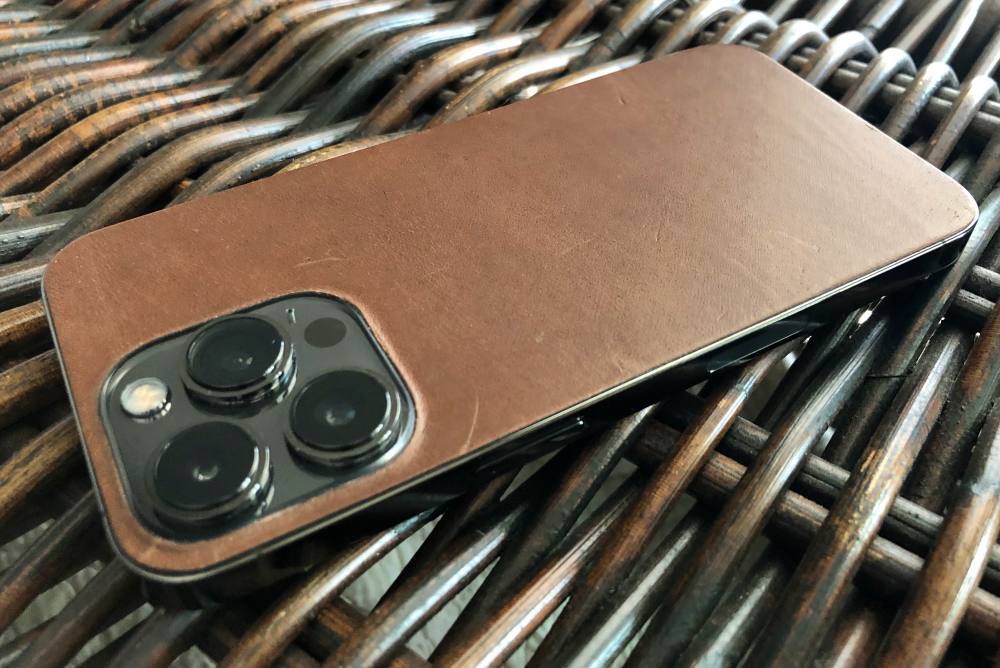 The glass Screen Protector offers a layer of protection for the glass of your iPhone without sacrificing any of the touch sensitivity that you demand from your iPhone.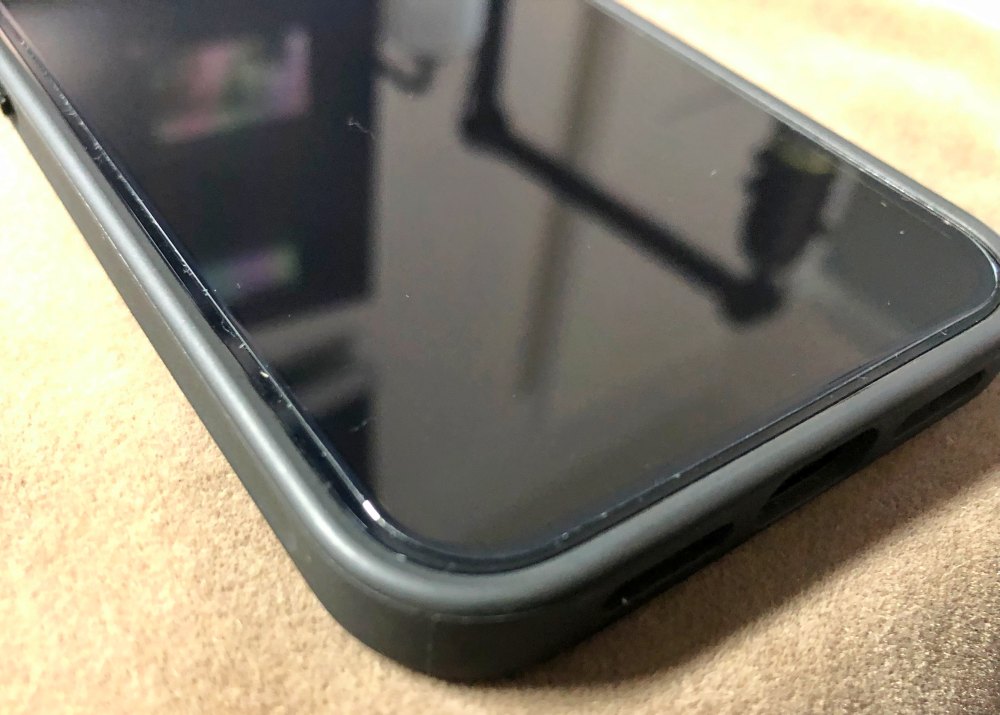 Setup
All of the cases push on like you would expect, so I'll just focus on the items that need a bit more clarity.
Modern Leather Folio – The only thing to call out here is that Nomad does recommend installing a screen protector on your phone for this case. This is because the top half of any cards you install actually make contact with the glass when you close the folio cover. It's possible that cards (especially the newer metal ones) could cause some micro scratches on your phone's glass, so this suggestion is out of precaution.
Leather Skin – This Horween leather panel has an adhesive layer that sticks to the back glass of your phone. It's actually pretty easy to install and this video will help you do just that.
Screen Protector – Nomad's solution is all glass and easy to install thanks to their included tools. Here are the steps…
1. Use the wipe to clean the screen
2. Use the microfiber cloth to dry and polish

3. Use the clear stickers to pull up any remaining lint or dust
4. Place the custom installation frame over the phone (only fits one way, so match buttons)

5. Peel backer from glass and place into the frame (notch up)

6. Carefully press down on the glass protector and remove the frame

7. Chase out any bubbles, by pressing down and pushing towards the sides

8. You may need to slightly lift a corner and lower again if bubbles refuse to chase out
Performance
I know what you're thinking… "This is just another case or two right?". Well yes, and no.
The Modern Leather Case is an updated version of the ones that have come for the previous model phones before.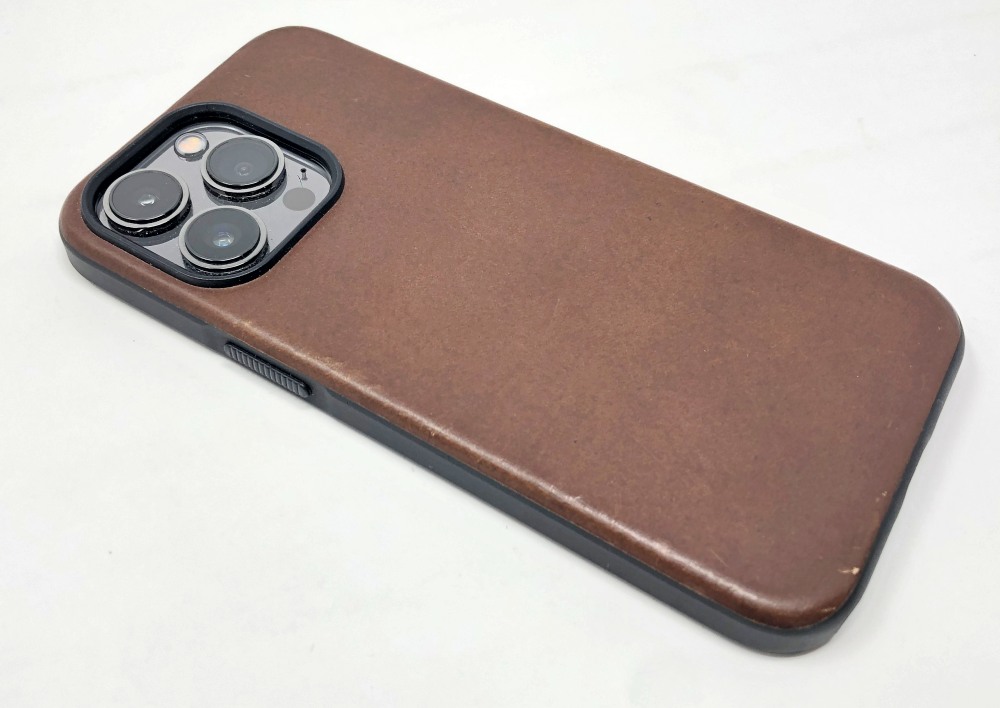 The fit and finish continue to improve with each generation as does the tactile feel through the buttons. MagSafe functionality is now expected of cases and the Modern Leather does not disappoint. The leather surface resists sliding helping MagSafe stick that little bit better.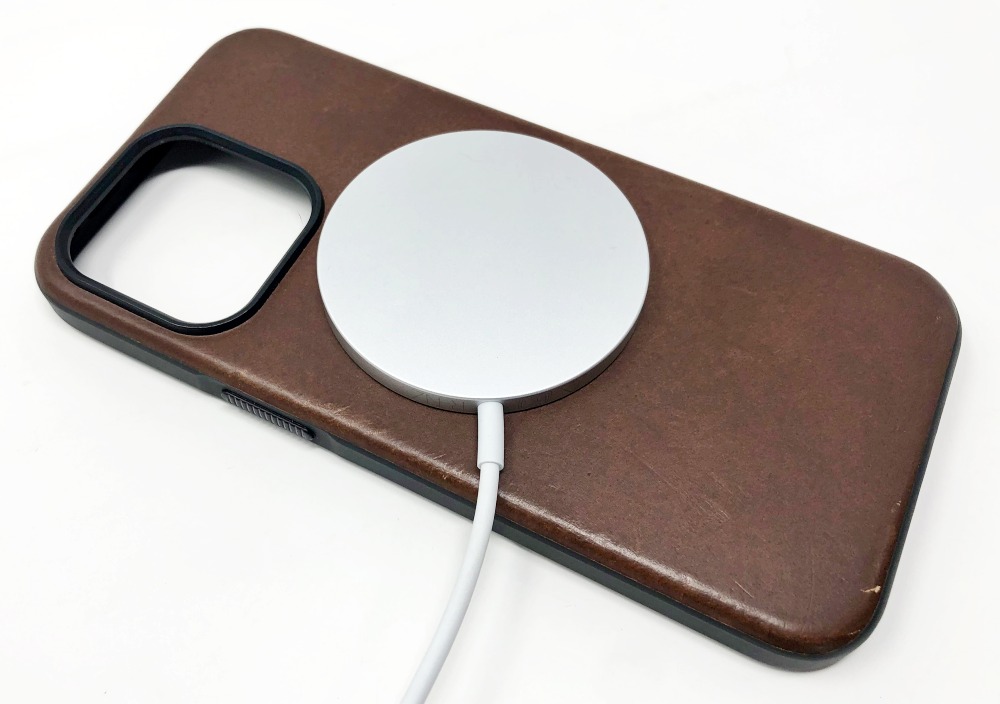 As with all Nomad's leather product it will show the wear and surface scratches that accumulate over time. It's part of the charm of leather products and something you should know as you choose to use a leather product.
The Modern Leather Folio has all these same features with the addition of a folio cover that extends from the left side of the case to cover the phone when not in use in addition to providing 3 slots to store credit/ID cards as well as a pouch for bills or receipts.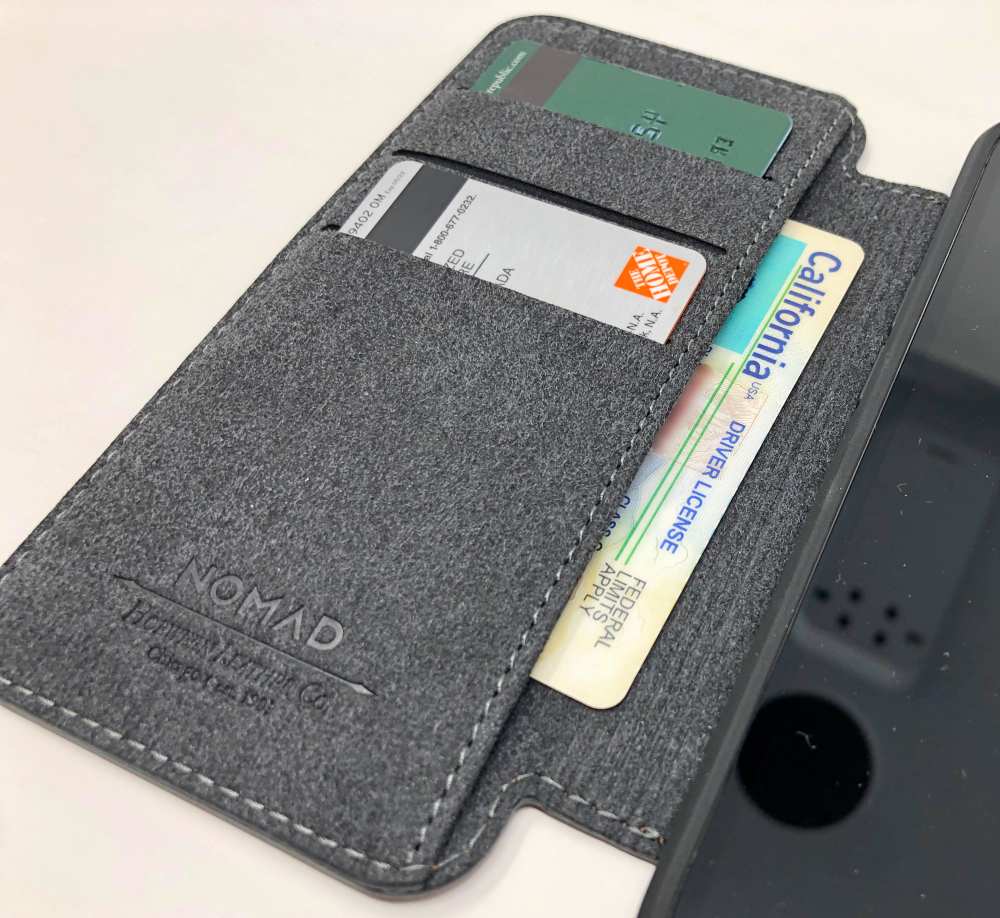 The microfiber lining is soft and safe against your iPhone's glass although the cards could cause micro-scratches, so running a screen protector is a good idea. You probably already know if you are a folio user or not. It's not my type of case, but it's well made and works well. Definitely a thicker case as a result and how much depends on the number of cards and bills you add.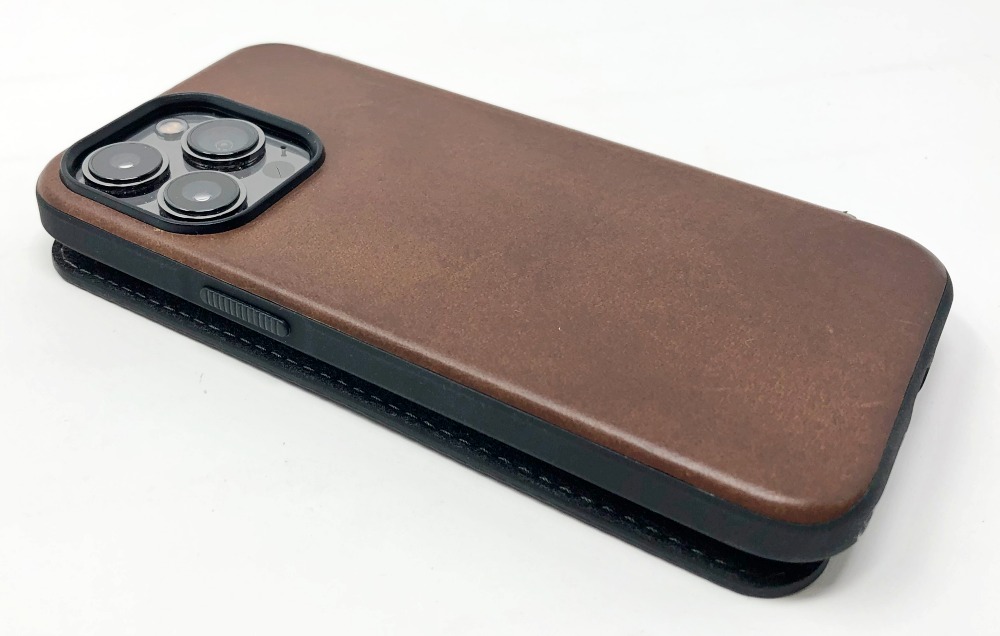 The Sport Case is a new look for Nomad with a glossy back and individual buttons pressed into the case that increases the tactile feel.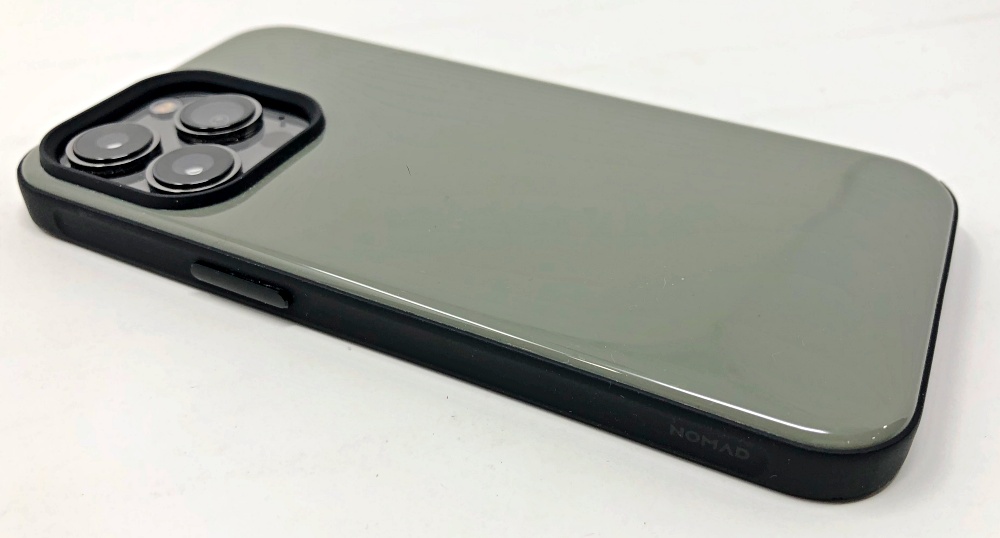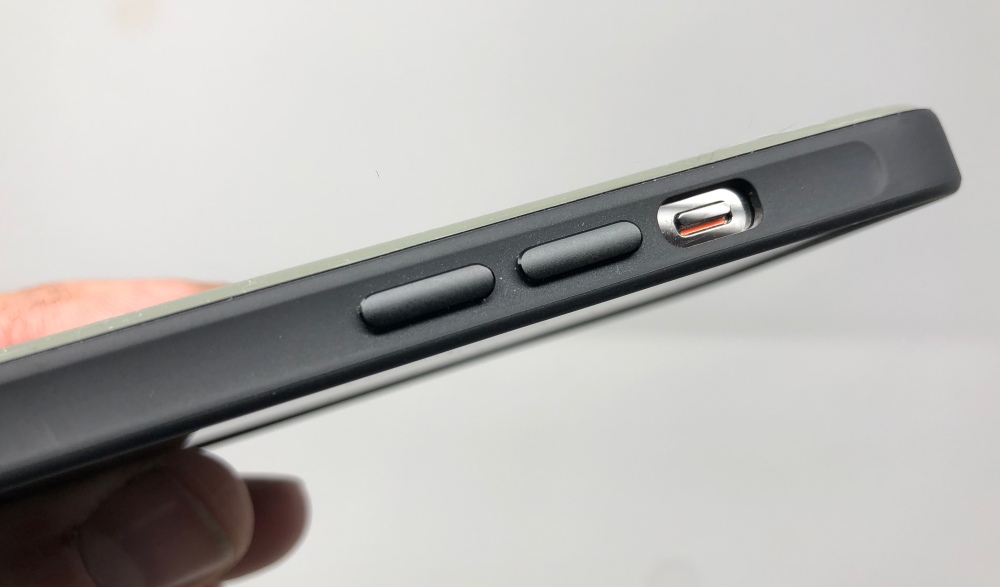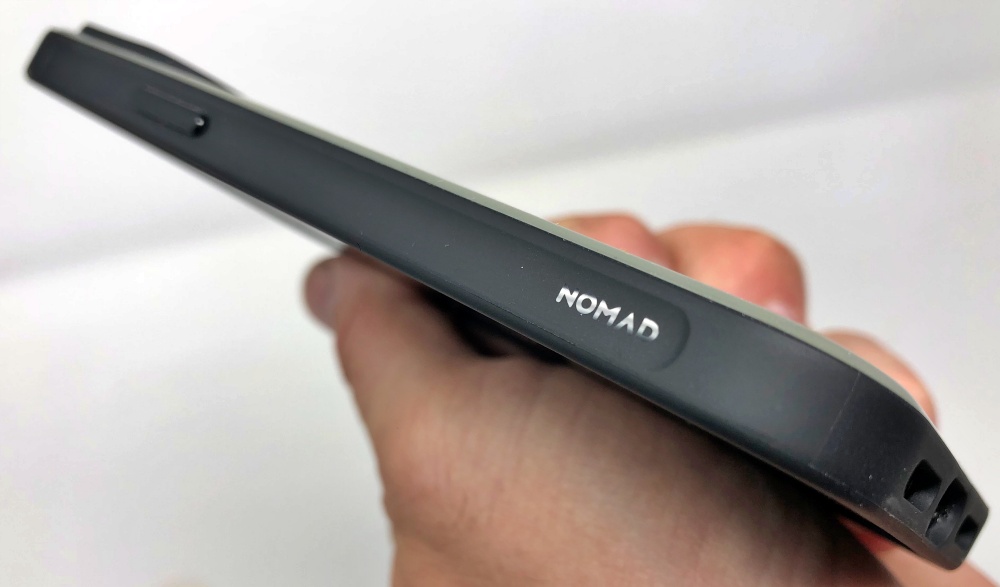 The camera lens frame is pretty proud, but protects the lenses well. The back feels really good in the hand, but it's definitely slicker than any of Nomad's other cases so keep that in mind if you don't like slippery cases.
One new feature that applies to all 3 of the above cases is what Nomad calls Digital Business Card. Nomad has added an encodable RFID chip in the bottom center edge of the case (as evidenced by the logo debossed inside)…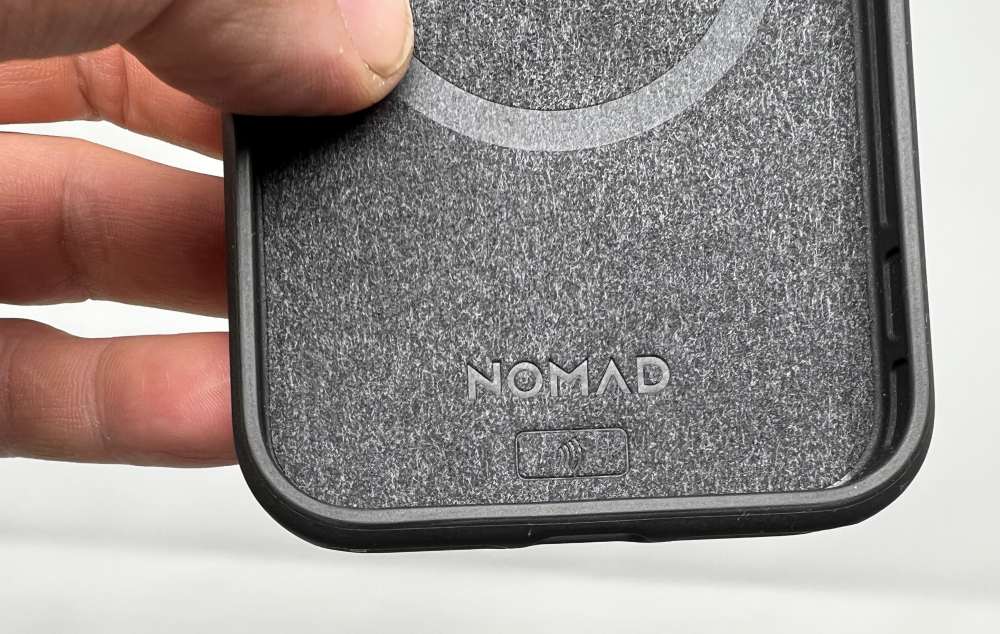 And in partnership with the application Popl, you can encode an RFID chip in with the contact info you set up in the app. The service is free for a limited subset of contact info and there's a subscription option if you want to add very customizable details.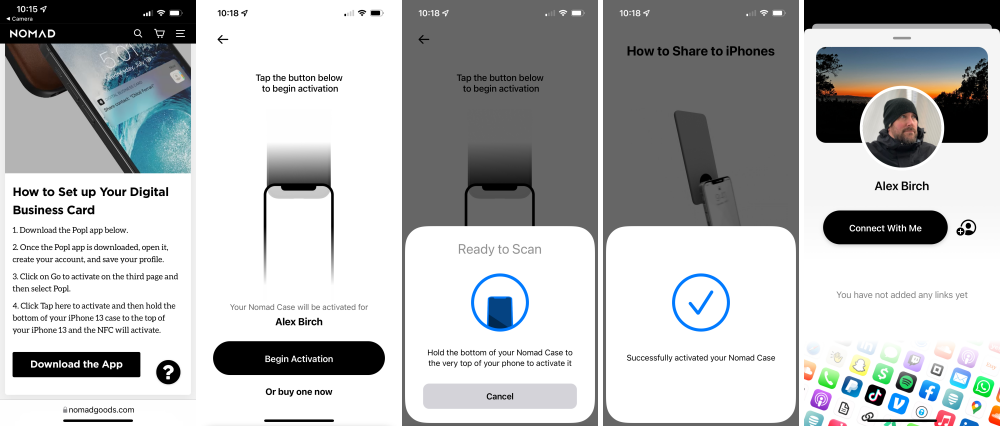 Once set up, you easily share your contact info with a quick tap to another phone. The process varies depending on the phone you're sharing to, but in a nutshell, flip your phone over and press the bottom edge agains the top of an iPhone (XR and newer) and jiggle side to side a little. Click the pop-up on the phone you're sharing to and you're done. There's also a QR code you can display if other methods aren't working. It's a pretty neat little trick and depending on how often you share contact details it could be very useful.
The Leather Skin is a great option for anyone who likes an iPhone without a case or wants the feel of leather but doesn't need protection. The leather is pretty thin so the intent really is just feel. Installation is pretty easy as is removal due to the specific 3M adhesive they use. With the skin on, the iPhone is a little less slippery and feels a little less cold. MagSafe still works, but the magnetic hold is slightly reduced so check any mounts for security before relaxing your grip on the phone.
As for the Screen Protector, it's easy to install and the touch sensitivity for your phone won't change. Everything you need for the install is included and it just works. The only complaint I have is that you only get one protector making it pretty expensive over other 2 and 3-pack options available.
What I like
Fit and finish of all cases. They all feel good and work as intended.
Installation process for Screen Protector and Leather Skin are well thought through.
Digital Business Card is a cool feature and works pretty well.
What I'd change
Screen Protector should be a 2-pack to be competitive
Sport Case would ideally have some textural element on the back to make less slippery
Final thoughts
Nomad has a great set of products here, each with its own unique set of qualities. If one of their solutions is up your alley it's worth taking a closer look as I don't think you'll be disappointed. Out of this set of products, the Modern Leather Case continues to be my favorite as it has been for the last couple of phone generations. The Sport Case is a close second for how thin it is, but it's a bit too slippery for my tastes. I look forward to seeing what Nomad does next.
Price: $24.95 – $79.95 – Available for iPhone 13 Pro Max, Pro, 13 and 13 Mini
Where to buy: Nomad
Source: The sample of this product was provided by Nomad