We use affiliate links. If you buy something through the links on this page, we may earn a commission at no cost to you. Learn more.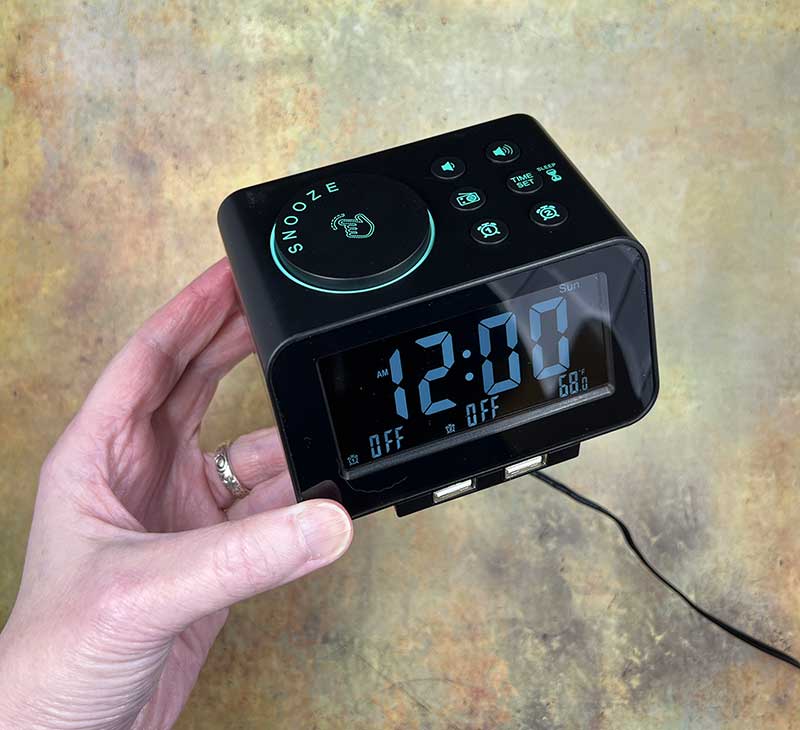 REVIEW – Do you use an alarm clock to wake up in the morning? I have been using my iPhone and an Amazon Echo Dot for several years now, but is an old school clock radio a better option? Let's find out by taking a look at the USCCE Digital Clock Radio.
What is it?
The USCCE Digital Clock Radio is a small alarm clock with a built-in FM radio.
What's in the box?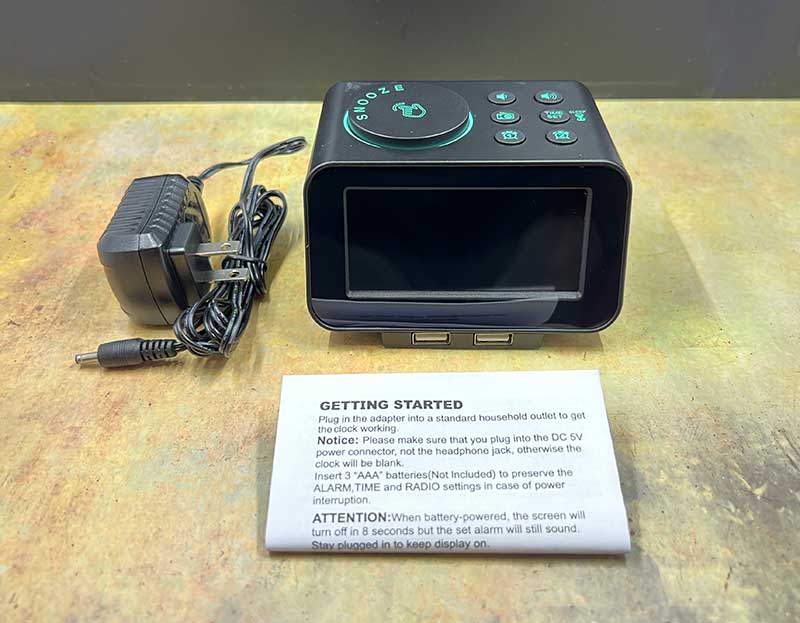 USCCE Digital Clock Radio
AC adapter
Manual
Design and features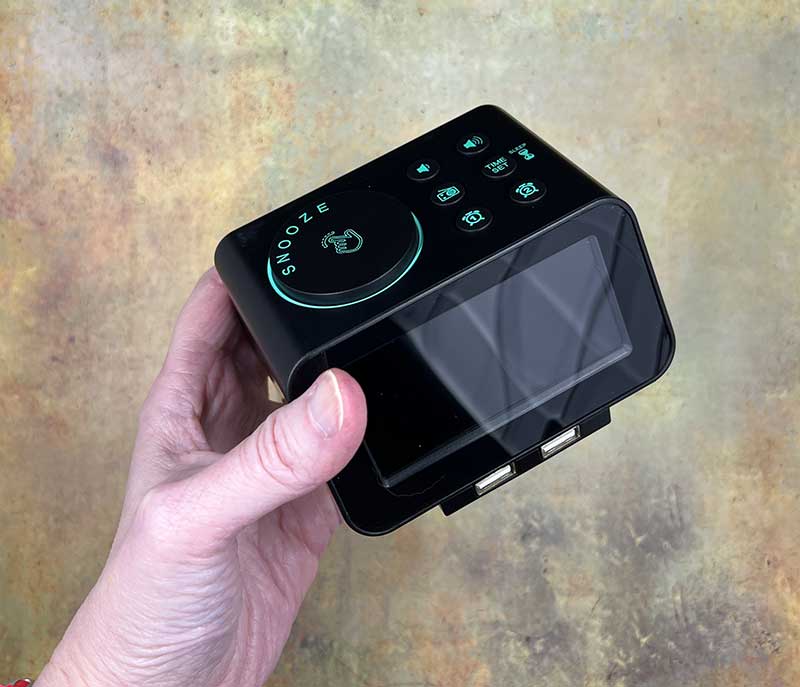 The front of USCCE Digital Clock Radio has a backlit mono display. Under the display are 2 USB ports that you can use to charge your phone or other gadgets.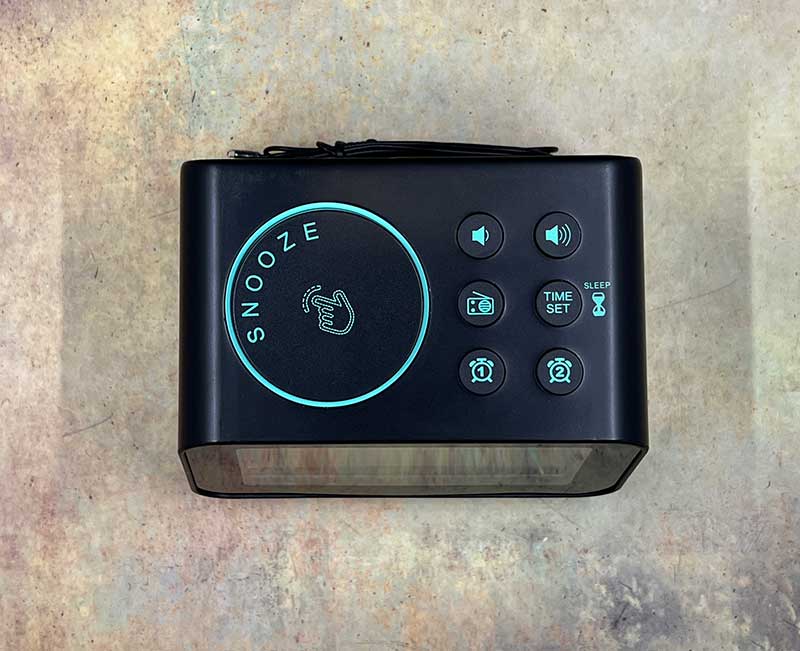 The top of the clock has a large snooze button that does double duty as a rotating selector that you use to dial in times, radio stations, and other settings. There are also 6 other buttons on the top of the clock. There are 2 volume control buttons, a radio on/off toggle button, a time set button, and 2 buttons that toggle the 2 alarms on and off.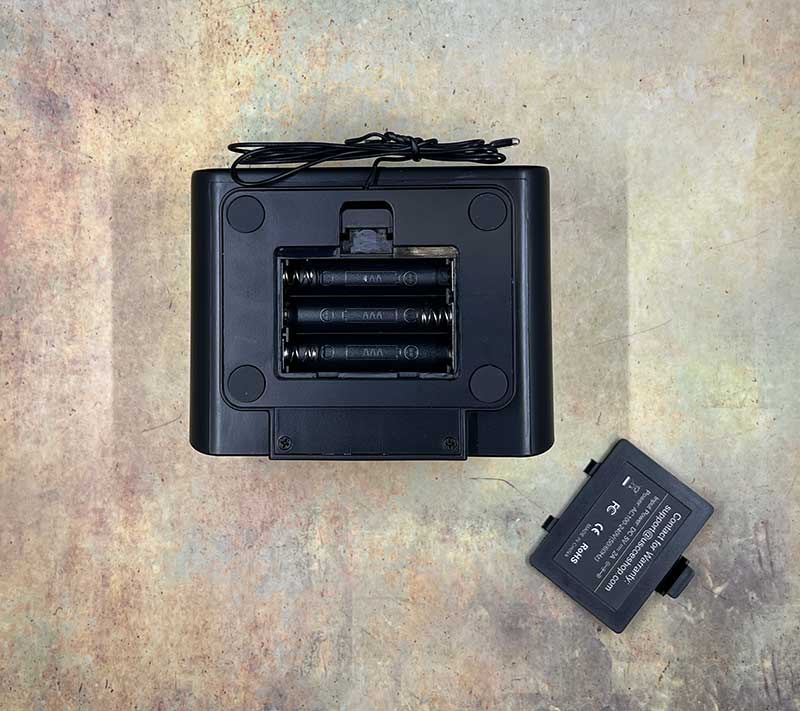 The bottom of the clock has a battery compartment for 3 AAA batteries (not included). Note that the USCCE clock radio comes with a power adapter too. The batteries are really just to save the settings in the event of a power outage.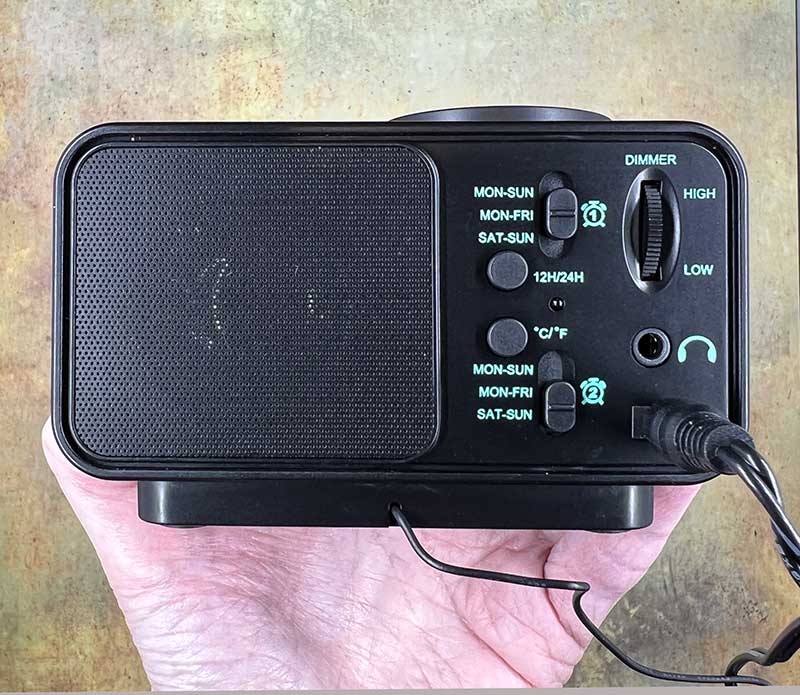 On the back of the USCCE Digital Clock Radio are several more buttons, switches, and ports. There are toggles for 12 hr and 24 hr time formats. There are also 2 switches that let you customize the alarm settings. Since you have 2 alarms, you can specify when each alarm is active. Either Monday through Sunday, Monday through Friday, or just the weekend Saturday and Sunday. There is also a display dimmer dial and an antenna wire that's about 24 inches long.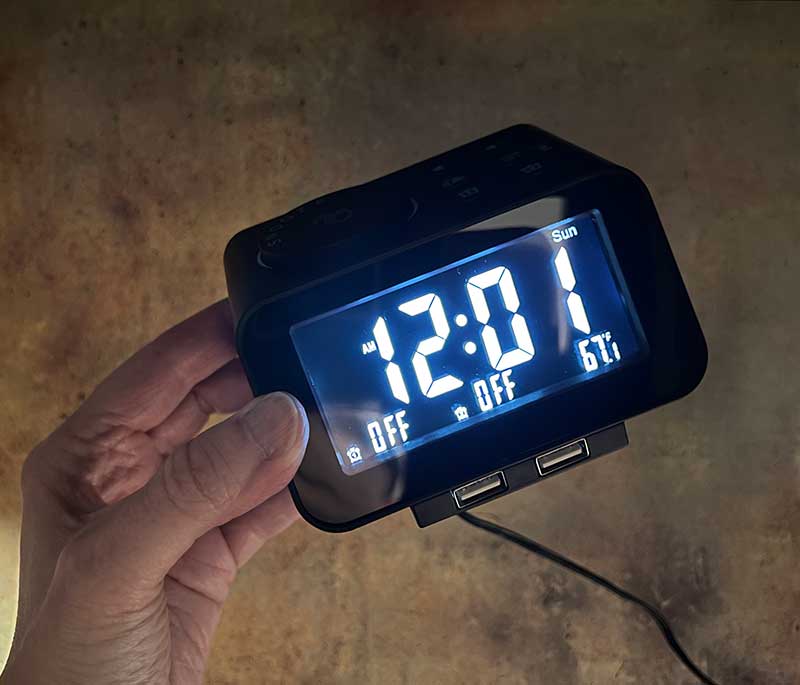 Here's the display set to max brightness.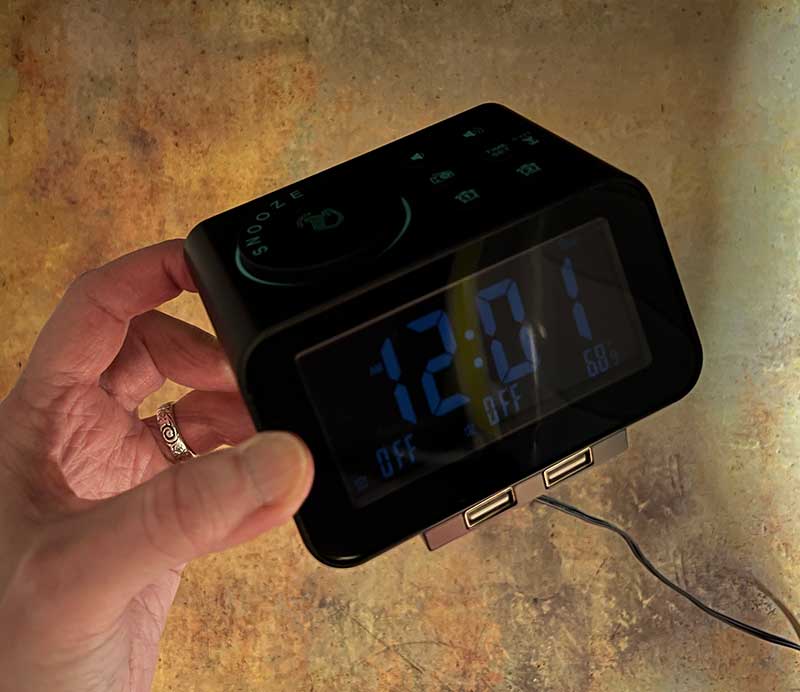 And here it is set to one of the dimmest levels. You can actually turn the display brightness level down to 0% if you want it to be completely turned off at night.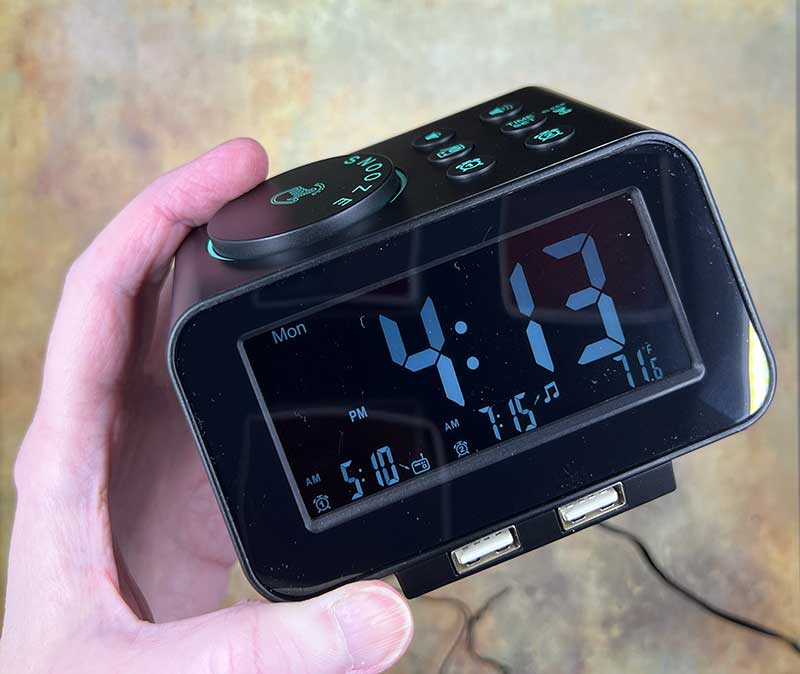 The USCCE Digital Clock Radio's display shows the day of the week, the current time, temperature, and info for the two alarms.
For the alarms, you can choose between 5 alarm tones or an FM radio station. There are 2 traditional (annoying) buzzy/beepy alarm tones and 2 "nice" tones that are more melodic. There's even a chirping bird/nature tone.
When an alarm goes off, you can press the large snooze button/dial which will turn off the alarm for 9 minutes before it goes off again. If you don't snooze the alarm, it will buzz/play for 15 minutes before automatically going off. If you have the alarm set to the radio, it will play for 1 hour before turning off. To completely turn off an alarm while it is buzzing, you have to press the respecive alarm 1 or alarm 2 button once. The problem I have with this is that the buttons are small and if you accidentally press the wrong alarm button it will actually completely turn off that alarm so it won't fire again until you toggle it back on. The same goes for the correct button. If an alarm is going off and in your groggy stupor, you happen to press the alarm button twice instead of just once, that alarm will be turned completely off and won't go off again the next day.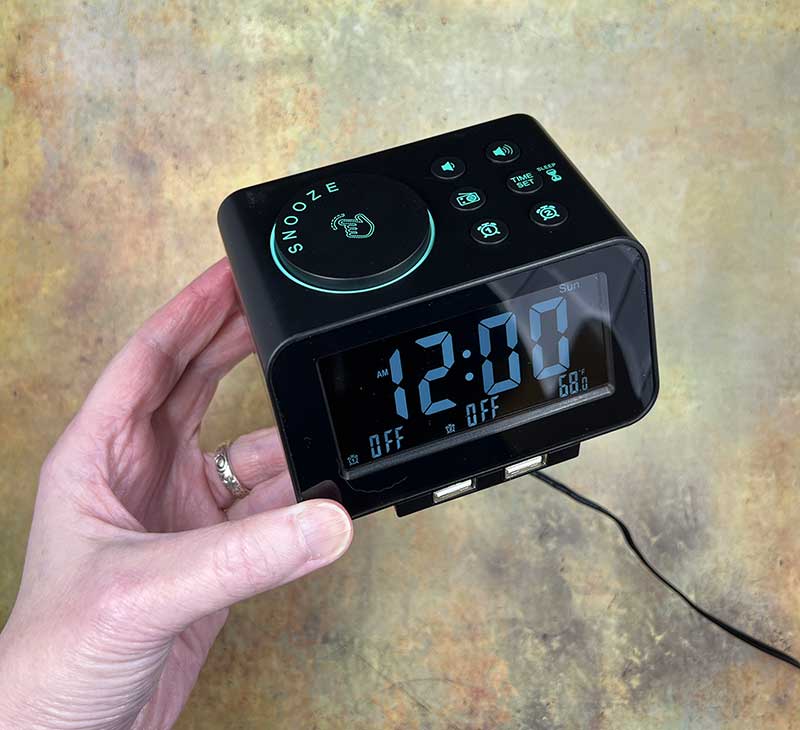 The display does show if an alarm is set to OFF which is good, but if you don't check the alarm status each night before you go to bed, you might oversleep if the alarm was set to off when you were expecting it to be on.
The radio
The USCCE Digital Clock Radio's built-in FM radio works as expected. I was able to pull in all the normal stations in my area. The sound quality out of the radio's speaker won't blow you away but it's decent enough for a clock radio.
What I like
Easy to set time and alarms
2 alarms that can be set for M-F, Weekends, Everyday
2 USB ports
What I'd change
Add the ability to set the snooze length.
Final thoughts
The USCCE Digital Clock Radio is a clock radio with enough extra features to make it an affordable bedside companion. But for techies like me, is it a worthy alternative to a smartphone as a morning alarm? For me personally, no. I have created a special shortcut automation on my iPhone that speaks the weather, speaks any appointments for the day, and then plays a 5 minute breaking news podcast each morning. In the past, I have done the same thing using Amazon Alexa routines. If I wasn't already spoiled by that, I'd like the USCCE Digital Clock Radio just fine. Actually, I do like it. I just don't want to use it 😉
Update 1/17/22
I offered to send the clock to Lynn Lopez who said that she has problems waking up when using regular alarm clocks. Here's what she had to say about it.
Wow, that alarm clock cuts through my Mack's ear plugs quite nicely. I definitely hear it. I love the small footprint. I have it on volume level set on 13 out of 16. It is definitely a keeper for me. Thanks so much.
Price: $26.99
Where to buy: Amazon
Source: The sample for this review was provided by USCCE.