We use affiliate links. If you buy something through the links on this page, we may earn a commission at no cost to you. Learn more.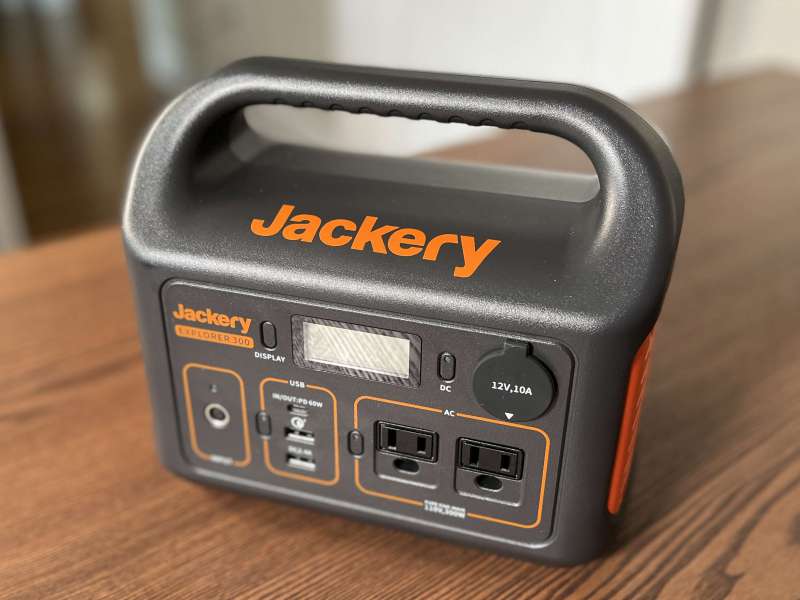 REVIEW – We've been reviewing a lot of power stations lately here at The Gadgeteer, including models from Oupes, OKMO, and Puleida.  Whenever you look through the marketing material for these stations, they always have pictures of people camping.  While that is a fine use for one of these gadgets, we have a somewhat different need for one of these at our house.  My wife is a direct seller, which means she often spends evenings and weekends at craft shows, church bazaars, and holiday fairs selling her wares.  They are often outdoor events, where she sets up under a tent; thus, she has a need for some portable power.  In the summer she needs a fan, in the winter a heater, and at night some lights, and she always needs a place to recharge her phone.  In this review, I'm checking out Jackery's Explorer 300 to see if it's an ideal choice for my wife to haul around to these special events.
What is it?
The Jackery Explorer 300 is a power station, essentially a hefty battery for powering and charging other gadgets when you're far away from power or when the power goes out.  It can charge from various sources and dispense power from three different types of ports.  It has an LCD display and a convenient handle for carrying.  Jackery is a Chinese company with a headquarters in California who "believe in making electricity portable, clean, outdoors-oriented, and accessible."
What's in the box?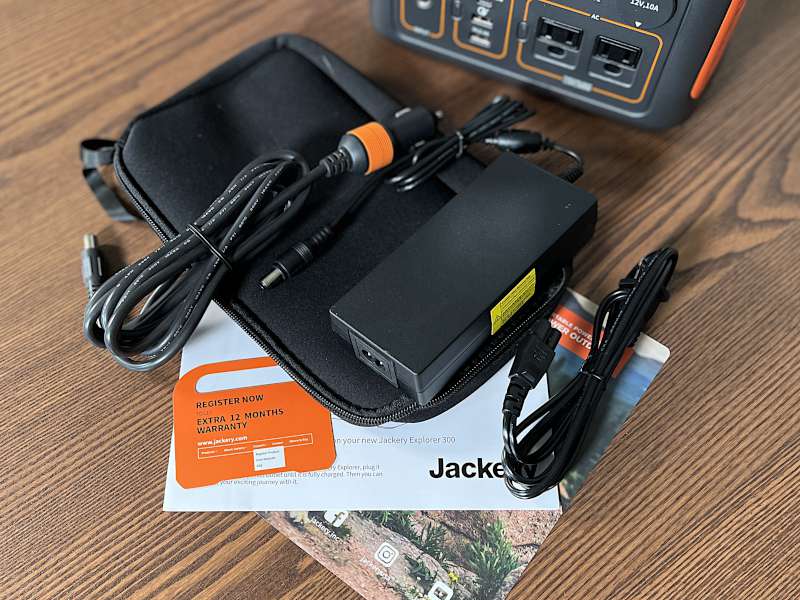 Jackery Explorer 300 power station
Car charger
AC charger
A soft case for carrying the chargers
User manual
A warranty card
A media card
Hardware specs
Battery: Lithium-ion
Capacity: 293.8 Wh
Lifecycles: >500
Weight: 7.1 lbs
Dimensions: 9.1 x 5.2 x 7.8 in
Input: DC input from wall charger, car charger, or solar panesl
Outputs: USB-A, USB-C, AC, car port
Even though power stations are commonly used while camping, Jackery is careful to note the Explorer 300 is not waterproof.
Design and features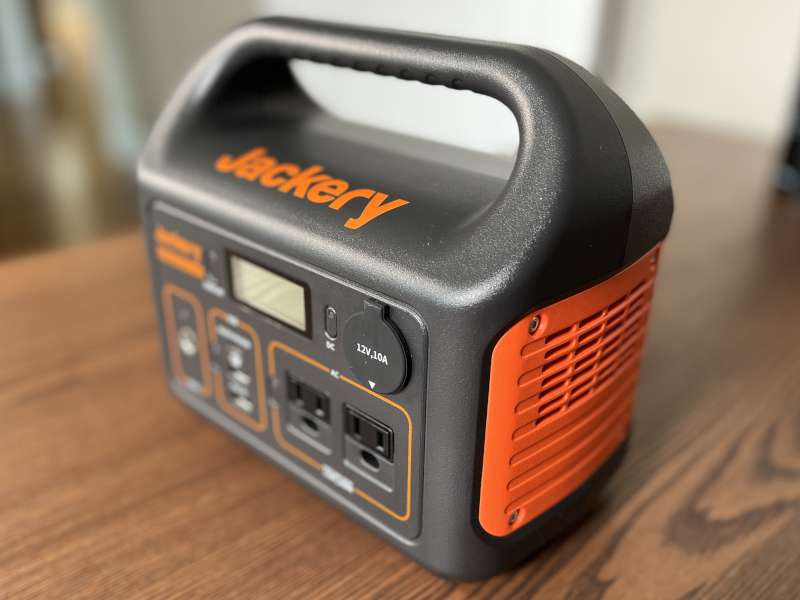 Like many power stations, the Jackery Explorer 300 is shaped like a large rectangular brick.  Jackery's line, however, is distinctive with its gentle, rounded edges, bright orange coloring, and large carrying handle. All of its inputs and outputs are conveniently located on the front along with the LCD display.  It's a design that is both friendly and practical.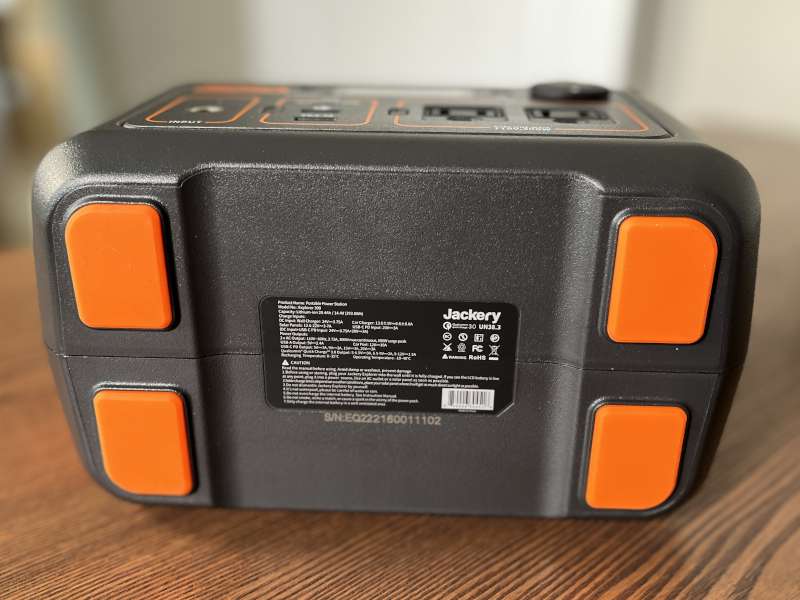 The exterior of the power station is made of plastic and feels very solid and durable.  There are four rubbery feet on the bottom, which should prevent it from slipping around.  Overall, I really like how this gadget looks and feels.
Installation and setup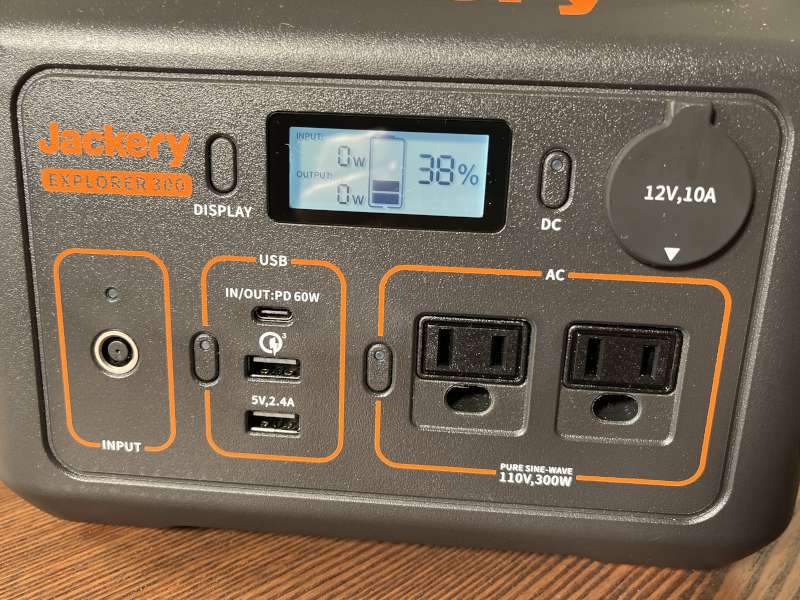 The Jackery Explorer 300 arrived well-packaged in a box with custom foam inserts.  After I removed it from its packaging and set it on my desk, I pressed the display button that turned on the LCD display, which read 38%.  I read through the manual next, and I have to give props to Jackery here:  This manual is clear, well laid out, and easy to read, much better than most of the manuals that I read while reviewing gadgets.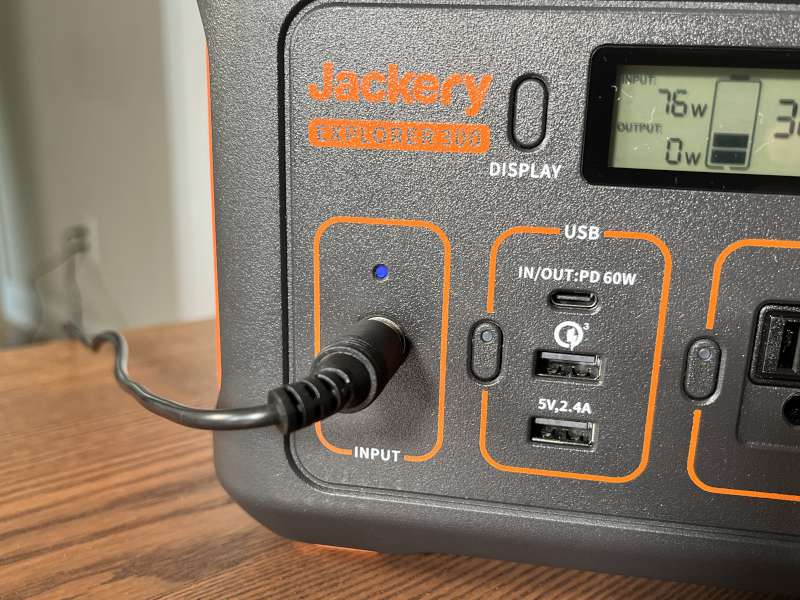 Since the manual recommended that I charge the battery before first use, I took the AC charger from its soft case and plugged it into the input jack and the wall.  As it began to charge, the green LED above the jack turned on, and the display let me know that there was 76 W of input power.  The manual estimates that it will take 4.5 hours to charge the battery from empty, and it took about three hours to charge it this first time.  The manual recommends charging any time it's less than 20%.  Once the display read 100%, the Explorer 300 was ready to go!
Performance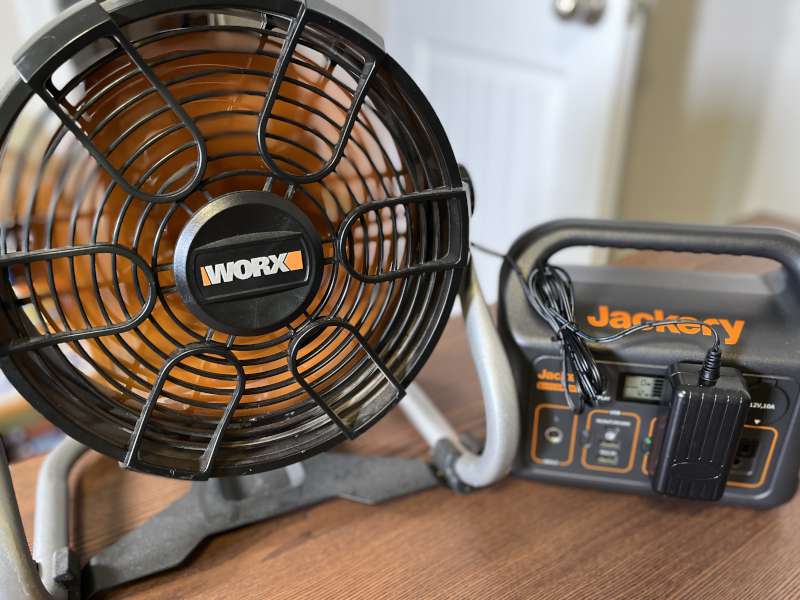 My plan for testing is to use the Jackery Explorer 300 power station with the various things that my wife will need at her vendor events.  My first test was with the WORX Power Share cordless fan that I tested last year.  Like the Explorer 300, this fan is rugged, portable, and orange.  While it's true that the WORX has its own battery and thus doesn't necessarily need an external power source, in my testing it only ran for 2 hours on high speed.  When the battery runs out, my wife can plug it into the Explorer 300 and continue to stay cool on a hot summer day.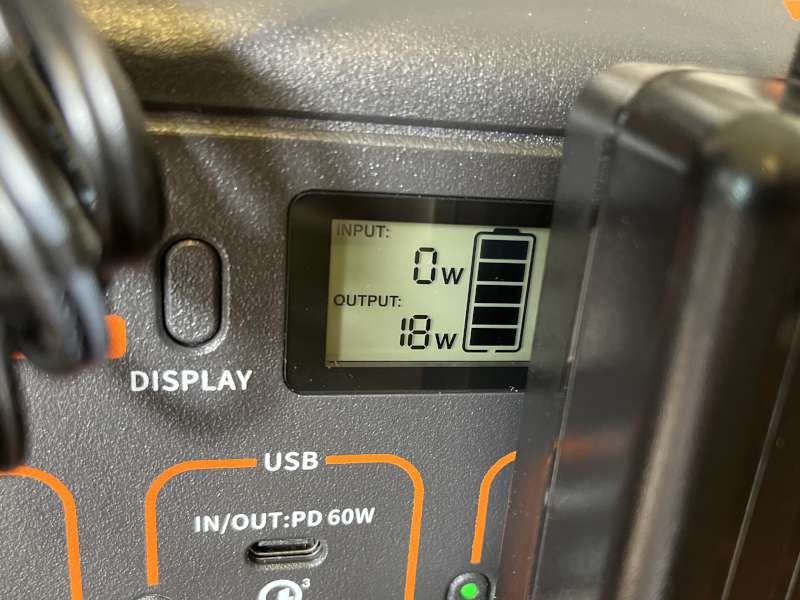 This power station can handle up to 300 W devices, and the WORX fan only drew 18 W.  When its battery is fully charged, Jackery's gadget ran this fan on high speed for 8 hours and 42 minutes before it hit 20%.  That's amazing!  She'll be able to keep cool all day.  It would be even longer if I set the fan to low speed.
My second test was supposed to be with the Gladle space heater that I reviewed earlier this year.  This heater, however, draws 900 W on low power, which is three times more than the Explorer 300 can handle.  If my wife wants to keep warm on a cold winter, she's either going to need a different way to stay warm, or she needs to get a bigger power station.  The good news is that Jackery makes power stations that go up to 2000 W, should she want to go that route.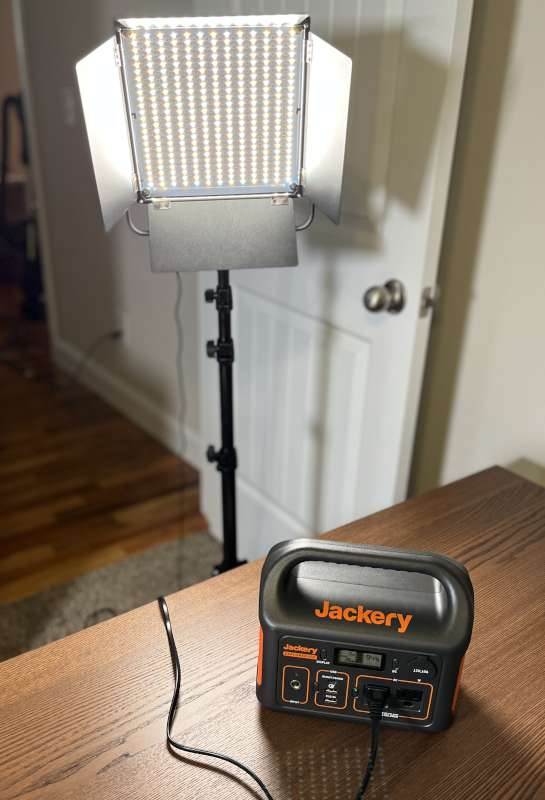 My third test was with one of the PIXEL K80 photography lights that I reviewed last month.  While these lights are really designed for photography or videography, they are more than bright enough to light up her small tent one night at a vendor event, and if it happened to be a Halloween event, then setting the color to orange or the special effect to lightning might be pretty cool.
At full brightness in white mode with max coolness, the light used 46 W, so the Jackery Explorer 300 could easily power both of the K80's at once, if my wife really wanted to brighten up her tent.  Maybe she could set one light to be white to help her see, and the other to be a special effect.  When its battery is fully charged, Jackery's gadget can run one of the lights for just over four hours before it hit 20%.  If my wife turns the brightness down some, which she would probably want to do, as these K80s are very bright, then it would last even longer.  As she's rarely going to be in the dark for four hours, I consider this to be another success!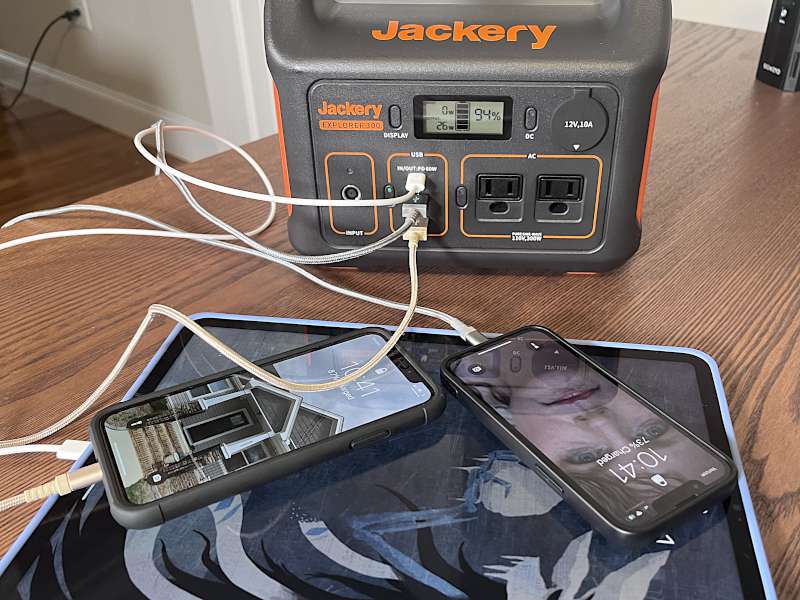 My final test was to charge her phone, so I went a little overboard and simultaneously charged an iPhone 13, an iPhone XS, and a 12.9 iPad Pro.  The Explorer 300 had no problem charging all of these gadgets, as they collectively used only 26 W of power.
I'm happy to report that the Jackery Explorer 300 power station passed three of my tests with flying colors!  The space heater test, which I couldn't perform, is a good reminder that you need to calculate how much power you really need so that you can select and purchase a power station that can handle your needs.
The Explorer 300 has three different power buttons, one for each type of output, which allow me to selectively power different devices.  There's one for the USB outlets, one for the standard AC outlets, and one for a car charger.  Each button has a small green LED that lets me know when it's on.
The top of the power station is dominated by a single, large handle, somewhat reminiscent of the boombox handles of yesteryear.  I really like this design, as it makes it super easy to carry it around, much easier than the two-handle designs found on some of the other power stations.
Extra Features
The Jackery Explorer 300 power station comes with a car charger, so I took it out to the 2016 Honda CR-V that we bought yesterday, and it had no problem charging the battery, powering it with over 80 W.
For those who are off the power grid for long periods of time, this power station can be charged with a solar panel.
What I like
Rugged yet practical design
Multiple charging options
Various output ports, including USB-C with PD
Easy to carry handle
What I'd change
Final thoughts
The Jackery Explorer 300 is a portable power station capable of powering and charging a plethora of devices and gadgets.  Its battery can be charged from the wall, a car, or a solar panel, and it can dispense power via USB, AC outlets, or a car charger.  It has 300 W of total power available, and Jackery sells other models both larger and smaller.  I think this is the perfect gadget to help my wife while she's out selling products at shows, whether she needs a fan, a light, or a charge for her phone.  Whether you head out to sell your own wares, find yourself without power at home after a storm, or like to go camping (but not in the rain), I think the Explorer 300 will be a super handy gadget to have around.  I recommend it to you.
Price: $299.99
Where to buy: Amazon (save $90 today 11/29/21!)
Source: The sample for this review was provided by Jackery.