We use affiliate links. If you buy something through the links on this page, we may earn a commission at no cost to you. Learn more.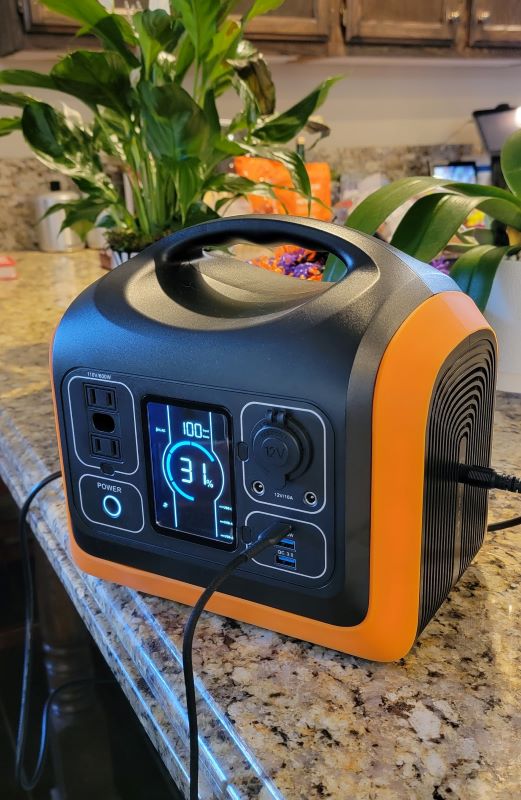 REVIEW – Have I been called a prepper?  Guilty.  I try to be super prepped for an earthquake, which is far and away the most likely natural disaster to hit Southern California.  When the Oupes power station came up for review, it was one piece of equipment that was missing from my kit, and I was lucky enough to get a chance to check it out.
What is it?
The Oupes Portable Power Station is a big battery (about the dimensions of a car battery) that offers many options for charging and powering devices.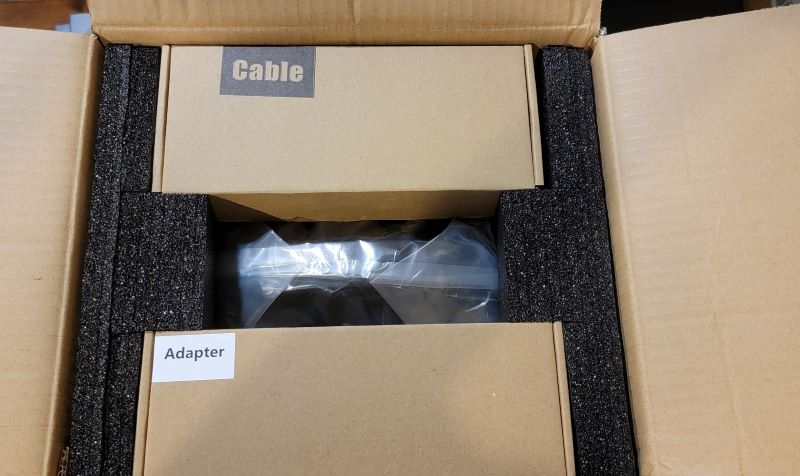 What's in the box?
The Oupes Portable Power Station
Charging cords (An A/C charging cord and a cigarette lighter charging cord)
A warranty card and instructions
Hardware Specs:
AC Rated Voltage: 100-120Vac or 220-240Vac
Rated Power: 600W
Peak Power: 900W
Frequency: 50/60Hz
DC 12V OUTPUT Cigarette Lighter Rated Voltage: 12V/ Rated Current: 10A
USB OUTPUT 18W Max   2xQC3.0:  5V/3A, 9V/2A,12V/1.5A
TYPE-C OUTPUT PD60W 5V/3A, 9V/2A,12V/1.5A,15V/3A, 20V/3A
Input Voltage: 12-30
USB-C Input power:  60W max
7909 Input power:  100W max
Rated capacity: 595wh/18600mAh
LED Lighting 7W
Net Weight: 6.8 kg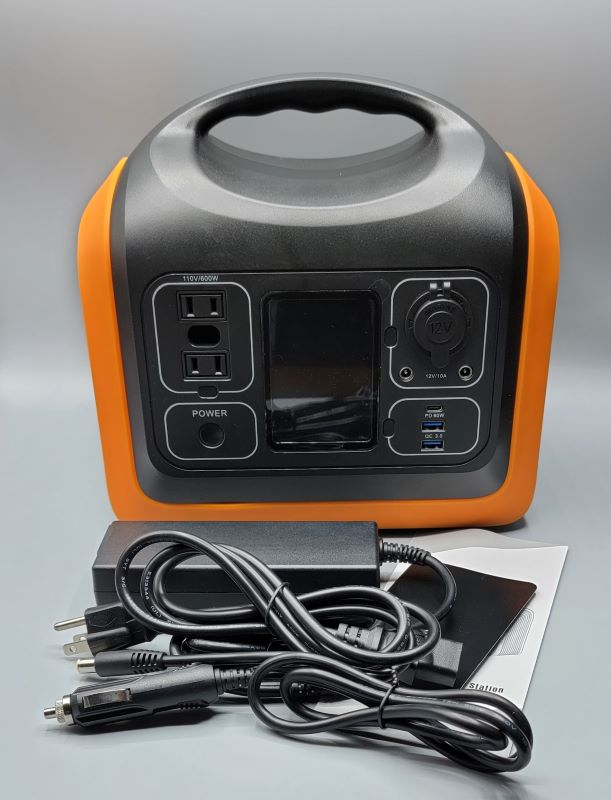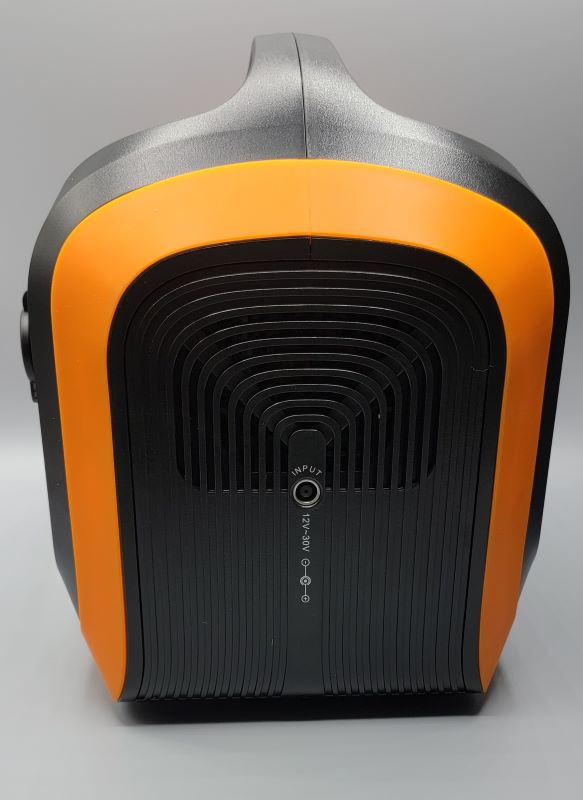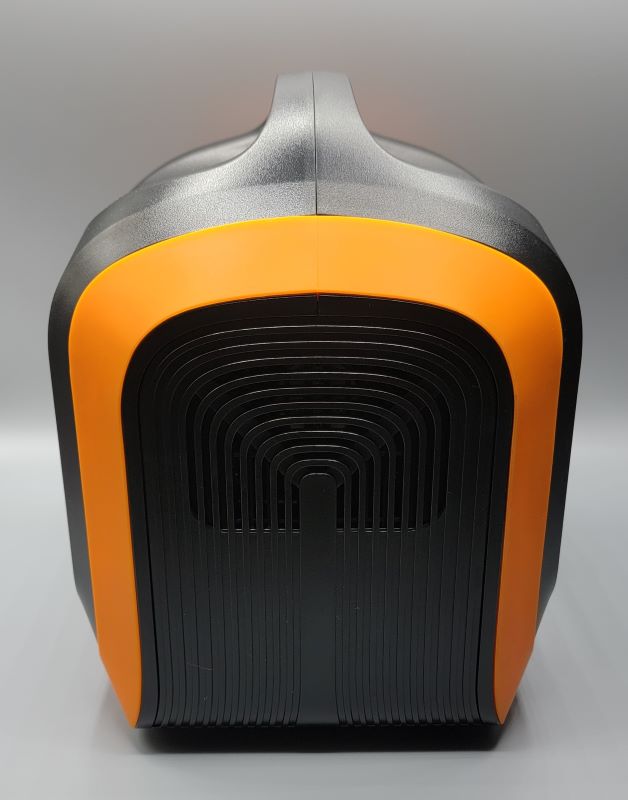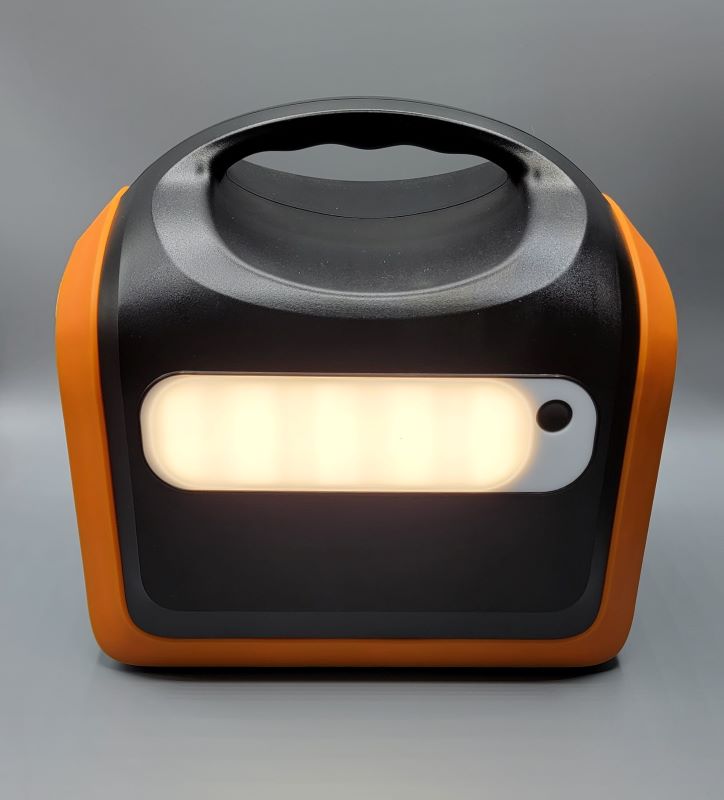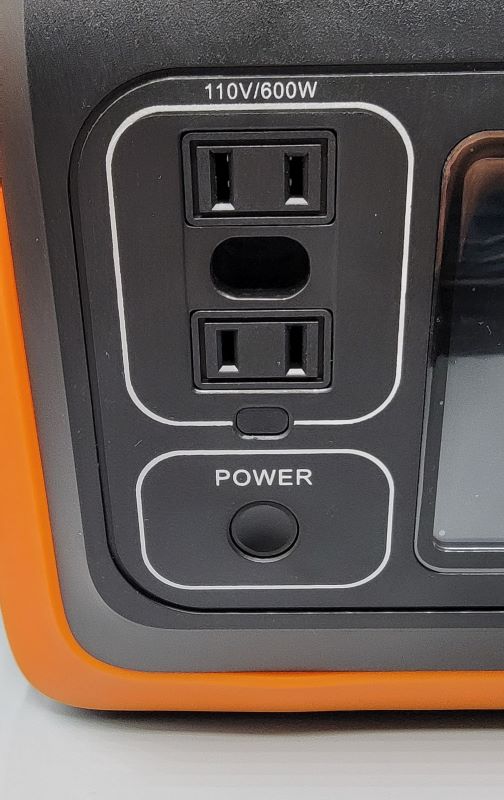 Design and Features
The Oupes Portable Power Station had the inner gadgeteer in me feeling ready for any emergency, probably because there are so many outputs.  Basically, you name the gadget and you can plug it into this thing.  It has two 110V/600W A/C plugs which at first glance only accommodate two prongs, but if you look at the hole in between the plugs, that's where the grounding prong goes.  It has one 12V/10A cigarette lighter plug along with two 12/V10A 5521 outputs (which I don't even know what I'd plug in there) and two USB-A 3.0 ports one dual input/output USB C port.  On the reverse of the battery, there is a light that can be used at full power, low power and it will flash SOS if you need it to.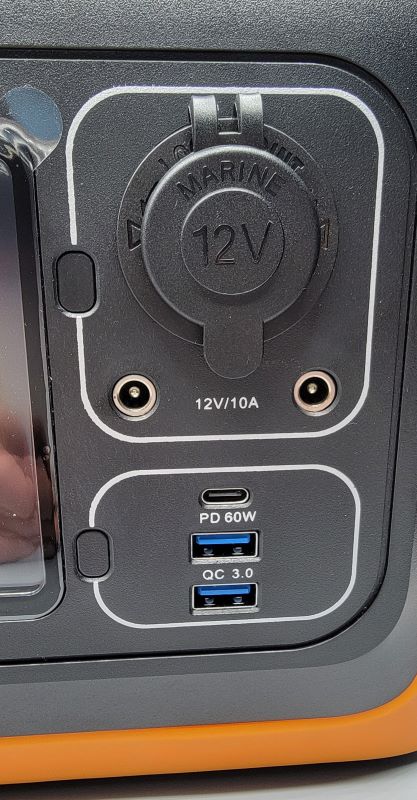 If you are planning on using the Oupes Portable Power Station for camping, I hope it's the kind of camping where you don't have to hike for days because this is no petite piece of gear. It's about the size of a car battery and it weighs about 15lbs.  The first test I thought campers might appreciate was cooking some stuff in my Instant Pot.  I prepped all of my ingredients and plugged it into the power station and …  I got a fault warning. This was my first disappointment because while I have an outdoor propane grill, the instant pot is so versatile that I was hoping I'd have that capability in the event of an emergency.  I had a similar experience when I plugged in my toaster oven and my electric kettle.  However, my blender worked great, so next time there's a power outage in my neighborhood, frozen margaritas will still be possible (as long as the ice holds out), and that gives me great peace of mind.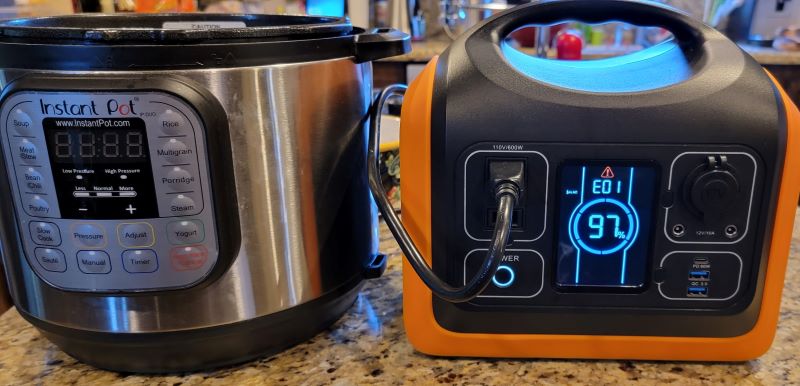 One of the Oupes Portable Power Station features I really like is the fact that I don't have to do any math to figure out how long my appliances will last with this battery:  the easy-to-read display clearly shows the output watts, the percentage of battery left, and how much time that translates to.  You can also plug in multiple items at once (up to 8!) and you can be charging the battery while it's being used, which is kind of a crucial feature since it can take a long time to charge these big batteries.
The power station can be charged with a D/C car charger, A/C power, solar panels, or if you use a wall adapter with USB-C, it can charge from 0-80% in 3.5 hours.  You can charge it using more than one source at the same time as well, which is a nice feature.  I plugged in my Sunslice solar panels and it charged, albeit slowly, but if you were camping I think you'd mitigate the power loss pretty well even with tiny panels like I used.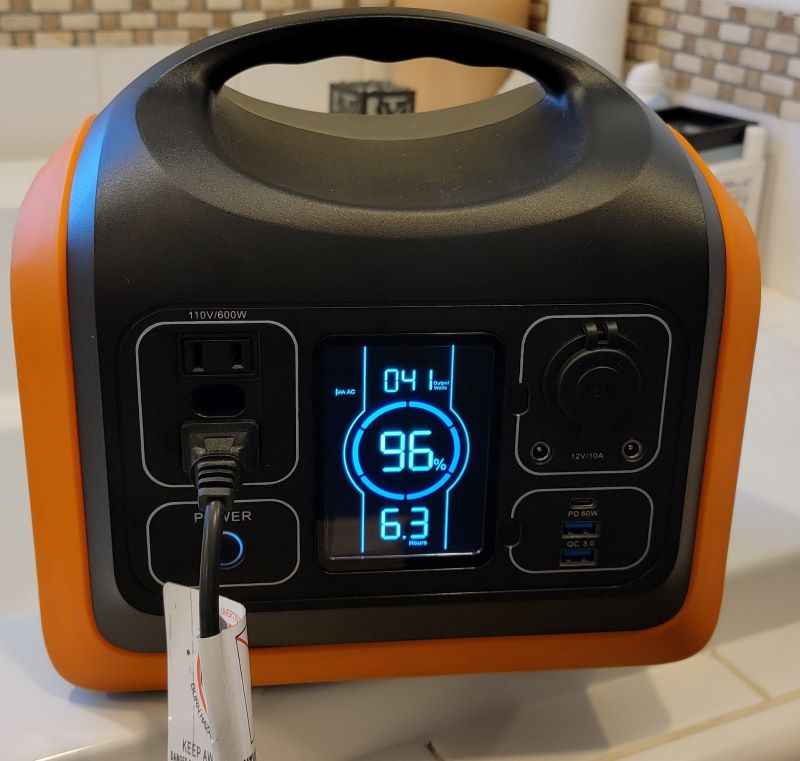 Next, I moved on to the other important things that I might need to use if the power is out:  a curling iron and hairdryer (Dyson Airwrap).  Both worked great, so hopefully, I will look spectacular in our next natural disaster.  It powered my computer and charged my phone really quickly.  I tried out my husband's CPAP (well, I didn't try it so much as I turned it on) and it looked like he'd be able to sleep Darth Vader style for several nights on a charge.  One thing to note if you are using it with a CPAP:  this battery does make a little noise because it has a fan that cycles on and off.  It is sort of an inoffensive white noise whir, but it is louder than my husband's CPAP.  If you are a light sleeper it might take getting used to.  I also would encourage you to remember to turn the power button off on the power station when you aren't using it because the fan will drain the battery even when things aren't plugged in.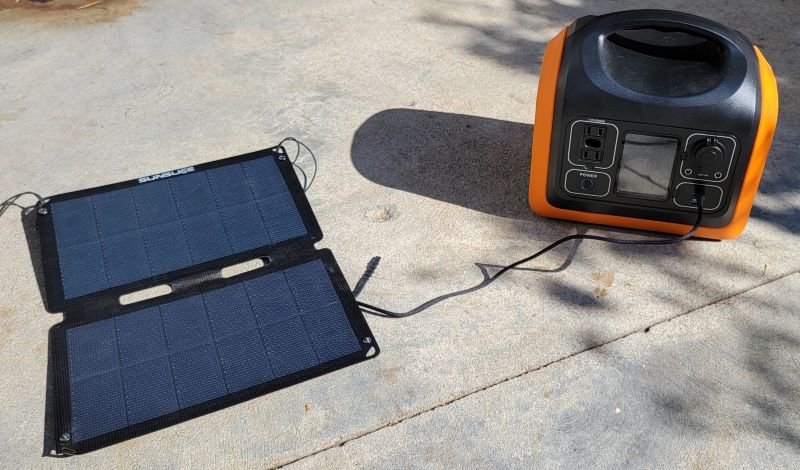 Whenever you talk about batteries, you also have to talk about safety.  It's no good to have a battery for emergencies that CAUSES an emergency!    This battery is drop rated at 1.2 meters (almost 4 feet).  It is a  LiFePO4 — lithium iron phosphate battery — which means it generally won't ignite or explode and can be used safely at a wide range of temperatures (14-149℉).  LiFePO4 batteries also have a longer life span than other lithium iron batteries.  This battery should last the average person a very long time since they advertise that it's capable of over 3600 charging cycles.  It comes with a 24-month warranty.
What I like
Versatility to charge so many things simultaneously
Versatility to be charged by so many things simultaneously
Safety and lifespan
Useful information on info panel
What I'd change
I want it to power all my kitchen tools.
Final thoughts
Overall, I was impressed by the Oupes Portable Power Station.  It has a lot of nice features that make it both practical and safe.  However, I'm deeply disappointed that it won't power some of my important kitchen appliances.  I might need to keep searching for a power station that works with my Instant Pot, because what are margaritas without salsa chicken?
Price: $399.98
Where to buy:  Amazon or Oupes (Save 15% OFF code all the products on OUPES official website: OP15OFF no expiration date)
Source:  The sample for this review was provided by Oupes.