We use affiliate links. If you buy something through the links on this page, we may earn a commission at no cost to you. Learn more.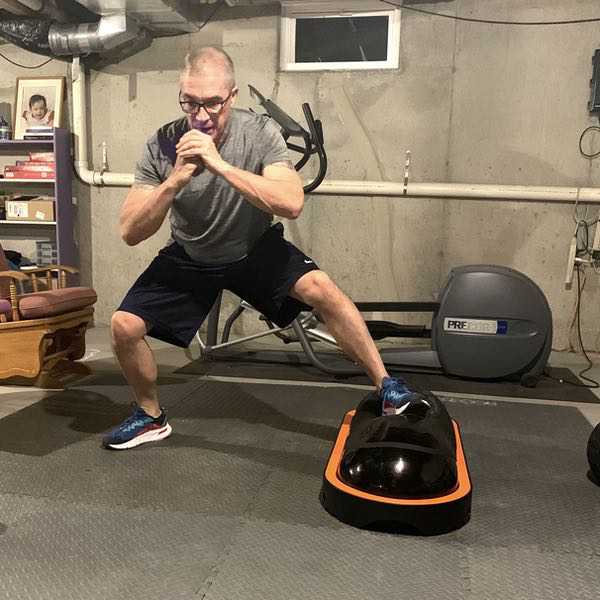 REVIEW – You may have seen this one on "Shark Tank" back in 2019. Designed to be an all-in-one gym tool the Terra-Core offers all kinds of possibilities in a tank-like build. Lots to cover here, with lots of pictures. To the review!
What is it?
It's a multipurpose balance trainer that can be used for all sorts of core, strength, cardio, and leg exercises.
What's in the box?
You'll get the Terra-Core, an air pump, and a workout poster. You also get an extra plug for the bladder, a tool to remove said plug, and a measuring tape to measure the level of inflation.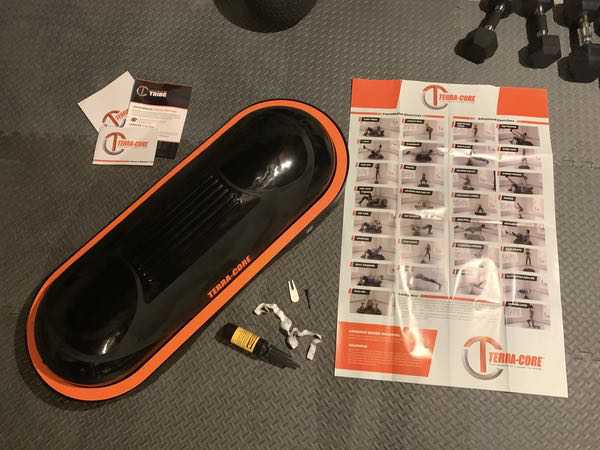 Hardware specs
High-density polyethylene construction
47" x 18" x 6.75"
28lbs
Maximum weight 4,500lbs (1,000lbs recommended)
Design and features
The Terra-Core is, at it's heart, a balance trainer. But there's a lot more going on in this unique design. As opposed to the round half-moon design you see in other balance trainers, the Terra-Core boasts an elongated shape (48″ by 18″) that opens up a whole range of training options and maneuvers.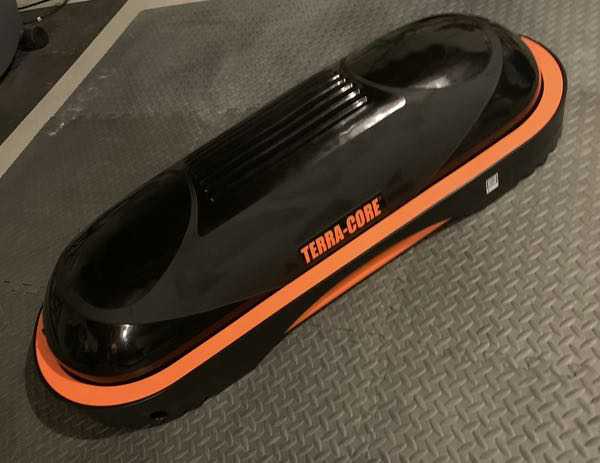 Your inflatable side has smooth contact surfaces on the ends, while the center sports a ridged surface that helps your grip when doing balancing exercises or the jumpy-bouncy things. Rubber feet on the base keep it planted so the Terra-Core doesn't slide out from under you.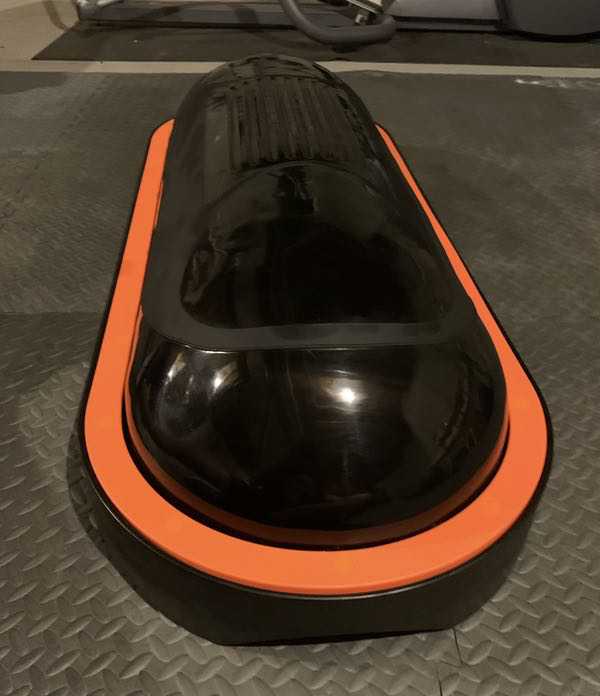 Flip it over and you'll find more surprises. A pair of handles enable you to use the Terra-Core as a pushup base or a weighted accessory for different workouts.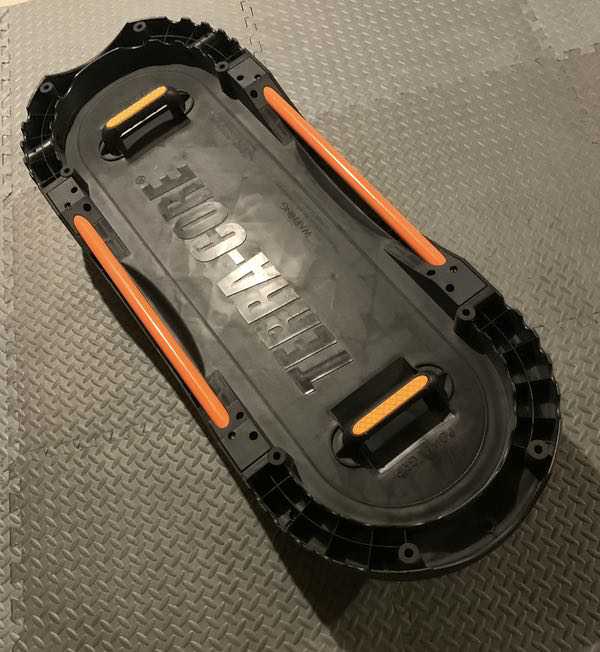 Those orange metal rails can be used as handles, but they're also designed for attachments. You can tether a resistance band to them as I have done in this picture. Note that Terra-Core does sell resistance bands made for the device, but I did not get samples of those for my test. These are from my collection.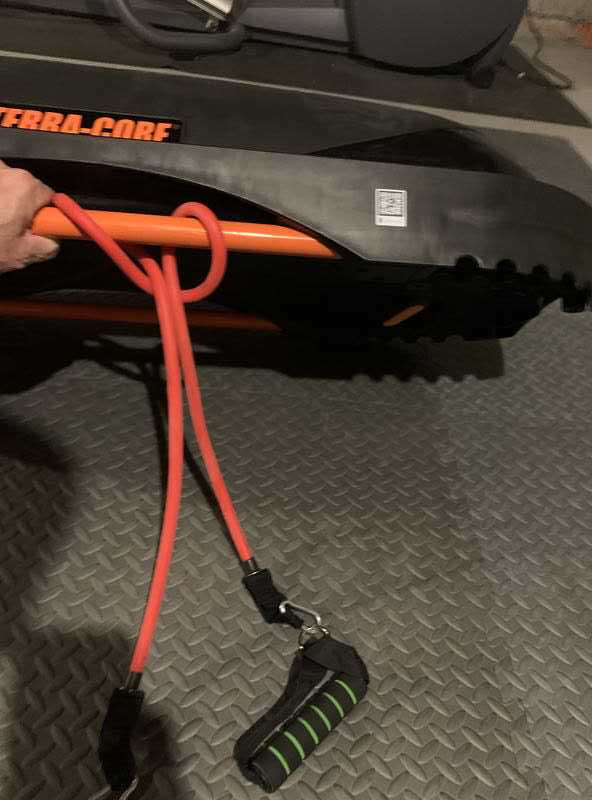 Those odd slots cut in the base are also designed for use with resistance bands.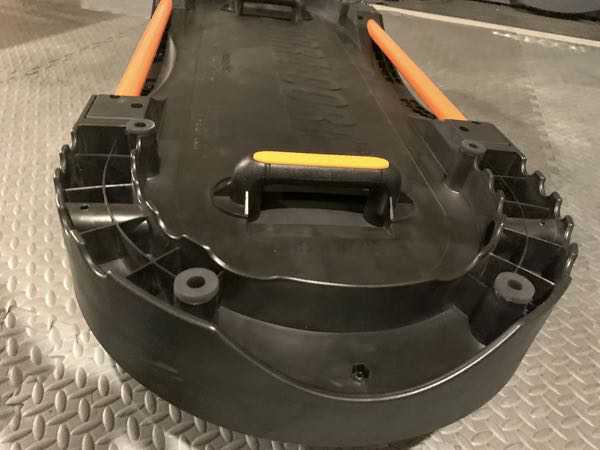 Pick the angle for the exercise you're doing, and run the band through the slots like so: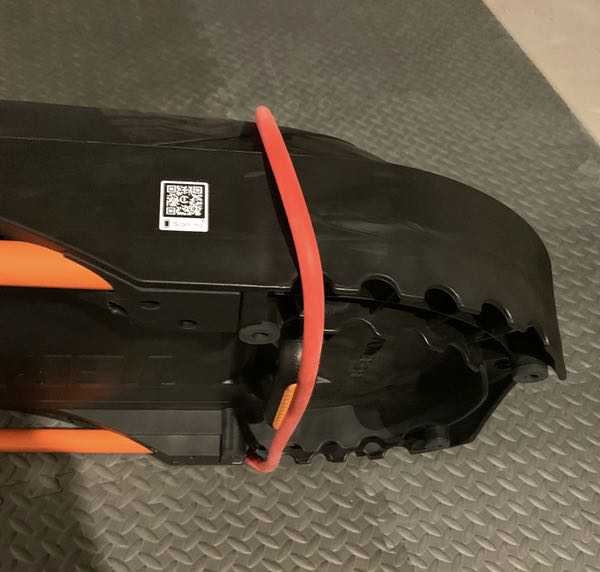 Lay down the Terra-Core, and now you can use the bands in weight bench mode.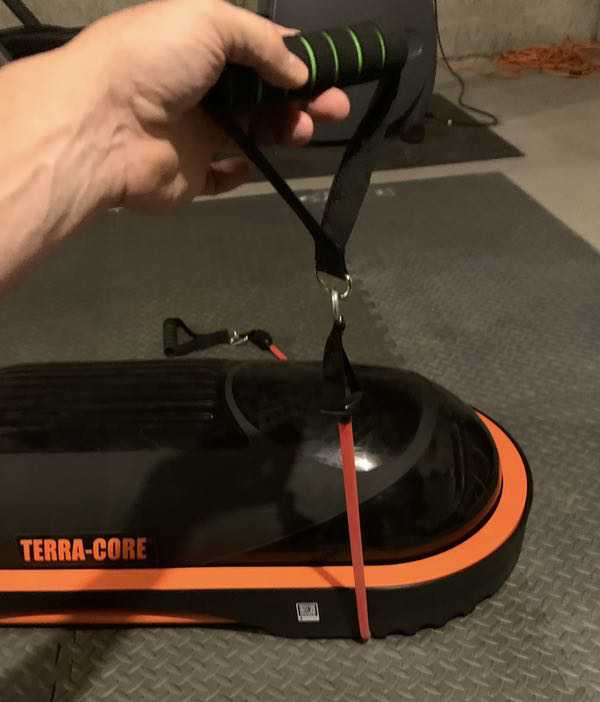 Durability is the name of the game here. Heavy duty rubber and plastics are used throughout the construction; the unit itself weighs in at 28 pounds! Terra-Core states that it can handle weight limits of up to 4,500 pounds, although less than 1,000 pounds are recommended. It's a solid, gym-quality investment.
Terra-Core includes a 14-day trial for their online companion app, which includes a library of exercises that are updated on a regular basis. We'll cover off on that before we're done.
Setup
The Terra-Core requires some inflation when you get it. You'll use the tool provided to pull out the plug then inflate to your desired level of tension. The more air, the more stable it is. They include a tape measure that you use to measure the level of inflation. It's all pretty straightforward stuff; no need to go into detail here.
Let's do some work.
Using the Terra-Core
The Terra-Core can be integrated into your workout routines in all sorts of creative ways. The workout poster included in the kit shows you some examples, and you'll get more by downloading the app. We're going to walk through a bunch of examples below.
Here we have the basic plank. You can obviously do this with your hands or feet on the Terra-Core, and you can adjust the air pressure to make it more challenging.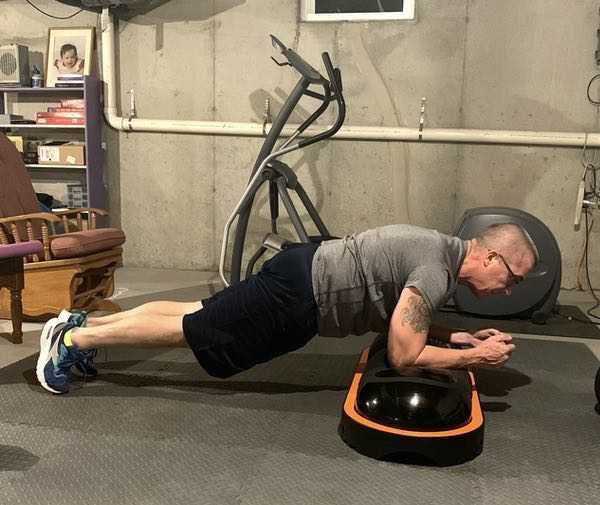 Now we'll do pushups. See how my hands are pushing into the bladder? That means I have to work to maintain my balance while doing the work, getting the core involved. The wide design also enables you to switch between wide and close pushups for chest/tricep workouts.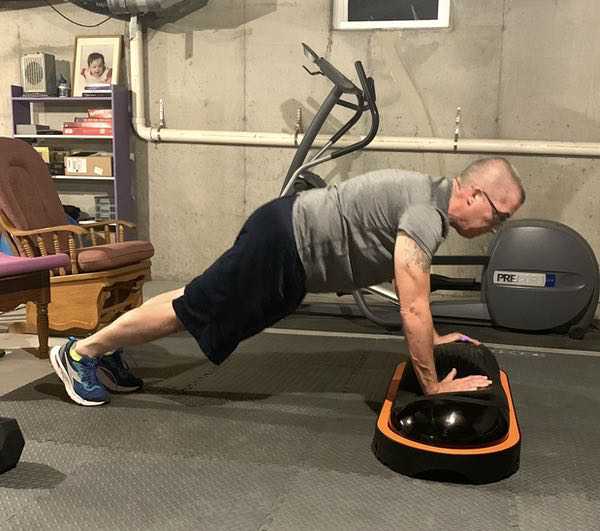 You want the bouncy-jumpy stuff? A lot of the exercises you'll see in the Terra-Core app emphasize step and/or high intensity training. This is an exercise I pulled from the videos. You start is a wide stance, one foot off the Terra-Core…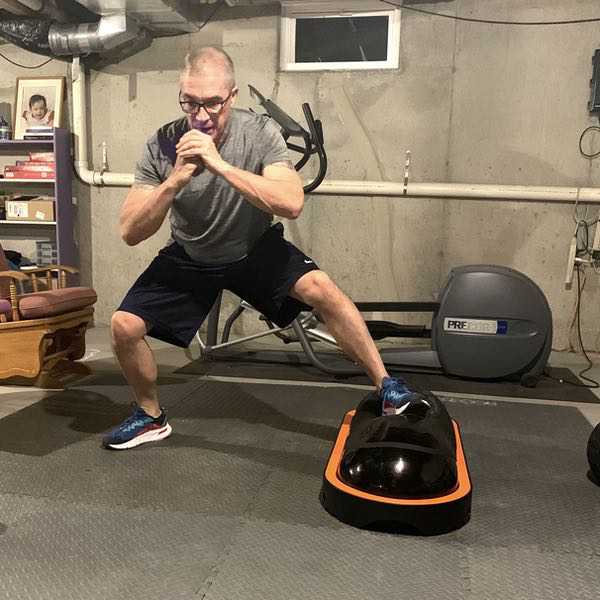 … then drive your knee through as you balance on the Terra-Core for a moment, then repeat. This is one of dozens of variations demonstrated in the videos that are used for HIIT work, cardio work, leg strength, and balance.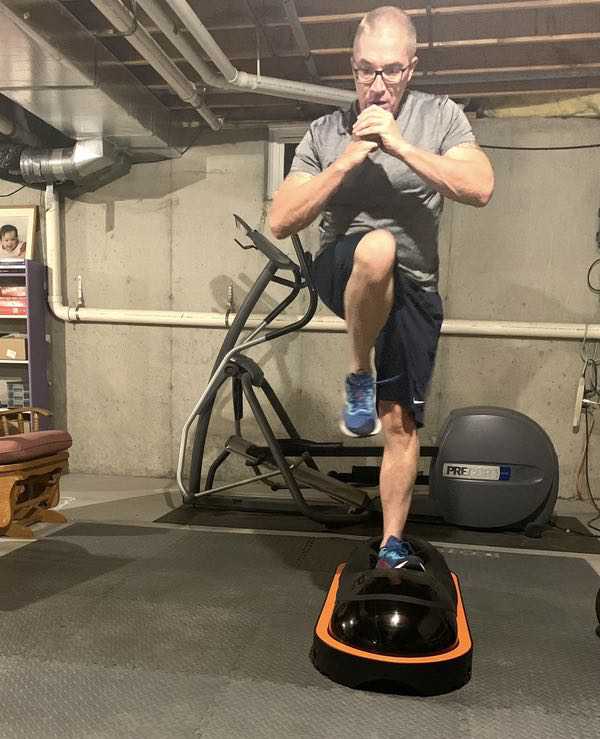 You want squats? You can do them without weights or weighted squats like I am doing here. That instability helps to build strength in your ankles, knees and core.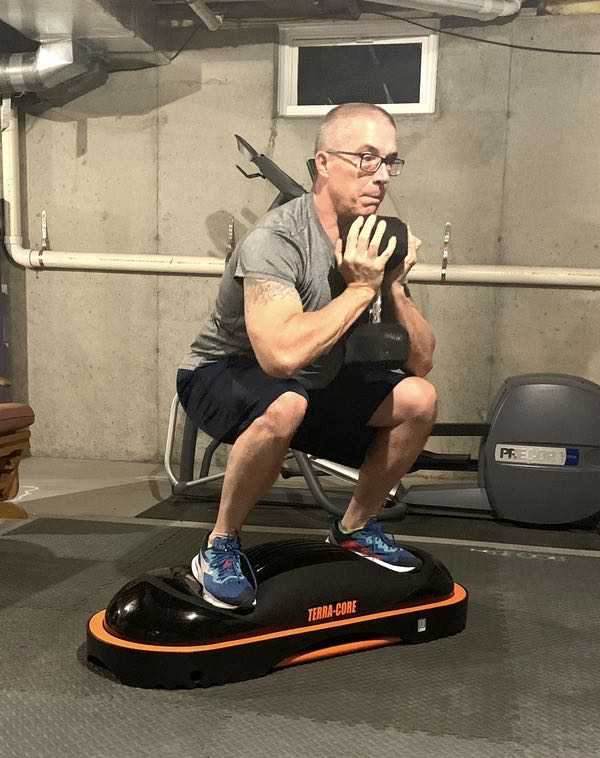 And yeah, it's tricky with all that wobbling going on. You can mix things up with a close stance, a wide stance, one foot on the Terra-Core, etc.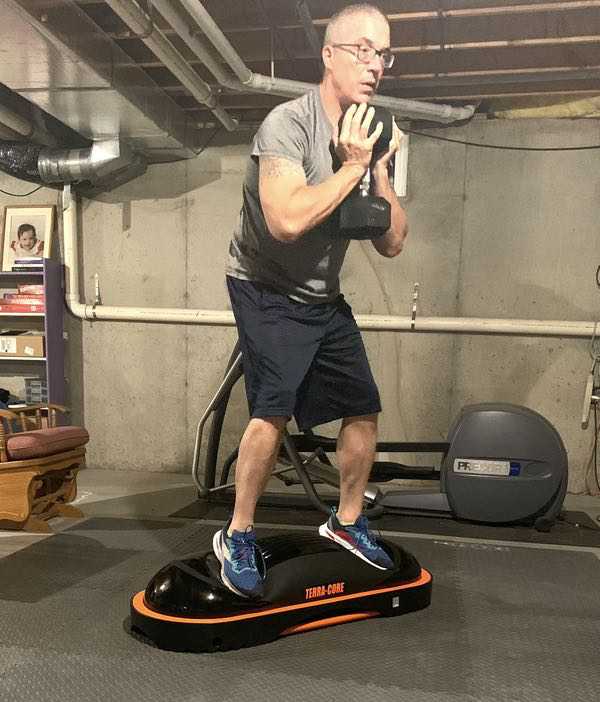 The Terra-Core also functions as a replacement for a weight bench, which is ideal if you have a small small space to do work. Bench presses, flys, skullcrushers… the extra instability makes all of them just a *bit* more interesting.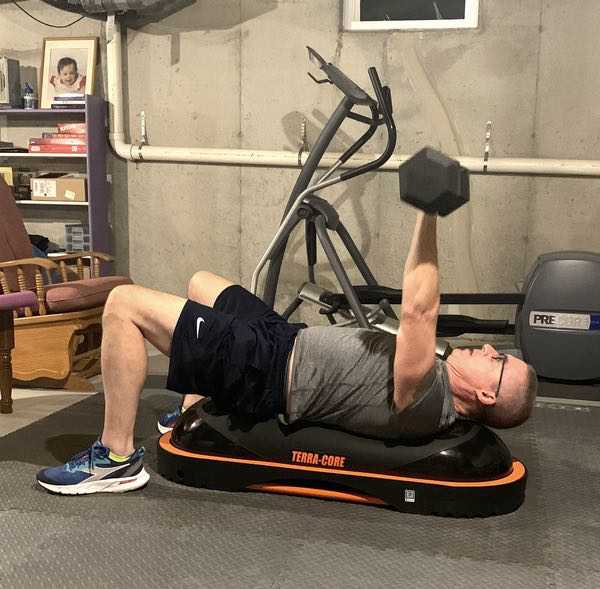 Ab work? Yeah, that's covered. Crunches, leg raises, planks, side planks, etc. are all possible.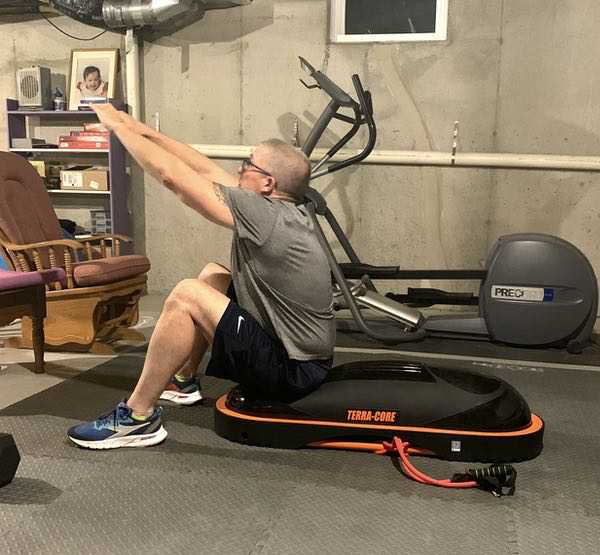 I mentioned exercise bands up top. If you don't have (or don't use) free weights, you can use bands to add resistance like chest presses.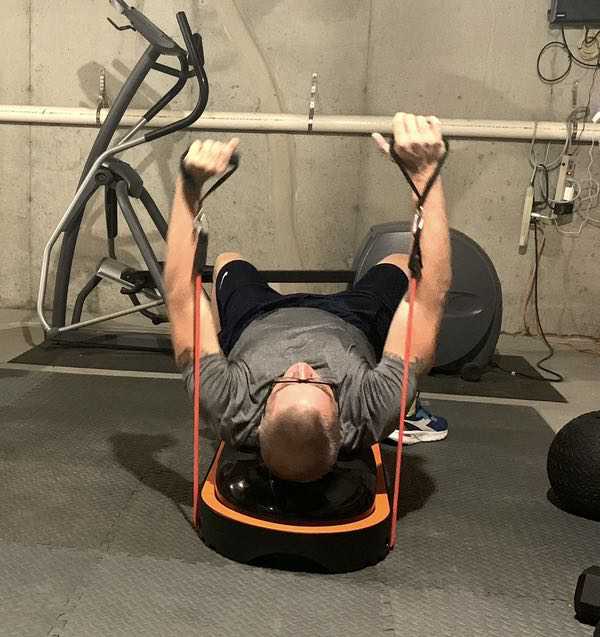 Loop the bands around the rail and you can do standing curls, adding that instability to activate more muscle groups.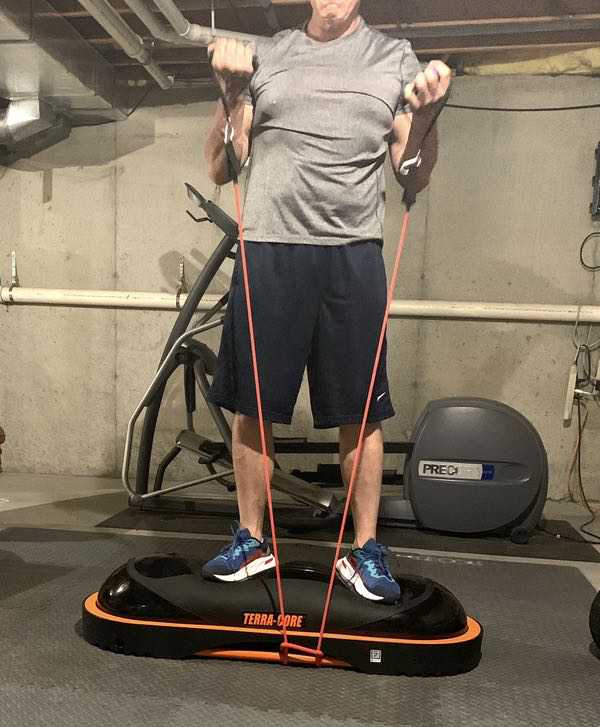 I'm doing shoulder raises here, but you have all sorts of possibilities to play with from the standing position. I do most of these with free weights myself.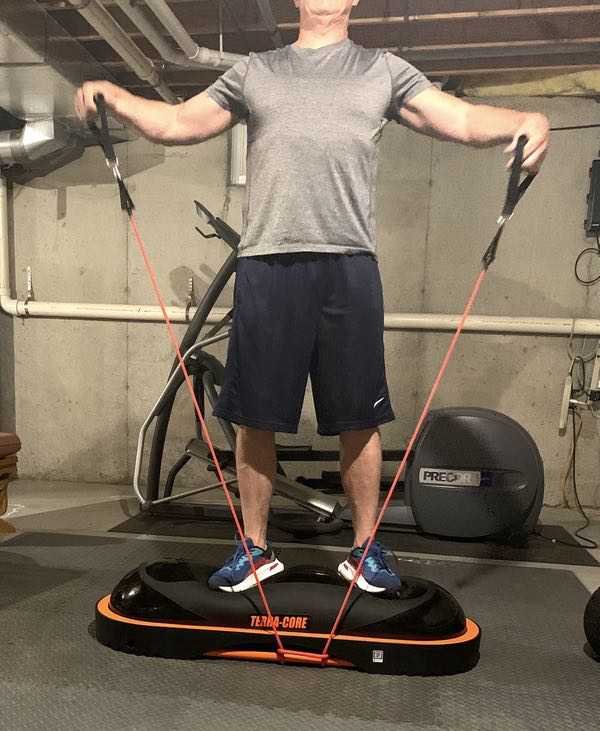 Now we'll flip the Terra-Core over. Grab those handles. It's time for pushups! They hit different when you're trying to keep that rounded bladder stable.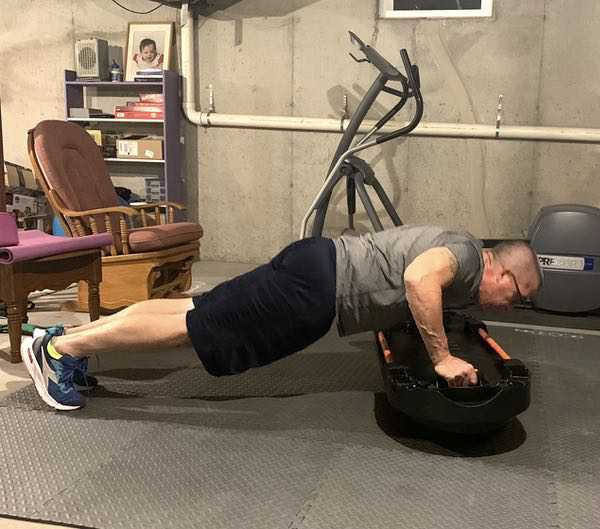 You can use those handles to do rows…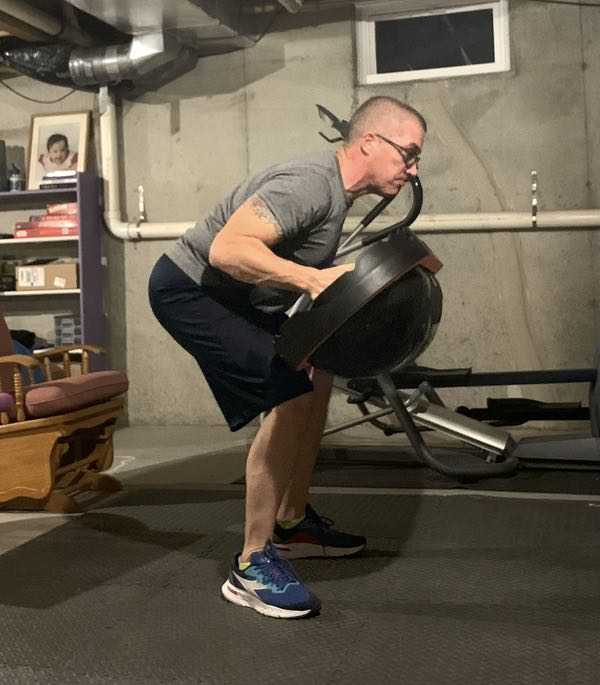 Or you can use them for curls…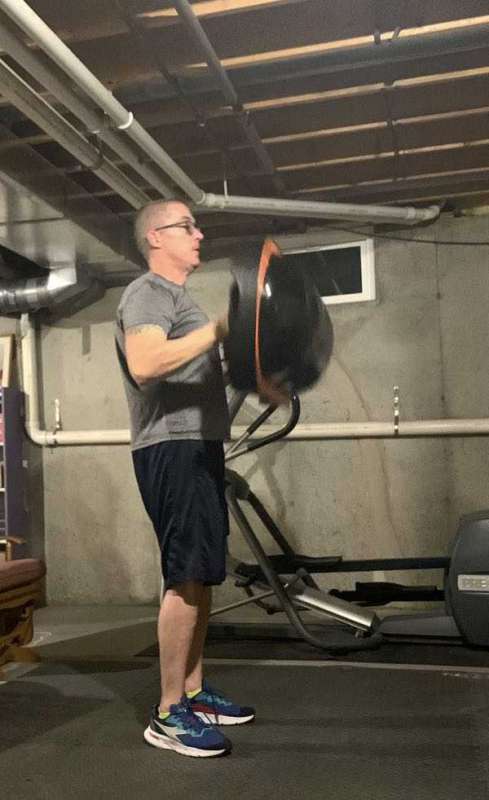 Or you can use them for shoulder presses.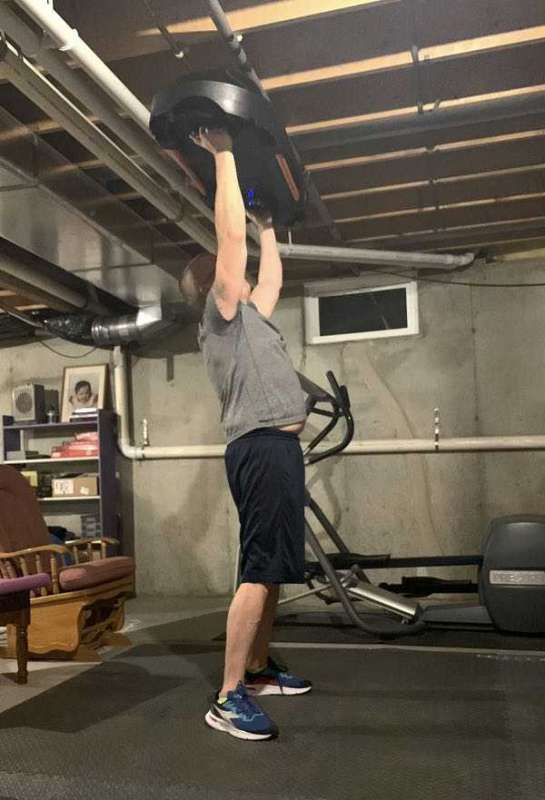 At 28 pounds the Terra-Core provides nice resistance, especially if you do these sets with combination moves like curls-to-presses, or pushups-to-rows. Or burpees.
Using the Terra-Core App
Terra-Core provides a set of sample workouts on YouTube (also accessible from their site), but the Terra-Core app provides a full catalog of programs to choose from.
The app's interface is simple and intuitive. The content is organized by a variety of cross-indexed categories. Browse, explore, and play. You can also create a list of favorites and download videos for offline use.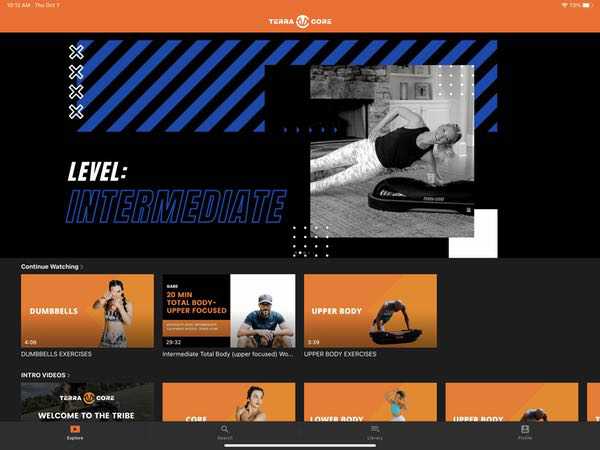 The catalog itself is really broad. You'll get some basic intro videos to show you different ways to use the device, then you can jump off into workouts based on exercise type (core, lower body, upper body, HIIT, sculpting, etc.). You can sort by difficulty level and/or workout duration. I found it interesting that they also0 include some focus areas like prenatal workouts, yoga, and active aging exercises in the catalog.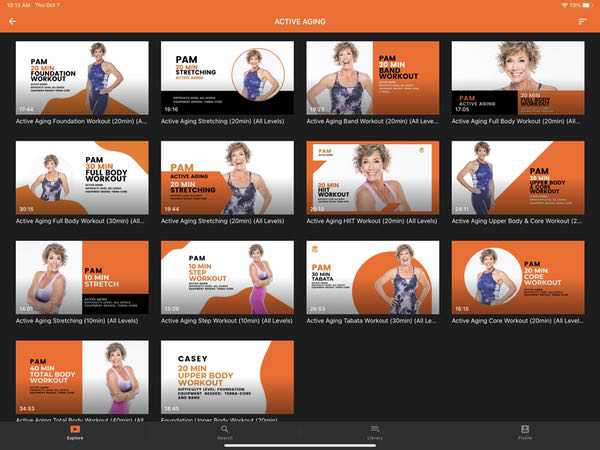 Each video includes a summary of the goals, duration, difficulty level, and tools required (some add bands or weights). The standard program format does a nice job or orienting you to each exercise, demonstrating the move, and then running you through the work in an easy-to-follow fashion.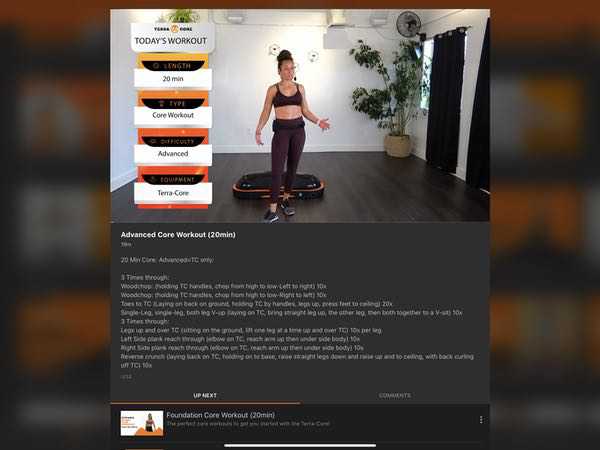 The good news is that you're getting a deep well of material that enables you to match the programs to your desired goals and levels of intensity. The bad news is that the app does require a credit card to activate the 14 day free trial, which is kind of a bummer. You can cancel it before the trial period ends, but you can't get access to content unless you sign up. You can get to the sample exercises Terra-Core provides for free on YouTube without a subscription to see what you are in for.
Performance
I've been using the Terra-Core for a month now, and I'm really impressed with it's versatility. You want cardio? Agility? Flexibility? Balance? Strength? There's something for everyone here, and you'll be able to switch up between full-body routines and focusing on specific areas.
I think that the Terra-Core also delivers on it's mission of providing an all-in-one fitness tool, which is a big deal if you have limited living space. You can get a lot accomplished with this piece of equipment in a relatively small floor footprint, but there is enough variety to keep you from getting bored. Do keep in mind that it is a big (and beefy) piece of gear, so you'll need a place to store it.
I do enjoy the online programs, but my favorite use for the Terra-Core is as a supplement/addition to my workout routines to enhance the work. Exercises like bench presses, weighted squats, standing curls and shoulder presses take on a whole new level of fun when you're balancing on the Terra-Core. You could do these on a regular Bosu as well, but the wide design gives you more options here. When I want to mix things up I find myself going to app more often to try different core, leg, and balance programs.
Speaking of the app, I think the subscription service is well in alignment with the cost ($19.99 a month or $149.99 for an annual subscription). The content is broad, diverse, and updated regularly. If you like following programs rather than designing your own routines you'll get your money's worth here.
What I like
Heavy-duty construction
The solid & stable based inspires confidence
Extremely versatile
Works well as a stand alone device or an addition to your workout gear
What needs to be improved
You will need to sign up with a credit card to explore the app for the free trial, but you can cancel anytime
Final thoughts
The Terra-Core is a solid multitasker, and I think the $199 price point is a good value given the versatility and durability of the device. But like any piece of fitness equipment, your results will depend upon how much work you put in with it. I find new ways to incorporate it into my workouts all the time. If you're new to this sort of thing, I'd suggest checking out the web site and the free sample videos to get a sense for what you're in for.
Price: $199.00. Accessories and bundle packages are also available. The app is subscription based and starts at $19.99 a month ($149.99 for an annual subscription).
Where to buy: Terracorefitness.com and Amazon
Source: The sample of this product was provided by Terra-Core Fitness.