We use affiliate links. If you buy something through the links on this page, we may earn a commission at no cost to you. Learn more.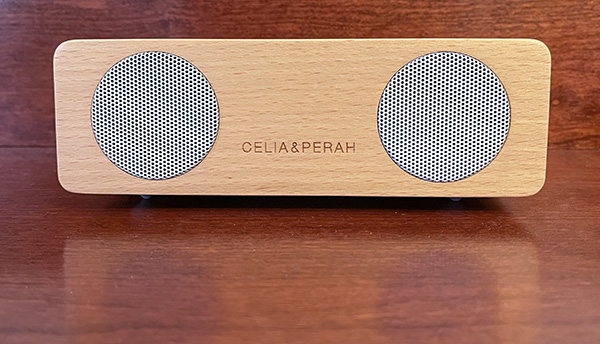 REVIEW – At the beginning of the pandemic lockdown in the spring of 2020, I reviewed two DIY speakers—the R1 and R2—from a boutique audio company called Celia & Perah. I stated that building these speakers was perfect for doing something together as a family and having something useful to show for it—a decent-sounding speaker/radio. After a few months, I gave the R1 to my son's fiancé but I still use the R2. C&P's speaker kits were fun to build and are still pretty cool-looking. It turns out that Celia & Perah make "normal" audio products too, like their M2 Wireless Wood Speaker. But is it as good as their DIY products? No, it's better.

What is it?
The Celia & Perah M2 Wireless Wood speaker is just that—a portable wood speaker—with some interesting features added. The cabinet is made from solid beech wood, aluminum, and silicone. There is no wood-grain veneer or sticky wood-printed paper on particleboard. 
Note that slightly darker Caramel Beech and much darker Walnut models are available. This review is for the Original Beech color.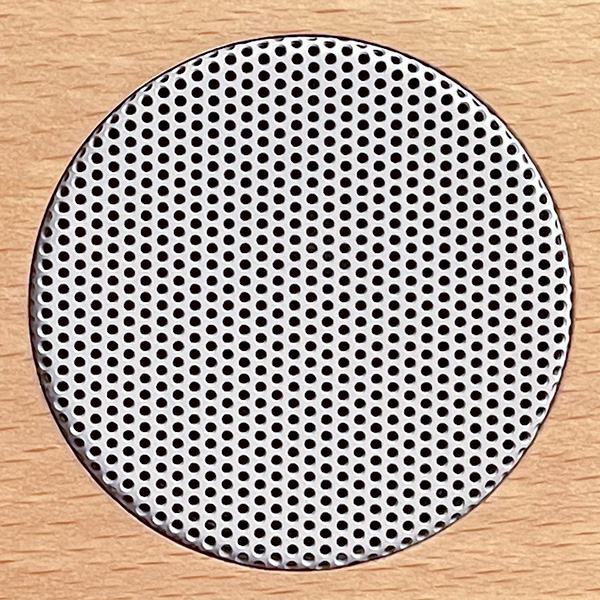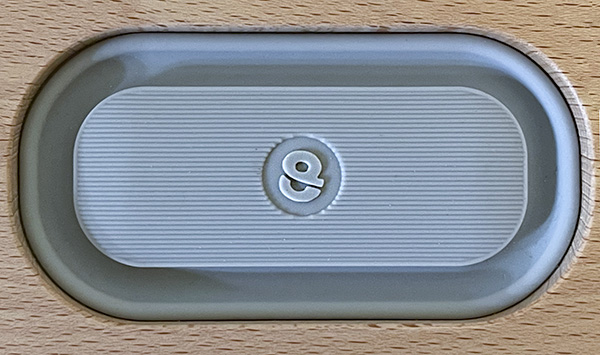 Two 2-inch full-range driver speakers hide behind light gray aluminum grills. The cabinet has two matching light gray silicone bass radiators on the top and underneath the M2. The cabinet sits on silicone feet in the front and has a long and narrow silicone strip at the rear. 
Each driver sports 8 watts of power—plenty for a petite personal speaker. A rear panel contains a DC port, 5V USB A out port, AUX, volume, and on/off buttons. A blue light indicates a Bluetooth connection.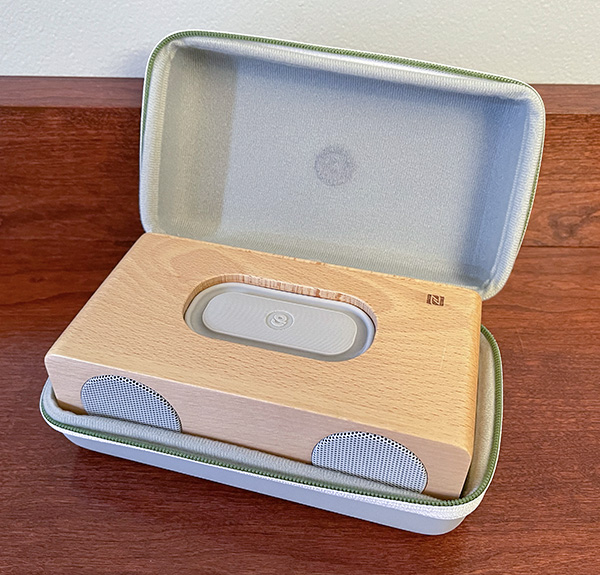 Included is a zippered soft case (light gray, of course) that protects the speaker from any bumps and nicks when traveling.

Specs
Size: 7.5 in. x 4 in. x 2.4 in. (LxWxD)
Weight: 1.8 lbs.
2 8-Watt drivers
2 passive radiators
Output: 93 dB max
Bluetooth: 4.0
Range: 32 ft.
Power: 18 Watt RMS
USB port: 5V
AUX port
DC port

Design and features
The Celia & Perah M2 Wireless Wood Speaker doesn't look or feel like so many portable Bluetooth speakers. Its understated and minimalist design demands to be noticed without having to scream, "Look at me!" There's a level of quality not seen in many small wireless speakers—as well it should be because the speaker is a bit expensive for its size.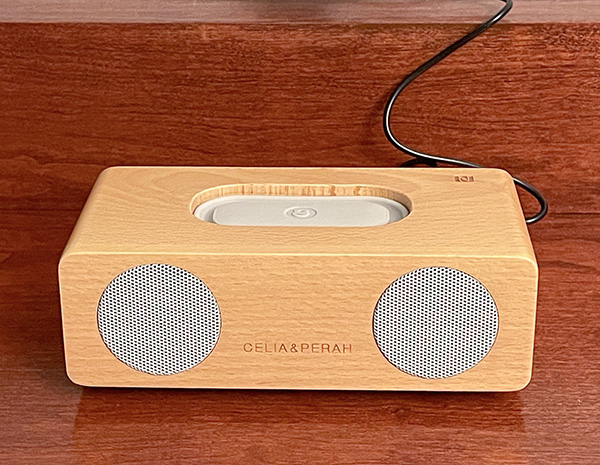 Don't get me wrong. The speaker is worth it. Just holding it will convince you of that. But you still gotta part with your money before you hold it. Unfortunately, that's true with a lot of audio products today. But I digress…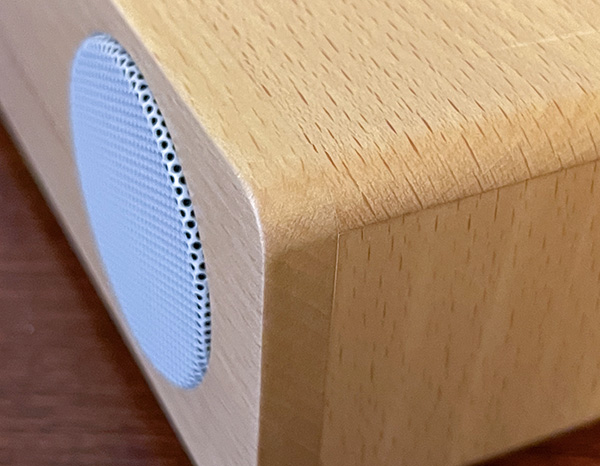 The M2's beechwood cabinet is hand-crafted in Taiwan from machined solid wood pieces that fit seamlessly together. If you close your eyes, it's hard to feel the seams. The wood grain has slight imperfections in the grain that give it character.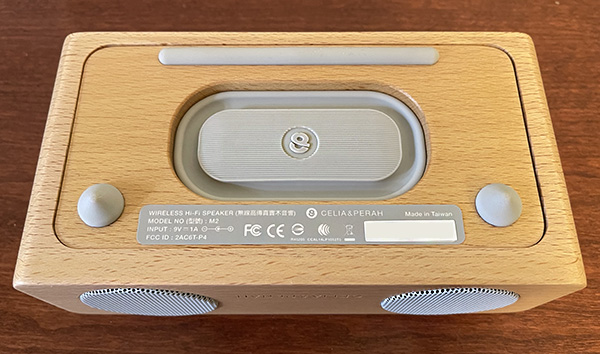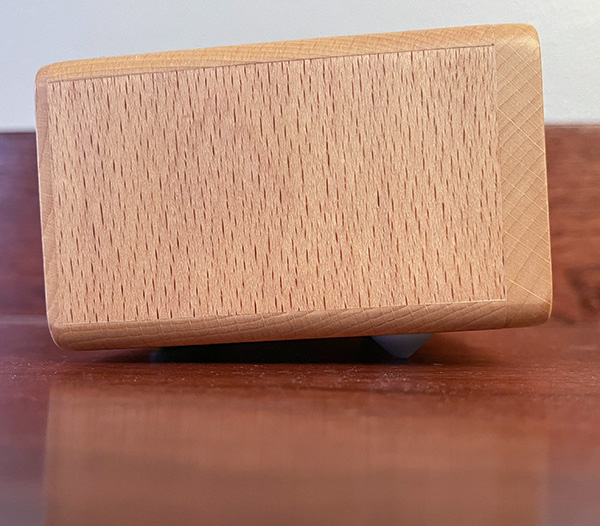 The M2 sits on silicone triangular feet at the front and a narrow silicone bar at the rear. This serves two useful purposes: The feet raise the speaker off the surface which helps prevent unwanted (and audible) vibrations that can transfer from the speaker to the surface. Also, the uneven feet cause the M2 to be slanted slightly upward towards the listener. Both the feet and the angle help music sound a bit clearer. 
Two circular speaker drivers deliver both the mid and higher frequencies. The front speakers are covered by a tastefully painted aluminum grille that complements the beechwood color quite nicely.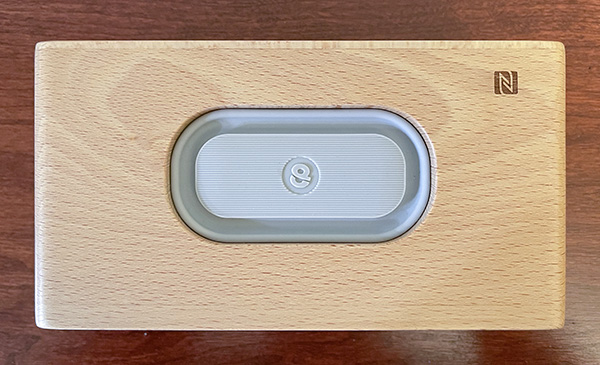 Bass is handled by two passive bass radiators that move in unison. This allows for larger amounts of air to move in and out creating those lower bass notes. The result is a bigger sound from a smaller speaker. Bass requires air and thanks to the radiators, the M2 can move air more efficiently.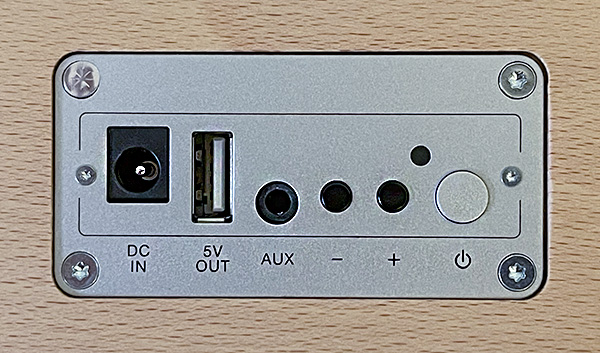 Like the M2 speaker itself, a brushed aluminum back panel is a model of simplicity with everything clearly labeled. From left to right, there's a DC charging port (cable included), 5V USB A out port for charging a smartphone or other USB device. An AUX port allows a hard-wired connection to an older audio device if Bluetooth is not available (cable not included). Lastly, there are separate volume buttons and an on/off button. That's it.  
The M2 speaker is powered by a built-in Li-ion battery. There's nothing in the manual or on the C&P website that indicates how long a charge lasts. Since I've been using the M2 as a tabletop speaker and leaving it plugged in, battery life hasn't been an issue for me. 
The Celia & Perah manual is a bit confusing because they combined the M2 instructions with two other C&P speakers. Sometimes, it's hard to tell what info goes with what speaker.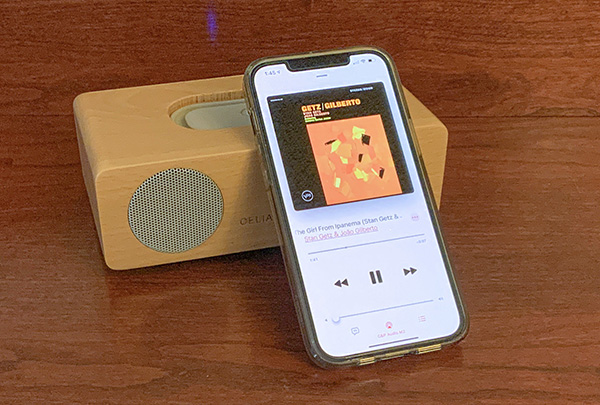 When the M2 is first turned on, it asks to pair via its Bluetooth 4.0. Pairing was quick and easy. Once the connection is established, my iPhone easily re-pairs when the M2 is used later. Newer Bluetooth 5.0 would give a better distance range. C&P incorporated NFC into the M2. The manual mentions this, but the illustration shows a different speaker. NFC allows instant pairing when a smart device is near or touches the speaker. Unfortunately for Apple people (like me), this feature is not offered on Apple products.
While It's small(ish), the M2 packs a more-than-decent punch when played at louder volume—which tops out at 93 decibels. That's quite loud for a speaker this size, mostly thanks to its 18-watt amplifier. Granted, volume isn't everything—you can't beat sheer speaker size for power. It's that darned law of physics.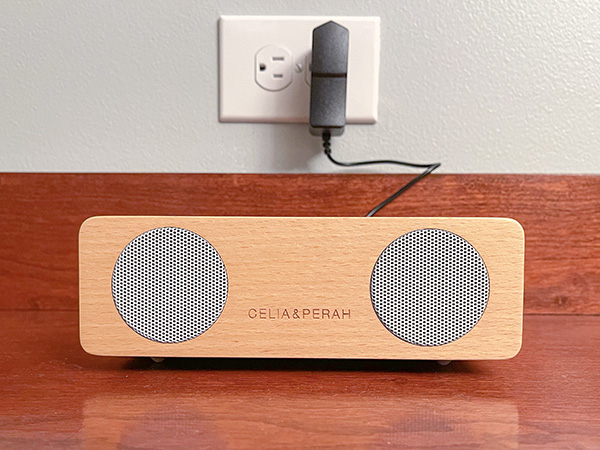 Stereo separation is surprisingly good for such a small speaker especially since the front speaker drivers are close together. Simon and Garfunkle's song "America" has a subtle stereo separation of vocals and percussion that increases as the song progresses. The M2 shows this off nicely. Keep in mind that a stereo signal will audibly merge as the hearing distance becomes farther from the source.
Detail is another pleasant surprise with the M2. The original classic 60s bossa-nova song, "The Girl from Impanema" features a saxophone solo from the famous jazz artist, Stan Getz. You can actually hear his breathy playing as opposed to hearing just a saxophone solo. It's a more intimate-sounding song on the M2.

What I like
Hand-made quality
Nice sound for its size
Good stereo separation
Understated good looks
NFC (for Android devices)
What I'd change
Expensive
No Bluetooth 5
Confusing Manual

Final Thoughts
The Celia & Perah M2 speaker won't appeal to everybody. It's not cheap for a small speaker, but when you combine hand-made quality with a surprisingly detailed and fun sound, it starts to look like a reasonably priced alternative to many of those me-too speakers you can buy anywhere. 
Price: $249 US
Where to buy: Celia & Perah and Amazon
Source: The sample of this product was provided by Celia & Perah.