We use affiliate links. If you buy something through the links on this page, we may earn a commission at no cost to you. Learn more.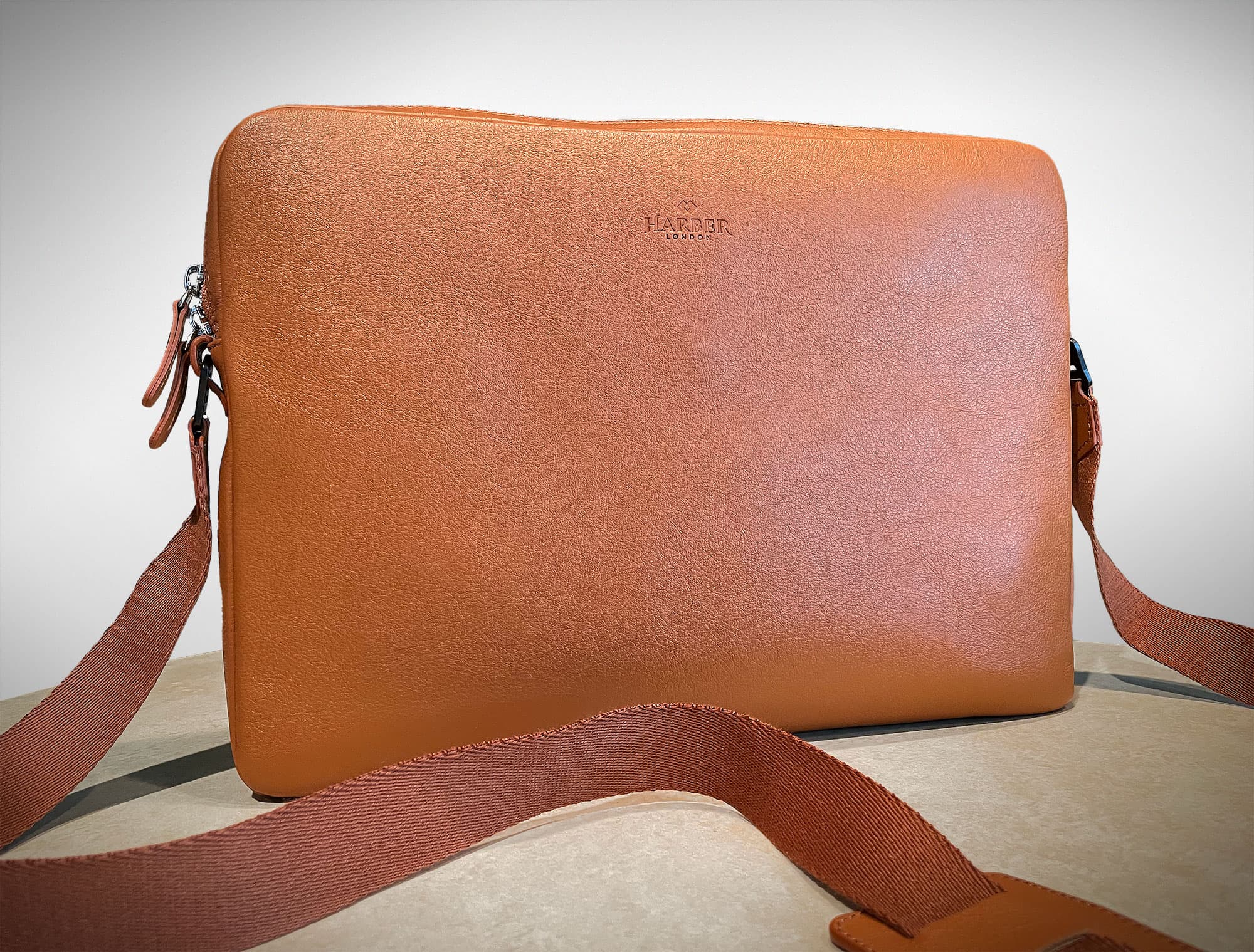 REVIEW – When it comes to carrying your laptop and computer accessories, nothing exudes class like a smooth leather bag. Today we review the gorgeous Harber London Leather Messenger Bag for MacBook.
What is it?
Harber London's Leather Messenger Bag is a full grain, vegetable tanned leather bag built to accommodate your 13″ MacBook Air or Pro, or any other 13″ size laptop. It also comes in a 16″ configuration for larger laptops, but for this review I will be using the 13″ size messenger bag.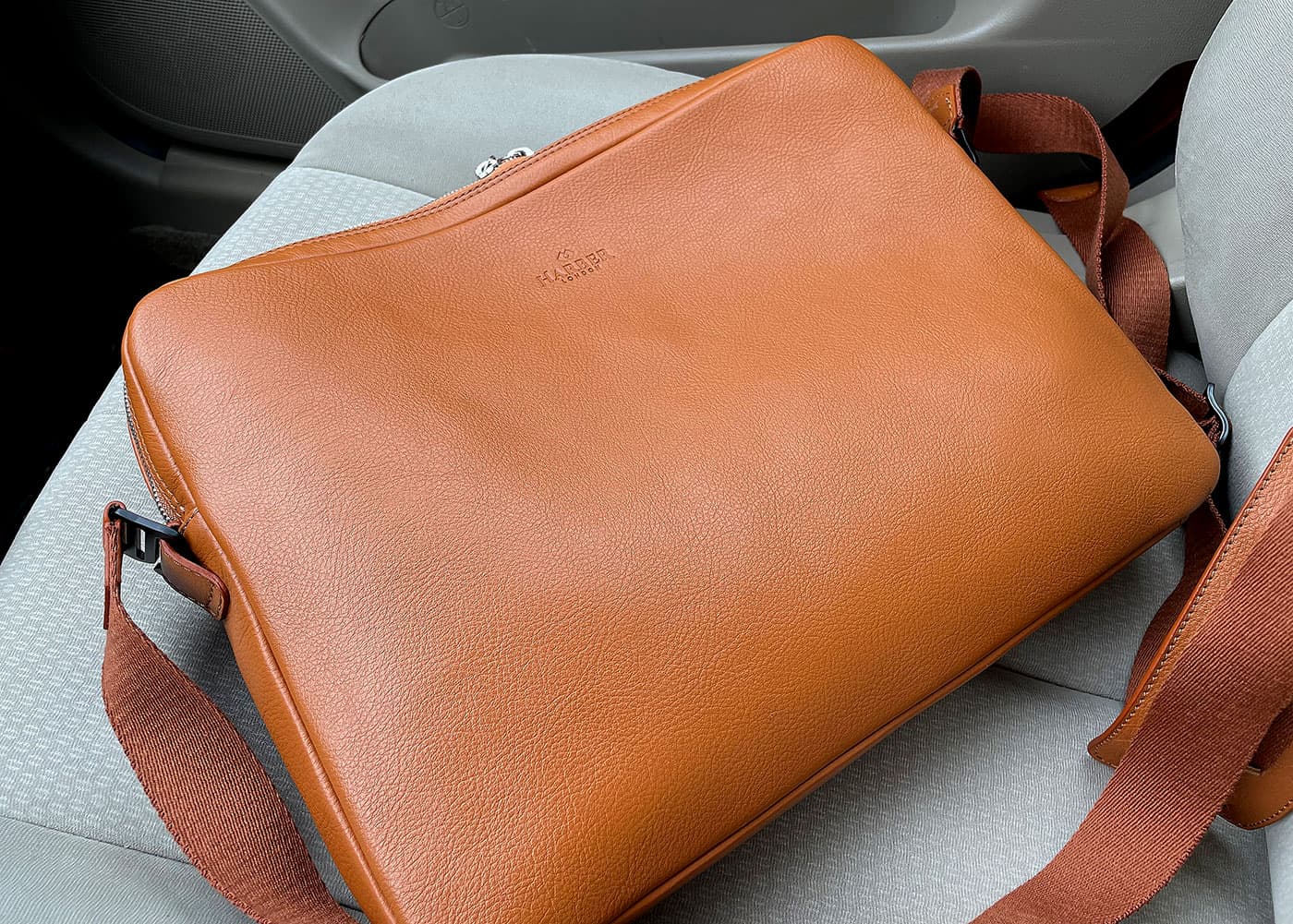 Hardware specs
Made with Rich Full Grain Leather.
Fits MacBook Pro/Air 13" & 16" (bag comes in two sizes, check size when ordering).
Built-in Cords & Pen Slots inside.
Dedicated Tablet Pocket inside.
Fits A5 & A6 Notepads inside.
Soft fabric lining.
Perfect for EarPods, chargers, mouse, cords, notepads & pens.
Handmade by expert craftsmen in Spain.
MacBook Pro/Air 13" (reviewed)
Capacity: 4.3L
Dimensions: 36 x 27 x 4.5 cm | 14.2 x 10.6 x 1.7″ inches.
MacBook Pro 16"
Capacity: 5.2L
Dimensions: 40 x 29 x 4.5 cm | 15.7 x 11.4 x 1.7″ inches.
Design and features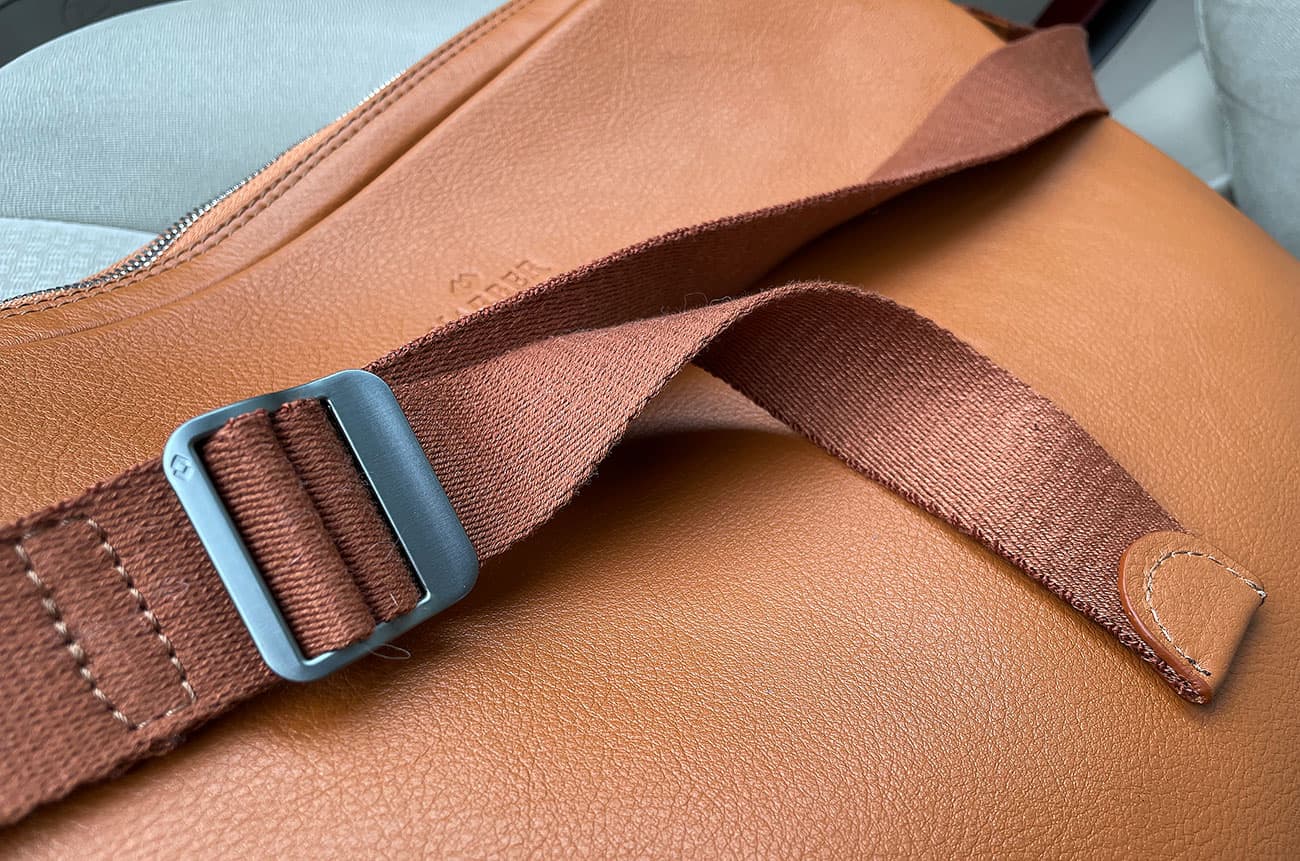 Harber London's Leather Messenger Bag exterior is simple and beautiful all at once. The outside material is a beautifully tanned full grain leather and has a semi-glossy sheen to it. There is a natural grain texture that is soft and extremely pliable right out of the box. Most of the stitching is hidden on the inside seams, except for around the top zipper, strap loops, and extra layer of leather on the bottom of the bag.
There are no external pockets or markings, save for a very small logo stamped into the one side.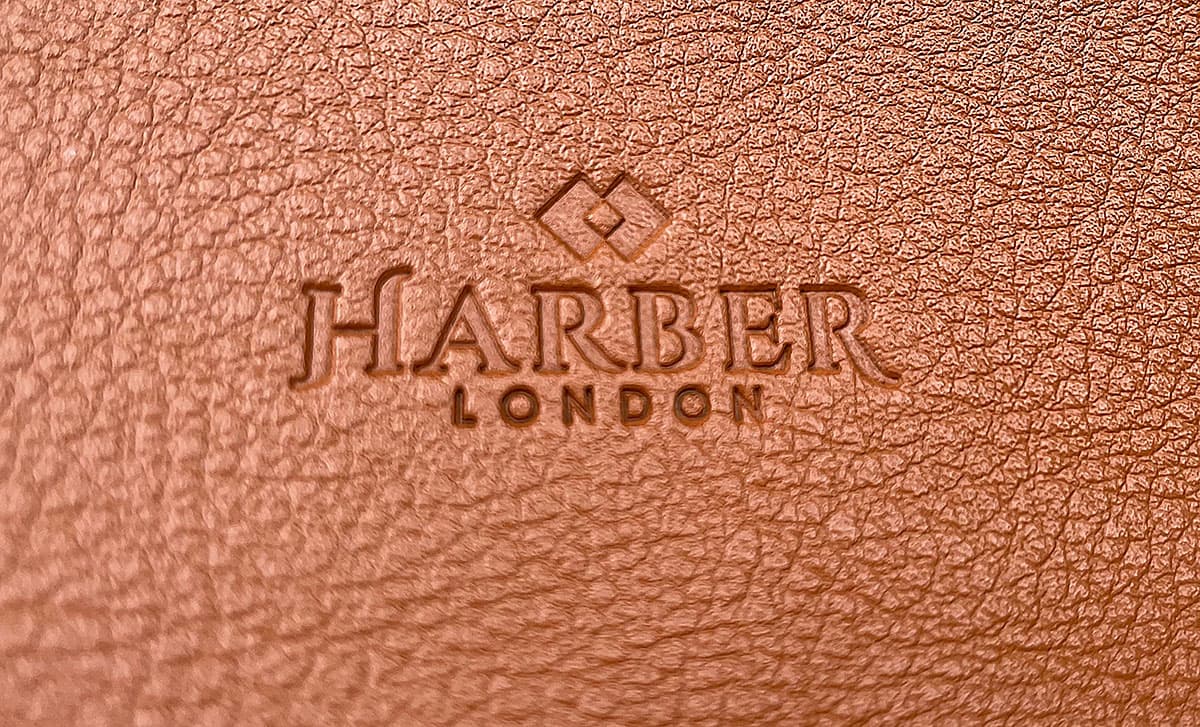 The included strap is a soft, durable cloth with leather and metal hooks and a thin, leather shoulder pad. There is also a leather tab at the end of the tightening strap.
The top of the bag has a silver accented double-zippered opening, with the zipper pulls crafted from the same leather as the rest of the bag.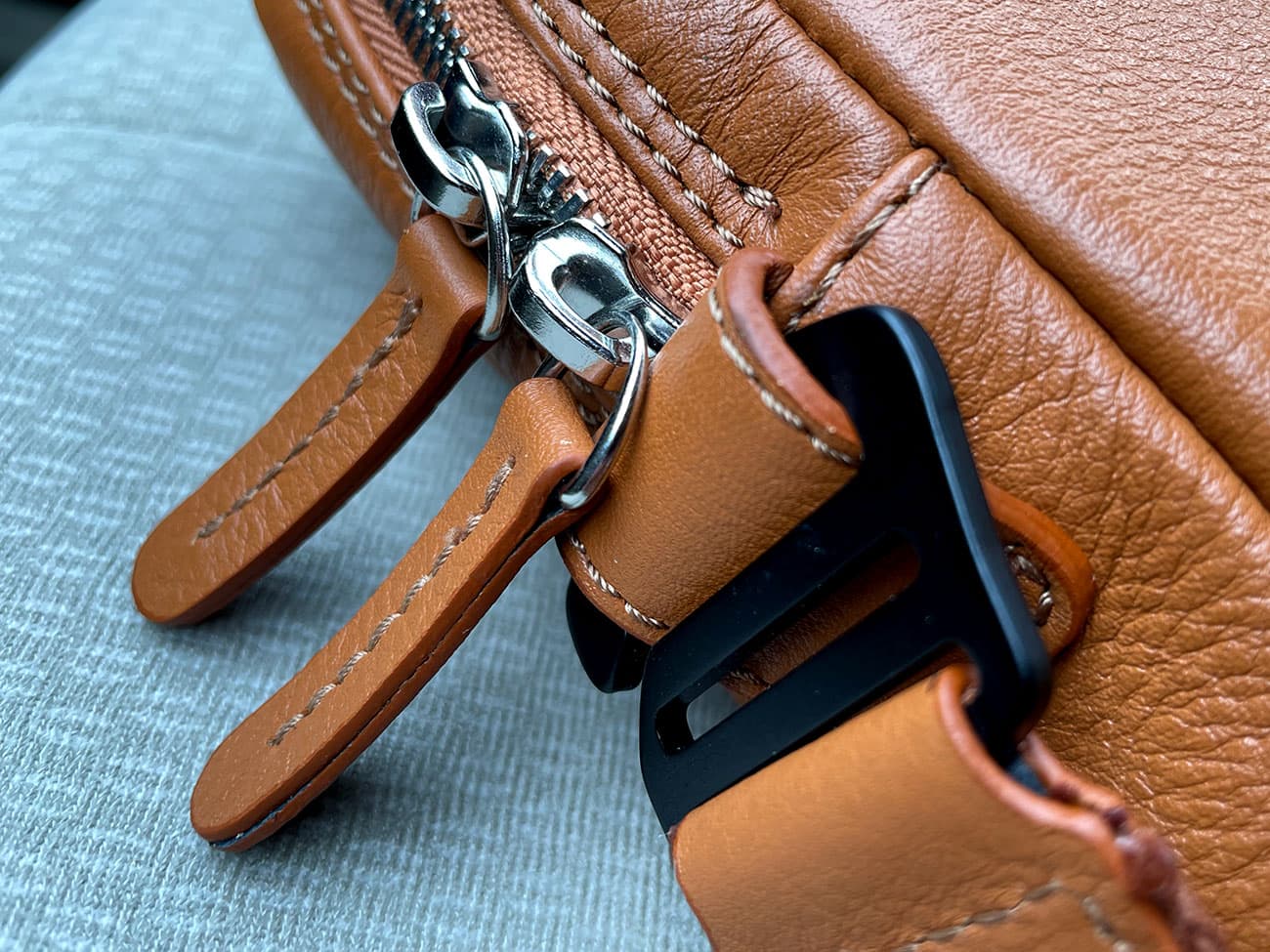 Overall, the outer material look and construction is what I'd consider classic and, to borrow an adjective from their own description, timeless. Aside from the newness of the material, it would be easy to take a look at this bag and imagine it being 50 to 100 years old.
The inside of the bag is easily accessible and contains quite a number of pockets and a row of leather loops for organization.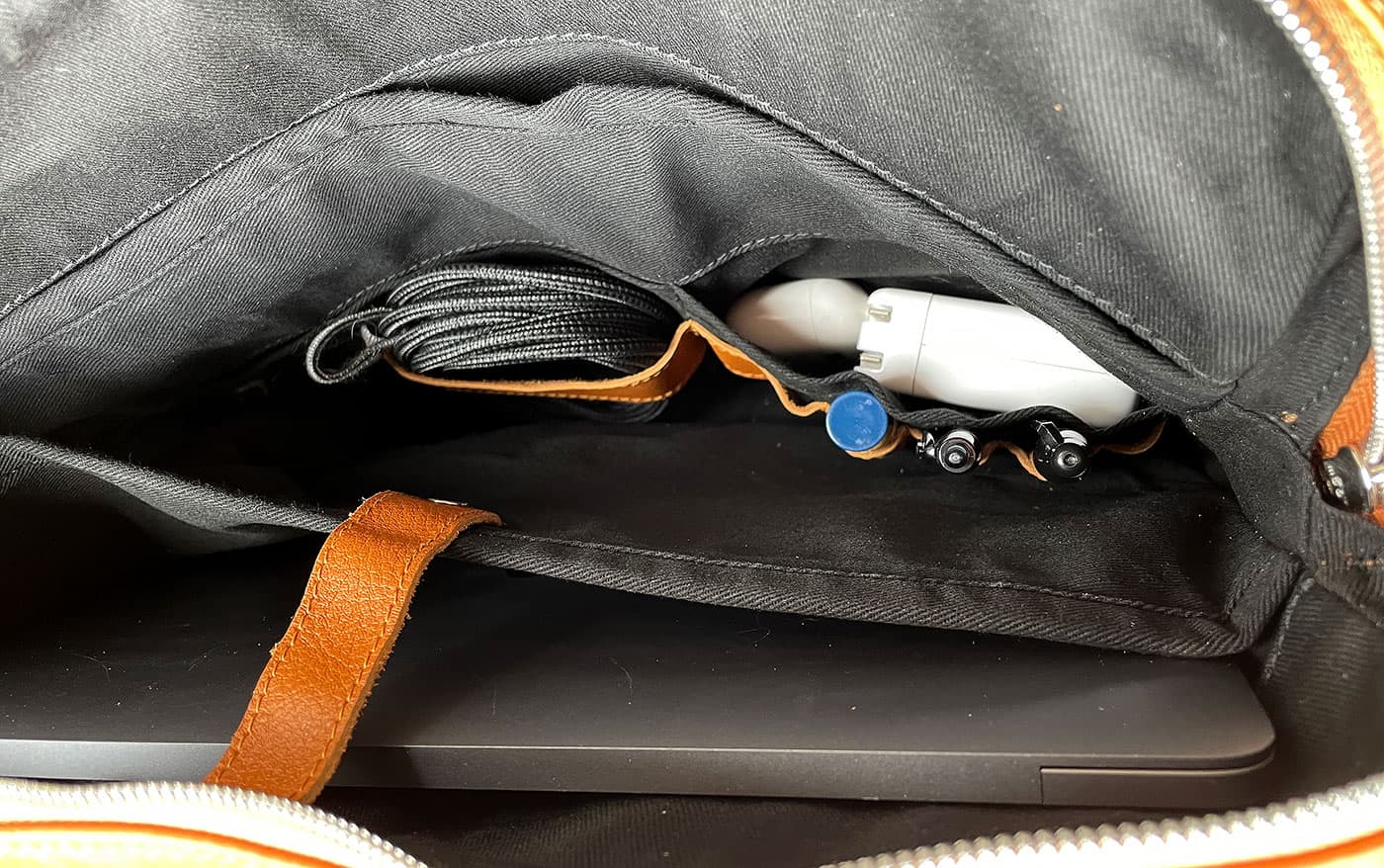 On one side of the bag, there is a large tablet pocket with integrated magnetic closure. Stitched onto the length of the outside of this large pocket are three small pockets of equal size, and it's onto the outside of these pockets that the leather loops are fastened.
There are 3 small loops for pencils or pens, a medium loop for earphones/AirPods, one large loop for holding charging cables.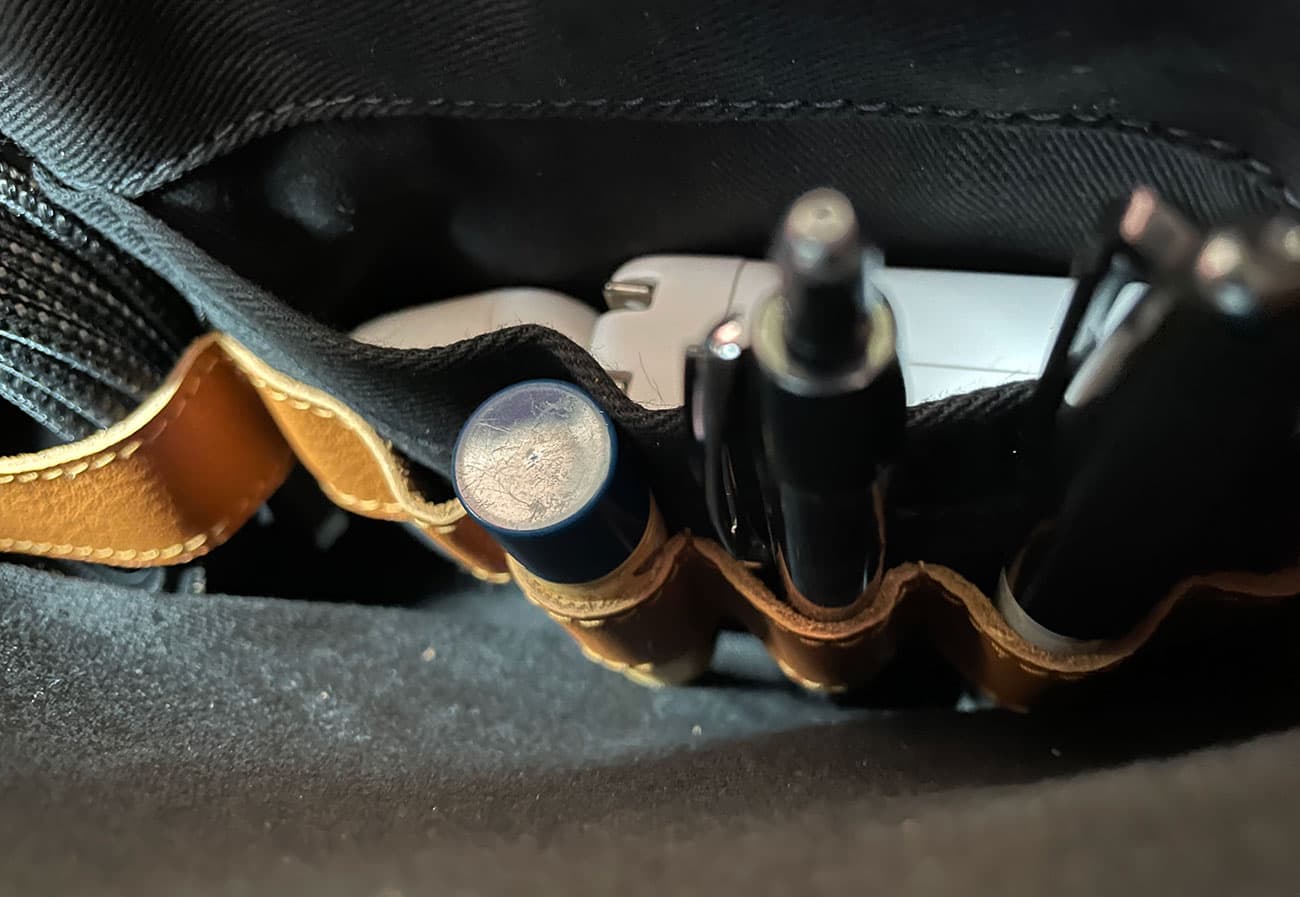 There is also an ingenious magnetic leather keychain that might be the coolest little "bonus" to a bag that I've seen. The round magnetic clasp on the keychain is fashioned in such a way that it will only come loose when pulled straight up out of the bag. However, when placing your keys in the bag, the clasp pops right into place with a snap when hovering around the magnet.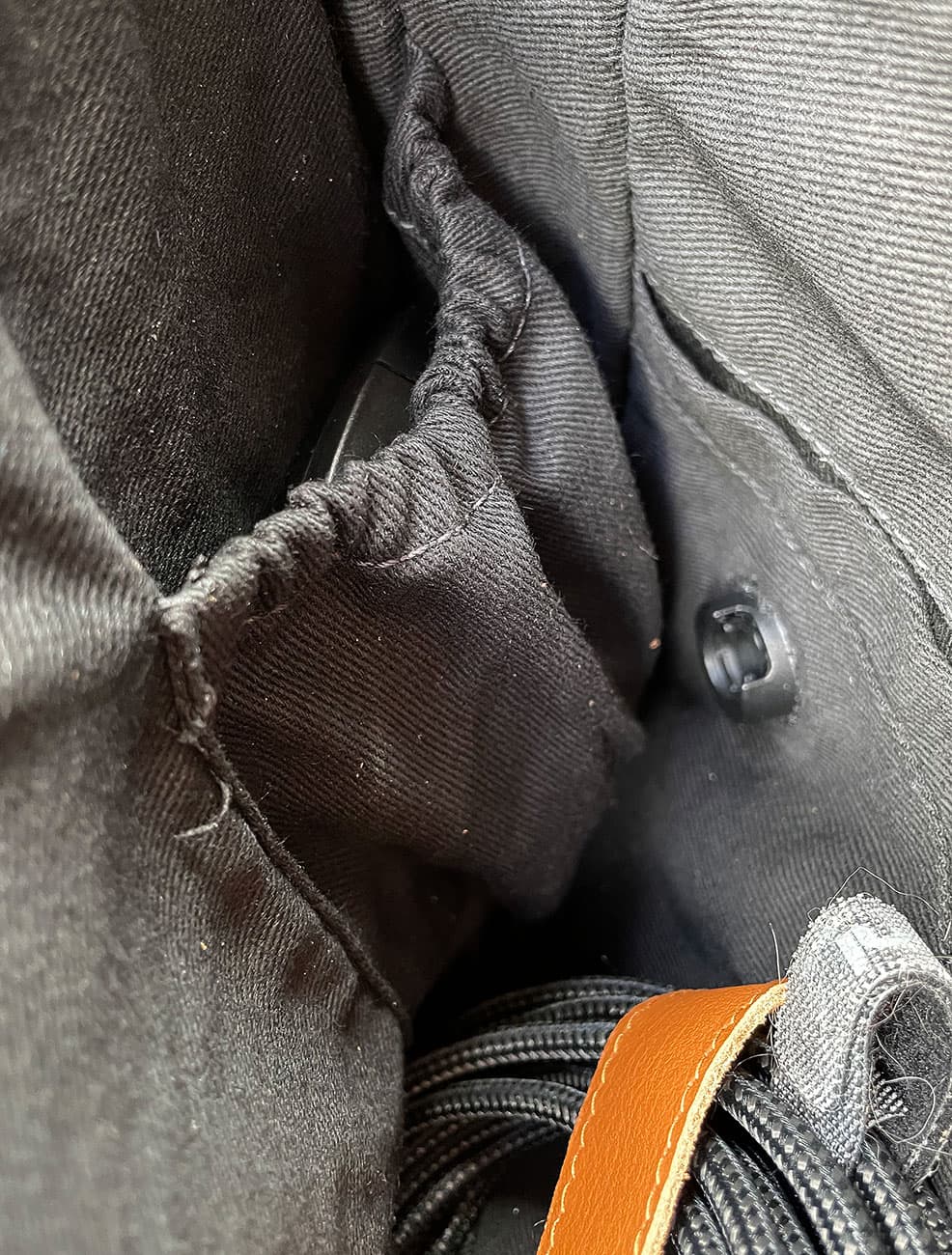 It feels like a snap closure when securing the keychain, but isn't removed by pulling it away from the magnet, or to any side, but only by sliding "up" toward the opening of the bag. It's really quite a smart design, and the leather keychain is rather small and handsome, certainly not something that you'll mind dangling from your keys when not in the bag.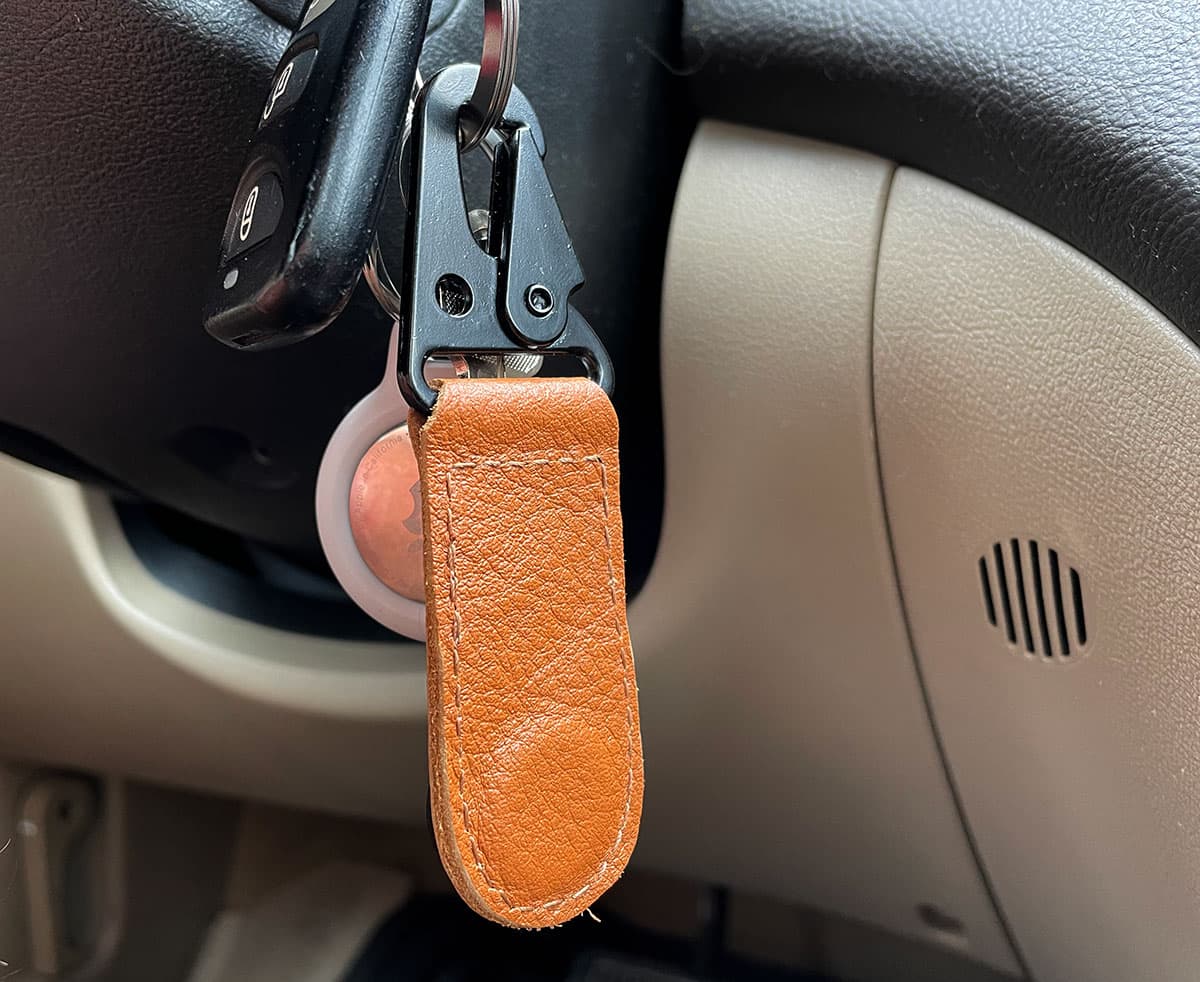 On the opposite side of *all those pockets * is the laptop compartment, which includes a large, leather strap that snaps on the inside of the bag to hold your computer in place.
There is one elastic pocket on the side of this laptop pocket that could secure a 16-20 oz. water bottle or small umbrella.
Naturally, the bag is large enough for basic legal pads, and most letter size or smaller notebooks and folders. The overall width of the bag is a little under 2″, so outside of your laptop, tablet or e-reader, and computer accessories, a water bottle, and some notebooks, there isn't a lot of room for anything else. If you need to carry more items than that, I'd look for a much larger bag or backpack.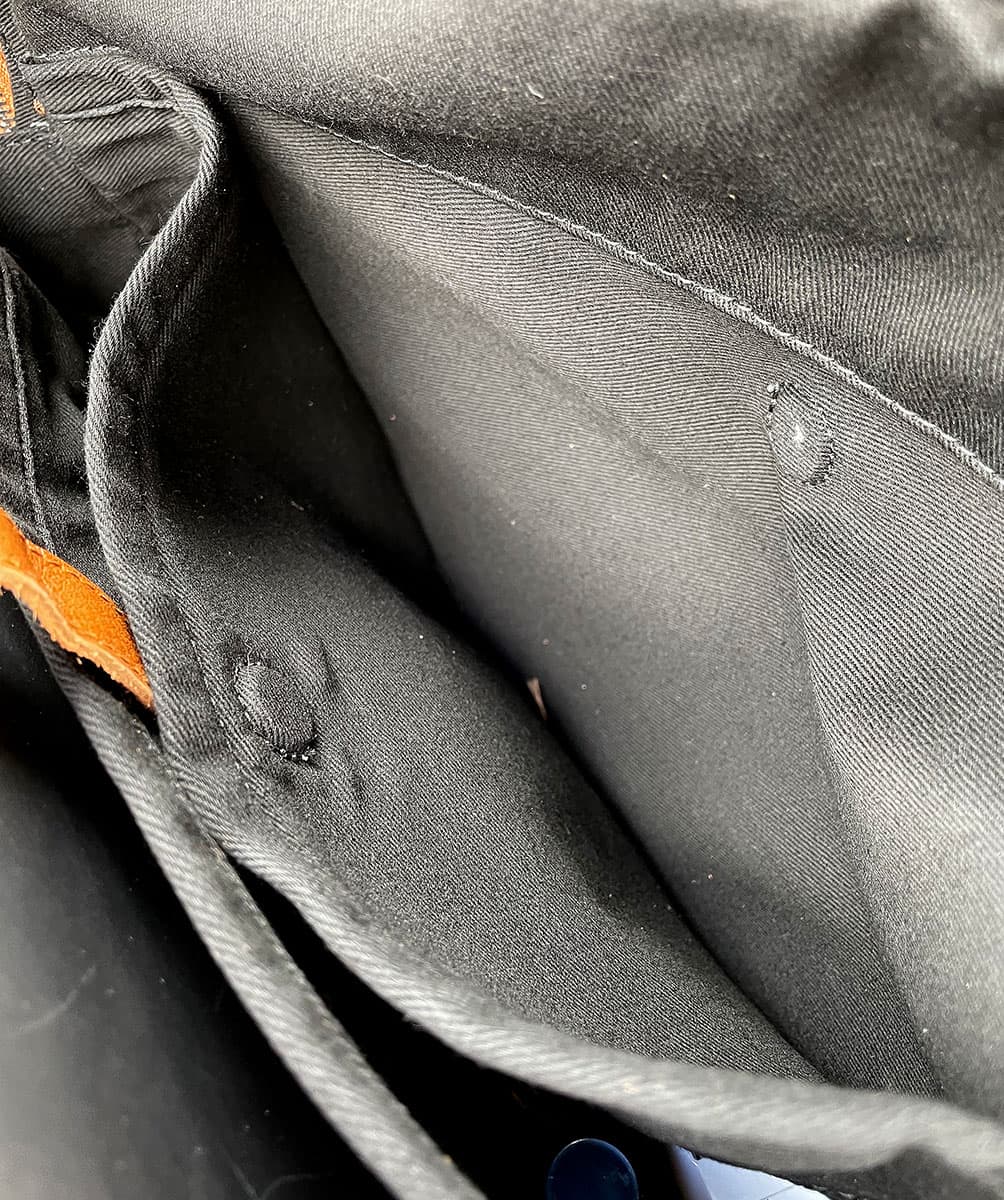 The looks and capacity of this bag feel very well suited for casual to formal business use. Its design is gender-neutral and looks like it would go with just about anything from jeans to slacks to sundresses.
Carrying the bag is comfortable thanks to the leather shoulder pad, and it's virtually impossible to get too heavy because of its small size. While the leather is thick, it's very supple and somewhat saggy when not filled with something rigid. Naturally, one would likely keep quite a bit of stuff in the bag to keep it from flopping over.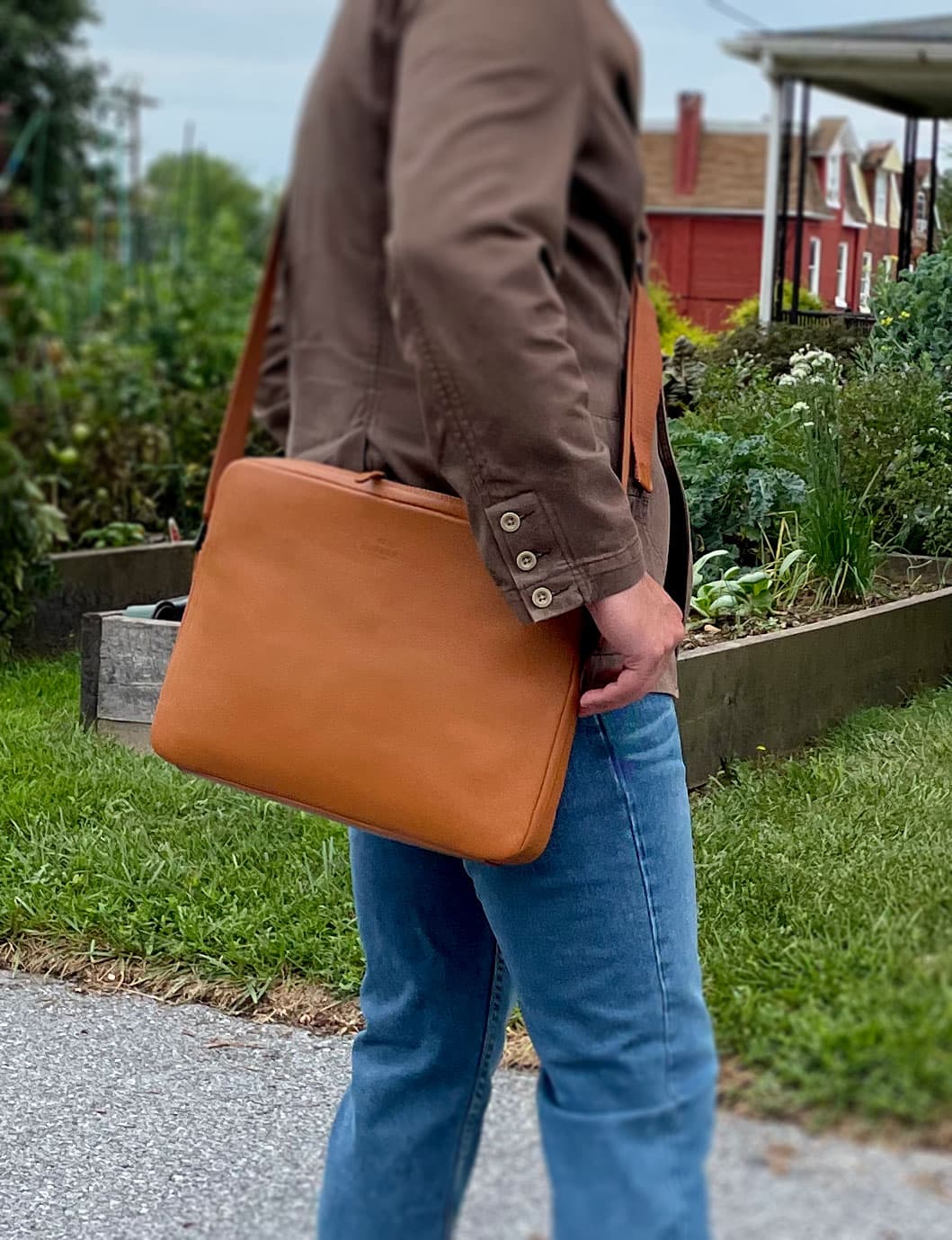 The only small thing I find wanting is a couple of small straps on the top of the bag to form handles, that would give the option of removing the shoulder strap and using it more like a small briefcase. I found myself picking up the bag by pinching the middle of the top of the case, since the case often fell on top of the shoulder strap.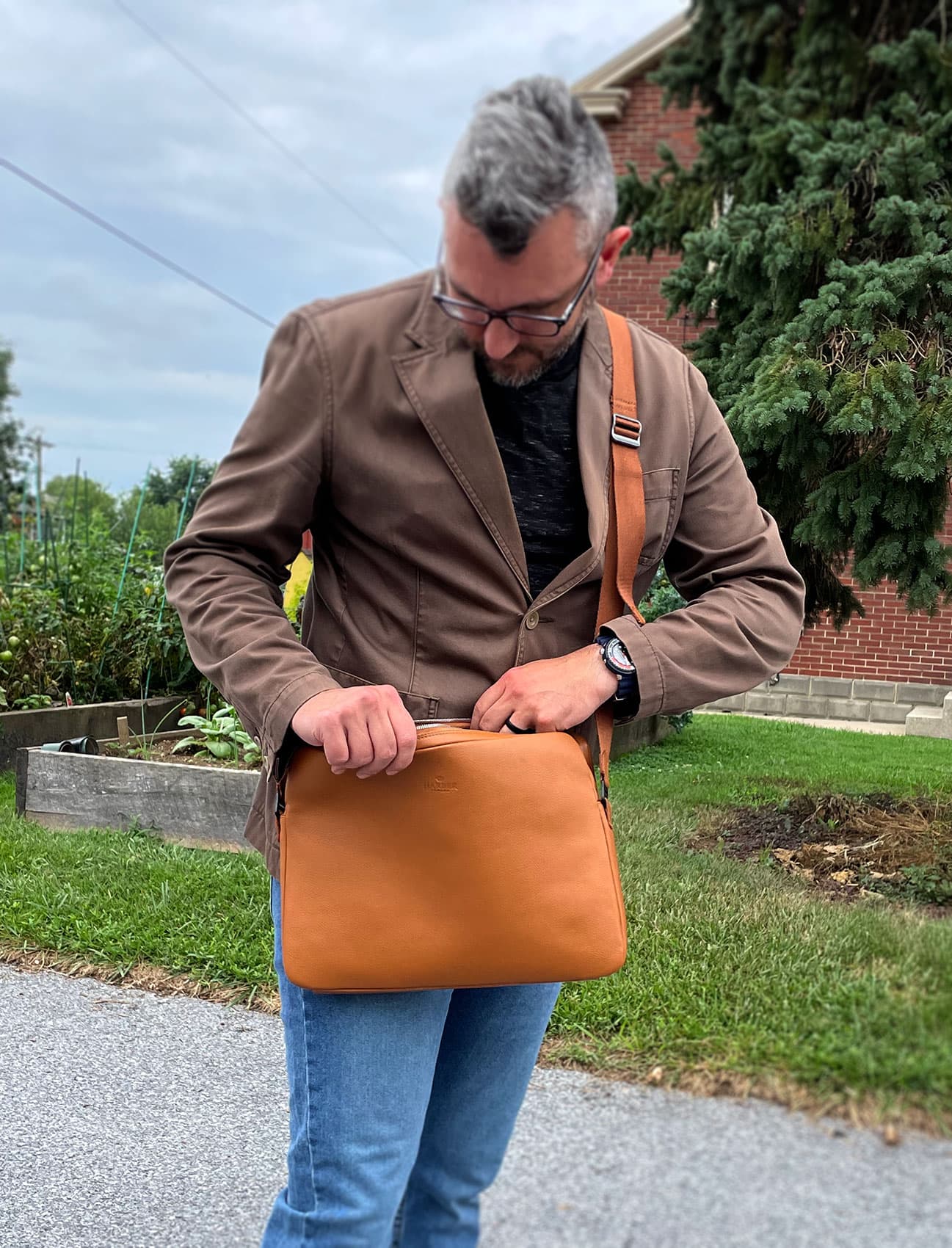 The other potential pain point could be the price. The 13″ messenger bag comes in at a bit over $300, which may be a total nonstarter for a lot of folks. But for anyone in the market for a handsome, leather messenger bag that, with proper care, could last virtually a lifetime, and has lots of neat little pockets and loops inside… this is a tough bag to beat.
What I like
Plenty of pockets and loops for organization
Magnetic keyring design is inspired
Leather is very nice and supple
What needs to be improved
Moderately expensive
Lack of external small handles makes it awkward to pick up sometimes
Bag is somewhat floppy unless filled with laptop/notebook
Final thoughts
There's no denying that Harber London's Messenger Bag isn't exactly a budget buy, as is the case with many other full grain leather goods. But it's an absolutely gorgeous bag with very few drawbacks. If you need a case for carrying your laptop, notebooks, tech accessories, and a few other everyday items, Harber London's classy leather messenger bag is more than up to task, all while drawing envious glances from passersby and coworkers.
Price: $306.00 (converted from GBP) for 13″ and $320 for 16″ size – shipping is free
Where to buy: You can purchase Harber London's Leather Messenger Bag directly from their website.
Source: The sample of this product was provided by Harber London.