We use affiliate links. If you buy something through the links on this page, we may earn a commission at no cost to you. Learn more.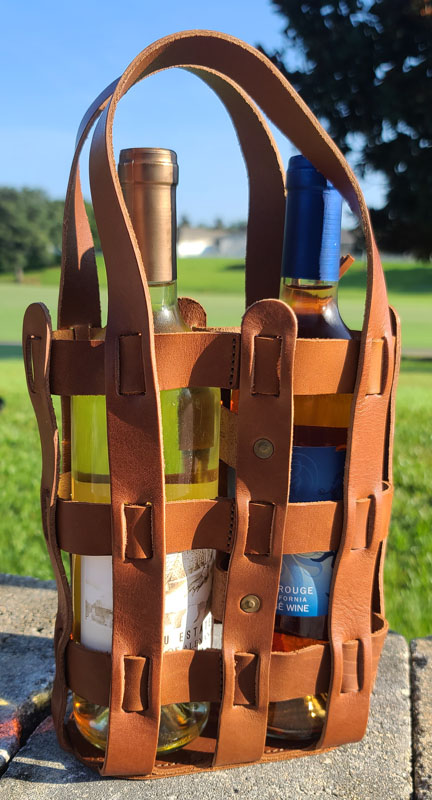 REVIEW – Do you ever take wine with you to a gathering?  Imagine showing up with a classy bottle of wine wrapped in a tacky plastic bag.  Oh, the horror!  WP Standard, maker of fine leather bags, wallets, and accessories offers up their wine tote as a means to class up your arrival.
What is it?
The WP Standard wine tote is a well-made leather tote designed to carry two standard bottles of wine plus a small corkscrew.
What's in the box?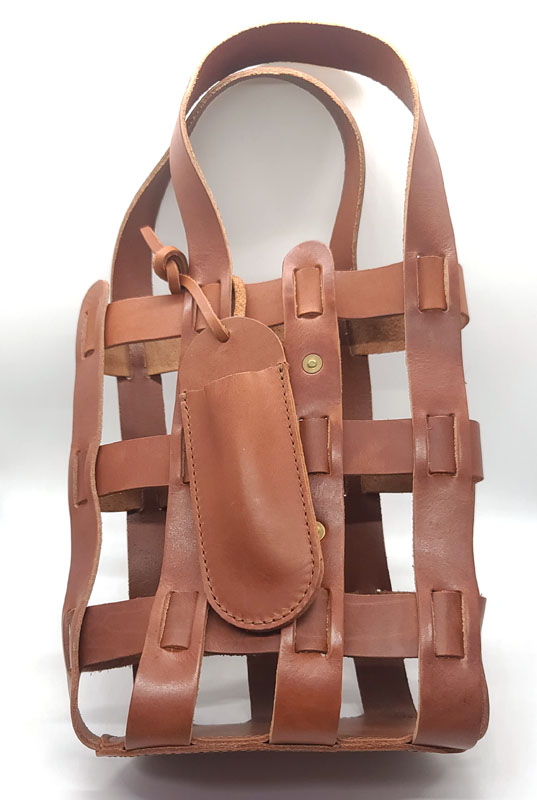 WP Standard leather tote with attached corkscrew pouch
Hardware specs
Dimensions: width: 9″, height: 13.5″, depth: 3.5″
Capacity: two standard 750ml wine bottles
Construction: thick, tanned leather
Design and features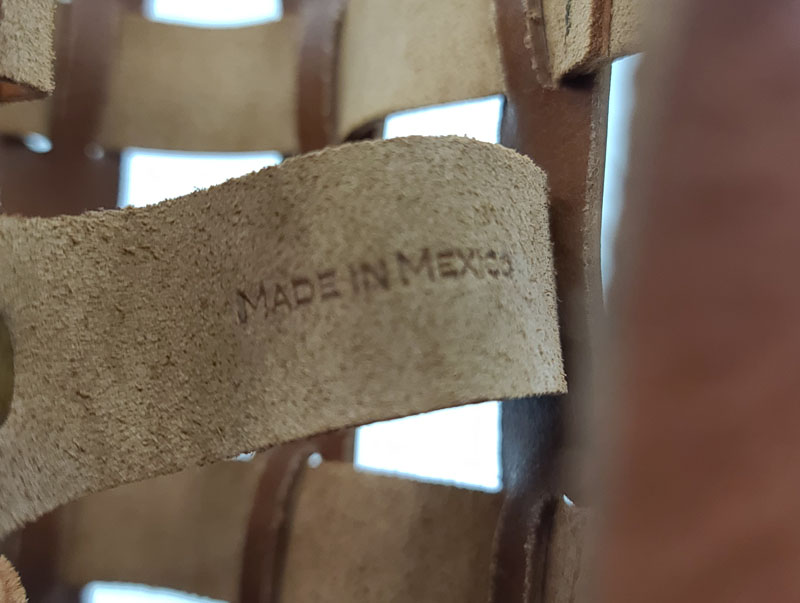 The WP Standard wine tote is assembled in Mexico.  If you've ever traveled to Mexico, you know that quality leather goods are everywhere.  This is no exception.  It looks and feels exceptionally well-made.
Looking into the bag, you can see the large open space split with leather straps to keep two bottles separated.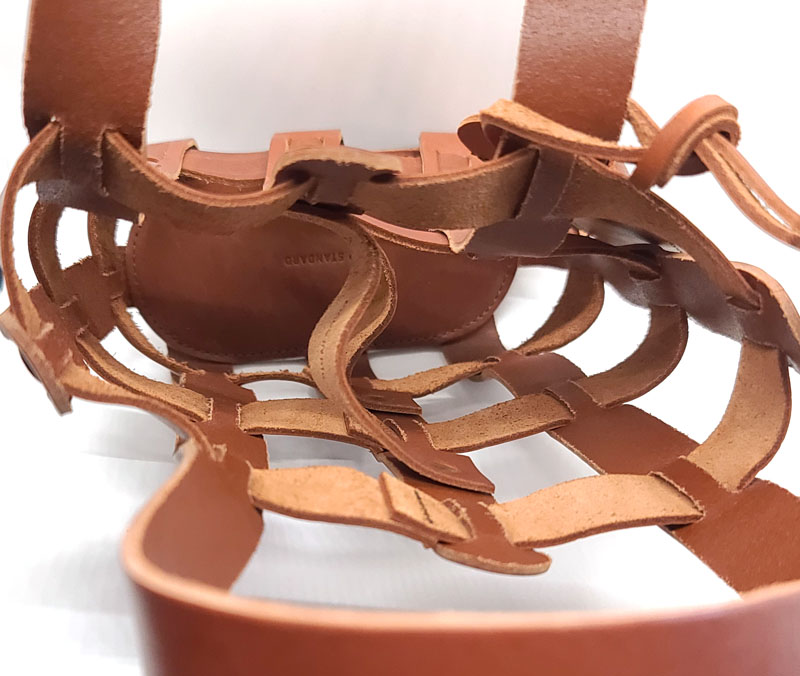 The divider strips are attached to the tote with brass rivets.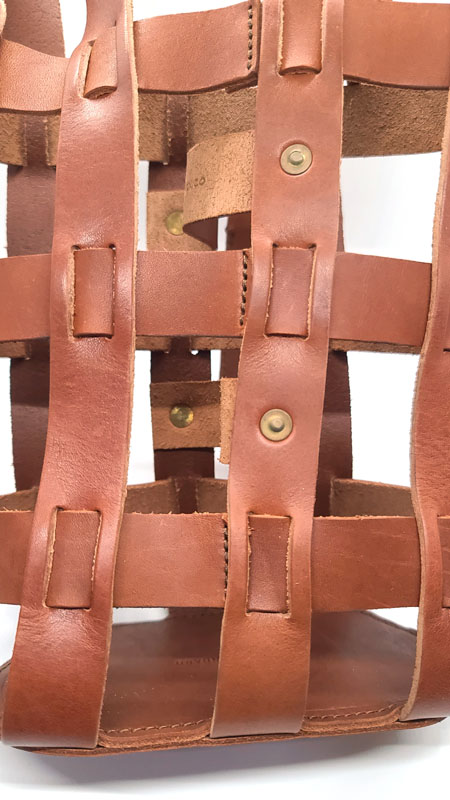 The included corkscrew pouch is quite small and designed for a waiter's style corkscrew or wine cork extractor.  It will not hold a wing-style corkscrew.  A pocket corkscrew also fits nicely as you can see here.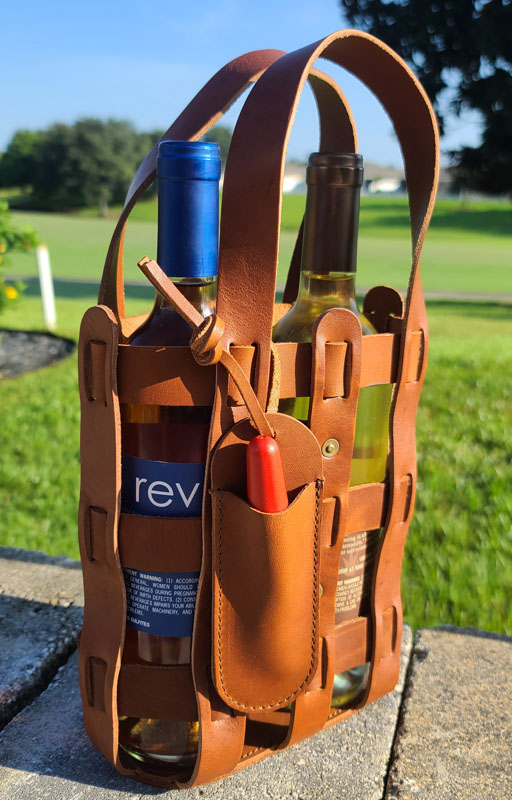 Performance
The WP Standard tote does what it is designed to do – hold two bottles of wine.  Because it is an open design, it is not insulated.  This means that if you like your wine chilled, this tote won't do much to keep your wine frosty.  If you're a white wine drinker, like we are, you might want to look for an insulated tote.  If you're a red wine drinker and drink your wine at room temperature, this would be a classy way to bring wine along with you on your adventures.
Because the corkscrew pouch is so small, you have to be comfortable using a waiter's corkscrew, a cork extractor, or pocket corkscrew.  Me?  I prefer the big-old lever corkscrew, so I'm out of luck.
What else is missing?  A place to carry glasses.  If you don't want to slam your vino right from the bottle, you'll need another tote to bring drinking vessels as well.
What I like
What I'd change
The small corkscrew pouch limits your choice of corkscrew style
No option to carry glasses
It's a little pricey
Final thoughts
The WP Standard tote is a very nice-looking wine tote.  If you are carrying wine to drink, this certainly works better for room temperature consumption than chilled wine.  Of course, if you just want to bring the wine along and will chill it at your destination, this tote will work for that.  I'd like to see some option for bringing glasses along, and perhaps a larger corkscrew pouch.  Still, if you're bringing along wine as a host/hostess gift, this will allow you to do so in style.
Price: $68
Where to buy: WP Standard
Source: The sample of this product was provided by WP Standard.