We use affiliate links. If you buy something through the links on this page, we may earn a commission at no cost to you. Learn more.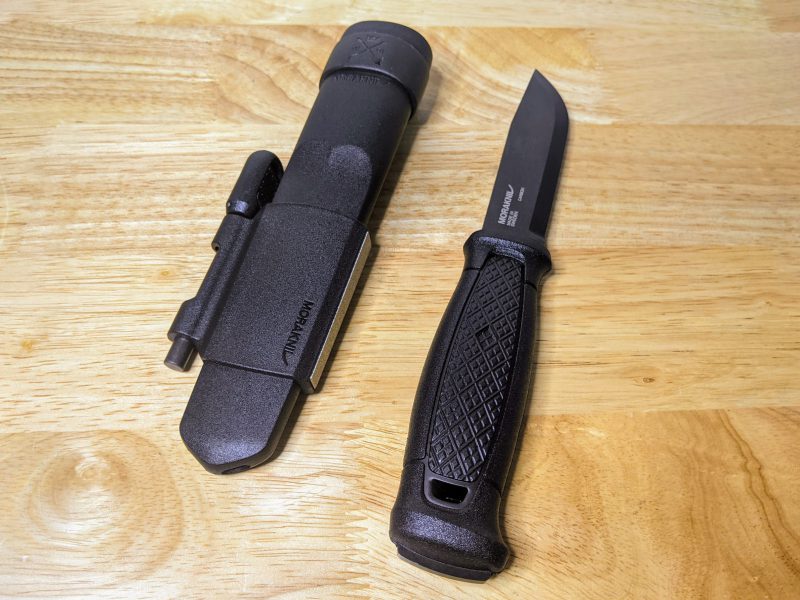 REVIEW – Ever since bushcraft knives first came to my attention, I've been a big fan, mainly because of their incredible versatility. Bushcraft knives are designed specifically to tackle a ton of difficult tasks and are purpose-built for strength and durability. Swedish knifemaker Morakniv has been in the business of making some of the toughest knives since 1891 and their bushcraft knives are no exception. I remember first hearing of Morakniv a few years back when they began winning design awards and I was surprised at how tough and inexpensive their knives were. Their products go to show that you don't have to spend a lot of money to get a quality knife. Further proof of this is the Morakniv Garberg BlackBlade Survival Kit. While I think they are playing a little fast and loose with calling this a survival kit, for the great price of $119.99 you're taking home one of the best bushcraft knives I've ever handled along with a sheath, integrated diamond sharpener, and a fire starter.
What is it?
The Morakniv Garberg BlackBlade Survival Kit is a full tang, carbon steel knife with a 4.3" blade and polymer handle housed in an ambidextrous polymer sheath that has a removable belt loop attachment as well as a removable fire starter and diamond sharpener. While I reviewed the carbon steel Garberg version of the kit, there is also a Garberg stainless steel version and versions with a different blade all together called the Kansbol.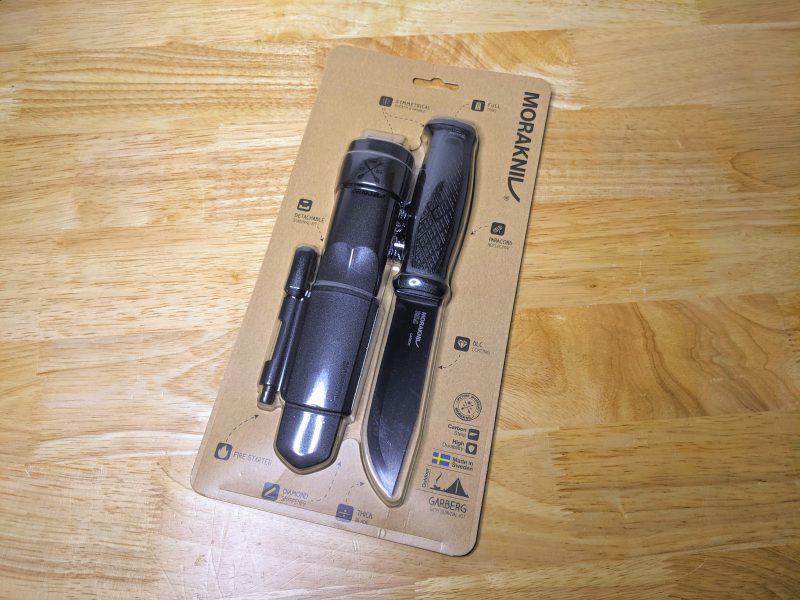 The Morakniv Garberg BlackBlade Survival Kit arrives in a standard cardboard and plastic blister pack. I like the simple design of the pack and how there are callouts highlighting the kit's features.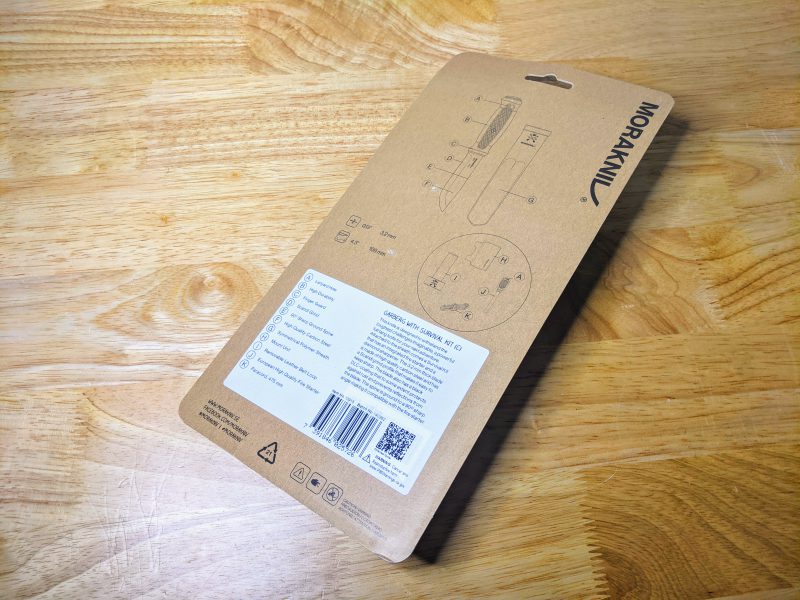 The back of the pack has more callouts and details the full specifications and functions of the Survival Kit's components.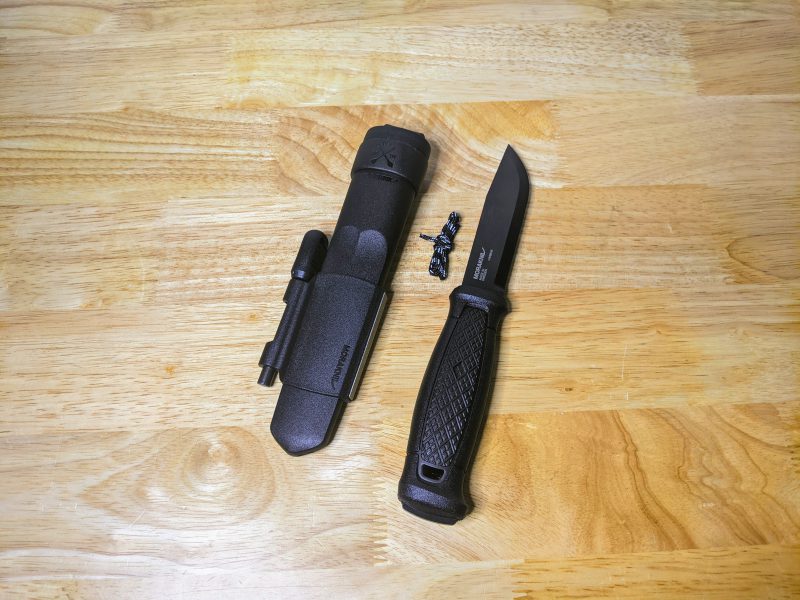 What's in the box?
Morakniv Garberg full tang carbon steel blade knife
Polymer sheath
Polymer mount for fire starter
Fire starter ferro rod
Leather belt loop
Reflective paracord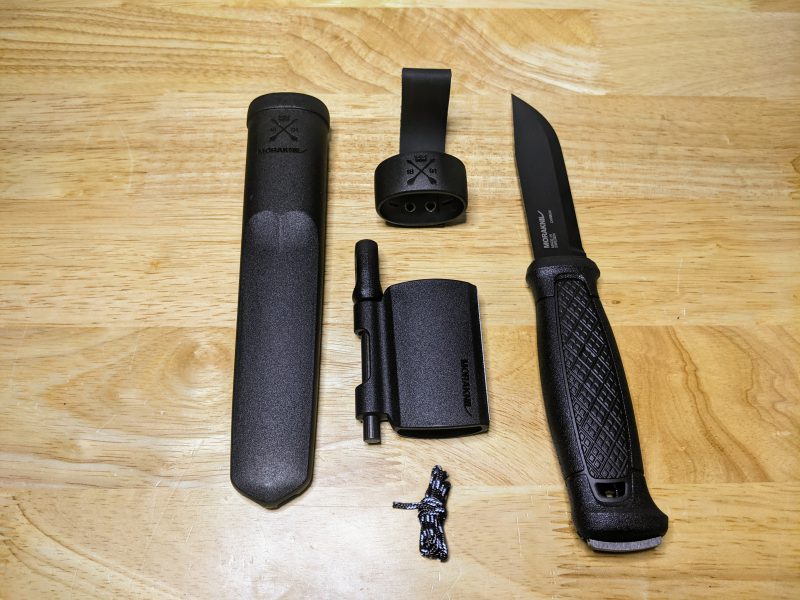 Hardware specs
Blade Type: Full Tang Carbon Steel
Blade Thickness: .13" (3.2 mm)
Blade Length: 4.3" (109 mm)
Blade Grind: Scandi V-Grind
Blade Hardness: HRC 58-60
Spine Angle: 90º
Total Length: 9" (229 mm)
Weight: 13.8 oz. (391 g)
Grip Material: Polyamide (PA)
Sheath Material: Polymer
Belt Loop Material: Leather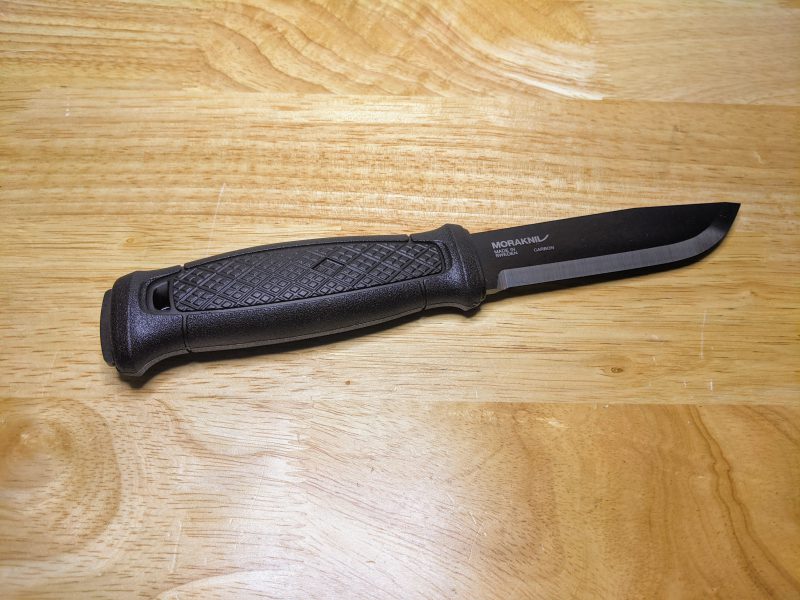 Design and features
Morakniv has been winning design awards for their knives for years now and their expertise shows in this kit. Every design element feels deliberate and effective and when the knife is in the sheath the whole kit just looks so darn perfect.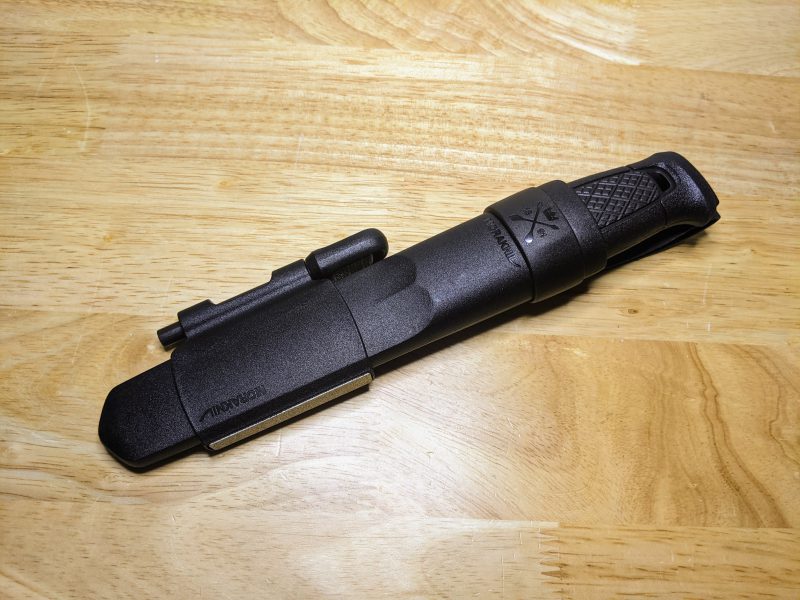 Although, as I previously mentioned, I feel like a survival kit should contain more items than just a knife, fire starter, and sharpener. If the kit also included some fishing wire and hooks and maybe a compass or some other piece of safety equipment, I'd consider it more of a survival kit. This is really just a knife with some extras. Although the modular aspect of those extras is great. You're able to take off the elements you don't need and keep just the ones you like depending on the situation.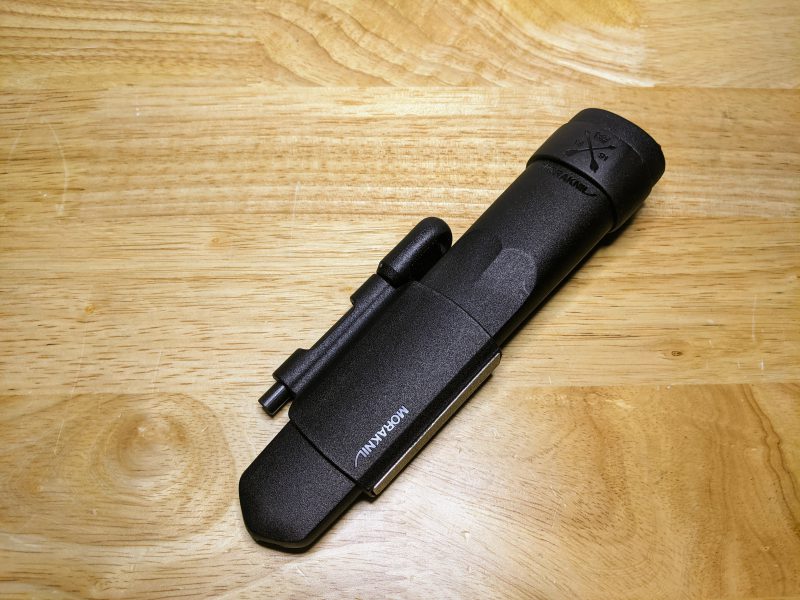 The sheath breaks out into a leather belt loop, a fire starter rod, and a fire starter mount with an integrated diamond sharpener.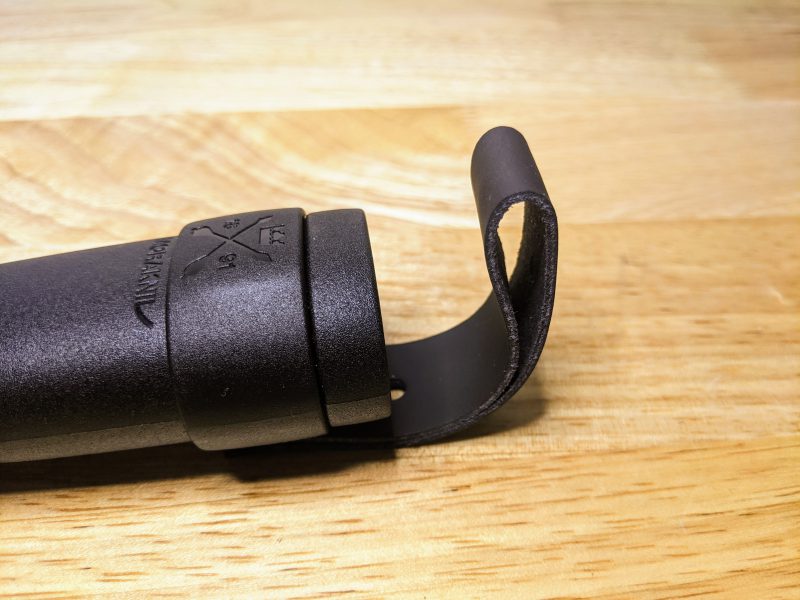 Both the belt loop and fire starter mount disconnect easily from the main sheath.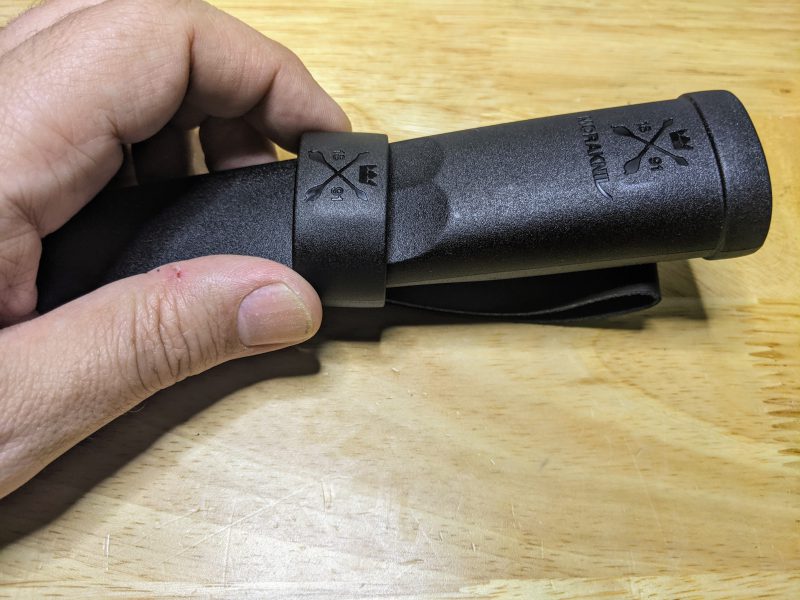 They snap satisfyingly back into place because of grooves and notches on the sheath and the elements themselves.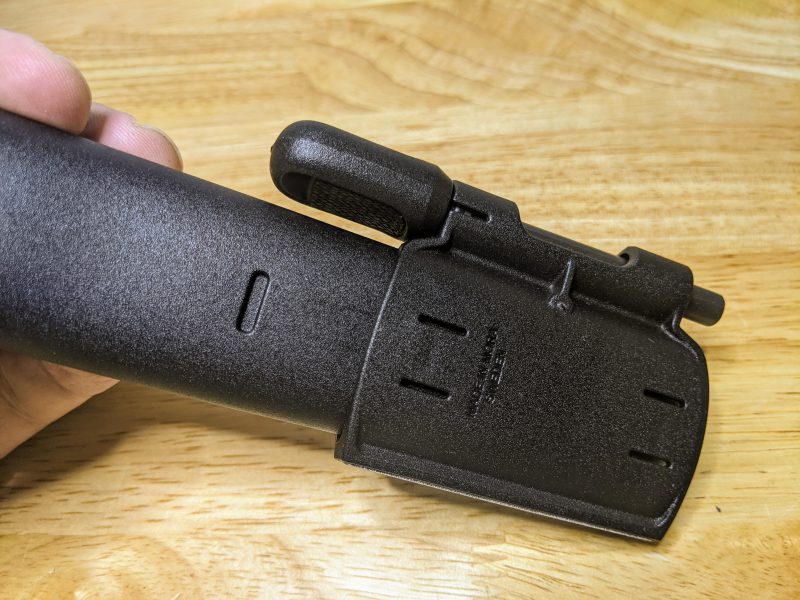 The sheath body is made of a strong polymer and has drain holes at the bottom to prevent moisture build-up around the blade.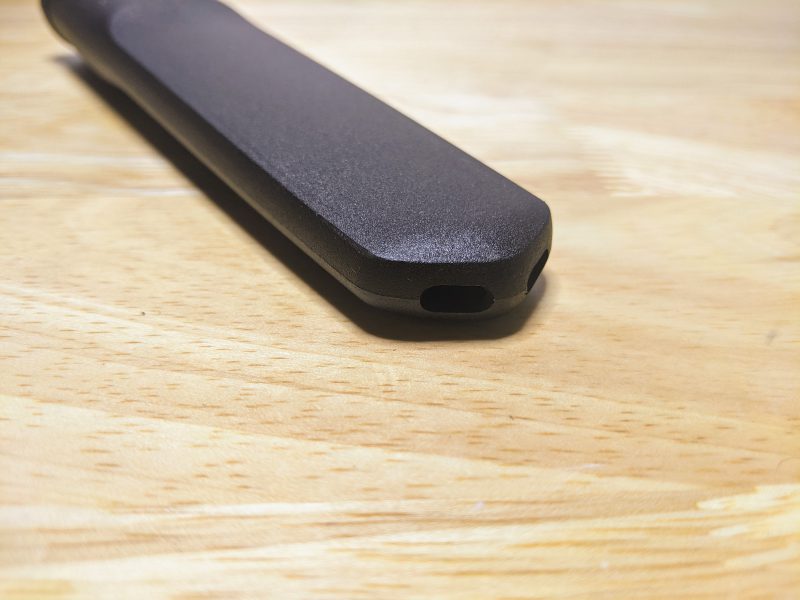 The diamond sharpener can be used to keep your Garberg blade super sharp, but also works well with the fire starter rod to create some impressive sparks.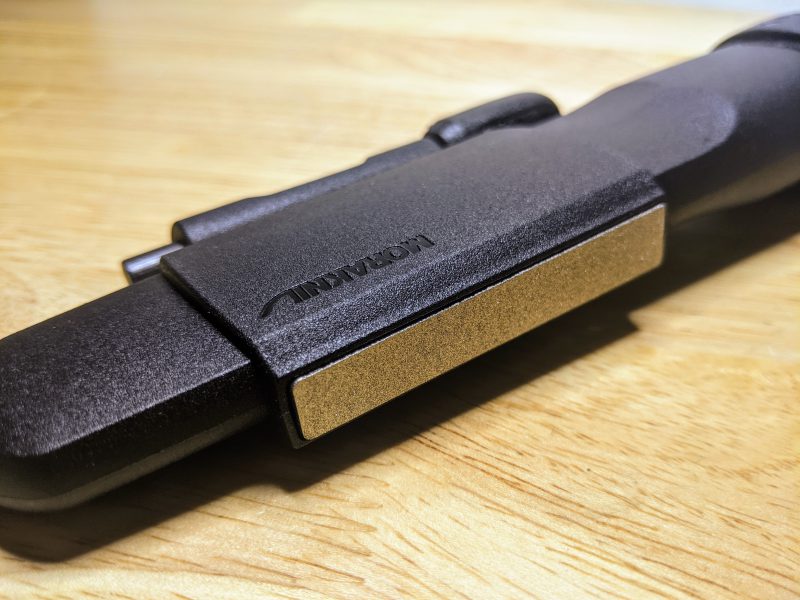 The fire starter is a ferrocerium rod that's good for about 7000 strikes at a temperature of 3000 degrees, which is great for starting fires even in wet conditions.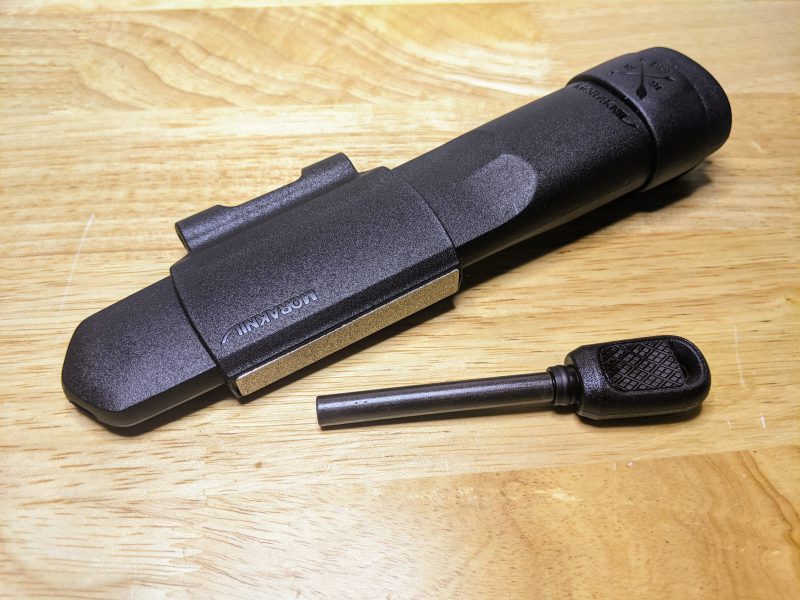 Both the fire starter handle and the Garberg handle are made of a strong polymer that's textured enough to maintain a strong grip even when wet.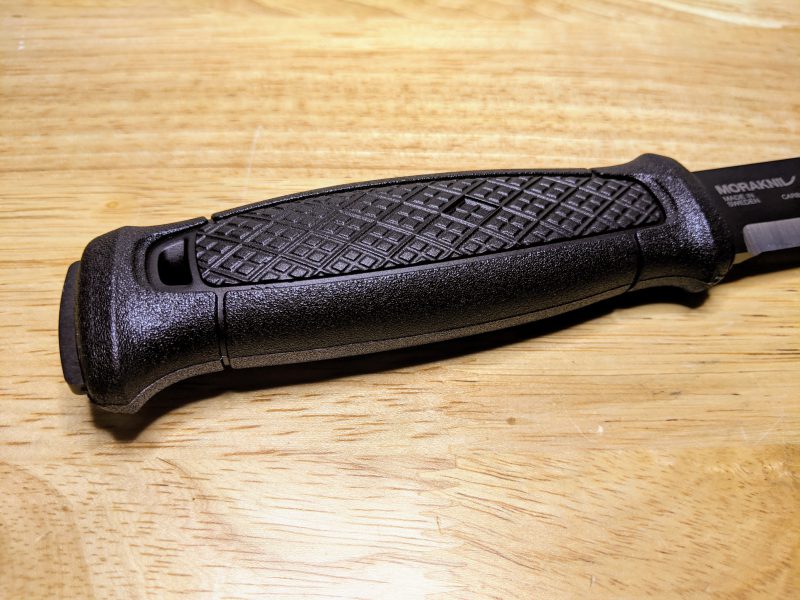 The fire starter and Garberg handles both have lanyards holes as well. The included reflective paracord would be good to use here, but I opted to use some thicker 550 paracord instead. I don't think that the included paracord would hold up to extended use and it would've been better if Morakniv had included some thicker paracord with the kit.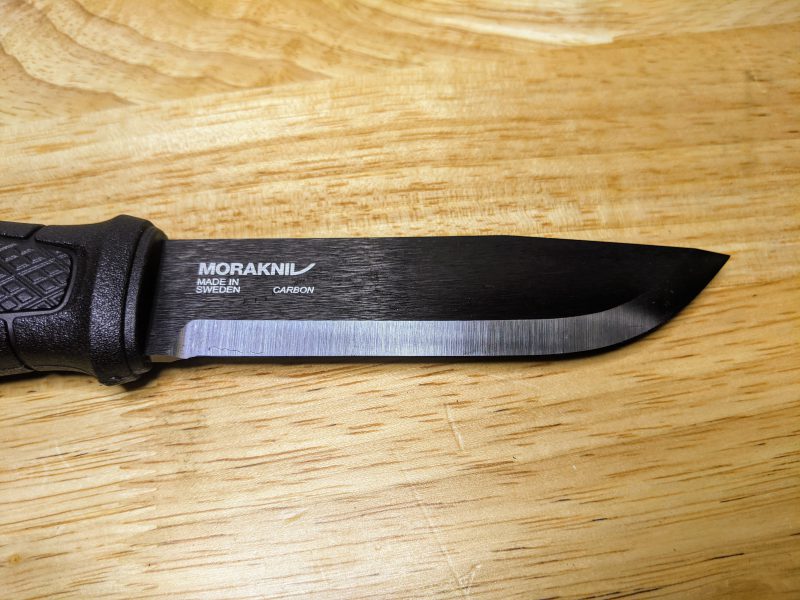 Attached, of course, to the polymer handle of the Garberg is the incredibly sharp, carbon steel BlackBlade. This blade is scary sharp and I love it.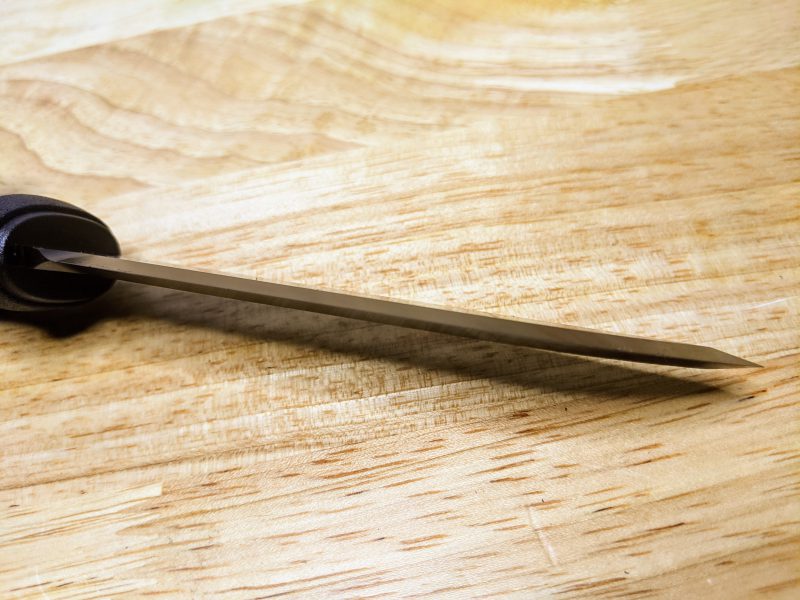 The particular grind on this knife is referred to as a Scandinavian grind or Scandi. This grind is known to be very sharp and very strong but it does take a little bit more effort to sharpen. It makes perfect sense to have this grind on a bushcraft knife as versatile as the Garberg because it provides fine control when working with wood, drives easily into any medium without getting stuck, and has a lot of metal behind it for chopping or similar tasks.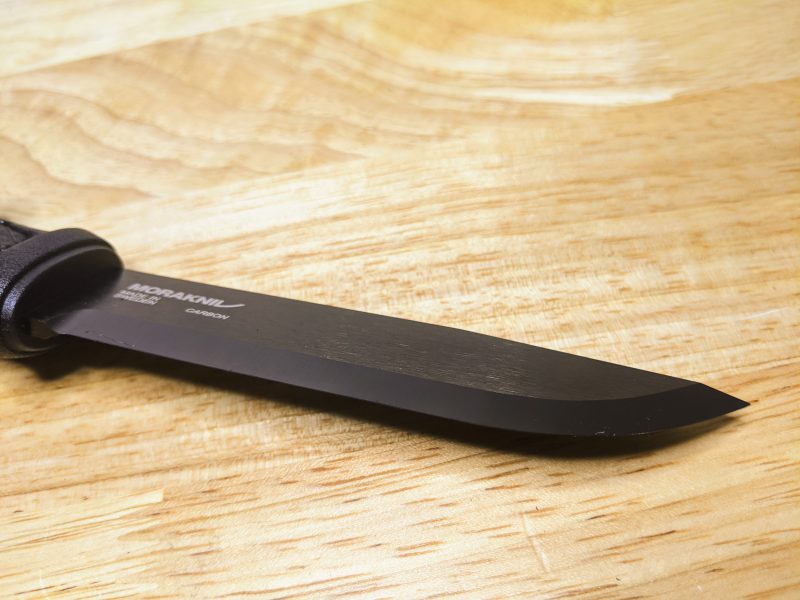 Aside from the grind, I really dig the aggressive lines of the Garberg blade and the severe point which is great for piercing or driving the knife.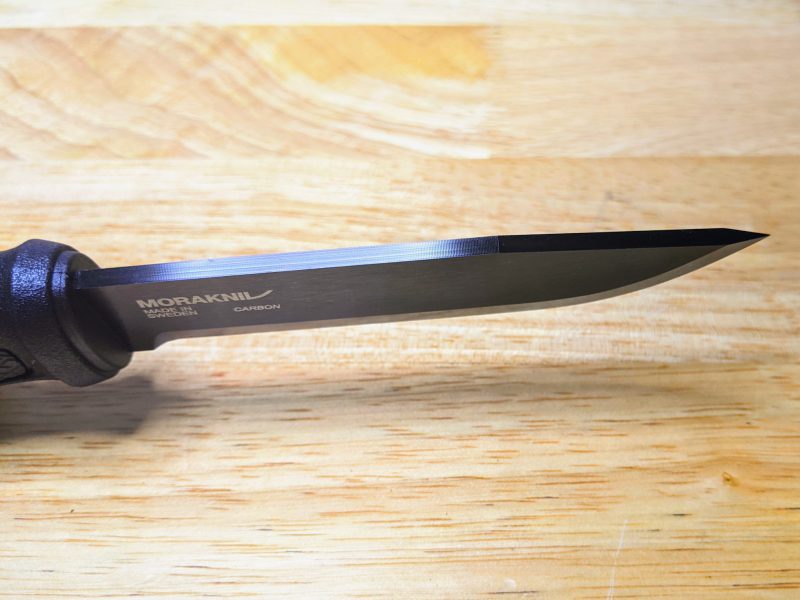 The Garberg also has a ground spine which means it hasn't been polished and has sharp corners, making it great for use with the fire starter rod to create sparks.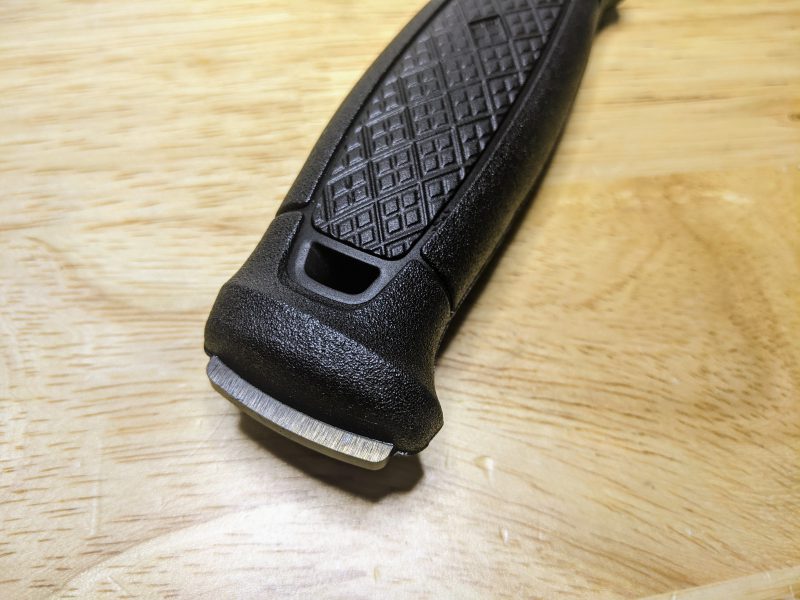 The knife is full tang meaning that its body continues from the tip of the blade through the handle and out the bottom. About a quarter-inch of steel extends from the bottom of the knife as a pommel which can be used for striking or hammering.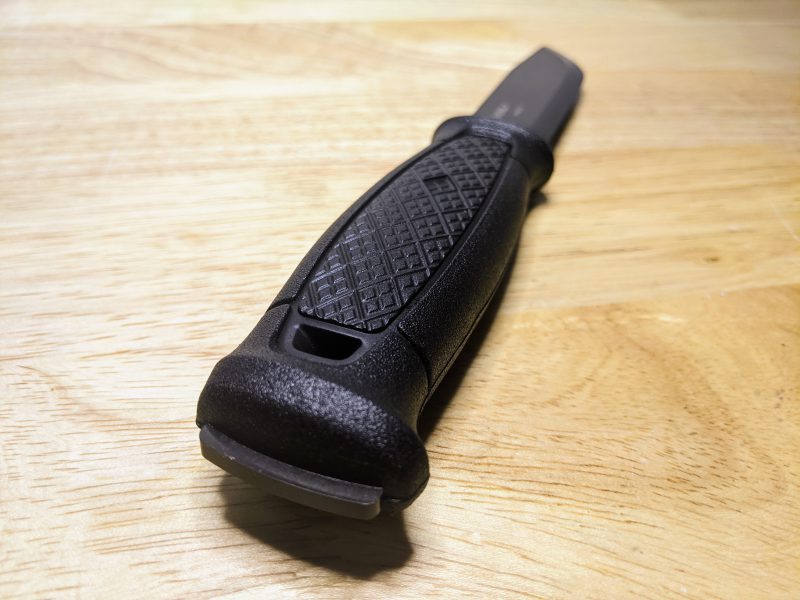 I do like the black coating of the Garberg's carbon steel, which is why I chose it over the stainless steel version, but that choice does come with some consequences. While carbon steel is very strong, easy to sharpen, and holds a fine edge, it does require more maintenance when exposed to a moist environment. This blade is prone to rust if not maintained properly and needs to be kept clean and dry between uses.

Performance
For such a strong full tang blade, the Garberg feels incredibly light in your hand. The handle allows for a great grip as well as a good purchase for your thumb while doing fine carving.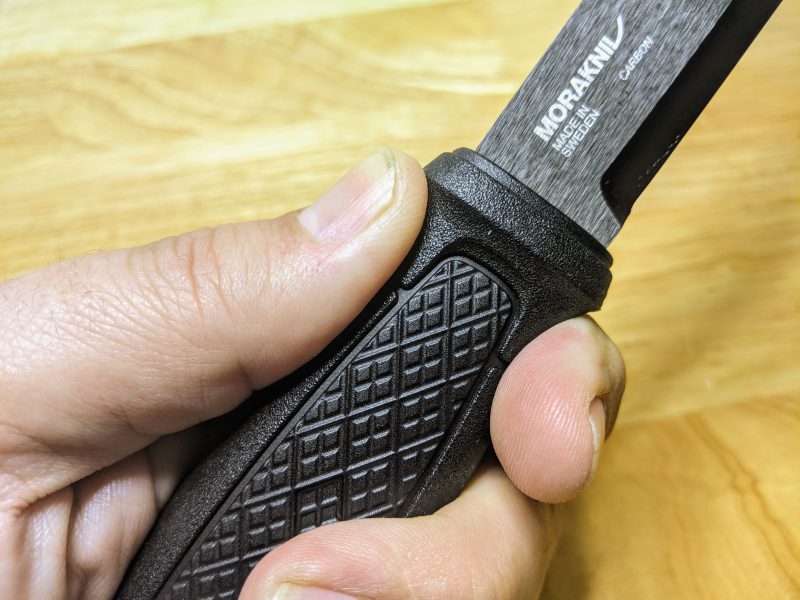 The entire knife is incredibly strong and can easily be used for batoning, which is where the knife is inserted into a log and then the spine of the blade is hammered with another log to split wood into kindling. This is incredibly abusive to the blade, but this knife holds up really well while still maintaining its razor-sharp edge.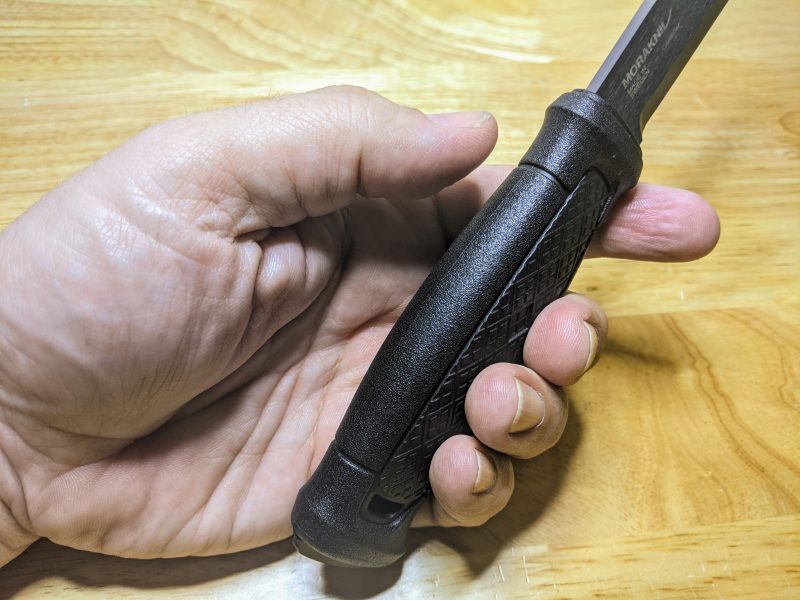 That carbon steel edge remains fine enough after batoning to feather wood off of logs, scraping paper-thin pieces to use for fire starting.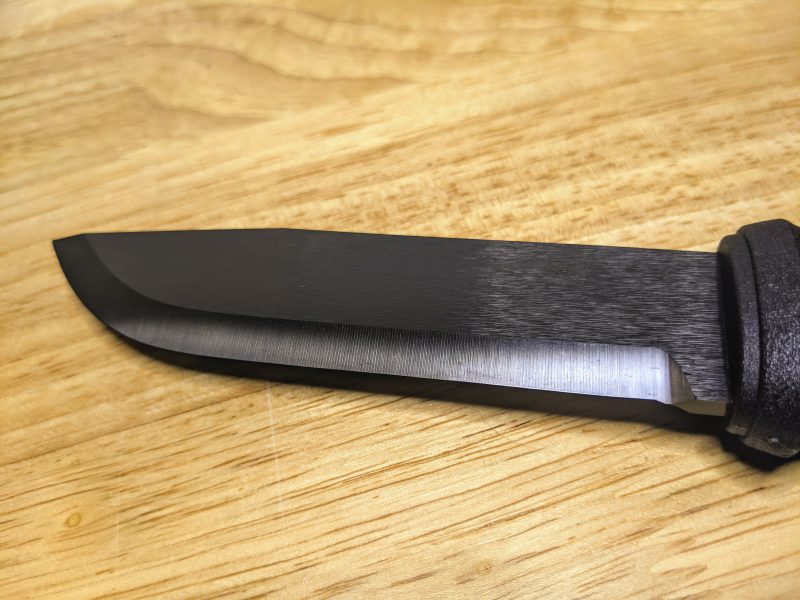 In use, I do wish the Garberg knife clicked into the sheath as securely as the other parts fit onto the sheath. It takes barely a tug to remove the knife and if you are working in the forest gathering kindling it could be a problem if your knife falls out of its sheath unintentionally. Fortunately, you can address this with a little bit of paracord, or some tape placed inside the sheath. Morakniv also offers other types of sheaths that have options to keep the knife securely in place.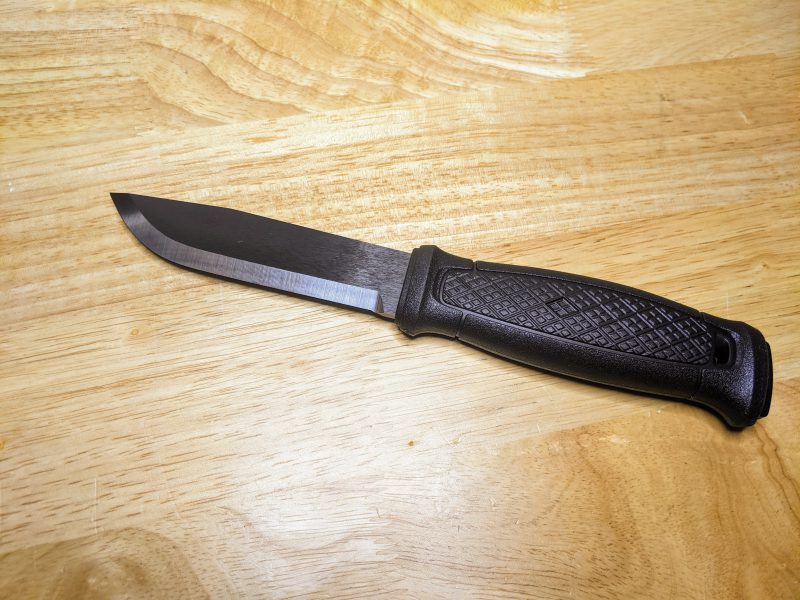 I used the Garberg for about a month in place of my usual EDC pocket knife and every time I drew it from its sheath I was excited (and a little nervous). Fortunately, even though the Garberg is one of the sharpest knives I own, its expert design kept me from ever unintentionally cutting myself. The Scandi grind is well known for rarely slipping and the Garberg showed this to be true. The included fire rod consistently threw some really big sparks, whether striking on the blade spine or diamond sharpener. Overall, as a kit, this is a really well-designed, dependable set of tools, I just wouldn't refer to it as a survival kit exactly.
What I like
Incredibly sharp and strong blade
Affordable
Fit, feel, and grind of the knife is superb
What needs to be improved
Polymer sheath doesn't fully secure knife
Survival Kit is not an accurate description
Final thoughts
While the Morakniv Garberg BlackBlade Survival Kit doesn't really qualify as a true survival kit, in my opinion, I honestly love this knife and everything about it. The Garberg is so sharp it's scary, incredibly strong, and priced a lot lower than most knives of similar quality at $119.99. I wish the knife was a little more secure in the sheath it ships with, but it's not a deal-breaker for such a versatile tool that will most likely last a lifetime.
Price: $119.99
Where to buy: Morakniv and Amazon
Source: The sample of this product was provided by Morakniv.