We use affiliate links. If you buy something through the links on this page, we may earn a commission at no cost to you. Learn more.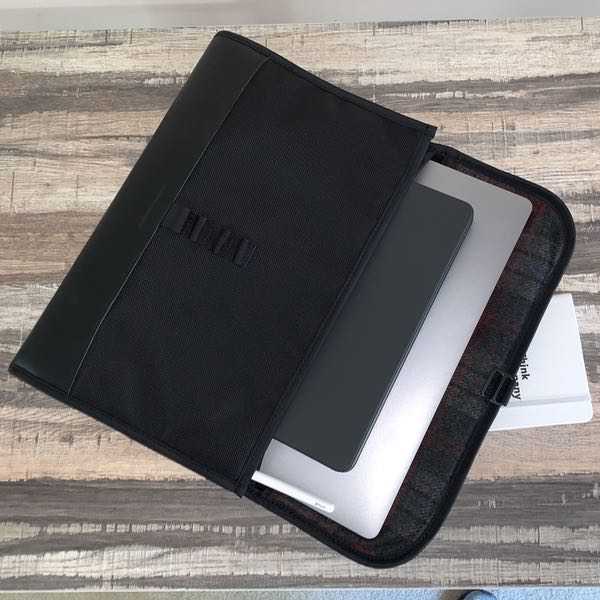 REVIEW – Who needs built-in laptop compartments when you can have this? The Waterfield Double-Take Sleeve protects your laptop and your tablet with room to play, and gives you two different carry options as a stand-alone bag or an integrated part of your kit. I love functional multitaskers. To the review!
What is it?
It's a protective carrying sleeve for your MacBook and iPad.
Hardware specs
Ballistic nylon build with wool blend lining.
13 inch sleeve:

14″ (l) x 0.75″ (w) x 11″ (h); 1.1 lb
Fits MacBook 13.3″ (Air or Pro) and similar sized devices
Fits up to the iPad Pro 12.9″ or similar sized devices

16 inch sleeve:

16″ (l) x 0.75″ (w) x 11″ (h); 1.4 lb
Fits 16″ MacBook Pro and similar sized devices, and everything the 13″ model fits
Design and features
Waterfield is simply one of the best bag makers in the business, pairing a sophisticated design aesthetic with top-notch build quality in everything they make. Check out the profile on this sleeve as an example. Ballistic nylon is the primary exterior material, but you also get that full grain leather base that adds class and makes for a comfortable grip.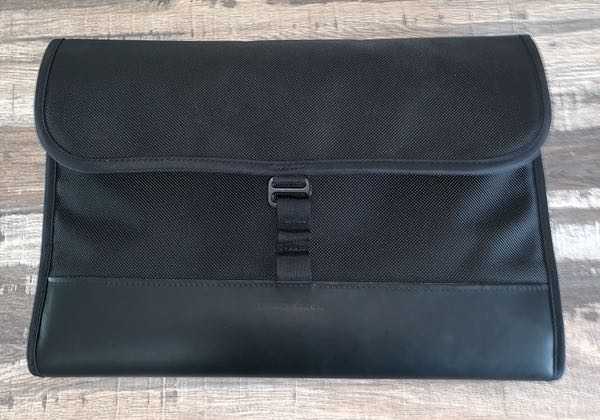 The good looks don't stop on the outside, either. Check out the beautiful wool interior lining. They make it in a solid grey or blue, but I am feeling this plaid pattern. It kind of reminds me of my old VW GTI, and exudes the same style and class.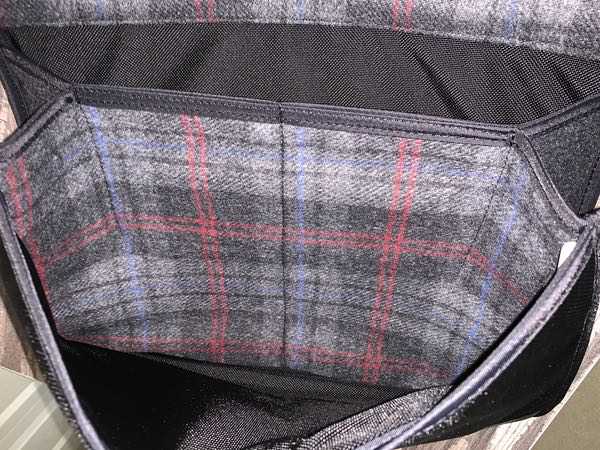 The closure mechanism is a metal hook system with nylon loops (3 total) that allow you to hook in for a tight fit but also enable a quick release. Those three loops enable you to tighten or loosen the flap based on what you're carrying. It's a nice detail that adds usability to the sleeve.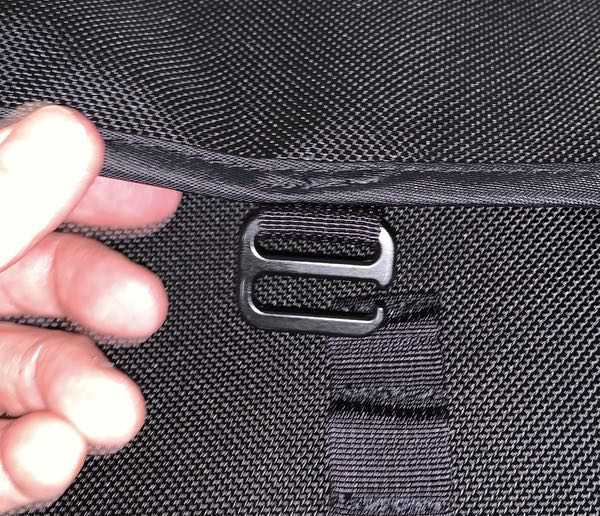 Speaking of details… Waterfield looks after every one of them. Sometimes it's little things like the subtle company stamp on the bag.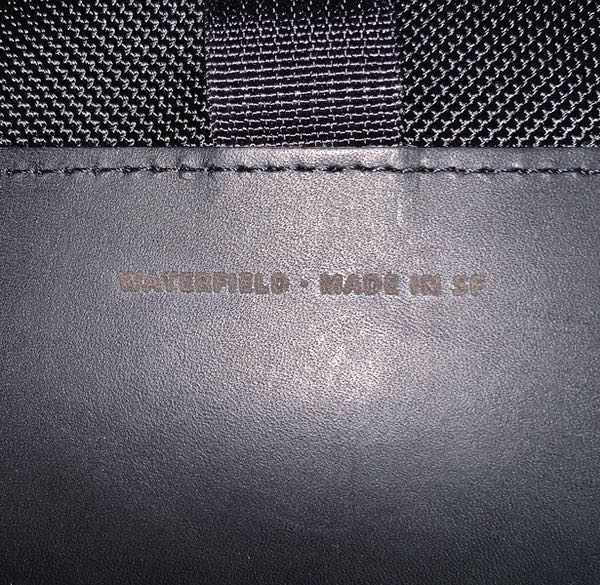 Sometimes its the stitching details. You won't find a flaw anywhere in the build.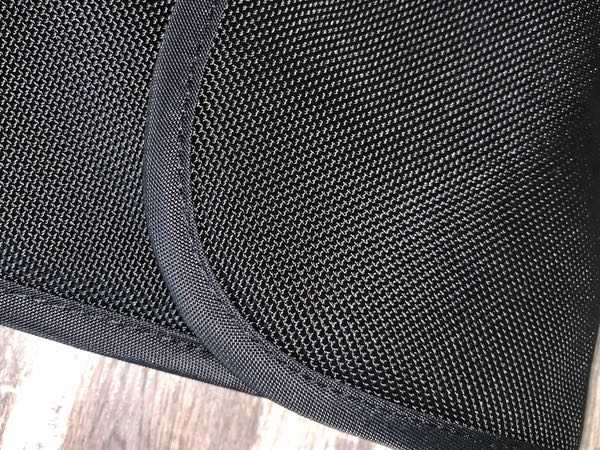 More assembly details, and a closeup look at that full-grain leather base.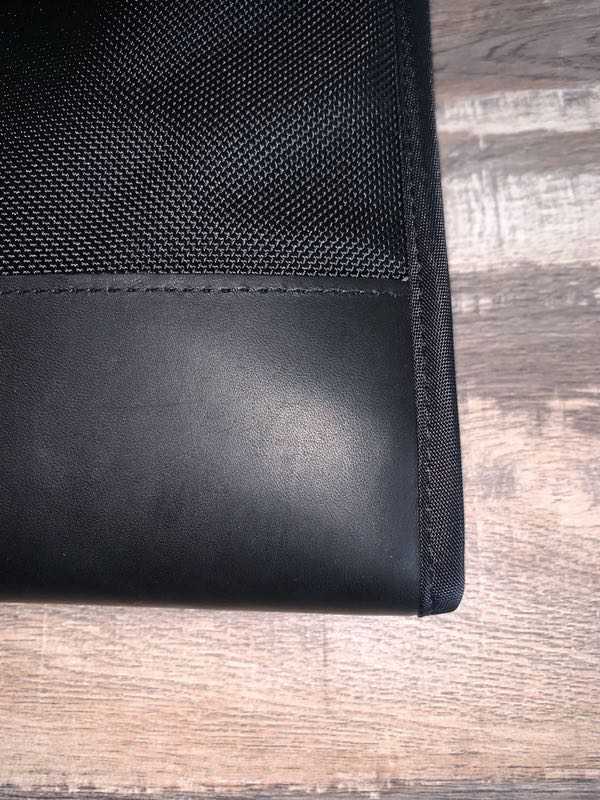 Then there are big details that mean a big difference in usability. Check this out. The front pocket is for your tablet. The rear pocket is for your laptop. But see how they bellow independently? That means you can stash bigger stuff (or extras like a notebook) when required and still max out your use of the sleeve.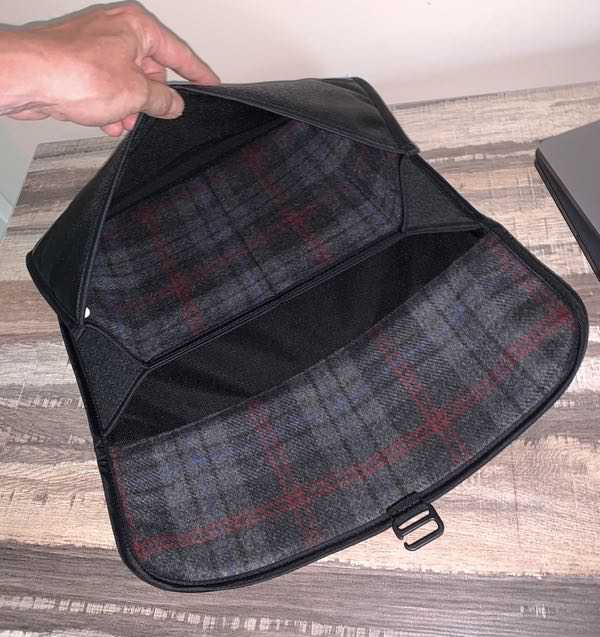 I am testing the 16 inch model for my 16″ MacBook Pro. Note that this is my 12.9″ iPad Pro going in the front pocket, complete with the Apple Magic Keyboard. And I have room to spare.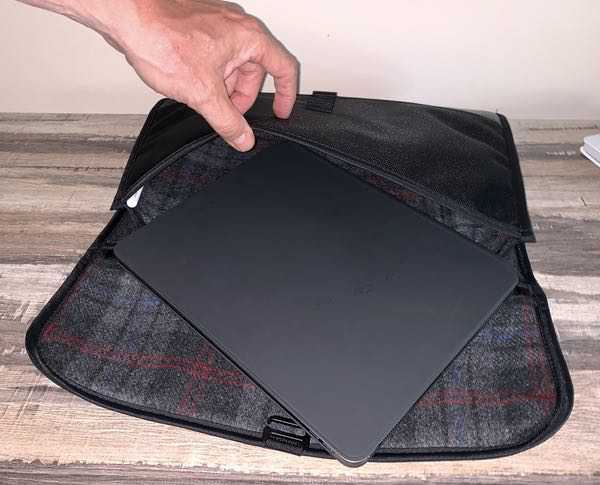 Waterfield also includes a slot for your Apple Pencil in that tablet pocket! You may not think this a big deal until you're using another bag and panic because you think you may have knocked the Pencil off the magnet on the iPad when you were pulling it out on the train. Been there. Done that.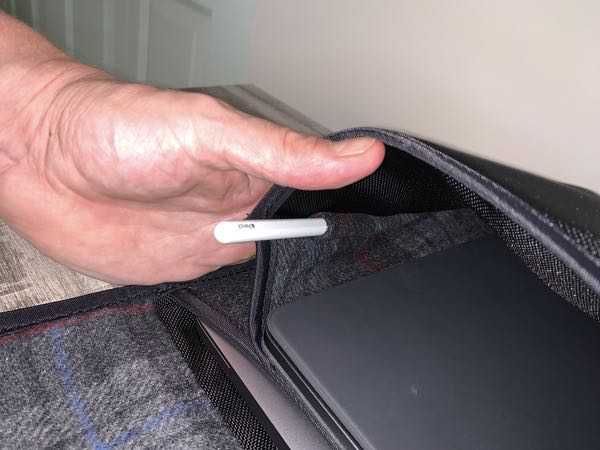 The 16″ MacBook Pro slides in to the back pocket perfectly. A layer of foam padding is sandwiched between the exterior ballistic nylon and soft-touch wool interior to protect all the preciouses (For we must protects them. Yes we must. Preciouses.).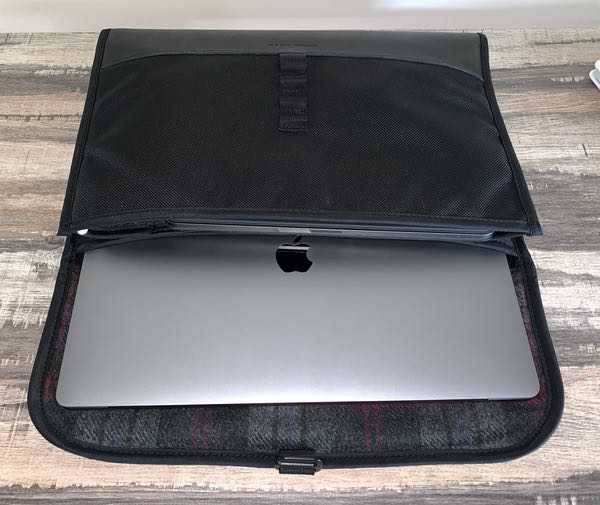 You'll also find an external open pocket on the rear of the sleeve for a small notebook, file folders, documents and whatnot.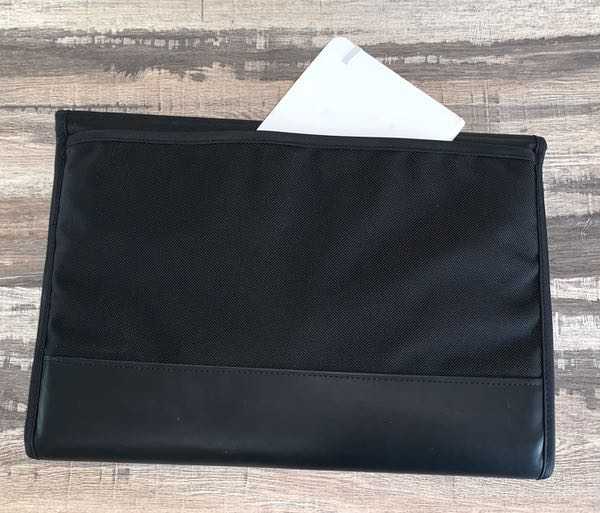 Waterfield designed this bag for two use cases: the minimalist and the add-on laptop sleeve user. After using it for several weeks, I am here to make a case (pardon the pun) for both.
The primary use case is the Double-Take as a removable sleeve that adds laptop protection in a bag that doesn't have a built-in laptop compartment. It's a lovely addition to your carry on, a backpack or a briefcase (like my venerable Tom Bihn Empire Builder) that allows you to pull out the sleeve to run to a meeting or stashing the rest of your stuff in the overhead bin. You'll have quick access to your laptop and tablet (or two laptops!), and you can still haul them around while leaving your bag at your desk. It's classy enough to haul on its own like a portfolio with room to spare for a notebook and documents.
For the minimalist you can take it on it's own, but Waterfield adds additional options. You can order it with a pair of D-rings and purchase a shoulder strap (or bring your own) for shoulder/messenger style carry. My test model did not come with these additions, but I would at least spring for the D-rings in the event that I wanted to add a shoulder strap later. It's plenty big enough to stash the aforementioned work tools plus your phone and a couple of extras if you are going lean & mean.
If you're using it as a laptop sleeve in another bag, just make sure you check your dimensions for fit. Also note that in a briefcase style bag with a wide opening you can easily open that flap and slide your laptop out without removing the sleeve from the bag. If your carry is vertical (like a backpack) you'll need to pull it out to get to the preciouses.
What I like
Outstanding build quality that will outlast your laptop.
Classy, sophisticated style that works great in business environments.
Spacious enough to carry extras for meetings and in-flight activities.
What needs to be improved
Final thoughts
This design is another winner from Waterfield. Simple, elegant, classy, and supremely functional. The quality is top-notch and well worth the investment in my opinion since you can move it from bag-to-bag. I'd highly recommend at least adding the D-rings (for a paltry $5) to increase your carrying options.
Price: Prices start at $129 for the 13″ MacBook size. The 16″ size shown here starts at $139. Options for d-rings and/or carrying straps are an additional cost.
Where to buy: Go to the product page at Waterfield's web site.
Source: The sample of this product was provided by Waterfield.