We use affiliate links. If you buy something through the links on this page, we may earn a commission at no cost to you. Learn more.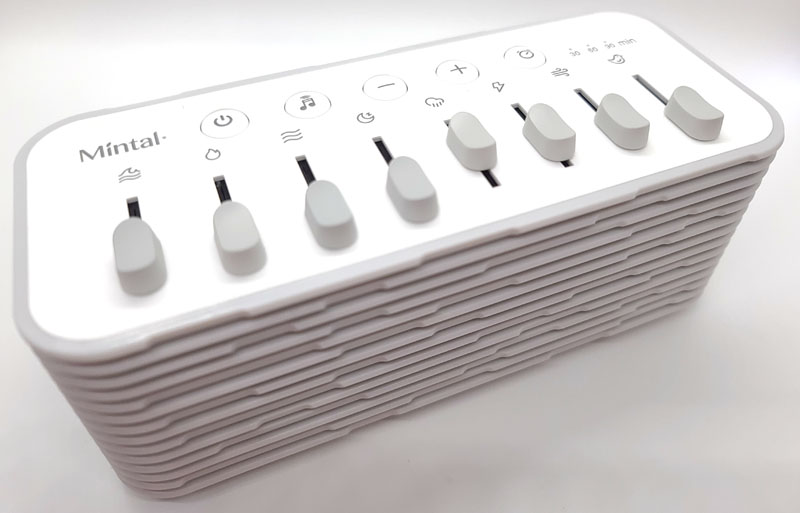 REVIEW – Sleep is one of the most important things we all do every day.  Sleep is also one of the things many of us struggle with every day.  For many of us, having some sort of masking sound that covers all those other sounds helps promote better sleep.  Mintal is offering its vision for better sleep through sound with the MW01 white noise machine.  That name is a bit of a misnomer as it is much more than that.  Let's take a look and listen.
What is it?
The Mintal MW01 is a noise generator that can produce eight unique sounds. It can also combine them in any combination, producing 256 different sound combinations that can each be varied in individual sound intensity.  It can also pair with the Mintal app via Bluetooth for access to more than 100 additional sounds.  When paired with your phone, it also doubles as a Bluetooth speaker.
What's in the box?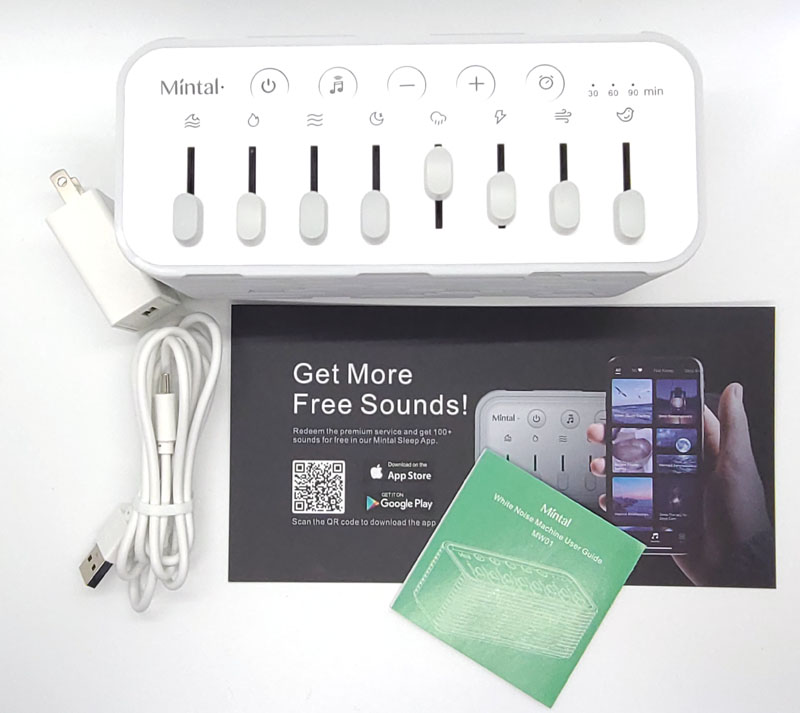 Mintal MW01 noise generator
5V power supply
USB-A to USB-C cable
Additional sound access card
Manual
Hardware specs
Size: 183 x 77 x 74mm
Speakers: 2 – 40mm, 5W
Frequency range: 70Hz – 18kHz
Bluetooth connectivity: Bluetooth 4.2
Internal sounds: waves, campfire, river, white noise, rain, thunder, wind, birds
Auto-off timer: 30/60/90 minutes optional
Design and features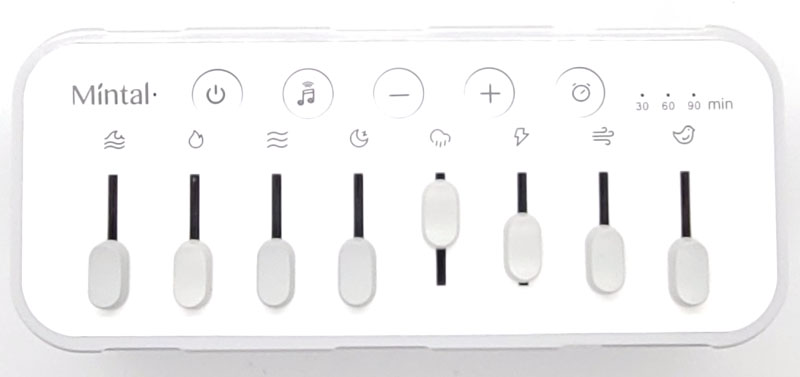 All the controls are right up on top of the Mintal MW01 noise generator.  Across the top, from left to right:
Power, Mode (internal/Bluetooth), Vol-, Vol+, Auto-off timer
Sliders from left to right: waves, campfire, river, white noise, rain, thunder, wind, birds
The sliders vary the intensity of each sound, allowing you to play sleep DJ, mixing sounds as you please.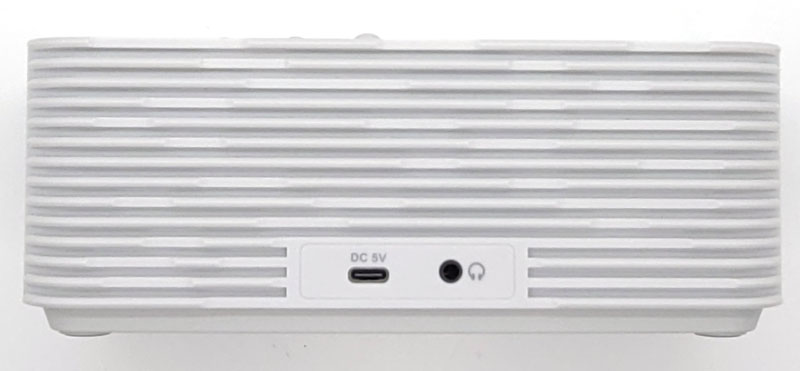 On the back, we see the USB-C input port and a headphone jack.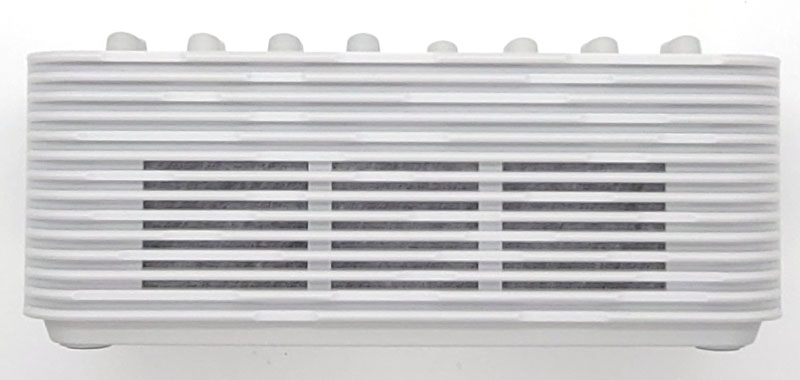 On the front, we see the speaker grills.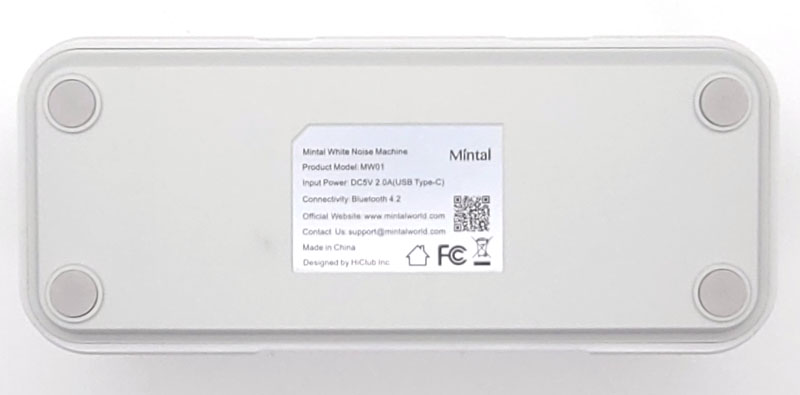 On the bottom, we see the requisite info sticker and four non-slip feet at the corners.
Setup
If you want to use it as is, there isn't any setup other than plugging it in.  If you want to use the optional subscription-based sounds, you need to pair the speaker with your phone and install the Mintal sleep sounds app. Your Amazon order number will get you a three-month subscription at no cost.
Performance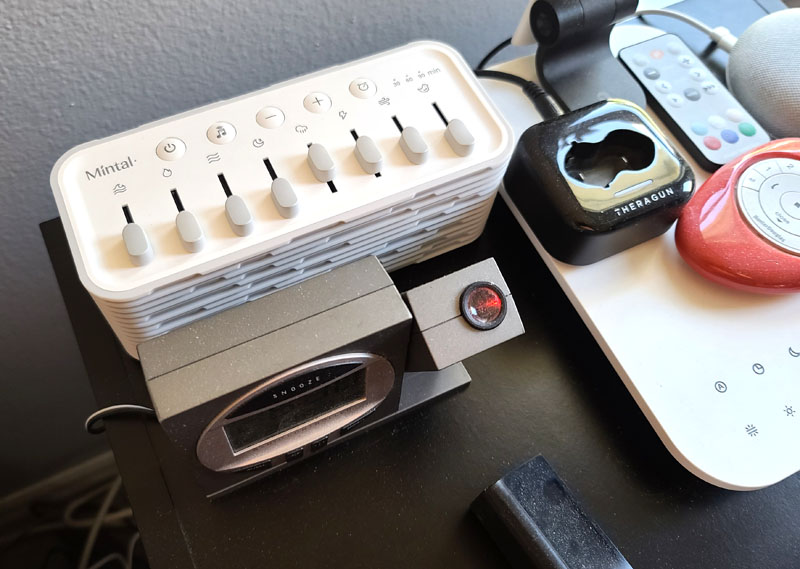 OK – I have to sleep for The Gadgeteer.  Don't worry, faithful readers.  I'm willing to take this one for the team!
Up until this arrived, we've been sleeping to sleep sounds via Alexa.  It works well, however it plays as a loop and there is a distinct end, and beginning.  that can be very sleep-disrupting.  In addition, any network or device updates that get applied overnight kills the sounds.  I plopped the Mintal MW01 noise generator on my nightstand and got to sleeping!
First off, the sounds that this thing produces sound like, well, what they say.  I've heard some sound generators that sound like sound generators.  This produces realistic sounds across all the sliders.  The timing of the thunderclaps and the bird chirps are realistically random and natural.  The crackle of the campfire makes me want to make s'mores.  After playing around with the Mintal MW01 noise generator, we settled on a mix of rain, with thunder at a lower intensity and very slight wind.  I really like the fact that you can mix sounds and their individual intensities to your liking.
After a few nights, the sound became part of our nightly routine.  Now, that sound is as much a part of our bedroom as the bed or dresser.  It seems very natural and is quite soothing.
That's not to say that everything is perfect.  First, when you turn it on, there is, in my opinion, an annoying power-up sound.  The same is true at power-off.  Why is it there?  If you turn it on and it starts making sound, you know it's on.  Easy-peasy.  Next, I need to complain about volume. For some reason, the machine doesn't remember its volume setting.  When I turn it on, it's loud – way too loud to sleep.  So, I click the Vol- button repeatedly until it is a perfect volume.  I turn it off in the morning, and when I turn it on again the next night, it blasts me out again.
If the included sounds aren't enough for you, then you can use the Mintal app to access tons of additional sounds plus meditation guides and sleep guides.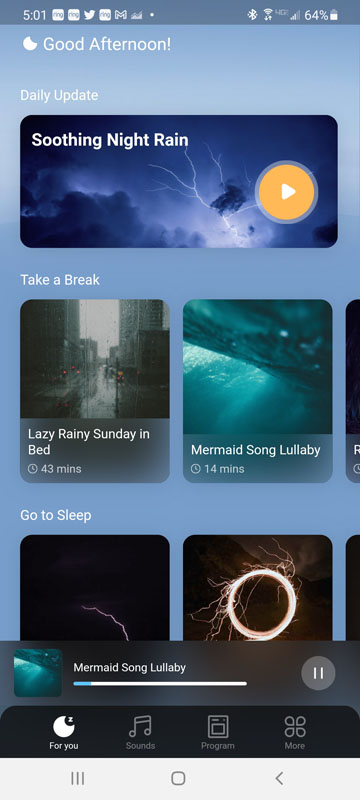 You get three months free with your Amazon order number.  After that, it is a paid subscription-based service.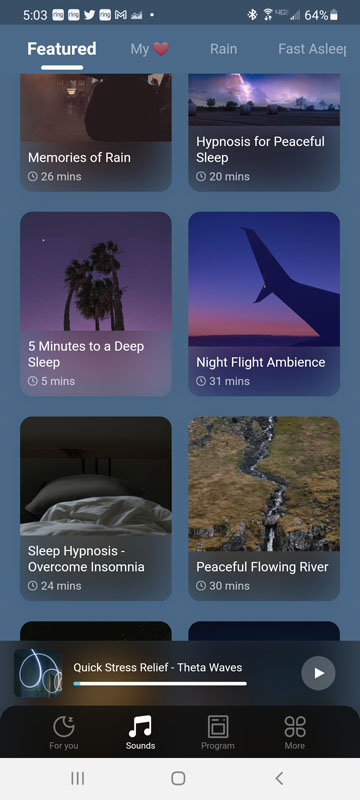 They offer not only sounds but also guided meditation sessions for a variety of issues.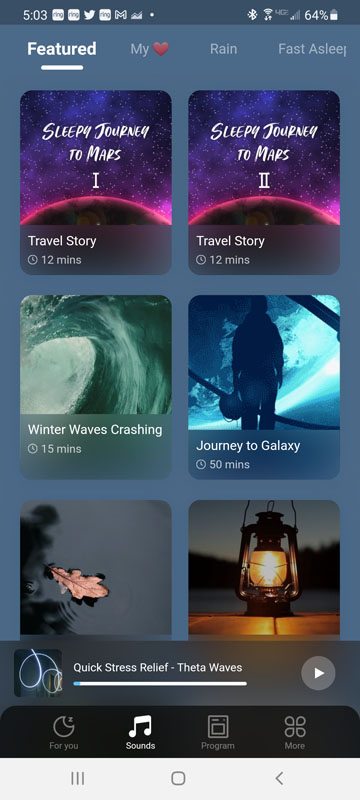 When you use these sounds, you use the mode button to switch the machine from internal sounds to Bluetooth.  When your phone is paired with the machine, it acts as a Bluetooth speaker to play the sounds or meditations.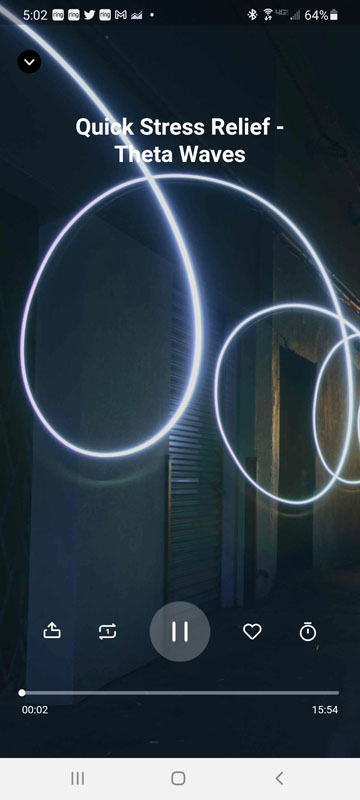 If you use this option, be aware that your phone will be using data the entire time.
Finally, I fired up some music on my phone and was pleasantly surprised and how good this speaker sounds, especially for its relatively diminutive size.  It's certainly not a reference speaker, but it is more than good enough to fill the room with sound.
What I like
Great sound selection
Great sound quality
Good Bluetooth speaker quality
What I'd change
Annoying start/stop sounds
Volume is always loud at start-up – remember my sound settings
Final thoughts
The Mintal MW01 noise generator surprised me.  I was expecting tinny, mediocre sounds, but got high-quality, realistic sounds. It produces those sounds from a quiet background din to a room-filling sound.  This means it can work for bedrooms of all sizes and configurations.  If you're into meditation or other natural sounds, the optional app and subscription get you access to a ton of options.  If you struggle with sleep, this would be a great addition to your bedroom.
Price: $59.99
Where to buy: Amazon
Source: The sample of this product was provided by Mintal.