We use affiliate links. If you buy something through the links on this page, we may earn a commission at no cost to you. Learn more.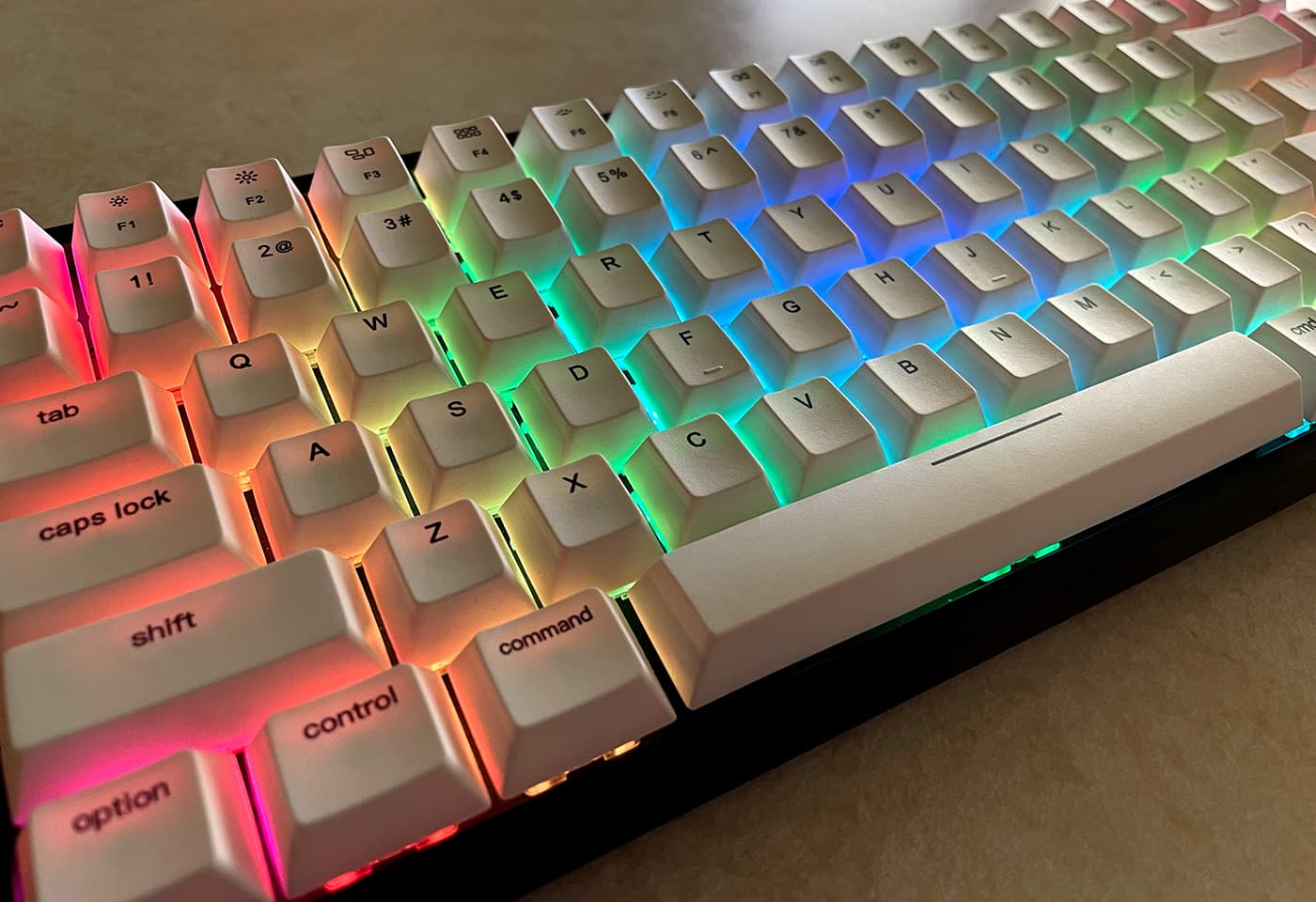 REVIEW – In my line of work, I do a ton of typing, and it's simply a pleasure to review a mechanical keyboard when I can get the chance. Today we're taking a hard look at the Vissels V84 Wireless Mechanical Keyboard.
What is it?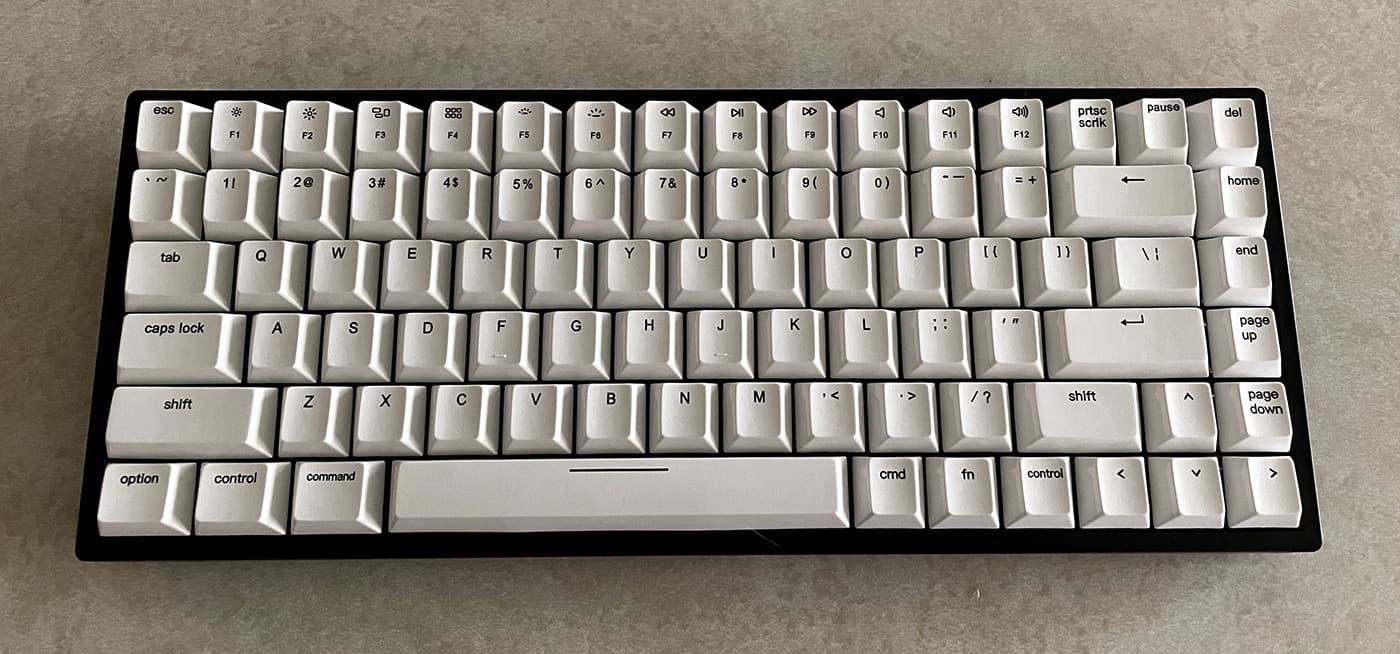 The Vissles V84 is a compact Bluetooth mechanical keyboard that features an 84-key 75% layout, dual USB-C and wireless connection for up to 5 devices, and easy-swappable switches.
What's in the box?
The V84 Keyboard comes with:
Vissles V84 keyboard × 1
Magnetic foot × 2
USB-A to USB-C cable × 1
Switch puller × 1
Keycap puller × 1
Wrist rest × 1
Non-slip mat of wrist rest × 2
Quick user guide card × 1
User manual × 1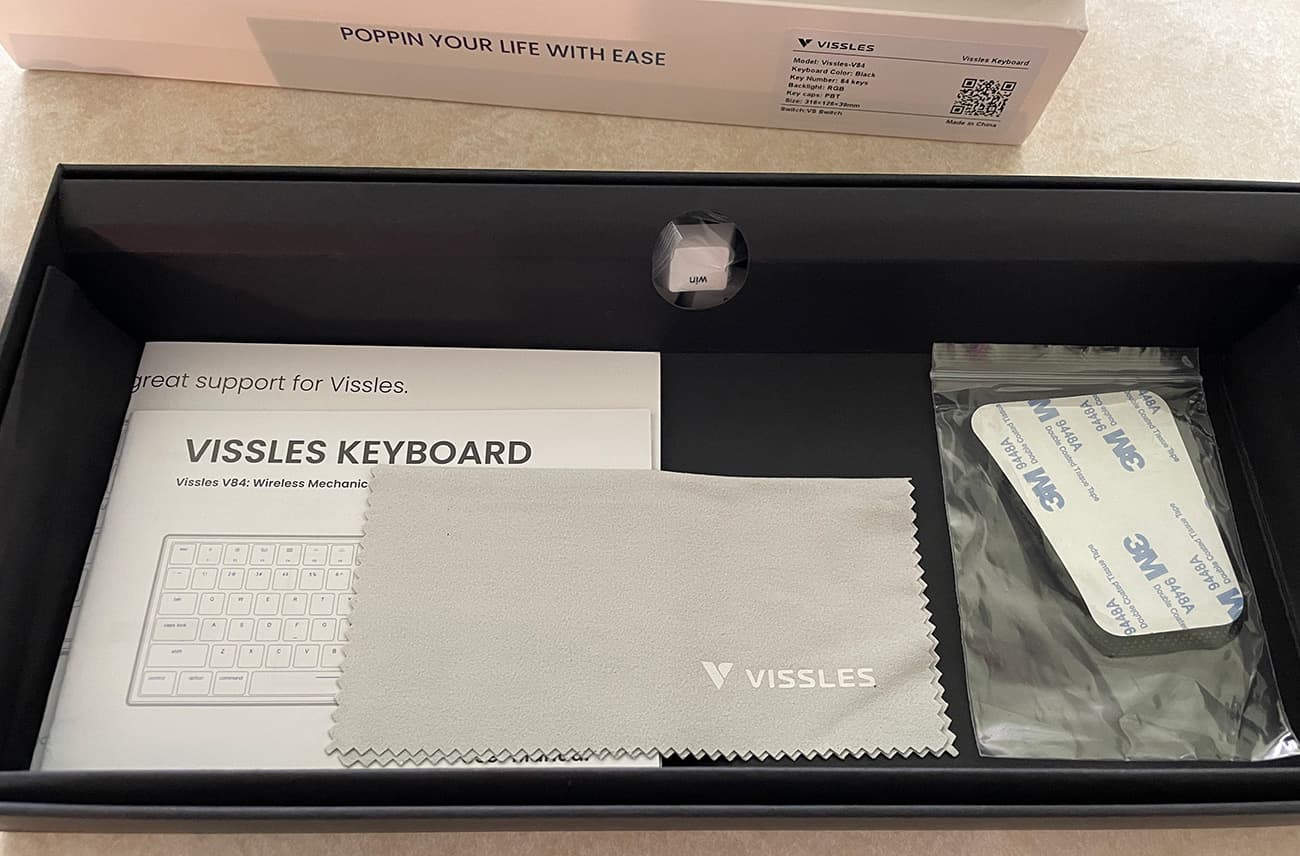 Hardware specs
Number of Keys: 84
Switches: VS Switch (Linear Switch)
Compatible System: Windows/Android/Mac/iOS
Layout: ANSI
Keycap: SP-Cherry Profile
Bluetooth Version: Bluetooth 5.1
Materials: PBT
Switch Name: VS Switch
Interface: USB-C Interface
Battery: 3750mAh Lithium Battery
Weight: 824g (keyboard) + 8g (foot pad)
Dimension: 316mm × 126mm × 39mm
Input: 5V/1A
Dynamic Backlit types: 19
Monochrome Backlit types: 9
Design and features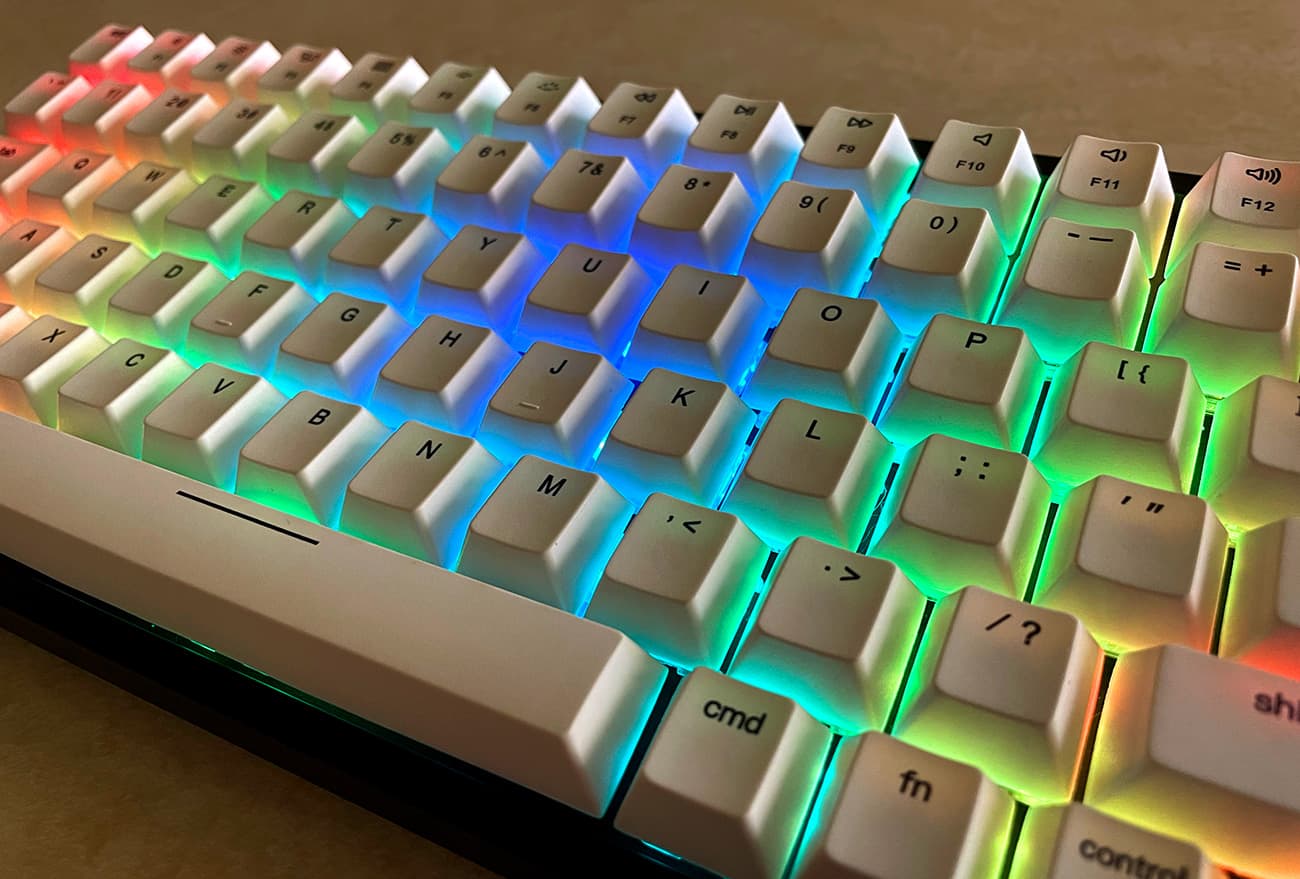 The Vissels V84 has a clean, crisp design. The keys themselves are a bright, warm white, mounted on a very black base plate. It's set at a 75% keyboard size, retaining the F key row, so it might take some time adjusting to the key layout if you're coming in from a full-size keyboard.
From what I gather, 75% layouts are less common, but the acclimation time for me was low having used so many of Apple's compact keyboard layouts on their laptops and Magic Keyboards.
The V84 has some serious heft to it, weighing in at nearly 2 pounds. It's basically immovable while typing and feels like an absolute unit compared to those flimsy keyboards that ship with many computers these days. Typing feels solid, there is no bend or wobble while hammering away at the keys, which is as you'd expect for a mechanical keyboard such as this. More on that in a bit.
There is a nice angle to the placement of the keys, rising gently with each row. The number and F-key rows are raised slightly higher than the letter key rows, likely for easier recognition for touch typists. There are no other physical differences between the keys, each uniform and smooth, save for two small bumps on the F and J keys to denote the home row.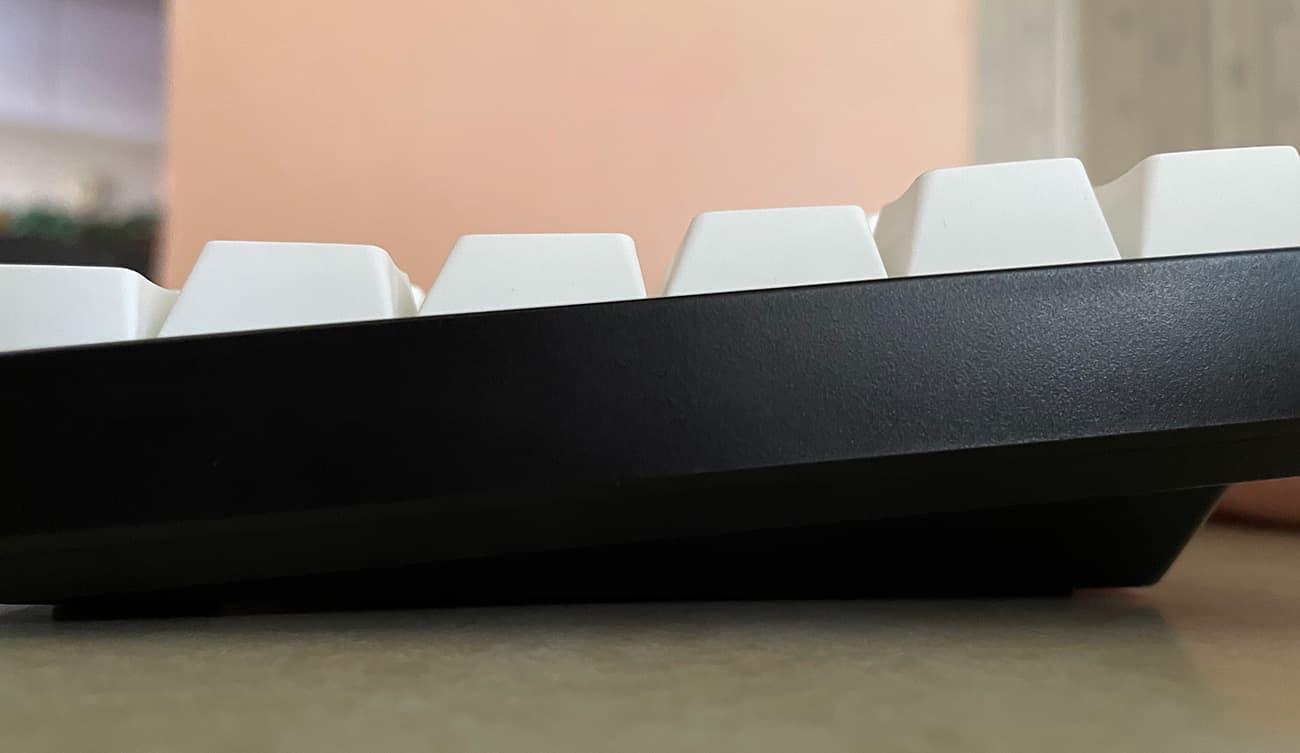 Powering on the Vissles V84 keyboard reveals a full RGB backlight, a virtual full-spectrum light show that you'll either appreciate or immediately try to figure out how to turn off. It's likely you've seen examples of RGB backlighting in ostentatious gaming rig setups. The stark black and white of the V84 presents a lovely canvas for this backlight effect.
While the characters and numbers on the keys themselves don't allow light to shine through — they're merely printed on — the key material is thin enough to allow some light to shine through, so it's easy to see the character and number markings in a dark room. The light also shines through the gaps in between the keys, which may or may not be distracting depending on the brightness.
Fortunately, there are several brightness levels and a myriad of lighting options. Many of the backlight effects are gimmicky, ranging from pulsing or cascading streaks of light to ripple effects emanating off of each keystroke. Chances are you'll stick with a static backlight, which you can swap between 9 different color schemes. I landed on a uniform sky blue color at medium brightness.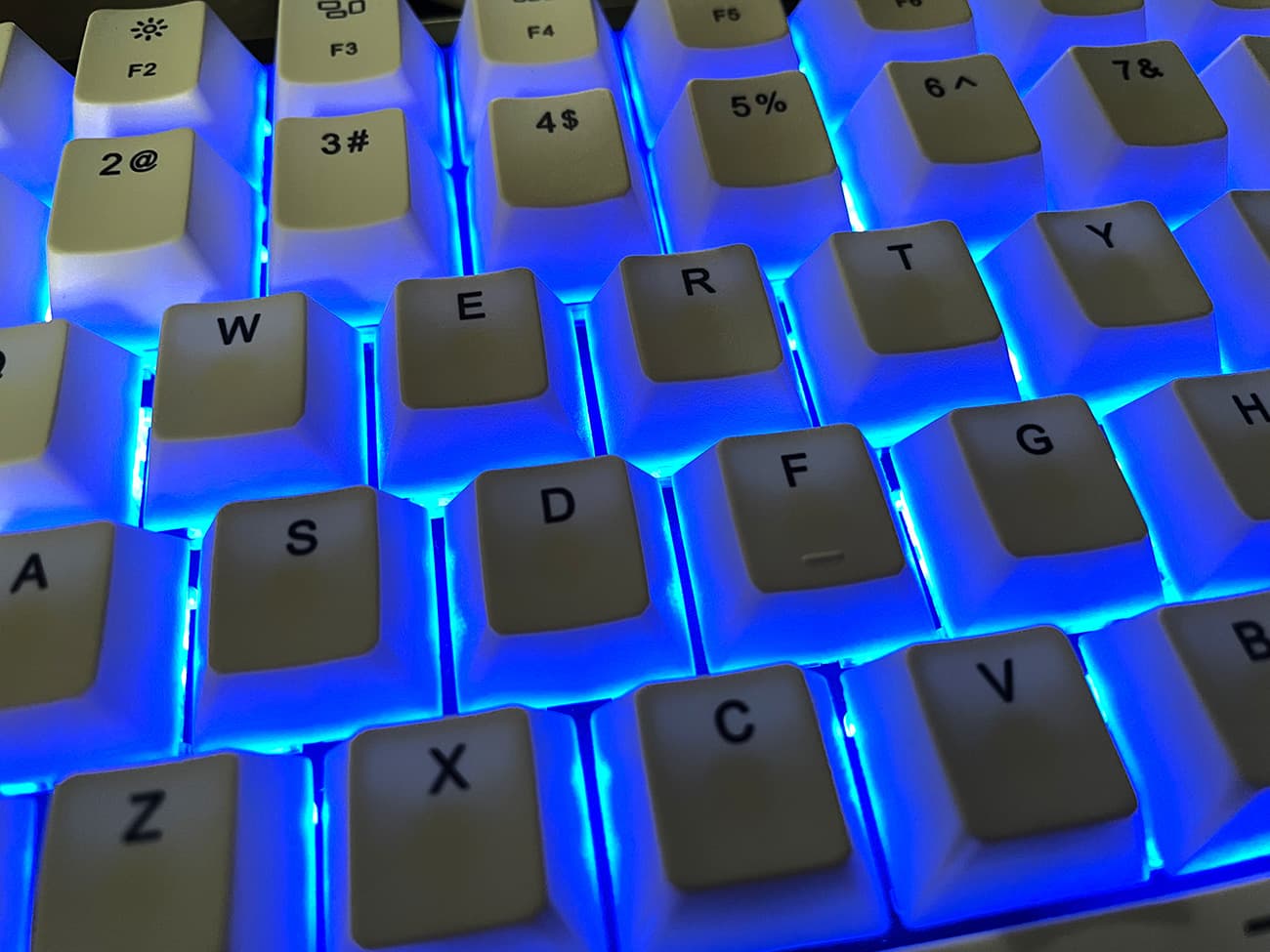 Vissels provides software for customizing the RGB lighting, but since it was PC-only, I didn't get a chance to try it out.
Since the Vissles V84 keyboard is OS-agnostic, it comes with replacement keys for Windows/Mac, and can swap the functionality of the keys between the two operating systems with a quick function-key command.
While the V84 has a nice angle for typing, it also comes with magnetically attachable rubber feet to raise the angle by 6º. Not only that, Vissles includes a leather wrist rest in the box, raising the value of this entire package even more.
Overall, the V84 is very well designed. I think the only knock I can give it is with the tiny, flimsy Bluetooth on/off switch on the back of the keyboard. It's comically small, but ultimately that is of little consequence.
Setup
The Vissles V84 might require a little bit more setup than simply plugging it in. First of all, it's a dual-input, so you can connect it directly to your computer via the USB-A to USB-C cable, or pair it via Bluetooth.
Additionally, since it comes with both Windows and Mac keys, you may need to do some key swapping, as well as pressing a combination of keys to switch it to PC or Mac mode. This is a trivial matter… Vissels includes replacement keys for either OS and a couple of tools for removing both the keys and the switches.
Yes, the switches may be removed as well! Each of the included VS switches can be lifted right out of the keyboard and replaced with switches of your choosing. Let's say you want to replace the arrow keys with a more tactile, clicky type of switch, like a Brown or Blue. Easy peasy.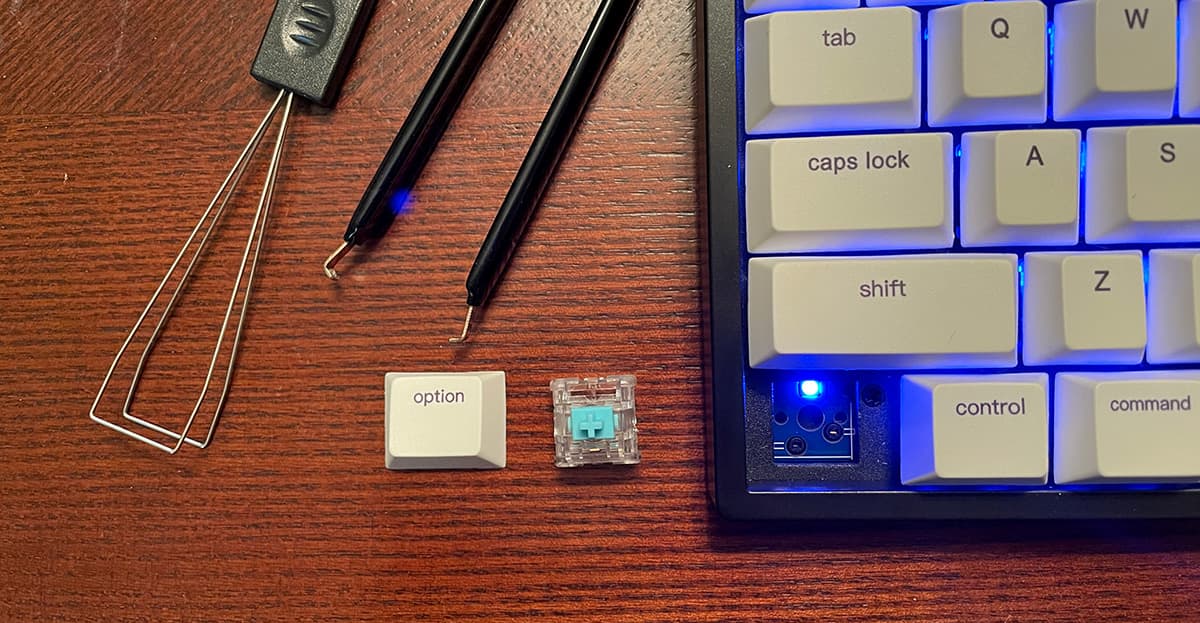 I'm sure the last step in the setup process for most people will include cycling through all the lighting options. A mentioned before, many of them are ultimately distracting, but might be cool to keep running in the background when you're not using your computer… sort of like the "attract mode" on an arcade game.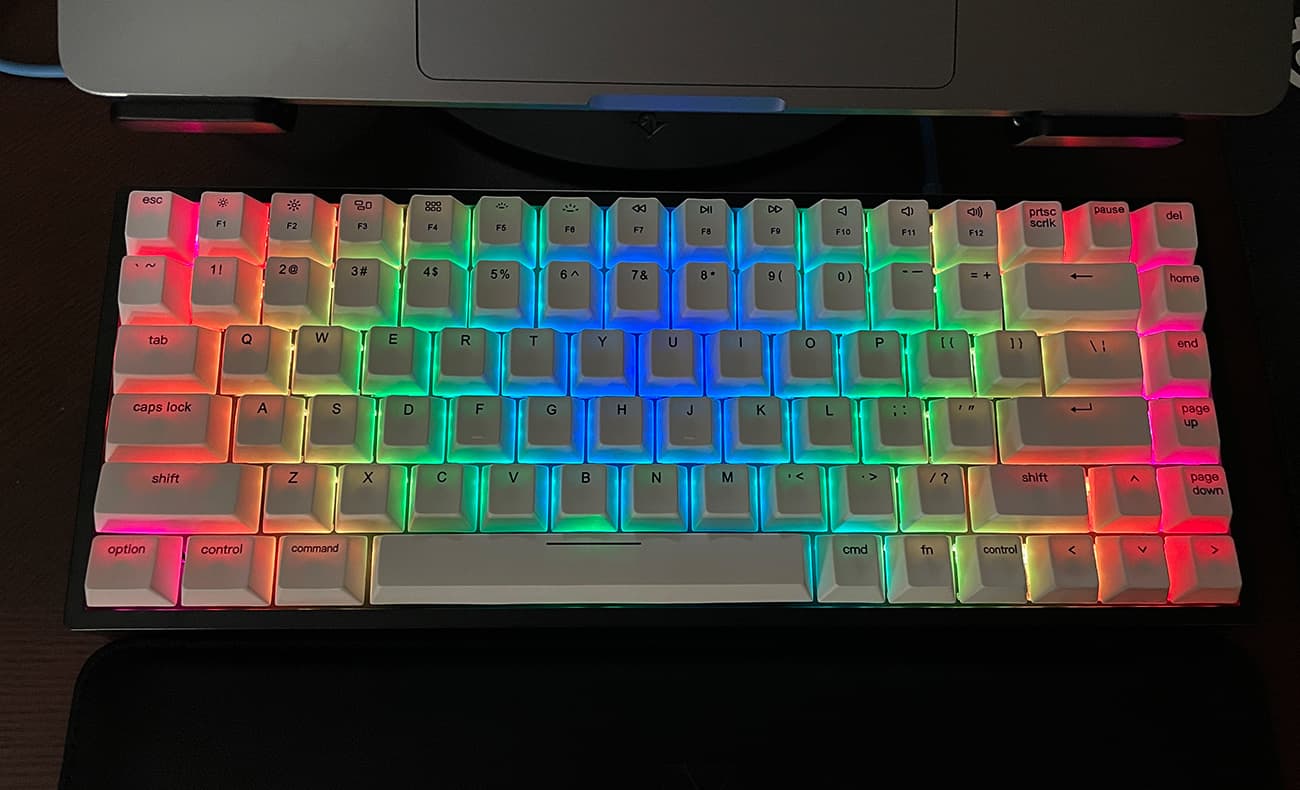 The Vissles V84 allows you to record up to 3 macros that fire with a quick FN key combination, so if there is a complex combination of keys that you need to press, like save-for-web in Photoshop, for example, you can record this keypress and save it so that when you hit FN-C, it triggers that macro. You can overwrite them whenever you want as well.
That reminds me, one final note on the setup… don't lose the instruction booklet. Most of the key combinations, like FN-End to cycle through the monochrome backlight colors, are easy to forget, and you might be stuck, desperately trying to remember what the correct combination is to change out of the rainbow splash color mode.
Performance
For the most part, the Vissles V84 is a solid typing experience. Once you have it all set up with your preferred lighting and grow accustomed to the key layout — which takes some time for almost any keyboard change — I would have to say it's one of the nicest keyboards I have used for prolonged typing.
That said, the switches that Vissels decided to include on the V84 are extremely touchy.
The VS type switch is linear in nature, which means that it has no tactile feedback with each keystroke. It requires the same amount of pressure for the full length of travel. If you've used a more tactile or clicky type of switch, like a Blue or Brown, the VS type has no feedback whatsoever.
Personally, I prefer the clicky feedback. I've been reviewing another mechanical keyboard that came with Gateron Blue switches installed on it and it's the complete opposite of the spectrum from the VS switches. I'll probably order up a bunch of Brown switches, which is somewhere in the middle, in terms of tactile feedback, and install them on most of the keys.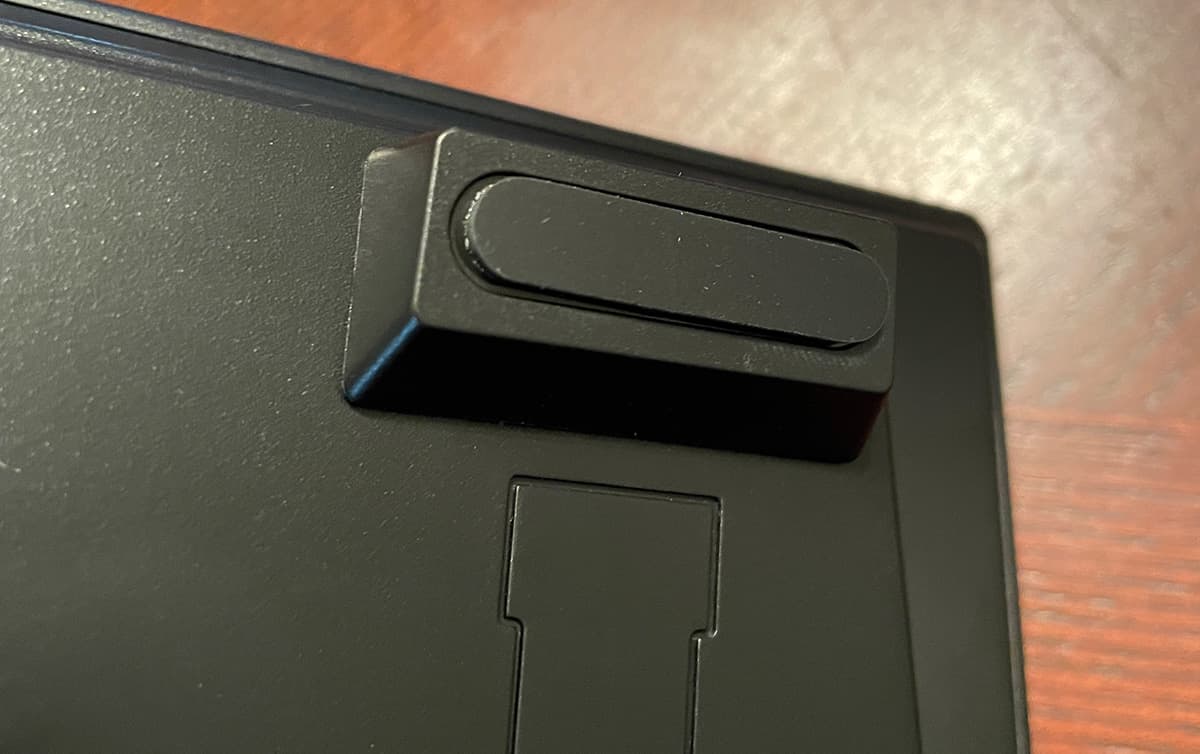 I've read that a more linear type of switch is good for gaming, offering quick feedback and better response for repeated keystrokes.
In my experience with the Vissles V84's pre-installed VS switches, the amount of force required to register a keystroke felt close to nonexistent, as if a fly landing on the keyboard would be enough to type a letter. That's obviously hyperbolic, but there were plenty of times where I would simply rest my fingers on the keys, thinking about something I was going to type in an email, only to look down at the screen and see a long string of ;;;;;;;;;;;'s or ffffffff's.
That took the most amount of time to adjust to. There was a span of days where it felt like I was backspacing every other word to remove an accidental keystroke because a finger merely brushed against another key while reaching for a number or punctuation.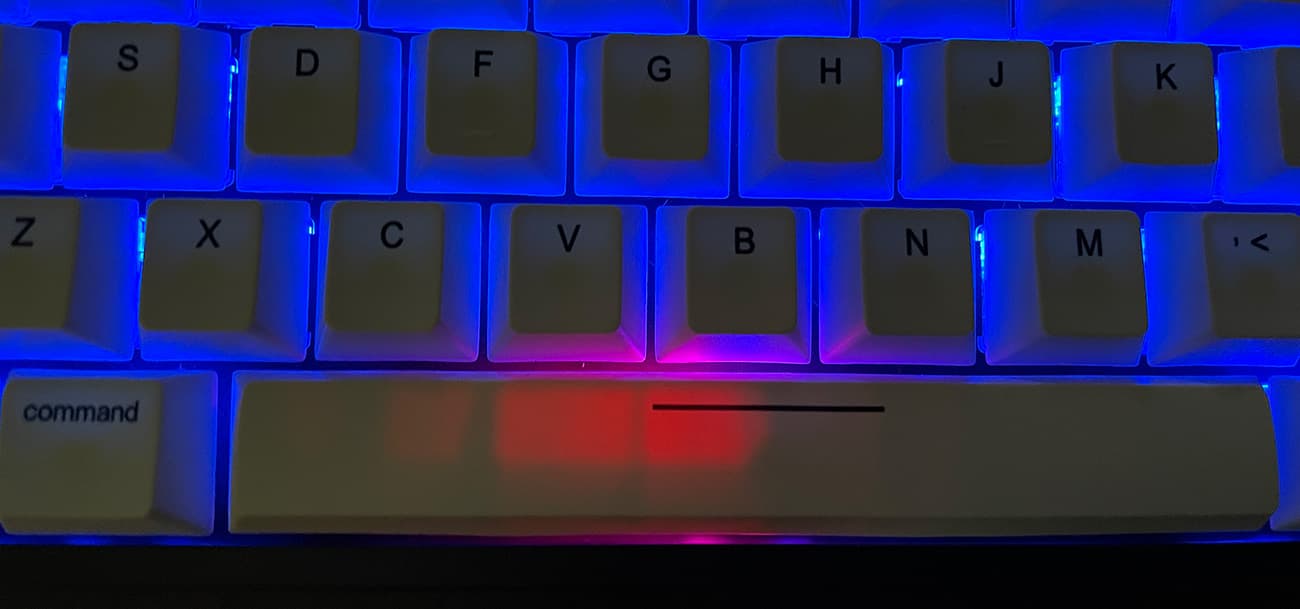 I'm sure that switch preference is a polarizing topic in the mechanical keyboard community, though one of the benefits I found in the VS switches was less fatigue compared to the tactile, clicky Blues. Another benefit of the installed switches is the typing is very quiet, making only a light, hollow tapping noise when the keys bounce back up to their resting place. Though the space bar does make a nice solid thunk.
I just wish the key travel required to register a keystroke was a bit more, like 20-30% of the full travel distance. It's got me super-interested to buy a $20 bag of Brown switches to try out in the search for my perfect typing experience.
What I like
Size and weight of the keyboard are excellent
Hot-swappable switches are a nice bonus
Pair and quick-swap between many devices
Extremely stable and smooth typing experience
What needs to be improved
More tactile and less sensitive installed switches
A bit more transparency in the keycaps to allow backlit characters
Most of the backlight options are gimmicky
Macro/backlight software is PC-only
Easy to forget quick key commands/macros
Final thoughts
Overall, Vissels has created a compelling package with their V84 Wireless Mechanical Keyboard. The inclusion of multi-device Bluetooth, hot-swappable switches, preinstalled quality VS switches, a leather wrist rest and all the necessary tools and cables goes above and beyond expectations. If you're in the market for a mechanical keyboard and want the option to test out a few different switch types, the Vissles V84 might be the perfect keyboard to get you started.
Price: $99
Where to buy: Vissles.com (10% discount with coupon code: V84) and Amazon
Source: The sample of this product was provided by Vissles.