The Gadgeteer is supported by readers like you! If you buy something through links on our site, we may earn an affiliate commission. Thank you! Learn more.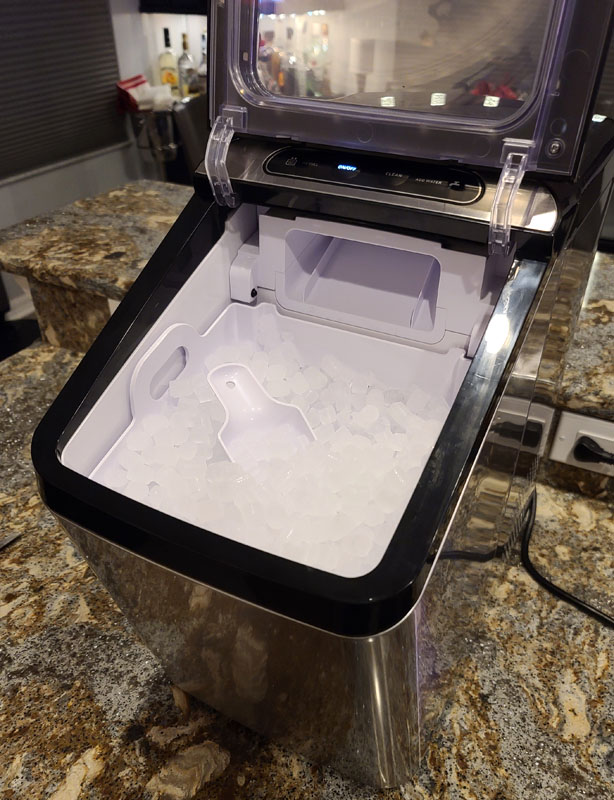 REVIEW – Summer is coming and that means icy cold beverages. Of course, if you live in Florida, like me, that's pretty much true year-round. Many of us have ice makers built into our refrigerators. But those are designed to make enough ice for a small family.  What happens when you have a party and need to have ice for the multitudes? Of course, I mean when we can again have parties.  You can bag your ice for days and keep it all in the freezer, or make the run to the gas station or convenience store and get one of those giant bags. But you always have to throw those on the ground to break them up, and half the time they explode all over the ground.
Wouldn't it be great if you could make a bunch of ice quickly with a countertop device?  And, what if it didn't make regular old really hard ice, but rather that nice, soft nugget ice you get during those unfortunate hospital stays, or in your soft drink at Chick-fil-A?
TaoTronics promises just that with their new countertop nugget ice maker. Let's see if this device provides the chill or is just all wet.
What is it?
This is an ice maker, specifically a nugget ice maker. It is designed to be either manually filled or be connected more permanently to a water line.
What's in the box?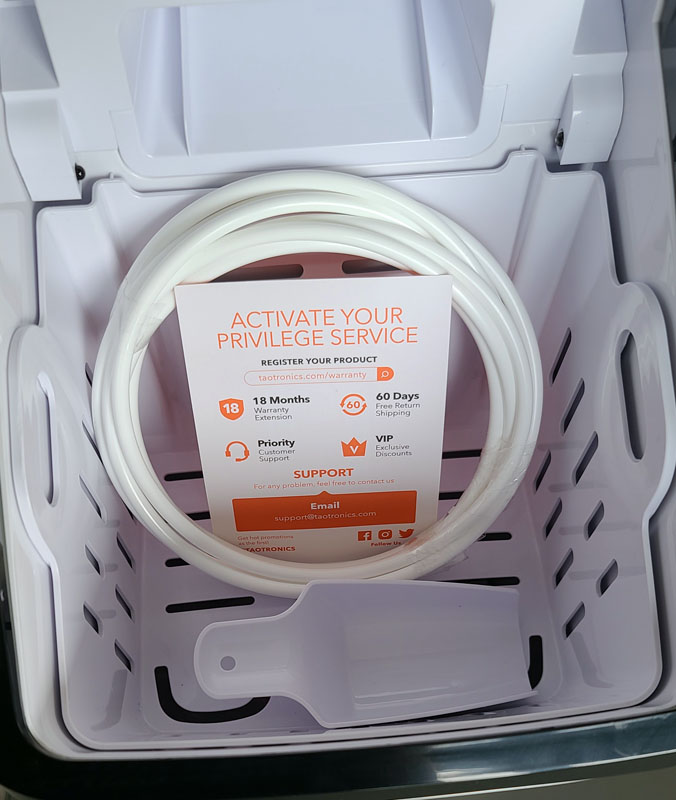 The icemaker
Ice catching bin
Ice scoop
Water hose for permanent installation
Warranty card
User manual (not shown)
Hardware specs
Model: TT-IC001US
Dimensions: 10 w x 16 d x 17 h inches
Weight: 40 lbs as stated, 35 lbs on my scale
Water capacity: 2.7 liters
Ice making rate: 26 lbs per day
Ice bin storage capacity: 3.3 lbs as stated, 4 lbs in my testing
Water supply: manual fill or water supply line
Power: 120vAC
Ice making speed: first ice in 15-20 minutes, a little over 1 lb per hour in my testing
Ambient temperature operating range: 50F – 90F
Input water temperature range: 40F – 82F
Design and features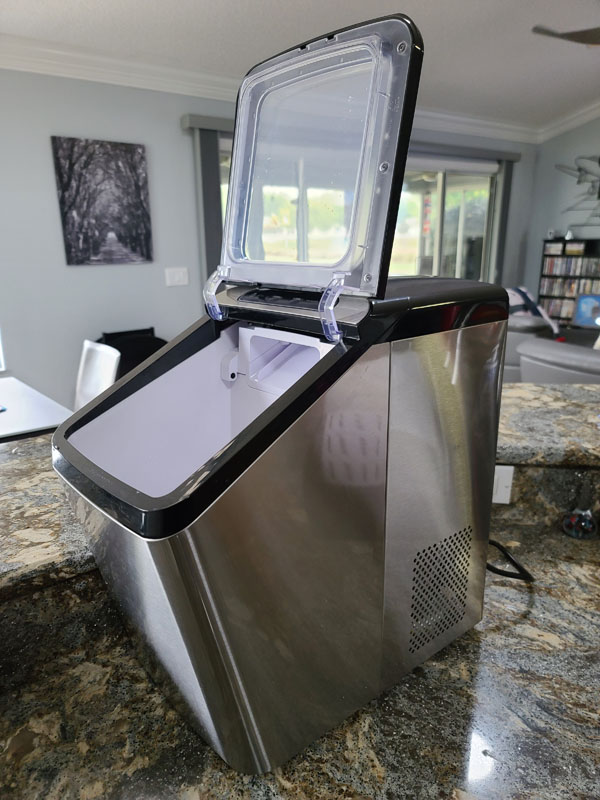 Let's get this out there right off the bat – this thing is big and heavy!  All that refrigeration power and insulation adds up.  It looks very nice, all covered in stainless steel.
The lid has a nice viewing window so you can see how much ice you have in the bin.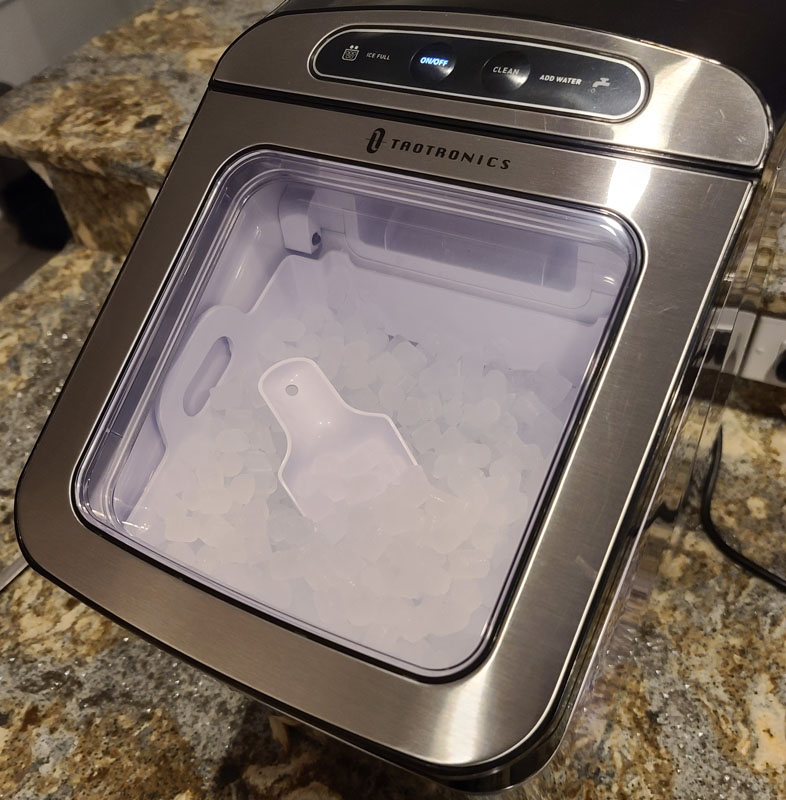 Speaking of the bin, it will hold all the ice a full reservoir can produce.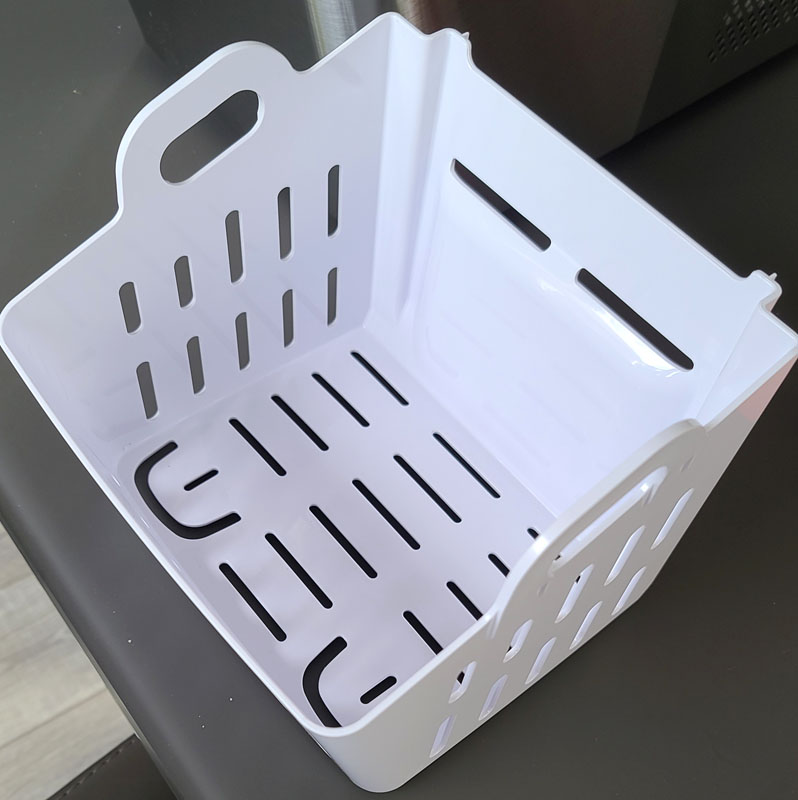 The bin is slotted so that as ice melts, the water drains back into the reservoir and can be used to produce replacement ice.  The handles on each side make for easy removal.
The included ice scoop is small enough to easily pour ice into a glass as well as fit neatly in the bin.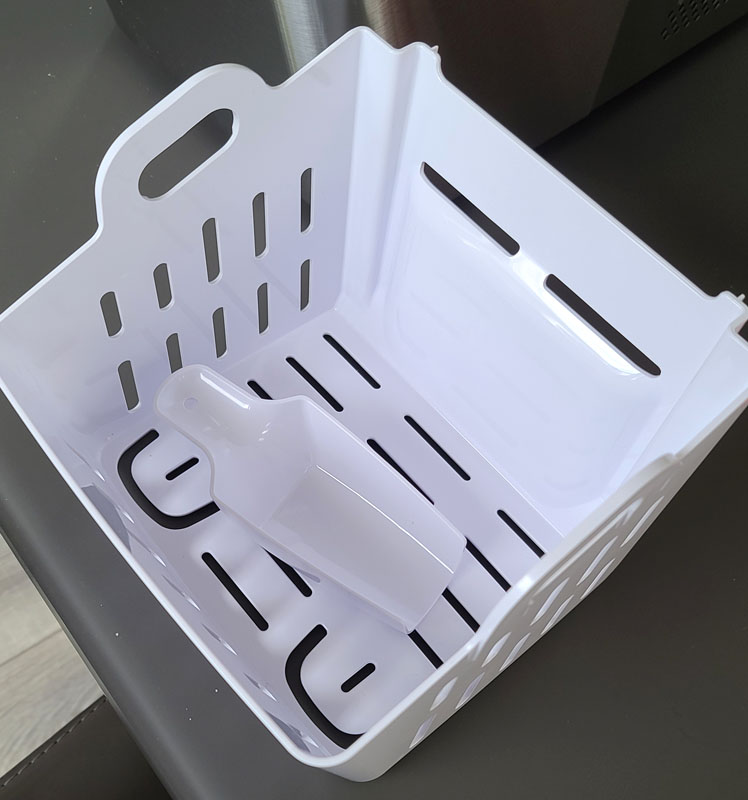 The control panel sits on top, above the door.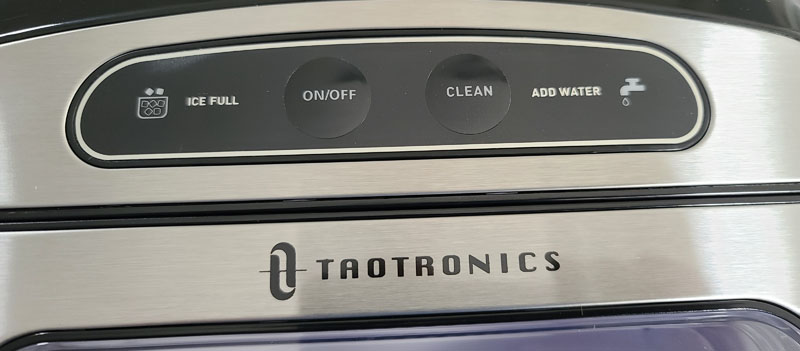 The two outside items are indicator lights for a full ice bin on the left and an empty water reservoir on the right.  The middle two are buttons for turning the unit on/off on the left and starting the cleaning cycle on the right.
The buttons and indicators light up and/or flash as needed.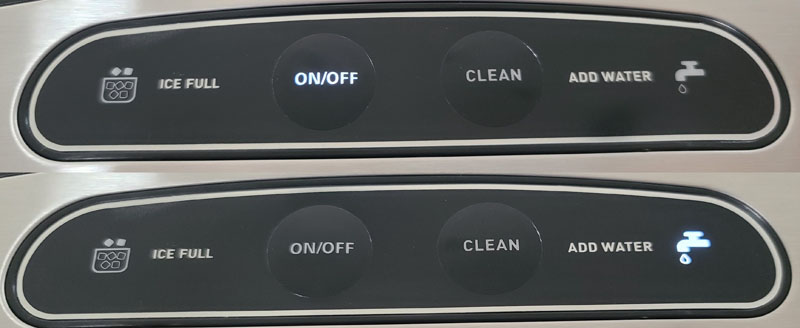 The unit uses an infrared emitter and sensor pair to determine if the ice bin is full.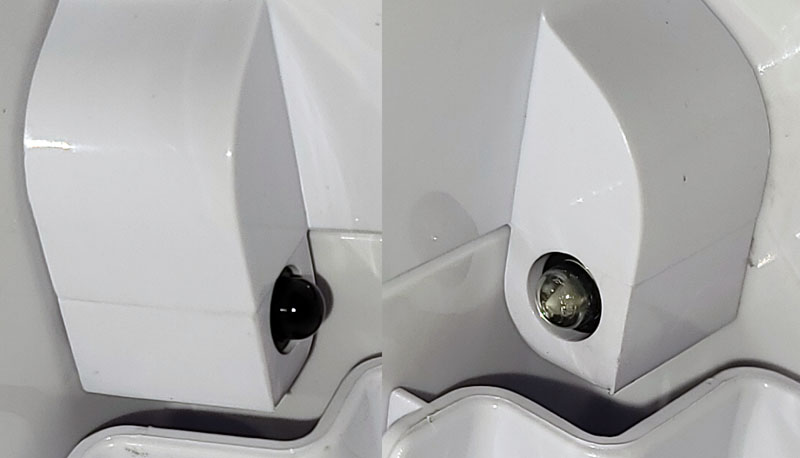 That's the emitter on the left and the sensor on the right.  It is basically the same as the safety interruption sensor at the base of your garage door.  When ice can no longer fit in the bin and blocks the sensor, the indicator light turns on and the system stops.
Removing the ice bin provides access to the water reservoir. You can see the nice sensor on the left and right, near the top of the photo below.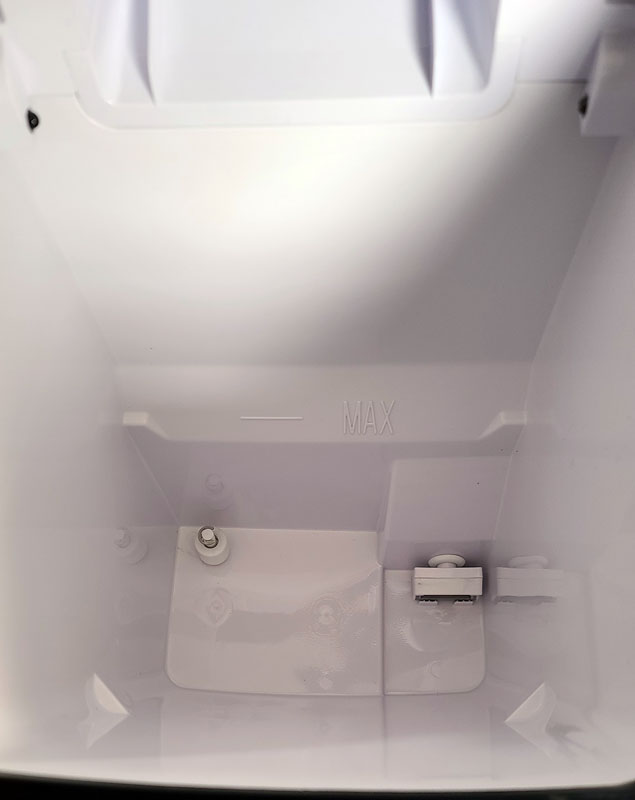 You can see the water drain and inlet on the left and right as well as the rests in the corners for the ice bin. You can also see the MAX line that shows the maximum water fill level.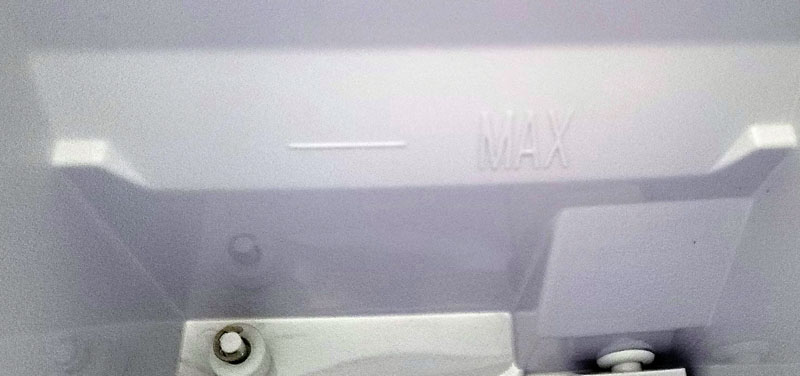 On the back of the machine, we see the drain hoses with their plugs installed, in their storage position.  You can also see the fan inlet for the cooling system, power cord, and on the lower left, optional water line input.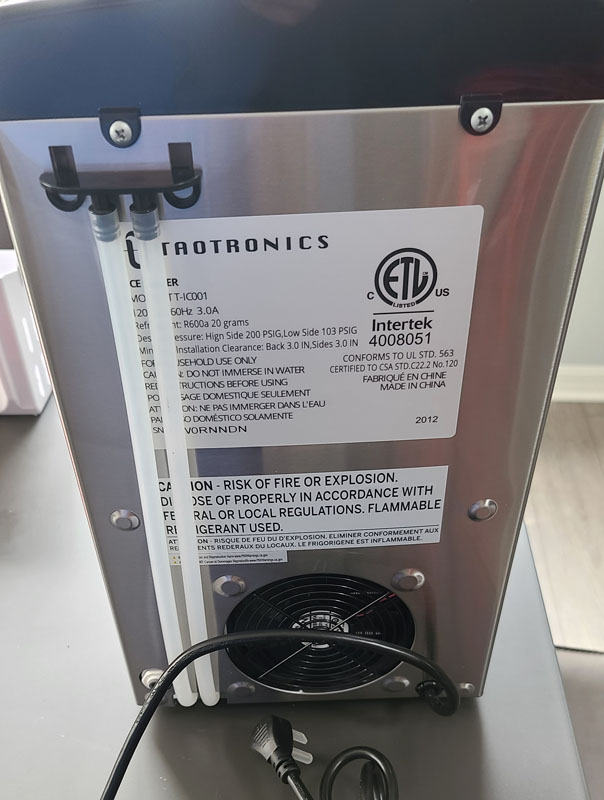 To use the optional water supply line, you insert it into the inlet on the lower left and then connect it to a permanent water supply line.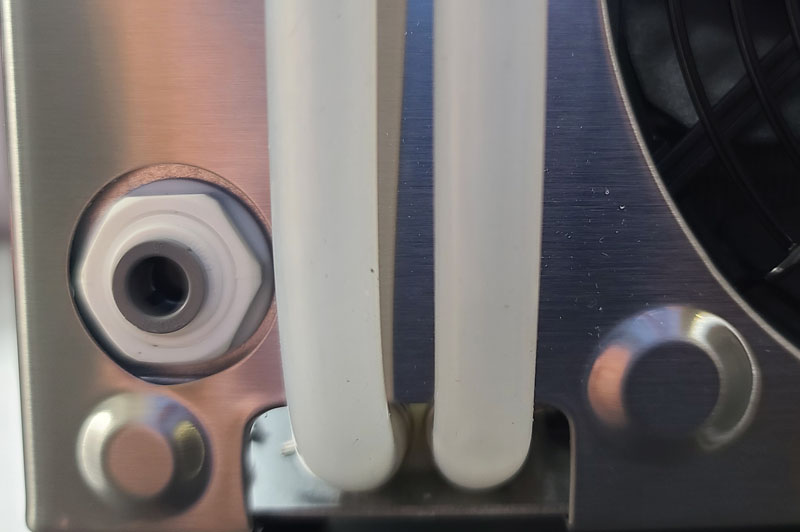 I don't have any plan to permanently install this, so I didn't turn this into a plumbing project.
Setup
The only setup required is plugging the unit in and filling it with water.  Then, turn it on and wait for ice. The manual does suggest letting the unit sit upright for 24 hours if it has been tipped.
Performance
To test its ice-making chops, I filled it up with about 3/4 of a gallon of tap water and fired it up at 6:00 pm.  It started whirring.  It is not loud, but it certainly isn't quiet either.  In a party situation, it would be fine, but in an otherwise quiet room, it is quite noticeable. Water started flowing out of the chute.  I thought this was odd, but I just let it go.
After a few minutes, the stream of water stopped. It took just under ten minutes to get the first results – slush.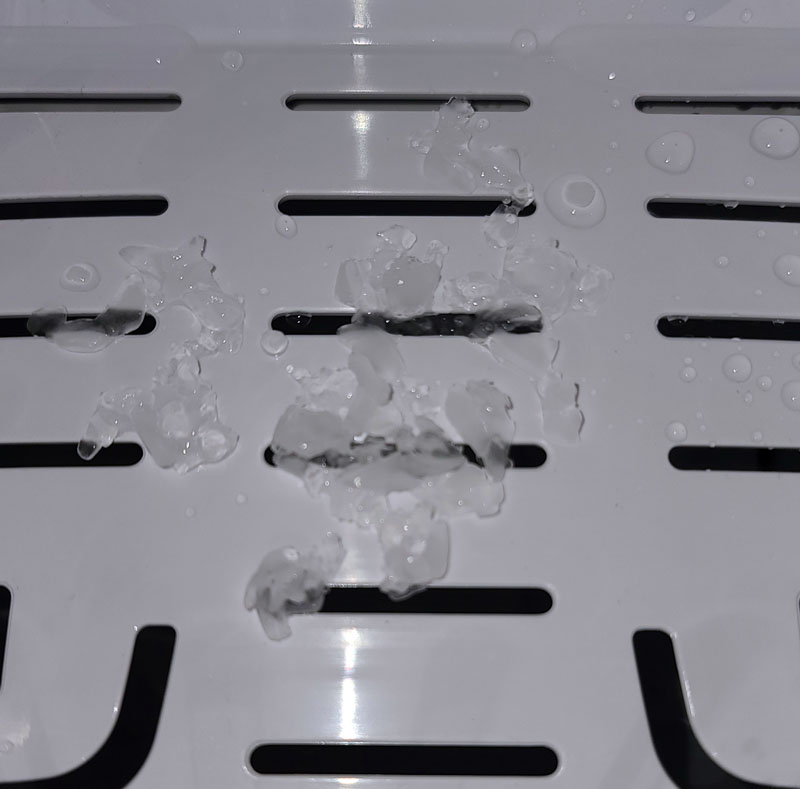 I was a little disappointed.  That's it?  That's not really ice.  Wow.  But, then, just a few minutes later, ice!  Just a few nugget-style cubes, but still, actual ice.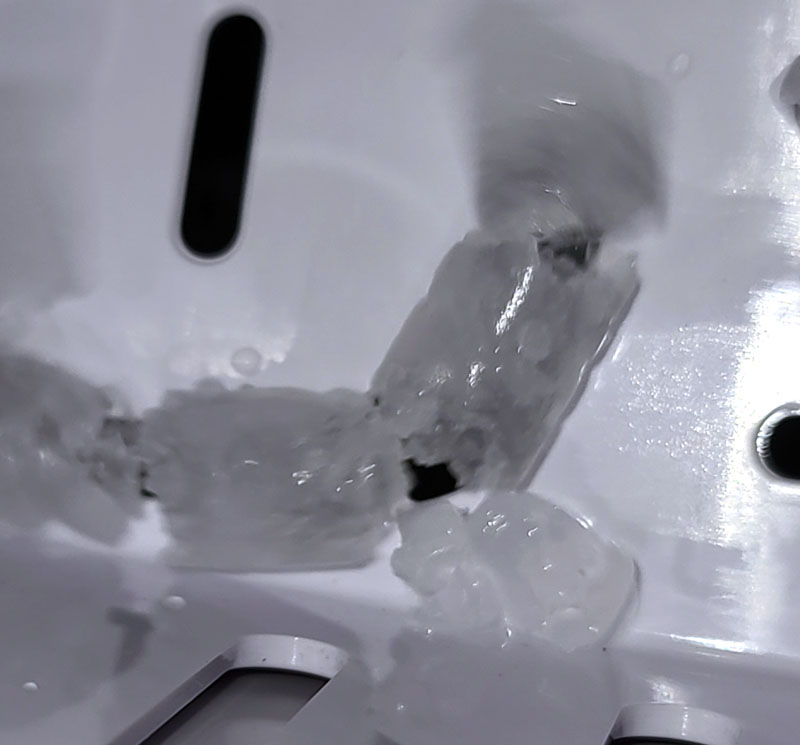 They were a little wet but much more formed.  It looks like it takes the machine 10-15 minutes to warm-up…err…cool down and start making ice in earnest. From this point on, ice fell more-or-less continuously.
After an hour, there was enough ice to actually scoop.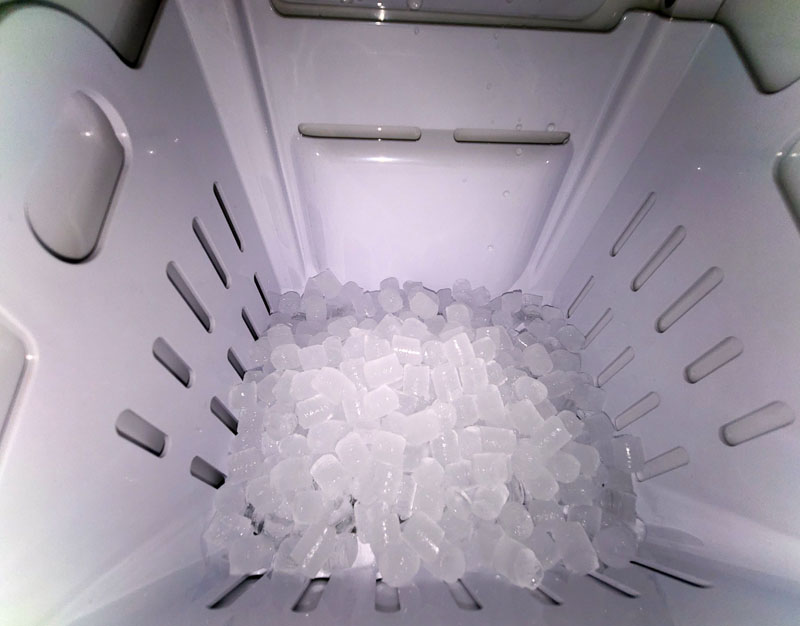 After two hours, the ice was really starting to pile up.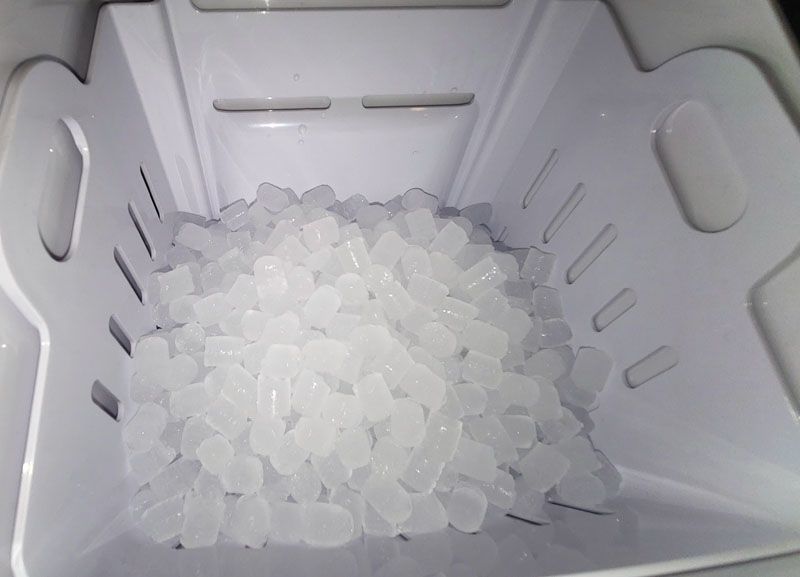 If you look at the last two photos above, you can see that one row of drain holes on the side of the container went from uncovered to fully covered.
After three hours, we had a pretty good pile of nugget ice.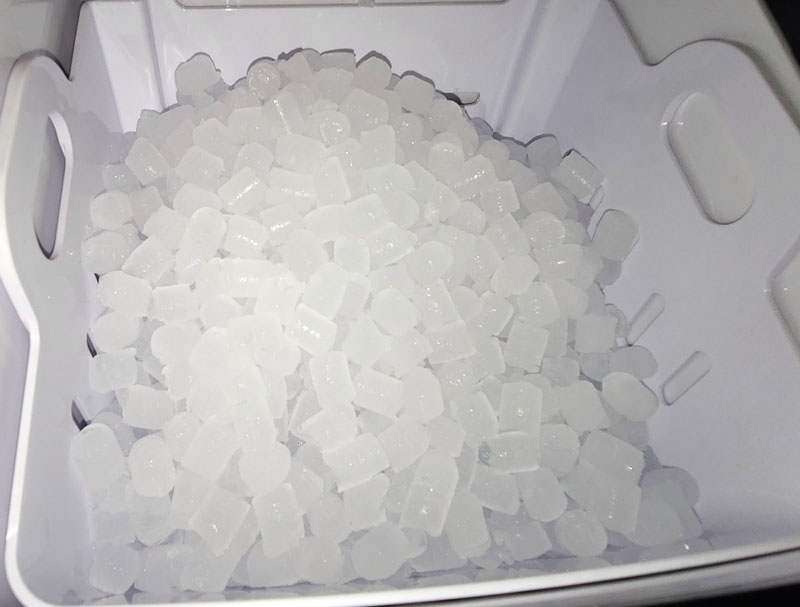 Then, just shy of four hours, the machine turned off.  I assumed we had run out of water, but no – it showed that the ice bin was full. I moved the nuggets away from the infrared sensor and it started right back up.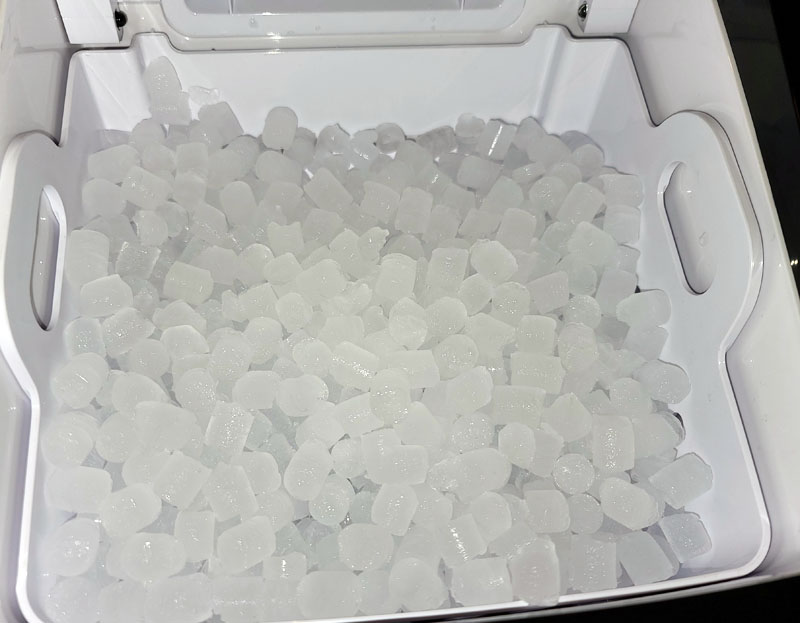 Then, about a minute later, it turned off with the Add Water light illuminated.  One fill of water produces a full ice bin in just under four hours.  The specs on Amazon's page list the water capacity as 2.7 liters and that equates to just under 3/4 of a half-gallon. The specs also say it can produce 26 pounds of ice per day.  Let's do a little math.
Water weighs 1kg per liter or about 2.2 pounds per liter.  I put 2.7l of water in the machine.  All that water should be turned into ice nuggets.  Therefore, in four hours, I should get 5.94 pounds of ice – let's call it 6 pounds.  Assuming that I dump the ice into another container, and keep the reservoir full of water, either manually or with the permanent water line, I should continue getting 6 pounds of ice every four hours.  Since there are six, four-hour periods in each 24-hour day, that means that this machine should produce 36 pounds of ice daily – 38% more than what the specs claim.
When I weighed the bin of ice, it came out to about 73 ounces.  I weighed the bin alone and it weighed 9 ounces.  So that means I got 64 ounces or 4 pounds of ice.  Where did the other two pounds of water go?
I put a measuring cup in the sink and then opened the drain tubes and let them drain.  To my surprise, the "empty" machine dumped five cups (40 ounces) of water into the measuring cup.  So, beyond the little bit of water in the reservoir, there is a substantial amount of water that resides in the internal mechanism of the ice maker itself.  Those 40 ounces of water weigh in at about 2.5 lbs, so with rounding errors in my less-than-scientific measurements, that accounts for the missing weight.
What this also means is that while I got less than expected in the first four hours, with water already chilling in the machine, the second batch should be a little speedier.  Assuming I am right on the ball, adding water and emptying the bin as soon as required, 26 pounds of ice in a day is quite plausible.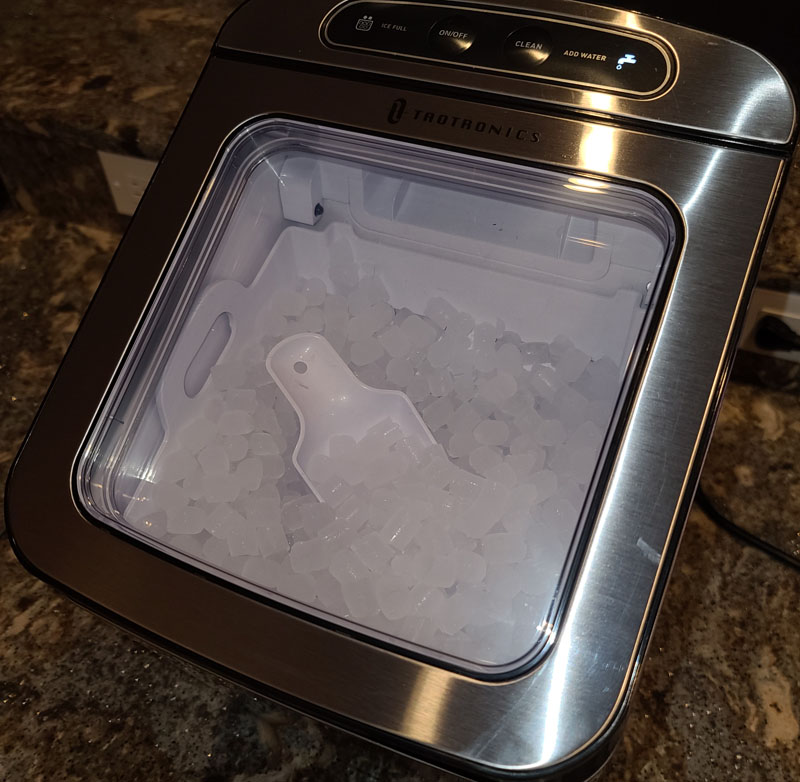 At 10:00 pm, I shut off the machine.  Let's be clear, this is not a freezer.  Nothing in this is designed to keep ice long-term.  It is designed to produce ice in a high-usage environment or to be emptied into other storage containers and kept in a freezer.  I decided to see how it would do overnight. I left it closed up and went to bed.
When I got up the next morning a little after 8:00 am, I was pleasantly surprised.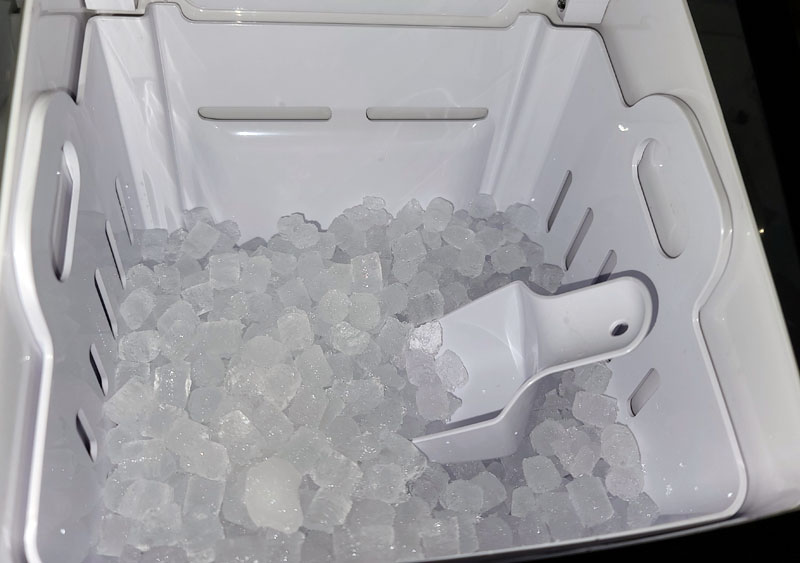 More than half the ice was still there.  The unit may not chill the bin area, but it is really well insulated and keeps the ice as well as any ice bucket.  If you leave the unit on, as the ice melts, it melts into the reservoir.  As more room becomes available in the bin, the ice maker will refreeze the water from the melted ice and produce fresh ice.
My wife and I used a couple of scoops of the ice and then left the machine there, turned off. At about 2:00 pm, or 16 hours after the last ice was made, here is what was still left.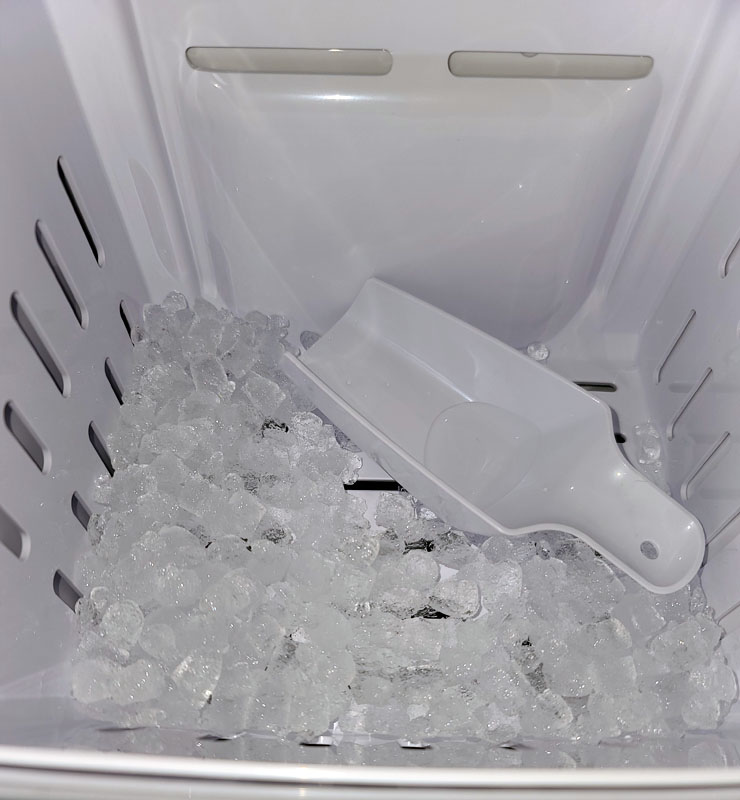 Again, that's even after using some of the ice. I found that pretty impressive.
I tested the automated cleaning cycle.  You fill the reservoir with fresh water and hold the clean button for three seconds.  It pumps clean water through the system to flush out any residue.  Once the cycle ends, you lower the two drain tubes on the back into a sink, remove the stopper, and let it drain the water out.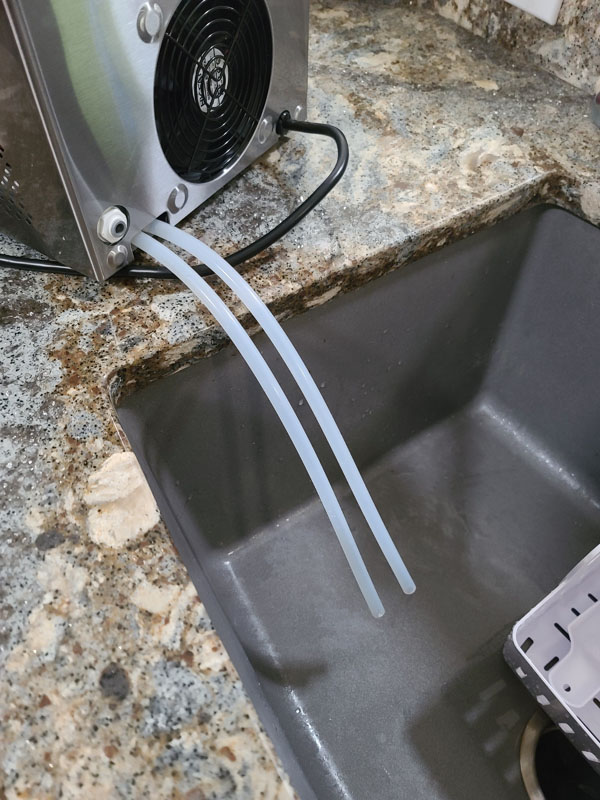 What I like
Fast ice production
Large ice capacity
Nicely textured nugget ice is great for rapidly cooling drinks as well as for munching
Well insulated so ice will last when using this for a group
The option for a full-time water feed via the optional water hose
What I'd change
It's pretty heavy so portability is an issue
It is expensive
Adding the water supply line for a permanent installation will require some plumbing – there are no options for attaching to a faucet directly
Final thoughts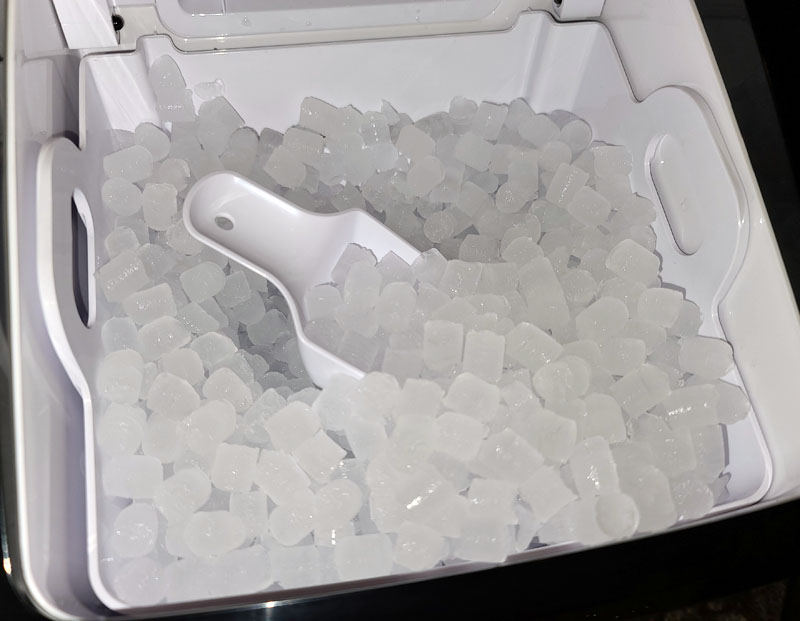 This is a great, albeit pricey machine. At about $500, there are many choices available at a lower price point, like this other TaoTronics ice maker that makes bullet-style cubes rather than nuggets.  Based on the competitor's pricing on Amazon, it looks like the mechanism to make nugget-style ice must be more expensive than making regular old cubes or bullet-style cubes. 
What this ice maker brings to the table for that price is the option for a more permanent installation. If you need a lot of ice for a gathering, this is a terrific option.
I'm looking forward to when we can host another party and having this on the counter, happily whirring away so our guests can cool their beverages.  The fact that as the ice melts, it just gets reused to make more ice is just a nice design feature. Add to that the fact that it makes that wonderful crunchy nugget ice and this is a great party machine.
Price: $499.99
Where to buy: Amazon
Source: The sample of this product was provided by TaoTronics.
Support The Gadgeteer
:
The Gadgeteer is supported by readers like you! If you buy something through the links on our site, we may earn a small affiliate commission. Thank you! Learn more.