We use affiliate links. If you buy something through the links on this page, we may earn a commission at no cost to you. Learn more.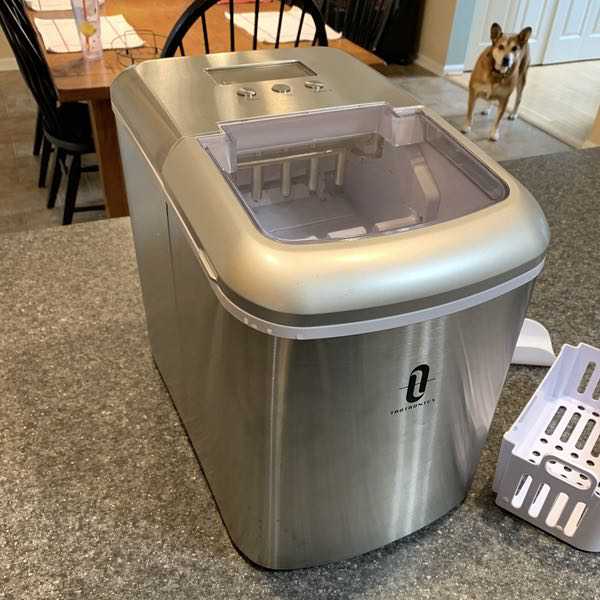 REVIEW – Who brought the ice for the party? The TaoTronics Ice Maker is a countertop ice maker that you can set up anywhere you have an outlet, churning out the frozen cubes for your thirsty guests. Time to chill. To the review!
What is it?
It's a countertop ice maker for your kitchen, office, or bar… anywhere you have access to power.
Hardware specs
14.69 x 12.4 x 9.61 inches
22 pounds
304 Stainless Steel & ABS Food Grade construction
Self cleaning function
Design and features
The TaoTronics Ice Maker is a big boy at 14.7″ by 12.4″ by 9.6″ and a total weight of 22 pounds. Not exactly portable, but easy enough to move around if you want an ice maker close to where the action is.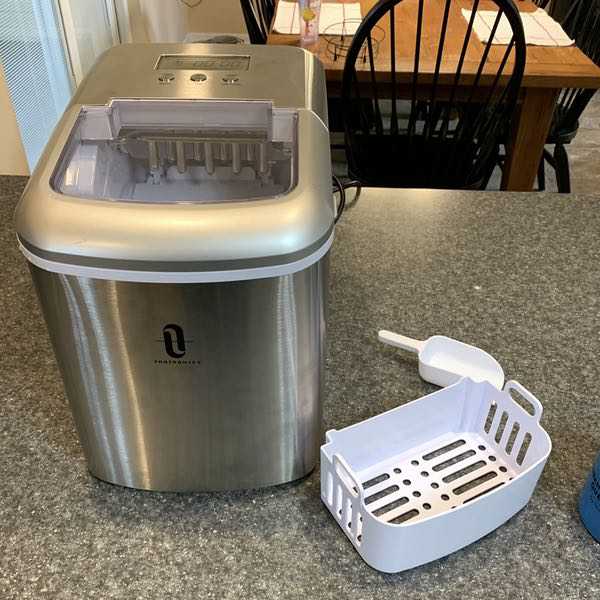 The build is 304 stainless steel and ABS food grade plastic. Here's the rear view. Note that the air vents are on the right side of the unit if you're looking at it from the front end. You'll also get a basket to catch the ice and a scoop.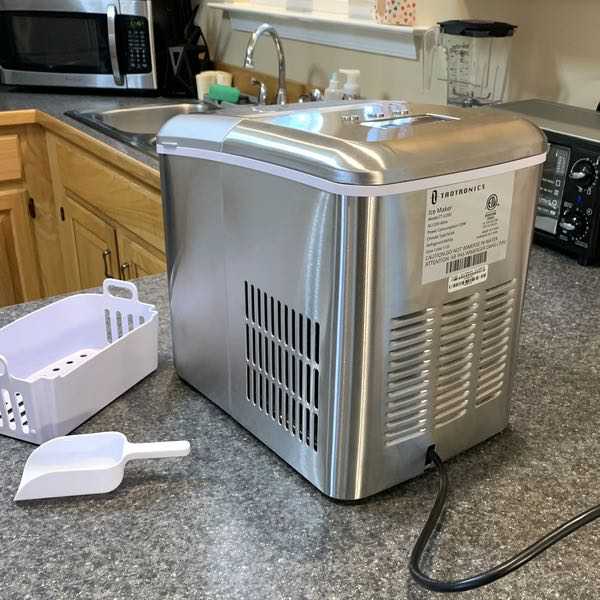 Your ice making adventure begins by filling the main chamber with water to the fill line. It will take about two quarts of water on a single fill.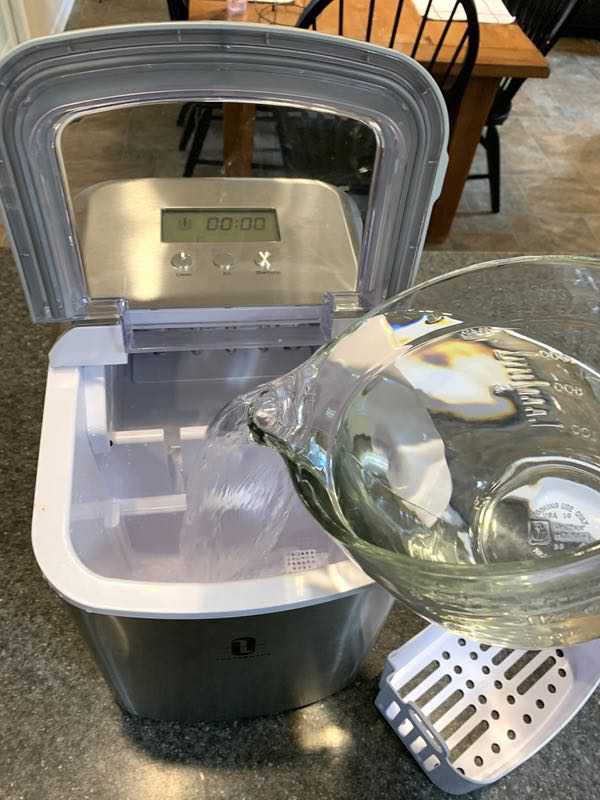 The water draws from the bottom of the well through a filter. You'll insert the catch basket on top of that water reservoir in the chamber to catch your ice.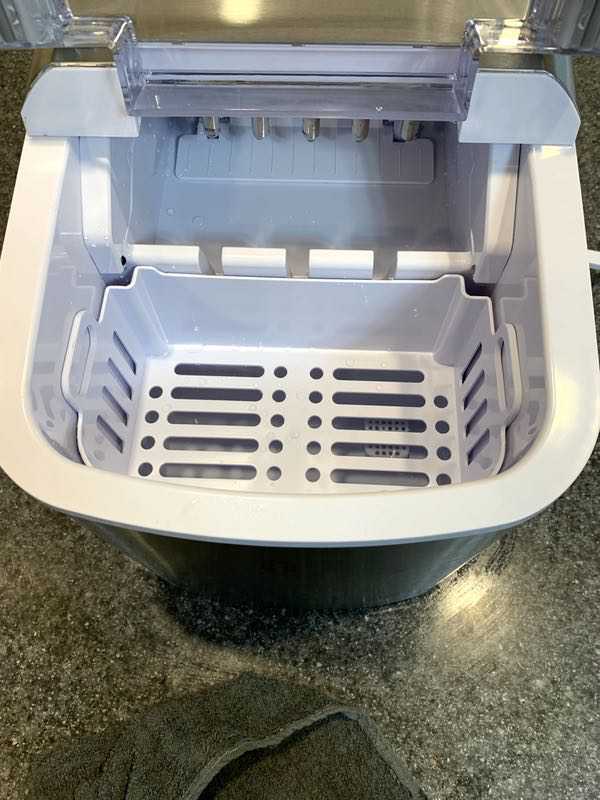 Operation couldn't be simpler. You've got three buttons on top. Press the start/stop button on the right to begin making the ice. Press the center button to choose small or large cubes. Then you're off and running.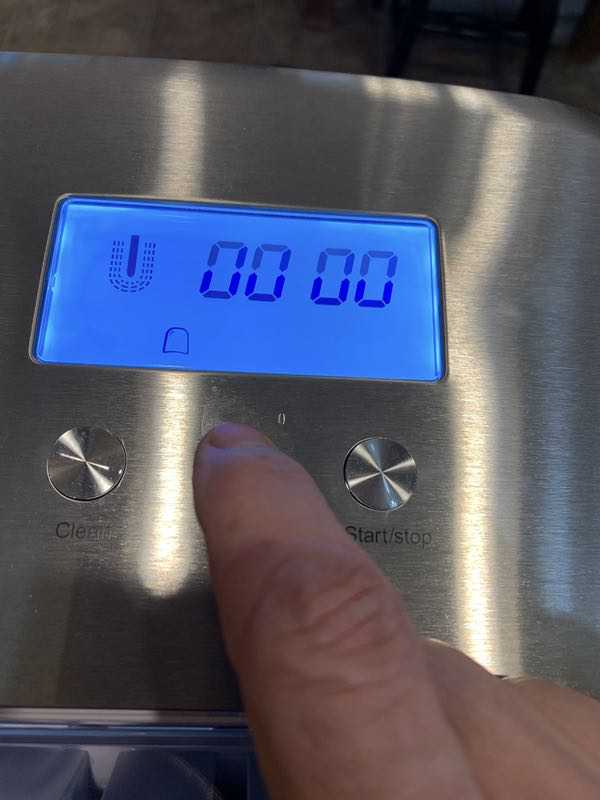 The water fills the tray at the top of the unit that you can *just* see in the shadows here. You'll hear some mechanical whirring as the trays move into position.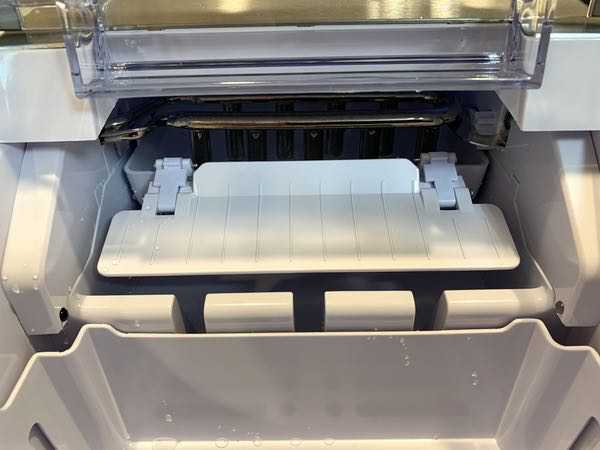 If you peek closely under the hood, you'll see a set of metal probes dip into the water. The water then freezes around these probes creating your cubes.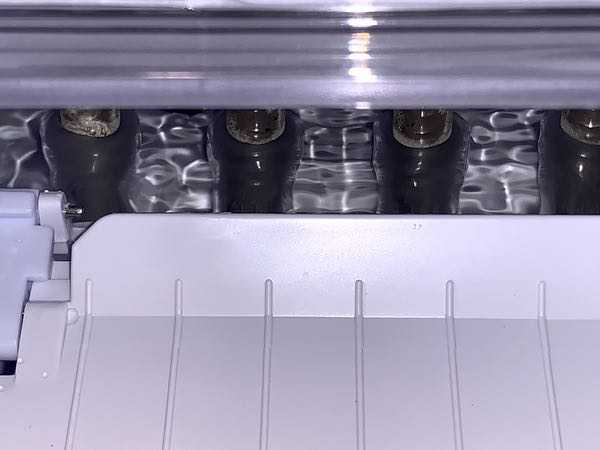 The unit freezes the water for either 6 or 9 minutes depending on the cube size you chose. When the timer finishes the tray drops away…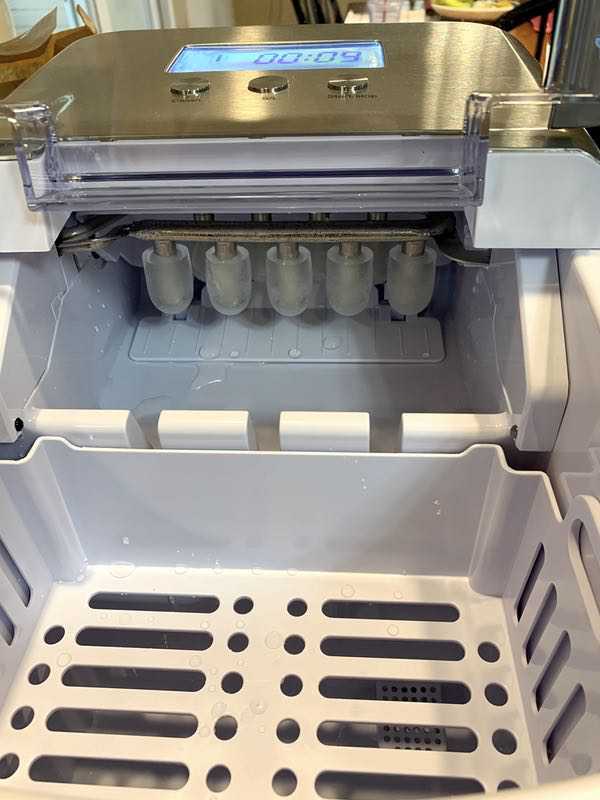 The unit gives a shake to release the cubes…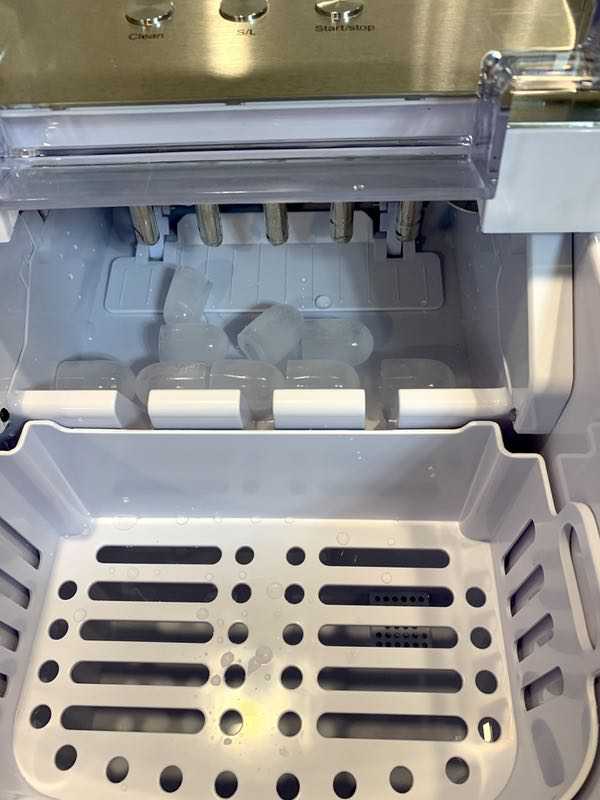 And a feed plate dumps the cubes into the basket.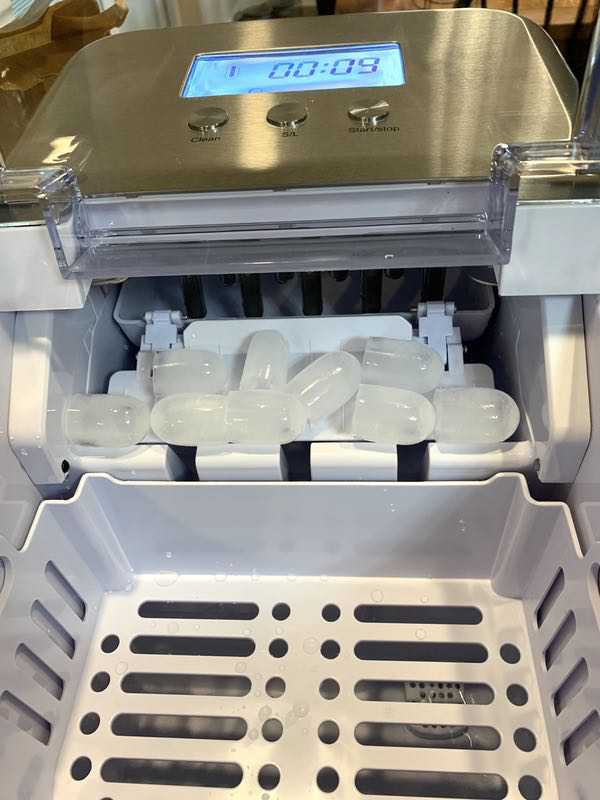 You'll get 9 cubes per cycle. Once the cubes drop, the unit sucks up more water and repeats the process until you tell it to stop.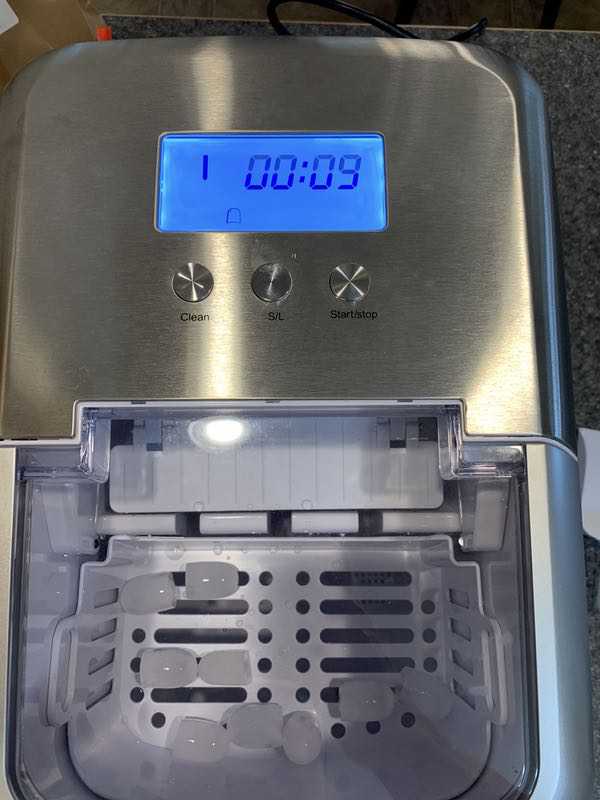 If the basket reaches maximum capacity it has sensors that stop ice production. I measured that a full basket produces about a pound of ice in an hour and 20 minutes (give or take) of large sized cubes. The smaller size cubes fill the basket in under an hour. Once you remove the ice the unit will automatically begin producing ice again unless you push stop.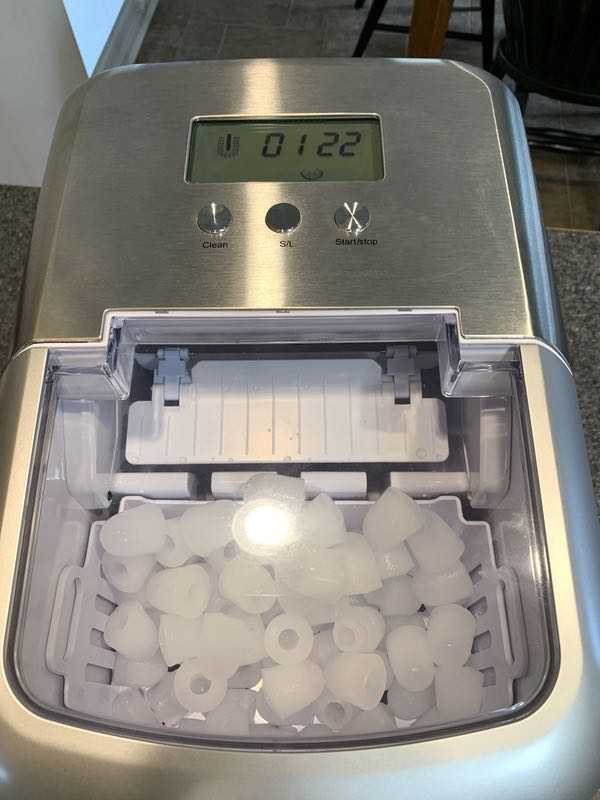 That's really all there is to it! There's also a cleaning function to flush the system. The device does not have any refrigeration capabilities, but it is insulated to keep your ice cold for a while. Melting ice drains right back into the reservoir for re-freezing.
Performance
The TaoTronics Ice Maker works exactly as described. Whether you'll be satisfied with the results really depends on your intended use.
The first consideration is how much ice you need at a given time. It takes 6 or 9 minutes to produce 9 cubes depending on the size. It will produce 26 pounds of ice in a 24 hour period, but that assumes that you are emptying that tray every hour to allow the unit to keep moving. You'll need a head start of several hours to fill up an ice bucket.
On the flip side, the unit is consistent and steady. It's a perfect addition to places where you don't have regular access to ice. You may share an office with some mates, for example, or entertain a small crowd at your home bar. It's great as an ince maker for the family in a rec room or on the deck. It's low maintenance, easy to clean, and super easy to use. And if you don't consume all the ice it just melts back into the reservoir for next time.
The device does have some fan noise, but I did not find it to be terrible. Comparable to a house fan. You'll want to make sure that those vents have some airflow to do their thing. You'll get some clacking and whirring as it cycles through each batch.
I do want to address the ice itself. No matter which size you choose you'll be getting bullet-shaped ice with a hole in the middle as seen in the pic below.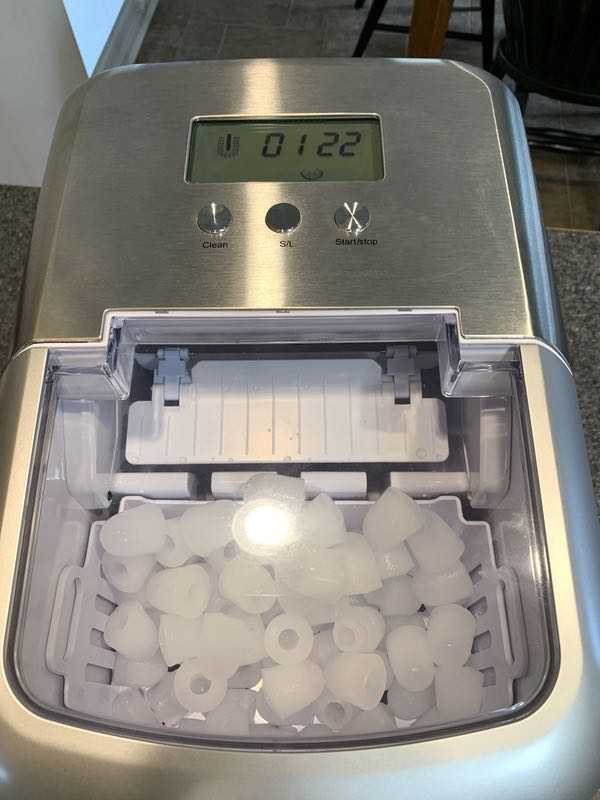 It's perfectly serviceable, and each cube is about 1″ long in the large size. The small size cubes are maybe 3/4 of that; I don't see a huge difference in size to be honest. My ice was also consistently opaque as you see here, even after running through several cycles. It's probably my water.
What I like
Easy to operate
Easy to clean
Solid, durable build can be used just about anywhere you have power
Consistent and dependable
What needs to be improved
Slow ice production may not work for large gatherings
Big and heavy — can be relocated, but I would not call it "portable"
Final thoughts
The TaoTronics Ice Maker is a solid appliance that's easy to use, consistent in performance, and easy to clean. I can see a lot of uses for it in the home or office. Just be aware that this is not a high-speed, high-volume machine.
Price: $144.99
Where to buy: Amazon
Source: The sample of this product was provided by TaoTronics.