We use affiliate links. If you buy something through the links on this page, we may earn a commission at no cost to you. Learn more.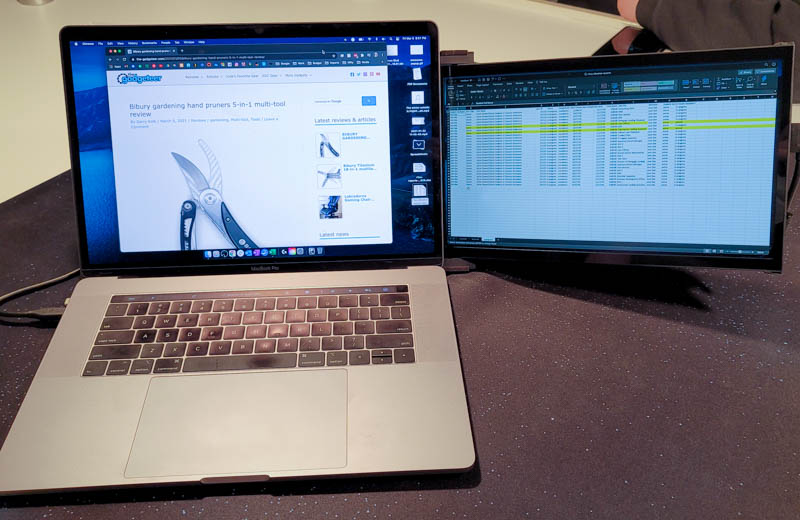 REVIEW – Working from home is the new normal for many lately, but this has been my normal for near a decade now.  One piece of advice I received early in my work-from-home stint was to get away from the desk whenever possible.  I definitely feel it when I'm at a desk for more than 8 hours straight, but I have to strategically plan what pieces of work to do while on the couch or in the backyard since some of my work is MUCH easier with 2 screens.  DUEX sent over a pre-production sample and I've been kicking the tires (metaphorically).  I could see this product allowing for much easier away-from-the-desk work, as well as much more productive work while on the road in the future.
What is it?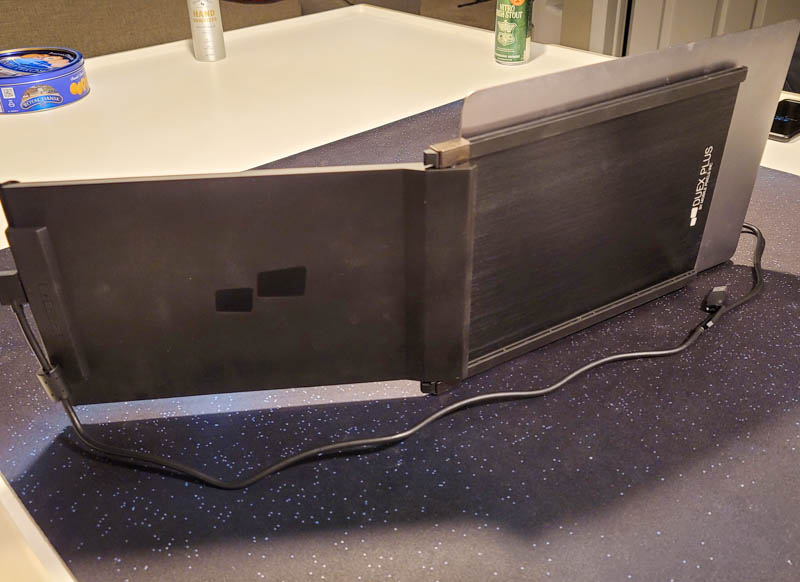 The DUEX Plus dual monitor screen is a portable 13.3 inch secondary screen designed primarily to be mounted to the back of a laptop.  It slides out and can be angled towards your eyes, or even flipped around for a presentation-mode where the screen is facing outwards (think a conference room where the other attendees could see your screen or a presentation without the need to connect to a projector or monitor).  The whole package is designed to be light and portable.
What's in the box?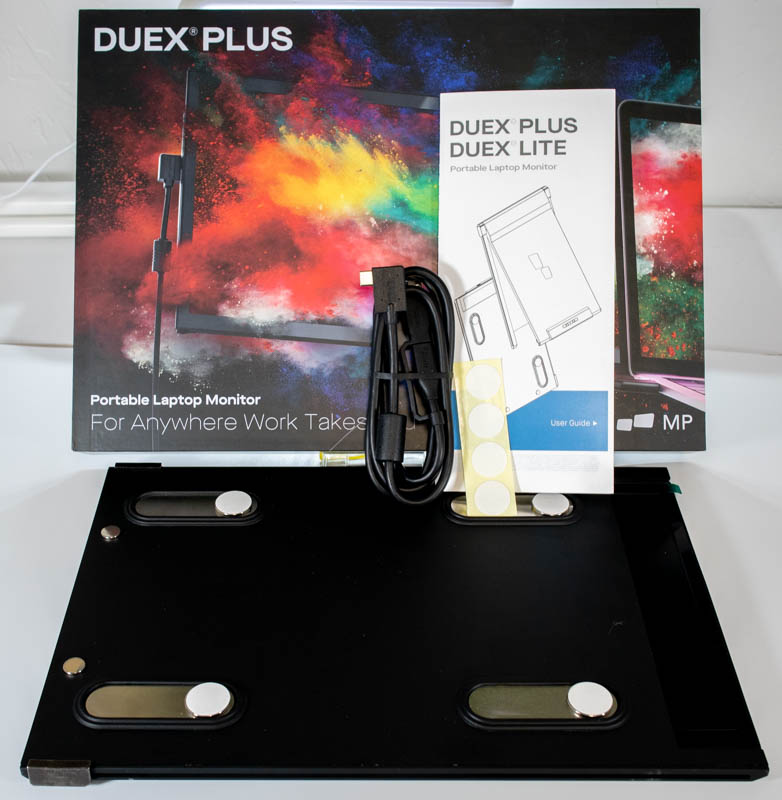 Included in the base pledge is the DUEX Plus dual monitor screen, a magnetic backing set (4 dots), and a USB-C to USB-C cable with a USB-A adaptor attached.  Also included in my sample was extra adhesive stickers and an instruction manual.
Hardware specs
Screen: 13.3″ Full HD 1080P (1920 x 1080 resolution, 60Hz refresh)
Materials: Aluminum alloy and PC-ABS plastic
Ports: 2 x USB – C (both can be used for connection and charging passthrough)
Signal type: Hybrid (both DisplayPort Alt and USB video signals can be used)
Compatibility: Windows 10, macOS, Nintendo Switch, and Android ("select phones")
Auto-rotate: Screen can be used on either side of laptop, built-in gyroscope rotates screen as needed
Energy Usage: 4.5 W power draw
Weight: 1.3 pounds
Dimensions: 12.25″ x 8.46″ x .58″/.25″ (thickest/thinnest points)
Design and features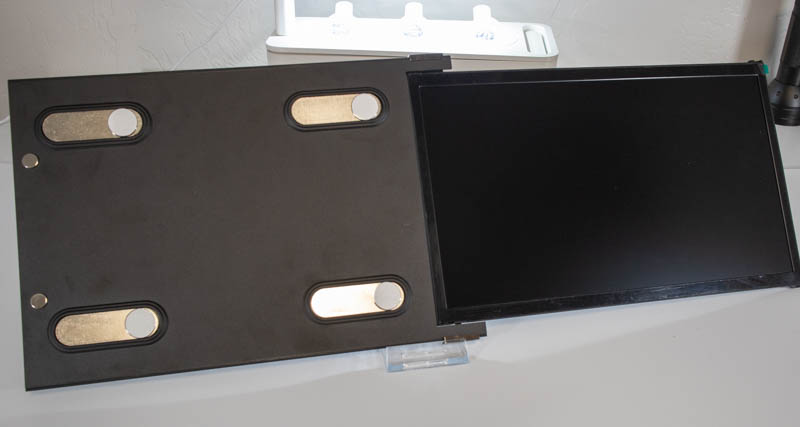 The DUEX Plus dual monitor screen is fairly minimalist in design.  Small bezels and a thin profile result in a nice-looking piece of hardware compared to some of the cheap external portable monitors I've seen before. The portion of the device contacting the laptop is plastic (and the 4 magnets), while the backside is a brushed-aluminum finish.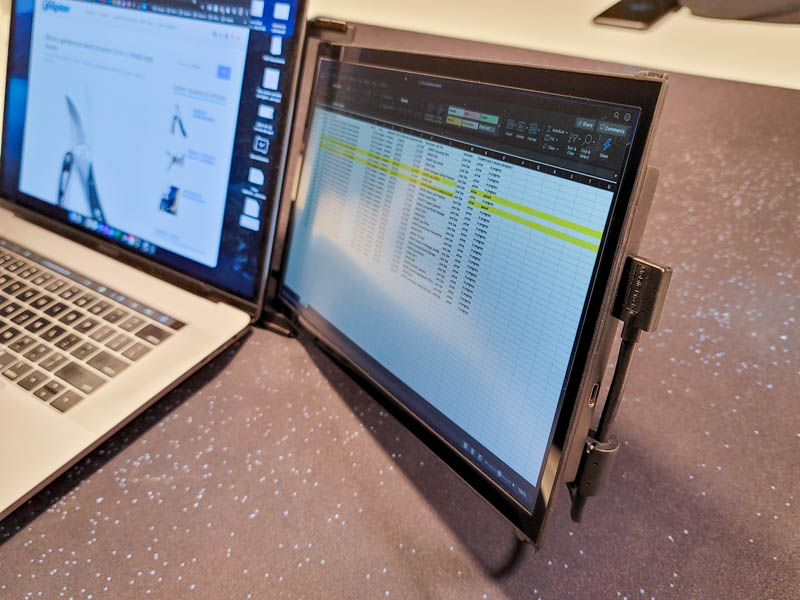 The monitor can be angled towards the viewer, and the hinge does a good job of keeping it in place so if I adjust the laptop monitor the DUEX Plus dual monitor screen also is adjusted along with it.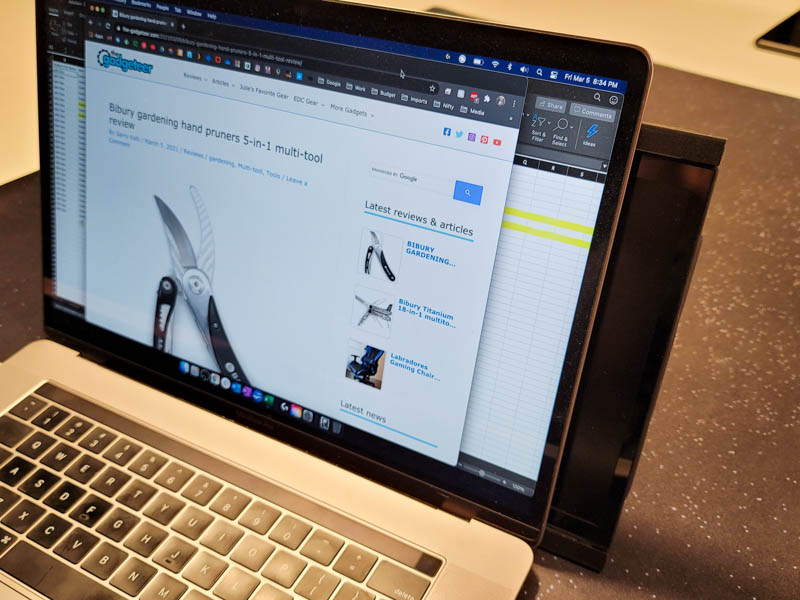 The DUEX Plus dual monitor screen slides behind the laptop screen when not in use.  At 1.3 pounds you will probably notice that it's there, but it doesn't drag down the screen or add a ton of weight.  I forgot it was attached by the end of the review period sometimes, only noticing when I applied the normal force to close the laptop screen and it slammed down much more enthusiastically due to the increased weight (luckily no damage, but I could see this as something to watch out for on some laptops).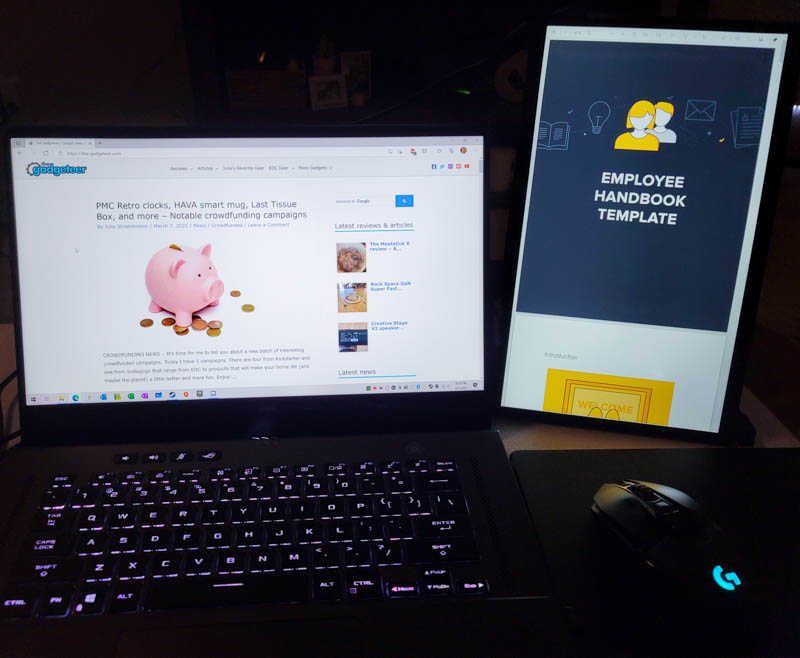 While I like the slide-out and adjustable default setup of the screen, I also found the "kickstand" portrait mode to be quite useful for some workflows.  To do this you simply remove the DUEX Plus dual monitor screen from the back of the laptop screen, sliding the screen out of the backing plate and flipping it up.  Again, the hinge held well at any angle that I wanted and it worked great as a portrait-mode screen.  The gyroscope doesn't seem to detect and/or autorotate the screen into portrait mode though, I had to adjust this in Windows or macOS settings.  It did detect and adjust if I switched the screen from the right to the left of the laptop though.
Installation and setup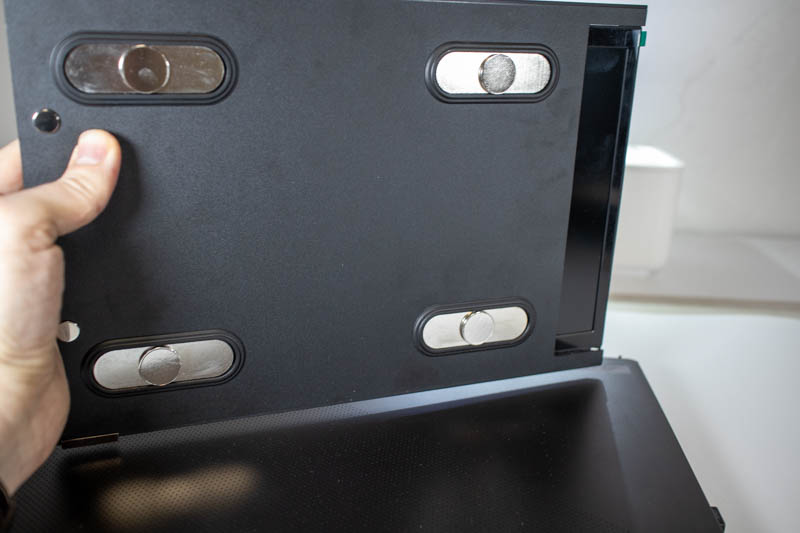 Setup is fairly simple, you remove the sticker backing paper on the magnets, then press the DUEX Plus dual monitor screen onto the back of the laptop monitor.  The instructions recommended centering it, but to get the sweet spot for angle I had to install mine slightly offset.  Your mileage will vary depending on the size and shape of your laptop, I recommend experimenting before affixing the stickers. The stickers can be removed later and didn't seem to leave any residue at all (though you wouldn't want to do this often, as it weakens the adhesive with each reapplication).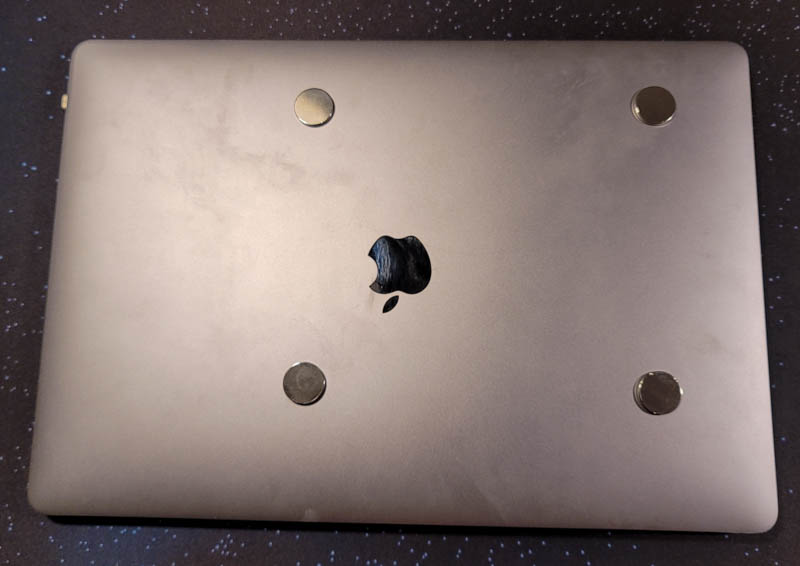 Here's the back of my work Macbook (a 2018 affair with a 15.6 inch screen), note the off-center magnet placement.  I probably could have fully centered it, but I'm not sure it would have swung out as far as I wanted to then be tilted back towards me.  Getting the placement was a bit tricky, I wish they had a paper template or something to help as simply pressing the magnets against the laptop wasn't enough to stick all of them.  I ended up carefully measuring and had to remove and reattach a few several times until I got it just right.  This may have been issues with the pre-production version or user ineptitude on my part, but I would be remiss not to mention it.  I guess another solution would be to have stickier adhesive on the magnets since it seemed like the magnetic connection between the DUEX Plus dual monitor screen and the magnet pucks was roughly on par with the adhesive's strength, resulting in some but not all of the magnets sticking correctly to the laptop each time I tried.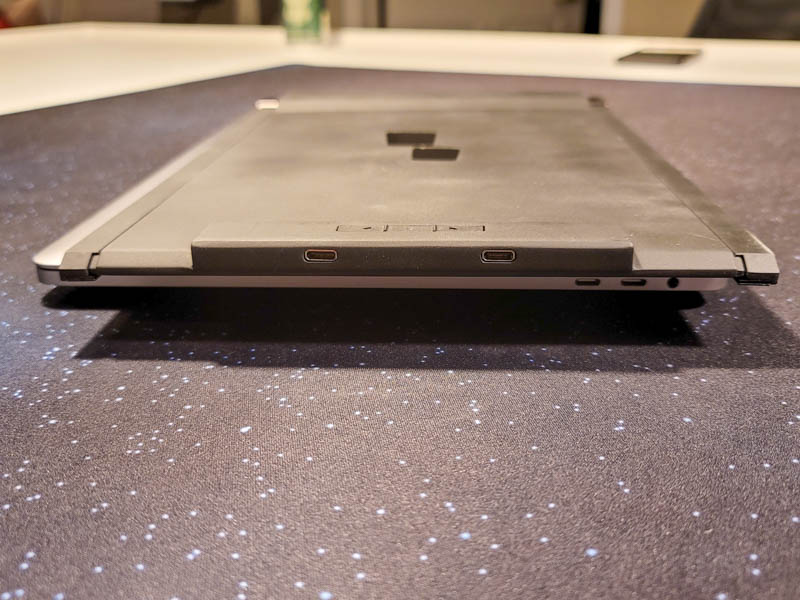 Here's the business end of the DUEX Plus dual monitor screen, with the two USB-C connectors and the screen control buttons on the back.  This port-and-controls bump is the thickest part, the rest is quite thin and even this thick end is still only 0.58″.  Either port can be used to connect to the laptop for video, and the other port can be used to charge the laptop (USB-C Power Delivery type charging), which is a nice touch if you have limited USB-C / Thunderbolt ports on your laptop.  On-screen controls were easy and intuitive, if you've used any monitor controls you'll find these adequate.  I was able to adjust things like brightness/contrast/saturation easily, as well as access eye-care modes (which reduces blue light, everything becomes a reddish tint).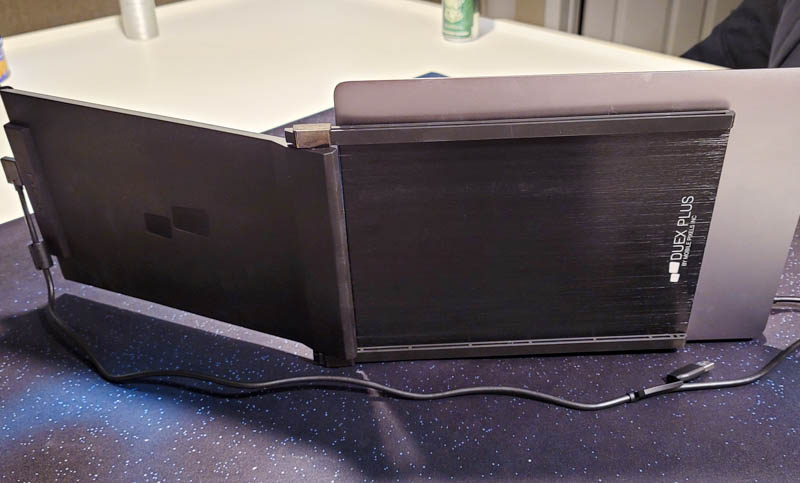 Here's the backside of the monitor in use.  Note the USB-C to USB-A adaptor at the bottom right:  if not in use this dangles off the cord and is permanently attached.  I found the loose cable to be a bit of an annoyance sometimes, especially when I used this in my lap on a chair or couch.  On a table or desk it was perfectly fine, but on the couch when shifting positions it snagged and nearly unplugged a couple of times.  This would be one spot I'd like to see done better (though it would probably add complexity and cost). If the cables could be routed through the housing itself so you only had a bit of loose cable to deal with on one end it would be nice.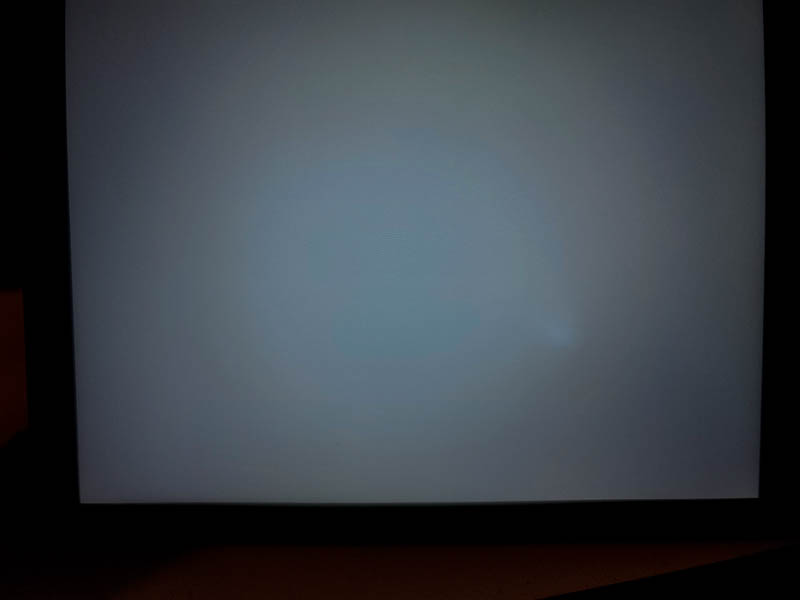 The LCD screen itself on my unit was good, except for a minor "hot spot" and minor backlight bleed (hot spot is pictured above, was only visible on certain colors).  Viewing angles were good, color was good, and brightness was about average.  I don't have brightness measuring equipment, but it seemed to my eyes to be just a hair less bright than my 300-nits-rated laptop when at 100% brightness.  You definitely wouldn't want to use this outdoors in sunlight, but in all indoor spaces I had no issues with visibility.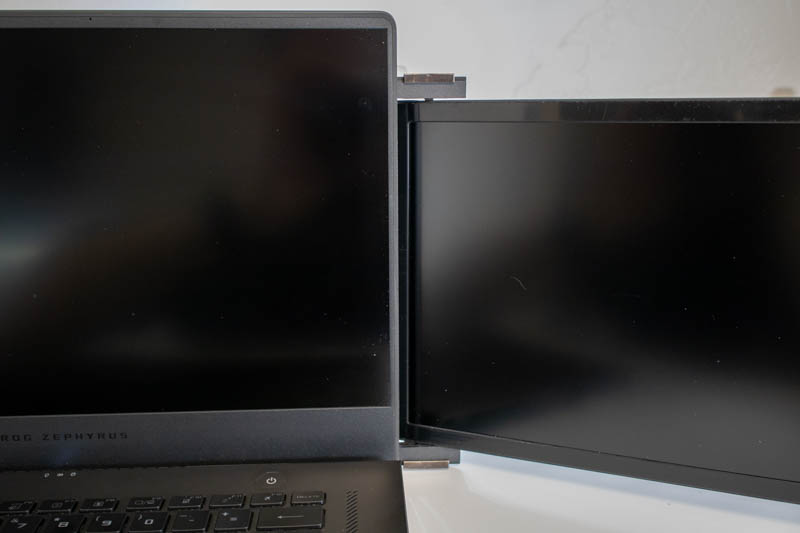 Here's the DUEX Plus dual monitor screen on my Windows 10 laptop, it worked great with both Windows and macOS, and I also tested it with my Android phone (Samsung Note 20 Ultra in Dex mode), which functioned basically like a Chromebook when connected – with the phone acting as the trackpad.  I didn't have a Nintendo Switch to test with, but I'm glad they included support for that console as well.  One thing to note for use with a Switch though is the fact that it has no built-in speakers, you'll want to use headphones or a headset if using with this screen in that scenario.
What I like
Once installed it works well
Decent screen quality and brightness
Plug and play compatibility over USB-C (Windows 10, Mac, Android)
Good performance for the Kickstarter price
What I'd change
Easier installation process
Smoother sliding mechanism
Cable management/routing improvements
Final thoughts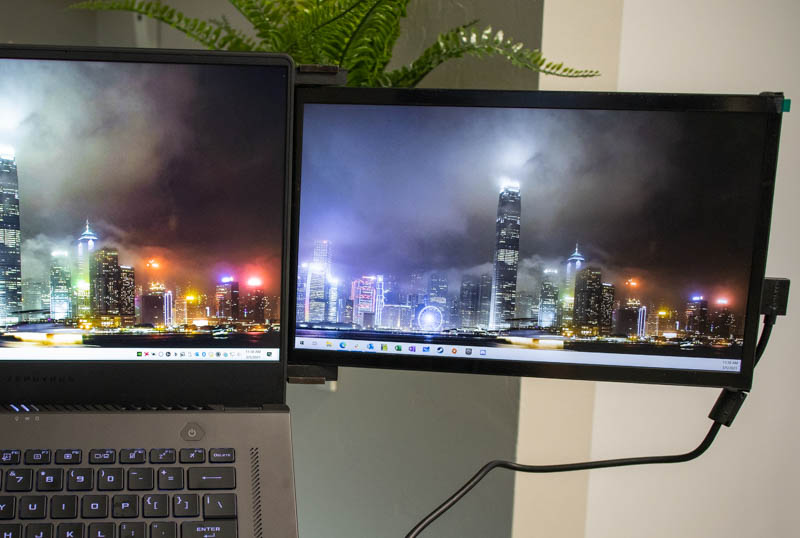 This is the best implementation that I've personally used for a secondary laptop screen, after getting past the finicky install process.  Mobile Pixels also say they'll release a "kickstand" soon as an alternative to attaching the DUEX Plus dual monitor screen to the back of your laptop (or for use with the Nintendo Switch or Android device).
Price: $269.00
Where to buy: Mobile Pixels
Source: The sample for this review was provided by Mobile Pixels