We use affiliate links. If you buy something through the links on this page, we may earn a commission at no cost to you. Learn more.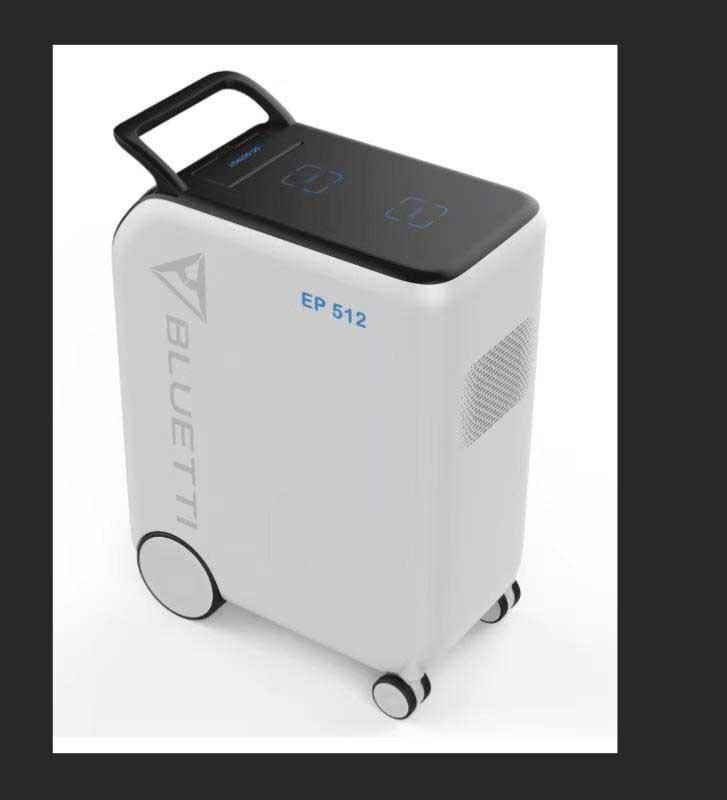 CROWDFUNDING NEWS – Last month I posted a news article about an upcoming crowdfunding campaign for the BLUETTI EP500 and EP500 Pro power stations. That post generated a lot of traffic most likely due to the fact that it was posted just a few days before the severe winter storm that caused a huge power outage in Texas that resulted in millions of Texans going without power for several days.
Those of you who were interested in learning more about the EP500/EP500 Pro and are interested in pledging for one of the rewards, you can do so now because the BLUETTI EP500/EP500 Pro power station Kickstarter campaign has launched today.
The BLUETTI EP500 and EP500 Pro power stations aren't the type of battery backup units that we've reviewed in the past. They aren't even like the awesome Bluetti AC200P 2000Wh/2000W Portable Power Station that we just reviewed a couple of weeks ago. The BLUETTI EP500 and EP500 Pro power stations are much bigger and much more powerful. How powerful? See the specs below.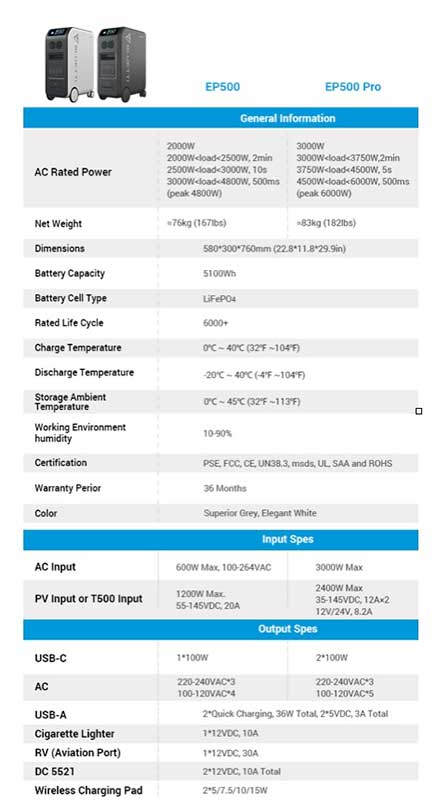 These units are so powerful that they have the power to recharge all of your devices and can even power large appliances in your home like your air conditioner and refrigerator. With one of these power stations, a major power outage will not be as frightening as it could be without one because you'll be able to provide power to the important devices in your home.
The EP500 is designed to cover your essential needs during power outages, EP500 is equipped with a monstrous 2000Watt pure sine wave AC inverter and surge up to to 4800W, and the Pro version can provide a continuous power at 3000W. Both are packed with 5100Wh, based on ultra-durable and safe LiFePO4 battery cells with a cycle life of up to 6000 cycles.
The idea of investing in a unit like the BLUETTI is that it's not the type of power generator like the one I had installed in my backyard. Although I love my Generac generator and it has provided me with hours and days of electricity when our power has been out, the BLUETTI EP500 and EP500 Pro can do something that regular gas-powered generators can't do and that's roll around from place to place on its 4 wheels. The BLUETTI power stations can also recharge via solar panels. That's right, you don't even need gas for the BLUETTI units to generate power because their internal batteries can charge via optional solar panels.
The EP500 is equipped with advanced MPPT solar inverter. Up to 1200W (2400W for the pro) solar input can charge the 5.1kWh battery pack from 0 to full in less than 5 hours (2.5Hrs for the pro). With BLUETTI's latest 200W portable solar panel – SP200(https://www.bluetti.com/pages/sp200), you can harness the solar power anywhere you want, at full speed.
The starting price for one EP500 (super early bird perk) is $2799 ($0.55/Wh, 30% OFF), and you can save an extra $100 by ordering two for $5399 (31% OFF), which is almost 80% the capacity of a Tesla Powerwall2 and at only half the cost. BLUETTI has released more discounted perks on their Kickstarter campaign.